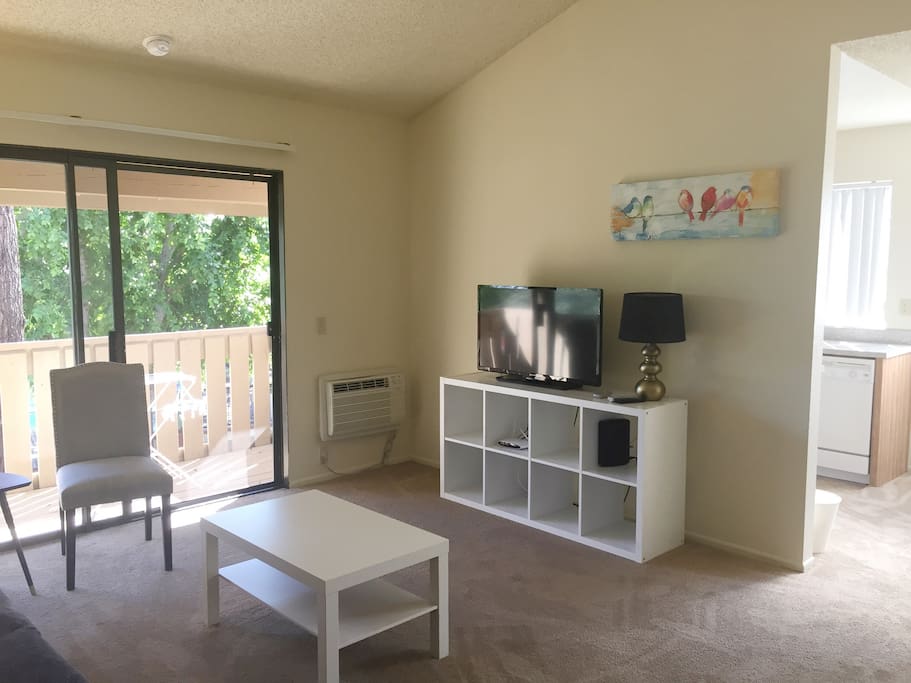 los angeles rowland hets swimming pool 1BED&1BATH
los angeles rowland hets swimming pool 1BED&1BATH
Rowland heights from universal studios, Disneyland, Hollywood 40 ~ 50 minutes drive;
Legoland seaworld San Diego 'drive for 2 hours.
COMMUNITY AMENITIES
24 hour Fully Equipped Laundry Facilities
Controlled Access Gates
Convenient Gas Barbeques
Covered Parking with Additional Storage
Enclosed Garages*
Fireside Clubhouse with Dining Area, TV and Seated Area
Four Lighted Tennis Courts
Professional On Site Management
Seasonally Heated Pools and Spas
State Of The Art Fitness Center
---
Llegada: 15:00 a 02:00 (next day)
Tipo de habitación: Casa/apto. entero
---
---
Personas adicionales 4 € / noche después del primer huésped
Comunícate siempre a través de Airbnb
Para que tus pagos estén protegidos, nunca transfieras dinero ni te comuniques desde fuera de la página o de la aplicación de Airbnb.
Más información
---
Dormitorio 1
1 cama de matrimonio grande, 1 cama individual
---
---
Estricta
Cancela hasta 7 días antes de tu viaje y obtén un reembolso del 50 %. Cancela en los 7 días previos a tu viaje y no se te reembolsará la reserva.
---
Detector de monóxido de carbono
---
Estancia mínima de 3 noches
---
(I suggest you NOT to book with this host. Full English Version in below. ) 我建议您不要从Kenny这里订Airbnb。我们12月6日跟Kenny定了12/22-1/3的行程。在我们入住当天(12/22) Kenny告诉我们我们要在圣诞节当天换一次房。而且中间换房的过程很不愉快我们几乎是被赶出来的。一些细节-- 1. 如前面所述,我们12/6日完成了预定。但是在入住的当天(12/22) Kenny才告诉我们圣诞节(12/25)当天需要我们换一次房。我们当时已经没有时间再去找别的airbnb了,否则我们肯定会当场退掉这个预定。 2. 我后面在电话中问Kenny他什么时候知道我们需要换房的。他说"你们来前几天"。(那为什么不提前告诉我们,我们还可以换找别的预定?!) 3. 换房当天Kenny暗示我们"如果早上外出可以带走行李吗"?感觉像是我们有选择可以早上自己出去玩,也可以在房间舒服等着。我也正面问他"是不是通知到的时间我们就马上要先搬出去"他没有正面回答。而事实上我们是被赶人了,中间有一个多小时的青黄不接的间隙我们被赶出去,拿着那么多行李没地方可以去。大概中午的时候(此时新的房间还没有准备好)一个女人突然来敲门,说她才是这个房间的主人,态度非常不好,直接开始做清洁。我们说我不管你跟Kenny的关系和谁是主人,我们通过Airbnb定房是通过Kenny定的,那么Kenny是我们唯一需要打交道的人,如果你赶人走的态度那么坏那么我们都认为这代表Kenny的态度(否则他们总可以一人唱红脸一人唱白脸把我们打发走,呵呵)。 4. 在其他沟通细节上Kenny很礼貌很Nice,比如教我们怎么用他的电视。但是我觉得大事上都让我们吃了亏,也不可能通过这些小事情上当好人补偿回来吧。 I'd suggest you NOT to book with Kenny. We booked staying with Kenny between 12/22 to 1/3, but were unpleasantly forced to switch the room on Christmas Day, without any place for us to stay during the gap time. Kenny only informed us of this situation on the exact day of our arrival (12/22), while we made the booking half month before (see screenshot). Some details: 1. We made the booking on 12/6 and was informed that "we must switch the room on Christmas Day" on 12/22. I didn't have the time to find reservation from other hosts otherwise I'd cancel it. There is time stamp on our conversation in the screenshot. 2. Later I asked Kenny "when did you find out our room needs to be switched"? And he told me "several days before your arrival". (Then why don't you tell us several days before so that we could have the choice to find other places?!) 3. Kenny "suggested" us to pack up on Christmas day morning, hinted us to hang out somewhere else while the new room is being prepared till 2pm. That is really a bummer. We had luggages and a lot of stuff and had to find somewhere to hang out fill that time gap. And it's cold. 4. I asked explicitly in message (see screenshot) to Kenny whether we must leave before certain time for that room switch and there was no explicit response, but in reality we were kicked out. There was another women just knocked on the door during noon in a gesture of kicking us out, and spoke very impolitely. She told us she was the "real owner" of that apartment and Kenny was just borrowing her room. (As I booked this room with Kenny and only want to deal with one contact. I don't care about their relationships and who's the real owner, and think whatever attitude that women treated me with, reflected on Kenny. Her bad attitude also goes towards Kenny's review.) 5. Kenny is very polite and nice when he was in contact with us. But we think being nice in those small things is not good enough when you screw us in the big thing, such as forcing us to move on Christmas Day. Screenshots/一些证据: Kenny informed us of this situation only on the exact start day of the reservation/Kenny在12/22当天告诉我们要换房: (URL HIDDEN) Our Reservation for 12/22-1/3 /我们12/22-1/3的预定 (URL HIDDEN) Our conversation on message about the switching/我们在短信上关于换房的交流: - We told him that we prefer not to going "somewhere else" in the morning/我们告诉Kenny我们并不想早上去别处来把房间空出来: (URL HIDDEN) - We told Kenny it is cold outside and we want to stay inside till new room is ready, also we asked Kenny whether "we must move" from the old room at certain time, but there was no explicilit answer on that/我们换房当天给Kenny说外面冷我们想在老房间呆到新房间准备好,还问了是不是某个时间我们必须退出就房间,Kenny没有正面回答. (URL HIDDEN) (URL HIDDEN) - We told Kenny that there was a...
首先,作为房东,对您的不满,感到抱歉, 我不太明白您做这样的评论对您有什么样的利益呢?这样的评论如果作为一个正直的房客,确实说的欠妥,而且您说的过程也许要么是谎言,要么是误会。我希望是误会。 我将真实过程公之于众,请大家分析共勉;您在入住之前我已经告知圣诞节房子紧张,可能会在25日当天有一次调换,卫生标准都是符合要求的; 其次,换房前一天已经电话沟通需要12点换房,您可以外出吃饭,两点入住新房,也得到了您的认可,并告知了房间号码和车位号;我也确实再为您准备新的房子,这点您是认可的;那我想请问,既然您说了12点可以退出,您一点钟还未起床,清洁卫生的人员当然着急,计时工资,她们当然按照约定时间。因为按照约定12点开始清洁卫生,但您还未起床,所以,我不知道这是谁在不遵守承诺呢?总是有一个人在说假话吧?您说你有很多行李,请问,您有多少行李,双肩背包外加行李箱?如果行李多,您告诉我,我这里有专人帮忙,这些话作为一个成年男人,男人,能说出这么女人的话,您女友说的一句话是,不会再换吧?时间在前一天是认可的。如果提交证据我是有的。 之后两点左右在新的房子见面,您和您女友也没有说过问题,而我一直再道歉,您问我:不用再换房间了吧。我回答您,不用了,房间您满意吗?您告诉我很好。之字未提换房清洁卫生的大姐所说的话。另外您是个成年人,怎么会说出不成熟的话呢?"她代表我"?请问,你能代表你自己,在美国别人可以代表你吗?这是最起码的诚实问题,清洁卫生的是位女士,我不知道他对这位女士说了哪些不尊重的话?严重不建议推荐此客人, 最后,我之前完全可以取消您的预定,我没这样做是因为圣诞大家都在过节,既然赶上了,我也在为您工作准备,您满意后我才离开。如果我房子卫生状况或者其他方面有问题您也可以投诉到airbnb取消预定;仅仅是因为两个小时的时间,况且双方同意的时间;您为什么这样做?我实在不明白,我所有的房客都很好,您是最不值推荐的一个,非常不好的客人,一个说假话的客人。 很可笑的说中文的人。 如果有问题可以随时向airbnb投诉,我也有咱们沟通的短信的证据,唉有点丢人的。 男人做不出背后捅刀子,当面不提出的事情了。丢人。 First of all, as the landlord, dissatisfaction with you, sorry, I don't quite understand you do such a comment on what interests do you have?If such comments as an upright tenant, did say the inappropriate and process may be either and you said is a lie, or misunderstanding.I hope it's misunderstanding. I will be the real process, please email is analyzed;Christmas house nervous before check-in, I already told you, may have a switch on the 25th day, hygiene standards are meet the requirements; Second, change rooms have telephone communication needs to move rooms, 12 the day before you can go out to dinner, at two o 'clock in bridal chamber, also got your approval, and inform the room number and car number;I do for you again in the new house, this is you accept;That I want to ask, since you said 12 o 'clock can exit, you haven't get up at one o 'clock, clean sanitation of personnel of course try so hard, the hourly wages, they of course according to the agreed time.Since 12 PM clean sanitation in accordance with the contract, but you also did not wake up, so I don't know who is this in not keep the promise?There is always a person in the throat?You said you have a lot of luggage, excuse me, how many pieces of luggage do you have, backpacks and suitcases?If the baggage, you told me that I have someone here to help, these words as a grown man and man, can say such women, is your girlfriend said a word, can't change again?Is approved by the time the day before.If I submit evidence there is. After around two o 'clock to meet at the new house, you and your girlfriend said no problem, and I apologize again all the time, you asked me, don't have to change the room.I answer you, no, the room you satisfied?You told me is very good.The word did not mention change rooms clean elder sister said.And you are a adult, how can say immature things?"She represents me"?Excuse me, can you represent yourself, others can represent you in the United States?This is a problem at the very least, honesty, cleaning and hygiene are a woman, I don't know what he said to the woman does not respect?Severely recommend this guest is not recommended. Before finally, I can cancel your reservation, I didn't do this because everybody's Christmas holidays, since caught, I also in work for you, I didn't leave after you satisfied.If I have a question house health or other aspects you can complain to someone whose cancel reservations;Just because two hours, and the parties agree that time;Why did you do that?Because I can't give you a high price, if the normal price is not favorable price.All my tenant, I really don't understand, you are the most isn't worth a recommendation, a very bad guest, a guest will find. Speak Chinese very funny person. If there is a problem can always complain to the reality, I have the evidence, let's communicate messages well a bit a disgrace.
---
Rowland Heights, California, Estados Unidos
Se registró en Diciembre 2014
I am Kenny a real beijinger, I love life, like to tell you where good restaurants. I enjoy a good time under the blue sky;I like know new friends, also must be your ideal guide;Our room is very warm and clean, hope to bring good night's sleep.We don't smoke, don't own a pet;We have a regular life, also hope to come as a friend, to abide by and respect each other's life.
我是Kenny一个真正的北京人,作为房东,我会尽力帮助房客,我热爱生活、喜欢聊天和美食,我享受蓝天下的美好时光;我喜欢结交朋友,也一定是你们理想中的导游;我们的房间都很温馨整洁,希望给带来好的睡眠。我们不吸烟,家里没有宠物;我们很有规律的生活,也希望这样的朋友到来,互相遵守与尊重对方的生活。同时,如果需要各大节日,会保留调整房子的权利,当然您也可以取消,但我保证我的房子品质标准化是相同的。

Idiomas:
English, 中文
Ratio de respuesta:
100%
Tiempo de respuesta:
en menos de una hora
Descubre otras opciones en Rowland Heights y sus alrededores
Más alojamientos en Rowland Heights: