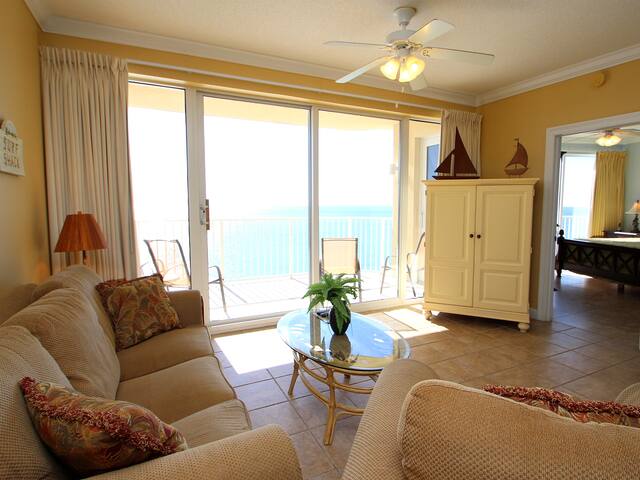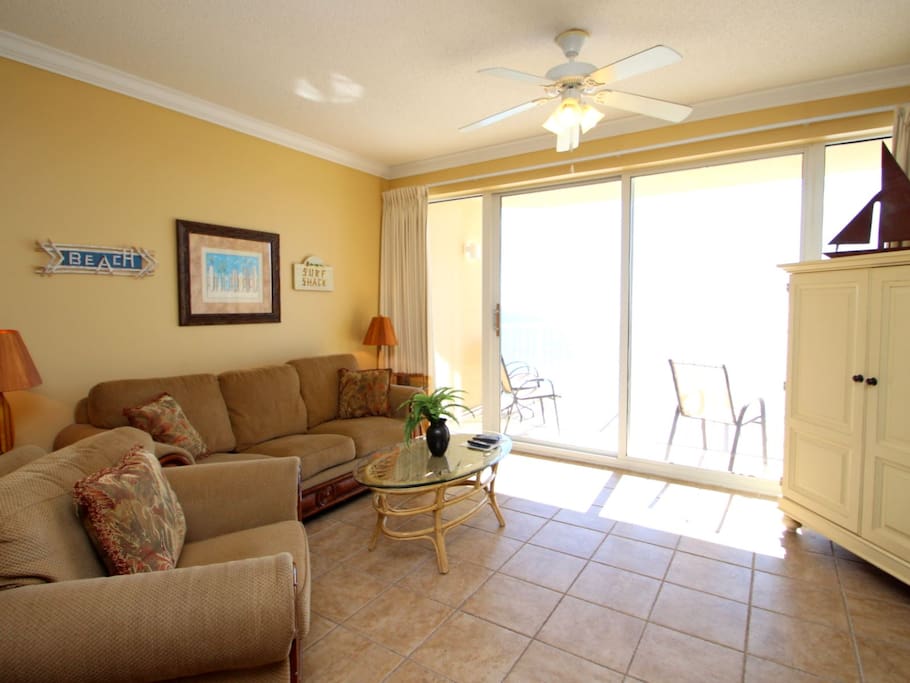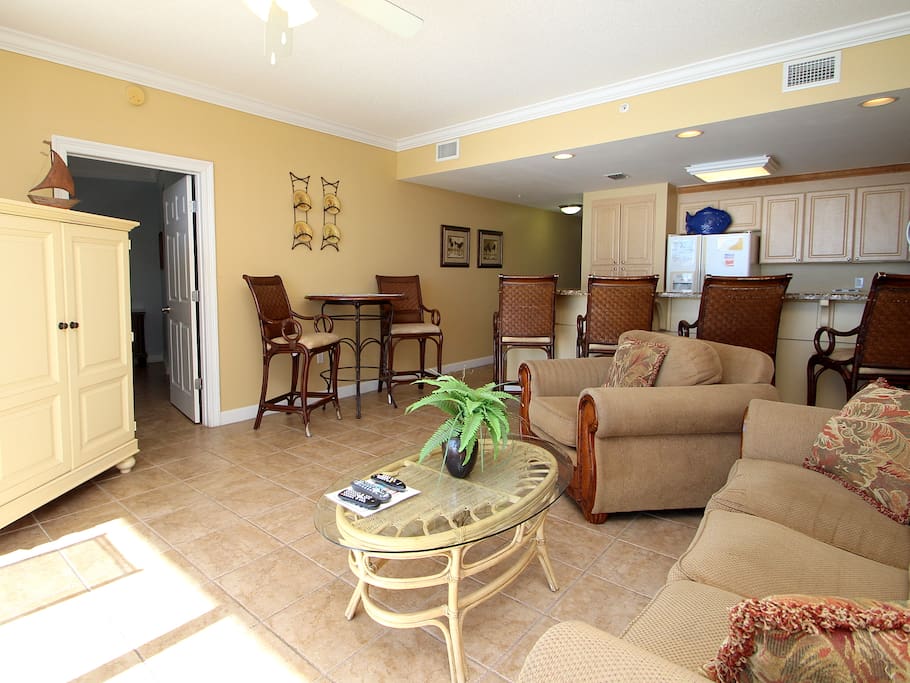 Información sobre este anuncio
Searching for a comfortable family vacation? Look no further than this 2b/2b at Boardwalk Beach Resort in Panama City Beach! This gorgeous condo offers all the comforts of home & is directly beachfront. Boardwalk 1209 is on the 12th floor & sleeps 8!
---
Llegada: A partir de las 15:00
Tipo de habitación: Casa/apto. entero
---
Apto para familias y niños
Internet inalámbrico (wifi)
---
---
Searching for a comfortable family vacation? Look no further than this 2b/2b at Boardwalk Beach Resort in Panama City Beach! This gorgeous condo offers all the comforts of home & is directly beachfront. Boardwalk 1209 is on the 12th floor & sleeps 8!
Our only 2 bedroom condo at Boardwalk Beach Resort, this coveted condo boasts comfortable, stylish furnishings and affords the guest access to the high-quality amenities that Boardwalk Beach Resort has to offer. Unit 1209 sleeps up to 6 guests, having a king bed in the master bedroom, a queen bed in the guest room, and a queen sleeper sofa in the living area. In your master bedroom, in addition to having a door to access the balcony, enjoy floor-to-ceiling, wall-to-wall windows overlooking the stunning emerald waters of the Gulf of Mexico This feature is unique to Boardwalk Beach Resort, as there are no other properties offering views from the master bedroom like you get with our 2 bedroom at Boardwalk Beach Resort! Our total cost includes 2 parking passes.


Amenities

Beachfront
Balcony Access from the Living Room and Master Bedroom
Free Wi-Fi in Unit 1209
43" Flat Screen/Smart TV in Master Bedroom
32" Flat Screen TV in Guest Bedroom
All Standard Kitchen Appliances, Cookware, Utensils, and Dishes are Provided
Full size Refrigerator & Freezer with Ice-maker
Dishwasher
Microwave & Toaster
Blender
Coffeemaker
Washer/Dryer
Iron & Ironing Board

?PROPERTY AMENITIES:
25,000 sq. foot Zero Entry Pool (heated seasonally)
2 Outdoor Hot Tubs
Kids` Splash Pool
Sandy Beach
Onsite Parking - no need to cross the street!
Beachfront Bar & Grill "Under the Boardwalk" on Boardwalk property open March - November for lunch and dinner
2nd Restaurant "The Rusty Anchor" on Boardwalk property open Wednesday - Friday during August through May, and Thursday and Friday during June and July.
Corner Market often open year round 7am until midnight offering beach goods, beverages, and snacks
Free sunset cinema movies on Saturdays from Memorial Day - Labor Day screened on a 25 foot inflatable screen right on the beach!
Elevators
Boardwalk Beach Resort does also have a fitness center, sauna, and steam room available for a small fee. Use of fitness center must be arranged with us prior to arrival.
This property is NOT pet friendly

Ask us about fitness center access!
We want our guests to come back year after year. Because we realize that our guests work hard for their vacation time and disposable income, we are honored that they have chosen to spend them with Panama City Condo Vacations. We take pride in our guest service as well as the simple fact that we personally answer the phone, answer e-mails promptly, and provide a 24/7 emergency contact number.

After booking our condo, you can expect to receive a call verifying the number of pool bands and parking passes you`ll need, and requesting your email address so that we may send the condo info directly to you. You'll then receive a confirmation by email. About a week prior to your arrival date, we`ll email the info you`ll need during your vacation, including the keyless entry code we program for your stay, as well as arrival and departure procedures, wi-fi info, etc.
Community Amenities:
Boardwalk Beach Resort is a beautiful beachfront property built in 2005. The property boasts a luxurious, lagoon-style outdoor pool which is heated seasonally, 2 hot tubs, kiddie pool, and many other amenities. Lounge by the pool and enjoy lunch from the on-site bar and grill or grab a snack at the on-site convenience store. On Saturday evenings in the summertime, Boardwalk screens movies on a 25-foot inflatable screen right there on the beach! Boardwalk has everything you need to have a wonderful vacation.
RENTAL LENGTH:
*Weekly rentals (Saturday to Saturday only) for March 25 - April 8, 2017
*Weekly rentals (Saturday to Saturday only) for May 20 - August 12, 2017
*Weekly rentals (Saturday to Saturday only) for September 16 - Octob to 5 night minimum for other periods

Standard entry time is 3:00 pm and departure time is 10:00 am. Spring Break entry time is 4:00 pm and departure time is 9:00 am. Early entry and departure is not available. THE PRIMARY GUEST MUST BE 25 YEARS OLD IN ORDER TO STAY AT THIS PROPERTY.

We provide a starter kit of basics for your stay including two rolls of toilet paper per bathroom, a small bar of soap at each sink, a roll of paper towels, dishwasher detergent for two to three loads of dishes in the dishwasher, and one trash bag per trash can in the kitchen and bathrooms. This should get you started until you make your grocery store run to get what you will need for your entire stay.

Each bed will be made with fresh linens with the exception of the sleeper sofa. Linens for the sleeper sofa will be in the closet of the master bedroom. Please try to keep bedding off of the floor. We provide 8 bath towels and washcloths, as well as two hand towels and a bathmat per bathroom, and two kitchen towels and one dishcloth in the kitchen.

There is a washer and dryer, as well as an iron and ironing board. We also provide a vacuum, broom, dustpan, mop and mop bucket for use during your stay. We do not provide cleaning chemicals or laundry detergent due to individual allergies. Most condos are not equipped with hair dryers.
---
La hora de llegada es después de las 15:00.
(This is the stuff that nobody likes to read but it is really important that you read, understand, and agree to this information. We want you to have a great time at the beach and the best way to do that is to know the expectations ahead of time. There are 15 items that constitute our Terms and Conditions, and additional items which are related to our condo, the property`s House Rules, or some of Panama City`s relevant laws and ordinances)

1. This reservation is not binding until we know that the Primary Guest meets our age requirements and if necessary completes and returns our age-appropriate Rental Agreement (which we will email you after booking if needed.)

2. Guests must be 25 or older.

3. IMPORTANT: No smoking in the condo, and No smoking on the balcony when the sliding door is open. Any smoke odor in the condo will result in additional charges of $300 or more, depending on the cost of smoke remediation.

4. Entry and Departure Times: Entry Time is listed in the arrival information that is e-mailed to the Primary Guest a week prior to arrival. Standard Entry Times are either 3:00pm or 4:00pm Central Time depending on the property and season. Departure Time is either 9:00am or 10:00am Central Time depending on the property and the season. Entry and Departure Times are strictly enforced. Please plan your trip so that you arrive close to entry time or later.

5. Wristbands and Parking Passes: This price includes 2 parking passes. Boardwalk Beach Resort charges us $21 plus tax per additional parking pass. If you will have additional vehicles, please tell us when we call you soon after booking. If you are booking for a time when Boardwalk will be able to issue us additional passes, we will apply a charge of $23.73 per additional vehicle to your reservation. If you are booking for a time when Boardwalk will not grant additional passes, we will not be able to leave more than 2 passes in the condo. We will provide the number of wristbands and parking passes you request upon booking up to the maximum number allowed by the property.

6. No Daily Housekeeping or Towel Exchange: There is no daily housekeeping nor towel exchange service in our condos. The condo comes with the number of towels and linens specific to the maximum number of guests and beds in the condo. No beach towels are provided so you will need to bring those from home. There is a washer and dryer in the condo for your convenience.

7. Appliances and Decor: All Guests understand that each property is individually owned and is equipped according to the tastes and preferences of the owner. All appliances will be in working order upon arrival; however, just as in your home, appliances periodically and unexpectedly fail. In the event of appliance failure, we will make every attempt to repair the appliance as quickly as possible; however, there will be no monetary compensation or guest relocation in the event of appliance failure.

8. Maintenance Procedures: All requests for maintenance must be handled directly with Panama City Condo Vacations at our office number. (Guests will be given a 24/7 emergency phone number in the information we e-mail a week prior to arrival.) Do not notify the front desk regarding maintenance issues because an unauthorized charge will be incurred. If a maintenance charge is incurred without proper authorization, it will be re-billed to the guest.

9. Pet Policy: Boardwalk Beach Resort does NOT allow renters to have pets on the property or in any condos. Such animals are not allowed on pool decks or most of the beaches in PCB, per state and county law.

10. Lost or Stolen Items: It is the Primary Guest`s and all of their Guests` responsibility to secure their valuables inside the condo, in their vehicles, or while on or in any of the condo common grounds, buildings, and at the beach. We strongly suggest that you lock the condo at all times and do not share the code with any party that is not specifically staying in the condo. Panama City Condo Vacations is not responsible for items lost or stolen.

11. Departure Procedures: In order to avoid additional cleaning fees, Guests are expected to follow a few simple departure procedures including loading and starting the dishwasher, washing any additional dishes, pots and pans, etc. and putting them away, placing all used towels and washcloths in a pile next to the washer, removing all items from the refrigerator and freezer, and taking all trash to the trash chute prior to departure. In the even these departure procedures are not followed or if extraordinary cleaning is required, Panama City Condo Vacations has the right to charge additional cleaning fees.

12. Hurricane/Inclement Weather Policy: No refund or credit will be given in the event of inclement weather or hurricane unless the National Weather Service orders a mandatory evacuation of Panama City Beach. If an evacuation occurs, we will refund any unused portion of rents of a currently registered guest or a full refund of any guest that is scheduled to arrive during the Hurricane Evacuation period.

13. Fraudulent or Falsified Reservations: Any reservation made with fraudulent or falsified information will be subject to forfeiture of all advanced payments, deposits, fees, and/or rents and the party will not be permitted to check in or will be subject to immediate eviction from the property. Fraudulent or falsified information includes but is not limited to the age of guests and maximum number of guests.

14. Eviction: No refunds of deposits, fees, or rents will be granted for evictions, partial stays or early check outs for any reason. You agree and fully understand that in the event that you or anyone in your party is evicted for breaking Property Rules and Regulations or Florida Statutes, you automatically forfeit any nightly costs associated with your non-use of the condo due to eviction.

15. Additional Provisions and Conditions are outlined in Terms and Conditions and/or a separate Specific Rental Agreement provided by our Reservations Specialist if necessary depending on the preference of the owner or with regard to age restrictions.

Some Condo Rules:
- No smoking (see #3 above)
- No parties or events
- Guests must be 25 or older
- No more than 6 guests max, per Fire Code
- If reports of noise disturbances require that security come to the condo, we reserve the right to eviction (see #3 above)
- Our towels and linens must stay inside the condo, so don`t forget your beach towels!
- Please do not try and cool all of Panama City with our air conditioner... Make sure the sliding doors are closed while the A/C is on and when it is hot outside. Leaving the door open will cause the compressor to freeze up and leave you uncomfortable! This can be very expensive to fix.
- There is a trash chute located on each floor where you may take your bags of trash as needed during your stay and before your departure.
- We understand that accidents happen, so if something breaks, please email or text us so we are aware and can replace or repair as needed.
- Upon departure, we ask that you leave the a/c on 74*F, and follow the departure procedures we provide. (see #11 above)


Pool Rules:
- The pool and both hot tubs are open 8am to 10pm. Quiet hours will be enforced.
- No floats allowed in the pool when it is crowded
- No throwing or hitting objects in pools
- No diving from pool deck
- Children under 12 must be accompanied by an adult, per Florida law
- No bicycles, skates, skateboards, or roller blades allowed on pool deck, sidewalks, or parking areas
- No one may use pool or hot tubs without a Boardwalk wristband. This is strictly enforced seasonally.
- Thong, t-back, and similar bathing suits are not permitted on pool deck
- Personal coolers are permitted on pool deck provided they are small enough to fit under a chair and they must be kept underneath the chair at all times
- No radios are allowed on pool deck

General Resort Rules:
- ID tags (wristbands) are required for all times for guests and visitors while on property. Pedestrians will not be admitted on property without proper wristband
- All vehicles parked on property must have parking pass displayed
- Vehicles may park in unmarked spaces. If an owner complains that a guest vehicle is parked in their numbered space, an attempt will be made to locate the owner of the vehicle. If unsuccessful, the vehicle will be towed.
- Golf carts, bubble cars, skates, roller blades, road surfers, skateboards, personal or motorized scooters, and rental motorcycles are not allowed on property
- Laser pointers are not permitted on property
- Fireworks are strictly prohibited on property
- Feeding seagulls is prohibited throughout resort property
- Water balloon slingshots and water balloon throwing is prohibited and will result in eviction of guests/fines for owner, which will be charged to guest.
- Throwing any item, including cigars and cigarette butts from balconies and walkways is a felony in the state of Florida, and will result in at least eviction and fines
- No water pistols/guns/canons/similar items allowed in the common areas or on community property
- No climbing on or leaning over balconies. This will result in eviction and fines
- Towels, bathing suits, clothing, rugs, and other items are prohibited from being hung on balcony or walkway railings or from windows
- Walkways, stairways, and vestibules serving two units are fire exit lanes. Nothing, including bicycles, floats, coolers, furniture, beach chairs, etc, shall be left in these areas at any time
- Nudity and indecent exposure, as defined by Florida Statutes, will not be tolerated in any public or common area of the resort, including any area exposed to public view. Violators will be prosecuted.
- The use of charcoal grills, electric grills, hibachis, and gas grills is forbidden per State of Florida Fire Life Safety Codes (NFPA 1 Code 10.11.6). Guests may be evicted for violations. We will charge guests the fines levied against owners. This will be enforced in accordance with state and local fire ordinances.
- Minors are not allowed to consume alcohol anywhere on property (legal age is 21 years). This may result in eviction
- "Funneling" on balconies or anywhere in public is prohibited
- "Quiet hours" are enforced throughout the resort between 10pm and 10am. All guests must refrain from any activity that would disturb other residents at all times, but especially during quiet hours
- No nuisances shall be allowed upon the Condominium Property, nor any use or practice that is the source of annoyance to residents or which interferes with the peaceful possession and proper use of the property by its residents.

Some relevant Panama City Laws & Ordinances relating to the beach:
- Beach items you bring to the beach must be cleared from the sandy beach by 7:00pm or they will be removed as part of the "Leave No Trace" ordinance protecting the safety of patrons, the sand dunes, and the sea turtles.
- Consuming alcohol on the sandy beach is permitted provided the consumer possesses current government-issued ID showing legal drinking age, and provided that there is not a temporary seasonal ordinance enacted prohibiting drinking alcohol on the sandy beach.
---
---
Estancia mínima de 3 noches
Este sitio quiere que lo evalúes
Panama City Beach, Florida, Estados Unidos

·

Se registró en Enero de 2016
We have been helping guests find the perfect condo for their vacation in Panama City Beach for over 8 years. We manage 87 beautiful beachfront condos that all look out over the sugary white sand of Panama City Beach. We offer clean and comfortable condos of many sizes including studio, 1, 2, 3 or 4 bedroom condos. Whether you are looking for value or luxury, we can help you find just the right vacation rental for you to enjoy with your family and friends. We are members of the Vacation Rental Manager's Association as well as the Panama City Beach Chamber of Commerce.
Ratio de respuesta:
88%
Tiempo de respuesta:
en pocas horas
Tendrás los datos exactos de la ubicación cuando la reserva esté confirmada.
Descubre otras opciones en Panama City Beach y sus alrededores
Más alojamientos en Panama City Beach: