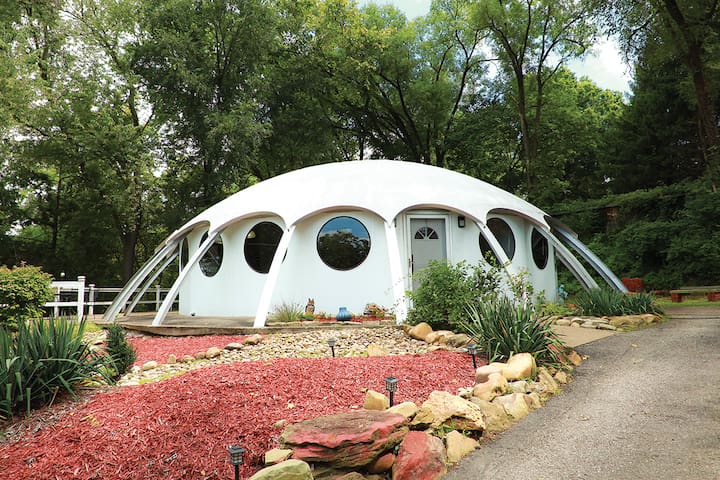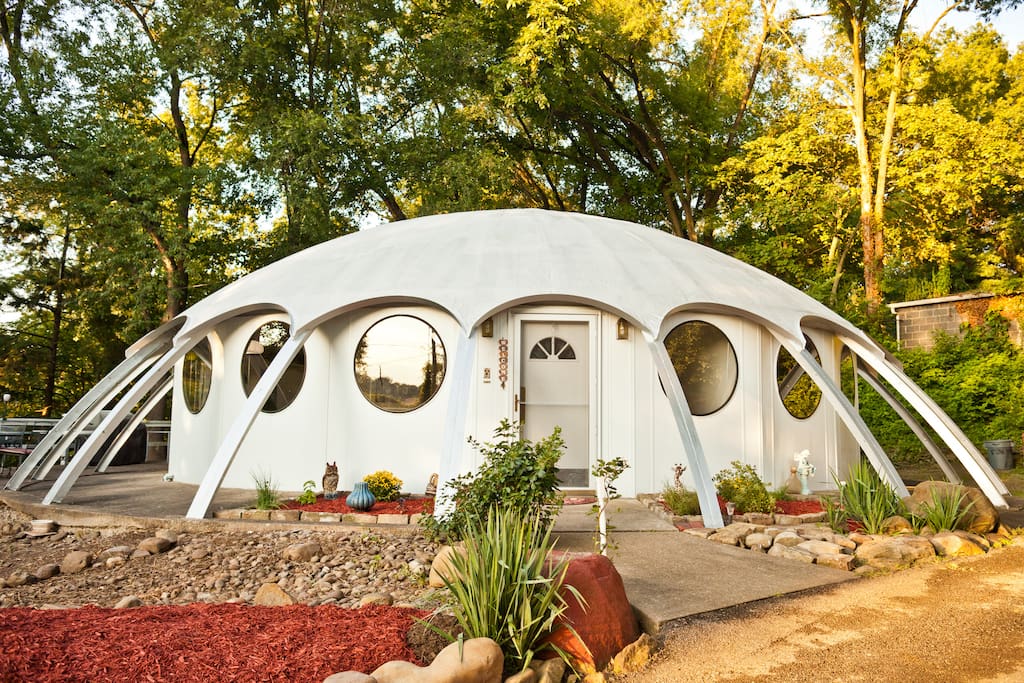 *Dome Sweet Dome! (3BR Yaca-Dome)*
"Love Where You Sleep" con nuestros lujosos y súper cómodos colchones nuevos y almohadas de la cama altamente clasificado Nest .... La serie de la firma de Alexander (rey), el híbrido de Alexander (reina), y la cama de amor (full / double) . Nuestra cúpula fue presentada en la edición de octubre de 2014 de la revista Pittsburgh (el artículo "Dome away from Home" también se puede ver en línea). ¿Es una nave espacial? ¿Una yurta? ¿Una carpa? ¡No, es un Yaca-Dome! Y no es cualquier Yaca-Dome viejo, es el Yaca-Dome original!
"Love Where You Sleep" with our luxurious and super comfy new mattresses & pillows from the highly rated Nest Bedding.... The Alexander Signature Series (king), The Alexander Hybrid (queen), and The Love Bed (full/double).
Our dome was featured in the Oct. 2014 issue of Pittsburgh Magazine (the article "Dome away from Home" can also be viewed online).
Is it a spaceship? A yurt? A tent? No, it's a Yaca-Dome! And it's not just any old Yaca-Dome, it's the original Yaca-Dome!
El alojamiento
• LEA POR FAVOR LA LISTA COMPLETA ANTES DE PRESENTAR UNA INVESTIGACIÓN O UNA SOLICITUD DE RESERVA. Las respuestas a muchas preguntas que puede tener se pueden encontrar aquí. • Leyendo toda la información que hemos puesto a disposición aquí y preguntando con antelación cualquier pregunta adicional que pueda tener, puede llegar con expectativas realistas y razonables con respecto a: - nuestras reglas y políticas de la casa - la propia cúpula y los servicios disponibles - opciones de transporte (recomendamos encarecidamente que los huéspedes tienen un coche, ya que nuestra cúpula no está en un barrio a pie, Uber y Lyft son también opciones viables). - la proximidad a las atracciones, tiendas, restaurantes y otros barrios; El mapa de la lista incluye un círculo sombreado que indica el área general en la que se encuentra la casa. • ¿Es una nave espacial? ¿Una yurta? ¿Una carpa? ¡No, es un Yaca-Dome! Y no es cualquier Yaca-Dome viejo, es el Yaca-Dome original! Pero lo llamamos "El Igloo". • Te alojarás en una de las casas más singulares de Pittsburgh. Sólo se construyeron 26 Yacá-Domas; La nuestra fue la primera construida, y es también la única Yaca-Dome en esta parte del condado. • Nuestra cúpula fue construida en 1969 por Joseph Yacoboni, de Pittsburgh, quien recibió una patente estadounidense en 1975 por el método de construcción. • Yaca-Domes fueron mencionadas en la edición de enero de 1975 de Popular Science. • La casa fue diseñada para soportar terremotos y 250 mph huracanes ... no algo que normalmente tienen que preocuparse en esta parte del país! • Si usted y / o los demás de su grupo viajero esperan lujo o un lugar donde todo es brillante, nuevo y perfecto, y / o nuestra cúpula no está en un área en la que quiera quedarse, por favor, haga que todas las partes involucradas Un favor y no reserves con nosotros. • Pero si usted está buscando para permanecer en una casa única ya veces extravagante que está dentro de los límites de la ciudad pero se siente más aislado, nuestra cúpula puede ser perfecto para usted! • Nuestra cúpula NO está ubicada en un vecindario elegante ni en un desarrollo estéril / sanitizado / homogéneo de cortador de galletas. • Como nuestra cúpula es una propiedad única de época que contiene principalmente muebles antiguos, la cúpula y el mobiliario muestran algún desgaste relacionado con la edad. Hemos hecho varias actualizaciones y mejoras durante el tiempo que hemos tenido la cúpula, y planeamos seguir haciéndolo como el tiempo y las finanzas lo permitan. • Las fotos de Airbnb Verified de esta lista reflejan el mobiliario y la decoración en el momento de la sesión fotográfica de Airbnb (agosto de 2013). Tenga en cuenta que los muebles y la decoración están sujetos a cambios a nuestra discreción. El escritorio (mostrado en algunas fotos) ya no está en la casa, las sábanas de la cama se han actualizado, y varios otros pequeños cambios se han hecho. • Por favor, no reserve sin leer el listado y luego deje una reseña negativa basada en las expectativas poco realistas que resultaron de su falta de leer el listado, mirar todas las fotos o mirar el mapa del listado para ver dónde está ubicada nuestra casa En relación con los lugares que planea visitar en Pittsburgh (como en todos los listados de Airbnb, el mapa de nuestra lista incluye un círculo sombreado para indicar el área dentro de la cual se encuentra la propiedad enumerada).
• PLEASE READ THE ENTIRE LISTING BEFORE SUBMITTING AN INQUIRY OR A BOOKING REQUEST. Answers to many questions you may have can be found here.
• By reading all of the information we've made available here and by asking in advance any additional questions you may have, you can arrive with realistic and reasonable expectations regarding:
- our House Rules and policies
- the dome itself and the available amenities
- transportation options (we very strongly recommend that guests have a car, as our dome is not in a walkable neighborhood; Uber and Lyft are also viable options).
- proximity to attractions, shopping, dining, and other neighborhoods; the listing's map includes a shaded circle that indicates the general area in which the home is located.
• Is it a spaceship? A yurt? A tent? No, it's a Yaca-Dome! And it's not just any old Yaca-Dome, it's the original Yaca-Dome! But we just call it "The Igloo."
• You'll be staying in one of Pittsburgh's most unique homes. Only 26 Yaca-Domes were ever built; ours was the first one built, and it's also the only Yaca-Dome in this part of the county.
• Our dome was built in 1969 by Pittsburgh native Joseph Yacoboni, who received a US Patent in 1975 for the construction method.
• Yaca-Domes were mentioned in the January 1975 issue of Popular Science.
• The house was designed to withstand earthquakes and 250 mph hurricanes...not something we normally have to worry about in this part of the country!
• If you and/or others in your traveling party are expecting luxury or a place where everything is shiny, new, and perfect, and/or our dome isn't in an area you want to stay in, then please do all parties involved a favor and don't book with us.
• But if you're looking to stay in a unique and sometimes quirky home that is within the city limits but feels more secluded, our dome may be perfect for you!
• Our dome is NOT located in a posh neighborhood or a sterile/sanitized/homogeneous cookie-cutter development.
• As our dome is a very unique vintage property that contains mostly vintage furnishings, the dome and furnishings do display some age-related wear. We've made various updates and improvements over the time we've had the dome, and plan to continue doing so as time and finances permit.
• This listing's Airbnb Verified photos reflect the furnishings and decor at the time of the Airbnb photo shoot (August 2013). Please note that furnishings and decor are subject to change at our discretion. The desk (shown in some photos) is no longer in the home, the bed linens have been updated, and various other minor changes have been made.
• Please don't book without reading the listing and then leave a negative review based on unrealistic expectations that resulted from your failure to read the listing, look at all the photos, or look at the listing's map to see where our home is located in relation to the places you plan to visit while in Pittsburgh (as with all Airbnb listings, our listing's map includes a shaded circle to indicate the area within which the listed property is located).
Servicios y zonas comunes
Usted se alojará en una de las casas más singulares de Pittsburgh. Sólo se construyeron 26 Yacá-Domas; La nuestra fue la primera construida, y es también la única Yaca-Dome en esta parte del condado. Recientemente hemos instalado nuevos colchones Nest Bedding y almohadas en los 3 dormitorios de la cúpula. El lema de Nest Bedding es "Love Where You Sleep" y creemos que nuestros huéspedes adorarán estos súper cómodos colchones y almohadas! Los colchones y almohadas de alta calidad de Nest Bedding son respetuosos con el medio ambiente y están hechos a mano a mano aquí en Estados Unidos. Me encantan las camas? En cada una de las habitaciones hemos publicado un código promocional de cama nido para descuento de $ $ $ cuando ordene un colchón Nest Bedding para su entrega a su propia casa! El código de descuento de cama nido publicado en cada dormitorio se corresponde con el estilo de colchón específico en esa habitación: la Alexander Signature Series (King dormitorio), el Alexander híbrido (dormitorio de la reina), y la cama de amor (dormitorio completo). Las características de nuestra cúpula incluyen: • Acceso inalámbrico a Internet • Calefacción central / AC • Dormitorio principal - Cama King con colchón Alexander Signature Series de Nest Bedding con firmeza media, 2 almohadas Easy Nest, 2 almohadas regulares, mesita de noche con lámpara, cómoda, cómoda con espejo, 2 sillas con mesa y lámpara, radio reloj , Closet y ventilador de techo / luz. • Dormitorio de tamaño mediano-Cama de matrimonio con el colchón Alexander Signature Hybrid de Nest Bedding con firmeza media, 2 almohadas Nido Easy Breather, 2 almohadas regulares, 2 mesitas de noche con lámparas, cómoda, silla, closet y ventilador de techo. • Dormitorio más pequeño - Cama matrimonial con colchón Nest Bedding's Love Bed de firmeza media, 2 almohadas Nido Easy Breather, 2 almohadas regulares, mesa lateral, cómoda estrecha, lámpara de pie y ventilador de mesa. No hay armario en esta habitación. • Cuarto de baño-la cúpula tiene 1 baño, y contiene un fregadero de la vanidad, combinación de bañera / ducha, WC de Kohler Rialto (bajo perfil), secador de pelo, escala, toallero y toallas • Sala de estar-Vintage MCM sofá y silla a juego con marcos de madera abierta, mesa de café vintage y 2 mesas de juego, lámpara de mesa vintage, lámparas de pie, luz de arriba y una consola vintage que sostiene un televisor (es un "smart TV" Sin embargo, debe usar su propia cuenta si desea iniciar sesión en Netflix, Amazon video o servicios similares ... también está conectado a HBO y los canales de cable de Digital Economy de Comcast, que es un paquete MUY básico) • Zona de comedor-1960 de época de metal tubular italiano y mesa de comedor de cristal con 4 sillas a juego (sillas de madera se almacenan en el armario para su uso si ha reservado para más de 4 personas) • Cocina de 5 quemadores de gas con horno de convección, nevera lado a lado, microondas, cafetera automática de goteo, prensa Bodum francés, tetera, tostadora, plancha de waffle, utensilios de cocina básicos, vajilla, cubiertos, otros utensilios de cocina, una esponja de cocina fresca , Una toalla de plato, y guillotinas. Tenga en cuenta que el refrigerador NO está conectado a una línea de agua; Sin embargo, usted puede comprar una bolsa de hielo (o hacer cubos en las bandejas de hielo) y verter en el recipiente de la máquina de hielo, que luego se puede utilizar para dispensar cubos de hielo o triturado a través de la puerta. • Patio - comedor al aire libre con 4 sillas • Si necesita otra silla o dos fuera debido a haber reservado para 5 o 6 invitados, utilice las sillas de madera del armario. Esas sillas de madera son los únicos muebles de interior que se les permite tomar fuera, y que son para traer de vuelta al interior rápidamente después de cada uso. • NO NUNCA bajo ninguna circunstancia tomar las sillas de metal de comedor interior, o cualquier otro mobiliario interior que las sillas de comedor de madera, fuera! • No reorganice nuestros muebles. • Plancha y tabla de planchar (almacenado en el armario) • Ropa de cama - los conjuntos de edredón pintado han sido reemplazados con edredones con fundas de edredón y fundas de almohada a juego. Cada cama tiene 4 almohadas; Para minimizar los problemas de alergia, todas las almohadas y los edredones están libres de plumas o abajo. Si el calor adicional es necesario, hay una manta para cada cama (mantas se pueden encontrar almacenados en el armario durante los meses más cálidos). • Sábanas de baño - para estancias de 4 noches o menos, proporcionamos un conjunto de 2 toallas de baño y 2 toallas por huésped registrado; También se proporcionan toallas de mano y una alfombra de baño. Proporcionaremos ropa de baño adicional para estancias más largas. • Proveemos un suministro inicial de café, bolsas de té, azúcar, crema en polvo, sal, pimienta, filtros de café, toallas de papel, bolsas de basura, bolsas de reciclaje, jabón para platos, champú, jabón líquido y papel higiénico. Si su grupo de viaje incluye niños, bebés y / o personas con problemas de movilidad, tenga en cuenta lo siguiente: • la casa no está a prueba de niños y puede haber productos químicos de limpieza y otros artículos domésticos potencialmente peligrosos que no estén fuera del alcance de los niños; La reserva El huésped y otros adultos del grupo son responsables de supervisar a los niños en todo momento • Nosotros no Proporcionar cunas, parques, sillas altas, o cualquier otro equipo de bebé • no proporcionamos juguetes, juegos u otros artículos para mantener entretenidos a los niños • las camas de la casa son bastante altas; Es la responsabilidad de la reserva de huéspedes para determinar antes de reservar si las camas son adecuados para las necesidades de todos los miembros del partido de viaje • no hay barras de apoyo en el baño • el inodoro de la casa (Kohler Rialto) no es un inodoro de altura ADA Tenga en cuenta que hay algunos artículos y áreas en la propiedad que los huéspedes no están autorizados a acceder, ya que están reservados para nuestro uso personal. Gracias de antemano por respetar nuestra privacidad y por asegurar que todos los miembros de las fiestas y los visitantes invitados (incluyendo niños) también lo hagan. Las siguientes áreas y artículos están fuera de límites para los huéspedes: • el cobertizo de almacenamiento al aire libre • la sala del horno • una pequeña sala de almacenamiento interior • los artículos almacenados en unos pocos armarios / cajones / estantes etiquetados como "NO PARA USO DE INVITADOS" que están reservados para nuestro uso personal • cualquier cosa que esté bloqueada Tenga en cuenta que 3 de los tomacorrientes de la casa son controlados por interruptores. En el Manual de la Casa (que se incluirá en el itinerario de Airbnb que se genera después de reservar), encontrará información específica sobre la ubicación de estas salidas controladas por interruptor y los interruptores que las controlan. • PERMITAMOS UNA OCUPACIÓN MÁXIMA DE 6 PERSONAS (incluyendo niños e infantes, independientemente de la propuesta de dormir). • Todas las personas que estarán en la propiedad durante CUALQUIER cantidad de tiempo deben ser pagadas (independientemente de su tamaño o edad) y deben ser contabilizadas en el número total cuando envíe una solicitud de reserva. • Ofrecemos nuestra casa sólo para uso de los huéspedes registrados cuyos nombres nos han proporcionado y que están incluidos en el recuento de huéspedes como se muestra en el itinerario que Airbnb genera para nosotros una vez que se realiza la reserva. • Por razones de responsabilidad, no permitimos que ningún invitado no registrado esté en la propiedad. • No se permiten mascotas en la propiedad. Nuestra política de "No mascotas" NO es negociable. • Por favor, respete nuestro derecho a decidir cómo podemos permitir que nuestro hogar sea usado y cuántas personas sentimos que nuestro hogar puede acomodar de manera segura y cómoda. Tenga en cuenta que no hay instalaciones de lavandería en la cúpula. La lavandería que recomendamos a nuestros huéspedes es la fábrica de lavandería; Se encuentra en Ellsworth Avenue en Shadyside, y está a 10 minutos en coche de la cúpula. La fábrica de lavandería está abierta de 7 am a 9:30 pm todos los días y ofrece lavadoras y secadoras de autoservicio, servicio de lavandería ($ 1.35 por libra) con servicio al día disponible de lunes a viernes de lunes a viernes y servicios de limpieza en seco. Para los huéspedes que no tienen un coche, podríamos discutir los arreglos para recoger y dejar la ropa por un pequeño cargo adicional.
You'll be staying in one of Pittsburgh's most unique homes. Only 26 Yaca-Domes were ever built; ours was the first one built, and it's also the only Yaca-Dome in this part of the county.
We recently installed new Nest Bedding mattresses and pillows in our dome's 3 bedrooms. Nest Bedding's motto is "Love Where You Sleep" and we do believe that our guests will love these super comfy mattresses and pillows! Nest Bedding's high quality mattresses and pillows are eco-friendly and are made to order by hand right here in the USA.
Love the beds? In each of the bedrooms we have posted a Nest Bedding Promo Code for $$$ off when you order a Nest Bedding mattress for delivery to your own home! The Nest Bedding Discount Code posted in each bedroom corresponds with the specific mattress style in that room: The Alexander Signature Series (King bedroom), The Alexander Hybrid (Queen bedroom), and The Love Bed (Full bedroom).
Features of our dome include:
• WiFi access
• Central heat/AC
• Master Bedroom- King bed with Nest Bedding's Alexander Signature Series mattress in medium firmness, 2 Nest Easy Breather pillows, 2 regular pillows, nightstand with lamp, chest of drawers, dresser with mirror, 2 chairs with a side table and lamp, clock radio, closet, and ceiling fan/light.
• Middle-sized Bedroom- Queen size bed with Nest Bedding's Alexander Signature Hybrid mattress in medium firmness, 2 Nest Easy Breather pillows, 2 regular pillows, 2 bedside tables with lamps, chest of drawers, chair, closet, and ceiling fan/light.
• Smallest Bedroom- Full size bed with Nest Bedding's Love Bed mattress in medium firmness, 2 Nest Easy Breather pillows, 2 regular pillows, side table, narrow chest of drawers, floor lamp, and table fan. There is no closet in this room.
• Bathroom- the dome has 1 bathroom, and it contains a vanity sink, tub/shower combination, Kohler Rialto toilet (low profile), blow dryer, scale, towel rack and towels
• Living room- vintage MCM sofa and matching chair with open wood frames, vintage coffee table and 2 matching end tables, vintage table lamp, floor lamps, overhead light, and a vintage console that holds a TV (it is a "smart TV" however you must use your own account if you want to log into Netflix, Amazon video, or similar services... it is also connected to HBO and Comcast's Digital Economy cable channels, which is a VERY basic package)
• Dining Area- vintage 1960's Italian tubular metal and glass dining table with 4 matching chairs (wooden chairs are stored in closet for use if you've booked for more than 4 guests)
• Kitchen- 5 burner gas range w/ convection oven, side by side fridge, microwave, automatic drip coffeemaker, Bodum French press, tea kettle, toaster, waffle iron, basic cookware, dinnerware, cutlery, other assorted kitchenware, a fresh kitchen sponge, a dish towel, and potholders. Please note that the refrigerator is NOT hooked up to a water line; however, you can buy a bag of ice (or make cubes in the ice trays) and pour it into the bin of the ice maker, which then can be used to dispense cubed or crushed ice thru the door.
• Patio- outdoor dining set with 4 chairs
• If you need another chair or two outside due to having booked for 5 or 6 guests, use the wooden chairs from the closet. Those wooden chairs are the only indoor furniture that you are permitted to take outside, and you are to bring them back inside promptly after each use.
• DO NOT EVER under any circumstances take the metal indoor dining chairs, or any interior furnishings other than the wooden dining chairs, outside!
• Do not rearrange our furniture.
• Iron and ironing board (stored in closet)
• Bed linens- the pictured comforter sets have been replaced with duvets with duvet covers and matching pillow covers. Each bed has 4 pillows; to minimize allergy issues, all pillows and the duvets are free of down or feathers. If additional warmth is needed, there is a blanket for each bed (blankets can be found stored in the closet during warmer months).
• Bath linens- for stays of 4 nights or less, we supply a set of 2 bath towels and 2 washcloths per registered guest; also provided are hand towels and a bath mat. We will provide additional bath linens for longer stays.
• We provide a starter supply of coffee, tea bags, sugar, powdered creamer, salt, pepper, coffee filters, paper towels, trash bags, recycling bags, dish soap, shampoo, body wash, liquid hand soap, and toilet paper.
If your traveling party includes children, infants, and/or individuals with mobility issues, please note:
• the home is not child proofed and there may be cleaning chemicals and other potentially hazardous household items that are not out of reach of children; the booking Guest and other adults in the group are responsible for supervising children at all times
• we do NOT provide cribs, playpens, highchairs, or any other baby gear
• we do not provide toys, games, or other items to keep children entertained
• the home's beds are pretty high; it is the responsibility of the booking Guest to determine prior to booking whether the beds are suitable for the needs of all traveling party members
• there are not grab bars in the bathroom
• the home's toilet (Kohler Rialto) is not an ADA height toilet

Please note that there are some items and areas at the property that guests are not permitted to access as they are reserved for our personal use. Thank you in advance for respecting our privacy, and for ensuring that all traveling party members and invited visitors (including children) also do so. The following areas and items are off limits to guests:
• the outdoor storage shed
• the furnace room
• a small indoor storage room
• the items stored in a few cabinets/drawers/shelves labeled "NOT FOR GUEST USE" that are reserved for our personal use
• anything that is locked
Please be aware that 3 of the home's electrical outlets are controlled by switches. Specific information regarding the location of these switch-controlled outlets, and the switches that control them, can be found in the House Manual (which will be included on the Airbnb itinerary that is generated after you book).
• WE PERMIT A MAXIMUM OCCUPANCY OF 6 PEOPLE (including children and infants, regardless of their proposed sleeping arrangements).
• All individuals who will be on the property for ANY amount of time must be paid for (regardless of their size or age) and are to be accounted for in the total number when you send a booking request.
• We offer our home for use only by the registered guests whose names have been provided to us and who are included in the guest count as shown on the itinerary that Airbnb generates for us once a booking is made.
• For liability reasons, we do not permit any unregistered guests to be on the property.
• No pets are permitted on the property. Our "No pets" policy is NOT negotiable.
• Please respect our right to decide how we allow our home to be used and how many people we feel our home can safely and comfortably accommodate.
Please note that there are no laundry facilities at the dome. The laundromat we recommend to our guests is The Laundry Factory; it is located on Ellsworth Avenue in Shadyside, and is a 10 minute drive from the dome. The Laundry Factory is open 7 AM to 9:30 PM daily and offers self-serve coin operated washers and dryers, drop-off laundry service ($1.35 per pound) with same day service available to noon Monday through Friday, and dry cleaning services. For guests who will not have a car, we could discuss arrangements for pick up and drop off of laundry for a small additional fee.
Atención a los huéspedes
• Antes de enviar una solicitud de reserva, envíenos un mensaje para informarnos un poco sobre usted, la composición de su fiesta de viaje (incluyendo las edades de todos los invitados que serán menores de 18 años al comienzo de su estancia), y Propósito general de su viaje. Al igual que muchos anfitriones de Airbnb, preferimos saber estas cosas antes de considerar la aceptación de una solicitud de reserva para esta casa, y es más probable que acepte su solicitud si tiene un perfil completo que incluye una foto clara y reconocible de usted. • Tenga en cuenta que no podrá completar la reserva Proceso hasta que haya verificado su ID a través del proceso de ID Verificado de Airbnb. • Por lo general, será Lisa quien responde a los mensajes de Airbnb, se reunirá con usted en la cúpula para registrarse y servirá como contacto principal durante su estadía. • Usted es responsable de ponerse en contacto con nosotros por adelantado para coordinar una hora de llegada mutuamente aceptable. • Hacemos el check-in en horario entre las 4 PM y las 8 PM. Dependiendo de las circunstancias y nuestros horarios, podemos acordar programar un cheque más tarde de las 8 PM, pero esto debe ser solicitado ANTES de la reserva se hace. • Tenga en cuenta que programaremos nuestras otras obligaciones y planes para el día en base a la hora de llegada acordada originalmente y planificaremos su itinerario de viaje en consecuencia. • Póngase en contacto con nosotros lo antes posible si se encuentra con cualquier retraso que le hará llegar más de 45 minutos después de su hora programada en el tiempo ... mientras que haremos un intento de acomodar el check in a su nueva hora prevista de llegada, con el fin de acomodar a nuestros otros Obligaciones que podamos necesitar para programar el nuevo cheque en el tiempo más tarde que usted lo solicite. • Si sus planes cambian y usted llega a la ciudad antes de la hora acordada, debido a nuestras otras obligaciones, a menudo no estaremos disponibles para atenderle antes y / o puede que todavía no tenga la casa lista para que usted pueda registrarse. • Al llegar, prepárese para presentar su licencia de conducir vigente en los Estados Unidos (o tarjeta de identificación emitida por el estado, si no tiene licencia de conducir) o un pasaporte válido, y todos los demás invitados de 18 años de edad o más deben también Estar preparado para proporcionar lo mismo. • Puede comunicarse con nosotros en cualquier momento para emergencias y puede llamar o enviar un mensaje de texto entre las 9:00 y las 22:00 horas para preguntas o preocupaciones que no sean de emergencia. • Durante su estancia, ocasionalmente podremos detenernos en la propiedad para recuperar artículos del cobertizo de almacenamiento, hacer algún trabajo en el jardín, recolectar basura, etc. • Durante su estancia, entraremos a la casa solamente si le hemos informado con antelación, si hay una emergencia, o si tenemos una creencia razonable de que el Reglamento de la Casa u otros términos de la reserva pueden haber sido violados.
• Before you submit a booking request, please send a message to tell us a bit about yourself, the makeup of your traveling party (including the ages of all guests who will be under 18 years old at the beginning of your stay), and the general purpose of your trip. Like many Airbnb hosts, we prefer to know these things before we consider accepting a booking request for this home, and we're more likely to accept your request if you have a fully completed profile which includes a clear and recognizable photo of you.
• Please note that you will not be able to complete the booking
process until you have verified your ID via Airbnb's Verified ID process.
• Usually it will be Lisa who answers Airbnb messages, meets you at the dome for check in, and serves as the primary contact during your stay.
• You are responsible for contacting us in advance to coordinate a mutually agreeable arrival time.
• We schedule check in times between 4 PM and 8 PM. Depending on the circumstances and our schedules, we may agree to schedule a check in later than 8 PM, but this must be requested BEFORE the booking is made.
• Please keep in mind that we will schedule our other obligations and plans for the day based on the originally agreed-upon arrival time, and plan your travel schedule accordingly.
• Contact us ASAP if you encounter any delays that will cause you to arrive over 45 minutes after your scheduled check in time... while we will make an attempt to accommodate check in at your new projected arrival time, in order to accommodate our other obligations we may need to schedule the new check in time later than you request.
• If your plans change and you arrive in town earlier than the agreed-upon time, due to our other obligations we often won't be available to meet you earlier and/or may not yet have the house ready for you to check in.
• Upon arrival, be prepared to upon request present your unexpired US driver's license (or state-issued ID card, if you don't have a driver's license) or a valid passport, and all other guests 18 years of age or greater must also be prepared to provide the same.
• You can contact us any time for emergencies, and can call or text between 9 AM and 10 PM for non-emergency questions or concerns.
• During your stay, we may occasionally stop by the property to retrieve items from the storage shed, do some yard work, collect trash, etc.
• During your stay, we will enter the home only if we have informed you in advance, if there is an emergency, or if we have reasonable belief that the House Rules or other terms of the booking may have been violated.
Otros aspectos destacables
Para evitar malentendidos y decepciones RE: precios, tenga en cuenta que: • Nuestras tarifas por noche varían (consulte el calendario de precios por noche, y tenga en cuenta que esas cantidades son las tarifas base para un máximo de 2 invitados) • si su grupo de viaje incluye más de 2 personas, habrá un cargo por noche adicional por cada huésped adicional (incluidos los niños y los niños, independientemente de la edad, el tamaño o los arreglos de dormir propuestos) • las tarifas se pueden ver cuando se introducen las fechas y el número de invitados en su partido de viaje • si el intervalo de fechas ingresado califica para el descuento semanal (7 noches o más) o descuento mensual (28 noches o más), dicho descuento ya se ha tenido en cuenta en el total cotizado por el sistema Airbnb Si tiene alguna pregunta sobre la tarifa mostrada una vez que haya ingresado las fechas y el número correcto de invitados, póngase en contacto con nosotros para aclaración ANTES de enviar una solicitud de reserva. Además, no envíe una solicitud de reserva a menos que sus fechas de viaje sean firmes y no sujetas a cambios. Una vez que hayamos aceptado una solicitud de reserva, los únicos ajustes de precios o modificaciones que consideraremos serán las solicitudes de añadir noches o incluir invitados adicionales que no formaran parte de la reserva original. Para la seguridad de la propiedad, nos reservamos el derecho de instalar y utilizar cámaras de seguridad exteriores para monitorear la propiedad. No habrá ninguna cámara de seguridad operando dentro de la casa durante la reserva de un huésped.
To avoid misunderstandings and disappointment RE: pricing, please note that:
• our posted nightly rates vary (see calendar for nightly pricing, and keep in mind that those amounts are the base rates for up to 2 guests)
• if your traveling party includes more 2 people, there will be an additional nightly charge for each extra guest (including infants and children, regardless of age, size, or proposed sleeping arrangements)
• rates can be seen when you enter your dates and the number of guests in your traveling party
• if the date range entered qualifies for the weekly discount (7+ nights) or monthly discount (28+ nights), that discount is already been taken into account in the total quoted by the Airbnb system
If you have any questions about the rate displayed once you have entered the dates and the correct number of guests, contact us for clarification BEFORE you submit a booking request. Also, please do not submit a booking request unless your travel dates are firm and not subject to change. Once we have accepted a booking request, the only pricing adjustments or alterations that we will consider making will be requests to add nights or to include additional guests who weren't part of the original booking.
For the safety and security of the property, we reserve the right to install and utilize exterior security cameras to monitor the property. There will NOT be any security cameras operating inside the home during a guest's booking.
---
Plaza de aparcamiento privada incluida
Internet inalámbrico (wifi)
---
Personas adicionales 13 € / noche más de 2 huéspedes
Depósito de seguridad 432 €
Descuento por semana: 10%
Comunícate siempre a través de Airbnb
Para que tus pagos estén protegidos, nunca transfieras dinero ni te comuniques desde fuera de la página o de la aplicación de Airbnb.
Más información
---
Dormitorio 1
1 cama de matrimonio XXL
Dormitorio 2
1 cama de matrimonio grande
Dormitorio 3
1 cama de matrimonio
---
No se admiten fiestas o eventos
No adecuado o inseguro para niños (0-12 años)
Horario de llegada: de las 16:00 a las 20:00.
Salida antes de las 11:00
• Check-in time is 4PM - 8PM; at least 7 days before the arrival date (or immediately upon booking if your stay will begin within the next 7 days), you must contact us to schedule a more specific 1 hour time window to ensure someone will be available to meet you at the dome when you arrive for check-in.
• Check-out time is by no later than 11 AM, unless other arrangements have been made via the Airbnb system and the applicable late check-out fee has been paid in advance. All late check out requests must be made via the Airbnb messaging system. Please submit any request for a late check out as soon as possible so payment arrangements can be made if we are able to accommodate your request. If we are able to accommodate your request, the additional fee will be as follows: $20 if requesting check out by 12 PM; $30 if requesting check out by 1 PM; and $40 if requesting check out by 2 PM. If requesting check out after 2 PM, you will be required use Airbnb's alteration tool to book and pay for the additional night if it is still available, as a departure after 2 PM would not allow enough time for us to have the dome ready in case we should receive a request from another guest for a same day check in. If another guest has already booked the dome for arrival on your check out date, depending on our schedule and the incoming guest's arrival plans we unfortunately may be unable to consider any late check out requests.
•Check out is not considered to have officially occurred until the time you have left the keys in the designated location, vacated the property, and notified us via text or the Airbnb messaging system to confirm that you have departed; while you are to vacate the property by the scheduled check out time, we do allow an additional 15 minute grace period for you to send us the notification of check out.
•If you have not notified us of your check out (as per the Check Out Process outlined above) by 11:15 AM (or by 15 minutes after the agreed upon check out time, if we agreed to a later time and you have paid the applicable fees), you will be considered an unauthorized late check out and agree that you will be charged late check out fees of $35 per every 30 minutes or portion thereof that you remain on the property beyond the agreed upon and paid for check out time; this charge will continue to accrue until the time that you have vacated the property and notified us via text or the Airbnb messaging system to confirm that you have departed.
•If you fail to ensure that all keys that were given to you upon check in are left in the designated location upon check out, you will be liable for the cost of replacing all affected locks.
•No parties or events are permitted; the property is offered for use by the registered guests only.
•All bookings made via this listing shall permit use of the property for lodging purposes only. Guests may not use the property to engage in any commercial activities. Any photographs, films, or videos taken in or of the home and/or grounds must be for personal and non-commercial use only.
• Maximum occupancy is 6 people. After the first 2 people, the listed extra person fee applies to each additional guest (including infants and children, regardless of age/size/proposed sleeping arrangements).
• Prior to or immediately upon booking, the booking Guest will provide us with the full legal names of all individuals (including infants and children) who are included in the reservation.
• For liability reasons, guests may not at any time invite, entertain, or host anywhere on the property anyone whose name has not been provided in advance and who has not already been accounted for in the guest count and paid for in the reservation.
• All adults included in the booking must be prepared to provide their unexpired US driver's license (or state-issued ID card, if they don't have a valid US driver's license) or a valid passport upon check in.
• No pets are permitted on the property, not even temporarily.
• Before you book, please make sure your arrival and departure dates are firm, fixed, and not subject to change. No refunds will be given for early departures or shortened stays.
• If you cancel your booking, eligibility for any refund will be strictly as specified by the listed cancellation policy.
• Per Airbnb's policies, third party bookings are not permitted. This means that the Guest whose account was used to make the reservation must be part of the traveling party and will remain in residence throughout the reserved period.
•ABSOLUTELY NO KEYS OR ACCESS WILL BE PROVIDED TO OTHERS IF THE GUEST WHOSE ACCOUNT WAS USED TO MAKE THE BOOKING IS NOT PRESENT FOR CHECK-IN.
• ABSOLUTELY NO SMOKING, VAPING, OR TOBACCO USE OF ANY KIND IS PERMITTED INSIDE THE HOUSE. You may smoke, vape, or use other forms of tobacco (including oral tobacco) outdoors only, and you must properly extinguish smoking materials and dispose of all waste products properly; DO NOT under any circumstances bring any of the waste products into the home. If using any form of chewing tobacco, you must provide your own sealable container for expectoration of the resulting waste products; the container must be tightly sealed while not being actively used, is not under any circumstances to be brought inside the house, and when disposed of it must be placed in the trash in a manner that ensures the contents will remain in the sealed container. No tobacco expectorant/waste products are to be discharged onto the ground, plantings, or any other surfaces on the property.
• Lighting of bonfires, grills, fireworks, sparklers, candles, incense, oil lamps, tiki torches, mosquito coils, or similar items is NOT permitted in the house or anywhere on the property.
• DO NOT UNDER ANY CIRCUMSTANCES CONTINUE PAST OUR HOME TOWARDS THE LAST HOME ON THE LANE (the home at the end of the lane is a private residence, and we expect you to respect the owner's privacy). You are responsible for ensuring that you and others in your traveling party do not in any way disturb or intrude upon the residents/premises of that property or any other homes on the lane.
• The home's WiFi network name and password are included on your Airbnb itinerary. By personally using this network and/or by sharing the network name and login info with others, the booking Guest agrees to accept full legal responsibility for any activity that occurs on the home's internet connection during the reservation period. No torrenting, P2P (Peer-to-Peer) file sharing, or similar bandwidth extensive online activities are permitted. Harassing or illegal internet activities are strictly forbidden.
• Airbnb's terms of service specify that the home is to be left in the same condition as you found it. We expect guests to maintain the house in a clean and sanitary condition during their stay. Cleaning supplies are available for guest use. Promptly wipe up crumbs, spills, drips, or cooking splatters, and sweep up any cookies and such dropped by children (or others), and mop up any tracked in mud.
• Dishes and other kitchenware used during your stay are to be washed, dried, and returned to where you originally found them.
• Place all used towels and washcloths in the provided hamper basket. Do not strip the beds, but do leave unmade any beds that were used.
• Other than toilet paper and bodily wastes, no other items are to be placed in the toilet. Place all feminine hygiene products and their wrappings/applicators, diapers, wipes, facial tissues, cotton balls or swabs, and other objects in the trash.
• Any trash that contains diapers is to be double bagged and left outside in the covered outdoor trash can prior to your departure.
• Recycling is MANDATORY in the City of Pittsburgh. If you choose to mix trash and recyclables or otherwise disregard the recycling instructions that are posted in the home and we have to sort the items, you will be subject to and hereby agree to pay a $25 sorting fee which will be paid by you via the resolution center, deducted from your security deposit, or charged to your account's payment method by Airbnb.
• Prior to departure, empty your food and beverage items from the refrigerator, freezer, and cupboards and dispose of them properly (including emptying, rinsing, and properly disposing of any recyclable food packaging). However, you may if you choose leave any UNOPENED food or beverage items behind for the next guest's use.
• Before departing close all window blinds, turn the round thermostat (heating) down to the lowest setting, and set the rectangular thermostat (AC) to 85 degrees Fahrenheit or higher. Also make sure both doors are locked and fully closed upon departure.
• Please make sure that you have returned all keys before you leave. If you fail to return all keys upon departure, you will be subject to and hereby agree to pay a fee of $50 per affected lock, which will be paid by you via the resolution center, deducted from your security deposit, or charged to your account's payment method by Airbnb. The only exception to this $50 per lock charge will be if you are able to make arrangements to IMMEDIATELY (i.e., within 1 hour or less of your scheduled check out time) return the missing keys to us at the location of our choice.
• The booking Guest (or another adult who is part of the reservation, if the booking Guest is rendered incapable of doing so) is to notify us immediately of any occurrence on the property that involves an injury requiring medical attention that is sustained by the booking Guest or other traveling party members, or that in any way involves a call to 911 and/or is responded to by an ambulance, the Police, and/or the Fire Department, and at our request shall also for our records complete and sign a written statement to document the circumstances of the injury or occurrence.
• Illegal activity of any kind is forbidden in the home or anywhere else on the property, including but not limited to illicit substance use, possession of illegal drugs or any controlled substance for which no one present has a valid prescription, and underage drinking.
• Any action that occurs on the property which results in the Police or other local authorities issuing any type of citation to Guest or other traveling party members may result in forfeiture of the entire security deposit and immediate cancellation of the remainder of Guest's reservation, and no refund shall be given for any unused nights.
• The booking Guest is fully responsible for any and all accidents, injuries, deaths, or property damages on our premises that occur either fully or partly as the direct or indirect result of use of any substance (i.e., alcohol, illicit substances, and/or any other substances that could cause mental or physical impairment) by the booking Guest or other traveling party members, regardless of whether the individual(s) involved used the substance on the premises or elsewhere. The booking Guest is also fully responsible for ensuring that anyone who consumes any alcohol while on the property does so in a responsible manner and is of legal drinking age (which is 21 in Pennsylvania).
• As the booking Guest, you are fully responsible for ensuring that all members of your traveling party are made aware of and abide by the House Rules, any conditions included in the listing, and any additional conditions specified in our communications on the Airbnb message thread. You are also fully responsible for the actions of and/or any damages that are directly or indirectly caused by the acts and/or omissions of yourself and/or by the acts and/or omissions of members of your traveling party. The booking Guest and other adults in the traveling party may be required to sign off on a printed copy of the House Rules when you check in.
• Failure to comply with the House Rules, any conditions included in the listing, and any additional conditions specified in our communications on the Airbnb message thread may result in additional charges and possible forfeiture of your security deposit. If we discover the violation prior to the end of your reservation period, it may at our discretion also result in immediate cancellation of the remainder of your stay, and no refund shall be given for any unused nights.
---
---
Detector de monóxido de carbono
---
El número mínimo de noches por estancia para este alojamiento varía según la reserva.
---
Lisa and Lee are great host. The communication was great and they were very prompt to address all our concerns. We had few hiccups during making reservation dues to issues with profile not verified and expired credit card, however Lisa was very proactive and helped us. We met with them upon checking and she took time to show us around property. The property is located very close to Pittsburgh downtown and it is secluded if you enjoy privacy. The rooms are good size to easily fit 6 adults.
---
I don't know, but I didn't like the way she welcome us.I feel like she was being a little judgment towards us. And a bit of stereotypes . You know sometimes people form one opinion about a group of people we are truly not at all the same.Anyway, I truly appreciate her for being able to accommodate us at the last minute.
Had Lynia chosen to write a more accurate review her first line may have instead read "I don't know, but I didn't like the way she expected us to follow the house rules." As I said, I welcomed Lynia politely... and this was despite the fact that she was already breaking a very major one of our house rules upon arrival. Lynia had booked the home for occupancy by 4 people, and those 4 people were to be herself, her husband, her sister, and the sister's husband. However, at check in Lynia brought along 3 extra people. When I politely reminded her that our house rules state that no one except registered guests are permitted on the property at any time, Lynia actually got a bit huffy. She said the extra people (her adult son, who lives in Pittsburgh, and 2 young ladies who she didn't identify) were "dropping us off," but the young ladies were wandering all through the house while I did Lynia's check in. Although I left the property that day believing that Lynia was going to have the 3 extra people leave after she had gotten settled in, after Lynia's departure the excessive amount (far more trash than 4 people would have generated over a 3 night stay) and specific types of trash (lots of paper plates, plastic cups, plastic flatware, beverage containers, and other items commonly associated with a gathering) indicated that she had continued to have extra people on the property, and that other house rules had been broken during the stay. I mentioned these things in the review that I left on Lynia's profile, and I am also including that review in its entirely below: Most of our guests are a pleasure to host and are observant of our house rules, but Lynia and her group unfortunately were not. The circumstances of Lynia making a booking with us were that we had been contacted by a member of Airbnb's Trip Experience Team who requested that we accommodate Lynia and the 3 others in her group after Lynia's original booking with a different host had been cancelled by that other host several days before the stay was to begin. Although our listing's House Rules clearly state that we do not permit parties, and that only the people who are included in the booking are permitted to be on the property, Lynia broke these house rules by bringing multiple additional people onto the property, and by having a party. She and her group also broke our house rules (which are based on the City of Pittsburgh's ordinances) regarding garbage and recycling disposal, by mixing both in the same bags and placing some of those mixed bags in the easily opened recycling bin instead of placing separately bagged trash in the tightly lidded trash can, which resulted in the local wildlife tearing and scattering trash with food waste all over the driveway. Then, two days after her departure she started sending bizarre messages via the Airbnb message platform... the messages were written about me, but she wrote them as if she was writing them to some unknown third person, so they were very strange.
---
Pittsburgh, Pensilvania, Estados Unidos
Se registró en Agosto 2012
Hi we're Azhar (but everyone calls me Lee) and Lisa. Lisa usually handles the bookings and other communications on our listings. Our listings include an entire dome home, 1 & 2 BR apartments, and Private Rooms (please note that if you're viewing one of our "Private Room" listings, most of those are for rooms in the home we live in, which is NOT the dome house... we only very rarely offer "Private Room" rentals in the dome home, as it is usually offered only as a whole house rental).

One of our listings, our Yaca-Dome, has been featured in Pittsburgh Magazine, and it may be the most unique Pittsburgh property that is offered on Airbnb. We call it "The Igloo" (take a look at the listing photos and you'll see why), and it's usually available only as a whole house rental. With 3 bedrooms, the home can accommodate up to 6 guests. The Igloo offers a relaxing, private setting while still being within the city limits and close to all the great amenities and attractions Pittsburgh has to offer.

The private apartments we offer are located on bus lines that provide easy access to Oakland and Downtown. There is also free on-street parking available.

While we occasionally offer private room rentals in the Yaca-Dome or in the 2 bedroom apartment, most of the private rooms we offer are at the home we live in. In our home, you can rent individual or multiple rooms (including one room with its own private en suite bathroom), depending on availability. Our home is conveniently located near all the amenities Pittsburgh's East End has to offer, and is less than a 10 minute walk to Bakery Square/G**gle. We are also located near a CMU and Chatham shuttle stops. And if you bring a car, plenty of free street parking and off-street parking is available.

Lee has already added numerous green features to our properties, such as an in-floor radiant heating system (in the 1st floor and basement of our home), changed all the lighting to LED & CFL bulbs, installed many low flow water fixtures, etc. We plan to use part of our Airbnb earnings to add more green features. Ultimately, a Net-Zero house is Lee's goal.

Thank you very much for considering us for your Pittsburgh stay,
Lee & Lisa
Idiomas:
Bengali, English
Ratio de respuesta:
100%
Tiempo de respuesta:
en menos de una hora
Descubre otras opciones en Pittsburgh y sus alrededores
Más alojamientos en Pittsburgh: