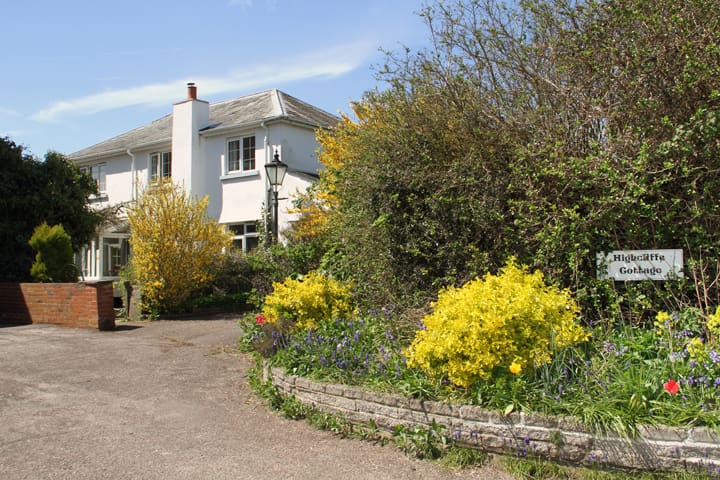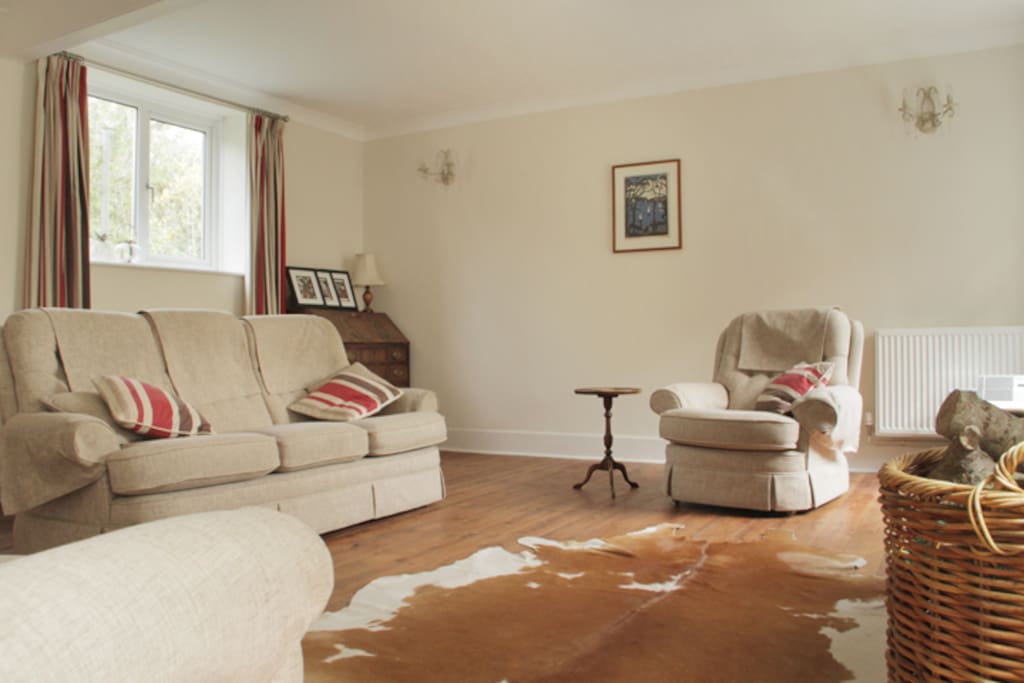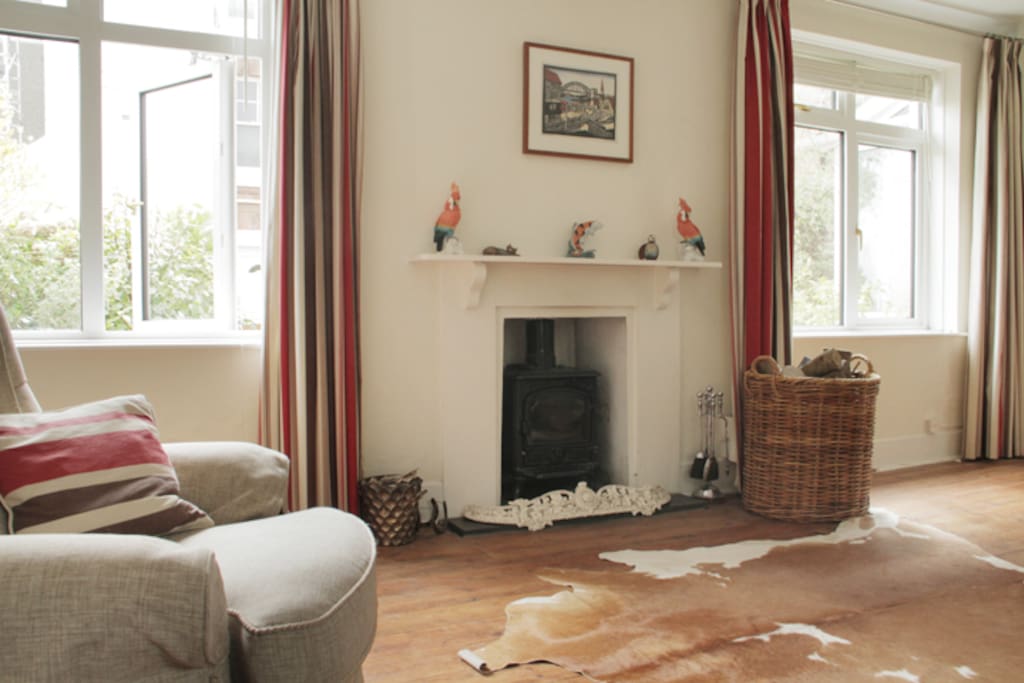 Highcliffe Cottage is the ideal place for a relaxing comfortable stay. Quiet and romantic, it is a true country cottage by the sea with easy access to the beach and lovely cliff side walks to Beer. The atmosphere is cosy and enchanting.
El alojamiento
Highcliffe Cottage Highcliffe Close Seaton Devon dates from 150 years ago and was a former coach house to the main mansion next door. Therefore it is an "old" cottage! I hope you understand what that means! Seaton and Axmouth is in fact an ancient Roman port with its beginning in the Phoenician times due to sea trading throughout the Mediterranean. There was a Roman villa in Seaton with an amazing mosaic which is still covered up (!) and the Seaton Roman Coin hoard which was only discovered a few years ago is now housed at a museum in Exeter. While not a Roman villa, Highcliffe has a spacious, peaceful, comfortable, relaxing and welcoming ambiance. On the ground floor there is a large living room with wood burning stove that leads into a dining area that opens into a fully equipped modern kitchen with washing machine and dishwasher. Stairs lead up to a landing from which there are 2 double bedrooms, a smaller single room with a single and pull out bed, a bathroom with WC and a separate WC. Highcliffe comfortably sleeps six. It is surrounded by a very pretty mature garden with different areas in which to sit, eat and relax. You may even see the local Thrushes fossicking about in the trees and hedges and other birdlife too. There are sea views from different parts of the house and garden with stunning cliff views of Lyme Bay. There is also off street parking.
The house is situated on the famous Jurassic Coast, a region of outstanding natural beauty and is a ten minute walk to the classic Victorian seaside town of Seaton and a 20 minute walk to classic Beer, real Enid Blyton territory. Shops abound including small, medium and large supermarkets, cafes and pubs, and great fish and chip shops too! It's a perfect spot from which to explore the coast either by walking, bus or car and all the beautiful towns and villages in the surrounding area. You may even wish to catch a local tram to the inland villages of Colyford and Colyton. There are some marvellous surprises such as the pretty coastal village of Beer which is is 2 miles west of Seaton and the renowned River Cottage Restaurant near Axminster 5 miles north. The delightful seaside town of Lyme Regis is 5 miles east which has the delicious Hix restaurant and the gracious town of Sidmouth is 8 miles west with its luxurious shops and Waitrose supermarket. The whole area has lovely local pubs and gardens, my favourite at the moment being Forde Abbey which is situated between Axminster and Chard, an old converted Cistercian monastery with its amazing architecture, beautiful semi formal gardens and wonderful fountain. The County Town of Exeter is a 30 minute drive away with access to Exeter Airport as well as local trains from the very pretty Axminster station to both London Waterloo and Exeter. A recent charming discovery is Mapperton Manor House near Beaminster in Dorset where Far from the Madding Crowd was recently filmed . It does a wonderful homemade morning tea , the house is very charming and the gardens full of topiary are exquisite. All very intimate and individual and unique. No National Trust crowds here. The ladies in the gift shop are full of charm and are extraordinarily helpful and polite . One of them is a local farmer, and if you are lucky she may show you her hand made twine!
There is something for everyone at Seaton, ranging from the beautiful local beaches to shops, pubs, restaurants and extraordinarily charming local countryside. If you are somewhat of a raver you can visit the Smugglers bar in Seaton for a Karaoke Friday night ( most entertaining), or if you can wait till the Saturday night dance with locals ( all ages!!) to disco sounds of the sixties, seventies and eighties. Now there's an experience for you! Don't forget to pop into the very informative Jurassic Centre ( but please note this is not a Hollywood style Jurrassic Park experience ) or hop on the local tram and glide through the local wetlands discovering a real twitcher's paradise. If you want to go further afield, Dartmoor is only an hour's drive away with its dramatic scenery, but there is much to do and see in and around Seaton too. You may wish to simply relax at the cottage, go for a walk along the sea front, pop into one of my favourite cafes, for example at Seaton Hole and experience good food and hospitality or just sit and look at the sea from various beautiful vantage points in the Seaton area. The newly opened Hideaway Cafe on the seafront is exceptionally positioned for views of the Beer chalk cliffs. There are many other cafes in town too. Coast is also good on the seafront. Beware! Service is not the snappy London style so you might have to be a little more patient than usual! And if you are a coffee snob like I am while the coffee bean is good, there is not a lot of difference between a flat white, a latte and a cappuccino: oh well nothing is perfect! But you will enjoy the views! I hope you enjoy the infinite and subtle and not so subtle variety of the Jurassic Coast! The choice is yours!
Servicios y zonas comunes
Guests will have access to the whole cottage and garden . There is no access to the garage. There is parking outside the cottage. Please note that the garden is not a manicured cultivated pristine garden. There are some lovely vantage points to view the coast, the cliffs, and the countryside, but if you are afraid that your little darlings might scratch themselves on a rose bush or bramble, or are afraid of your little ones discovering the delights of flora and fauna, which includes insects, bugs and birds, this cottage will not be for you! I'm afraid sanitised "elf and safety" on the garden plays second fiddle to the needs of the local birds, butterflies and bees, especially the robins and the blue tits, the insects and the occasional hedgehog. The garden is as much for them as it is for we humans.
Atención a los huéspedes
Approximately 4pm is the ideal time to arrive to allow cleaning of the cottage after previous guests have departed . And some guests leave the cottage in a shocking state: eg the furniture completely re-arranged, crockery and glassware everywhere, fingernail clippings left in the bedroom, broken windows in the kitchen, dogs being brought into the cottage and their paw marks everywhere (!), broken glasses, yaddah, yaddah, yaddah! All I ask is for some consideration and respect be shown to the cottage: it is not an on demand serviced hotel!!! A key code will be sent to the guest a week before their arrival. The key code box is next to the front door to the cottage. Unbelievably some guests have arrived past midnight and have expected some sort of welcoming party. Some people never cease to amaze!
Please feel free to turn on or increase the central heating boiler which is located in the kitchen. I want you to be as warm and cosy as you feel necessary.
The dishwasher and the washing machine are also located in the kitchen.
There is a fire for you to light in the lounge room. You will have to use your Boy Scout/Girl Guide skills to light it, but you will be helped I'm sure with fire lighters, twists of newspaper and kindling.
The bathroom/shower/loo is upstairs along with a separate loo which always comes in handy. The shower is electric. Yes, electric! Heavens: a house with no power shower!Just pull the cord and adjust the settings on the unit for those of you who have never used one before. The view of the chalk cliffs from the bathroom is superb! An added bonus, if not somewhat unexpected! Sometimes the chalk cliff glows so brightly in the sunshine, especially at sunrise and or sunset, one feels as if one is going to be transported into the heavens! A sensational experience.
You will find extra linen in the linen cupboard if you need it, and there are plenty of towels to use. I hope you wouldn't use more towels than necessary though for ecological reasons! I had one family stay use every single towel in the cottage and they complained there were not fresh towels provided every day. Oh dear: not a lot of ecological understanding there!
I have also left guests plenty of reading material in the cottage ranging from tourist information to high brow art books. Read according to your mood. Most reading material is downstairs, but there is a smattering of reading material also upstairs.
There is also a CD player with numerous CDs ranging from Tamla Motown to Bellini's Norma. Please don't steal the CDs! I have had to replace my Kate Bush CD 3 times!!!Believe it or not some people really have thought I wouldn't notice! Who would not notice a CD not there, especially Kate Bush!! Pretty sad really.
I have left a selection of coffee and tea cups out for you to enjoy with your tea and coffee:
Enjoy a tea or coffee in the garden under the cherry tree and soak in the Jurrassic Coast atmosphere! Or enjoy a late afternoon coffee snuggled up on the fake rattan furniture ( weather proof I'm afraid! ) adjacent to the kitchen and watch the sun set over the view to the adjacent hills and countryside. Harvest time views are particularly enhancing in the sunset. The interaction between coast and country becomes quite evident once you relax: allow yourself the time and energy to soak it all in.
Otros aspectos destacables
There are some lovely and lively pubs and cafes in Seaton itself which is only a 10 minute walk from the cottage. The promenade walk from Coast cafe to the Hideaway cafe is a real treat! Remember this is a seaside cottage with cliffside views and therefore while not steep is not flat. I always marvel when guests tell me that the walk to the beach and back is not flat: that's right! Highcliffe is high cliff!!! And guess what, the exercise can be quite enjoyable! Please leave the cottage clean and tidy. The cottage itself does not have a huge flat screen television. If this is what you are looking for, this cottage is not for you!!! It does have plenty of reading material, various CDs and DVDs and views to contemplate and meditate over ! There is no bling, Ming , or glitz here! Or put another way, this is not a fake interior designed cottage made to look like a film set! It is personal, comfortable and mildly individualistic and idiosyncratic. And if in your infinite wisdom you have decided to become a professional AirBnB reviewer, again this place really is not for you! If a particular colour of a tea towel upsets you, if gentle tapping rain on the kitchen roof disturbs you, if the beautiful aroma of freshly burned wood in a ceramic wood burner and all that entails distresses you, this is not the place for you! Vapid and vacuous individuals would not be happy here: only gentle, fun-loving, sensitive, inquiring individuals who are seeking serenity and calm and peace and quiet would really enjoy the cottage!
---
Apto para familias y niños
Aparcamiento gratuito en las inmediaciones
---
Comunícate siempre a través de Airbnb
Para que tus pagos estén protegidos, nunca transfieras dinero ni te comuniques desde fuera de la página o de la aplicación de Airbnb.
---
Dormitorio 1
1 cama de matrimonio
Dormitorio 2
1 cama de matrimonio
Dormitorio 3
2 camas individuales
---
La hora de llegada es a partir de las 16:00
Salida antes de las 11:00
Please leave the place as you find it. Leave furniture in the position where you found it.
Report all damage and breakages. It would really really be appreciated if spillages were cleaned up properly. Please don't leave the cottage with the attitude, oh well I'm sure the cleaner will clean it up! Dispose of rubbish in bins provided. Pets are generally not allowed. Please don't smoke inside the cottage!
Please treat the cottage with care and respect. It is not an anonymous hotel nor a holiday property to be carelessly abused. It is a much loved home full of fond and happy memories and is a classic English country cottage by the English seaside. For those of you that do stay, I wish you a peaceful, happy, relaxing time and I hope all your cares and worries are carried away by the wonderful fresh sea air!
---
The cottage is very aptly described by Adrian, and he does a great job at managing expectations. So read the description and 'guidelines' thoroughly and you will be well advised when you choose to stay here in Seaton. Conveniently located near the beach and near the village of Beer. Lyme Regis and Charmouth are great for fossil hunting and just a short ride away. Seaton has all the shops and services you need so you do not really have to go far if you do not want to. We had a great stay; thanks Adrian!
---
We're family of five and spent 4 relaxing days at Highcliffe cottage. The cottage is spacious with a very well equipped kitchen. For raining days there is a cosy living room and for sunny days there are several sitting groups outside around the house. The cottages is located in a very calm area, but still within walking distance (also for kids) to the town center where there are several restaurants (and a large Tesco) and the beaches. The cottage is also very well located for exploring the beautiful Devon. We will highly recommend a walk along the coast to the neighbor village Beer as well as Francombe and Lyme Regis. Although we never met Adrian, he was a very responsive host and quick to answer question on e-mail. We really enjoyed our stay at Highcliffe cottage and we highly recommend the area and this beautiful and relaxing home.
---
This is a great place for a family, we were quite comfortable here, a gorgeous garden and view, a well equipped kitchen lots of games, books and movies for some rainy evenings. we were able to do a lot of walking to restaurants, the beach for rock collecting, and did several really great day trips. I highly recommend a visit to the Donkey Sanctuary in Sidmouth, and a walk to Beer for breakfast. We will have many good memories for what will most likely be a once in a lifetime visit to the Devon area. Thank you Adrian!
---
Wir haben eine Woche im Highcliffe Cottage verbracht und es hat uns sehr gut gefallen. Leider war das Wetter nicht optimal, mit Sturm und Regen gleich bei unserer Ankunft, aber dafür konnten wir die Heizung des Cottage testen und sie funktioniert bestens. Auch der Wohnraum und die Schlafzimmer haben viel Platz, so kann man es auch bei Regenwetter gut aushalten und es gibt einige Bücher zum Schmökern. Leider konnten wir uns im Garten nicht so aufhalten, aber er sieht sehr schön aus und man findet immer irgendwo einen Platz in der Sonne, wenn sie mal scheint. Auch die Blicke aufs Meer und die Klippen sind toll. Der Fußweg in die Innenstadt dauert ca. 10 Minuten. Leider ist die Old Beer Road Richtung Beer dauerhaft gesperrt und so dauert der Fußweg in das malerische Örtchen Beer ca. 30 Minuten. Vielen Dank an Adrian.
---
As our party know Seaton well, Hycliffe Cottage lived up to our expectation of having a good sea view; spectacular from some of the upstairs rooms. I concur with the positive reviews previously given and will focus on the holiday with a two and a half year old child. The cottage was child-friendly in many ways: the fun of stair climbing using the banisters; the feel of the cow-skin rug made a perfect place to lie and do colouring; outside tables in sunny spots for painting activities and even a safety bed guard for the single bed so she did not slip down the back. Just be aware that there are ceiling to floor shelves for glasses and cups in the kitchen. After initial supervised interest they got forgotten by our toddler as they were out of view. As a family we quickly felt very relaxed and enjoyed our stay. Recommendations for child-friendly activities with a toddler are Axe Valley Wild life Park which is full of wonderful birds, mercats, goats, zebra ... the list goes on. Also the sandy beach and paddling at Lyme Regis and stone sorting on Seaton beach. There are some good playgrounds around - a new one, with a pirate theme, in Lyme Regis and another near the Jurassic Centre in Seaton. Enjoy!
---
London based barrister interested in culture, travel, food and wine, walking, gardening and lively conversation.
Ratio de respuesta:
100%
Tiempo de respuesta:
en el mismo día
Descubre otras opciones en Seaton y sus alrededores
Más alojamientos en Seaton: