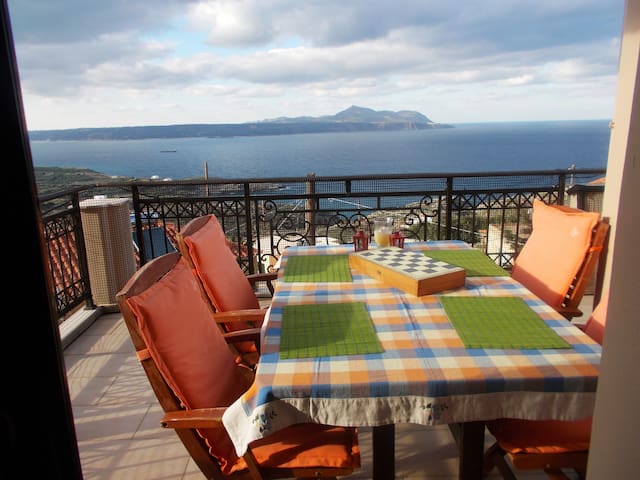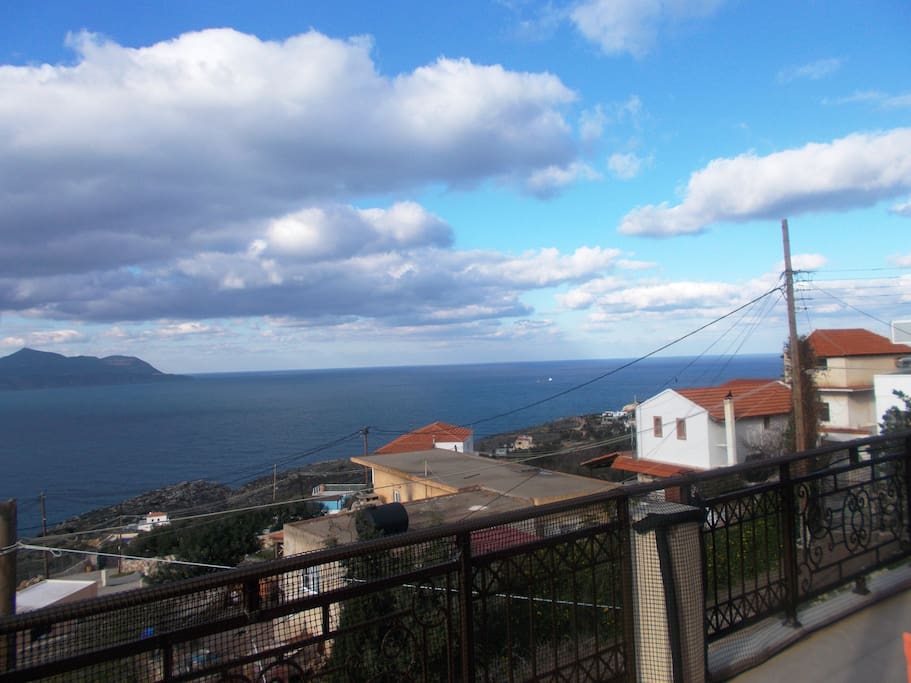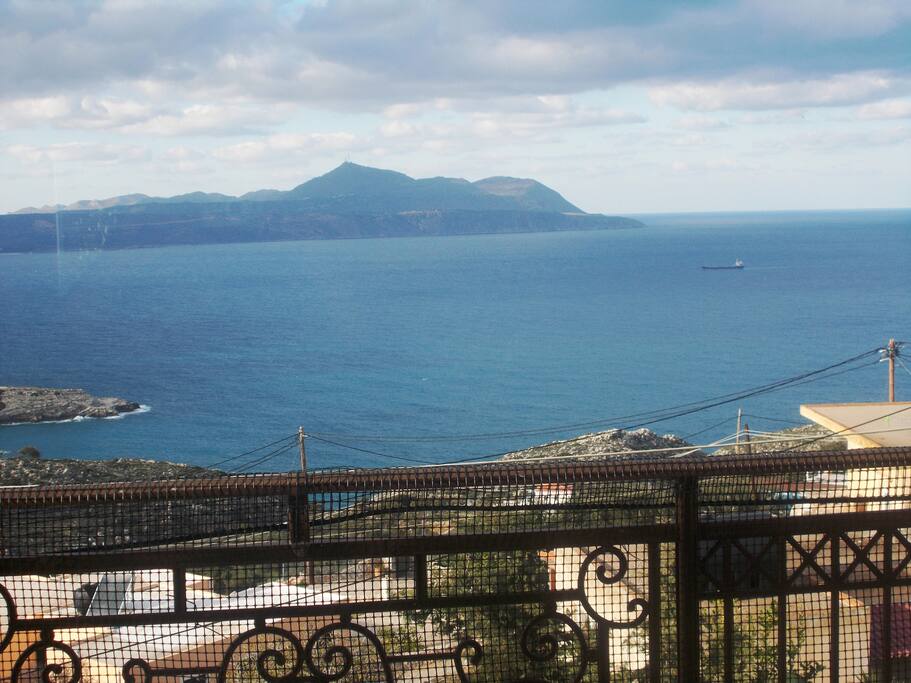 Dream place for quiet and safe holidays all year round. It combines the relaxation of the sea and mountain excursions. Ideal place for those who want to enjoy the sea, the sunset and the Hosting.
El alojamiento
Villa "Charoupia" has a Special Signal Operation furnished houses from the Greek Tourism Organization (EOT). Villa "Charoupia" (Locust tree) is a detached two-story maisonette with a large yard at one of the entrances of the village. It is a renovated traditional residence the ground floor of which was built in 1936. As you walk in the yard you see a large locust tree which dates seventy years. There are pretty flowers and a few trees which tie in perfectly with the character of the villa. On one side of the yard there is a large traditional stone-built water tank, which back in time, was used for the water supplies of the household. Just in front of the ground floor, you can have your first stop. You can enjoy the magnificent sea view as well as the breathtaking view of Drapanokefala hill. The yard is also equipped with a barbecue for unforgettable nights. The yard also has parking space for three vehicles.
The villa is renovated and decorated with a lot of love by its owners as they did actually live there for some years. Its modern decoration is based on the traditional style of the location. As you walk in the ground floor you find yourself in a modern hallway and the stairs that lead to the first floor. At the end of the corridor two sun-kissed large bedrooms can be found, both beautifully decorated with big, spacious wardrobes. One bedroom has a double bed and other a small TV set and the bedroom has a double bed, and a single one upon request. Both bedrooms have a wonderful view of the sea. The rooms are also air-conditioned. On the ground floor you will also find the modern master bathroom of the household. It is equipped with a practical bathroom cupboard, a large bathtub ideal for relaxing after a day's explorations of the area, a washing machine, a hairdryer, iron and a first aid kit.
Ascending the stairs you can admire the traditional wooden ceiling of the house. On the first floor you will find the kitchen, a wc and the living room of the house. The kitchen is equipped with beautiful spacious cupboards, a dishwasher, an electric oven, a microwave oven and a fridge so that you can prepare and enjoy your meal at the big balcony. In the living room you can relax on the sofa and the armchairs of the house and let your eyes wonder around the beautiful bay of Souda using the telescope of the house. A fireplace next to the large window will keep you company in the cold winter nights or the large air-condition unit that will cool you down in the hot summer days. The living room also offers a big ceiling-hanging TV with a satellite dish and a relaxing hammock.
You will adore the balcony. A big wooden table and six chairs are enough to help you relax and enjoy the sea, the different ships and boats coming and going, not to mention the magnificent sunset.
The house is also equipped with central heating for cold winter days & nights. There is also a solar-panel water heater, so you will never run out of hot water. There is Free WI-Fi. Due to the staircase and layout of the house it is not recommended to families with small children.

Η βίλα "Χαρουπιά" διαθέτει Ειδικό Σήμα Λειτουργίας Επιπλωμένης Κατοικίας από τον Ελληνικό Οργανισμό Τουρισμού (ΕΟΤ) ΜΗΤΕ: (PHONE NUMBER HIDDEN).
Η βίλα ¨Χαρουπιά¨ είναι μια αυτόνομη διώροφη κατοικία με μεγάλη αυλή στην είσοδο του χωριού. Πρόκειται για μια ανακαινισμένη παλιά κατοικία της οποίας το ισόγειο έχει κτιστεί περίπου το 1936. Μπαίνοντας στην αυλή συναντά κανείς μια μεγάλη χαρουπιά που χρονολογείται περίπου στα εβδομήντα έτη. Τριγύρω υπάρχουν όμορφα λουλούδια και δένδρα εναρμονισμένα με την ιδιαιτερότητα του χώρου. Στην άκρη της αυλής δεσπόζει μια μεγάλη παραδοσιακή πετρόκτιστη στέρνα, όπου τα παλαιά χρόνια χρησιμοποιούταν για την ύδρευση του σπιτιού. Μπροστά στο ισόγειο κτίσμα μπορείτε να κάνετε μια πρώτη στάση στην αυλή, από όπου μπορείτε να απολαύσετε την υπέροχη θέα της θάλασσας αλλά και την επιβλητική θέα του λόφου Δραπανοκεφάλα. Ο χώρος διαθέτει και ψησταριά για αξέχαστες βραδιές barbeque, ενώ στην αυλή παρέχονται τρεις θέσεις στάθμευσης .
Η βίλα είναι ανακαινισμένη και διακοσμημένη με πολλή αγάπη από τους ιδιοκτήτες της. Διαθέτει μια μοντέρνα διακόσμηση βασισμένη στα παραδοσιακά πρότυπα του τόπου της. Μπαίνοντας στο ισόγειο βρίσκεστε σε ένα μοντέρνο διάδρομο και στη σκάλα που οδηγεί στον πάνω όροφο του σπιτιού. . Στο βάθος του διαδρόμου βρίσκονται δύο μεγάλα φωτεινά υπνοδωμάτια, όμορφα διακοσμημένα με τεράστιες λειτουργικές ντουλάπες. Το ένα υπνοδωμάτιο διαθέτει ένα διπλό κρεβάτι και μια μικρή τηλεόραση και το άλλο δωμάτιο ένα διπλό κρεβάτι, ενώ υπάρχει η δυνατότητα προσθήκης και ενός μονού κρεβατιού. Και τα δυο δωμάτια έχουν υπέροχη θέα προς την θάλασσα και είναι κλιματιζόμενα. Στο ισόγειο θα βρείτε το μεγάλο μοντέρνο μπάνιο του σπιτικού, το οποίο διαθέτει ένα πρακτικό έπιπλο τουαλέτας, μεγάλη μπανιέρα για χαλάρωση, πλυντήριο ρούχων, πιστολάκι μαλλιών, σίδερο καθώς και κουτί πρώτων βοηθειών. Ανεβαίνοντας τη σκάλα για τον επάνω όροφο θα θαυμάσετε την υπέροχη παραδοσιακή ξύλινη σκεπή του σπιτιού. Στον επάνω όροφο θα βρείτε την κουζίνα, μια μικρή τουαλέτα και το σαλόνι του σπιτιού. Η κουζίνα διαθέτει καλαίσθητα ευρύχωρα ντουλάπια, με πλυντήριο πιάτων, φούρνο, φούρνο μικροκυμάτων, πλυντήριο πιάτων και φυσικά ψυγείο για να μπορείτε να διατηρείτε τα τρόφιμά σας και να ετοιμάζετε μόνοι σας τα γεύματά σας, τα οποία μπορείτε να απολαμβάνετε στο μεγάλο μπαλκόνι. Στο σαλόνι θα μπορέσετε να χαλαρώσετε στον καναπέ και στις αναπαυτικές πολυθρόνες και να αγναντέψετε τον υπέροχο κόλπο της Σούδας με το τηλεσκόπιο του σπιτιού. Τις κρύες νύχτες του χειμώνα θα σας κρατήσει συντροφιά το τζάκι που βρίσκεται δίπλα στο παράθυρο, ενώ μπορείτε να ζεσταθείτε και με το μεγάλο κλιματιστικό. Στο χώρο του σαλονιού θα βρείτε μια σύγχρονη κρεμαστή τηλεόραση που διαθέτει δορυφορική σύνδεση καθώς και μια χαλαρωτική αιώρα. Το μπαλκόνι του σπιτιού θα το λατρέψετε: ένα μεγάλο ξύλινο τραπέζι με έξι καρέκλες θα αποτελέσει το ιδανικό σημείο χαλάρωσης, καθώς θα αγναντεύετε τα γαλάζια νερά της θάλασσας, τα πλοία που πηγαινοέρχονται και το μαγευτικό ηλιοβασίλεμα.
Το σπίτι διαθέτει και καλοριφέρ για τις κρύες μέρες του χειμώνα. Επιπλέον, υπάρχει ηλιακός θερμοσίφωνας για παροχή ζεστού νερού όλη την ημέρα. Διατίθεται δωρεάν ασύρματο ίντερνετ (Wi-Fi). Το σπίτι λόγω της διαμόρφωσης του και της εσωτερικής σκάλας δεν συνιστάται για οικογένεια με μικρά παιδιά.
Servicios y zonas comunes
Access is available throughout the house.
Η πρόσβαση είναι διαθέσιμη σε όλους τους χώρους του σπιτιού.
Atención a los huéspedes
Villa "Charoupia" is at your disposal for any arrival time upon request.
The owners are willing to provide you with any information and assistance you may need.
Η βίλα Χαρουπιά είναι στην διάθεση σας για οποιαδήποτε ώρα άφιξης κατόπιν συνεννόησης .
Οι ιδιοκτήτες είναι διαθέσιμοι να σας παρέχουν όποια πληροφορία και βοήθεια χρειαστείτε.
Otros aspectos destacables
Upon arrival you will expect your typical local products and a bottle of wine to start in the best way your holidays. Please inform us in case of a food allergy.
Κατά την άφιξη σας θα σας περιμένουν παραδοσιακά τοπικά προϊόντα και ένα μπουκάλι κρασί για να ξεκινήσετε με τον καλύτερο τρόπο τις διακοπές σας. Παρακαλώ ενημερώστε μας σε περίπτωση κάποιας αλλεργίας στο φαγητό.
---
Aparcamiento gratuito en las inmediaciones
Internet inalámbrico (wifi)
---
Depósito de seguridad 90 €
Descuento por semana: 12%
Comunícate siempre a través de Airbnb
Para que tus pagos estén protegidos, nunca transfieras dinero ni te comuniques desde fuera de la página o de la aplicación de Airbnb.
Más información
---
Dormitorio 1
1 cama de matrimonio
Dormitorio 2
1 cama de matrimonio, 1 cama individual
---
La hora de llegada es flexible
Salida antes de las 21:00
Every third day of stay after the 11:00 a.m. Free clean towels and sheets.
Κάθε τρίτη μέρα διαμονής μετά της 11:00 π.μ. παρέχεται δωρεάν καθαρές πετσέτες και σεντόνια.
To provide heating via radiators of the house there is a fee of EUR 300,00 for each week stay which prepay if the stay is shorter less any difference returned to departure (indicative price for the oil town of Chania liter = 1,00 euro)
Για την παροχή θέρμανσης μέσω καλοριφέρ της κατοικίας υπάρχει χρέωση 300 ευρώ για κάθε εβδομάδα παραμονής η οποία προκαταβάλετε και στην περίπτωση η παραμονή είναι μικρότερης διάρκειας είναι μικρότερη η όποια διαφορά επιστρέφεται στην αναχώρηση (ενδεικτική τιμή πετρελαίου για την πόλη των Χανίων λίτρο = 1 ευρώ).
---
Ficha de instrucciones de seguridad
---
El número mínimo de noches por estancia para este alojamiento varía según la reserva.
---
The house was very comfortable and felt like home. The village Kokkino Chorio is small and very peaceful. View from balcony was fabulous. The nearest beach is a few km away -  small, uncrowded and stony. If you prefer sand, than choose beach just after Kalyves (9 km) town. The house is equiped with everything that you will need - from washing machine to vacuum cleaner (useful if you pack you clothes in bags with exhausting air option), from telescope to basic fishing equipement :) we even saw a sea turte while fishing on the near by cliffs :) There was even bathroom accesories (shampoo and etc.), also kitchen accesories (coffee, tea, sugar and etc.), breafast for tomorrow, fruits, raki and so on. The owners are especially hospitable, caring and helpful. Thank you! We felt great in this house. Certainly recommended!
---
This is an amazing house very comfortable for the family of 4. Much better than seen on pictures. Fully equipped with kitchen staff, AC, 2 bathrooms, great balcony with a great sea view. Housekeepers are super friendly and helpful - we got very warm welcome and great care during our stay. The village is very nice and calm, no crowds or noisy bars. You can walk to a tavern or a supermarket in just 3 minutes. Need to have a car to reach beaches. I would recommend a small beach 3 minutes driving to the right of the place. Thank you very much! Sergey
---
We holidayed at Villa Charoupia in Kokkino Chorio for two weeks from 17th August 2016. The house was charming with exceptional views across Souda Bay from the first floor lounge/kitchen verandah (the bedrooms and bathroom were on the ground floor and an additional wc on the first floor). The bedrooms and the lounge were efficiently air conditioned. The house was spotlessly clean and well equipped and the owner, Katerina, had put a lot of thought into making the house feel like a home from home. The house was cleaned twice a week and bed linen changed weekly, this was done by Katerina herself. Kokkino Chorio is about 45mins drive from the airport; it has a kafenion, a taverna and a very comprehensively stocked village store. There are two good tourist beaches with a number of shops and tavernas less than 15mins drive away at Almyrida and Kalyves. However we preferred one on the outskirts of Kalyves, Kiani Akti which was much quieter. The house is well located for the airport and for visiting Chania and Rethymno (45 and 60 mins respectively). Katerina was a great host; welcoming and friendly; easily contactable and very knowledgeable about the area. We had a fabulous holiday and would have no hesitation in recommending Villa Charoupia as an excellent base for a relaxing holiday.
---
We spent 4 weeks in June 2016 in this beautiful house. It was one of the best vacations of our lives. We were the first guests of the house, and were afraid a little to rent a house without a single comment. The house itself, the village of Kokkino Chorio and the owners of the house exceeded all our expectations.The house is located in an authentic Cretan village of Kokkino Chorio on the Hill. The terrace of the house offers a magical view of Souda Bay. We spent a lot of wonderful evenings, admiring the sun set into the sea. It was impossible to get used to view from the terrace even after living there for a month. Usually we cooked by ourselves. The house has everything that can be useful for longer stays and more: all appliances, kitchen utensils, household cleaning, bed linen and towels, which were changed by caring hostess Katherine. There is everything for a comfortable stay: from the needles and thread, and ending with a telescope, which can be used to see passing ships during the day, and the craters on the near side of the moon at night.Photos on the website do not really show the comfort of the house, and this is that rare case when reality is better.The closest to the house beach is in 2.3 km. There was almost no person there, it is a narrow bay among the rocks with a narrow road to, and there is no infrastructure (chairs, umbrellas, etc.) The nearest well-maintained beach is in the neighboring towns of Almirida (~ 4 km) and our favorite beach in the city Kalyves (~ 7 km). There is everything necessary for a long rest during the day on these beaches. Free sun beds, umbrellas and shower near the seaside tavernas.In the village Kokkino Chorio there is a taverna and a shop. You definitely need to rent a car for a rest and exploring the numerous attractions of Crete. There is enough space to park 2 or 3 cars on plot. The owners of the house impressed us with their warmth and hospitality. We came with 2 month old baby, and Katherine had prepared everything necessary: a cot, cradle, and even lifesaving drugs. One evening, coming back from the beach, we saw freshly baked cupcake on the kitchen table with a note and wishes bon appetit. The owners facilitated our first few days in Greece, hints and tips. Thanks to them we knew location of the nearest shop with freshly caught fish and often used it. It was a really pleasant communication and familiarity. We returned to Russia with fond memories.
Nice to meet you and your beautiful family but more delighted that you spent so beautiful in our country and especially in our island our Crete. We are grateful you chose us without any criticism since this year we have made available to the villa "Charoupia" and trusted the airbnb for your reservation as we do for the disposal of the villa on the platform. We hope to meet again in the future and wish you health and joy to you accompany him on trips of your life.
---
Hello!!!
My name is Katerina and I am the owner of the "Villa Charoupia".
I studied business administration and worked for many years in various companies in the private sector.
Kokkino Xorio is a place that I love very much because it is the village from where my parents came from.
The "Villa Charoupia" is a house with a long history and it was my father's birthplace and were he grew up. Just renovated with great love from my husband Themis and me as it was our first home.
I have good knowledge of English.
My husband and I are looking forward to have the pleasure to welcome you in our home!!!
For any further information please don't hesitate to contact us.
Idiomas:
English, Ελληνικά
Ratio de respuesta:
100%
Tiempo de respuesta:
en menos de una hora
Descubre otras opciones en Kokkino Chorio y sus alrededores
Más alojamientos en Kokkino Chorio: