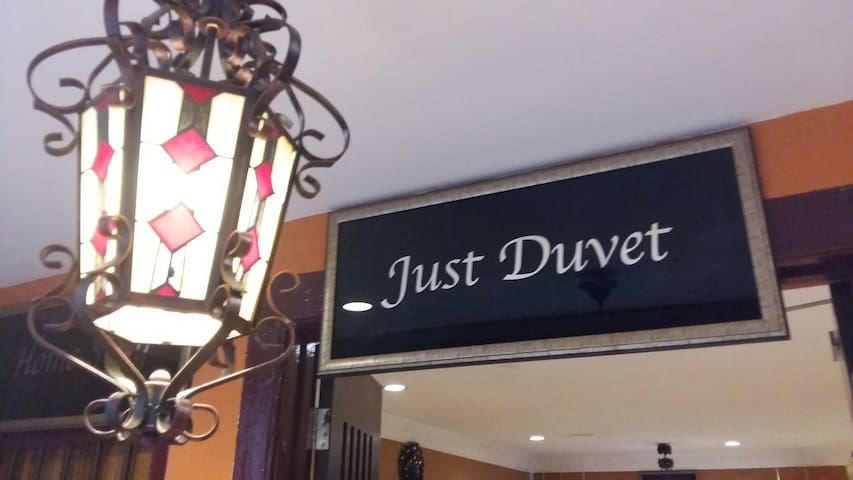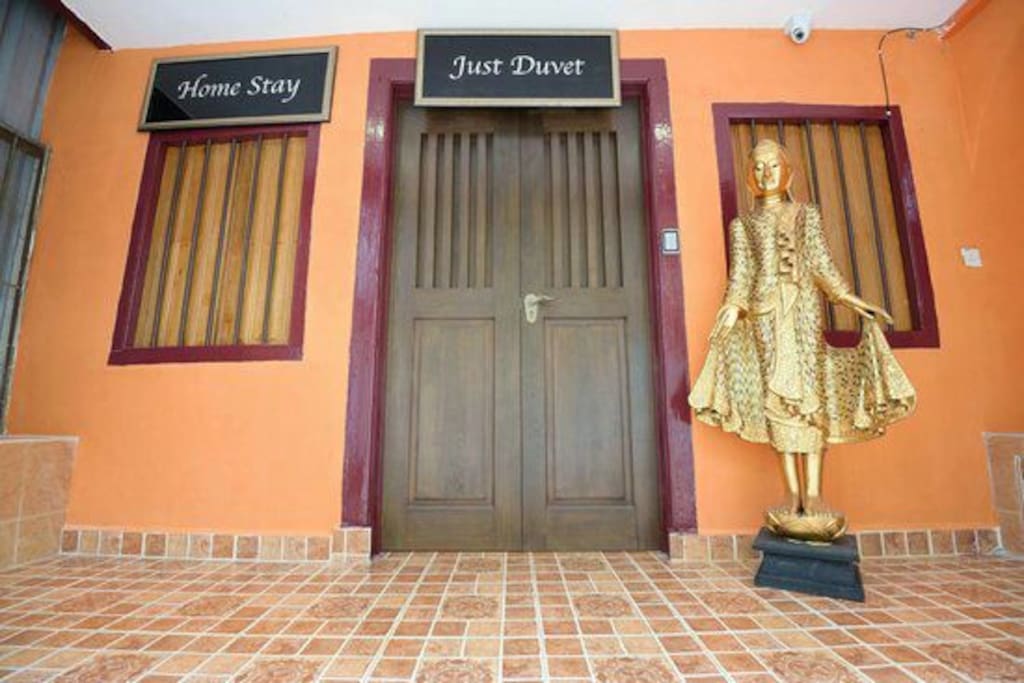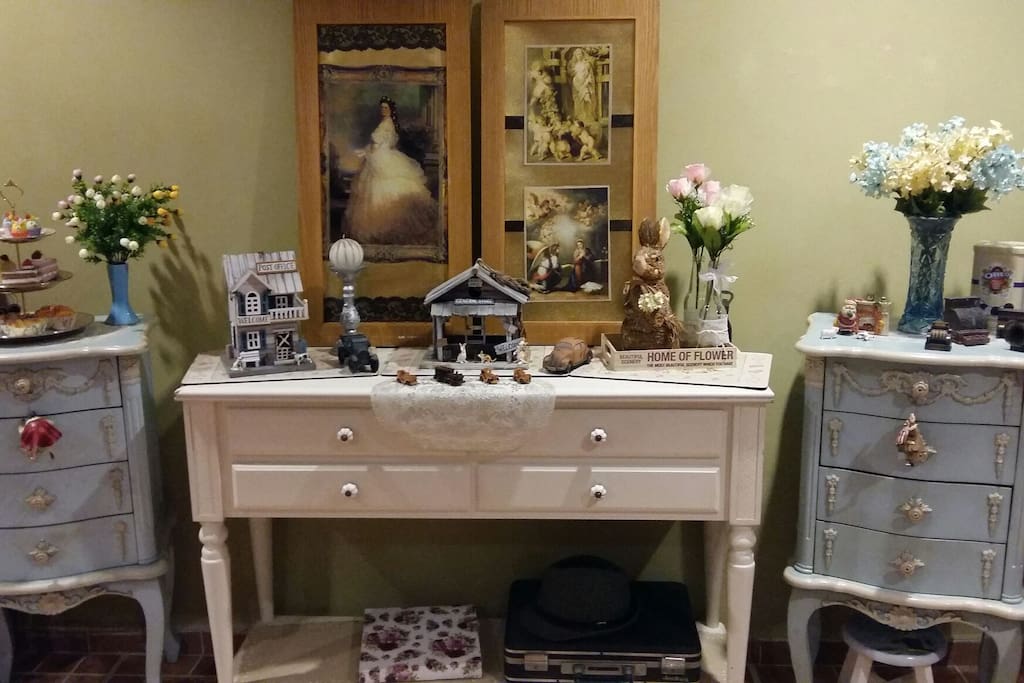 Información sobre este anuncio
Just Duvet is a guesthouse which include a small indoor pool for our guests to relax when they are here Also we provide bicycles for our guest to travel around because our guesthouse are located in Georgetown area so it is the best place for everyone
El alojamiento
Just Duvet is housed in a pre-war 2-storey "Straits Settlement" style shop house. It is strategically located inside the Inner Core of UNESCO Heritage Site and it's within walking distance to all the touristic attractions,Penang Famous street arts and Penang famous Street Food.
Just Duvet is an old house that has a carved timber solid door, air vents and a air-well(Chinese influence).Just Duvet call the house an Antique,because of the old chinese architectures.Just Duvet want our guests to feel how it feels like to stay in a house like this and let them be able to learn the culture of the Historical Penang Architectures
The place has been renovated and converted into a guesthouse with 6 room has it's own unique design,we have a Quad room(Family Room) with 2 queen size bed with their own private toilet,then we have 2 deluxe room with one queen size bed with shared toilet after this will be our private dorms.There are 2 rooms (bunk beds) with only 3 beds (shared toilet) it is a more private dorm which is tiny and clean all the time and lastly will be our 2 beds(bunk beds) private dorm (shared toilet). The high ceiling, wooden floors , air-well are being retained in compliance with the Georgetown Heritage guidelines and also we built a small pool in the place where our guest can take a dip after all the travelling. But some of the old system like bucket and squatting toilets have been replaced with modern toilets and the place always kept clean and tidy . It is now equipped with air-conditioners in all the rooms, comfortable beds with curtains for privacy, hot/cold showers. Towels and blankets are included at no extra charge.Free, fast and reliable wifi and internet services. Breakfast with free flow of coffee/tea. NO other Hidden cost . No curfew.
Come, stay, experience and feel the rich diverse culture of Georgetown here at Just Duvet where the Malay, Chinese and Indian live harmoniously together and being able to travel around Georgetown and learn about our culture within walking distance. Make this a life time unforgettable experience and let us provide you with legendary service and make your trip unforgettable.
Servicios y zonas comunes
Air-Conditioner, Kitchen, Swimming Pool, Living Room with TV and DVD player, Fridge, Wi-Fi, Free Water Dispenser, Towels, Hair Dryer, Iron, Hanger, Toiletries, Breakfast Included
Otros aspectos destacables
Want a better deal? Give me a message :)
---
Tipo de habitación: Casa/apto. entero
---
Internet inalámbrico (wifi)
---
Personas adicionales: Sin cargo
Comunícate siempre a través de Airbnb
Para que tus pagos estén protegidos, nunca transfieras dinero ni te comuniques desde fuera de la página o de la aplicación de Airbnb.
Más información
---
Horario de llegada: de las 15:00 a las 19:00.
Just be happy and enjoy your trip :)
---
Estricta
Puedes cancelar hasta 7 días antes del viaje y recibir un reembolso del 50 %, más las tarifas de servicio.
---
---
Estancia mínima de 1 noche
Last year, we came to Penang once again, leaving full memories, this year with the elderly to arrive again, but disappointed, because we set this picture looks very good, in fact, very dirty and messy B & B, let everything change. The difference between the surrounding environment, I was surprised, on the left is the construction site, the right is the slums, in front of dirty empty house, dust and garbage everywhere, the alley is everywhere debris. Door air conditioning is bad, can not be cooling, a window but with wood isolation, no glass and no screens, the first floor of the room musty blowing. The living room filled with a variety of used daily necessities and garbage, the whole room is full of such decorations, such as the bathroom on the toilet and guests in front of a pile of toothbrushes used. 6 rooms have only one public toilet, and a bathroom in the room, the house outside the slum edge and then there are two common simple toilets. Yes, that picture on the swimming pool gave me a great misleading, that this is a very particular about the clean living. From the dust on the table to the footprints on the sheets, pillows and quilts are used for more than a decade, blotchy, nausea. All air-conditioning, are not cleaned for many years, the sound odd. This is my travel around the world lived in the most disgusting and dirty most of the B & B, the picture and the actual difference is so big, and no complaints, no money back, let me airbnb have lost confidence. 去年我們來過一次檳城,留下滿滿的美好回憶,今年帶老人重新抵達,卻失望透頂,因為我們定了這家圖片看起來很好其實極其髒亂差的民宿,讓一切改變。周邊環境之差,令我吃驚,左邊是建築工地,右邊是貧民窟,前面是髒亂空屋,灰塵和垃圾滿地,小巷裡更是隨處雜物。進門大廳空調是壞的,無法製冷,有窗卻用木板隔離,沒有玻璃也沒有紗窗,一樓房間的霉味撲面而來。客廳裡堆滿了各種使用過的生活用品和垃圾,整個房間裡到處都是這樣的裝飾物,比如衛生間洗手台上還有前面客人使用過的一堆牙刷。 6個房間只有一個公用廁所,和一個房間內的衛生間,房子外面的貧民窟邊上再有兩個公用的簡易廁所。是的,就是圖片上那個游泳池給了我極大的誤導,以為這是一個很講究的干淨居所。從桌子上的灰塵到床單上的腳印,枕頭和被子都使用超過十年以上,斑斑劣跡,讓人噁心。所有的空調,都多年未清洗,聲音奇大。這是我在環球旅行路上住過的最噁心最骯髒的民宿,圖片和實際差別如此之大,而且投訴無門,退款無路,讓我對airbnb都失去了信心。
The most arrogant and most bad attitude guests from China. Usually i have a lot of China guests, all of them were good guests, but this group of families really very very bad. They don't know respects people at all. Dear valued customer, the right "slums" you meant, their house all value around 2 mil each. Please do not because of the neighbors is Indian old uncle aunt and Chinese old uncle aunt without dress up elegant then classify them into "poor/slums". Such a shallow opinion. While regarding the left handsides, the 3 houses just brought by Singaporean few weeks ago with around 10 mil and now doing the renovation. But i don't know why the renovation work not trammel others guests but only trammel you. Also, if the garbage is everywhere in the alley, then how you passed by? how you come into the house? You are not the types of persons who was willing to step on the garbage. Although here is alley, not not the types of garbage everywhere that you meant. Everyday the residents, tourists and motorbike can passed by as usual, so what you spoke is not the truth. I guess before you step into the house, from outdoor you have already made a conclusion that our area is "slums", then your mind was thinking about how to find excuses to get for the refund, because an arrogant people should not willing to live with "slums". Unfortunately i told you "no any last minute cancellation will be refunded". Even you threaten me that if i not give you refund, you will write a superb bad review for me. Once you step into the house, seems likes everythings were a problems for you. First of all, complaint about our laundry basket, daily necessities etc all cannot put at any common area, if have anythings others than their stuff conclude as messy or garbage. Refer to the review, the toothbrush (actually is floor brush/toilet brush/basin brush) was also a problem for them. Even the decorations in the rooms likes lanterns light, star light etc all is messy and garbage for them. Regarding the sheets, as per their reviews, all of our stuff were used for more than a decade, we also hope that we can operate more than a decade, but unfortunately we only operate for 1 years+, so all the stuff also just used for 1 years+, some of them even just few month used. As a conclusion, i was really speechless with your arrogant attitudes and bad mindset. Actually i not plan to reply your review start from the beginnings, it was no benefits to argue with the guests, but many of your speech is not the truth, if i still keep quiet, it was not fair for us. Thanks. 这位是我所见过的众多中国客人当中言谈最骄傲和最没素质的一位。看他的评论,好惊喜哦。首先,从他的评语里,说我们这里是平民窟,先生,这里的每栋屋子平均市价是两百万哦,您何以见解这里是平民窟呢?我们右边的邻居虽然都是穿着朴素的年长印度人和华人,如果只凭对方穿着朴素加上年长的因素,就认定对方是平民,这里是平民窟,那您这观点也未免太肤浅了吧?不只不尊重老人,而且从您的言论上,可以看出您种族歧视,甚至还在隐藏的评论里写着"强烈鄙视",我对您实在无言呀。再来,左边您说的建筑工地,我相信只要有长眼睛的人都看得出是老屋翻新工程。一个多月前左边隔壁的三间老房子被新加坡人以一千万同时买下,目前处于翻新工程状态,但我真的不明白这点并不会对我们或者其他客人造成困扰,却为何偏偏只对您造成困扰呢?而且您说的垃圾满地,小巷里更是随处杂物,如果真是像您说的这样,那想象似乎是不管交通工具或人都应该无法通过了对吧?那请问如果真是垃圾满地,随处杂物,那么高高在上的您应该无论如何都不会愿意走过来吧?那请问您是如何进屋的?我只能说,这些都不属实,我们是座落在小巷子里没错,但至少不是像您说的垃圾满地,杂物四处,似乎交通工具和人都无法通行似的那种。这里的居民和游客从早到晚都通往顺畅无阻。您威胁我说如果我不同意您的退款,您肯定会写超级差评论给我,但我不受您的威胁,直接拒绝了您,所以我从那时开始就做好了对您的评论的心理准备,只是没想到您可以把评论写成无中生有呢。我猜想当您没踏入屋子之前,在门外已经开始想着要如何和我要退款了吧?可是请问您是以什么身份称呼任何人为平民?更何况这里没有您所谓的平民,很明显你很容易看不起人。进屋之后,首先,指责我们的客厅堆满了各种垃圾,原来在您眼中,洗衣桶和洗衣篮子,还有日用品等等就变成了垃圾,感觉上只要是不属于您们个人的东西以外的,全都被归类为杂物和垃圾。更没想到您说房间里面的悬挂着的星星灯饰和灯笼灯饰等等的布置房间的饰品全都是杂物,先生,您真的不认为您的种种说法都很勉强吗?接下来,连刷地刷和马桶刷也有问题。您是哪边脑告诉您卫生间洗手台上的牙刷是客人使用过的牙刷呢?我知道您要表达的是牙刷放在洗手台上=没清理,不过那些牙刷是刷地刷+马桶刷+洗手台刷,由于地上的纹理是像雕刻形的,所以只能用牙刷去清理它的一缝一洞的污渍,马桶里面当然是用马桶刷刷,但马桶外面用牙刷刷可以刷得更干净,所有小细节处都可以刷得到,洗手台也是,您难道真看不出那些牙刷的作用吗?另外,您说我们的枕头和被子都使用超过十年以上对吧?我应该说如果以目前市场上商品的质量,一套床单,枕头和被子能用超过十年以上而且还没破洞,那应该证明是极品好货囖?很可惜,我们这里市场上购买不到这种质量的商品,所以我们的床单,枕头和被子目前的寿命是和我们这间店一样,最长的大概一年多,最新的也就只有几个月。我本来还真不想回复您的,跟客人闹,我们没好处,但是看到您的种种鄙视和因为自己个人的怨恨而无中生有的言论之后,我还是决定抽出时间认认真真好好回复您的这条评论,因为这牵涉到公平性。谢谢。
---
The best thing about this place is the location. Very central and convenient. Walking distance to most o the street arts. The kids loved the small pool inside the house. The entrance is a bit back-alley and may be inconvenient for people with walking difficulties, prams & large bags. The famous cheap drinking establishment next door is great for us drinkers but may be a bit intimidating for people with small children.
---
What a great place! The location was fantastic and Fion was very responsive to questions. I loved the atmosphere of the house - the beanbag lounge area upstairs, the view out the back, the Chinese lanterns, the little pool. It was just as described. Each room had its own key plus a key for the front gate. It was quiet and felt safe. If you're looking for a hotel-like experience, look elsewhere, but if you'd like a place with some character and more of a sense that you're part of the city, I definitely recommend it!
---
George Town, Malasia

·

Se registró en Septiembre de 2014
Hello everybody~I'm Fion~this is my first time to start up my very own first guesthouse "Just Duvet Guesthouse" in Penang which located in the middle of Georgetown where all travelers can enjoy the local food and get to see all the popular destination and arts by walking distance and most importantly stay in a very relaxing and cozy place. For more information you can contact me through +(PHONE NUMBER HIDDEN)~
也可以和我说中文哦~
Ratio de respuesta:
100%
Tiempo de respuesta:
en menos de una hora
Tendrás los datos exactos de la ubicación cuando la reserva esté confirmada.
Descubre otras opciones en George Town y sus alrededores
Más alojamientos en George Town: