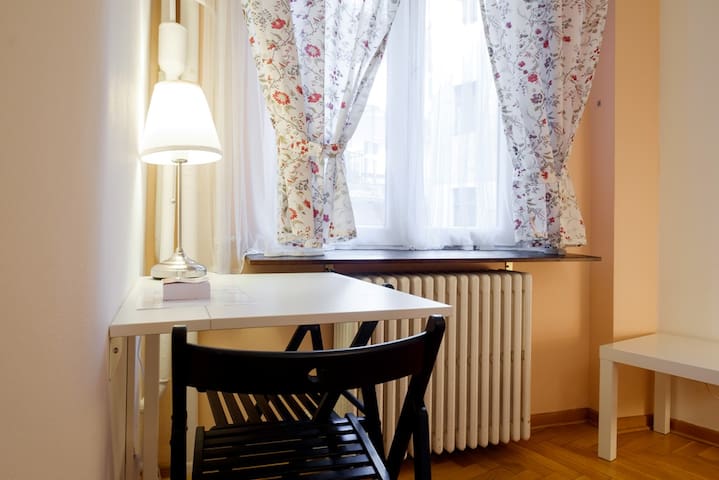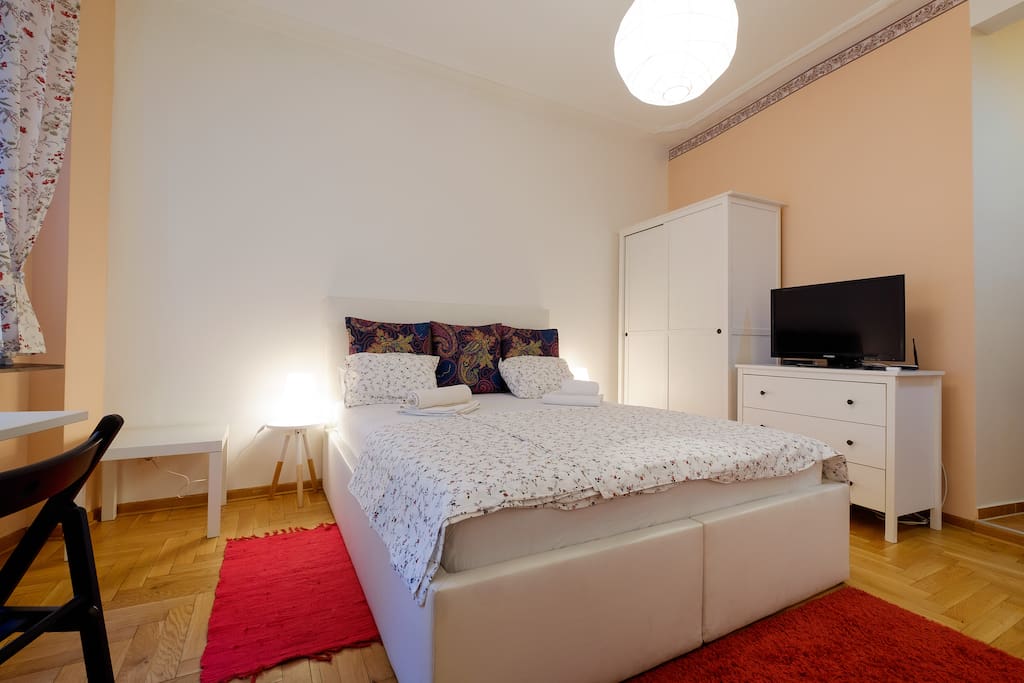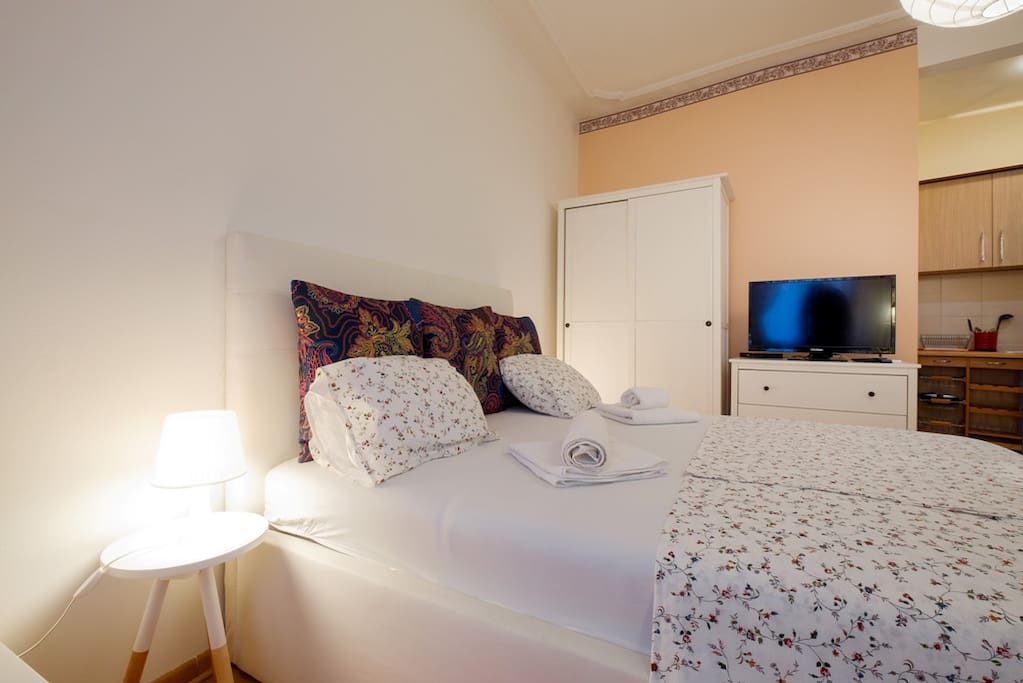 Información sobre este anuncio
Cozy studio for daily accommodation in the very center of Belgrade. Studio City Belgrade** is self-catering accommodation, very suitable for singles and couples, for short-to-medium-long stays in Belgrade.
---
---
---
Cozy studio for daily accommodation in the very center of Belgrade. Studio City Belgrade** is self-catering accommodation, very suitable for singles and couples, for short-to-medium-long stays in Belgrade.
Studio City Belgrade** is located at high ground floor (sort of mezzanine) of a building built in 1930's, with aroma of old Belgrade and with urban style. Micro location is excellent, as there are several cafes, groceries and exchange office within 100m. Also, even it is located in the very center, surrounding is very quiet and isolated from daily noise, as it is backyard oriented.
As you can see, studio is equipped with amenities aimed to make your stay as pleasant as possible. Studio has individual water heating system, with boiler with capacity of 50l which can provide enough hot water for 20minutes shower.
We can offer airport transfer for 15EUR. Also, 2 hours city sightseeing can be arranged, with price of 50EUR for one person and 10EUR for each additional person.
In addition, we can organise flight training, panoramic flights and regional aircraft or helicopter transport.
All of these options should be arranged in advance, at least 7 days.
Studio City Belgrade is positioned on halfway from National Parliament building to bohemian street Skadarlia (Skadarska Street), both less then 300m from studio's location. That symbolically makes Studio City Belgrade suitable for entertainment and for business/official trips. The studio is 400 m from the Republic Square and from Knez Mihailova Street. All Belgrade center amenities like National Theater and Kalemegdan fortress, are placed within 2km perimeter, i.e. at walking distance. Remote areas, e.g. governmental or medical institutions are very easy reachable by public transportation.
Belgrade suggested by Homeowner
at any time you may go for a coffee in cafe Harmony, next to building entrance. The owner is very friendly and communicative person and there you can speak with people from the neighborhood about various topics, from sports, politics, or if you need some information about Belgrade.
walk the Center:
•leave the studio around 0900
•go to Terazije (go right after leaving the building to the end of street, then left, go underground straight ahead, enter Nusiceva street, pick a café for quite morning coffee
•go through passage and reach Terazije: pick a café for a noisy morning coffee and observe daily traffic (note: across the street there is hotel "Moskva", probably the most famous hotel in Belgrade, prestigious for a coffee and also a good starting point for public transport).
•Proceed to the right toward Knez Mihailova Street (pedestrian zone). Walk slowly, observe shops, architecture, pick a café for another coffee. In the first part of the street, to the right, there is a good souvenir shop. Meet a square (some 200m from the beginning), the most popular meeting place in Belgrade. Observe a monument to Mihailo Obrenovic, ruler of Serbia in 19th century. If you ask Belgradians, they would say "meet you around the Horse"…few of them knows who is riding the horse. Across the street you will see the National Theatre. Have a snack.
•You may also go on opposite side of Knez Mihailova, there are several cafes toward public garage.
•Proceed along Knez Mihailova Street: pick your own point of interest i.e. French Culture Center, shops…
•Reach the end of Knez Mihailova: across the street you are going to reach Kalemegdan area with fortress which is a "must see" in Belgrade. You can choose: walk around the fortress, visit Military Museum (a good one, if you are fan of military history), go to Church Ruzica (Rose) under the wall, see the Monument to a Winner, a monument of Gratitude to France. Stand on walls toward the Danube/Sava junction and understand the strategic position of Belgrade…and also the reason why Belgrade was leveled 29 times in its history.
•In fortress you will also find a very good restaurant with magnificent view and good food (to be honest, it is hard to find the restaurant with bad food in Belgrade), at the northern side.
•Below restaurant, there is Belgrade Zoo.
•Have a lunch. Generally, you will not make a mistake wherever you choose to eat.
Sport&Recreational tour:
•Go to Hotel Moskva /Terazije. Go downhill by hotel "Balkan" to the big bus terminal (Zeleni venac, or Green ridge). Pick a bus 53 or 56L to "Ada Ciganlija" (city recreational resort-a lake some 4 km long with lot of playgrounds, including golf-some 10km far). Walk. The complete round is around 8km. Lunch, coffee, beverages…or bring it by yourself. You may also make a barbecue, there are fireplace lots on the other side counting from position of your arrival by bus.
•Or…rent a bike at Ada Ciganlija. If you are in good shape, you may ride a bike around the lake, all the way to Kalemegdan by Sava bank, just follow the marked bike path. (Note: bike rentals will ask you to leave your ID as a guarantee for bike).
You may also rent a bike in Savamala, which is at walking distance from studio: when you reach Zeleni venac, just proceed downhill and observe Branko's Bridge. Savamala is some 200m from the bridge, upstream.
•There you can see a new mega project Belgrade Waterfront, see the Kalemegdan from river side.
•If you are really fond of bike riding, take a bike elevator on Branko's Bridge (the last one you will reach, before Kalemegdan), cross the bridge (recommended to walk with bike, there are lot of pedestrians and other bikers), and proceed again by Sava bank toward Zemun quay.
•You will reach Sava/Danube junction and will have a nice view on Belgrade and Kalemegdan fortress.
•Also, pay attention on rafts along the river banks, all the way from Ada Ciganlija, they are potential targets for wild night life. They never stops.
•Reach hotel Yugoslavia, once a glorious hotel in the region. Pay attention, maybe they have announcement for some good music event you might like, which occurs quite often in its gardens. Also, a nice gambling place with big Casino. Planned to be taken by some of global hotel chains, e.g. Kempinski, or so. My personal opinion is that it will be the place which we will hear of very soon.
•Later, you are entering Zemun, once upon a time, a separate city, belonged to Austro-Hungarian Empire and today the part of Belgrade (with its own specifics, recognized among Belgradians, as well). After hotel YU, there is no marked bike path, be careful with pedestrians, the same as you were before. Reach the end of a quay. Pick a café for a refreshment.
•Once when you reached the end, maybe you can find the way uphill through rough stone plated streets and reach Gardosh Tower, one of the most significant points in Belgrade, where you might find the best view in Belgrade. In addition to that, there is an excellent restaurant "Balkan Express" for daily western type food and magnificent Danube view.
•The whole tour can be also on foot, of course.
•If you are still not exhausted, you may ride back to hotel YU and divert to marked bike path toward Sava bank…just follow the path and general direction you established after diverting. You will reach Sava bank after some 6 km. Before that you will pass Delta City shopping center, one of two biggest in Belgrade and New Belgrade, the whole city built after 1945.
•There you can see more rafts, for night life.
•You may go back to Ada Ciganlija by boat from Sava Bank, which is predicted also for bikers, some 3 EUR fee.
•Also you may proceed to the new bridge (the one with 200+m high main pole) and cross the river on the way back to Ada Ciganlija.
•End of Tour. Return your bike, take a taxi back, you are exhausted (unless you are a triathlon person).
Evening life:
•Go to Skadarlija (Skadarska Street). Don't miss it! It is in walking distance from studio, just go right to the end of street, right downhill, then left to the end of street, right again, enter the smaller streets straight ahead…and there you are. It is a pedestrian zone full with restaurants with gooood food and even better live music. All mainly traditional. Meet the "Spirit of Skadarlija", a lady going around restaurants, revoking the spirit of old urban Belgrade. Nice.
•Also, a good choice for dinner is "?" (Question Mark). It is second street before the end of Knez Mihailova Street (toward Kalemegdan) to the left and downhill. Very traditional and good. Across the street you will see Saborna Church, one of the main orthodox churches and little further a Patriarchy, the home of Serbian Orthodox Church Patriarch. Later you may proceed to the bottom of the same street for a drink in cafes at the Kosancica Venac (Ridge), some 200m away.
•Night life
•Eventaully, after Skadarlija, you may continue to Strahinjica Bana Street, just go to the downhill end of Skadarlija and turn into the street left. There are lot of fancy cafes and also restaurants.
•Speaking about night life in Belgrade, it is very hard to give any suggestions…it is everywhere and it is regionally famous. It starts around 2300 and finishes far after midnight, especially Friday and Saturday. It is quite safe, with usual caution measures, which you will take in your own city.
•So, we will just give points of possible interest.
•Strahinjica bana Street is good for beginning, or to stay whole night.
•Savamala: recently No 1 for really night life. It is in vicinity and under the Branko's bridge (the one you passed by bike).
•Rafts and boats along Sava and Danube banks: wild night life till sunrise…and even later.
•For more, please go to belgradebynight or belgradian
Points of interest in Belgrade:
•Shopping Centres: Ušće (after the Branko's bridge). Regular big shopping mole with cinemas and other amenities. Global culture.
•Delta City: on your way to Sava river by bike. The same.
•St Sava Temple: go to Terazije, look left and you will see it. Just walk there through the street, pass the roundabout and there you are. It has, or it had, the biggest canopy in the region.
•….and many others

Around Belgrade:
Avala: small mountain some 20km from city centre. Good for walking and to see a Monument to Unknown Hero (dedicated to WWI) and TV Tower (some 200m tall with good panorama. Destroyed 1999 and rebuilt…one meter higher that before…in spite). Public transport is going there. Some 6hrs trip total.
Aviation Museum at Nikola Tesla Airport: interesting for aviation fans (for afore mentioned, we can personally organize special tour, or even panoramic flights or flight training, as I am pilot myself).
You may also take a tourist bus for a city tour:
Panoramic sightseeing of Belgrade from an open top tourist bus takes about 70 minutes and it is available every day, from April to October. Ride starts from Nikola Pašić Square at 11:00, 13:00 and 17:00 (from June).
Ticket cost 600 dinars for adults and 450 dinars for children under 12 years. Ticket includes audio guide in five languages - Serbia, English, German, French and Russian.
Reservation for sightseeing is mandatory and can be made at the office of BS Tours or Tourism Organization of Belgrade (TOB).
Tour info
Period: April to October (if weather conditions allow)
Time: every day, at 11:00, 13:00, 17:00 (from June)
Departing: From Nikola Pašić Square
Duration: 70 minutes
Price: 450 to 600 dinars
Reservation:required
Information: BS Tours, Savski trg (PHONE NUMBER HIDDEN)TOB Info Office, Knez Mihailova 5
Bus route:Nikola Pašić Square, Kneza Miloša Street, Yugoslav History Museum, Partizan Stadium(URL HIDDEN)St. Sava Temple, Slavija, Kralja Milana Street, Terazije Square, Republic Square(URL HIDDEN)Student Square, Kalemegdan Lower Town, The Cathedral, Branko's Bridge(URL HIDDEN)Ušće Shopping Mall, Zeleni venac, Moskva Hotel, Nikola Pašić Square.
OR
Especially if you have some specific requests and interests and if you prefer more personalized approach, we can organize tailored guided tour by passenger car, with guide who will address your specific interests. Tour is 2-2,5 hours duration, with price of 50EUR per one person and additionally 10 EUR per each additional person, up to four persons total.

General note:
If you have any specific interests in Belgrade, please note that in advance. We will provide all support for you.
Studio is also provided with mobile phone with local SIM card, with 2EUR credit, to reach local services (e.g. taxi, food catering) easier. Credit recharge can be done by simply buying a voucher at any kiosk, or by us, with reimbursement at check out.
Public transportation is everywhere around studio City Belgrade. Taxi service for specific needs can be arranged.
If you are traveling by car, please have a look in further details:
Public parking around studio is possible on the street or in the public garage, which is some 150m away. Street parking lots are divided in three zones, with maximum parking time of two hours (after that you would have to move your vehicle). The price is around 40 eurocents/hour and payment is usually through local mobile phone SMS service. After 9 p.m. till 7 A.M. street parking is free of charge, and during weekends, it is free starting Saturday 2 P.M. till Monday 7 A.M.
Public garage is charged around 80 eurocents per hour, with no other option (it is possible only to rent a parking lot monthly).
If your stay is longer than 7 days, there are several laundry services around the studio. If necessary, we may arrange your laundry, or you may arrange it by yourself in laundry service and communicate with Belgradians in everyday activities. .
---
No se admiten fiestas o eventos
La hora de llegada es a partir de las 16:00
Salida antes de las 13:00
STUDIO "CITY" BELGRADE** STAY RULES
•In most cases. Guest will be welcome by us in agreed time (it is necessary to announce arrival 1 hour in advance) in studio.
•Studio is equipped with bed linen and towels, which will be changed each 5 days regularly, or upon Guest's request. Bed linen and towels change more often than mentioned above, if not due to incidental reasons, may be charged additionally 10 EUR.
•Studio is equipped by Wi-Fi, cable TV, air conditioning, kitchenette with utensils. Home electric devices should be used in accordance with manuals which are included.
•Guest may receive visitors during the day, but parties are not welcome. In case of incidents with neighbors, because of violation of quite hours and/or public order, or in case of inventory damage, we may be forced to unilaterally cease Guest's stay in studio, without obligation to return funds.
•In case of inventory damage, which is not caused by regular activities, Guest is obliged to compensate the damage, based on market price of damaged inventory item.
In case of noticing irregularities or malfunctions in studio, or not being satisfied with some performance, Guest should inform us immediately, in order to solve the problem. Please, we insist on this, because it is very frustrating when you read in review some complaints which could had been solved easy and immediately, or compensated in some other way.
•In case of keys loss, Guest will be provided by another keys set. Keys will be paid by guest.
•Wi-Fi Internet is free and unlimited.
•Studio is supplied with basic cleaning utensils. Guests should empty recycle bin regularly and clean the studio for their own purposes, during their stay. We recommend guests to use slippers in studio (two pairs are included), to avoid excessive dirt.
•Guests are obliged to respect general rules on public order in buildings, and especially to avoid noisy activities after 2200hrs till 0600hrs.
•Pets in Studio are not forbidden, but it has to be agreed in advance.
•Guests are not obliged to specially arrange or to clean Studio before check-out.
•It is possible to arrange private parking place, which should be coordinated and confirmed in advance.
•Check-in time is 1600 to 2400 hrs, and check-out time is 1300 hrs. Time can be modified, in coordination with us.
•We don't take any responsibility for Guest's properties during the stay in Studio. Therefore, it is necessary that Guest apply usual security measures, e.g. closing the windows while absent from Studio.

On check-in, guests will be requested to present their ID (passport or ID card) in order to submit record to Ministry of Interior about their stay in Belgrade. That is our legal obligation.
---
Moderada
Puedes cancelar hasta 5 días antes del viaje y recibir un reembolso completo, incluidas las tarifas de servicio.
---
Ficha de instrucciones de seguridad
---
Estancia mínima de 2 noches
---
Tendrás los datos exactos de la ubicación cuando la reserva esté confirmada.
I highly recommend staying at Igor and Tanja's place! It is really centrally located. It's about a 10 minute walk to Republic Square and to Skardalija. Igor and Tanja are very attentive hosts. They reach out to check in during your stay and even arranged for a taxi to drive us to and from the airport. The studio is very clean and well equipped. It has everything you need for an enjoyable staying Belgrade. I really recommend staying here!
---
We would highly recommend this apartment to those who want to stay in the center of Belgrade (for those who don't know the city everything was in 3-5 minute walking distance). The apartment was very cosy and clean and situated near many shops and restaurants. In the apartment we found everything necessary for a comfortable stay; including maps, umbrella, clean towels, cooking appliances and even a chocolate on the pillows. Communication with Igor went really well and he was so helpful that he even offered to arrange for a taxi to pick us up from the airport. When we arrived at the appartment, he was already there to welcome us and to advice us about the city.
---
RS

·

Se registró en Abril de 2016
We are couple in our 40's and we love traveling the World. When not possible, we want the World to come to us.
Ratio de respuesta:
100%
Tiempo de respuesta:
en menos de una hora
Descubre otras opciones en Beograd y sus alrededores
Más alojamientos en Beograd: