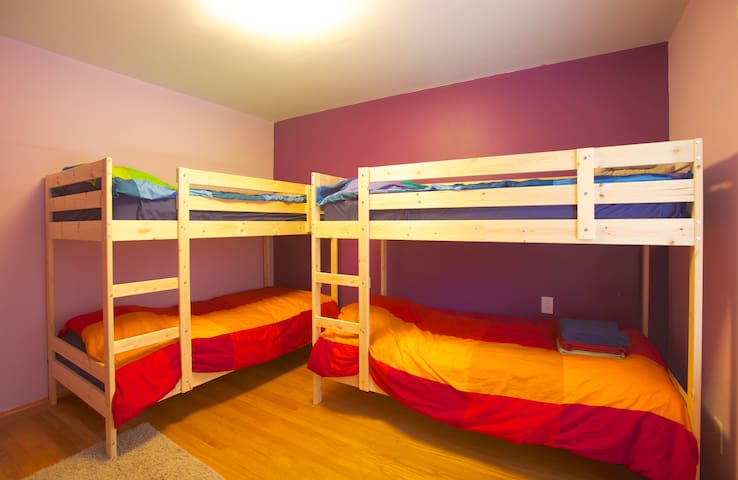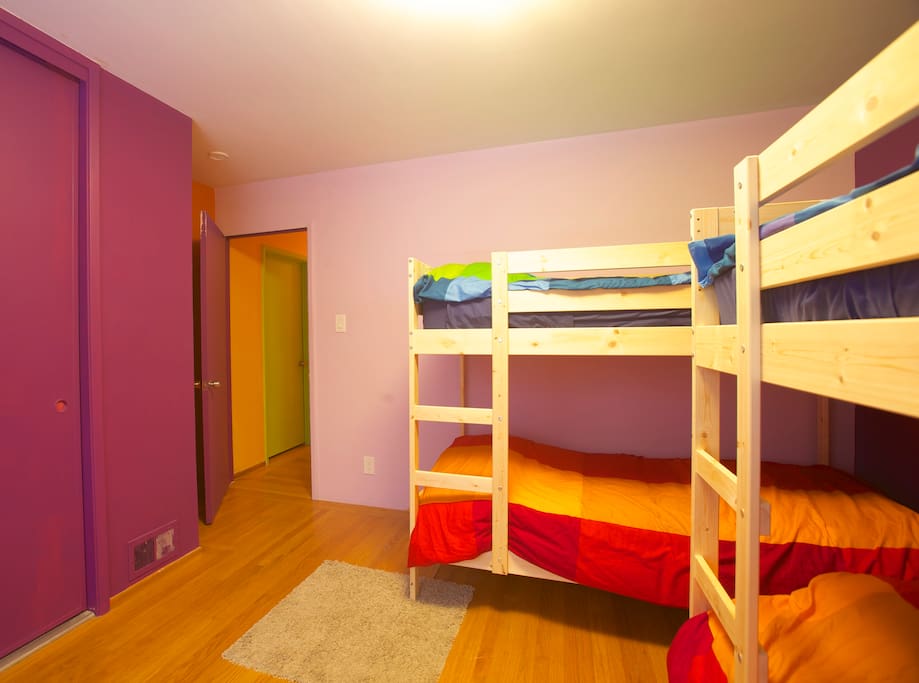 Esta habitación puede acomodar a cinco personas. Nadie más estará en su habitación aparte de las personas de su grupo. Las literas duermen cuatro, y la quinta persona dormirá en un colchón de aire en el piso. Hay un baño compartido por el pasillo, no un baño privado.
This room can fit five people. Nobody else will be in your room other than people in your group. The bunk beds sleep four, and the fifth person will sleep on an air mattress on the floor. There is a shared bathroom down the hallway, not a private bathroom.
El alojamiento
Dormitorio tranquilo en una casa compartida con otros clientes de airbnb. Esta habitación tiene capacidad de uno a cinco huéspedes. Los huéspedes deben tener al menos seis años de edad para dormir en el nivel superior de las literas. Las camas y los colchones son de Ikea. Los colchones son "mediano-firme." Si reserva esta habitación, toda la habitación es privada sólo para usted ... nadie más vivirá en su habitación. El baño está en el pasillo, y es compartido. Tengo otra lista con un baño privado, si quieres. Si tiene cinco invitados, la quinta persona dormirá en un colchón de aire barato directamente en el suelo. Esta es una casa de 5 dormitorios cerca de Golden Gate Park y Twin Peaks. Antes de ponerse en contacto conmigo, haga una búsqueda en Internet de esta frase: "¿Qué hora es en San Francisco, California, EE.UU.?" Si el tiempo en San Francisco es entre las 12 de la medianoche y las 8 am por favor no me envíe un mensaje, envíe una solicitud de reserva o intente alterar una reserva existente conmigo, porque esas acciones harán que mi teléfono emita un pitido que me despertará y tendré Para corresponder con usted inmediatamente. No puedo apagar mi teléfono para evitar ser despertado, porque tengo que estar disponible en todo momento para mis invitados actuales, que pueden estar fuera tarde pero necesitan mi ayuda. Tampoco puedo ignorar su intento de contactarme, porque airbnb está sincronizando mis respuestas. Si ignoro un mensaje durante toda la noche que dañará mi tasa de respuesta promedio. No te dejaré quedarte aquí si me despiertes de la medianoche a las 8 de la mañana. Por supuesto, si usted es un invitado actual aquí en mi casa y alguna emergencia requiere que usted me despierte, que está bien y bienvenido. Además, si necesita cancelar una reserva y está a 8 horas de la ventana de corte para obtener un reembolso parcial, puede cancelar aunque eso me despierte. No quiero que pierdas todo tu dinero sólo para no despertarme. Ahora, a mi descripción de mi hogar. Mina es una casa de 5 dormitorios en una ubicación céntrica cerca de Golden Gate Park y Twin Peaks. Ofrezco cuatro de mis dormitorios aquí en airbnb, aunque no todas las noches del año. Este es un hostal y se pone muy ocupado aquí con más de una docena de huéspedes por noche, durante las horas punta. Mi pareja y yo estamos esperando un bebé el 4 de octubre de 2017. Es posible que no pueda preparar su habitación o saludarle si estoy en el hospital esperando la llegada de nuestro hijo, pero si esto sucede, le proporcionaré la puerta Código, una pila de sábanas limpias y las instrucciones para que pueda ser autosuficiente. También le devolveré $ 50 para compensar por tener que limpiar y hacer su propia habitación. Tenga en cuenta que mi cumpleaños es el 6 de octubre y no tengo invitados ese día, así que no reserve ese día, incluso si airbnb lo muestra abierto, ya que tienen problemas para bloquear los días de forma fiable. Habrá otros huéspedes aquí durante su estancia, potencialmente media docena o más, aunque por lo general menos. Éste quizás no es el lugar si quieres tiempo privado tranquilo con tu otro significativo, aunque he tenido muchas parejas estancia aquí en sus lunas de miel. Por favor, lea mi listado y mi perfil antes de contactarme. Hay un montón de aparcamiento de tiempo ilimitado gratuito en frente de mi casa en la calle. Nota he marcado la caja que dice aparcamiento gratuito en los locales para que mi lugar se mostraría en las búsquedas de lugares con aparcamiento gratuito. Quiero ser claro que no hay aparcamiento dentro de mi casa, pero hay aparcamiento al otro lado de la calle en frente de mi casa. Esto es aparcamiento en la calle que está descubierto. Si llegas con bicicletas, puedes aparcarlas en tu habitación, pero será agobiante. Le invitamos a hacer uso de la cocina. Gran sala de estar con una gran mesa de comedor se puede comer o trabajar en. Hay una terraza hacia atrás. La casa está en una colina, y la casa más cercana hacia atrás es una manzana, así que la vista es espectacular. Tienes tu propio dormitorio con dos literas de dos camas. También proporcionan toallas, sábanas y mantas. Hay un armario de ropa de cinco pies de ancho con perchas. Si usted reserva para cinco personas, coloco un colchón de aire inflable en el piso donde la superficie de dormir es de aproximadamente 8 pulgadas por encima del piso. Esta habitación es un dormitorio de invitados por lo que no tiene un baño privado ... más bien tienes que compartir un baño con otros. Usted puede utilizar sólo este baño compartido, no cualquiera de los otros cuartos de baño en la casa, así que tenga en cuenta. No hay un "cuarto de baño de emergencia" a la que pueda acceder, no importa cuán grave sea la situación, así que por favor no pregunte. Si quieres cocinar mientras estás aquí, puedes guardar comida en la nevera, pero debes guardarla en una bolsa y poner tu nombre en ella para que mis otros huéspedes no piensen accidentalmente que es comida proporcionada por mí para ellos. Sólo hay un frigorífico grande para mi uso, el uso de mi novia y todos mis clientes de airbnb. La nevera está lleno, así que no esperes ir de compras y guardar una tonelada de tu propia comida en la nevera. los La estación de ferrocarril municipal más cercana (MUNI) es Forest Hill. Puedes caminar allí en 12 minutos. El autobús de 36 MUNI se detiene allí y te llevará a la casa. La parada de autobús está justo en frente de la casa. Este autobús sólo llega cada 30 minutos, durante las horas de funcionamiento, por lo que muchos clientes prefieren caminar o conducir a la estación de metro. La casa tiene una ubicación céntrica, pero no cerca de bares, tiendas, lugares de interés turístico, vida nocturna o cualquier otra cosa que residencias privadas. Eso significa que esta ubicación es inusualmente tranquila e incluso pacífica para una ciudad tan concurrida como San Francisco. Algunos lo llaman sereno. Si te alojas aquí, por favor no más tarde escribir en una crítica que la casa no está cerca de atracciones o tarifa la ubicación aparte de fantástico sobre una base de estrellas. Puedes ver la ubicación en el mapa antes de reservar, y puedes usar street view para pasear por las calles para ver lo impresionante que es el barrio. No hay razón cualquier huésped debe valorar la ubicación que no sea de cinco estrellas. Si te alojas aquí y te sientes inclinado a no tarifa la ubicación cinco estrellas, eso significa que reservaste el lugar equivocado para tus necesidades, y es tu culpa sola, porque te estoy advirtiendo tan claramente aquí no hay nada que hacer cerca de mi casa. Por favor no te alojes aquí si te sientes que esta ubicación no es una gran ubicación. Las estrellas importa para los anfitriones mucho, y tengo cinco estrellas a través del tablero a partir del 1 de junio de 2016. No puedo hacer cualquier cosa para cambiar la localización, pero puedo hablar invitados de permanecer aquí pidiéndoles que permanezcan en otra parte si No se siente que es una gran ubicación. Leer mis muchos comentarios que elogiar la ubicación. La ubicación está en el centro geográfico de la ciudad, así que considero que es una gran ubicación, pero por favor no esperes a pie a los lugares emocionantes de mi puerta. Proporciono ingredientes para el desayuno, incluyendo jugo, pan, tortitas, huevos, té y café. Los granos de café están en el congelador, y yo proporcionar un molinillo de café. A veces hay extras especiales como yogur y fruta, pero por favor no se decepcione o se quejará si no encuentra estos artículos cuando visita. Entiendo que algunos anfitriones de airbnb proporcionan cualquier alimento. Proporciono un montón de comida. Proporciono la comida del desayuno que preparas cada mañana sin cargo, y esto te ahorrará mucho dinero versus comer fuera. Por favor, considere este beneficio cuando evalúe mis precios. Tenga en cuenta que la comida que proveo me llegan a las mismas tiendas de comestibles que compran para mi propia comida. No proveo envases individuales de mantequilla o queso crema. Por el contrario, hay un tamaño completo palo de mantequilla y un tazón grande de queso crema que todo el mundo comparte. El pan está en bolsas de venta al público normales que contienen media docena o más porciones. El jugo está en una jarra grande, no en botellas individuales. Los granos de café están en una bolsa grande, no en paquetes individuales como en un motel u hotel. Si crees que la forma en que manejo la comida es impropia o no es seguro, todo lo que puedo decir es que he estado proporcionando comida a los huéspedes desde 2008, cuando empecé a recibir, y nadie se ha quejado de que se enfermaron. Si mi suministro de alimentos de esta manera te hace sentir incómodo, entonces por favor no lo coma. Tengo shampoo y jabón de barra para usted en la ducha, y el jabón líquido de la mano en los dispensadores de la bomba en el fregadero de la vanidad y por el fregadero de la cocina. Por favor traiga su propio jabón de barra si necesita un bar nuevo. No proporciono los bares individualmente envueltos que encuentras en los hoteles, pero los grandes bares convencionales que se usan en casas particulares, y varios invitados usan la misma barra hasta agotarse. Esto es mucho menos desperdicio que cientos de barras individuales que de otro modo usaría por año, pero si le molesta, por favor traiga su propio jabón de barra. Nota Exijo a mis invitados de airbnb que tengan un 'ID verificado' para reservar aquí. Esto es por la seguridad de mis otros huéspedes. Verifique su identificación antes de enviarme una solicitud de reserva, o no se le permitirá permanecer aquí. Las horas de silencio son entre las 10 pm y 7 am. Le pido que susurra tranquilamente después de las 10 pm, y no ver películas sin auriculares. Usted tendrá que retirarse a su habitación a las 10 pm, ya que no permiten el uso de la sala de estar, comedor o cocina durante las horas de silencio. Por favor, no planea despertar antes de las 7am. Esto significa que si tienes un vuelo temprano o otro viaje de tránsito, deberías estar en otro sitio. Como mencioné anteriormente, ofrezco hasta cuatro habitaciones en mi casa a los clientes de airbnb, lo que significa que podría haber una docena o más invitados. Si te despiertas a las 5 am y empezar a caminar por tu habitación o las zonas comunes, es probable que te despiertes al menos algunos de estos huéspedes, que no es justo para ellos, y me duele también porque vivo aquí y puedo oír gente Caminando por los pisos de madera. Además, tengo que estar preocupado por mis comentarios, ya que me esfuerzo por lograr un ranking de cinco estrellas. Si te despiertas una docena de otros huéspedes porque tienes que salir temprano, al menos algunos de esos huéspedes no se inclinarán a tarifa la experiencia stayi
Quiet bedroom in a house shared with other airbnb guests. This room accommodates from one to five guests. Guests must be at least six years old to sleep on the top level of the bunk beds. The beds and mattresses are from Ikea. The mattresses are 'medium-firm.' If you book this room, the entire room is private just for you... nobody else will live in your room. The bathroom is down the hallway, and is shared. I have another listing with a private bathroom, if you like. If you have five guests, the fifth person will sleep on a cheap air mattress directly on the floor.
This is a detached 5 bedroom house near Golden Gate Park and Twin Peaks.
Before you contact me please run an Internet search for this phrase: "What time is it in San Francisco, California USA?" If the time in San Francisco is between 12 midnight and 8am please do not message me, send a booking request or attempt to alter an existing reservation with me, because those actions will cause my phone to beep which will wake me up and I will have to correspond with you immediately. I can't turn off my phone to avoid being woken up, because I have to be available at all times for my current guests, who may be out late but need my help. I also can't ignore your attempt to contact me, because airbnb is timing my replies. If I ignore a message all night long that will damage my response rate average. I will not let you stay here if you wake me up from midnight to 8am my time. Of course, if you are a current guest here in my home and some emergency requires you to wake me up, that is OK and welcome. Also, if you need to cancel a reservation and you are within 8 hours of the cutoff window for getting a partial refund, you may cancel even though that will wake me up. I don't want you to lose all your money just to not wake me up.
Now, on to my description of my home.
Mine is a detached 5 bedroom house in a central location near Golden Gate Park and Twin Peaks. I offer four of my bedrooms here on airbnb, though not every night of the year. This is a hostel and it gets very busy here with over a dozen guests per night, during peak times.
My partner and I are expecting a baby on October 4th, 2017. I may not be able to prepare your room or greet you if I am at the hospital awaiting the arrival of our child, but if this happens, I will provide you the door code, a stack of clean linens and instructions so you can be self sufficient. I will also return $50 to you to compensate you for having to clean and make up your own room. Note my birthday is October 6th and I don't have guests that day, so do not book that day, even if airbnb shows it open, since they have trouble blocking days reliably.
There will be other guests here during your stay, potentially half a dozen or more, though usually fewer. This is perhaps not the place if you want quiet private time with your significant other, though I have had many couples stay here on their honeymoons.
Please read my listing and my profile before contacting me.
There is plenty of free unlimited time parking in front of my house on the street. Note I checked the box that says free parking on premises so that my place would show up in searches for places with free parking. I want to be clear that there is no parking inside my house, but there is parking across the street in front of my house. This is street parking that is uncovered. If you arrive with bikes, you may park them in your bedroom, but it will be cramped.
You are welcome to make use of the kitchen. Large living room with a large dining room table you can eat or work at. There is a deck out back. The house is on a hill, and the nearest house out back is a block away, so the view is spectacular.
You get your own bedroom with two twin size bunk beds. I also provide towels, sheets and blankets. There is one five foot wide clothes closet with hangers. If you book for five guests, I place an inflatable air mattress on the floor where the sleeping surface is about 8 inches above the floor.
This room is a guest bedroom so it does not have a private bathroom... rather you have to share a bathroom with others. You may use only this shared bathroom, not any of the other bathrooms in the house, so keep in mind. There is no 'emergency bathroom' you can access, not matter how dire the situation, so please do not ask.
If you want to cook while you're here, you can store food in the fridge, but you should keep it in a bag and put your name on it so my other guests don't accidentally think it's food provided by me for them. There is just one large refrigerator for my use, the use of my girlfriend and all of my airbnb guests. The fridge is usually packed, so don't expect to go shopping and store a ton of your own food in the fridge.
The closest underground Municipal Railway (MUNI) station is Forest Hill. You can walk there in 12 minutes. The 36 MUNI bus stops there and will take you to and from the house. The bus stop is right in front of the house. This bus only comes every 30 minutes, during operating hours, so many guests prefer to walk to or drive to the subway station.
The house is centrally located, but not close to bars, shops, tourist spots, nightlife or anything other than private residences. That means this location is unusually quiet and even peaceful for a busy city like San Francisco. Some call it serene.
If you stay here, please don't later write in a review that the house is not near attractions or rate the location other than fantastic on a star basis. You can see the location on the map before you book, and you can use street view to wander down the streets to see how awesome the neighborhood is. There is no reason any guest should rate the location other than five stars. If you stay here and feel inclined to not rate the location five stars, that means you booked the wrong place for your needs, and it is your fault alone, because I am warning you so plainly here there is nothing to do nearby my house.
Please do not stay here if you feel this location is not a great location. The stars matter to hosts very much, and I have five stars across the board as of June 1, 2016. I can't do anything to change the location, but I can talk guests out of staying here by asking them to stay elsewhere if they don't feel this is a great location. Read my many reviews that praise the location.
The location is in the geographic center of the city, so I consider it a great location, but please don't expect to walk to the exciting places from my front door.
I provide breakfast ingredients, including juice, bread, pancakes, eggs, tea and coffee. The coffee beans are in the freezer, and I provide a coffee grinder. Sometimes there are special extras like yogurt and fruit, but please don't be disappointed or complain if you don't find these items when you visit. I understand few airbnb hosts provide any food. I provide plenty of food. I provide breakfast food you prepare every morning without charge, and this will save you a lot of money versus eating out. Please weigh this benefit when you evaluate my prices.
Note that the food I provide I get at the same grocery stores I shop for my own food. I do not provide single serving containers of butter or cream cheese. Rather, there is a full size stick of butter and a full size bowl of cream cheese that everyone shares. The bread is in normal retail bags that contain half a dozen or more servings. The juice is in a large jug, not in individual bottles. The coffee beans are in a large bag, not in individual packages like at a motel or hotel. If you believe the way I handle food is improper or not safe, all I can say is I have been providing food to guests since 2008 when I began hosting, and nobody has ever complained that they became ill. If my providing food in this manner makes you uncomfortable, then please do not eat it.
I have shampoo and bar soap for you in the shower, and liquid hand soap in pump dispensers at the vanity sink and by the kitchen sink. Please bring your own bar soap if you require a fresh bar. I don't provide the individually wrapped bars you find in hotels, but the conventional large bars used in private homes, and multiple guests use the same bar until depleted. This is much less wasteful than hundreds of individual bars I would otherwise use per year, but if it upsets you, please bring your own bar soap.
Note I require my airbnb guests to have 'verified ID' to book here. This is for the safety of my other guests. Please verify your ID before you send me a reservation request, or you won't be allowed to stay here.
Quiet hours are between 10pm and 7am. I ask that you whisper quietly after 10pm, and not watch any movies without earbuds. You'll have to retire to your room by 10pm, as I don't allow use of the living room, dining area or kitchen during quiet hours. Please do not plan to wake up prior to 7am. This means if you have an early flight or other transit trip, you should stay somewhere else. As I mentioned above, I offer up to four rooms in my house to airbnb guests which means there could be a dozen or more guests. If you wake up at 5am and start walking around your room or the common areas, it's likely you'll wake up at least some of these guests, which is not fair to them, and hurts me too because I live here and can hear people walking around on the hardwood floors. Additionally, I have to be concerned about my reviews, as I strive to achieve a five star ranking. If you wake up a dozen other guests because you have to leave early, at least some of those guests will not be inclined to rate the experience staying here as highly as if they slept soundly.
You should also not plan to sleep soundly past 7am if you stay here. When a dozen people start walking around, cooking breakfast, showering and talking with each other, the house is full of energy. It can be a quite noisy depending on the mix of guests that morning.
This mix of guests starting their day is one of the most compelling reasons to stay here, however. I have guests from dozens of countries stay here each year. You will meet fascinating and lovely guests during breakfast. It's nothing like the breakfast room at a hotel, where people silently eat and never talk to anyone not in their party. If breakfast as I describe sounds unappealing to you, there are many other less busy places to stay in San Francisco.
I write this explanation to help make your stay delightful and charming, not to scare you. Staying here is an experience most of my guests really, really like, as you can see in my over 600 reviews. I don't have any reviews I consider to be bad, and I want to keep it that way. I want you to enjoy the experience as well, and if you think you'll not enjoy such a social experience, I encourage you to stay with one of the many other kind hosts in San Francisco.
I no longer offer pick up or drop off service. Ride sharing companies such as Uber and Lyft now operate legally at area airports, and their prices are lower than taxicabs. I used to offer pick up and drop off, and you will see mention of this in some of my reviews. It's quicker for you to hop in a ride share car than for you to wait for me to arrive in my car. The San Francisco airport if four cities away from San Francisco, so it takes 30 minutes to drive there. The ride share companies charge about $30 for this trip. Please do not ask me to pick you up or drive you anywhere during your stay. You must have a smart phone to use these services. There is free WiFi at the San Francisco airport. The network name is: San Francisco Free WiFi and there is no password required. Please load the app before you leave home and enter your credit card details then, so the app is ready for when you arrive. I offered rides at any hour for years... most recently at 4:30am. I am exhausted and am happy Uber and Lyft exist.
From 7am to 10pm: Kitchen, living room, dining room and outside deck.
Anytime: Toilet and guest room.
It is very important you understand this rule and thoughtfully reflect on it before you book. If you get here during quiet hours, you have to retire to your room until quiet hours expire, even if you are starving and have been on a plane all day and night. You can't order food to be delivered during quiet hours, and you can't eat in your room. Please do not stay here if you are not OK with this.
This means you may not sit quietly in the living room or dining room, even to work on your computer or read a book. Please do not ask me for an exception, because I want to be helpful and grant you an exception, but I should not, for the benefit of my many other guests.
This room has a writing desk and a chair in the closet, so you may work in your room 24 hours a day, although it will be a bit awkward given the location.
I like to talk with my guests. I sometimes even have dinner with my guests and/or take them sightseeing. I live at the house in my own bedroom, and I work from home, so I am around to answer questions and help you make the most of your visit.
When you arrive, I will offer you a free map of San Francisco. I will also suggest we sit at the dining room table to discuss what you want to do while in the City. I will point out on the map the places you mention. I will also suggest other places you may not have heard of or considered.
Many of my guests later write in their reviews how much value they obtained from this conversation. Lots of hosts on airbnb don't spend the time to help their guests make the most of their visit. I love helping out my guests, and you'll sense my enthusiasm when we meet. I love San Francisco and I'll help you love San Francisco too.
I am not like the concierge at a fancy hotel. I don't collect commissions from any of the places I recommend. You can trust what I say.
Otros aspectos destacables
Mi número de registro de alquiler a corto plazo de San Francisco es STR-0000346. Mi pareja está embarazada y vive aquí. Ella se debe a finales de septiembre-principios de octubre de 2017. Voy a seguir a los huéspedes de acogida durante este período, pero los huéspedes que libro durante este tiempo agitado debe entender que puede que tenga que darle el código de la puerta para entrar en la casa, en lugar de Saludo personalmente como lo hago normalmente. Además, en el caso de una larga labor durante la cual estaré en el hospital, tal vez no pueda preparar su habitación para usted. Si esto sucede, dejaré sábanas y toallas limpias para preparar su propia habitación, y le devolveré $ 50 por las molestias. No espero que esto suceda, pero este es mi primer hijo, así que quiero prepararme completamente antes de que alguien reserve estos días. He publicado este aviso el 24 de junio de 2017. Tendré la cocina equipada con mucha comida como siempre, y la casa estará limpia como siempre. Hay un cachorro viviendo en mi área privada. Ella puede aventurarse en las áreas compartidas de la casa a partir del 29 de junio de 2017 si reservó antes del 30 de abril de 2017. Si reserva después del 30 de abril de 2017, el cachorro puede aventurarse en las áreas públicas durante su visita si los otros huéspedes viven Aquí también reservado después del 30 de abril. Cambié el valor del "perro vive aquí" a "comprobado" el 30 de abril de 2017, el día después de que adoptamos nuestro Border Collie dulce de siete semanas de edad. Mantengo la casa a unos 68F o 20C de 7 a 23. De las 11pm a las 7am mantengo la casa a 60F. Tengo una caja fuerte mientras dormir cerámica calentador que puedo añadir a tu habitación si lo pides, si necesitas una habitación más cálida para dormir. El Golden Gate Bridge cuesta dinero para viajar cuando conduce hacia San Francisco. Lamentablemente, el puente no acepta efectivo ni ningún otro pago en el puente. Usted debe pagar en línea antes de conducir a través de él, o dentro de 48 horas de conducir a través de él. Busque 'pagar Golden Gate Bridge' en el motor de búsqueda que prefiera. Tenga en cuenta que algunas tarjetas de crédito y débito de Estados Unidos no funcionan en el sitio web de pago. Si su tarjeta no funciona, traiga el costo del puente de $ 7.50 (o más si el costo sube) por cruce de entrada, y pagaré su peaje en mi tarjeta de crédito. Le enviaré por correo electrónico el recibo, que debe guardar durante al menos dos meses. Si usted no hace nada, su compañía de alquiler de coches casi seguramente le cobrará una tarifa descontroladamente inflado que puede llegar a diez veces el peaje real. El gouging es tan malo que San Francisco en marzo de 2017 demandó a Hertz, Dollar, Thrifty y otros por cobrar demasiado. También tengo una Licencia de Negocios válida de San Francisco para mis actividades de alquiler a corto plazo. Además, tengo de mis vecinos de al lado el permiso explícito y la bendición para recibir. Tengo mucho cuidado de ser un buen ciudadano para los cercanos y para la Ciudad en la que vivo. Usted no necesita esconderse para quedarse aquí como en algunos listados de airbnb. Les animo a presentarse a mis vecinos y saludar porque les ayuda a apreciar la alegría que recibo de ser un anfitrión. Me registré las cajas que indican que permito que los huéspedes de todas las edades para alojarse aquí. Tenga en cuenta que la casa no es "a prueba de niños" por lo que tendrá que supervisar a sus bebés y niños. Hay productos de limpieza en los gabinetes que los niños pueden alcanzar. He tenido muchos niños y niños aquí sin un problema, incluyendo niños de tan sólo 8 semanas de edad. Si usted tiene niños estancia en una habitación con una litera, asegúrese de leer la etiqueta de seguridad en la litera superior, como el fabricante tiene información que quieren que usted sepa. Muchas personas no saben que los residentes locales de San Francisco prefieren llamar a la ciudad por su nombre completo de San Francisco. Puede abreviar y llamar a la ciudad 'SF'. La gente también sabrá lo que quiere decir, y no se ofenderá si llama a San Francisco 'la Ciudad'. Pero por favor, no se refieren a San Francisco como 'Frisco' o 'San Francisco' como algunas personas fuertemente no les gusta esos términos. Prefiero que se refieran a mi ciudad como San Francisco en cualquier revisión que pueda dejar.
My San Francisco Short Term Rental Registration Number is STR-0000346.
My partner is pregnant and lives here. She is due in late September - early October, 2017. I will continue to host guests during this period, but guests that book during this hectic time should understand that I may have to give you the door code to get in the house, rather than greeting you personally like I normally do. Also, in the event of a long labor during which I will be at the hospital, I may not be able to prepare your room for you. If this happens, I will leave fresh linens and towels for you to prepare your own room, and I will refund $50 to you for the inconvenience to you. I don't expect this will happen, but this is my first child, so I want to fully prepare in advance of anyone booking these days. I posted this notice June 24, 2017. I will have the kitchen stocked with lots of food as always, and the house will be clean as always.
There is a puppy living in my private area. She may venture into the shared areas of the house beginning June 29, 2017 if you booked prior to April 30, 2017. If you book after April 30, 2017, the puppy may venture into the public areas during your visit if the other guests living here also booked after April 30th. I changed the 'dog lives here' value to 'checked' on April 30, 2017, the day after we adopted our seven week old sweet Border Collie.
I keep the house at about 68F or 20C from 7am to 11pm. From 11pm to 7am I keep the house at 60F. I do have a safe while sleeping ceramic heater I can add to your room if you ask for it, if you require a warmer room to sleep in.
The Golden Gate Bridge costs money to travel over when driving into San Francisco. Sadly, the bridge does not accept cash or any other payment at the bridge. You must pay online either before you drive across it, or within 48 hours of driving across it. Search for 'pay Golden Gate Bridge toll' on the search engine you prefer. Note that some non United States credit and debit cards don't work on the payment website. If your card doesn't work, bring me the bridge toll of $7.50 (or more if the cost goes up) per inbound crossing, and I will pay your toll on my credit card. I will email you the receipt, which you should save for at least two months. If you do nothing, your car rental company will almost certainly charge you a wildly inflated rate that can reach ten times the actual toll. The gouging is so bad that San Francisco in March 2017 sued Hertz, Dollar, Thrifty and others for charging far too much.
I also hold a valid San Francisco Business License for my short term rental activities. Furthermore, I have from my next door neighbors the explicit permission and blessing to host. I take great care to be a good citizen to those nearby and to the City in which I live. You do not need to sneak around to stay here like at some airbnb listings. I encourage you to introduce yourself to my neighbors and say hello because it helps them to appreciate the joy I receive from being a host.
I checked the boxes that indicate that I allow guests of all ages to stay here. Note the house is not 'child proofed' so you will have to supervise your infants and kids. There are cleaning products in cabinets that children can reach. I have had many infants and children stay here without a problem, including infants as young as 8 weeks old. If you have kids stay in a room with a bunk bed, be certain to read the safety sticker on the upper bunk, as the manufacturer has information that they want you to know.
Many people don't know that local residents of San Francisco prefer you call the city by its full name of San Francisco. You may abbreviate and call the city 'SF.' People will also know what you mean, and won't be offended, if you call San Francisco 'the City.' But please do not refer to San Francisco as 'Frisco' or 'San Fran' as some people strongly dislike those terms. I prefer you refer to my city as San Francisco in any review you may leave.
Aparcamiento gratuito en las inmediaciones
Apto para familias y niños
Personas adicionales 17 € / noche más de 2 huéspedes
Compromiso de salario digno
Las personas que se encargan de la limpieza de este alojamiento reciben un salario digno.
Más información
Comunícate siempre a través de Airbnb
Para que tus pagos estén protegidos, nunca transfieras dinero ni te comuniques desde fuera de la página o de la aplicación de Airbnb.
Dormitorio 1
1 colchón hinchable, 2 literas
No se admiten fiestas o eventos
Horario de llegada: de 18:00 a 21:00
Salida antes de las 12:00
Please read these house rules carefully prior to booking, since there are fees for violating some of them. Please don't be intimidated by all these rules. They are here to assure you that this is a well-run short term rental that people enjoy.
1. I charge $50 extra (paid after review period expires) if any member of your party first arrives or checks in after 9:00pm (21:00) or checks out before 7:00am.
2. Check in hours are from 6:00pm to 9:00pm (18:00 to 21:00) by appointment for an exact time, such as 7:00pm. If you miss your appointment, I will wait for you for $10 an hour. You must give me an exact arrival time, not a range or a limit such as 'before 21:00' as that ties me at the house for hours. Also, please don't be early, as it's stressful if you are here and I am still cleaning your room. If you write 'around' by the time you state, the late fee begins 1 hour from the time you write, so, if you write 'around 7:30pm' then the late fee begins at 8:30pm if you have not checked in by then. Wording similar to 'around' works the same way. You must give me your precise arrival time no later than 24 hours in advance, or I will set your arrival time to 18:00 for you, and asses late charges starting at 19:00. This is to discourage guests who tell me 'I'll let you know my arrival time when I know it' generally the day of arrival. That type of message ruins my day as I cannot make any plans to live my life, so I no longer allow vague or last minute arrival time notifications.
3. Early arrival is allowed for an extra charge of $20, with the same stipulation you must set an exact time and arrive at the precise time, not early or late. I will wait for you if you are late for $10 an hour. If you write 'around' by the time you state, the late fee begins 1 hour from the time you write, so, if you write 'around 10am' then the late fee begins at 11am if you have not checked in by then. Wording similar to 'around' works the same way. You must tell me your precise arrival time at least 24 hours in advance or your arrival time will be 18:00 exactly. For you to arrive early, I have to alter my day substantially, thus the charge.
4. Check out time is from 7:00am to 12:00pm noon.
5. Never open the house entrance door for anyone not in your group
6. Please do not wake up before 7am unless you will stay in your bed. You may use the toilet anytime.
7. Showering allowed from 7am to 12 midnight (24:00).
8. Quiet hours are from 10:00pm to 7:00am (22:00 to 7:00). Plan to be silent after 10pm except for a few brief sentences such as 'should I turn out the light' or 'did you see where I put my toothpaste?' No conversations or packing your luggage.
9. I live here with my partner and we live our lives and sometimes make noise, except during quiet hours.
10. Curfew is at 3:00 am.
11. Parking is free right across the street in front of my house and only in front of my house.
12. All guests must be accounted for on your Airbnb reservation before you arrive, even newborns. If you try to sneak anyone in, if I let them stay, you will have to pay a $50 penalty per unaccounted for person per night, paid via the Resolutions Tool after the review period expires, in addition to adding them to the reservation via an Alteration Request at the then current price if possible. If not possible then you pay via the Resolutions Tool.
13. You may not have guests of your own visit you at the house unless you add them to the reservation before they arrive, and rule #12 applies if you fail to add them to the reservation before they arrive.
14. Announce your arrival by Airbnb message. The wifi signal works outdoors and I disclose the network name and password once you book.
15. Check in takes 10-15 minutes and is mandatory for all in your group that can understand English.
16. Smoking is allowed only on the back upper deck, not out front or indoors.
17. No third-party bookings, which means you must sleep here each night. If you make such a booking, it will have to be unwound... in other words, the reservation is not valid.
18. You alone must correspond with me so don't turn your account over to anyone.
19. No drunkenness or other drug intoxication allowed, unless you are consuming prescribed medication, including cannabis, in quantities directed by your physician. Once recreational cannabis is allowed by law in San Francisco, then you may consume it outdoors on the back deck in moderation.
20. Eating is permitted only in the dining room, kitchen and on the upper back outdoor deck.
21. Food deliveries allowed only from 9am to 9pm.
22. I do not offer discounts or provide refunds so be careful booking.
23. No parties, events, screaming, fighting, photo shoots or video productions.
24. Use only the Airbnb calendar to communicate dates as I will ignore other communications about dates.
25. You may store your bags here in the public living room until 21:00 on the last day of your reservation.
26. If you book here and then alter the days, you will pay the same price for the new days, unless the new days cost more.
27. No illegal drug use, possession, storage or distribution.
28. You may not store your luggage here on days before or after your reserved days.
29. No pets, but Service Animals are allowed with English language government issued documentation.
30. If you telephone or SMS Text me, send the same message via airbnb at once as a message to be sure it's in our airbnb message thread.
31. Please do not play amplified sounds here unless you listen via ear phones.
32. Use the garbage can not the sink garbage disposal to dispose of food.
33. Do not spit, urinate, defecate or regurgitate other than in the toilet assigned to your room.
34. No burning of candles, incense, wood, paper, sparklers, fireworks, matches, lighters, oil lamps or other solids, liquids or gases.
35. Do not walk around public areas of the house topless, in the nude or in your underwear. This rule applies to all genders.
36. There are no back up bathrooms no matter how dire the circumstances... you'll have to travel to a public restroom in such an emergency.
37. No firearms or weapons allowed unless a government law gives you an exception, and even then, lock them up and keep them unloaded.
38. Do not leave people in your group under 18 without an adult from your group present as well.
39. You must be comfortable using Airbnb and have the equipment with you to readily do so.
40. Starting a week before your arrival, I restrict date alterations to earlier dates and I don't allow you to shorten your overall stay.
41. Your party must arrive together at one time unless you coordinate with me in advance.
42. Everyone in your party able to read should read these house rules the day before check in.
43. Tell me before you book if you are an airbnb 'Business Traveler.'
44. Do not photograph or capture video of anyone not in your party without their explicit permission.
45. My cancellation policy is set to Strict. You may not reduce your penalty for cancelling by first reducing the number of days in your stay and then cancelling, and if you do you agree to pay the additional amount I would collect before the reduction in days, paid via the Resolutions Tool.
46. Don't leave any house exit door unlocked if you are not present at the door.
47. Please clean up after yourself in the public areas of the house.
48. Follow California law regarding alcohol.
49. You forfeit your reservation if you do not check in on the first day, which concludes at 23:59.
50. If you borrow something from me, you promise to hand it back to me.
51. Be careful when booking since I have a Strict cancellation policy.
52. If you Instant Book for a same day stay, check with me first to be sure I am home.
53. Please don't leave your room a mess when you check out.
54. You my primary registered guest must receive the house tour for your group to be considered 'checked in.' Nobody else can check in for you.
55. Please lock your bedroom door when away and if you want to be certain nobody walks in on you, many Airbnb guests stay here at once, including young children and infants. My partner and I have an infant child.
56. If you complain in a review about something I disclose in my listing, you can't stay here again.
57. If airbnb cancels your reservation, you may not stay again without my advance written permission you obtain after you remind me that airbnb had previously cancelled your reservation.
58. I correspond only with my primary registered guest.
59. My cancellation policy is called Strict by airbnb. If you book from a jurisdiction that has a law or laws that override and weaken the Strict policy, there will be a surcharge you must agree to when booking, by having me issue you a Special Offer at a higher price, probably about 10% higher, to account for the higher risk I will lose money if you cancel under a weaker policy. If for any reason, even software error or my error, you don't pay as you book, you will still have to pay the surcharge before you arrive or cancel your reservation at your expense. The burden is on you not me to be sure you pay this fee, no matter what unforeseen circumstance may arise. As of September 23rd, 2017, South Korean airbnb accounts are subject to surcharge. There may be other jurisdictions I am not yet aware of.
60. Sorry, but I do not accept Alteration Requests to reduce the number of guests. It's better to book for fewer guests and add more later than to book too many and feel bad about paying for your guests that decide not to travel.
61. You must have an airbnb 'Verified ID' before you make any contact with me and before you try to book a stay here. If you Instant Book a reservation without already being Verified, you must pay the full amount of the booking whether or not the booking is completed. In other words, if your ID is never verified and you can't stay here, you still have to pay the full cost of staying here by whatever means airbnb provides for, perhaps as outlandish as making a phantom booking for a non existent room simply to use the airbnb payment facility, since the Resolutions Tool is not available in this instance.
62. Place only human waste and toilet paper in the toilet. No dental floss, baby wipes, tampons, sanitary napkins and other such items.
Otras cosas que debes tener en cuenta:
Hay que subir escaleras - One flight of stairs to second floor of house, where airbnb guest rooms are located.
Puede haber ruido - Squeaky hardwood floors. Up to a dozen or more guests here at once. Noisy plumbing.
Hay animales de compañía en el alojamiento. - One Border Collie puppy born March 2017
Hay zonas comunes que se comparten. - Kitchen, Dining Room, Living Room, outdoor deck.
Limitaciones de servicios - This house has a normal 80 gallon residential water heater so water can run out on rare occasion.
Detector de monóxido de carbono
Ficha de instrucciones de seguridad
Pestillo en la puerta del dormitorio
Estancia mínima de 1 noche
Kevin tiene todo perfectamente organizado para q te sientas como en casa. Te da consejos para moverte y aprovechar bien tu tiempo en SF,donde. Es amable y deja q cocines y prepares desayunos (café rico de costa rica!)y coger de sus cosas de la nevera. La habitación en la q estuvimos estaba muy bien,amplia,exterior,sin baño,pero como la otra habitación tenía baño propio, el baño q teníamos era solo para nosotros. La casa genial,esta un poco alejada del centro pero en uber te plantas por menos de 15 euros. O en metro por menos,claro. Tiene un salón amplio,ordenador e impresora para usar,terracota con vistas chulas y para fumar. En general,muy bien,nos sentimos como en casa,era amable,dispuesto siempre a ayudarte,de hecho nos dijo q si teníamos cualquier problema le podíamos llamar las 24 horas. Y luego en casa,divertido pero discreto, te deja tu espacio pero esta ahí por si necesitas algo. Volvería a ir sin dudarlo. Mejor que un hotel.
---
Si buscas en dónde quedarte en tu visita a San Francisco, éste es el lugar al que debes llegar. La casa está bastante limpia y no batallarás con el estacionamiento (uno de los problemas de SF). Kevin, el anfitrión, es muy amable y es evidente que le gusta recibir personas en su casa. Su prioridad número uno es la seguridad y comodidad de sus huéspedes. Como parte de tu estadia, te ofrece variedad de comida para prepararte desayuno, o para un tentenpié. Otra de las cosas que me gustaron fué que Kevin te da recomendaciones de lugares a donde ir, como mantenerte seguro y como moverte en la ciudad; cualquier pregunta que tengas de SF él te responderá con gusto. Por cierto, hay una lista de reglas que hay que seguir en la casa, pero nada fuera de lo común. Básicamente pide que seas cortés y considerado. Antes de tu visita revisa el perfil de Kevin, ahí tiene sus reglas y tips para tu visita. 100% Recomendado =)
---
Kevin es un gran anfitrión, nos hizo sentir como en casa desde la bienvenida (para 3 personas de Honduras no es tarea fácil). El lugar estaba limpio e impecable, es grande y a mis hermanas les encantó la cocina porque era grande y muy bien equipada, especialmente con alimentos para el desayuno. Kevin nos introdujo a San Francisco, qué hacer y qué no hacer! Su ayuda fue una guía para nuestra visita. Aunque las reglas pueden parecer exageradas al leerlas, son simplemente para mantener las armonía entre los huéspedes, definitivamente un lugar para quedarse y volver.
---
La casa está genial y Kevin es muy agradable, siempre intentará ayudarte. Estuve 3 noches con mi novio y lo primero que hizo, tras enseñarnos la casa, fue señalarnos en un mapa sus recomendaciones y consejos, cosa que agradecemos mucho y nos fue muy útil, ya que no preparamos mucho lo que veríamos en SF! En la nevera tiene muchas cositas para desayunar, cosa que se agradece para empezar el día con energía! Estuvimos muy cómodos en la habitación y en la casa en general. Con lo caro y mal que vi el alojamiento el SF en hoteles, recomendaría a todos mis amigos que se alojaran con Kevin. Nosotros teníamos coche y nos acercábamos con el coche a la estación de metro, aparcar en la ciudad es carísimo! Se puede ir andando, el problema de SF son las cuestas... Coincidimos solo con gente que estaban en la habitación con baño privado, por lo que no tuvimos que compartir el baño común. La habitación es amplia y la cama es muy cómoda, pero si tienes problemas para dormir con luz, llévate un antifaz, tiene solo una persiana de trabillas, por lo que entra toda la luz en cuanto se hace un poco de día. Gracias por todo!
---
San Francisco, California, Estados Unidos
Se registró en Diciembre 2008
I love being a host. I have been happily inviting guests into my home since the dawn of airbnb, way back in 2008. It was so early that airbnb had no employees yet, and one of the three co-founders had to come to my house to take the 'professional pictures' that come with membership. Since I am a photographer, he didn't take the pictures because he thought mine were better than he could take. Instead, we spent 20 minutes talking about airbnb. I knew it was going to be huge even back then.

I hosted the first airbnb employee, Nick. The founders required potential employees to use the service, and Nick chose my house. He later got hired, stayed until he vested all his stock, and last I heard is now an investor, using the windfall he accumulated by being the first employee at what is now a company reportedly worth more than USD twenty five billion. You can find the review Nick left for me in the reviews section.

I have been to France, Germany, Austria, Jamaica, China, Japan, Thailand, Switzerland, England, Greece, Belgium, Netherlands, Czech Republic, Hungary and Italy, among others.

It's easy to get here. You can fly into either the San Francisco or Oakland International airports. From there you can take BART, the regional train that serves the San Francisco Bay Area. BART will get you into San Francisco itself, since the airports are not actually in the City. Once you exit the BART station, you hop on a MUNI bus #36, which you catch right at the exit of the BART station... no walking. Then, you get off the #36 and you are right at my front door, again, no walking.

There is plenty of free unlimited time parking in front of my house.

Prior to becoming a bed and breakfast host, I was a software entrepreneur and computer programmer. I have been in the tech field through two boom/bust cycles.

I am also an accomplished photographer and if you ask, I'll take your picture.

If you arrive on Friday or Saturday, I prefer you don't arrive after 7pm, so that I don't have to stay home waiting for you. I have a live in girlfriend and I like to take her out on dates.

Final thoughts: You can learn a lot from my profile here and from my hundreds of reviews. I strive to provide my guests with an incredible San Francisco experience. Almost every guest is happy, which shines through in my reviews I think.

But a rare few are unhappy.

If you think you'll be unhappy as well, perhaps because this is a traditional old house built in 1958 with oak wood floors that squeak, small original bathrooms with worn tile, original noisy plumbing, thin walls, and often a dozen or more guests per night... then please book somewhere else.

There are plenty of newer homes on airbnb. I have almost 100% occupancy, so I won't be offended or financially harmed if you book somewhere else.

Rather, I will be happy, because it pains me to read the rare review where someone complains about something that is entirely normal for most San Francisco houses.

What you get when staying here is a richly fascinating window into real San Francisco life, high on a magnificent hill with a stunning view onto acres of untouched forested land, a rarity in bustling and congested San Francisco.

You also get to meet me, one of the most experienced hosts on this platform. I signed up just four months after airbnb was founded, and I host over one thousand guests per year when I am hosting. Some years I take a break.

I will help you out more than most hosts, and the 'special features' of my six bedroom home should be viewed as perks not quirks... perks that will help you soak up the uncommon feeling of living in what many say is the best city in the United States.

In conclusion, I want to mention price. This is essentially a hostel in an old house with free food and a very attentive host to help you make the most of your visit.

So, the price should be affordable. Usually it is, but not always.

If you book during a special event, like the Super Bowl (held here in 2016) or the Outside Lands concert or Oracle World, the price could be double or quadruple the normal price. Remember, hotels in San Francisco that cost $200 a night can jump to $1,000 or $2,000 a night during one of the big events. While I don't ever charge $1,000, I do charge more when special events are in the area. Please don't pay my asking price, stay here and then complain when you leave a review that the price is not a good value.

I sell out nearly every night of the year, so that means I am pricing my rooms below market. Hotels strive to only have about a 70 to 80 percent occupancy, I have read, because that level of occupancy optimizes profit. I strive to optimize for 100 percent occupancy, even though it means lower profit per room. I like 100 percent occupancy because that way I get to meet the most people, which I enjoy. I also want to help my guests meet the most people from around the world as well. If I optimize for profit, my guests meet fewer people. So that's why I optimize prices to fill every room every night.

When you stay here, you can be certain you are paying a fair and market rate price that is lower than it could be if I tried to make the most profit.

In this profile I have disclosed clearly significant negatives to my listings - that this is a hostel with many guests per night, that the house is old and tired, etc.... But despite these negatives, I run a tight ship and my guests are very happy almost all the time, as you can read in my 400+ reviews.

I strive to achieve five stars across all the rating categories, and I am close to getting there, with a 92% five star ranking as of February 18th, 2016.

I am also an airbnb Superhost, which you can see by the yellow and red badge in various locations including just below this profile text. This status means the following: 1) I have never cancelled a reservation in the last year; 2) I reply to at least 90% of messages from prospective guests within 24 hours; 3) that I have had at least ten bookings in the last year; 4) that at least 80% of guests in the last three months prior to evaluation have rated their overall stay here with five stars out of a possible five stars. If you don't see the badge, that means I have temporarily lost my status and forgot to update this text. It is very difficult to achieve Superhost status in a shared house with so many guests, which I mention so you will appreciate why I have the house rules you see in my listings. If you are difficult to please in general, or find that you frequently leave tough reviews on review sites such as Yelp, please stay somewhere else. I work very hard to get and keep Superhost status, and for almost all guests, that work results in the sweet and heartfelt reviews you see. Note I exceed the Superhost minimum requirements because I reply to every guest message, I have hundreds of bookings per year and I have never cancelled on a guest ever.

Again, I urge you to stay somewhere else if you find yourself to be picky and/or think you'll penalize me for the qualities I have disclosed to you in this profile.

I will be grateful if you refrain from leaving a review where you repeat the negatives I have plainly disclosed here.

I really enjoy being a host. I want to meet you. I have wonderful guests, and I have made many friends over the years. People from over 44 countries have stayed with me. You'll meet people from other places... interesting people. If something goes wrong, I will go out of my way to help you. If you forget your toothbrush, I'll give you a new one. If you flight is delayed and you get to my door at 3am, I'll still greet you with a smile and show you around. If you get sick, I'll drive you to a clinic for healthcare. If you need to print something you can use my free printer I have for guests.

I will take care of you even more than the concierge at a five star hotel.

Here are two examples:

1) The father of my guest packed their prescription eye medicine in their checked luggage, and that luggage was delayed. The guest's father had to have the medication, and his doctor was overseas, so my guest could not easily get a new prescription to buy the same medicine locally. My guest also spoke English only at a basic level. He asked me to call the airline. I called them, and the next day I drove my guest and his father to an obscure business park in another city to pick up his bag in an unmarked office building. The medicine was in the bag and my guest and my guest's father were thrilled.

2) A family from the Netherlands visited to go tent camping for a few weeks. They had their gear shipped to my house before their arrival. I stored the boxes in my garage at no cost. Then when they tried to rent a van their credit card did not have enough available credit for the mandatory deposit they had not been informed about when they reserved the van. They called their bank in Holland and learned it would take five days to boost their credit limit, which would have ruined their vacation. I went with them to the car rental company and charged their rental to my credit card. When they returned the van, they used their newly capable card to settle the bill and I did not lose any money. I can't promise to do this for every guest, of course, but they were doctors with teenage kids. I evaluated the credit risk and felt comfortable helping them out. Of course, this family was extremely grateful, because otherwise they would have had to find a place to stay while they waited for their bank to raise their credit line. I was booked solid, so I could not have extended their visit with me.

I've been helping my guests like this for years now, and I have so much fun in the process. Hope to see you soon!

I reply very, very quickly to all inquiries and requests, usually within 5 minutes, 16 hours a day from 8am to midnight my time, 365 days a year. I don't allow Instant Book because I like to manually review everyone that stays here. This is a shared house and I take care to provide a great experience for my other guests. If I am uncomfortable with a potential guest I will not let them stay here. But just because I don't allow Instant Book, you may confirm your plans very quickly because I will reply quickly from 8am to midnight my time. Since I joined airbnb in 2008 my average response time according to airbnb is just five minutes. Note when I say 'uncomfortable with a potential guest' I am talking about qualities such as not following my 'house rules.' I am not suggesting I discriminate because I welcome guests from every country on Earth.

I am registered as a host with department of short term rentals San Francisco, and I have a San Francisco business license as required. I also pay Property Tax to San Francisco on all my airbnb household furnishings. And of course, I pay State and Federal income taxes on my airbnb earnings.
Idiomas:
English
Ratio de respuesta:
100%
Tiempo de respuesta:
en menos de una hora
Descubre otras opciones en San Francisco y sus alrededores
Más alojamientos en San Francisco: