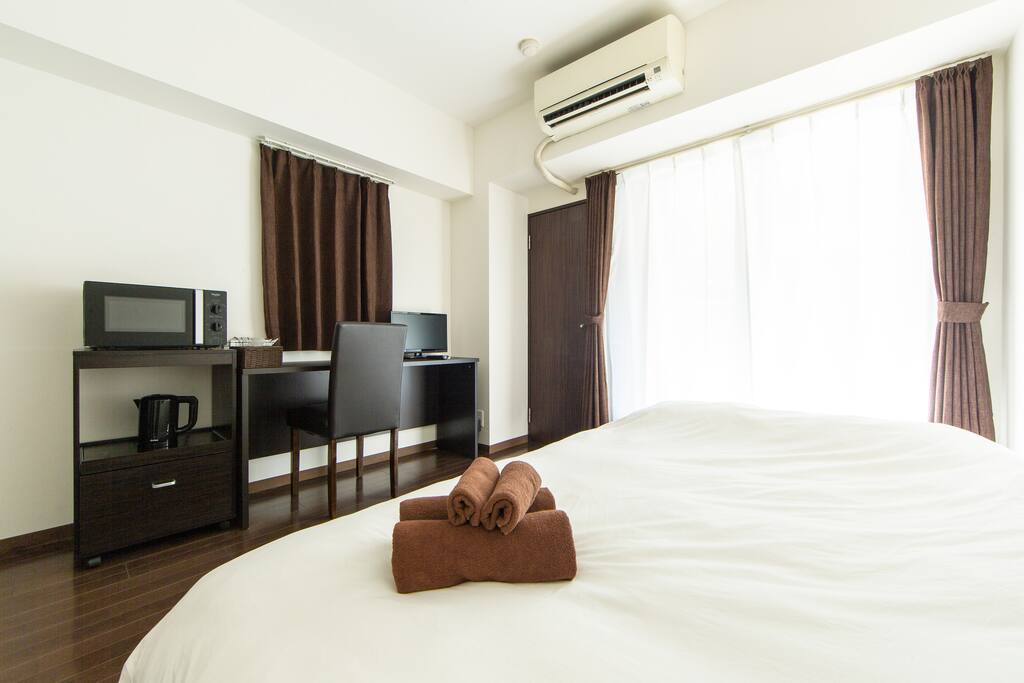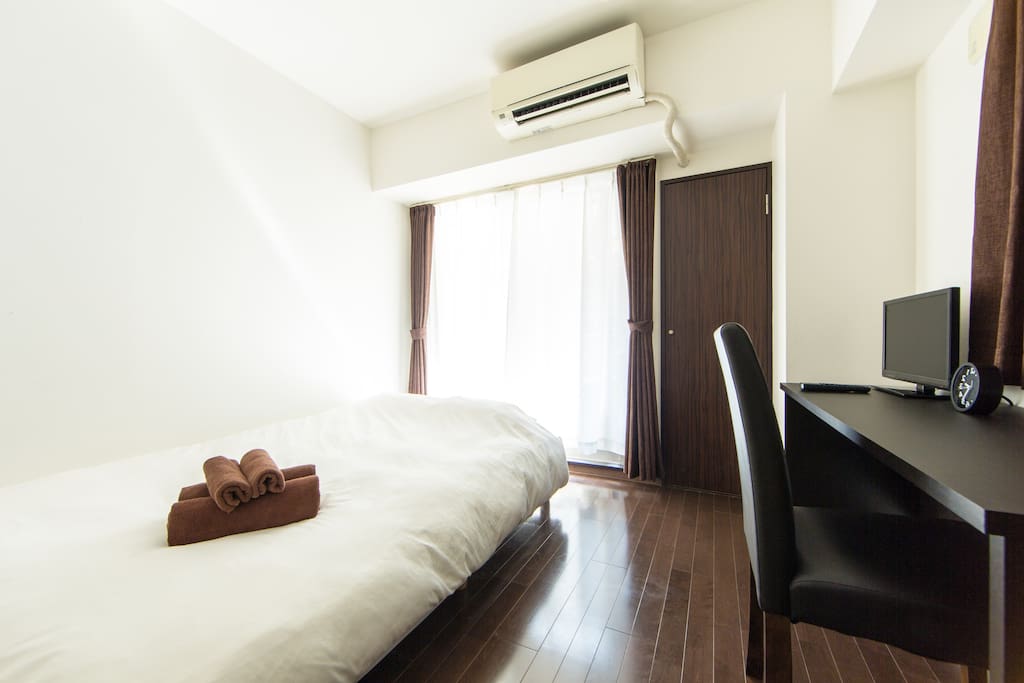 Near Osaka Castle/1Floor3bedroom3bathroom/3F
Near Osaka Castle/1Floor3bedroom3bathroom/3F
Esta lista está en la ubicación privilegiada que puede caminar hasta el castillo de Osaka y Shinsaibashi. Es conveniente para ir de compras y hacer turismo. Esta lista es para familias y parejas entre sí porque todos los de 1 piso de 3 habitaciones es privado, es el perfecto habitaciones espaciosas y limpias para los amigos. Usted puede permanecer más cómodo y por lo que tenemos todo lo que necesita para permanecer. Máximo puede acomodar hasta seis personas.
This listing is in the prime location that can walk to the Osaka Castle and Shinsaibashi.
It is convenient for shopping and sightseeing.
This listing is for families and couples to each other because all of the 1 floor 3 room is private, is the perfect spacious and clean rooms to friends.
You can stay more comfortable and so we have everything you need to stay.
Maximum can accommodate up to six people.
---
Apto para familias y niños
Internet inalámbrico (wifi)
---
Personas adicionales 17 € / noche más de 3 huéspedes
Comunícate siempre a través de Airbnb
Para que tus pagos estén protegidos, nunca transfieras dinero ni te comuniques desde fuera de la página o de la aplicación de Airbnb.
Más información
---
Dormitorio 1
1 cama de matrimonio
Dormitorio 2
1 cama de matrimonio
Dormitorio 3
1 cama de matrimonio
---
-----------------------English Version---------------------
- Non-Japanese guests, including those currently residing in Japan, must provide the following information when staying at one of our rental apartments, inns or hotels in Japan: the names, addresses, occupations, nationalities and passport numbers of all those who will be staying at the property. Each guest will also be required to show their passport.
- Japanese guests planning to stay in one of our rental apartments, inns or hotels in Japan must provide the following information: the names, addresses, occupations,nationalities and passport numbers of all those who will be staying at the property.
Each guest will also be required to produce a driver's license or other valid form of photo identification.
- In the event of an emergency (fire, earthquake etc.), please contact the property's support center, the police station or the fire department, and take whatever other measures are required.
- We strongly urge guests to read the House Guide upon starting their stay at the facility, since this contains important information on trash separation and disposal, among other matters.
1. This facility is an apartment, not a hotel. Please understand that we cannot offer hotel conveniences such as a concierge service, daily cleaning and room service.
2. Smoking is strictly prohibited in the apartment room and balcony, as well as in other parts of the building including the corridors and entrance area etc.
Cigarette smoke badly stains the wallpaper within the apartment, so please make sure to avoid smoking here at all costs.
3. Please take off your shoes when entering the apartment room. Wearing shoes inside one's residence goes against Japanese customs.
4. Make sure to read the House Guide upon your arrival at the apartment. This contains information on: how to use the amenities and facilities in the room;detailed descriptions of the surrounding area; and my recommended selection of local restaurants etc.
- The rules for separating and disposing of trash in Japan are very strict and complicated. Please follow the rules and throw your trash in the corresponding sorting bins provided in the room.
5. Please refrain from disturbing other residents in the apartment building through keeping noise to a minimum when in the room, corridors, entrance area and balcony. During the quiet hours from 9pm to 7am, neighbors are especially likely to call the police if they hear excessively loud voices or other noises.
6. During your stay, there is a chance that salespeople, gas and electric companies or other visitors might ring the intercom. Please feel free to ignore these calls, since visitors likely cannot speak any language other than Japanese.
7. Please do not touch the emergency alarm (labeled 非常ボタン) which may be attached to your intercom or elsewhere in the room. This calls a security company or the police, and may end up costing you money when they come to the apartment. Be very careful not to set off this alarm by mistake.
8. When you leave the room, please be eco-friendly and switch off the air conditioning, television, lights, and other electrical appliances.
9. Be very careful not to lose the apartment key
Replacing this item takes a very long time, and you will be responsible for paying the expensive replacement fee for these as well as the apartment lock.
Exact prices will be sent to you along with the receipt / estimate for the replacement cost.
10. Upon checking out, please carry out the following:
- Put used towels in the bathroom or on the wash stand.
- Double check your belongings to make sure you have not left anything among the items in the room.
- Turn off all electrical appliances.
11. A cleaner will come to the apartment immediately after you check out. As such,
if you wish to request an extension of your stay, make sure to inform me by the
day before your checkout at the latest. If you request an extension on the day of
your checkout, this will incur an extra charge for the cleaning fee. Late checkout
without permission will also incur an extra charge.
------------------------中文版本-----------------------
※非日本籍房客入住,需提供以下信息:所有入住者的名字·在自己國家的住址及工作。
與此同時,還需要提供國籍和護照號信息。護照也需要出示。
※日籍房客入住,需提供以下信息:所有入住者姓名·在本國的住所以及職業。同時也需
要提供國籍和護照號信息。另外,還需出示帶有照片的駕照等有效證件。
※發生火災等緊急情況時,請給您入住的房源所在的支援中心撥打電話尋求幫助。也可
以直接打給警察或者消防署。
※入住時請一定要仔細閱讀房屋指南並且根據房屋指南的細則使用各項設備。
1. 請理解公寓只是民宿,就像普通的住居一樣,而並非酒店或者旅館,因此實在是沒
有辦法提供像酒店那樣的門衛、每日清掃以及客房服務等,謝謝您的諒解。
2. 由於煙草產生的煙霧會對墻壁的壁紙造成極大的破壞,以及公寓是完全禁煙的。包
括陽台在內,請不要在室內吸煙,也請不要在公寓大樓的其它公共部分,比如入口
處、大廳、電梯內走廊等地方吸煙哦。
3. 請在玄關處脫鞋再進入室內。
4. 請至少讀一次★房屋指南★,因為裡面寫有各種細節信息,比如如何使用房間內的各
項設施設備,以及公寓周邊的詳細信息、還有一些我推薦的口碑不錯的餐廳的情報
※ 在日本,分類丟棄垃圾是非常重要的,其守則也很嚴格,因此,請把您的垃圾按照守
則正確丟入放置在室內的分類垃圾桶里。
5. 在日本,晚上9點至第二天早上7點是作息時間內的休息時段,因此在這個時間段內
,請尤其注意音量,避免大聲喧嘩而影響到鄰居及他人的休息。出入公寓的時候也
請盡量保持安靜哦~
6. 門鈴響的時候也請不要回答,直接忽視就行,由於語言以及是否房東本人等條件限
制可能會引起一些問題及麻煩,因此請不要回應。
7. 大多數日本公寓的入口處門鈴電子板或者室內的門鈴電子板上會帶有一個緊急按鈕
鍵(日文往往寫著"非常"二字),請避免按到它,因為按響它之後會各種麻煩。
8. 我想我們大家都是節能小幫手,因此,當您離開房間時,請記得隨手關燈關空調以及
一切家用電子產品哦~省電節能保護環境嘛。
9. 如果不小心弄丟了鑰匙是需要全額賠償的。因為日本的鑰匙製作很繁
瑣,有時候特別的鑰匙重新製作的費用又相當昂貴,因此請無論如何一定要保管好鑰匙,出門的時候也請小心不要遺失哦。弄丟
的話就糟啦!
10. 退房時,請:
把使用過的毛巾等統一放到浴室或是洗臉臺上。
請再次檢查您的隨身物品是否都已帶上。也要避免把室內的備品和自己的物品
搞混哦。
關好一切電器。
11. 在可以延長住宿但是您到了退房當天早上才臨時通知我們的情況下,我們必須向您收取
多1次的清掃費用。如果沒有通知我們就延遲退房,我們將不得不跟您徵收超時費用。
請您諒解。
--------------------------한국어 버전--------------------------
*주의사항*
※일본 국내에 주소를 가지고 있지 않는 외국인,및 일본에 주소를 가지고 있는 외국인이
민박・여관・호텔에 숙박 할 경우,정확성을 기하기 위해,숙박자 명부에 숙박자
성함・주소・직업 그리고 국적・여권번호를 기재한 후,여권을 제시 해줄 필요가 있습니다.
※일본인이 민박・여관・호텔에 숙박 할 경우,정확성을 기하기 위해,숙박자 명부에 숙박자
성함・주소・직업 그리고 국적・여권번호를 기재한 후,운전면허증 등 사진이 있는 신분증을 제시 해줄 필요가 있습니다.
※화제등 긴급 상황이 발생 했을 경우,본 시설 서프트센터 혹은 경찰서,소방서 등에
연락하여 그에 맞는 행동을 취해 주십시오.
※본 시설을 이용하시기 전에,하우스 가이드를 꼭 확인하시고 이용해 주십시오.
해당 시설에 숙박하고 있는 게스트의 사망과 부상 등의 책임은 일절 지지 않습니다.
예약한 게스트가 자신과 함께 숙박하고 있는 분들의 책임을 100% 집니다.
숙소 이용규칙
1. 저희 숙소는 호텔이 아닌 보통 주택이기 때문에,호텔과 같은 서비스를 제공하는것은 어렵습니다.
2. 실내,베란다,건물내에서는 금연입니다.담배 연기는 방에 있는 벽지 등도 더럽힐 가능성이 있기 때문에
실내에서는 흡연을 하지 말아주십시오.
3. 방에 들어갈시에는 신발을 꼭 벗어주십시오.일본에선느 신발을 신고 실내에 들어가는 습관이 없습니다.
4. 체크인 하시면 하우스 가이드를 꼭 읽어주십시오.
하우스 가이드에는 숙소 이용규칙,설비 사용방법,주변 시설,그리고 제가 추천드리고 싶은 가게 등이 기재되어 있습니다.
※저희 숙소는 쓰레기 버리는 방법이 아주 중요합니다.쓰레기가 생기면 분리수거용 쓰레기통에 분리해서 버려주십시오.
5. 주변 주민들에게 폐를 끼치지 않도록 실내,베란다,복도,엔트런스 등에서는 조용히 지내주시기 바랍니다.
특히 21시~7시 까지는 각별히 신경 써주십시오.해당 시간대에 가끔씩 주변 주민들의 신고로 인해
경찰이 출동할 경우도 있기 때문에 큰 소리로 얘기하거나 큰 소리를 내는일(행동 등)은 삼가해주십시오.
6. 숙박중,가끔씩 인터폰이 울릴때가 있습니다.(방문 판매,가스회사 등에 의한)재방문
한다는 통지서를 우편함에 넣어 놓기 때문에 대응하지 말아 주십시오.
7. 인터폰에 있는 비상버튼은 누르지 마십시오.비상버튼을 누르면 경비회사와 경찰이
출동 할수 있고,그로 인해 요금이 발생할 가능성이 있습니다.
8. 외출시에는 에어컨,TV,조명 등의 전원을 꺼주십시오.전기 절약과 지구 환경을 위해서
9. 숙소 열쇠는 잃어버리지 않게 잘 관리하십시오. 열쇠 복사를 하려면 시간도 많이 걸릴뿐만 아니라, 요금도 많이 듭니다.
만일 분실 했을 경우, 요금을 청구할 수 있습니다.
10. 체크아웃 하시기 전에 아래의 항목을 확인해 주십시오.
-사용하신 수건은 욕실 혹은 탈의실에 놓아주십시오.
-에어컨,TV,조명 등의 전원은 꺼주십시오.
-본인의 가방속에 숙소 물건이 들어가 있는지 확인해 주십시오.
11. 체크아웃 후에는 청소를 바로 하기 때문에, 체크아웃 시간 연장을 원하실 경우,
체크아웃 전날에 꼭 연락을 주십시오.체크아웃 당일날 연락주시면 추가요금을 청구할수 있습니다.

-----------------------------------------日本語---------------------------------------------------------
※ 日本国内に住所を有しない外国人及び日本に住所を有する外国人の方が民泊・旅館・ホテルに宿泊される場合は、正確を期する必要がありますので、宿泊者名簿に宿泊者の氏名・住所・職業に加え、国籍及び旅券番号を記載していただき、パスポートの呈示をしていただく事になっています。

※ 日本人の方が民泊・旅館・ホテルに宿泊される場合は、正確を期する必要がありますので、宿泊者名簿に宿泊者の氏名・住所・職業に加え、国籍及び旅券番号を記載していただき、運転免許証等の写真付き身分証明書の呈示をしていただく事になっています。

※ 火災などの緊急事態が生じた場合、当施設のサポートセンターもしくは警察、消防機関へ連絡するなど、適切な対応を行ってください。

※ 施設を利用する際には必ずハウスガイドを確認してから利用をお願いします。

1. この物件はホテルではなく一般住宅です。ホテルのようなサービスを提供することはできません。

2. 室内、ベランダ、建物内はすべて禁煙です。煙草の煙は室内の壁紙を汚すので、居室内では煙草を吸わないでください。

3. お部屋に入るときは必ず靴を脱いでください。日本では室内で靴を履く習慣はありません。

4. 部屋に到着したらハウスガイドを必ず読んでください。ハウスガイドには、ハウスマニュアルや近隣のお店、私がオススメするお店情報を記載しています。

※このお部屋では、ゴミ出しのルールはとても重要です。ゴミはお部屋にある分別用のゴミ箱に適切に捨ててください。

5. 近隣住民の迷惑にならないように、室内、ベランダ、廊下、エントランスなどでは静かにするようお願いします。日本では一般的に、21時~翌朝7時の間、室内では静かに過ごします。特にこの時間帯は、近隣からの苦情で警察が出動することもあります。大きな声で話すことや、大きな音を立てることは控えてください。

6. 滞在中に訪問者(訪問販売、ガス会社、電話会社、巡回等)がインターフォンを鳴らすかもしれませんが、再訪問のお知らせがポストに入るので対応しなくても大丈夫です。訪問者は外国語を話せないので、ドアを開けてしまうと混乱を招く可能性があります。

7. お部屋のインターフォンについている非常ボタンは触らないでください。非常ボタンを押すと、警備会社や警察が出動する可能性があり、料金が発生することもありますので注意してください。

8. 外出時は必ずエアコン、テレビ、照明などの電源を切ってください。電気代節約と地球環境の為に、ご協力をお願いします。

9. お部屋の鍵は紛失しないように気を付けてください。鍵の複製や

手配には時間がかかり高額です。万が一紛失したら、代金を弁償して頂きます。

10. チェックアウト前に、以下の対応をお願いします。

使用済みのタオルは脱衣所やバスルームにまとめてください。

自分の荷物にお部屋の備品が紛れていないか確認してください。

エアコン、テレビ、照明などの電源を切ってください。

11. チェックアウト後は清掃員がすぐに掃除に来ます。もしチェックアウト時間の延長を希望する場合は、前日までに必ず連絡をしてください。当日連絡の場合、追加料金をお支払いいただくこともあります。
---
---
Detector de monóxido de carbono
---
Estancia mínima de 1 noche
---
misaです!
岡山県出身です!
my favorite actor Jean Claude van damme
my favorite musicians nishida hikaru!
こんな私ですが宜しくお願いします!
Ratio de respuesta:
100%
Tiempo de respuesta:
en menos de una hora
Descubre otras opciones en Chuo Ward, Osaka y sus alrededores
Más alojamientos en Chuo Ward, Osaka: