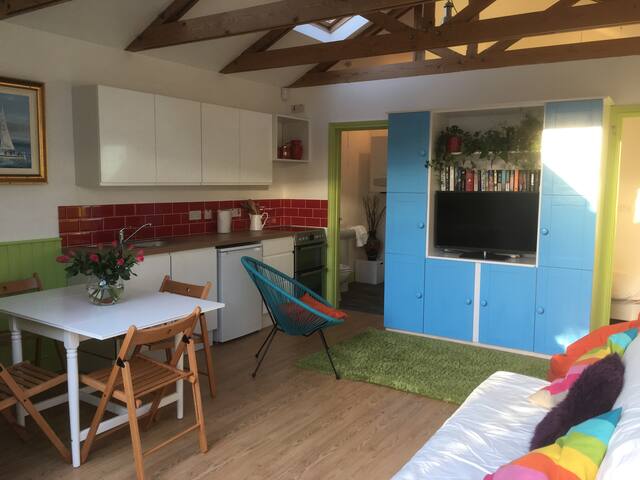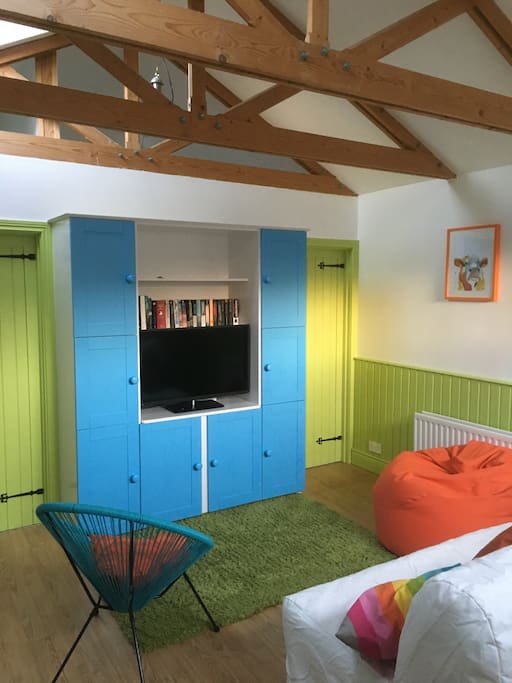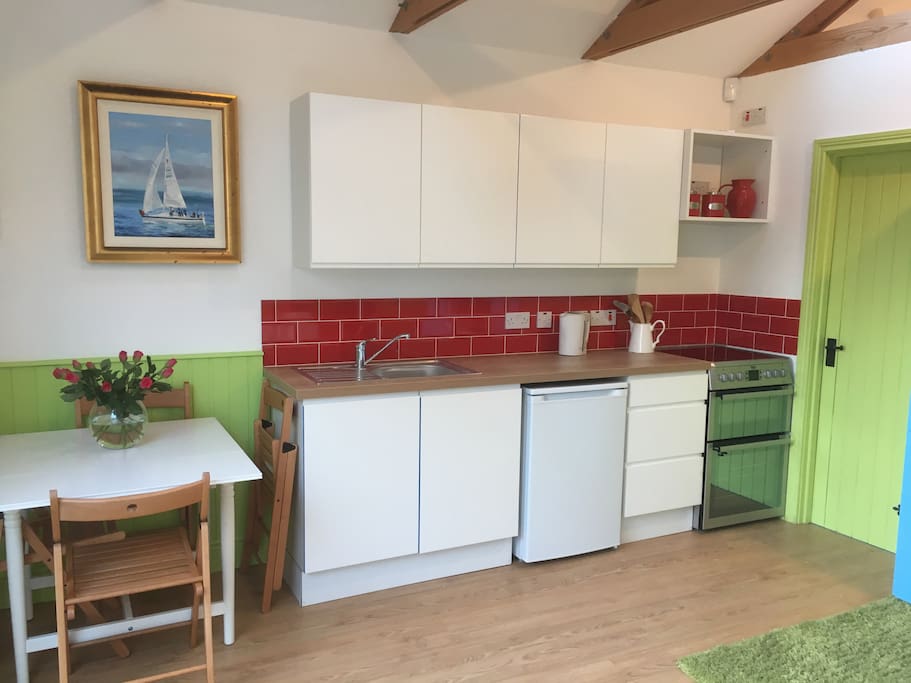 Compact, bijou and funky this brightly coloured and entertaining self-contained, one bedroom studio apartment, with additional double sofa bed, is located in the affluent Malone Area of South Belfast. This property is 2.5 miles from Belfast City Center with direct bus links only a short walk from the front door.
El alojamiento
Esta conversión de garaje anexo recientemente reformado ha sido equipado, equipado y decorado con un alto nivel. Los altos techos abovedados con vigas de techo de madera expuestas y puertas tradicionales de estilo rural añaden al carácter de este espacio único. La principal sala de estar, cocina y comedor han sido decoradas en colores brillantes y vibrantes para proporcionar un ambiente alegre y entretenido para pasar algún tiempo. El sofá de dos personas también se convierte en un sofá cama doble con edredón y almohadas discretamente almacenados debajo. En contraste, el dormitorio, aunque compacto, incorpora una cama doble de tamaño queen y está decorado en blanco fresco con tonos naturales para proporcionar un ambiente más tranquilo y tranquilo para descansar y relajarse. La cocina incluye un horno completo con vitrocerámica, microondas, nevera, fregadero, hervidor de agua, tostadora y todos los accouterments que debe necesitar para atender durante su estancia. La tabla de hojas sueltas se puede ampliar para acomodar hasta cuatro personas. Por favor, siéntase libre de ajustar el mobiliario que mejor se adapte a sus necesidades durante su estancia. El apartamento tiene su propia entrada, separado de la casa principal, por lo que los huéspedes pueden ir y venir como les plazca, con su propia llave. Tenga en cuenta que también tenemos un pequeño perro Schnauzer en las instalaciones. Nos esforzaremos por mantenerlo fuera de la vista durante su estancia, pero si le sucede a toparse con él por favor tenga la seguridad de que, si bien él puede poner en una representación entusiástica de un perro guardián, su corteza es definitivamente peor que es mordida: 0 ) Tenga en cuenta que los Schnauzers no arrojan y se consideran hipoalergénicos, por lo que una mascota adecuada para la mayoría de las personas con alergias o asma.
This recently refurbished annex garage conversion has been fitted out, kitted out and decorated to a high standard. The high vaulted ceilings with exposed timber roof trusses and traditional country style doors add to the character of this unique space. The main living, kitchen and dining area have been decorated in bright, vibrant colours to provide a joyful and entertaining environment to spend some time. The two person sofa also converts into a pull out double bed with duvet and pillows discreetly stored underneath.
In contrast the bedroom, while compact, incorporates a queen sized double bed and is decorated in cool white with natural tones to provide a more sedate and tranquil atmosphere to rest and relax in.
The kitchen includes an full oven with hob, micro wave, fridge, sink, kettle, toaster and all the accouterments you should need to self cater during your stay. The drop leaf table can be expanded to accommodate up to four persons. Please feel free to adjust the furniture to best suit your requirements during your stay.
The apartment has its own entrance, separate from the main house, so guests can come and go as they please, with their own key. Please be aware that we also have a small Schnauzer dog on the premises. We will endeavor to keep him out of sight during your stay but if you do happen to bump into him please be assured that, while he may put on an enthusiastic impersonation of a guard dog, his bark is most definitely worse than is bite :0) Please note that Schnauzers do not shed and are considered to be hypoallergenic, making them a suitable pet for most people with allergies or asthma.
Servicios y zonas comunes
Los huéspedes tendrán acceso gratuito a la banda ancha interna durante su estancia. Los huéspedes pueden acceder a la lavadora y el caballo a mano. Pedimos sin embargo que se debe dar aviso y el consentimiento buscado y acordado con los propietarios con antelación. Los servicios de atención infantil también pueden estar disponibles siempre que se reciba un aviso adecuado y se llegue a un acuerdo previo y se dé el consentimiento. En caso de que los huéspedes deseen llegar antes de las 3 pm hora de llegada, y la habitación no está lista, debe, con previo aviso y acuerdo, ser posible para organizar dejar bolsas, etc ... en la zona de recepción principal de la casa. Nuestro objetivo es hacer que su viaje, y estancia, como fácil, conveniente y sin problemas como sea posible. Nos esforzaremos para trabajar con usted para asegurar que esto suceda. Sólo le pedimos que comunique sus necesidades de manera oportuna para que podamos hacer los arreglos necesarios.
Guests will have free access to the domestic broadband during their stay.
Guests may access the on site washing machine and cloths horse. We ask however that notice must be given and consent sought and agreed with the owners in advance.
On site child minding services may also be available so long as adequate notice is given and prior agreement is reached and consent given.
Should guests wish to arrive prior to the 3pm check in time, and the room isn't ready, it should, with prior notice and agreement, be possible to arrange to leave bags etc... in the main reception area of the house.
Our aim is to make your trip, and stay, as easy, convenient and hassle free as possible. We will endeavor to work with you to ensure this happens. We only ask that you communicate your requirements in a timely manner so as we can make the necessary arrangements.
Atención a los huéspedes
Por favor, siéntase libre de interactuar con nosotros tanto o tan poco como desee. Nos complacerá responder a cualquier pregunta que pueda tener. Se trata de sus vacaciones y nos gustaría hacer todo lo posible para que su estancia sea lo más agradable y agradable posible: 0)
Please feel free to interact with us as much or as little as you want. We're happy to answer any questions you may have. It's your holiday and we'd like to do whatever we can to make your stay as pleasant and enjoyable as possible :0)
Otros aspectos destacables
Muy cerca de nuestro B & B son los siguientes: Belfast George Best Airport 6.5 millas (Aproximadamente £ 10 - £ 15 en taxi, 15-20 minutos, sujeto al tráfico) Aeropuerto Internacional de Belfast 16 millas (Aproximadamente £ 20 - £ 25 en taxi, 30-40 minutos, sujeto al tráfico) Belfast Central Railway Station 3.8 millas (Aproximadamente £ 10- £ 15 en taxi, 10-15 minutos, sujeto al tráfico) (Póngase en contacto con nosotros si necesita ser recogido o devuelto a un aeropuerto o estación de tren, ya que podemos ayudar, sujeto a horarios y disponibilidad) Las excursiones de Game of Thrones parten del centro de la ciudad (~ 4.5 km del B & B) a Westeros, Iron Islands y Stormlands, al norte a lo largo de la costa oa Winterfell en el sur. O tal vez prefieras visitar el bar The Dark Horse (a 6 km del B & B), donde encontrarás el 10º de un conjunto de puertas de juego de tronos talladas en el tronco de uno de los árboles de haya Dark Hedges, también aparece en la serie. Centro de convenciones y exposiciones Kings Hall 1.1 km Centro de actividades de Belfast 1.9 km Teatro lírico 2.6 km Museo del Ulster 3.5 km The Limelight (lugar de música en vivo) 4.1 km Somos Vertigo Adventure Park 5.8 km Belfast Waterfront Hall 6.4 km Odisea Pavilion 6.4 km SSE Arena (conciertos y eventos) 6.4 millas SSE Arena (Hockey sobre hielo de los Gigantes de Belfast) 6.4 millas W5 Centro de Exposiciones 6.4 km Centro de exposiciones Titanic 6.9 km Discoteca Chinawhite 2.6 millas The Limelight discoteca 2.6 millas Discoteca de Thompson 4.6 km Discoteca Ollies 5,3 km Discoteca El Divino 5.5 km Discoteca Caja 6.6 millas Shane Retail Park 1.6 km Charles Hurst Grupo centro de venta de coches 2.0 millas Boucher Road Retail Area 2.3 km Boucher Crescent Retail Park 2.7 km Boucher Plaza Retail Park 3.5 km Centro comercial de la ciudad de Belfast 4.4 millas Forest side shopping center 4.8 millas Centro comercial Victoria Square 5 km Centro comercial Park Center 5.0 km Campos de juego de Queens University 2.2 km Casement Park GAA Estadio 3.1 km Olympia Leisure Centre 3.2 km Pista de Mary Peters 3.2 km Estadio de fútbol de Windsor Park 3.5 km Estadio Ravenhill / Kingspan (Ulster Rugby) 6.1 km Malone House 1.2 km Ayuntamiento de Belfast 2.7 millas Crumlin Road Jail 5.9 km Castillo de Belfast 12 km Belfast Zoo 9.1 millas Balmoral golf club 1.2 km Dumurry golf club 4.0 km Malone golf club 4.4 millas Club de golf de Belvoir Club de golf Lambeg 8,4 km Drumbo Greyhound Stadium 4.1 km Cranmore Park 1.1 km Lagan Meadows 2.0 km Belvoir Forest Park 2.1 km Clement Wilson Park 2.1 km Lock Keepers Inn 2.7 km Jardín Botánico de Belfast 2.9 km Parque de Ormeau 4.1 km Sir Thomas & Lady Dixon Park 4.5 km Victoria College 1.3 km Stranmillis University College 2.0 km Universidad Metodista de Belfast 2.6 km Queens University Belfast 2.9 km Wellington College 4.2 km RBAI 4.1 km RBAI Recinto deportivo 0.6 km Escuela especial de Harberton 2.1 km Hunter House College 2.1 millas Kings Bridge Independent Clinic 0.9 km Clínica independiente de Ulster 0.9 km Musgrave Park Hospital 1,8 km Hospital de la Ciudad de Belfast 3.1 km Hospital Real de los Niños Enfermos 2.6 km Royal Victoria Hospital 3.0 millas Mater Hospital 5.8 km
Within close proximity to our B&B are the following:
Belfast George Best Airport 6.5 miles (Approximately £10 - £15 by taxi, 15-20 minutes, subject to traffic)
Belfast International Airport 16 miles (Approximately £20 - £25 by taxi, 30-40 minutes, subject to traffic)
Belfast Central Railway Station 3.8 miles (Approximately £10-£15 by taxi, 10-15 minutes, subject to traffic)
(Please contact us if you need collected or returned to an airport or train station as we may be able to assist, subject to times and availability)
Game of Thrones tours depart from the city center (~2.8 miles from the B&B) to Westeros, Iron Islands and Stormlands, north along the coast or to Winterfell in the south. Or perhaps you'd prefer to visit the The Dark Horse bar (3.8 miles from the B&B) where you'll find the 10th of a uniquely commissioned set of Game of Thrones doors carved from the trunk of one of he original beech trees from the Dark Hedges, also featured in the series.
Kings Hall Complex/Exhibition Center 0.7 miles
Belfast Activity Center 1.2 miles
Lyric theater 1.6 miles
Ulster Museum 2.2 miles
The Limelight (live music venue) 2.6 miles
We are Vertigo Adventure Park 3.6 miles
Belfast Waterfront Hall 4.0 miles
Odyssey Pavillon 4.0 miles
SSE Arena (Concerts & Events) 4.0 miles
SSE Arena (Belfast Giants Ice Hockey) 4.0 miles
W5 Exhibition Center 4.0 miles
Titanic Exhibition Center 4.3 miles
Chinawhite nightclub 2.6 miles
The Limelight nightclub 2.6 miles
Thompson's nightclub 2.9 miles
Ollies nightclub 3.3 miles
El Divino nightclub 3.4 miles
Box nightclub 4.1 miles
Shane Retail Park 1.0 miles
Charles Hurst Group car retail center 1.2 miles
Boucher Road Retail Area 1.4 miles
Boucher Crescent Retail Park 1.7 miles
Boucher Plaza Retail Park 2.2 miles
Belfast city center shopping district 2.7 miles
Forest side shopping center 3.0 miles
Victoria Square Shopping Center 3.1 miles
Park Center shopping center 3.1 miles
Queens University Playing Fields 1.4 miles
Casement Park GAA Stadium 1.9 miles
Olympia Leisure Center 2.0 miles
Mary Peters Track 2.0 miles
Windsor Park Football Stadium 2.2 miles
Ravenhill/Kingspan Stadium (Ulster Rugby) 3.8 miles
Malone House 1.2 miles
Belfast City Hall 2.7 miles
Crumlin Road Jail 3.7 miles
Belfast Castle 7.4 miles
Belfast Zoo 9.1 miles
Balmoral golf club 0.8 miles
Dumurry golf club 2.5 miles
Malone golf club 2.7 miles
Belvoir golf club 3.7
Lambeg golf club 5.2 miles
Drumbo Greyhound Stadium 4.1 miles
Cranmore Park 0.7 miles
Lagan Meadows 1.2 miles
Belvoir Forest Park 1.3 miles
Clement Wilson Park 1.3 miles
Lock Keepers Inn 1.7 miles
Belfast Botanic Gardens 1.8 miles
Ormeau park 2.5 miles
Sir Thomas & Lady Dixon Park 2.8 miles
Victoria College 0.8 miles
Stranmillis University College 1.2 miles
Methodist College Belfast 1.6 miles
Queens University Belfast 1.8 miles
Wellington College 2.6 miles
RBAI 2.6 miles
RBAI Sports grounds 0.4 miles
Harberton Special School 1.3 miles
Hunter House College 2.1 miles
Kings Bridge Independent Clinic 0.6 miles
Ulster Independent Clinic 0.6 miles
Musgrave Park Hospital 1.1 miles
Belfast City Hospital 1.9 miles
Royal Hospital for Sick Children 2.6 miles
Royal Victoria Hospital 3.0miles
Mater Hospital 3.6 miles
---
Aparcamiento gratuito en las inmediaciones
Internet inalámbrico (wifi)
---
Personas adicionales Sin cargo
Descuento por semana: 20%
Comunícate siempre a través de Airbnb
Para que tus pagos estén protegidos, nunca transfieras dinero ni te comuniques desde fuera de la página o de la aplicación de Airbnb.
Más información
---
Dormitorio 1
1 cama de matrimonio grande
---
No se admiten fiestas o eventos
No adecuado o inseguro para bebés (menores de 2 años)
La hora de llegada es a partir de las 15:00
Salida antes de las 12:00
We have a pet Schnauzer dog. He is not allowed to enter the B&B at any time and we will endeavor to keep him out of sight during your stay. If you do happen to bump into him please be assured that, while he may put on an enthusiastic impersonation of a guard dog, his bark is most definitely worse than his bite. Please note that Schnauzers do not shed and are considered to be hypoallergenic, making them a suitable pet for most people with allergies or asthma.
Aspectos que también debes tener en cuenta
En la casa viven perros
---
Detector de monóxido de carbono
---
Los viernes y sábados, la estancia mínima es de 2 noches.
---
Idiomas:
English
Ratio de respuesta:
100%
Tiempo de respuesta:
en menos de una hora
Descubre otras opciones en Belfast y sus alrededores
Más alojamientos en Belfast: