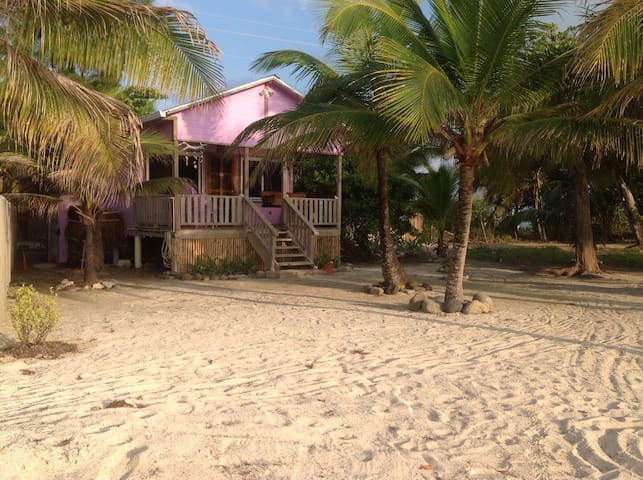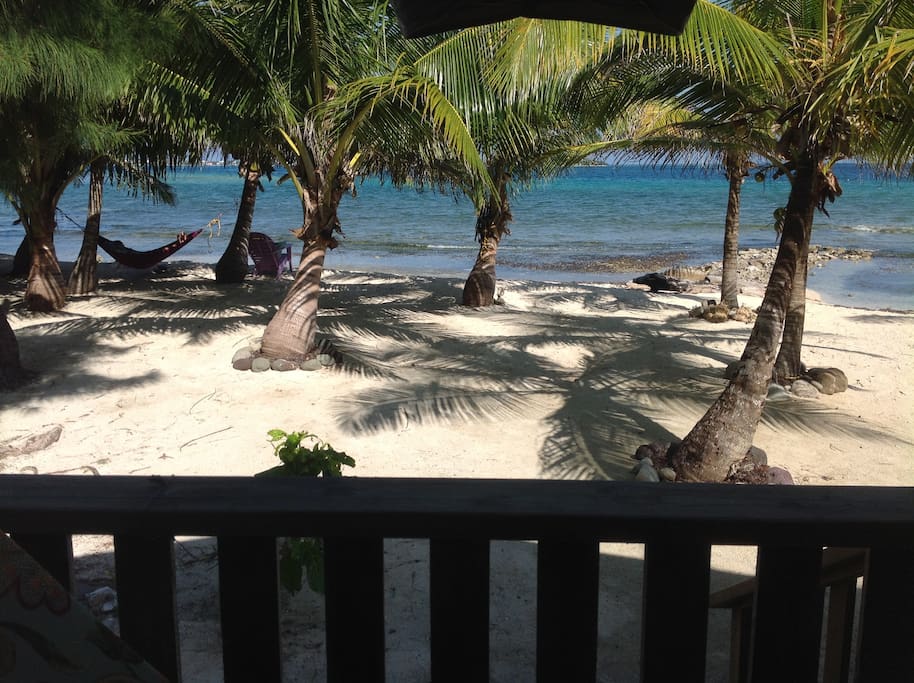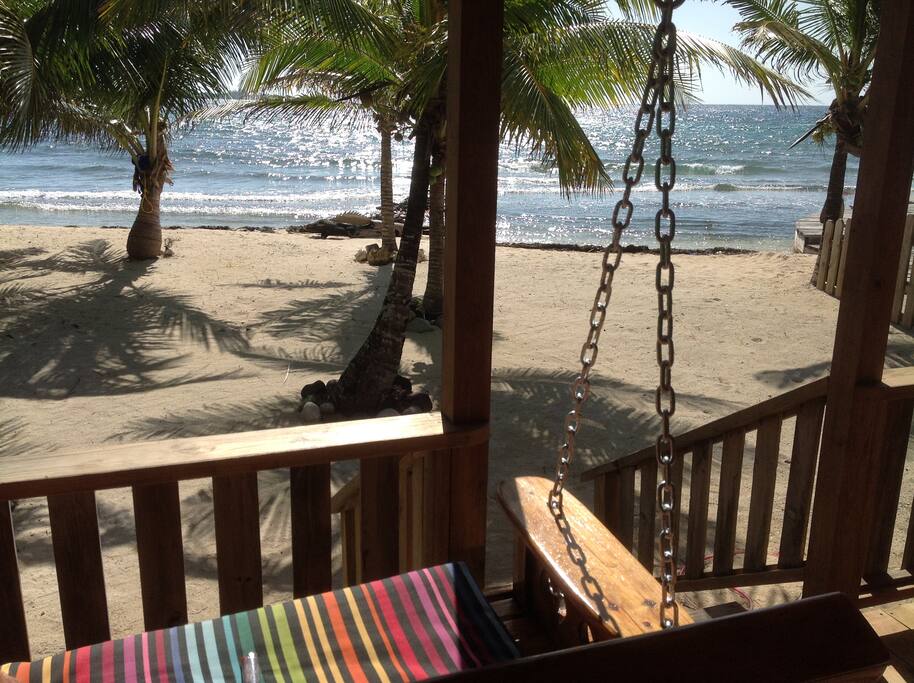 Información sobre este anuncio
Not many options like this...this house is modern and charming at the same time. Located on a quiet private beach but still easily accessible short walk or shorter bike ride along the water to the restaurants and bars of town.
---
Tipo de habitación: Casa/apto. entero
---
Internet inalámbrico (wifi)
---
---
Not many options like this...this house is modern and charming at the same time. Located on a quiet private beach but still easily accessible short walk or shorter bike ride along the water to the restaurants and bars of town.
This is a small but charming beachhouse on a rare stretch of white sand beach replete with palm trees. To the left of the house there is only almond trees, palm trees and sand. To the right the neighborhood of Blue Bayou stretches out for a few houses. Very quiet, perfect for people who love diving, snorkeling, hanging out on a private beach or bonefishing. All of these activities are accessible from the beach that the house is located on. The property includes wireless internet (a usb stick attachment so you need a usb enabled device for it to work) A/C as well as a full kitchen with coffee machine, microwave, toaster etc. It is a short walk to town but far enough away that you can relax in peace with a cold beer or cocoloco without doing much of anything. It is my real life corona commercial and I get there whenever I can but since I cannot be there all year round, you should come stay at my place for your vacation.
---
Respect my home as you would respect yours. Pretty easy stuff, if you smoke, please do so on the beautiful porch and not inside. :)

Electric is really expensive on this island and guests often do not turn off the AC when host is footing 100% of the bill. You will get $30 a week in prepaid electricity. If you need more, Mike will explain how to get it.
---
Estricta
Puedes cancelar hasta 7 días antes del viaje y recibir un reembolso del 50 %, más las tarifas de servicio.
---
Estancia mínima de 1 noche
Paradiesisch ruhig! Liebevoll und komfortabel eingerichtetes Haus mit perfektem Insektenschutz (wichtig gegen die Sandfliegen). Für Taucher und Tauchanfänger zu empfehlen: Coralview Taucherclub in der Nähe. Das Städchen mit Einkaufs-und Ausgehmöglichkeiten zu Fuß ca 30 min oder per Tuktuk zu erreichen. Inselerkundung mit dem Boot (fußnahe) oder mit dem Quad. Wir verbrachten wunderbare Tage hier nach unserer Honduras-Rundreise, trotz Regenzeit viel Sonne.
---
We recently spent our honeymoon at James' house in Utila. WOW! We stayed at his little piece of paradise for 2 weeks and had the best vacation of our lives, seriously. The Purple Jawfish is the perfect getaway for 2 people, and is one of the few truly, oceanside homes with a private beach. James' place has everything you need to enjoy yourselves, and backs right up to the ocean where you can throw on some snorkeling gear (provided at the house, but we brought our own), walk 30 feet into the water and get your snorkel on! We loved doing this everyday! I would recommend some water shoes, as there are pokey rocks here and there entering the water. The house is a great location (although NOTHING on Utila is far from anything else), it's far enough from the hustle and bustle of the bars/restaurants/ main strip that you don't get the noise, but a short 3 minute scooter ride to all the goodness. James was just wonderful in helping us prepare for our trip and has a great caretaker, Mike, at the house who gave us plenty of ideas of things to do, went and refilled our drinking water when needed, set up us with James' scooter rental for the week (a must, and SO much fun, well worth the $). All the locals are incredibly friendly and so generous. We loved the variety of restaurants and bars around. We cooked quite a few meals at the house, included great fish dinners from a badass fishing day with James' buddy, Capt Joe- highly recommend. We caught a cooler full of tuna and Barracuda. The diving is obviously incredible there and a great place to learn to dive, also. We are thinking of returning in the winter with a lg group of friends and we will stay here again, as it's nice to have our own space, and everything is so close anyhow that it works great to stay in separate houses. I would say this place is a must for a couple (though your friends will be jealous!). The house itself is a very clean, spacious, open floor plan with a breakfast nook, relaxation/reading area, and comfortable queen bed, open kitchen, and bathroom with spacious shower (warm water included!). Given that we were in the caribbean, we were expecting some crawly critters inside during out stay, there were NONE. We had no issues with bugs or insects inside the house. The sand flies are quite annoying (outside) if there is no breeze, which is quite rare, but they are easily combated with bug spray (we used DEET and worked great). If you are thinking of staying at the Purple Jawfish, do it! You will not regret it, we had the time of our lives, and it was so important for us to have such a great place to stay and wonderful memory of a trip given that it was our honeymoon!
---
We stayed here for 4 nights in Jan 2016 and we have mixed feelings about our experience. We really wanted to like the place but there were some key things that made it not worth the high expense. Pros: -the location is great, on a beautiful beach and away from the noise of town. -Mike (the property manager) is a really nice guy and checks in on you daily to see if you need anything. -plenty of beach towels and snorkel gear to use. Cons: -the place is dirty. There was dust everywhere, the mirrors were filthy. It's very dark inside and only a few of the lights work (awful if you have a rainy day and are stuck inside). The windows are also covered in film. We understand that it is right off the ocean and sand and salt are a thing, but for 150$ we expected better condition. -the bed wasnt very comfortable and smelled very musty. It only came with two extremely thin pillows. I had to climb into the attic to find two more mouldy pillows. There's no blanket, only a sheet. -the tv volume doesn't go high at all ( pretty much unwatchable) -only one roll of toilet paper provided (the neighbours gave us one of theirs). -hot shower works sporadically. Overall, if you are going to be out of the house all day then it is ok ( reminiscent of a 40$/night Thailand beach house). But if you plan on using the cottage a lot, we don't recommend it for the high price. Really a shame because we were looking forward to a little cabin in paradise.
Respuesta de James And Susana:
Thanks for the review, there is a lot to take in here and certainly things to improve on. This review is very much at odds with almost every other review or comment the house has ever received on this site or others that I use to rent it out. There were people there a few days before you who left a glowing review on another popular rental website. They mentioned none of the things that you found and this disparity raises some red flags for me especially when you had a lot of complaints including misrepresenting my price when it is very clearly posted on this site. Allow me to provide explanations for each of your complaints with the house: ` price: It is 109$ a night, not $150. This critique is not even an exaggeration, it is just flat out untrue. The fees airbnb charge you do raise that but I know they don't raise it that much. You compare this to $40 spots in Thailand. This is a small island; you are comparing apples to starfruit. I would implore you to check out other places in this price range on Utila and Roatan for a more accurate comparison. In fact, I have had multiple guests say I charge too little. dust/dirt/film: I'm unsure how dust would be everywhere when there were guests there for 9 days and 14 days back to back a few days before your stay. I know it was cleaned the day before your arrival and if it was somehow not up to par, Mike is always there to check in as you stated in your review. You could have mentioned this to him and it would have been fixed. The "film" you talk of is called salt spray. It is a reality of being so close to the ocean. You were there during a large Northwester storm. The winds spray saltwater and then the water evaporates leaving salt on many surfaces. It typically isn't as bad as when you got there and what you saw was build up from one night of strong winds. Since you asked to check in shortly after your plane arrived early in the AM, the normal cleaning schedule got disrupted. Mike usually gets the windows and place cleaned the day of the arrival but with your request he did it the day before. Regardless, we need to review the cleaning procedures if it was even a ¼ as bad your review implies. toilet paper/light bulbs/shower: We keep extras of these stocked in the shed outside because the house is not large and we use the limited closet space for linens, snorkel gear and for guests to store their clothes. The extra bulbs and about 24 rolls of tp were right there the whole time and Mike would have replaced the bulbs and given you as much toilet paper as you needed immediately. He comes around daily to check on things but he also wants to give guests their space so guests need to let him know if there is an issue. Small things that may need replacing like batteries are in the drawer in the bureau. The power situation on Utila is much improved but still proves problematic from time to time and bulbs seem to go more frequently than any other place I've lived. The first both of us heard that these were issues was with this review which really is too bad as it was an easy fix. We will be stocking two rolls of toilet paper in the bathroom from now on because that obviously makes more sense and I will make sure to put a note about it in the guide so that guests are aware of the extra supplies. That was a stupid oversight on my end, I am not in Utila most of the year and some things get by me. The hot water part of the shower is electric and that is actually being changed to an on demand tankless system as I write this. The one you are describing having issues with is the typical Honduras "suicide shower" that we have access to on the island, I had to replace that thing several times but that issue is fixed for all future guests as the new shower is from the US and functions as a "normal" shower with a hot and cold water handle. blankets/pillows/bed: As for the blankets, that actually has to do with Utila's climate. January is the coolest month of the year on Utila. The average temperature during January is 82 F degrees and and the average low is 74 F. I believe it was "cold" your first night there as Mike said he wore pants for the first time in years. The temperature on the coolest night of January 2016 got down to the mid 60's F (18-20C) overnight. For this reason, we don't use down blankets at all but keep two blankets (one of them in the photos) in the linen/clothing/snorkel gear closet. We stopped keeping a blanket on the bed after we noticed guests kept putting it in the closet or draping it over a chair. I am going to ask Mike to make sure that the bed is made with a blanket during the cooler months again since this review. After you messaged me that first morning saying you were cold and the pillows were uncomfortable I told you to check in the attic to see if I had some there. January also comes after the rainy season, which this year was exceptionally rainy. Apparently some of the fabric from pillows did get a little musty with all the moisture from the excessive rain, that went away as soon as there was a couple days of sun. As I told you that morning, the replacement pillows were on the cargo ship and have since arrived to the house. Ironically, you said our beach towels are nice. I sent down replacement beach towels with the pillows and sheets. I replace them all twice a year and you were the last guests before my parents got there with said replacements. I know that when I left the house in September the pillows were comfortable. Something must have happened in the interim to get them really thin because they were pretty supple when I left (pictures of bed, blanket, and pillows on this site and others). I have never heard complaints about the bed and my picky New Yorker parents actually prefer it to their bed at home when they come down every year. This is a matter of opinion I guess. television and final thoughts: The TV is a wall mounted Samsung 32 inch flat screen that was added brand new in August 2015 when I went down. The volume works perfectly, it worked flawlessly when I was there, when my friend was there in December, and when Mike checked it after your review. Perhaps your issue was the volume on your computer. Since the TV didn't have a Roku stick yet, you needed to use a computer to connect to the HDMI cable and you must have forgot to turn your volume higher on your laptop first. That is the only logical conclusion I can come up with as it is a mistake I've made before myself when using my laptop to watch movies on a TV. The Roku stick that is there now makes hooking up a laptop unnecessary although the HDMI cable is there if guests want to still do that. We have a very positive record with guests overall and try extremely hard to make sure the experience is as advertised. As you can see by my reviews, I have always let them speak for themselves but really needed to reply to this one. I sincerely thank you for the constructive criticism even though I felt it was hyperbolic and at odds with other reviews. I'll admit it was difficult to read when I've worked so hard on this place and know what it looked like before renovations I bought it. In the end, this review shows me exactly what I need to do to satisfy even the most discerning of guests.
---
James was beyond helpful from start to finish. His place was amazing and in a perfect location. The island was having some major power issues and it was out for most of the first 3 days we were there. We decided to head to Roatan for the last 3 days of our trip and James could not have been better about refunding us for the days we did not stay with him. He went above and beyond to make sure we had a great trip.
---
My partner and stayed in The Purple House for 3 nights and what a cute little beauty. We were very pleased with the accommodation. Not only were we the only people in the vicinity, but we were the only property which had a private beach in the area that we took full advantage of sunrise and sunset every night. This property is perfect for 1 to 2 people who appreciate tranquility and just value quality time. Don't get me wrong, we still got a chance to enjoy the wonderful chill Utila life ( which is a simple short walk away). I feel like we were there at a great time of the year. Not a lot of rain and enough breeze to paralyze you on the hammock and love swing on a nightly basis. I must warn you though, in the morning the breeze isn't as present and the sand flies are crazy busy, but it's nothing that bug spray doesn't fix. James and Mike were both great host because we never wanted or needed for anything and their local recommendations hit on the head every time. They even provided water for drinking. Thank you for such a wonderful experience and we look forward to staying again on our next visit. -Tamara and Ciara
---
The Purple Jawfish Beach House was exactly what we were looking for on Utila! The private beach in front of the house, the kitchen which we used to cook almost every meal we ate, and the charm of this colorful and somewhat secluded house within walking distance to the center of town were some of the highlights. James was incredibly helpful and very quick to respond to my e-mails, while the property manager, Mike, was always somewhere nearby when we needed our water refills or suggestions about Utila. Although there are not many beaches on the island, we couldn't believe our luck to have a beautiful palm tree view with hammocks, adorable hummingbirds, and snorkeling (which is sometimes even better than the diving) right in our front yard! We swam with two spotted eagle rays, a barracuda, a sting ray, and saw so many tropical fish and coral- the snorkeling was breathtaking. It was also great that the hosts provide snorkeling masks and fins to borrow. My boyfriend and I thought to rent out bicycles first so we could get back and forth to town, but during our 10 day stay we actually really enjoyed the slow 15 minute walk to the start of main street (you walk along the "public beach" area and we walked this route at least twice back and forth every day). We were happy to be a bit outside of town and away from the noise. The distance for us was just perfect and the few times we used a tuktuk taxi it cost us less than $3 total. We also loved diving with Gunter's Ecomarine Dive Center, which was conveniently the closest dive shop to the house! James and Susana have added their bit of charm into this lovely purple home, and on the rainy days we had to endure we were so happy to have this house to relax and cook in. It felt cozy yet spacious enough to not feel confined. The covered front porch is wonderful as well, and the internet James provides is the best we have had of the three houses we stayed in during our Honduras travels (and a good internet connection is not easy to come by on these small islands). We were also pleasantly surprised by how well their shower contraption worked- something I have not seen before but it was very efficient. I would love to stay in this house again and highly recommend it to anyone looking for the perfect beach house in Utila!
---
Nueva York, Nueva York, Estados Unidos

·

Se registró en Agosto de 2011
We are a couple from NY and Nicaragua living in Brooklyn.
Ratio de respuesta:
100%
Tiempo de respuesta:
en pocas horas
Tendrás los datos exactos de la ubicación cuando la reserva esté confirmada.
Descubre otras opciones en Utila y sus alrededores
Más alojamientos en Utila: