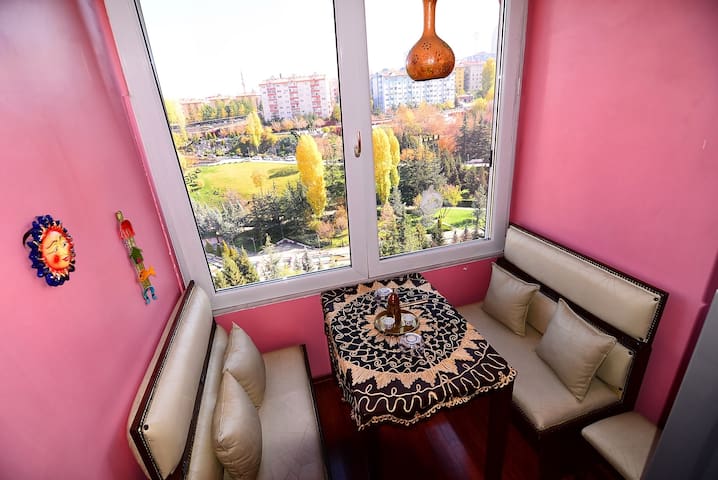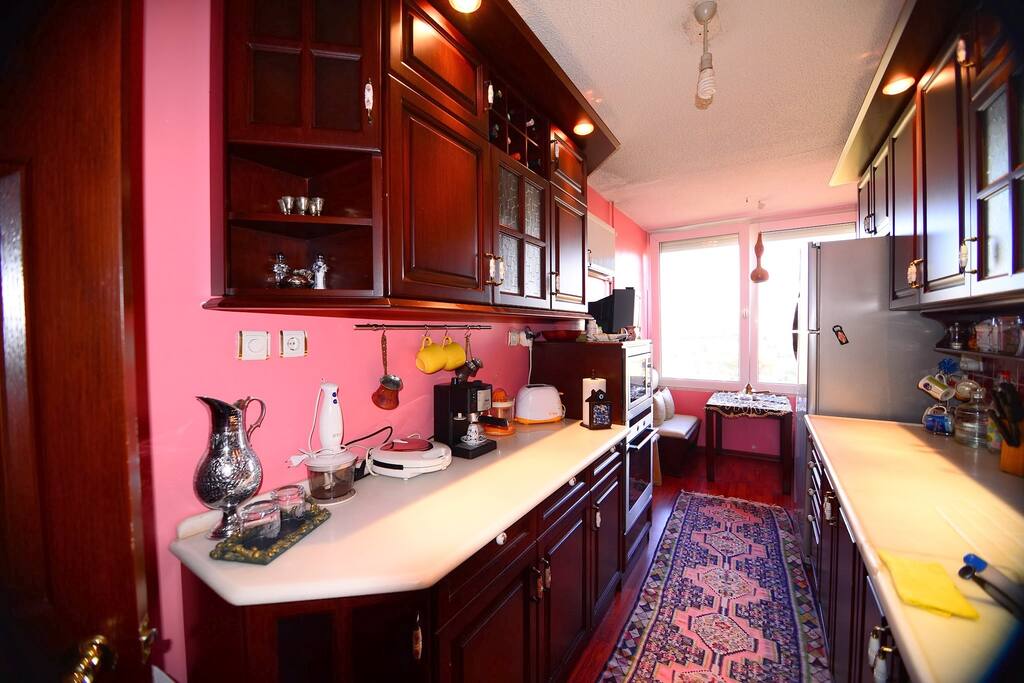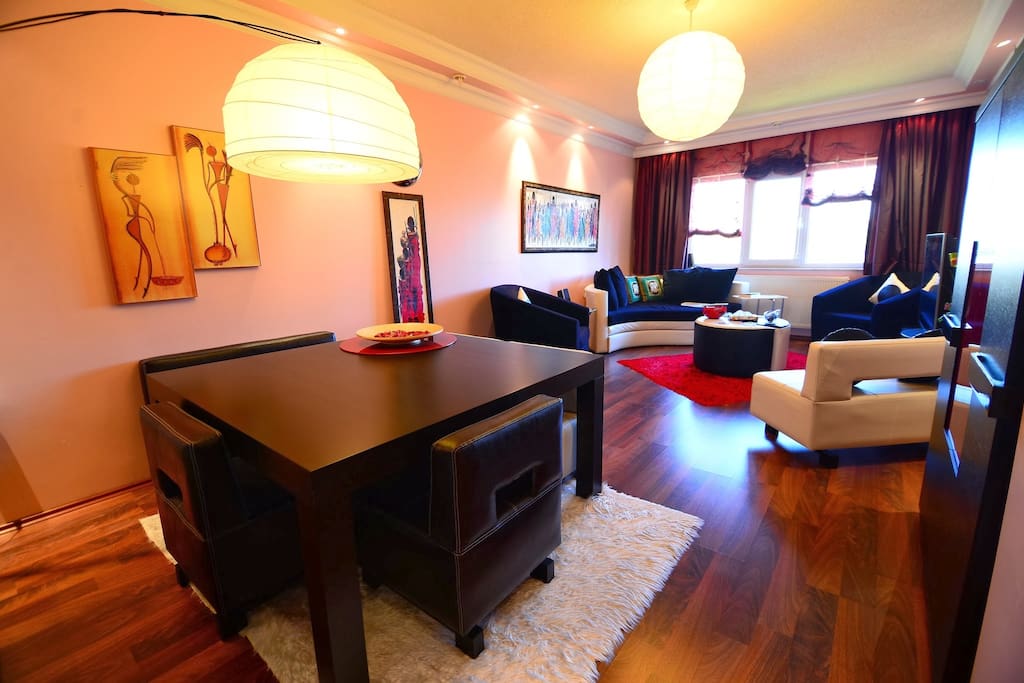 Modern Flat with an Amazing View!
The flat is located in the heart of the city, in a very convenient neighborhood which is 10 minutes to the center, it comfortably fits 4 people into 2 bedroom and a living room. Enjoy the fully equipped kitchen and the big Jacuzzi!
El alojamiento
The flat is located in the heart of the city, in a very convenient neighborhood which is 10 minutes with public transport and 25 minutes by walking to the city center Kizilay, 15 minutes walk from Tunali Hilmi and 30-45 minutes from the airport depending on the time of the day. The flat is located in the skirts of Dikmen Valley, the biggest recreational area in Ankara with a diameter of approximately 6 kms and expanding every day, which provides the habitants with all sorts of sports activities, gardens and café/restaurants. Dikmen Valley is one of the rare neighborhoods in Ankara where you can live in the city center while waking up hearing birds, frogs and water running. The Dikmen side of the valley, where the house is located, has a very distinct advantage for the accommodation facilities there, with the morning sun rising from your living room and afternoon sun warming your sleeping rooms.
Our flat is fully furnished and decorated with a touch of authenticity of east and a little bit of orientalism.
It is a 85 m2 flat with 3 rooms (1 living and dining room, 2 bedrooms) and a separate kitchen with a magnificent view of the valley all four seasons. It has a rather big bathroom with a hot tub with JACUZZI! It has one small balcony used as a storage room and a corridor full of cupboards.
Kitchen is fully equipped with refrigerator, dishwasher, oven, microwave oven, stove, fryer and even an expresso machine!
Flat also includes washing machine and a big flat screen TV.
Services;
-HD Digital Cable TV with more than 120 channels.
-Wifi
-Electricity
-Water
-Gas for cooking and hot water
-Central Heating of the flat
-Facility services (cleaning of the building, collection of the garbage every evening)
-Housemaid services once a week for cleaning, washing and ironing (only clothes)

Pets are not allowed, sorry about that :(
---
Aparcamiento gratuito en las inmediaciones
Internet inalámbrico (wifi)
---
This was the place I needed for a week to read and write. The description and pictures are accurate, and in addition Engin had prepared a manual how to "use" the flat. At arrival I was welcomed by this mother-in-law, who did not speak English, but she started up a (SENSITIVE CONTENTS HIDDEN)-connection with Engin. Location is great, a quiet street, next to Dikmen Cadessi, which is a bustling street with every kind of shop or service that you might need. Some simple reastaurants catered for my meals. The flat had everything that you need and more (like dish washer and washing machine), large TV + dvd-player. I wished I had had more time to enjoy the jacuzzi. Every morning I felt so happy with my cup of tea in the morning sun, overlooking the Dikmen park. And at night the park looks like a fairy tale. A few things you have to find out (how to get in the building, with a kind of remote sensor-key), and the garbage collection (every evening). I selected this appartment because I saw a desk to work on, and it worked out perfect for my needs. Enging had been responsive and helpful beforehand, and we had some e-mail and sms-contact during my stay. The appartment is not close to the city center (which is Kizilay what I found out during my stay). At Dikmen Cadessi, 5-10 min walk and climbing 3 flights of stairs, taxis are always waiting, and they take you downtown for some 15 TYR (5 EUR). If you think this is the right location for you (a quit and rather wealthy Ankara neighbourhood), I can recommend this appartment without hesitation.
---
I recommend these hosts and the apartment wholeheartedly. This was my third stay in this remarkably beautiful, sparkling clean, and well-equipped flat. It is exactly as pictured, with a brilliant view into the Dikmen Valley, and is astonishingly quiet and peaceful for being so centrally located. The kitchen has enough dishes, pans, and flatware to supply a huge family, and has an espresso machine, stick blender, and other small appliances in addition to a great oven for baking. The large jacuzzi is fantastic after a long plane flight or a day walking around the city. The hosts are kind and respond rapidly to emails. If stairs are not your thing, you can have groceries delivered for no extra charge, and there are great restaurants that deliver, from macarons to delicious home cooking. Do stay here if you can!
---
I wrote a long review earlier, and will only add that I have decided to extend my stay into 2015 in part because this living situation is so good. The more time I spend getting around Ankara, the more I appreciate this location's mix of convenience and quiet. Though the building is only one block away from a busy road that takes you downtown in a few minutes on a bus or minibus, or ~40 minutes downhill on foot, the only sounds I hear are from the park below. I type this as I finish my home-brewed espresso and home-baked gluten-free persimmon bread from this wonderfully equipped kitchen. Life is good by the Dikmen Valley!
---
I highly recommend this property and its owners! I visited several airbnb listings in Ankara, and chose to stay long-term here because the apartment is very nice and located near a green space -- Dikmen Park -- with long walks, outdoor exercise equipment, and several cafes. The owners' mother lives nearby, and communication with her and with them has been extremely easy. They've been quite patient with some payment snafus between (SENSITIVE CONTENTS HIDDEN) and Airbnb. I love waking up in the morning and cracking the windows on fair-weather days to hear the water splashing in the fountains in the park 8 stories below. Down the street and down some stairs, you'll be able to walk or run for several kilometers by water features in the park. You can also cut through the park to the neighborhoods on the other side of the valley. I'm in Ankara to carry out research and write for a semester (my 25th year traveling to and living in Turkey), and need a place convenient to public transport to get to various archives and colleagues' campuses, and a quiet, safe place to be on my own to write and host the occasional dinner for friends. This apartment has been perfect for those purposes. It is modern, spotlessly clean thanks to the weekly cleaning, and has a beautifully equipped kitchen, linen closet, and ample closet, cabinet, and drawer space. There's been no trouble with my cellphone signal in any area of the apartment. The dishwasher, washing machine, and many small appliances all work great! The building is on a quiet street parallel to a busy one with plenty of bus and minibus routes as well as a local cab company that comes to the door in 2 minutes. The building entrance has key fob security and 24-hour camera surveillance, and the neighbors are quiet. The wi-fi is fast and reliable. I don't watch tv much, but the signal is clear and there are plenty of channels in English and Turkish and other languages. There has been hardly any smell of cigarette smoke from other apartments, as there often can be in European buildings, but there are some really great cooks in the building, so coming home at dinner time is a feast of yummy smells! I like having four short flights to climb to the apartment since I'm physically active. I don't like climbing the stairs with heavy bags of groceries, but you can now schedule grocery deliveries online (free except for a nice tip), and there are also lots of restaurants in the area that deliver, so supplying the pantry has been super easy. If you let your cab company know ahead of time, the driver will help you get your bags up and down the stairs. Five-star ratings all around. Great airbnb hosts!
---
Idiomas:
English, Français, Türkçe
Descubre otras opciones en Ankara y sus alrededores
Más alojamientos en Ankara: