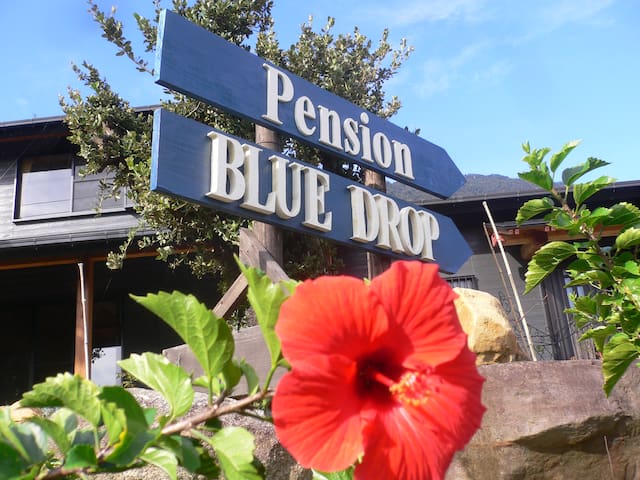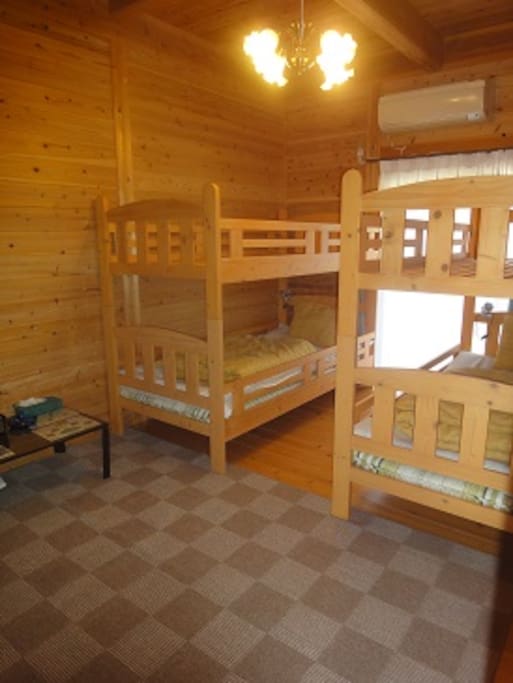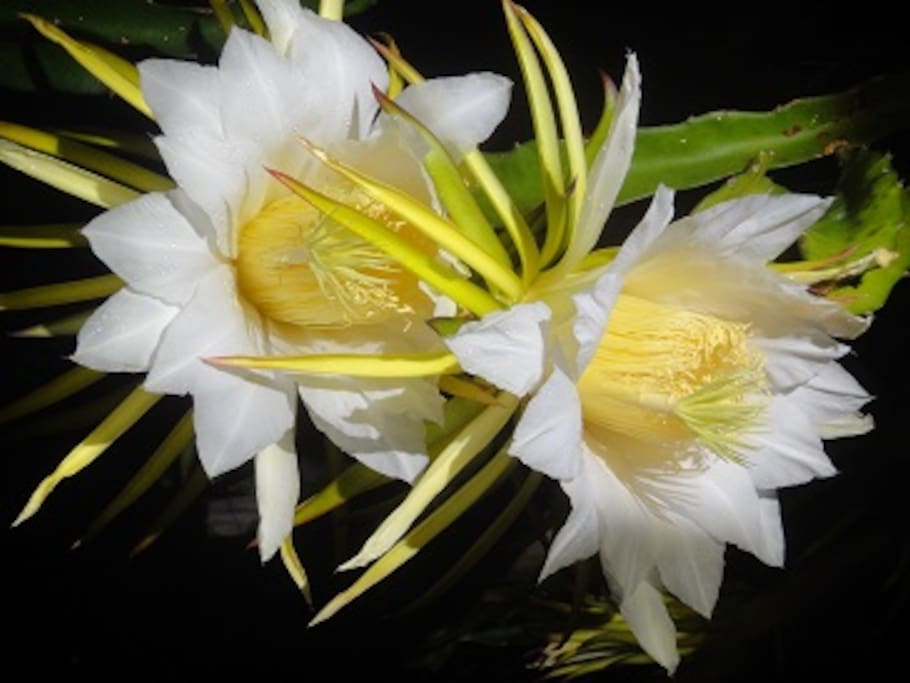 Información sobre este anuncio
NOTICE! If you are a solo traveler, a room charge would be 5,500 yen.
Our room with scent of bare Yakushima cedar and handmade stained glass,
Vegetables and fruits from our garden. The owner catches fish himself for sashimi.
---
Llegada: A partir de las 16:00
Tipo de habitación: Habitación privada
---
---
Personas adicionales: 21€ / noche después del primer huésped
Depósito de seguridad: 170€
---
NOTICE! If you are a solo traveler, a room charge would be 5,500 yen.
Our room with scent of bare Yakushima cedar and handmade stained glass,
Vegetables and fruits from our garden. The owner catches fish himself for sashimi.
Our room with scent of bare Yakushima cedar and my original handmade stained glasses.
Enjoy organic vegetables and fruits from our garden and off-site fruits gardens.
Toru, the owner, catches the fish himself; so our sashimi is very local and super fresh.
We have three bedrooms includes a twin bedroom with a wooden terrace and two family rooms with a pair of two-story beds for four guests so would be able to accomodate up to 10 guests.
The twin room faces east, meaning lots of morning sunshine.
The shower room with a family size bath and two toilets with modern equipments would be shared by occupants and hosts.
There is free off road parking.

We used to work for travel agency in a city, so we're pretty good at organizing and happy to help or share with any information required.
Guests are welcome to talk with Yuki if they want to know more about not only Yakushima but Japan, Japanese cooking (that's my field) or even matcha tasting
when Yuki is available.
Rural charm, breathtaking views, closeness to nature, lots of trekking places or big waterfalls to visit, includes that popular Shiratani unsuikyo ravine from the Japanese catoon movie 'Princess Mononoke' or 'Mt. Miyanoura' the highest peak in a whole Kyusyu area, day hike. In summer, seaturtles are coming to lay eggs and babies are hatching at a beach, less than 30 minute drive away that are very impressive.
Also guests can't miss 4 natural hotsprings nearby, 2 are in buildings, others are open-air ocean hotsprings. Try them in the morning sunshine, sunsets or under the moon light with the Milky Way and shooting stars. It's so romantic and magical! Also very good for your body after long trek.
Enjoy our selective, local home made cookings.
There is free off road parking. You need a car to explore the island. It looks tiny on a map but actually not. There are rather limited public transport services. I strongly recommend that all guests, especially from April to September, rent a car and pre-book a Jetfoil ferry from Kagoshima. Yuki is happy to give you their information and organize them for you.
There are some renting shops for trekking gears with good condition so no need to take heavy gears.
We rent swiming mask with snorkel here too.
---
No se admiten fiestas o eventos
Puede ser inseguro o inadecuado para niños (de 0 a 12 años)
La hora de llegada es a partir de las 16:00
Please do not smoke in the house ( outside or parking is ok ) and no pets and visitors.
In general checkin would be from 4:00pm and checkout before 10:00am.
However this could be modified with advance notice if necessary.
We regret that our home is not suitable for children under 11 except that your whole group is more than 6 and whole rooms are available.
---
Moderada
Puedes cancelar hasta 5 días antes del viaje y recibir un reembolso completo, incluidas las tarifas de servicio.
---
Detector de monóxido de carbono
---
Estancia mínima de 2 noches
---
Tendrás los datos exactos de la ubicación cuando la reserva esté confirmada.
Yuki nos ayudó a preparar el viaje, con información y consejos sobre excursiones. Además nos tramitó el alquiler de un coche que es indispensable para disfrutar de Yakushima. Yuki es, además de servicial y encantadora, una magnífica cocinera. Sus desayunos, bentos y cenas se encuentran entre los mejores que tuvimos en Japón. No puedo más que recomendar el alojamiento sin ninguna duda.
Hola Carlos y Magnolia, ¿Cómo hace después de las vacaciones de verano? Muchas gracias por sus palabras amables. Realmente aclaran mi día. Estoy seguro que volveré al futuro próximo de España ya que amo su país, sobre todo su ciudad. Espero que le pueda ver otra vez algún día. Disfruté de sus compañías muchísimo. Creo que se hace frío allí. Tener cuidado. Abrazos grandes y besos de Yakushima a Barcelona, Yuki My Spanish is too bad, I will also write it in English. How are you doing after the long vacation? Thank you very much for your stay, it was such a great pleasure to meet you both. Thank you so much for all of your kind words. They really brighten my day. I am sure I will go back to Spain near future since I love your country, especially your town. I hope I can see you again some day. I enjoyed your companies very much. I think it must be getting chilly out there. Take care. Big hugs and kisses from Yakushima to Barcelona, Yuki
---
We stayed in Yuki's home for two days during wintertime. Yuki was so kind and welcoming to us, and helped us make the most of our short time there by showing us the bus schedule and explaining how to get around the island. It is clear that she knows Yakushima very well and has a lot of experience as a host. She was able to accommodate us for meals and obento, even on short notice, and makes delicious food! She also speaks great English (I speak some Japanese, but she was able to communicate easily with my friend who only speaks English, too). I would happily return to Yuki's home, especially if I had more time to explore Yakushima.
ジェニーさん、お元気ですか? 無事にご旅行を終えられて、安心しました。楽しかったですか? 私達のPensionをJennyさんが選んでくださったお陰で、お二人にお会いできてとても楽しい数日でした。次回は是非、免許を持って!!今回見られなかった美しい場所を探検にお越しくださいね。お仕事も、そこそこ、頑張ってください。日本語は完璧です! Thank you very much for sharing your experience and lots of great recommendations. I was really impressed with your fluent Japanese and you are still not satisfied! 私も、英語、フランス語をJennyさんのようにもっと頑張らなくちゃと思いました。 I had great time with you both, really hope you can come back again and you know you are always welcome. Do not work and study too hard, enjoy your life and stay in Japan. Good luck for your career, study and everything. Please send my big hugs to your friend who was also very adorable. Take care and hope to see you very soon! Happy new year by the way!! Yuki
---
首先,這是我在airbnb中住過最好的其中一間了。 在入住之前Yuki很熱心的指引我屋久島的所有準備事項,包括交通船的資訊、租車資訊和屋久島的行程景點。而且她還不厭其煩地幫我們處理租車的問題,即使渡輪因為天候關係不開改成快船而造成抵達港口不同。 入住房子方面,Blue drop是一個有設計感的日式建築,外面有足夠的停車位和美麗的花園,裡面大量使用木材的日式和室和溫馨的地毯及榻榻米。我們住的那間是簡單乾淨的房間,空間寬敞而且床位對一個成年男子來說相當舒適。 Yuki提供的早餐相當好吃,特別推薦飛魚口味三明治。如果你想要去爬山的話還可以請Yuki幫你做便當,相當美味。晚餐的部分相當特別,說是美食也不為過,主要料理都是Yuki夫婦去釣回來的,食材的搭配也相當有水準,我們連續訂了兩天晚餐覺得相當的值得。 交通建議租車,位置距離港口有一定距離,但是附近的景點讓我印象深刻,其中包括尾之間溫泉、海中溫泉及千尋瀑布。 最後,很感謝Yuki帶給我們日本之旅美好的句點,我們三個即將一起畢業的朋友將永不忘記Blue Drop和屋久島帶給我們美好的回憶。
Hi 健祥 san, Thank you so so much for your wonderful detailed review. I had enjoyed your companies a lot. Hope you enjoyed the rest of your vacation too and please do come back to Yakushima and our place whenever you are too tired to study or work, you have a place to rest here now. Please send my love to your friends for me. Thank you again for choosing Blue Drop, and many compliments and friendship!! Super good luck for your future study and career and see you very very soon. Have a wonderful new year! Yuki
---
Our host is very patient and reliable. She gave us every detailed information we might need, organized, and serve extremely(no kidding) delicious homemade food and bando(lunch box). To some degree, our trip in Yakushima will be much more difficult and less enjoyable without her because of the environment of the island. Thank you very much! 房主非常耐心可靠,给予了我们各种丰富多彩的我们可能需要的信息,非常有条不紊,而且自己做的饭超超超超超级好吃。推荐鸡的饭和海鲜餐,真的让人感动,去绳文那天的便当也非常丰富且好吃。因为岛上环境比较"质朴",所以如果没有像她这样的当地人的帮助,旅行将会困难很多很多。谢谢您!
---
Blue Dropさんは大変親切でとてもいい滞在ができました。宿泊施設はとてもきれいで、木製の家具などがやさしく癒してくれました。たくさんの旅の情報をいただいたり、レンタカーの手配などもしてくださり、有意義で効率的な旅をすることができました。英語での対応も充実していました。
---
Yuki is a great host and has good information about travelling around the island. Our room was very comfortable and clean and we liked being on the south side of the island. We would stay there again for sure.
Hi Etta and Grant, You two are such wonderful guests, not many people who travel by bus say they like the location. You two are such friendly and generous people, I was very comfortable with you from the very first begenning. You get used to being with Japanese after all, hahahaha. Thank you again for staying and it was a great pleasure to meet you. Hope you can come back with a car and more time. See you then and enjoy your vacation seeing your old friends. Biiiig hugs and love from Yakushima to you, Yuki
---
4月に3日間お世話になりました。私はひとり旅での利用でした。 椋の木と、木の香り癒され、各お部屋にステンドグラスで飾られ、素敵なペンションでした。一室での利用なのでファミリールームとして使えるお部屋をひとりで利用させてHir日本きました。 こちらのペンションまでは、レンタカーでの宮之浦港から50分、安房港からは30分かかります。 縄文杉や白谷雲水峡まで行かれるにはこの時間を考慮して移動をお勧めします。 オーナーさんと、ユキさんとお二人の温もり溢れるペンションです。 私はお食事は付いていませんでしたが、到着した日の夕食に、和食のお刺身定食¥2000でお願いしました。ちょっとお高いかとも思いましたが、実際にオーナーさんが釣ったお刺身はとても新鮮!また自家菜園で採れた、たんかんの食前酒も美味しかったです!お値打ちです。(o''o) また縄文杉登山後に、夕食をお願いしてはいなかったのですが、ちょうどほほ肉の煮込みは対応できるとの事でお願いしました!お肉はほろほろで美味しかったです。 海外からのお客さんもいらっしゃいましたが、ユキさんはとても英語が堪能で、とても楽しそうに会話させれていました。私も少しですがお客さんとの会話に参加させていただきました。ちょうど日本のお抹茶の作り方を教えていて、私もお茶をいただきながら、楽しく過ごせました。 滞在中にお洗濯も一回¥200円(洗剤は粉洗剤1個¥50)、乾燥機は無いので近くのコインランドリーまでレンタカーで5分で乾かしにいきました。 無料のWiFiもあるし、携帯も通話可能です。 ペンションに、お風呂はありますが、レンタカーで5分の所に尾之間温泉があります。¥200円で利用できるので、こちらもお勧めです。 3泊の利用でしたが、とても居心地良く過ごせました。 もしまた、屋久島に来る事がありましたら、またこちらにお世話になりたいと思います。 オーナーさん、ユキさん、ありがとうございました。
---
Yakushima, Japón

·

Se registró en Noviembre de 2014
I love meeting new people and getting to know each other that is one of a big reason why we are running pension.
I've seen so many nice people who had been willing to help me when I traveled foreign countries and I hope I could do the same to the travelers coming to Yakushima and be their friend!

I also love cooking ( the most ), making stained glass,drawing, music, playing piano, walking, watching foreign movies and reading.
My favorite is 'The Little Prince' by Antoine de Saint-Exupery.
My guests are just like this story, they make their countries or the things they told very special to me after I got to know them, it is really fun. Many things remind me of each of them even years later that makes my heart warm.
My favorite movie is 'Amelie Poulain' French film, seen that more than 10 times!

I used to live some places in Aichi, Australia for a while, Kobe, and now live in Yakushima.
My husband loves farming, fishing and making crafts.

My motto is 'Ichigoichie' in Japanese, means 'treasure every encounter with others because you never know if you'll meet a person just once in your lifetime.' Thanks to airbnb, I've met lots of people I will never forget and always smiling cheerfully at me in my heart.

I am no good at insects, worms and bees which never fail to make me scream when I see them in vegetables from our gardens!
But organic fresh vegetables and fruits are very tasty, worth screaming for worms!

Now I am struggling with French & Italy.
Ratio de respuesta:
100%
Tiempo de respuesta:
en pocas horas
Descubre otras opciones en Yakushima y sus alrededores
Más alojamientos en Yakushima: