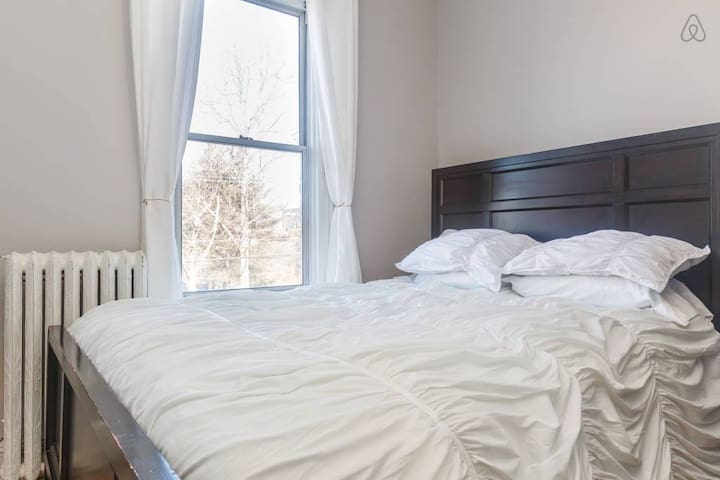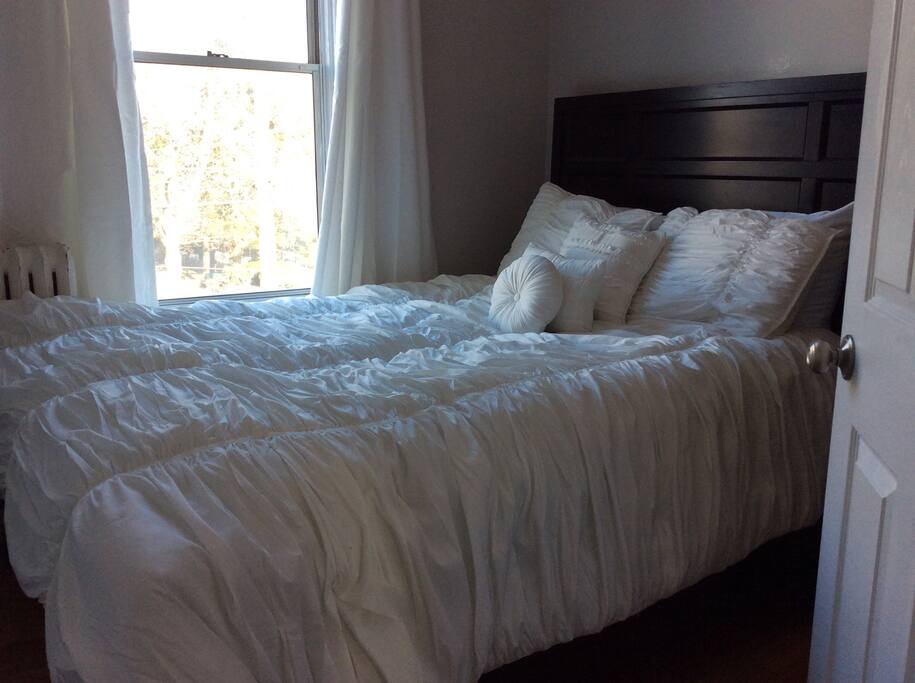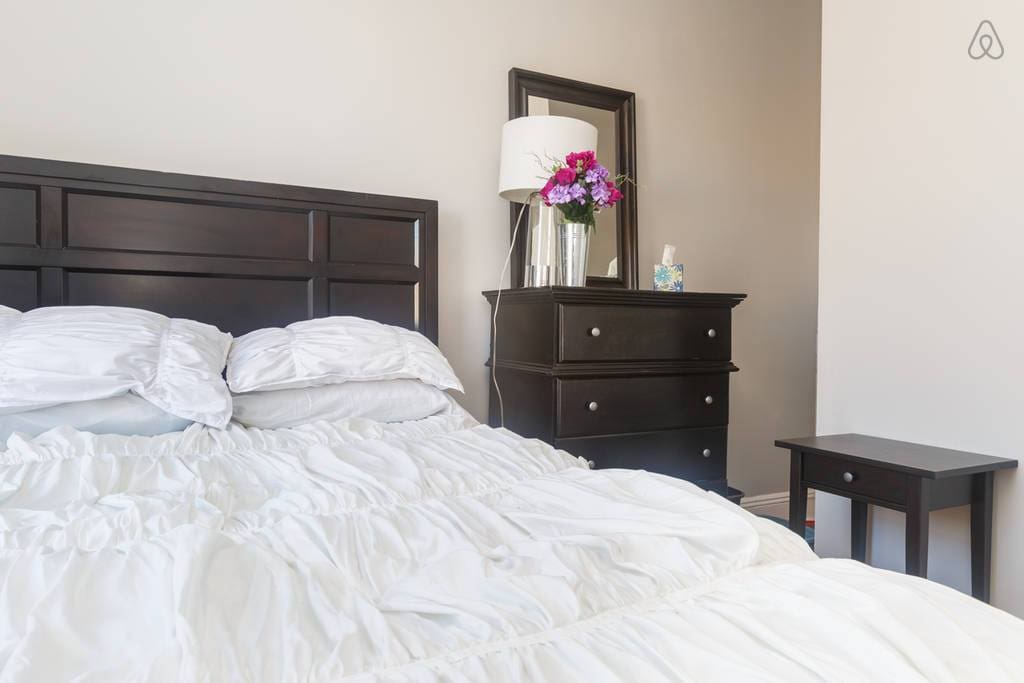 Your Room! 15 min to Time SqNYC
ANTES DE SOLICITAR RESERVAR ESTE SITIO, DEBE desplazarse hacia abajo en esta página y leer nuestra sección completa de "Descripción" y RESPONDER A LAS PREGUNTAS que le solicitamos. Si no responde estas preguntas, su reserva será inmediatamente cancelada / no aceptada. PROCEDIMIENTO PARA PERMANECER CON NOSOTROS: 1. LEA NUESTRA DESCRIPCIÓN 2. Cuando solicite reservar, responda las preguntas que le hacemos. 3. Le responderemos a su mensaje con instrucciones adicionales. 4. Disfrute de su estancia!
BEFORE YOU REQUEST TO BOOK THIS ROOM, you MUST scroll down on this page and read our ENTIRE "Description" section and ANSWER THE QUESTIONS we ask there. If you do not answer these questions, your reservation will be immediately canceled/not accepted.
PROCESS FOR STAYING WITH US:
1. READ OUR DESCRIPTION
2. When requesting to book, answer the questions we ask about you.
3. We will respond to your message with further instructions.
4. Enjoy your stay!
El alojamiento
Debe hacer clic en "+ Más" a continuación para ver TODA la información que proporciono sobre Union City, nuestra casa y nuestras expectativas antes de enviarme mensajes. En esta descripción detallada encontrará las respuestas la mayoría de sus preguntas. Debe responder a las preguntas que le hago aquí cuando me envíe un mensaje, o su reserva no será aceptada o será cancelada, sin excepciones. Sé que puede ser difícil elegir una buena habitación cerca de Nueva York! Así que aquí he incluido toda la información que, si yo fuera, me gustaría saber antes de reservar esta habitación. La honestidad es la mejor política, así que trato de decirle los aspectos positivos y negativos de cada habitación que me gustaría saber si yo era usted. Primero, por favor, copie y pegue este enlace para ver todas mis opiniones de 325+: Https://www.airbnb.com/users/show/(PHONE NUMBER HIDDEN)#reviews Si está interesado en ver mis otras habitaciones disponibles, copie y pegue este enlace para ver los otros anuncios que tengo: Https://www.airbnb.com/s?host_id=(PHONE NUMBER HIDDEN) En esa página, puede introducir sus fechas y número de invitados para ver qué habitaciones tengo disponibles. La única manera de ver su precio real es ir a la página de la habitación individual e introducir las fechas exactas allí. ACERCA DE UNION CITY Union City es una joya escondida justo al otro lado del río Hudson de Manhattan, en Nueva Jersey. Es más cerca del centro de Manhattan (un paseo en autobús muy rápido, durante el buen tráfico) y las principales atracciones turísticas (como Times Square, Rockefeller Center, Central Park, Broadway / Theatre District, Grand Central, Garment District, toneladas de museos) En cualquier lugar de Brooklyn, Queens, e incluso mucho de Manhattan. Además, Union City es mucho más tranquilo, más asequible, y, en nuestra opinión, más amable que la ciudad de Nueva York. POR QUÉ PERMANEZCA CON NOSOTROS: * Asegurar la vivienda con extremadamente involucrado, Ivy-liga educados anfitriones que se ocupan de todas sus necesidades. * Real casa que sus anfitriones propios y cuidar. * Ideal para pasantes, estudiantes o jóvenes profesionales. * Autobuses a la ciudad de Nueva York (Times Square) a 3 cuadras de distancia. * Los autobuses vienen con frecuencia (cada 2 minutos durante la hora punta), se ejecutan durante todo el día y la noche, y son $ 2,75- $ 3,50 por viaje. La mayoría de los autobuses son operados por una empresa privada y por lo tanto no aparecen en mapas "G" u otros servicios de mapas en línea. * Supermercado, restaurantes, farmacia, oficina de correos, gimnasio, cine, y preciosas vistas del horizonte a poca distancia. * Habitación privada con llave. * Ofertas especiales para los clientes a largo plazo (descuento se aplica automáticamente para estancias de más de 1 mes). * Hacemos eventos con nuestros clientes (almuerzos, cenas, karaoke), porque nos encanta conocer gente! * Un valor incomparable para las comodidades y la ubicación. ACERCA DE LA SALA: Pros: * Queen-sized colchón en una habitación soleada con vistas de un hermoso monasterio al otro lado de la calle * Detalles originales y muebles modernos con todo lo que pueda necesitar * Cómoda y armario * Super rápido wifi fiable. * Proporcionamos ropa de cama, toallas, secador de pelo, plancha, tabla de planchar, ollas, sartenes, cocina y artículos de tocador. * En el sitio, lavandería gratis en el sótano. CONTRAS: * Esta habitación está ocupada casi por completo por la cama, no hay mucho espacio para moverse. * Cocina compartida y baño con otras 3 otras habitaciones (somos muy selectivos y aseguramos que sólo elegimos muy bien los huéspedes). * No escritorio / espacio de trabajo portátil * No estacionar Queremos que se sienta lo más cómodo posible mientras esté aquí, así que haremos todo lo posible para asegurar su disfrute. SOBRE NOSOTROS: Hemos alojado más de 400 invitados, y han amado cada minuto de ella. John y yo nos conocimos durante la universidad, y ambos somos abogados. Trabajo como un abogado que practica ley corporativa en un gran bufete de abogados en Manhattan. John dejó la ley para ejecutar su propia tecnología de inicio a tiempo completo. Nos encanta cine, vino, viajes, y tener un buen tiempo. Poseemos dos perros (Ted y George) y un gato (Hugo). Nos encanta Disney, karaoke, y conseguir nuestras manos sucias en proyectos de casa! La educación es muy cara en los Estados Unidos, por lo que usamos los ingresos adicionales que Airbnb nos proporciona para ayudar a pagar los préstamos estudiantiles de la escuela. SOBRE NOSOTROS / NUESTRAS EXPECTATIVAS: Si te quedas con nosotros, esperamos que seas amable, fácil e independiente. Esperamos que haya leído todo acerca de nuestra habitación, y que usted entiende que este es un alojamiento de presupuesto, y que somos un precio muy competitivo para el área de Nueva York. Por lo tanto, usted debe esperar una experiencia de presupuesto similar a permanecer en un albergue juvenil. Debe ser un excelente comunicador, y háganos saber si necesita algo en absoluto, entendiendo que tenemos trabajos a tiempo completo pero estamos felices de cuidar de usted si usted hace sus necesidades conocidas. Por último, debe ser amable y cortés con todos los demás que se alojan en nuestro Casa (nuestros otros huéspedes). Dado que varias personas viven en la casa, debe esperar que el baño y las áreas comunes tengan un sentimiento comunal, "vivido". Si usted ha tenido malas experiencias viviendo con otros antes en este tipo de situación, usted debe considerar "todo el apartamento / casa" anuncios en Airbnb o un hotel, nuestro listado no es para usted. También tenga expectativas razonables sobre lo que está recibiendo por el dinero que está pagando. Reconocer que las cosas en el área de la ciudad de Nueva York son más caras que casi todas partes en los Estados Unidos y en muchas partes del mundo, y el valor que obtienes en tu ciudad natal es diferente de lo que puedes obtener aquí. Ofrecemos alojamiento asequible y económico a viajeros (en su mayoría jóvenes). Eso significa que, intente como pudimos, a veces alguien puede dejar un plato sucio en el fregadero, o habrá pelo en el dren de la ducha. Ofrecemos una limpieza semanal, profesional de los espacios comunes, y limpieza adicional si surgen problemas, pero no debe esperar un hogar verdaderamente inmaculado en todo momento, simplemente porque esto no es posible en una situación de vida en grupo. Estamos más que felices de solucionar o resolver cualquier problema que surja durante su estancia. Nuestro objetivo # 1 es hacerte feliz. Sólo háganos saber temprano y con frecuencia cómo lo está haciendo o si hay algo que podemos hacer mejor, porque no podemos arreglar lo que no sabemos. NUESTRAS PREGUNTAS PARA USTED: Nos gusta conocer a nuestros invitados, por lo que en su mensaje a nosotros, por favor díganos la siguiente información sobre usted: - Tu edad - De donde eres Lo que haces para vivir - ¿Qué te trae a NY, y qué harás durante los días? - ¿Alguna vez has vivido con otras personas? Si es así, describa la experiencia. - ¿Has tenido gatos y perros? Si no, ¿te gustan? PAGO: Todas las transacciones se realizan a través de Airbnb. Airbnb cobra el pago, que incluye la cantidad que recibimos como anfitrión, la tarifa de Airbnb (6 a 12% del costo total) y cualquier impuesto aplicable (Airbnb puede cobrar un IVA para huéspedes de Europa). Para los huéspedes de más tiempo: Airbnb verificará que tiene la capacidad de pagar el primer mes de la reserva al reservar. Se le cobrará por su primer mes unos días antes de su llegada. Cuando te registras, Airbnb nos libera el dinero. Cada mes siguiente, se le cobrará por el próximo mes a través de Airbnb. Desafortunadamente, no tenemos ningún control sobre el proceso de facturación ni sobre los cargos o impuestos de Airbnb, por lo que si experimenta algún problema con la facturación, sólo Airbnb puede ayudarle. PREGUNTAS FRECUENTES: ¿Se permiten los invitados a largo plazo? Sí, la mayoría de nuestros huéspedes son huéspedes de larga duración (huéspedes que permanecen por más de 30 días). Por lo general, acogemos a estudiantes, pasantes y personas que se trasladan temporalmente a Nueva York durante varios meses a un año. Descuento el precio de las habitaciones para los huéspedes a largo plazo y el descuento se aplica AUTOMÁTICAMENTE si introduce fechas de más de un mes. Somos muy selectivos con los huéspedes a largo plazo para asegurarse de que las personas son una buena personalidad para nuestras casas, preferiríamos una habitación estar vacío que llevar a alguien John y yo no estamos completamente cómodos. Habiendo hospedado a más de 400 personas en esta filosofía, hemos conseguido muy bueno en la elección de personas grandes para llenar nuestras casas y sólo han tenido grandes experiencias con nuestros clientes! Nos encanta conocer a nuestros invitados personalmente y tratamos de acoger al menos un evento por mes, donde invitamos a personas de las diferentes casas a conocerse. En el último año hemos hecho varias noches de karaoke, ido a la playa, ido a los juegos deportivos, picnics, cenas internacionales potluck, noches de juegos, noches de pizza, viaje biergarten, etc Tenemos un grupo para nuestros huéspedes en la famosa red social Que comienza con un F, y la gente puede publicar sobre eventos en la ciudad, museos a los que les gustaría ir, etc, y encontrar otras personas que estén interesadas en ir con ellos. Nuestro objetivo es crear una comunidad realmente cálida, positiva y amistosa de gente interesante en nuestras casas, el tipo de gente con la que nos gustaría ser amigos. Puede ser difícil llegar a una nueva ciudad y no conocer a nadie, así que tratamos de elegir a personas impresionantes que creemos que harían amigos maravillosos, a continuación, proporcionar a la gente la oportunidad de conocerse a través de eventos de grupo. ¿Es Union City segura? Union City es una zona extremadamente segura, tranquila, en su mayoría residencial, compuesta principalmente por familias de ascendencia latinoamericana que trabajan en Nueva York o en las cercanías. Frecuentemente trabajo horas muy tarde en Nueva York (a menudo llegan a casa después de las 11 pm) y siempre caminar a casa solo desde la parada de autobús. Muchos de nuestros huéspedes anteriores y actuales son los mismos. Nunca hemos tenido problemas y, si alguna vez lo hicimos, hay una estación de policía a 2 manzanas de nuestra casa. John trabaja en casa y siempre está cerca. ¿Es Union City un área urbana? Sí. Como toda la ciudad de Nueva York y su entorno
You MUST click "+More" below to see ALL of the info I provide about Union City, our house, and our expectations before messaging me. In this detailed description you will find the answers most of your questions.
You MUST respond to the questions I ask you here when you message me, or your reservation will not be accepted or will be canceled, no exceptions. I know it can be hard to choose a good room near NYC! So here I have included all the information that, if I were you, I would like to know prior to booking this room. Honesty is the best policy, so I try to tell you the positives and negatives of each room that I would want to know if I were you.
First, please copy and paste THIS link to see all of my 325+ reviews:
https://www.airbnb.com/users/show/2028149#reviews

If you are interested in seeing my other available rooms, please copy and paste THIS link to see the other listings that I have:
https://www.airbnb.com/s?host_id=2028149

On that page, you can enter your dates and number of guests to see which rooms I have available. The only way to see your actual price is to go to the individual room page and enter your exact dates there.

ABOUT UNION CITY
Union City is a hidden gem just across the Hudson River from Manhattan, in New Jersey. It is CLOSER to midtown Manhattan (a very quick bus ride, during good traffic) and major tourist attractions (like Times Square, Rockefeller Center, Central Park, the Broadway/Theater District, Grand Central, the Garment District, tons of museums) than anywhere in Brooklyn, Queens, and even much of Manhattan. In addition, Union City is vastly quieter, more affordable, and, in our opinion, friendlier than New York City.

WHY STAY WITH US:
* Secure housing with extremely involved, Ivy-league educated hosts who take care of your every need.
* Real home that your hosts own and care for.
* Great for interns, students, or young professionals.
* Buses to New York City (Times Square) 3 blocks away.
* Buses come frequently (every 2 minutes during rush hour), run throughout the day and night, and are $2.75-$3.50 per trip. Most buses are operated by a private company and therefore don't appear on "G" maps or other online mapping services.
* Supermarket, restaurants, pharmacy, post office, gym, movie theater, and beautiful skyline views all within easy walking distance.
* Private room with key.
* Special deals for longer term guests (discount is automatically applied for stays over 1 month).
* We do events with our guests (lunches, dinners, karaoke), because we love getting to know people!
* Unparalleled value for the amenities and location.

ABOUT THE ROOM:
Pros:
* Queen-sized mattress in a sun-drenched room with views of a beautiful monastery across the street
* Original details and modern furniture with everything you may need
* Dresser and closet
* Super fast reliable wifi.
* We provide linens, towels, hair dryer, iron, ironing board, pots, pans, kitchen and bathroom amenities.
* On-site, free laundry in the basement.
CONS:
* This room is occupied almost entirely by the bed, there is not a lot of room to move around.
* Shared kitchen and bathroom with other 3 other rooms (we are very selective and ensure we only choose very nice guests).
* No desk/laptop workspace
* No parking
We want you to feel as comfortable as possible while you're here, so we'll do anything and everything we can to ensure your enjoyment.

ABOUT US:
We have hosted well over 400 guests, and have loved every minute of it. John and I met during college, and we are both lawyers. I work as an attorney practicing corporate law at a big law firm in Manhattan. John left law to run his own technology startup full time. We love movies, wine, travel, and having a good time. We own two dogs (Ted and George) and one cat (Hugo). We love Disney, karaoke, and getting our hands dirty on house projects! Education is very expensive in the U.S., so we use the extra income that Airbnb provides us to help pay student loans from school.

ABOUT YOU/OUR EXPECTATIONS:
If you stay with us, we expect you to be friendly, easy-going, and independent. We expect that you will have read everything about our room, and that you understand that this is a BUDGET accommodation, and that we are extremely competitively priced for the New York City area. Accordingly, you should expect a budget experience similar to staying in a youth hostel. You should be an excellent communicator, and let us know if you need anything at all, understanding that we have full time jobs but are happy to take care of you if you make your needs known. Finally, you must be friendly and courteous to everyone else who is staying at our house (our other guests). Since several people live in the house, you should expect the bathroom and common areas to have a communal, "lived-in" feeling. If you've had bad experiences living with others before in this type of situation, you should consider "entire apartment/home" listings on Airbnb or a hotel, our listing is not for you. Please also have reasonable expectations about what you're getting for the money that you're paying. Recognize that things in the New York City area are more expensive than almost everywhere else in the United States and many parts of the world, and the value you get in your hometown is different than what you may get here. We provide affordable/budget accommodations to (mostly younger) travelers. That means that, try as we might, sometimes someone may leave a dirty dish in the sink, or there will be hair in the shower drain. We provide a weekly, professional cleaning of the common spaces, and additional cleaning if issues arise, but you should not expect a truly immaculate home at all times, simply because this is not possible in a group living situation. We are more than happy to fix or address any problems that come up during your stay. Our #1 goal is to make you happy. Just let us know early and often how you are doing or if there is anything we can do better, because we cannot fix what we do not know about.
OUR QUESTIONS FOR YOU:
We like to get to know our guests, so in your message to us, please tell us the following info about yourself:
- Your age
- Where you're from
- What you study/do for a living
- What brings you to NY, and what you'll do during the days?
- Have you ever lived with other people? If so, please describe the experience.
- Have you owned cats and dogs? If not, do you like them?

PAYMENT:
All transactions are done through Airbnb. Airbnb collects payment, which includes the amount that we get as a host, Airbnb's fee (6 to 12% of the total cost), and any applicable taxes (Airbnb may charge a VAT for guests from Europe). For longer-term guests: Airbnb will verify you have the ability to pay the first month of the reservation when you book. You'll be charged for your first month a few days prior to your arrival. When you check in, Airbnb releases the money to us. Every subsequent month, you'll be charged for the upcoming month through Airbnb. Unfortunately, we don't have any control over the billing process or over Airbnb's fee or taxes so, if you're experiencing any issues with billing, only Airbnb can help.

FREQUENTLY ASKED QUESTIONS:
Do you allow long-term guests?
Yes, most of our guests are long-term guests (guests that stay for more than 30 days). We usually host students, interns, and people moving temporarily to NYC for several months to a year. We discount the price of rooms for long term guests and the discount is applied AUTOMATICALLY if you enter dates of more than a month. We are VERY selective with long term guests to make sure that people are a good personality fit for our houses, we would rather a room be empty than take someone John and I are not completely comfortable with. Having hosted over 400 people on this philosophy, we have gotten really good at choosing great people to fill our houses and have only had great experiences with our guests! We love getting to know our guests personally and we try to host at least one event per month, where we invite people from the different houses to get to know each other. In the last year we have done several karaoke nights, gone to the beach, gone to sports games, picnics, international potluck dinners, game nights, pizza nights, biergarten trip, etc. We have a group for our guests on the famous social network that starts with an F, and people can post about events in the city, museums they would like to go to, etc, and find other people who are interested in going with them. Our goal is to create a really warm, positive and friendly community of interesting people in our houses, the type of people that we'd like to be friends with. It can be hard to come to a new city and not know anyone, so we try to choose awesome people that we think would make wonderful friends, then provide people the opportunity to get to know each other through group events.
Is Union City safe?
Union City is an extremely safe, quiet, largely residential area mostly comprised of families of Latin American descent who work in New York or nearby. I frequently work extremely late hours in New York (often arriving home after 11 PM) and always walk home alone from the bus stop. Many of our previous and current guests are the same. We've never had any issues and, if we ever did, there is a police station about 2 blocks from our home. John works at home and is always nearby.
Is Union City an urban area?
Yes. Like all of New York City and its surroundings, Union City is a densely populated area. This means that homes are built next to each other or very close to each other, most houses are duplexes (2 families) or triplexes (3 families) (or more) with a full basement. Parking can be difficult, and you'll encounter lots of people walking on the sidewalks during the day. Public transit is heavily used and, although is safe and efficient, isn't always kept in pristine condition. Although our home has been renovated, most homes in the area are over 100 years old, and some are substantially older. Guests from other areas of the United States or more suburban areas of the world may experience something of a culture shock in the New York City area because of this—but don't worry, John and I understand (we both grew up outside the northeast in the suburbs) and, if you don't already, you'll come to love it!

Is it really 15 minutes to New York City?
The stated listing time is in GOOD traffic, and if you leave at the same time everyone else leaves (rush hour is between around 7:45am-10am, 5pm-8pm), you'll probably face a bit of a delay. That said, it's EXTREMELY easy to get to NY! I make the commute everyday and all of our 400+ guests have come to visit NYC! The best time to catch good traffic going to New York is around 7am and after 10am. The buses run 24/7. Most locals take a private bus called the "jitney" which is $2.75 per trip if you buy tickets in advance, or $3.25 on the bus. There is no monthly bus pass for the jitney, but it is the best option to get to New York. There is also a more expensive public bus, run by New Jersey Transit, which is $3.50 a trip or for which you can buy a monthly unlimited pass, and a multitude of other options (including a ferry and the PATH train—both of which are longer than the bus into the city, but can be used if you'd like). Union City is situated around the Lincoln Tunnel, which crosses the Hudson River into Manhattan, letting you off at Times Square. Rarely, there may be traffic accidents or delays on the tunnel that can make traveling longer (however, this is also the case on virtually any transportation option, including the subway in New York). We'll give you all the information on how to get to and from New York, and to other parts of New Jersey (such as Hoboken and Jersey Gardens (a great outlet mall) when you arrive).

Are there grocery stores and restaurants nearby?
Yes, there are several grocery stores within walking distance, and tons of restaurants two blocks away.

Can I use the kitchen?
Yes, of course: feel free to store food in the refrigerator, and to cook to your heart's content!

Can I park my car?
NO. We do not have parking at our house. Street parking is free, but requires a permit which we are NOT ABLE to provide and which is NOT EASY to obtain, and there very few garages in this area. Please do not bring a car, it will not be necessary or advisable to drive into NYC.
Do you live in the house?
No, we don't live in this house. We live in another house nearby, but stop by frequently usually in the evenings. John works from home and, if any issues arise, we can be here within a few minutes. We are extremely responsive through Airbnb, phone, text messages, or any other form of communication you'd like to use.

How far is it from Newark airport, JFK, or LaGuardia?
Newark airport is a 15-30 minute taxi ride (public transit is possible, but will take longer). Both JFK and LaGuardia are a substantial distance from our house, and also from Manhattan in general (over an hour). You can use a variety of public transit to get from JFK or LaGuardia to us (the subway, a public bus, a private bus, a taxi, or any combination of these options). We'll give you detailed instructions when you book. Almost all of our international guests fly into JFK airport, and it is not a problem to get to there from our house – just expect the trip to take about 2 hours to be sure. (Unfortunately, JFK is far from everything cool in Manhattan!)
ABOUT THIS ROOM:
Room Includes:
* Single bed, with drawers underneath for storage
* Small desk
* Small garment rack to hang clothing
* Big windows
* TV with Netflix and Hulu (not cable)
* Air conditioning unit in window in summer, electronic heater in winter

Positives:
* Price
* Cute, classic design
* Lots of natural light
* House is on a quiet, tree-lined street close to lots of restaurants
* Bathroom on this floor is brand new and renovated
Negatives:
* VERY SMALL. Not a great room for somebody who is messy, has a lot of stuff, or intends to spend a lot of time at home.
* Room is facing the street, so you may sometimes see lights from cars passing, but it's not frequent.
* Cannot accommodate guests.
* Shares kitchen and bathroom with 3 other rooms.
We want you to feel as comfortable as possible while you're here, so we'll do anything and everything we can to ensure your enjoyment.
Servicios y zonas comunes
Los huéspedes proporcionan un código de cuatro dígitos, algo así como "9308" antes de la llegada. Este código es suyo solo, y abrirá el teclado de candado electrónico en la puerta delantera. Dentro de la casa, usted tendrá una habitación privada con un bloqueo regular y la clave física. Puede bloquear su habitación cuando salga, o bloquearla cuando esté en casa cuando lo desee. Dentro del dormitorio, usted tendrá la cama, el escritorio, el almacenaje limitado debajo de la cama, y un estante de la ropa para colgar su ropa en perchas. Los huéspedes también tendrán acceso a nuestro baño compartido y nuestra cocina compartida. Esta habitación comparte el baño y la cocina con otras cuatro habitaciones.
Guests provide a four digit code, something like "9308" prior to arrival. This code is yours alone, and will open the electronic padlock keypad on the front door. Inside the house, you'll have a private room with a regular lock and physical key. You can lock your room when you leave, or lock it when you're home whenever you like. Inside the bedroom, you will have the bed, the desk, limited storage underneath the bed, and a clothing rack to hang your clothing on hangers. Guests will also have access to our shared bathroom and our shared kitchen. This room shares the bathroom and kitchen with four other rooms.
Atención a los huéspedes
Recibimos en Airbnb porque nos encanta conocer a otras personas de otras culturas y compartir nuestra cultura americana con otros. Interactuamos con los huéspedes tanto o tan poco como les gusta. Ambos estamos ocupados jóvenes profesionales. A veces, trabajamos horas muy largas, y no siempre estamos en casa. Podríamos no estar en casa cuando llegue, dependiendo de cuándo llegue, pero prepararemos la habitación para usted y le daremos un código de acceso seguro para que pueda registrarse en cualquier momento. Nos encanta interactuar con nuestros clientes, y si usted tiene preguntas o necesita algo que puede hablar mientras estamos en casa, o puede llamar, texto o correo electrónico y vamos a responder de inmediato. Muchos huéspedes tienen preguntas sobre Nueva York, qué hacer, y estamos felices de hablar con los huéspedes tanto como les gusta de esas cosas.
We host on Airbnb because we love getting to know other people from other cultures, and sharing our American culture with others. We interact with guests as much or as little as they like. Both of us are busy young professionals. Sometimes, we work really long hours, and are not always home. We may not be home when you arrive, depending on when you get in, but we will prepare the room for you and give you a secure access code so that you can check in at any time. We genuinely love interacting with our guests, and if you have questions or need anything we can either speak while we're at home, or you can call, text, or email and we'll respond right away. Lots of guests have questions about NYC, what to do, and we are happy to talk to guests as much as they like about those things.
Otros aspectos destacables
John y yo nos reunimos en la Universidad de Yale, donde estudió Historia y estudié Lengua Portuguesa. Ambos fuimos a estudiar derecho, él en Cornell y yo en la Universidad de Michigan. Trabajo como abogado que practica ley corporativa en Manhattan. John dejó la ley para ejecutar su propia tecnología de inicio a tiempo completo. Nos encanta cine, vino, viajes, y tener un buen tiempo. ¡Estamos emocionados de darle la bienvenida a nuestra casa!
John and I met at Yale University, where he studied History and I studied Portuguese language. We both went on to study law, he at Cornell and I at the University of Michigan. I work as an attorney practicing corporate law in Manhattan. John left law to run his own technology startup full time. We love movies, wine, travel, and having a good time. We're excited to welcome you to our house!
---
---
Personas adicionales 13 € / noche después del primer huésped
Comunícate siempre a través de Airbnb
Para que tus pagos estén protegidos, nunca transfieras dinero ni te comuniques desde fuera de la página o de la aplicación de Airbnb.
Más información
---
Dormitorio 1
1 cama de matrimonio grande
---
No se admiten fiestas o eventos
No adecuado o inseguro para niños (0-12 años)
La hora de llegada es a partir de las 13:00
Salida antes de las 10:00
Llegada autónoma con keypad
There is no smoking anywhere on the property. If you are a smoker, please do not book the room.
No additional overnight guests than those specified when you make the reservation, unless you have our prior permission.
Aspectos que también debes tener en cuenta
Dog(s) y cat(s) live in the house
---
Detector de monóxido de carbono
---
Estancia mínima de 20 noches
---
Union, Nueva Jersey, Estados Unidos
Se registró en Marzo 2012
I'm a young professional who loves traveling, soccer, wine, and learning about people from other cultures. I have lived in several places in the US, and also in Brazil, Spain, and Switzerland, so I know what it's like to live out of a suitcase and want to make you as comfortable as possible. I speak English, Spanish, Portuguese, and am learning French. I've used Airbnb all over the world and have enjoyed every stay!
Idiomas:
English, Español, Français, Italiano, Português
Ratio de respuesta:
100%
Tiempo de respuesta:
en el mismo día
Descubre otras opciones en Union City y sus alrededores
Más alojamientos en Union City: