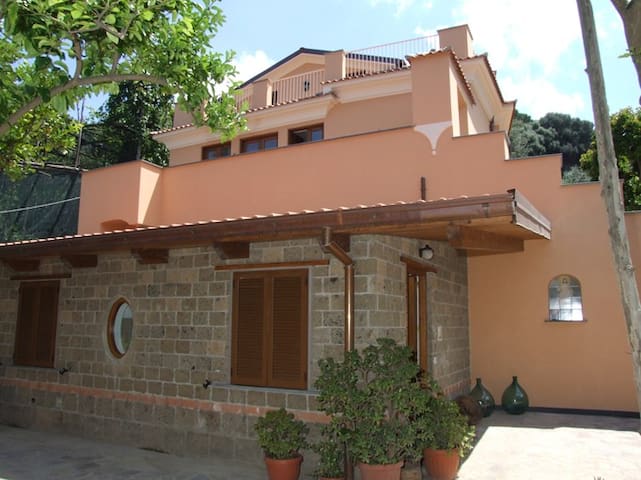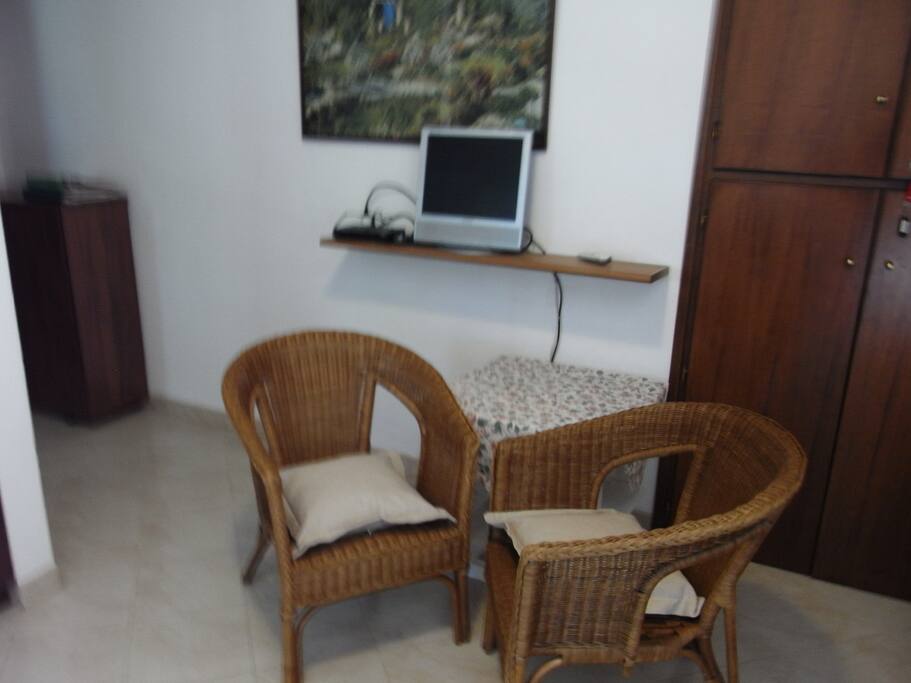 Sorrento ; Selfcatering EDERA Apt.
Como se puede ver en los comentarios de los huéspedes que ya han sido nuestros huéspedes, la casa es muy hermosa. Está situado en una zona tranquila de Sorrento y muy recomendable. Estamos buscando foreward para satisfacer y acomodar en nuestro espléndido hotel
As you can see from the comments of guests who have already been our guests, the house is very beautiful. It is located in a quiet area of Sorrento and highly recommended.
We are looking foreward to meet you and accommodate in our splendid hotel
El alojamiento
EDERA es un apartamento de dos habitaciones independiente -35 metros cuadrados - con dormitorio, sala de estar, baño con ducha y secador de pelo. Una cama individual se coloca en la sala de estar para dormir más. (Total tres o cuatro). La zona de cocina tiene todas las instalaciones para cocinar para autoservicio, incluyendo horno y nevera, también hay una lavadora y un televisor. El apartamento está elegantemente amueblado, y está equipado con un sistema de calefacción independiente, también adecuado para las vacaciones de invierno. Fuera del apartamento hay un porche con mesa y sillas donde es posible disfrutar de las comidas. El apartamento está rodeado por un bosque de cítricos típico de Sorrento y olivos centenarios, en un entorno totalmente libre de ruido El apartamento está mirando a un jardín con flores y árboles que tiene mesas, sillas, sombrillas y sillas de playa como los huéspedes pueden tener sus comidas fuera o disfrutar de su relajarse. Este apartamento es parte de un grupo de cuatro apartamentos en la planta baja de una Villa llamada Casale Nunziatina. Se trata de una antigua casa de labranza construida en 1700 que ha sido recientemente restaurada, pero conservando las características originales, como arcos, paredes, techos, bóvedas de cañón y está equipado con todas las comodidades necesarias para unas vacaciones agradables. La tranquilidad y la relajación de los huéspedes están totalmente garantizados, junto con su privacidad, ya que la casa es accesible a través de una pasarela privada de hierro. Plaza Mayor de Sorrento está a un kilómetro de distancia y accesible en diez minutos a pie. Desde allí será posible llegar a los sitios turísticos y arqueológicos cercanos. Casale Nunziatina es el punto de partida para caminar hasta las colinas cercanas para aquellos que aman estar cerca de la naturaleza. La Residencia Casale Nunziatina está abierta todo el año. La estructura es familiar y los propietarios están viviendo en el mismo edificio por lo que están "a mano" todo el tiempo. La característica media de la Residencia Casale Nunziatina es la quietud ya que se sumerge en el verde en un lugar silencioso, lejos del tráfico de la ciudad, difícil se encuentra a pocos cientos de metros de la Plaza de Armas. El Residence Casale Nunziatina está situado en Sorrento, un lugar ideal para excursiones a la encantadora Costiera Amalfitana, las ruinas de Pompeya, la isla de Capri; O llegar a pocos kilómetros de Napoli, o visitar la Reggia di Caserta. La casa, que se encuentra a sólo 1000 metros de distancia de la plaza principal, es accesible a través de una antigua carretera romana que tiene dos metros de ancho para los 400 metros finales.
EDERA is a two rooms independently -35 sq. meters – apartment with bedroom, living room, bathroom with shower and hairdryer. A single bed is positioned into the living room for extra sleeping. ( Total three or four) . The cooking-area has all cooking facilities for self-catering, including oven and fridge, There is also has a washing machine and TV set. The apartment is elegantly furnished, and is provided with an independent heating system, also adequate for winter holidays.
Outside of the apartment there is a porch with table and chairs where it is possible to enjoy the meals . The apartment is surrounded by a typical Sorrento's citrus grove and centuries-old olive trees, in a totally noise free environment

The apartment is looking on to a garden with flowers and trees which has tables , chairs ,umbrellas and beach chairs as the guests might have their meals outside or enjoy their relax.

This apartment is part of a group of four apartments at the ground floor of a Villa named Casale Nunziatina. It is is an ancient farmhouse built in 1700 which has been recently restored , but still preserving the original features, such as arches ,walls, roofs , barrel-vaults and it is provided with all comforts required for a pleasant holiday.
The tranquility and the relaxation of the guests are fully guaranteed, along with their privacy, as the house is accessible through a private iron gateway .
Sorrento Main Square is about kilometer away and reachable in ten minutes walking. From there it will be possible to reach the nearby touristy and archeological sites. Casale Nunziatina is the starting point for walking up to the nearby hills for those who love being close to nature .
The Residence Casale Nunziatina is open all the year.
The structure is family manned and the proprietors are living in the same building therefore they are "at hand " all the time..
The mean feature of the Residence Casale Nunziatina it is the quiteness as it is immersed into the green in a noiseless spot , far away from the City traffic , tough it is positioned only few hundred meters far from the Main Square.
The Residence Casale Nunziatina is located in Sorrento, which is an ideal place for excursions to the enchanting Costiera Amalfitana, Pompei ruins , Capri Island ; or reaching within few kilometers Napoli , or visiting la Reggia di Caserta.
The House , which is positioned only 1000 metrs far from the Main Square , is reachable through an ancient roman road which is two meters wide for the final 400 meters .
Servicios y zonas comunes
Los huéspedes disfrutarán de los servicios del apartamento como la cocina, wifi, electricidad, agua, calefacción y aire acondicionado, TV, mini-horno, secador de pelo y el hermoso jardín con plantas y flores donde pueden relajarse o tomar sus comidas. PS: El uso de la lavadora es "bajo petición" y se cobra por separado.
Guests will enjoy the services of the apartment as the kitchen, wifi , electricity, water, heating and air conditioning, TV, mini-oven, hair dryer and the beautiful garden with plants and flowers where they can relax or have their meals.
PS: Use of washing machine is " on request "and is charged separately.
Atención a los huéspedes
Los propietarios viven en el mismo edificio por lo que son fácilmente contactable y capaz de proporcionar toda la información necesaria para organizar una estancia memorable. Proporcionamos a nuestros huéspedes con mapas de la zona. Tenemos acuerdos con agencias especializadas a las que podemos recomendar una amplia gama de excursiones para visitar los lugares de interés de nuestra hermosa tierra, que se pueden comprar directamente en nuestras instalaciones. También podemos arreglar para alquilar una moto o un coche para aquellos que lo deseen.
The owners live in the same building so they are easily contactable and able to provide all the necessary information to organize a memorable stay. We provide our guests with maps of the area. We have agreements with specialized agencies to which we are able to recommend a wide range of excursions to visit the sights of our beautiful land, which can be purchased directly at our facility. We can also arrange to rent a scooter or a car for those who want it.
Otros aspectos destacables
Bienvenido a la Residencia Casale Nunziatina en Sorrento. Nos complace que haya elegido nuestra instalación y que haremos todo lo posible para que 'sus vacaciones, puede ser agradable y sin problemas, a fin de satisfacer sus expectativas. A) Aparcamiento Su máquina puede aparcar gratis en la Piazzetta S. Valerio, que se encuentra a cien metros de Casale Nunziatina. Si desea tener un aparcamiento seguro y cubierto, hay uno a 600 metros de la Residencia (El Supermercado Aparcamiento SISA - POLLIO) con el que tenemos un acuerdo de paradas de aparcamiento con descuento por lo menos 7 días B) Comprobar Los propietarios de la residencia Casale Nunziatina viven en el mismo edificio en el último piso de su apartamento, por lo que siempre estará presente en el lugar y fácil de contactar. Durante su estancia puede ponerse en contacto con los propietarios sólo tocando a su puerta o utilizando el intercomunicador en la puerta de entrada. C) Llaves apartamento y puerta A su llegada a Casale Nunziatina, será proporcionado por el propietario en persona, tanto las llaves de la puerta exterior para que pueda tener total libertad 'de movimiento. El propietario mostrará 'apartamento y, dándole toda la información sobre el uso de las varias comodidades' que usted encontrará en el apartamento sí mismo. Le dará 'toda la información que necesitará para su estancia. D) Guía En el apartamento encontrará una carpeta que contiene un conjunto de información que responderá a cualquier pregunta de su. Hay las "Reglas de la Casa" y también hay horarios de trenes Circumvesuviana, horarios de autobuses y ferry a Nápoles y las islas, así como " Una lista de números de teléfono útiles. Mapas turísticos del lugar, etc. Busque esta carpeta en la mesa del comedor. Le sugerimos que eche un vistazo a su llegada. También hay un libro de visitas en el que, si lo desea, puede escribir comentarios y sugerencias. E) Ropa de cama A su llegada, las camas ya están 'completas con ropa de cama. Las sábanas limpias se proporcionarán semanalmente, y se retirarán las utilizadas. También es posible que requiera cambios de ropa más frecuentes, pero este servicio se cobra por separado. A su llegada encontrará un conjunto de toallas "baño" para cada ocupante del apartamento. Las toallas se cambian semanalmente. También es posible que requiera cambios de ropa más frecuentes, pero este servicio se cobra por separado. F) Cocina La cocina incluye todas las herramientas necesarias para preparar sus propias comidas. Como una cortesía que encontraremos en la cocina: sal, café, té, azúcar, para que pueda preparar un aperitivo, esperando para ir a la tienda de comestibles al supermercado o en las tiendas. En caso de llegada por la tarde también notamos que es posible, si se desea, pedir al propietario que pida una "pizzas para llevar (o asador) que será entregado en una de las pizzerías cercanas. Costo excepto por una pequeña propina al muchacho que 'entrega. NOTA: La cocina incluye todas las comodidades estándar, así como requerido por la regulación para la casa de vacaciones. Pero, si alguna vez necesita alguna herramienta adicional, no dude en preguntar al propietario. Por favor, use todos los utensilios de cocina con la máxima atención (como si fueran su propiedad '), dejándolos limpios y reportando cualquier daño al propietario para un pronto reemplazo del mismo o mantenimiento. G) Agua El agua en los apartamentos es bebida, así que no hay problema para ser bebido o utilizado para cocinar. H) Teléfono En el apartamento no hay una línea de teléfono en / out I) LAVADORA Los apartamentos de dos dormitorios EDERA, GIGLIO, GARDENIA se proporcionan con la lavadora que es opcional y requieren un costo adicional. El apartamento ROSA no tiene lavadora, pero la ropa se puede hacer, sin embargo, por un precio. L) Registro de salida Check-in se realiza normalmente después de 1400, mientras que el cheque se lleva a cabo por 1000 en el día de salida. Obviamente estos tiempos son flexibles. Sólo hablar de ello con el propietario. Usted también tiene la opción de un check-in temprano. En este caso usted tiene que esperar el tiempo necesario necesario para la limpieza del apartamento. El Check Out, se lleva a cabo dentro de las horas 1000 Si tiene la necesidad de salir más tarde esta vez (avión o tren en la noche), puede quedarse en la casa y disfrutar de su estancia en Sorrento hasta el último minuto. Sin embargo, puede ser necesario hacer disponible el apartamento para ser limpiado en espera de la llegada de nuevos huéspedes en la tarde. En este caso, puede Dejar su equipaje Vs Casale, y disfrutar de su estancia en Sorrento hasta el último minuto. Hablar con el propietario !!!!. M) Servicios de Limpieza Informaciones A su llegada encontrará el apartamento limpio. No hay servicio de limpieza durante la estancia a menos que requiera específicamente a costos adicionales. Apreciaremos mucho el hecho de que usted se esfuerza por mantener el apartamento limpio y ordenado, dejándolo como usted lo encuentra. Si hay alguna "emergencia" con respecto a la limpieza, háganoslo saber de inmediato. Si desea una limpieza adicional del apartamento durante la estancia, podemos ofrecer este servicio por un costo de 15 euros. N) Procedimientos de Pago Tenga en cuenta que si los huéspedes se ven obligados a abandonar el apartamento, por razones personales, no se le reembolsará. O) Depósito Normalmente, no tomamos ningún depósito para cubrir cualquier daño a todo y "contenido en los apartamentos. Se invita a los huéspedes a tomar el máximo cuidado de los electrodomésticos y herramientas contenidas en el apartamento. El apartamento se alquila a los invitados en perfecto estado, equipado con todos los utensilios y electrodomésticos. Al comienzo de los invitados será "la obligación del cliente para devolver el dueño del apartamento, asegurándose de que no hubo daños, para ser finalmente pagado pagado Estamos seguros de la exactitud de los huéspedes para que 'cuidar de todo el contenido de los apartamentos. P) Alquiler de coches, scooters y Tours Turísticos. En Casale Nunziatina podemos ayudarle a reservar excursiones a los sitios turísticos o arqueológicos cercanos, o alquilar scooters, bicicletas, coches o simplemente traslados desde / hacia la estación Napoli / Roma trian o el aeropuerto. Este servicio es totalmente gratuito R) Comprar productos locales A 50 metros de la casa y allí Nunziatina hay una granja donde se pueden comprar productos locales, de producción propia, como vino, aceite de oliva, leche fresca, mozzarella, queso, huevos frescos, nueces, naranjas, limones, tomates, vinagre, Salami (si está disponible), etc. Es un material genuino vendido a precios asequibles. Si usted está interesado, pregunte informaazioni el propietario de Casale Nunziatina. S) Varios A su llegada encontrará la necesidad de "iniciar" su vida en la casa (jabón, papel higiénico, etc). Una vez que esos tipos hayan terminado, será tu. Cuidado de comprarlos. T) Impuestos locales La Ciudad de Sorrento ha establecido el impuesto local vigente desde el 1 de abril hasta el 31 de octubre. El impuesto, que para todas las estructuras extralbeghiere asciende a 1,50 euros por persona para pernoctaciones por un máximo de siete noches consecutivas. Están exentos de los menores hasta la edad de dieciocho años de edad ". Los fondos recaudados ayudarán al Ayuntamiento a mejorar los servicios para la oferta turística ya optimizar los servicios en la zona. El impuesto municipal será pagado a la estructura. Gracias Gracias por elegir la Casale Nunziatina. Estamos seguros de que su estancia Seremos 'agradables. Cuando en Casale Nunziatina, no dude en ponerse en contacto con nosotros para obtener información sobre el transporte público, restaurantes, playas, compras de productos locales, etc Estaremos encantados de ayudarle y ayudar a no gastar dinero innecesariamente. Disfrute de su viaje a Sorrento y disfrute de su estancia en Casale Nunziatina. Rosa y Pasquale Casale Nunziatina Vico II S. Valerio, 1 80067 SORRENTO (NA) Tel. +(PHONE NUMBER HIDDEN) Celda. +(PHONE NUMBER HIDDEN) (Pasquale) Correo electrónico: (EMAIL HIDDEN) Https: // (URL HIDDEN)
Welcome to the Residence Casale Nunziatina in Sorrento. We are pleased that you have chosen our facility and we will do everything possible so that 'your holiday , can be nice and smoothly, in order to satisfy your expectations.
A) Parking
Your machine can park for free in the Piazzetta S. Valerio which is located a hundred meters from Casale Nunziatina.
  
If you want to have a secure and covered car park, there is one at 600 meters from the Residence (The Supermarket Parking SISA - POLLIO) with whom we have an agreement for discounted parking stops for at least 7 days
B) Check
The owners of the Residence Casale Nunziatina live in the same building on the top floor of your apartment , so that will always be present on the spot and easy to contact.
During your Stay you can contact the owners just knocking on his door or using the intercom at the entrance gate.(URL HIDDEN)
C) Keys apartment and gate
At your arrival at Casale Nunziatina, will be provided by the owner in person, both the keys of the outer gate so that you can have total freedom 'of movement. The owner will show 'apartment and , giving you all the information about the use of the various comforts' that you will find in the apartment itself. Will give you 'all the information you'll ever need for your stay .
 
 
 
D) Guide

In the apartment you will find a folder containing a set of information that will answer any question of your .There are the "House Rules" and there are also schedules of Circumvesuviana trains, bus timetables and ferry to Naples and the islands as well as' a list of useful telephone numbers. Tourist maps of the place etc. Look for this folder on the dining room table.
We suggest you take a look at your arrival.
There is also a guestbook in which, if you like, you can write reviews and suggestions.

E) Linen
At your arrival the beds are already 'complete with linens. The clean sheets will be provided on a weekly basis, and will be withdrawn those used.
There is also the possibly requiring more frequent linen changes , but this service is charged separately .
At Your arrival you will find a set of towels "bath" for each occupant of the apartment. The towels are changed on a weekly basis.
There is also the possibly requiring more frequent linen changes , but this service is charged separately .
F) Kitchen
The kitchen includes all the tools necessary to prepare your own meals.
As a courtesy we will find in the kitchen: salt, coffee, tea, 'sugar, so that you can prepare a snack, waiting to go to the grocery store to the supermarket or in stores.
In case of arrival evening we also note that it 's possible, if you wish, ask the owner to order for you a "take away pizzas (or rotisserie) which will be delivered from one of Pizzerias nearby. There delivery will require no extra cost except for a small tip to the boy who will' delivery.
NOTE: The kitchen includes all the standard amenities, as well as required by the regulation for the Holiday House. But, if you ever need some extra tool, do not hesitate to ask the owner.
   Please, use all the kitchen utensils with the utmost attention (as if they were your property '), leaving them clean and reporting any damage to the Owner for a prompt replacement of the same or maintenance.
G) Water
The water in the apartments IS Drinkable , so no problem to be drunk or used for cooking.

  H) Phone
In the apartment there is NOT a phone line in / out
I) WASHING MACHINE
The two-bedroom apartments EDERA , GIGLIO, GARDENIA are provided with the washing machine which is optional and require an additional cost. The apartment ROSA has no washing machine but laundry can 'be made, however, for a fee.
L) Check-in Check-out
Check In is normally done after 1400, while the check is carried out by 1000 on the day of departure.
Obviously these times are flexible. Just talking about it with the owner. You also have the option of an early check-in. In this case you have to wait the necessary time required for the cleaning of the apartment .
  The Check Out, takes place within the hours 1000 If you have the need 'to depart later this time (Plane or train in the evening), you can stay at the house and enjoy the Your Stay in Sorrento until the last minute. However, it may be necessary to make available the apartment to be cleaned awaiting the arrival of new guests in the afternoon. In this case, you can still leave your luggage Vs Casale, and enjoy your stay in Sorrento until the last minute. Talk with the owner !!!!.
 
M) Cleaning Services Informations
At your arrival you will find the apartment clean. NO cleaning service during the stay unless you require specifically at extra costs.
We will appreciate very much the fact that you strive to keep the apartment clean and tidy, leaving him as you find him.
If there is some "emergency" regarding the cleaning, let us know right away.
If you want extra cleaning of the apartment during the stay , we are able to provide this service for a fee at a cost of 15 Euro.
N) Payment Procedures


Please note that if guests are forced to leave the apartment, for reasons personal, no refund will be due.

O) Deposit
Normally, we do not take any deposit to cover any damage to everything and 'content in the apartments.
Guests guests are asked to take the utmost care of the appliances and tools contained in the apartment.
  The apartment is rented to the guests guests in perfect condition, equipped with all the utensils and appliances. At the start of the guests will be 'obligation of the customer to return the apartment owner, making sure that there were no damages, to be eventually repaid paid
We are confident in the accuracy of the guests so that 'take care of all the contents of the apartments.

 
  P)Booking Rental cars, scooters and Touristic Tours.
 
At Casale Nunziatina we can assist you for booking exursions to the nearby tourist or archeological sites , or renting scooters , bikes ,cars or just transfers to/from Napoli/Roma trian station or airport.
This service is totally free of charge
R) Purchase Local Products
At 50 meters from the house and there Nunziatina there is a Farm where you can buy local products ,of own production, as Wine, Olive Oil, Fresh Milk, Mozzarella , Cheese, fresh eggs, nuts , Oranges, Lemons , Tomatoes, Vinegar, Salami (if available) etc. It is genuine stuff sold at affordable prices. If you are interested, ask informaazioni the owner of Casale Nunziatina.
S) Miscellaneous

Upon arrival you will find the need to "start" your the living in the house (soap, toilet paper, etc.). Once those kinds are over it will be your. care to buy them.
T) Local Tax
The City of Sorrento has established the Local Tax effective from 1 April to 31 October. The tax, which for all structures extralbeghiere amounts to 1.50 Euro per person for overnight stays for a maximum of seven consecutive nights. Are exempt from the minors up to the age of eighteen years of age '. The funds raised will help the City to improve services for the tourist offer, and optimize services in the area. City Tax will be 'paid to the structure.
Thank you
Thank you for choosing the Casale Nunziatina. We are confident that the Your stay
we will be 'enjoyable.
  When at Casale Nunziatina, do not hesitate to contact us to obtain information about public transport, restaurants, beaches, shopping local products etc. We will be happy to assist you and help NOT to spend money unnecessarily.
Enjoy your trip to Sorrento and enjoy your stay at Casale Nunziatina.
Rosa and Pasquale
Casale Nunziatina
Vico II S. Valerio, 1 80067 SORRENTO (NA)
Tel. +(PHONE NUMBER HIDDEN)
Cell. +(PHONE NUMBER HIDDEN) (Pasquale)
Email: (EMAIL HIDDEN)
https: // (URL HIDDEN)

---
Dormitorio 1
1 cama de matrimonio XXL
Dormitorio 2
1 cama individual
---
Llegada: A partir de las 14:00
Tipo de habitación: Casa/apto. entero
---
---
Personas adicionales 15 € / noche más de 2 huéspedes
Comunícate siempre a través de Airbnb
Para que tus pagos estén protegidos, nunca transfieras dinero ni te comuniques desde fuera de la página o de la aplicación de Airbnb.
Más información
---
No adecuado o inseguro para bebés (menores de 2 años)
La hora de llegada es a partir de las 14:00
The purpose of these Rules is to ensure to the guests a pleasant and safe stay and they are kindly required to abide by the following simple rules.
 
1) Please do not move the furniture. This could cause damage and deterioration to the furniture and the floors themselves. The owner will be entitled to charge additional costs if you move the furniture.

2 ) Do not open rooms or locked cabinets, as they are intended for private use.

3 ) Do not throw anything in the toilet, in the sink or into the drain (tampons, sanitary napkins, baby diapers, panty liners). Please also do not use detergents are harmful to the environment such as bleach and the like and do not dispose of oil and food waste in the kitchen drain or into the toilet. This may cause severe fillings!

4 ) Always use the bed linen and avoid eating the food in bed. Please avoid using towels to remove make-up (use the paper.) Unfortunately, themake up is damaging the towels beyond repair. E 'is also not allowed taking to the beachs the towels belonging to the hotel . Otherwise, you may find the costs charged for the cleaning of the pillows, blankets and mattresses.

5) DO NOT smoke in the apartments.
6 ) We are sorry, but in the apartments are forbidden to bring pets.
7 ) Respect the garden, do not collect flowers and does not climb on trees and plants; not ignate fires! If you need something, ask the owner.
8) Please do not make noise. After 22:00 it is necessary to respect the silence, not to disturb the guests who occupy the neighboring apartments.
9 ) Report immediately any irregularities on arrival and the information within 24 hours to the owner so that at the end of your stay you will not be held responsible. Talk to any damage caused during your stay and before departure, so that the owner can replace it for the next guests.
 
10) For safety reasons, please turn off all electrical consumers (lights, TV, Washing machine, Oven Air conditioning or heating) as well as' gas and water when you are not present in the apartments. It may also happen that the owners are momentarily absent and a possible problem could not be detected in time with easily imaginable consequences.
11 )The arrival of the guests is scheduled by 1400 hours, unless previous arrangements. Guests are required to leave the apartment before 1000 hours.
On arrival the guest will have to 'show the passport or identity card' in order to allow the owner of the house to conduct the necessary registration required by Italian law.
12) The waste is collected daily. Please dispose of waste (URL HIDDEN) your arrival the owner will inform you where to deposit the waste to be collected.
13) The cleanliness of the premises is guaranteed at the time of the guests. Guests are required to ensure the cleanliness of the premises, which they occupied. The house can 'provide, for a fee, extra cleaning services. This cleaning service is limited to the cleaning of the room.
14 ) The number of persons accommodated must 'be those established at the time of booking. It 's not allowed to sleep for the night people outside of the agreed number, without the permission of the owner. However, it 's possible to receive relatives or friends, with the approval of the owner, during daylight hours. These people should mandatorily leave the facility no later than 2300.
15 ) Before departure check with the owner, the state of the apartment, and damage.
  Casale Nunziatina
Vico II S. Valerio, 1 80067 SORRENTO (NA)
Tel. +(PHONE NUMBER HIDDEN)
Cell. +(PHONE NUMBER HIDDEN) (Pasquale)
Email: (EMAIL HIDDEN)
https: // (URL HIDDEN)
---
---
Estancia mínima de 3 noches
---
Pasquale has a beautiful home in a quiet area. It's a decent walk from Sorrento's town square - about 20 or 30 minutes of uphill walking - not difficult if you're younger. He also gave us great recommendations on local travel excursions and helped us book a trip to Capri. He's a great host - he also picked us up and dropped us off at the train station. We also bought a bottle of homemade limoncello from him! A great stay.
---
Perfect plCe to stay. Highly recommended! Pasquale was great ! Couldn't ask for a better host. He will answer all your questions. Close to public transit !
Ciao Johanthan and Daniel . It has been really a great pleasure for us to accommodate you at Casale Nunziatina and we are happy that you liked your stay with us. My sister Rosa addressing a personal thanks to you both as you left the apartment in excellent cleaning conditions. Enjoy your stay in Italy and have a safe comeback at home. Ciao
---
Tired and weary, we reached Sorrento eager to drop our bags. Pasquale waited for and collected us from the train station which was very thoughtful. He made us feel at home and at ease at his house which is part of a lemon orchard. It's very picturesque. The home was well equipped for cooking etc and strong the air con was a blessing. It takes about 10-15 minutes to walk to the very centre. Pasquale offered many times to help with excursions and restaurant bookings should we need his assistance. He's a man with a great sense of humour and overall we had a wonderful time in Sorrento and would definitely return to Pasquale's lovely home.
---
Pasquale was a very kind and accommodating host. He helped set up our excursion to Capri, which was great. He also picked us up from the bus station (which is pretty close) and took us to the home. He also dropped us off there when we left, which is helpful because getting your luggage up that hill is not for the faint of heart. The outside of the home is very nice, with garden amenities and tons of lemons. If you are interested in booking this place, just be aware that it is a little out of the way of the main part of Sorrento. It was a good 2km walk from whatever restaurant we ate at that night, and the last part of that walk is very steep, poorly lit and you share the narrow road with cars and mopeds. However, it actually helped us with digesting dinners which was nice, but that walk isn't for everybody, so be sure you are up for it. So to summarize: we really enjoyed Sorrento, Pasquale was an accommodating host. The home is a little out of the way, but is a good value for the stay on Sorrento. Enjoy!
---
Pasquale was a very friendly and welcoming host. Communication with him was quick and easy. The apartment was like described and compared to the city center of sorrento very calm and within citrus plantations. Thanks again for the nice stay - I would always recommend the apartments of pasquale.
---
Pasquale was a wonderful and accommodating host. He picked us up from the train station and gave us very detailed information about excursions and what to do in Sorrento and the Amalfi Coast. He also helped us with laundry and purchasing fresh goods from the neighbors farm. In addition, he was always available if we had any problems and he spent a lot of time going over things with us. The walk up to the apartment is a bit of a trek, but definitely worth it.
---
Idiomas:
English
Ratio de respuesta:
100%
Tiempo de respuesta:
en pocas horas
Descubre otras opciones en Sorrento y sus alrededores
Más alojamientos en Sorrento: