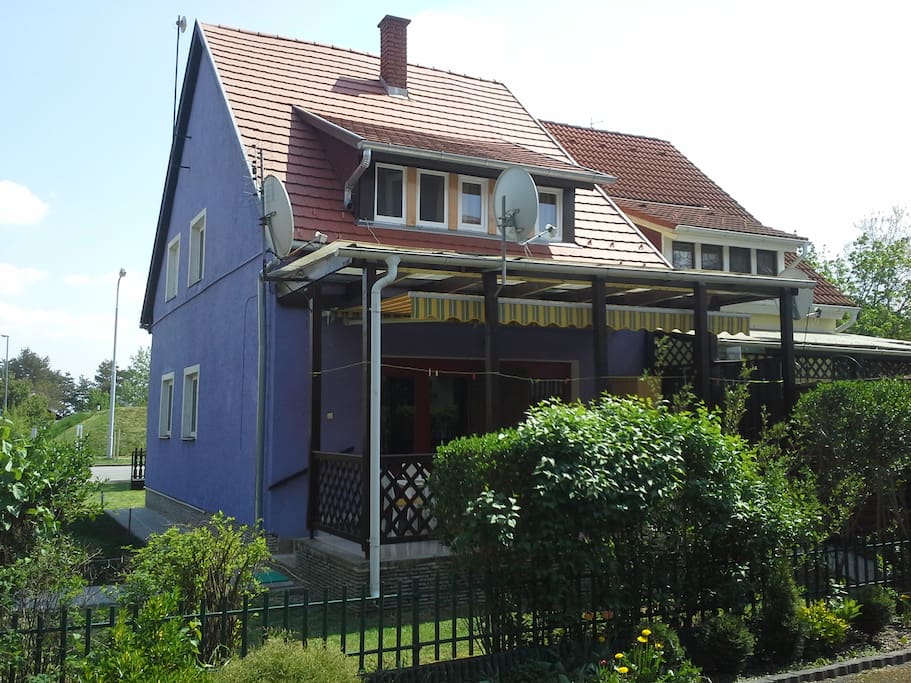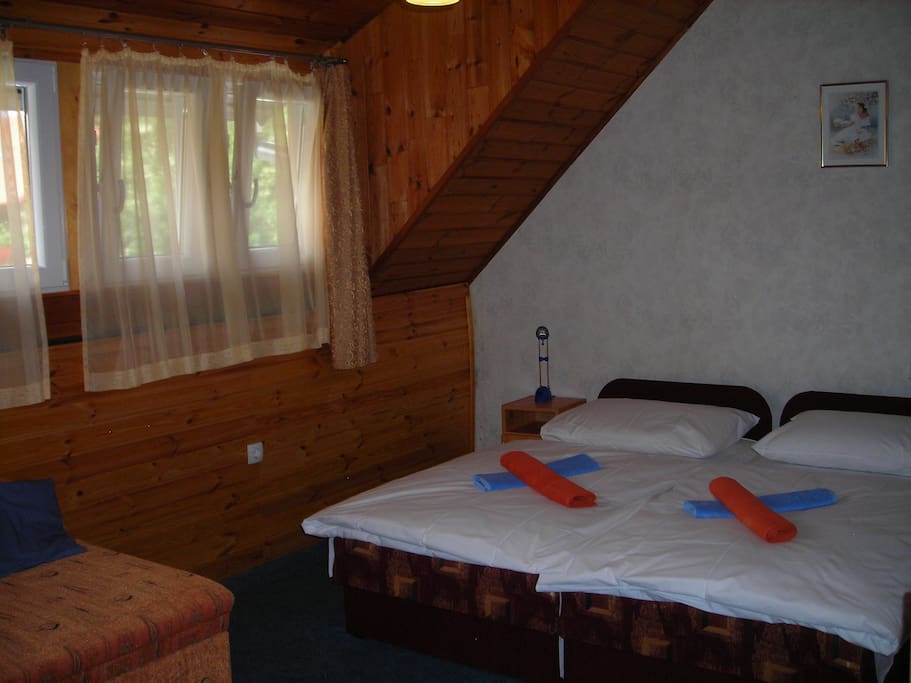 El alojamiento
Dear Guests !
House to let at Bük- fürdő / Private accomodation

Would you like a cheap accomodation on a Bük SPA? There is a great opportunity to find and stay a lodging house at Bük-fürdő, nearby the SPA.
Holiday house is available for large family or group of friends with a garden and parking space in front of the house or in the yard.
Apartment (2-3-4-5-6 persons): 3 double rooms, two beds, two separate bathroom (showers, toilets), living room, fully equipped kitchen, terrace with garden furniture, garden.
Distance from the Spa and Experience bath: 200 m ( Quiet zone )
Accommodation is perfect: for a small friendly group, for families with children, additional beds.
Characteristics: Family-friendly, Dogs allowed, Bikers welcome, Motorcyclists welcome.
Drodzy goście!
Dom wakacyjny do wynajęcia w Buk – furdo /prywatne zakwaterowanie
Poszukujesz taniego noclegu w miejscowości Buk Spa? Nasz pensjonat - to świetna okazja na zakwaterowanie w Buk-furdo, w pobliżu SPA.
Wygodny dom z ogrodem i parkingiem przed domem przeznaczony dla dużej rodziny lub grupy przyjaciół. Apartament dla ( 2-3-4-5-6 osób): 3 pokoje dwuosobowe, dwa dodatkowe łóżka, dwie oddzielne łazienki ( w jednej wanna i toaleta, w drugiej prysznic i toaleta), pokój dzienny, w pełni wyposażona kuchnia, taras z meblami tarasowymi, ogród.
Odległość od SPA i kąpieliska leczniczego 250 metrów ( bardzo spokojna okolica).
Zakwaterowanie jest idealne dla małej grupy przyjaciół, rodziny z dziećmi ( dodatkowe łóżko w pokojach).
Charakterystyka: przyjazny dla rodziny, możliwość przywiezienia z sobą psa, rowerzyści i motocykliści mile.
Prázdninový dům vhodný pro větší rodinu či skupinku přátel se
zahradou a parkovacím místem před domem.
Apartmán (2-3- 4-5-6 osob): 3 dvoulůžkové pokoje, možnost dvou přistýlek, dvě oddělená sociální zařízení (sprcha, WC), obývací pokoj, plně vybavená kuchyň, terasa se zahradním nábytkem, zahrada.
Vzdálenost od lázní: 250 metrů.
Ubytování se výborně hodí: pro menší přátelské společnost, pro rodiny s dětmi, je možnost přistýlky.
Léčebné lázně Bük se staly jedněmi z nejznámějších a nejpopulárnějších léčebných lázní v Evropě. V současnosti se jedná o druhé největší lázně v Maďarsku, které zároveň nabízejí perfektní rekreaci všem generacím hostů. Lázně, zaujímající 14 hektarů, jsou skutečným lázeňským komplexem, očekávajícím vaši návštěvu s nabídkou 27 bazénů s celkovou vodní hladinou větší než 5100 m2 .
Voda v našich léčebných bazénech má teplotu 32-38 °C, teplota vody v plaveckých bazénech je mezi 26 a 28 °C, děti jsou srdečně očekávány v brouzdalištích určených pouze jim, ve kterých se mohou cákat v naprostém bezpečí. Komplex skluzavek dostupných zdarma ve vás zanechá nezapomenutelné zážitky. Děti si mohou po koupání hrát na momentálně nejmodernějším hřišti; dospělým toužícím po relaxaci je k dispozici rozlehlé útočiště s pohodlnými lehátky. V našem Rekreačním parku můžete regenerovat ze své každodenní únavy v tichém, klidném a zeleném prostředí. Zastřešené zážitkové koupele v Parku jsou otevřeny celoročně a nabízejí osvěžení všem generacím hostů.
Ti, kdo mají rádi pohyb, jsou po celý rok vítáni na sportovních hřištích (plážový volejbal, plážová házená, nohejbal, badminton, plážový fotbal, streetball, stolní tenis), při organizovaných sportech a zábavných programech. Kdo vyhledává kulinární zážitky hodné králů, také nalezne vše přímo v Bükfürdő: čeká na něj řada restaurací a snack-barů.
Na parkové ploše o rozloze 13 hektarů pokryté stinnými stromy lákají ke koupání kryté, částečně kryté i otevřené bazény. Bazény s léčivou vodou mají teplotu 32-38 °C, koupaliště a bazény vhodné pro sportování jsou naplněny vodou o teplotě 26-28 °C, děti se mohou těšit na zvláštní bazény, vytvořené speciálně pro nejmenší a určené pouze jim, kde se mohou bezpečně a spokojeně ráchat.
Čtyři skluzavky v komplexu s bezplatným vstupem, z nichž si mohou podle vlastních nároků i odvahy vybrat všechny věkové skupiny, nabízejí nezapomenutelné zážitky. Tobogán anakonda se dlouze a klikatě vine, kamikadze s náhlým pádem se doporučuje spíše odvážnějším návštěvníkům, po rodinné skluzavce si může sjet i více lidí najednou, zatímco na jedinečné skluzavce ve tvaru cibule dopadnete do vody až po vydatné rotaci.
Kromě koupání a dovádění na skluzavkách se o zábavu dětí stará moderní hřiště, k relaxaci dospělých toužících po oddechu slouží rozlehlé odpočinkové plochy a pohodlná lehátka, takže zde mohou najít odpovídající způsob odreagování všichni členové rodiny. Milovníky pohybu čekají sportovní hřiště (na plážový volejbal, plážovou házenou, nohejbal, minigolf, badminton, travnaté hřiště na minifotbal, hřiště na plážový fotbal s malými brankami, streetballové hřiště), stolní tenis i organizované sportovní a zábavné programy.
Také ti, kteří jsou náchylní spíše na kulinářské požitky, naleznou v Bükfürdő vše, co je lákavé pro oči i ústa: v prostoru lázní i v obci na ně čekají četné restaurace a bufety.
V místní stanici InterNETpont je zajištěna také možnost použití internetu.
Vynikající kvalita lázeňských služeb byla oceněna nejvyšším čtyřhvězdičkovým hodnocením Asociace maďarských lázní.
Rekreační park jsou takzvané "lázně v lázních", kde si mohou návštěvníci v tichém, klidném prostředí plném zeleně odpočinout od každodenní námahy. Terasa na opalování ve tvaru tří okvětních lístků láká ke slunění, pohodlí hostů zajišťují odpočinková lehátka.
K příjemnému odreagování slouží také bazén rozdělený na čtyři části, naplněný léčivou a pitnou vodou, dále finská sauna a infrasauna i ponorný bazén se studenou vodou.
V Rekreačním parku se nachází kryté zážitkové koupele
Pro každého návštěvníka parku je k dispozici šatnová skříňka.
Rekreační park-zážitkové koupele lze navštívit se zvláštní vstupenkou.
The Medical Bath Resort
of Bük
Guests are welcome with 11 indoor, 4 half-indoor and 11 outdoor pools in the parked area of 14 hectares. During the whole year the indoor bath welcomes people longing for a good bath, where bathing facilities are ensured by the modern and renewed pool space filled with medicinal water. In the half-indoor pool filled up with medicinal water, connected to the indoor bath, bathing is always a pleasant experience. The pools filled with drinking water are connected by a swimming corridor. They are ready to accept those who would like to do sports even in winter. The indoor experience bath also open during the whole year around ensures cheerful recreation for all members of the family.
The existance of the Medical Bath Resort of Bük is due to a fortunate accident, namely as a result of the petroleum drillings at the beginning of the 20th century, then more and more intensive drillings at the end of the '50s, out of the blue sky, a huge water jet burst out onto the surface.
Soon there was a dynamic development concerning bathing facilities. Today, the Medical Bath Resort of Bük is the third largest medical bath resort of Hunagry, well-known all over Europe. Our bath resort is more than a bath, since guests visiting Bükfürdő can find everything they need for a perfect recreation.
Everything for the healing recreation the medicinal water is capable of easing pain and recovering illnesses in the motion tract. The medicinal water of special components is espedally recom-mended in case of treatments related to the motion tract, digestion and gynae-cological problems because of its high content of calcium-magnesium-hydro-genecarbonate. In our Physiotherapeutic Institute, you may take advantage of the modern therapeutic procedures based on medical water. Of course, alternative ways of healing also form part of the therapeutic arsenal.
A large village of 3,000 inhabitants in the north-west of county Vas, where the foot of the Alps and the Small Plain meet. The present village was formed after the lower, central and upper parts of the settlement had been slowly built together. Central-Bük dates back to the age of Arpads, the monument Romanesque church was built here. Lower and Upper-Bük were the settlements of the lower nobles. The mansion of the Nagy family built in Upper-Bük is now a pension. The best known member of the family was Pál Nagy of Upper-Bük, who was a famous speaker of the parliament. Today Bük is famous for its medicinal bath. By a stroke of luck at the end of the 1950s medicinal water was found instead of oil on the confines of the village. The bath has operated since 1962, first it was open only in the season. Today, lying in a beautiful green area of 35 ha, it offers recreation for visitors with 26 pools with 5,600 m2 water surface. Its thermal springs give excellent 55 °C alkali-hydrogen carbonate medicinal water, with a high fluoride, iodine and iron content. It can be used in balneotherapy for curing rheumatic and orthopedic diseases and it can be inhaled to treat respiratory catarrhs. The village attracts many visitors with its special restaurants, the 18-hole golf course, the open-air programmes and music evenings. The three lakes and the river Répce in the vicinity are ideal for fishing, the forests on the hills - for hunting and horse-riding.
FERTŐD
In the vicinity of Lake Fertő the new town, with a population of 3000. The Esterházy Palace, the "Hungarian Versailles", one of the most beautiful group of Baroque palace edifices in Hungary is visited by several hundreds of thousand tourists every year. The second half of the 18th century was the golden age of Eszterháza under Prince Miklós Esterházy. Joseph Haydn served the prince for several years, who was fond of splendour and was also a patron of the arts. The composer is commemorated by a museum in the Palace, while in the Music House (his former living house) a memorial room can be seen. There is also an exhibition of local history in the Music House. Further parts of the complex include the Riding Hall, the Boarding School, the Grenadiers' House, and the park, reminiscent of the beauties of Versailles, are all unique sights. The neo-Gothic st. Andrew church and the Holy Cross church of Fertőd were built at the end of the last century and in 1986 respectively.

KŐSZEG:
Town with 12000 residents at the foothills of the Alps. The fortress, built after the Mongolian invasion, was defended with success by Miklós Jurisics against the Ottomans in 1532. Now it houses a museum and a tourist hostel. The Saint Imre church (1618) in Jurisics square was built in Gothic and Renaissance, the Saint James church (1407) in Gothic style. The Town hall is a 15th century building, after its destruction by fire (1720) it was rebuilt in Baroque style. The Arcaded House was built on the city wall in the 18th century, now it accommodates the Archives. The sgrafitto decoration of the former parsonage is from 1570 and 1668. Other places of interest in town are several living houses of the 17th and 18th centuries and the Pharmacy Museum. Places of excursion in the vicinity feature Írottkő of 882m, Óház look-out tower, Hétforrás (Seven springs), Király Valley and the wine cellars of Cák.

SÁRVÁR:
The population of the town lying on the banks of the River Rába at Kemeneshát is nearly 16,000. The town has become a tourist centre of international renown. Through the Nádasdy family the castle played a significant role in the progress of Hungarian culture in the 16th and 17th centuries. The first Hungarian book, The New Testament (1541), was printed here. The knight's hall of the castle is decorated with the battle scenes of Lord Chief Justice Ferenc Nádasdy and scenes from the Old Testament. A number of rarities of cultural remains are shown in the exhibition halls of the Ferenc Nádasdy Museum. The most oustanding sights include: the arboretum (a nature reserve), the neo-Classical Lutheran church and the Roman Catholic church, the park forest and the Csónakázó (= Rowing) Lake. A new Thermal and Wellness bath of European standard was opened in 2002 awaiting visitors in pleasant surroundings.
SOPRON:
A town with 53,000 inhabitants on Brook Ikva, between Lake Fertő and the Sopron Mountains. The image of the inner town is still dominated by the several medieval churches, the houses of medieval origin with gables and spacious courtyards and the narrow streets. There are fascinating 13th and 14th century houses and churches for the enthusiasts of Gothic architecture. The Fire-watch Tower, the symbol of the town, was given its present form after the fire of 1676. In the Main Square the Storno House and the exhibition can be seen, while in Orsolya Square the Lábasház (= Arcaded House) is worth visiting. The Saint Ursula's church with the nunnery and the school were built in Romantic style in the last century. The Esterházy, Erdődy, Széchenyi and Zichy-Meskó mansions witness that Sopron was a highly popular place of residence also among the families of Hungarian aristocracy. Collections of local history, scientific, industrial history, art and religious items are displayed in a total of 23 permament exhibitions in Sopron. Brennbergbánya, the first coal mine of Hungary, supplied charcoal to the industry of the region from 1752 to 1952. The Lövérek with the Károly kilátó (= lookout tower) offer a pleasant walk with a popular pace of excursion. The Fertőrákos cave theatre and the Maria Magdalena church at Bánfalva are places of special interest in the neighbourhood. Visitors should not miss to taste Kékfrankos, the famous Sopron wine.
Szombathely:
Town of county rank with 80000 inhabitants. Seat of county Vas, one of the major settlements in western Transdanubia. The foundation of the city dates back to about 50 A. D., the reign of Emperor Claudius. The Amber Road and the flourishing Roman culture had an impact on local history. The town was donated by King Saint Stephen to the episcopate of Győr in 1009. In 1587, the Collegiate Church Cathedral of Vasvár was transferred by the diet of Pozsony to Szombathely, gradually earning a rank of county seat in years to come. According to an order by Maria Theresa in 1777 it became the seat of an independent diocese. The famous block of edifices in Baroque style, one of the most outstanding sights of the town in Mindszenty square and Szily János street, is due to the munificence of Bishop János Szily. The town developed from Savaria of ancient days is now the venue of a number of international programmes, a centre of commerce, education and economy. Major sights include the Garden with Ancient Ruins, Iseum, County Hall, Episcopal Palace - Sala Terrena, Cathedral, Seminary - Diocesan Library, Eölbey House, Synagogue, Saint Elisabeth Franciscan church, Saint Martin Dominican church, Museum Village of Vas, Rowing pool, Arboretum of Kámon, Savaria Museum, Schmidt Museum, Szombathely Gallery, Franciscan Garden, reconstruction of a Roman fortress from the 1st c. B.C. . Major events: Savaria Historical Carnival, Spring Festival, Savaria International Dance Contest, International Bartók Seminary and Festival, Lamantin Jazz Festival, Savaria Urbanistical Summer Academy, Saint Martin's Week.
---
Tipo de habitación: Casa/apto. entero
---
---
Personas adicionales: 16 / noche después del primer huésped
Comunícate siempre a través de Airbnb
Para que tus pagos estén protegidos, nunca transfieras dinero ni te comuniques desde fuera de la página o de la aplicación de Airbnb.
Más información
---
Dormitorio 1
2 camas individuales
Dormitorio 2
3 camas individuales
Dormitorio 3
2 camas individuales
---
No se admiten fiestas o eventos
No adecuado o inseguro para bebés (menores de 2 años)
Horario de llegada: de las 14:00 a las 19:00.
This house is available with pets. Small dogs and cats can go for a holiday, 5-10 Euro / nights.
Tourist tax for guests 500 Huf / Night.
---
Estricta
Cancela hasta 7 días antes de tu viaje y obtén un reembolso del 50 %. Cancela en los 7 días previos a tu viaje y no se te reembolsará la reserva.
---
Estancia mínima de 2 noches
---
Sin evaluaciones (por ahora)
Este alojamiento no tiene evaluaciones. Si te alojas en él, la tuya aparecerá aquí.
Hi,

My name is Otto - and I live in Bük, where I rent this comfortable house out for travellers. Bük is famous for its wonderful thermal bath - come and try it out !
See you soon at Bük-fürdő
Otto
Idiomas:
Deutsch, English, Magyar
Ratio de respuesta:
100%
Tiempo de respuesta:
en pocas horas
Tendrás los datos exactos de la ubicación cuando la reserva esté confirmada.
Descubre otras opciones en Bük y sus alrededores