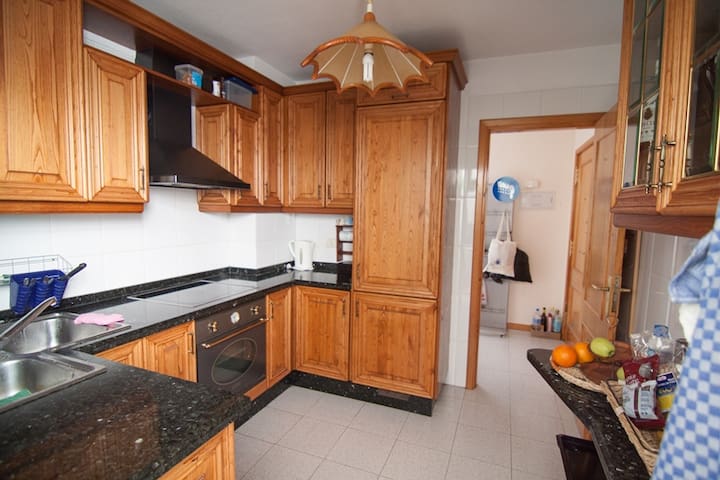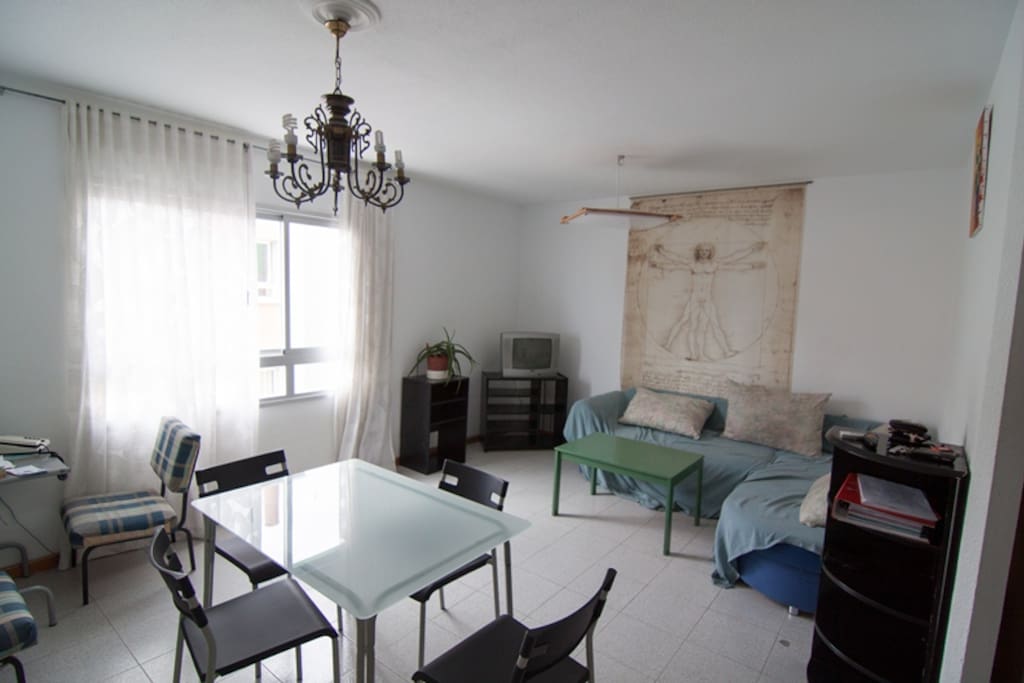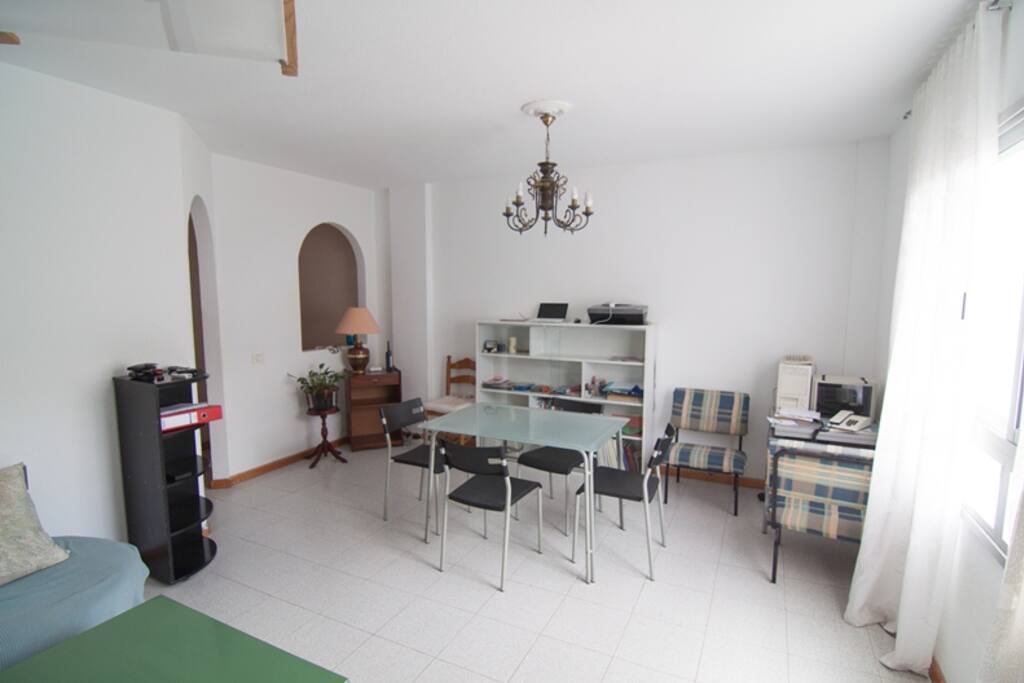 Nuestro luminoso, espacioso y céntrico piso, permite alojar a 2 personas y está en una zona tranquila y cercana a todos los servicios.
El alojamiento
Estoy en una zona tranquila del centro metropolitano de Tenerife. Por tanto, tenemos todo tipo de servicios cerca: transporte, supermercados, centros comerciales, policía, hospital, etc. Tenemos wifi, azotea donde estar al aire libre y caminando estamos cerca del Parque Rural de Anaga.El piso es muy luminoso y de temperatura agradable. Los vecinos son silenciosos.Los dormitorios son amplios con cama (URL HIDDEN) tengo tiempo libre podremos hacer algo de Kayak, buceo, pesca, surfing, kitesurf, espeleología, etc.Lo bueno de este piso es que está en el centro del centro metropolitano de la isla y es muy tranquilo. Además no está en la parte centro de La Laguna (600 metros sobre el nivel del mar) , que normalmente llega a ser mucho más frío que aquí (300 metros sobre el nivel del mar) . Ni tampoco está en el centro de Santa Cruz (50 metros sobre el nivel del mar) donde la contaminación y el ruido es mucho mayor. Si necesitas algo que no hay lo intentaré conseguir, quizás una bicicleta, un utensilio de cocina determinado, una tabla de surf, etc.Aquí no hace falta secadora. Se puede incluir una plaza garaje (parking) y también el desayuno si se solicita.Saludos.
Servicios y zonas comunes
Los normales en una casa, además de internet. También pagando un poco más se puede alquilar bicicleta o el garaje, y pueden preguntar por algo más si están interesados en alguna otra cosa.
Atención a los huéspedes
Poco o mucho depende del feeling que haya y de la similitud de aficiones e intereses.
Otros aspectos destacables
No somos fumadores y prefiero no compartir con fumadores, para eso seguro que encuentras algún lugar más adecuado.
---
---
Dormitorio 1
1 cama de matrimonio
---
No se admiten fiestas o eventos
La regla principal es el sentido común, de ahí parten todas las reglas que pudieran haber. Yo soy una persona que sabe entender y estoy dispuesto a todo lo que sea de sentido común. Soy una persona "eco-friendly", pero puedo convivir con personas que no lo sean, aunque prefiero convivir con gente que sea respetuosa con los demás y con el medio en el que vivimos, o sea, el planeta Tierra. Be happy my friend.
Pero no acepto fumadores de ningún tipo.
---
For moments, Simeón was friendly and helpful but unfortunately, even if I am always friendly and diplomatic dealing with people, he had moments that made me feel bad and stupid talking to me in a kind of cold, intolerant, super logical, non-diplomatic, half-arrogant and sometimes even ironic way. He also insisted several times in knowing where I was going after leaving his flat, which I did not like. I told him at the end where I was going as I was still in his flat and I did not want any kind of confrontation or tension, but I am also a very private person and in the same way I respect others privacy, I expected mine to be respected. I personally found the insisting messages asking me where I was moving a little disturbing. One of the most important things for me here was that, at the beginning, Simeón told me that there was a woman in the flat and later, once I paid and we were on the way to the flat with all my stuff on his car, he told me that also her ~10 year old kid lives there but that is not there all the time. I found that very dishonest as he knew that I was looking for a flat that is quiet most of the time and I wanted to live only with adults, but as I paid and due to the situation with all my suitcases on his car, with no other place to go and all that, I had to deal with it I like it or not as I paid a month (when you pay a month, you cannot get refund, not sure if is an airbnb rule or a rule set by the host but it is what it is). Knowing that there is a kid in advance, I would not have rented the room as my intention was to study and relax, which with the kid was not possible sometimes plus, the kid was there almost every day (again very different to what I was told). I expected to be told from the very beginning that there was also a kid there. I felt cheated. There were also a few issues with the cleaning like having to clean the place a bit when I arrived as desk and others were dusty and with the woman living there, we cleaned the living room sofa pillows and cover as they were sticky and dirty. Not nice considering I paid good money as cleaning fee. I also had to spend time to make WIFI to get better to the rooms as the signal was very poor. Apart from the mentioned above, flat, neighbors and the area are decently good, and in fairness, even Simeón for moments was helpful and offered me flexibility to check out and things like that. Unfortunately, the moments of unfriendliness and dishonesty that I mentioned from Simeón eclipsed the good gestures and moments that he had with me.
This words are a surprise for me, but the girl living in the flat has also told me that it was difficult to deal with Daniel. Before not, but now I understand Daniel is a very special person. First, I was talking to him in a openway and don't worrying for small things, but now I realise that wasn't the same for him and he understood other different way, sorry about that I was trying to go in an easy way. Instead, he was kind of cold, intolerant with others and very diplomatic and meticulous as can see in his text. Sorry Daniel for anything you've felt bad, but I realise now about some things you mentioned, I was friendly with you and didn't know you didn't like my talkings until now. I've spoken to you always friendly and thinking in a good and open way. For the main reason of dissapoint I've told you sorry that I've forgot to tell you about the boy, but it's not true that you told me before, that you want to live only with adults, if not I'd worry to tell you that there was a child for sure. The house is very quiet and the boy too. The girl and her boy were most of the time outside, so Daniel were alone most of the time. And the few days they were in the house before Daniel's arrival, the child was most of the time sleeping in his family house not here. So, this is what I've told him. About cleaning, he also left dirtiness when he left the house, but I didn't matter. Sorry Daniel of what you've felt, but honestly I was friendly and honest with you everytime. Anyway, thanks for your honesty.
---
I do really recommend Simeon's place. It's a clean flat with access to the roof terrace, where I spend some afternoons watching the city, ocean and mountains. The appartment is also good located, close to the bus and tramm stops, but it's in a quiet area. Also the atmosphere was great! Simeon helped me with everything I have asked for, he even went with me to the medical center - Thank you Simeon once again for that! :) And the other flat mates were very friendly. They respected my privacy, but were good companieros as well. Joahanna and her son teached me some Spanish and she made us homemade Arepas, mniam! :) Unfortunately they do not live in the flat anymore. Generally, I have enjoyed my stay at Simeons appartment, hope you poeople will enjoy it too.
---
Although I got to Tenerife at a very busy time, when it was almost impossible to find a place on the island, Simeon stepped up and left me his own room. It was small but enough. Simeon is very friendly and helpful. We talked a lot before my arrival. Everything good with this place in the suburbs.
---
Bueno, soy muy dinámico, tanto que actualmente dedico 6 horas diarias a dormir. Me gusta mucho hacer actividades al aire libre, deportes de aventura, etc. Soy muy sociable y me gusta hablar y aprender, me gusta la buena comunicación. Cualquier cosa que quieran tener o saber la …
Idiomas:
English, Français
Ratio de respuesta:
100%
Tiempo de respuesta:
en pocas horas
Descubre otras opciones en San Cristóbal de La Laguna y sus alrededores
Más alojamientos en San Cristóbal de La Laguna: