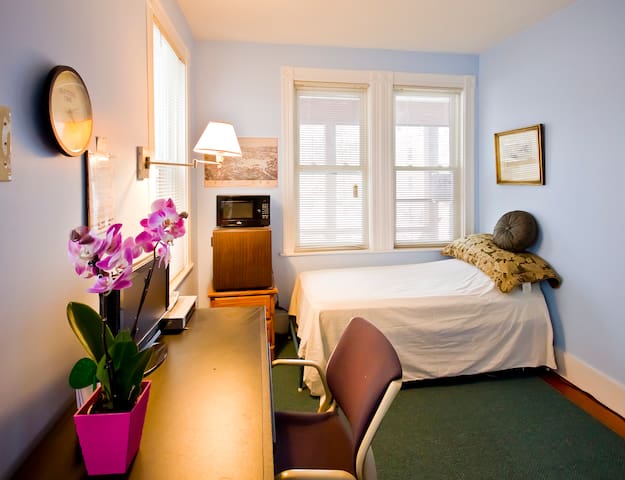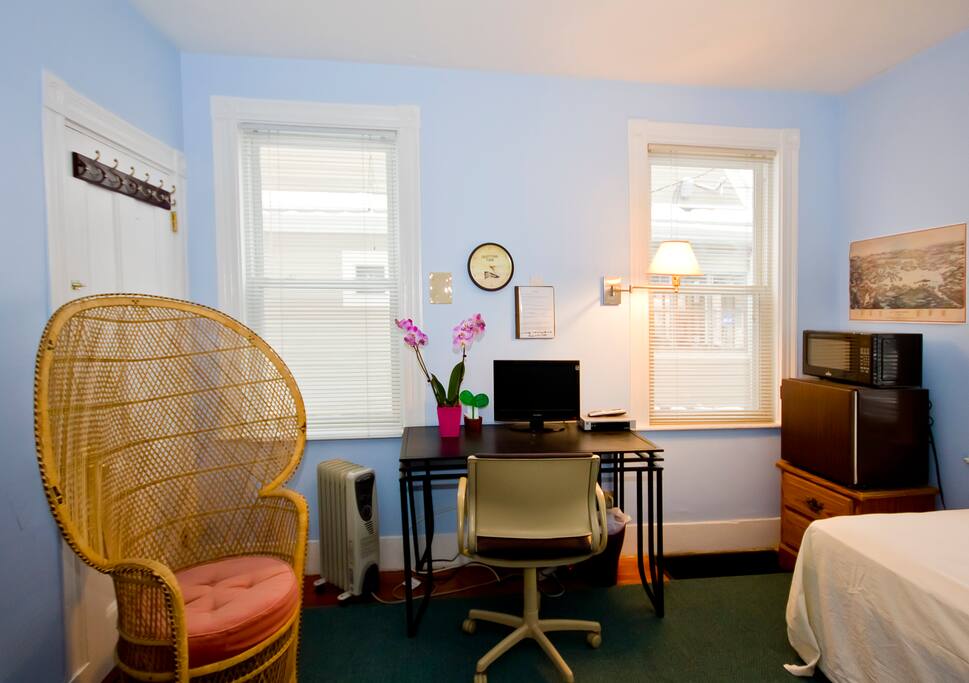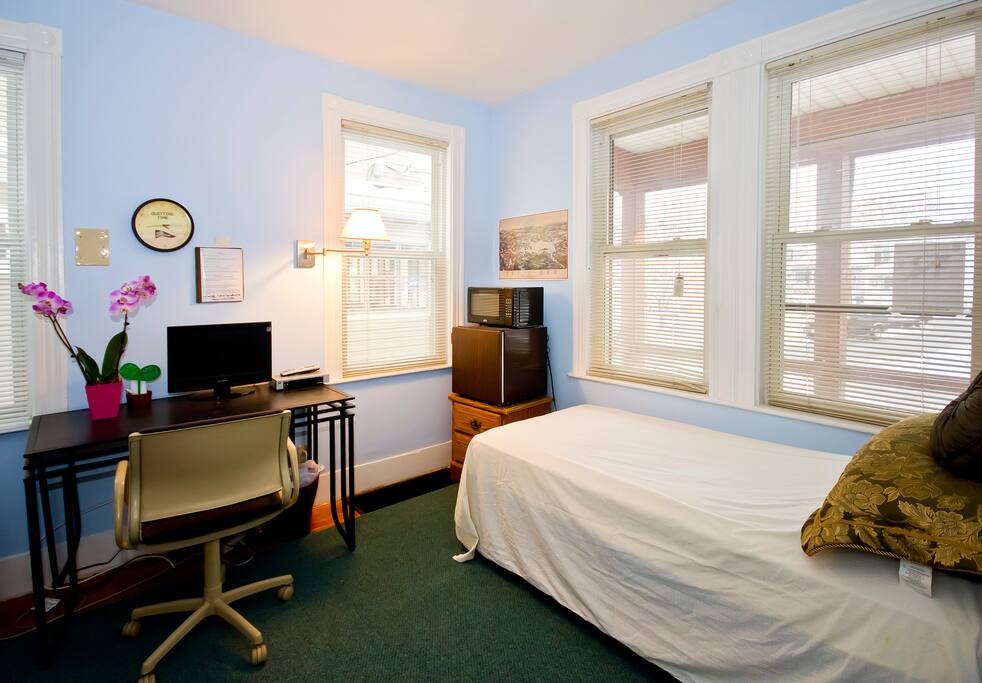 Easy location, oft-used for 1-2--but not for all-see posting, then ask questions not covered there! Some want fancier rooms; prior day *talk directly by voice by US/Canadian phone* required for entry arrangement/safety--no e-mails, texting etc etc-if not, no entry-- : )
El alojamiento
***This room will not work for you if you would want to call us the day before by phone (as required for entry/safety) from a phone from outside the US or Canada*** In that case, simply look at other rooms please.
Disclaimer/Alert: We list FAQ's/Frequently Asked Questions, then the posting itself—pls go through these; the most common reason for us not responding to people through this website is people asking us questions already answered here—we're sorry but we have a high volume of inquiries and just don't have time to go over basic issues again and again, so pls read posting! Thanks very much for your interest and we'll be happy to have a booking request with/without separate message from you! : )
Our motto: 'We do pretty well in offering this room within our home...and also we've learned that--much as we'd like to--"We can't please all visitors all the time"…dang…'
**We require a voice phone call the day before (8am-6pm hours Boston time the day before) you arrive to arrange keys/entry (no, not texting/e-mails/AirBnB chat etc--*voice*: ***voice phone call*** absolutely required; must be from a 10-digit US or Canadian phone, SORRY NO EXCEPTIONS, SO THIS MEANS THIS ROOM MAY NOT WORK FOR PEOPLE WHO ARE ARRIVING TO US/CANADA THE SAME DAY THEY WANT TO START USING THE ROOM) with ***no entry if we don't talk***--thanks (see below for details...
**Won't be able to call like that? Well, since **talking by phone directly by voice is required**, then *if that's not possible for you, then this place won't work for you!* Pls get one of the other great rooms on this site!)**
FAQ's:
Why all this about the phone call (from US/Canadian phone) the day before?
Answ: We've had great experience with AirBnB folks in our house (or we wouldn't continue doing it!) BUT there have been bad things happen through the internet (a murder/suicide in Boston; the AirBnB vandalism issue, etc) so we MUST TALK THE DAY BEFORE DIRECTLY VERBALLY--WITH ANYONE WANTING TO COME INTO THE HOUSE; THIS *MUST* (MUST) BE FROM A US/CANADIAN PHONE. We won't call back other numbers the day before to arrange entry and *you thus won't get in* IF YOU HAVE A FULLY VALID RESERVATION AND DO NOT DO THIS PRIOR-DAY PHONE CALL, YOU WILL NOT GET IN THE ROOM. We'll cancel it via AirBnB. Sorry, it's just a home safety thing...
CAN I STAY AT THIS ROOM ON…(SPECIFIC DATES)?
-->PLS SIMPLY LOOK AT THE CALENDAR TO FIGURE THIS OUT--NO NEED TO SEND US A MESSAGE for this issue alone, AS YOU CAN SIMPLY CHECK THE CALENDAR... then if you like, you can just simply put in a booking request…(URL HIDDEN)--thanks! Our calendar isn't 100% up to date *always*, but usually it is--we can go over any unusual last minute changes on our end if you put in booking request.
CAN I BOOK MORE THAN ABOUT 6 WKS IN ADVANCE, AND/OR FOR LONGER THAN NOTED IN THE POSTING?
-->No, we're sorry, because of family scheduling complexities, the best we can do is as per the posting in those regards…
I CAN'T FIGURE OUT THIS OR THAT ON THIS WEBSITE—CAN YOU TELL ME HOW TO... (book a room, figure payment, get a refund...ETC ETC)?
-->Don't know how to check the calendar? Don't know how some info is blocked by site? Contact AirBnB "Help"--they're often helpful, although it can sometimes take a few tries…thanks!
DOES THE ROOM COME WITH (THIS OR THAT SPECIFIC OBJECT OF INQUIRY..)?
-->See posting on specifics; feel free to contact us if there's something not listed/unclear…
DO YOU GUARANTEE WIFI ACCESS?
-->It almost always works *but see Wifi section in posting for occasional problems* (maybe 10-15% of time, but if it's you, it's 100% of your experience until/unless you can figure out arcane access routes, or if there's a neighborhood or household outage, when we can get around to getting that fixed, which we can't promise—could be days—due to a number of reasons—but this is unusual, maybe 1-2x/year…)
IS IT OK THAT WE TEXT OR E-MAIL ETC TO ARRANGE SPECIFICS OF HOUSE ENTRY ON ARRIVAL, OR MAYBE JUST SHOW UP AT THE HOUSE UNANNOUNCED?
-->No, we *have to talk directly verbally by phone* as noted in posting and House Manual, or you may well not be able to get in. This usually goes very simply and smoothly, but do note that because of local Boston and occasional AirBnB adverse events (eg the vandalism by guest out in the Bay Area, C*'s List killer, etc) we make entry arrangements as we specify. We can only return calls to proper U.S. numbers (10 digits--3 digit area code, 3 digit exchange and 4 digit individual number--pls have such a number for us to call you on. If not, *pls get a room elsewhere*--thanks!)
WILL YOU RENT TO ME IF I HAVE A PICTURE OF A REALLY CUTE PUPPY AS MY AIRBNB PROFILE FOTO?
-->Much as we like cute puppies, and as homo sapiens-centric as this is, *no*—pls read posting—we need clear pictures of the 1-2 ppl wanting to stay with us…
ARE THERE ANY MOBILITY-RELATED QUESTIONS AT YOUR HOUSE?
-->Note how our bathroom (and house entry) are up stairs--pls do take that into consideration if considering enquiring—thanks!
WILL YOU PLEASE GO BUY (THIS OR THAT) FOR THE ROOM NOW PLEASE?
-->Occasionally someone has a good idea and we do, but not usually—we appreciate suggestions but are rarely able to immediately provide…but we've had a lot of folks use the place and it works pretty well usually!
PLEASE TELL ME...this or that about Boston, transportation question etc etc...
-->We're sorry but due to high volume of inquires we're unable to do this for questions clearly addressed in "Transportation" part of posting or easily findable via websearch. If you have questions which you absolutely can't find after looking closely in posting and by webseach, pls do let us know! Thanks!
~~~~~~~~~~~~~~~~~~~~
-->"You can't please all of the people all of the time" section:
Note some have been disappointed with our place not: including access to our kitchen, ironing board, etc; that we don't use specific detergents for washing sheets and that we don't ban scents from our household; that our bathroom is as listed (shared with family) etc--we do our best to be flexible with individualized needs, but are a busy household with the room basically set up to be used independently as described--which fits for most folks! We're friendly overall but once in a while have been pushed by travellers beyond our limits, so we try to spell things out!(URL HIDDEN)
~10% of travelers haven't like the plastic mattress covers we use for cleanliness--if that's an issue, sometimes it works to put a second sheet on--feel free to use materials at hand to improvise (some feel a pea under many mattresses, in one old story as well, so remember--our area has hotels if you like!); others haven't liked the 2nd bed in the room being a pull out/'trundle' bed--but works for most folks!
Also see kids/shared bathroom info below and note some negative comments in those who've reviewed us--and remember those area hotels, or other excellent Air BnB listings! Simply find a hotel or other place to stay if any of how we are sounds like it wouldn't fit for you and everybody'll then be happy!**
~~~~~~~~~~~~~~~~~~~
We're **unlikely to answer questions/respond to messages or reservation requests** if:
...you don't have a **current picture**of your face (you alone, or of you and the one person who'll be with you) on your profile, for easy identification**. If you have on your picture people who will not be coming, we likely won't respond to you. A picture must be currently-easily-recognizable, to use for simple face-to-face recognition (Boston is where the "CL C*'s (SENSITIVE CONTENTS HIDDEN) Killer" tragedy happened--that website used for nefarious connection which resulted in apparent murder/suicide; AirBnB has of course had crimes happen through listings, e.g. the Bay Area vandalism incident)--we'd just like a little bit of personal info--as we share with you in our posting--before having folks in the house. The picture needs to be of ONLY THE PERSON/UP TO 2 PEOPLE WHO WILL ACTUALLY BE STAYING, NOT of...cute things like pets, groups of people, signs, food objects, far away shots not easily useable for identification, etc which are NOT REALLY AN EASILY IDENTIFIABLE PICTURE OF YOUR FACE. You must list your full legal name as well on your passport (if you don't have passport, pls tell us what other government-issued ID you will have with you and we'll see if we agree to that--false passports do exist apparently, but false drivers' licenses are a much more common issue in the US and we'll correspond on a case-by-case basis if you have no passport).
SPECIAL NOTE REGARDING COVERING: We are an explicitly hair-covering-friendly household. This means that we're fine with folks covering their hair, including in Air BnB posting pictures. This is a separate issue from the *FACE* needing to be clear for our in-home safety concerns. Aka hijabs welcomed, naqabs not, though if you want to fully cover *after* our initial e-interactions and initial meeting at our place, that's fine. Note that we don't mean this to be uncomfortable or intrusive, but our home safety has to override any face-covering desires at least at this cultural moment; if this means that people using naqabs or any other similar face-covering methodologies are unable to post full facial recognitions pictures, we will unfortunately be unable to have you stay with us. We sincerely regret any inconvenience of this including for those choosing naqabs; if you can think of any better approach balancing home safety and facial coverings, pls let us know (in context of this site actively blocking contact outside of the site) and we'll fully consider these with you. Thanks/shukran/shukriya et merci bien.
...asking us to please do homework for you on Boston distances, etc (see rec's below, posted for you as aide in figuring out such things).
...asking transportation ?'s clearly addressed below/findable on recommended websites
...asking if when we say we rent for up to 14 days if that means that we rent up to 14 days (yes, as it says)--or asking other things clearly addressed in the posting...like up to 2 people only (2 only, that is, TWO [2/dos/deux/zwei/due/ar ge/ithnaan etc] ONLY--MAXIMUM)
...last minute crises regarding issues already clearly addressed in posting or interchanges...
So, pls read the posting if interested; **read/print/follow the "House Manual" if you reserve**...**you may not get in if you don't read this and call us the day before** (see House Manual about specifics) to arrange entry as specified there.
** We'll be *happy* to help in other ways(URL HIDDEN)
(Note that some of the template on this site allows only for responses which might not quite fit our situation, e.g. if you decide during your stay that you want to stay an extra night when you're here, etc pls talk with us and we may be able to work things out.)
**Look for asterisks in text below for answers to frequently asked questions/directions to resources to discover for yourself!**
PLEASE TAKE A LOOK AT ALL THE INFO WE'VE LISTED, DESIGNED TO ANSWER THE USUAL QUESTIONS ABOUT ACCOMODATIONS, TRANSPORTATION ETC.

**NOTE THAT SOME INFO IS VIEWABLE *ONLY AFTER BOOKING* **
That is, after booking an additional amount of info called the "House Manual" becomes viewable--scroll down your booking e-mail to find; contact AirBnB Help if you like with any questions. We post things like exact address, wifi access info, house access info etc there. IT IS IMPORTANT TO CALL US (BY TELEPHONE WITH DIRECT VERBAL CONTACT, NOT TEXTING, E-MAIL, MESSAGING ETC--**DIRECTLY BY VOICE THE DAY BEFORE THE DAY OF ARRIVAL** TO ARRANGE GETTING KEY/GETTING IN TO THE APARTMENT AND ROOM; IF YOU DO NOT DO THIS AS PER "HOUSE MANUAL" WE MAY BE ASLEEP or for other reasons YOU MAY BE UNABLE TO GET IN; IN THAT CASE, FIND ANOTHER PLACE TO STAY THAT NIGHT AND CALL US THE NEXT DAY FOR ACCESS THEN. If you are arriving from out of the US, call us anyway on the day before arrival pls pr tell us this well in advance so we have prior ample time to make key arrangements. Please plan ahead--some folks wait to last minute to access "House Manual" info and then can't access it on mobile device, etc. We recommend **PRINTING OUT** THE "House Manual" TO KEEP WITH YOU! We will do our best to help you but are busy and ask folks to read what we post and go from there.
Also, sometimes we're simply swamped and unable to respond right away to new inquiries but do so as soon as possible--keep trying if that's the case, and pls excuse us... : )
NOTE ALSO: We generally don't book more than 4-6 wks out, to see what upcoming friend/family use of room might be, so **pls don't contact us more than 2 mos. prior to arrival**...other places can likely book further ahead if you like... : )
~~~~~~~~~~~~~~~~~
Posting:
The very finest of Boston--Back Bay, the rich western suburbs, fabulously wealthy and sophisticated hosts...sorry, that's not us (but you can get there from here!). 99%'ers here. We're a cross-cultural academic/working family who enjoys having folks stay with us--Welcome/Bienvenido(as)/Bienvenu(es)/Ahlan wa Sahlan/ Huanyin/Wilkommen! We're close to Harvard and many other universities and sites--folks interviewing, looking for longer-term housing, on short training rotations, tourists etc often stay--folks accessing Harvard, MIT, Boston University, Boston College, Longwood Medical Area, Financial District, Suffolk U, Emerson U, Leslie U, UMass Boston, etc--
We're half way between the B part of Green Line MBTA in the Allston part of Boston (see TRANSPORTATION below) and the Harvard (and Central) Red Line stops in Cambridge, with shops and restaurants a short walk away, in a residential neighborhood populated with homeowners and renters, folks who've been in the neighborhood a lifetime alongside folks new from all continents (except maybe Antarctica...).
CRIME-SORTS OF SAFETY: What about crime in the neighborhood? (**Update Aug '13: A recent guest says his car side mirror parked near our home was damaged apparently by a passer-by, when parked near our house. I've asked for more info (he's gone now) but haven't found out more**) We've rarely heard of crime here--the two incidents we know of in the 9 yrs we've been here both turned out to be someone connected to the occupants of the homes entered, not random targeting. We can't of course offer guarantees. A Dutch visitor said her guidebook listed parts of American cities where visitors should be especially cautious regarding street crime, and that our part of Boston was not listed there. Particularly cautious, tired etc travelers might want to consider simply getting a taxi directly to the house at night etc, but we feel safe here and our teenage son comes and goes--as do many students in the neighborhood of all apparent genders--at late hours without us having heard of problems. Some reviews of us comment on travelers' perceptions of the neighborhood, including safety--you might want to take a look at those.
There are many restaurants and grocery stores 5-10 mins walk away.
ROOM HAS:
TV, fridge, microwave, eating utensils—one-portion bowls, cups, chopsticks/individual-type knife-spoon-fork, **one (or two--one pulls out from underneath the other) single BEDS** with linens=sheets and blankets and pillows and pillowcases, drawers, some tourist info, extra heater in winter and window fan (as well as central air conditioning--*not specifically temperature-adjustable for this Air BnB room*) in summer. It is a room unto itself; we rent to just one (or two related) folks at a time, it is not a "dormitory style". Its entry door is just inside our apartment door, so you can go in and out without going through the rest of the place; bathroom use is upstairs shared with family.
Water: use the small container we supply to get water from bathroom sink for use in the room. Want hot water?--You can get this by microwaving water in the room.
Has WIFI ACCESS, **BUT NOTE**: 10-15 or so % of visitors have a problem logging in; apparently some computers (usually those most recently used in Asia and Europe, but some North American) need some resetting of arcane fields to log in. Sometimes we can help (and "House Manual" contains rec's by prior visitors on settings) but **we can't guarantee being able to figure your computer out**. And sometimes there are systems outages in Boston. Some folks have had to use library/cafe systems—and ~85-90% of folks have no problem at our place.
SORRY, WE *DON'T* PROVIDE…
1. BREAKFAST OR ANY FOOD (the name of this website including '..B'nB' can be a bit misleading--some of the postings do include breakfast but sorry, ours does not--taking away any possibility that our offering might inadvertently stifle your own creativity--so have at it!—use local stores, restaurants and the microwave/fridge/utensils above..) 2. AN ELECTRIC HAIRDRYER (but feel free to use a towel!) and there is no AC but it's on ground floor with window fan, windows can open if you like…(also sometimes there *is* an electric hairdryer in the room or bathroom--feel free to use if there is--but they tend to disappear and then others leave (URL HIDDEN) we don't guarantee...)
2. SPECIFIC ADAPTATIONS REGARDING ALLERGIES/PETS/FRAGRANCES/DETERGENTS AND SUCH: We've had no pets in the rental room or our building entirely for 9 yrs we've been there; are not heavy fragrance users but might conceivably have some. We use various laundry detergents and cannot offer any special detergent/soap/fragrance etc-free experience/environment. If these are issues which you think might be problematic, ***pls simply enquire elsewhere***--there are many great options! To most folks including us, we just don't have any particular odd/noticeable smells where we are, with **folks who have particular sensitivities perhaps best booking elsewhere which can offer guarantees or such**.
3. KITCHEN ACCESS, LARGE COOKING CONTAINERS, SPECIAL WATER SUPPLIES: sorry we're just not set up for those—we just provide individual-type utensils for quick microwave/individual-portion type meals in the room…We ourselves drink tap=sink water; it's much better than most folks in the world have access to. We give a small couple-cup container which visitors use to carry water from the bathroom sink faucet to the visitor(s)' room. No, we don't have filtered water or other water access.

TRANSPORTATION:
WE ARE NEAR HOLMAN AND HOOKER ST INTERSECTION, ALLSTON (PART OF BOSTON) MA 02134 INTERSECTION, FOR TRANSPORT PLANNING
Walking/Busses/"T" (MBTA=Massachusetts Bay Transit Authority=subway/streetcar/tram and bus and train system): Closest T stops are Harvard Ave on "B" Green Line of the "T" (~5-10 mins) in the Allston part of Boston and Harvard Square on the Red LIne (~10-15 min walk) in Cambridge. Busses (64, 66) are 1-3 blocks, others a few more blocks. There are lots of sidewalks for walking.
Biking: Check the internet for rentals; you can lock to our fence if you want (at side of house--ask us for details). We've heard of no thefts nearby but we had one bike stolen by cut lock at Harvard Sq area, and of course can't be responsible if such should happen. *NOTE APPROXIMATELY ONE BIKER DEATH PER YEAR OCCURS WITHIN A MILE/2 KM OF OUR HOUSE--very aggressive auto traffic (compared to some other areas, very mild compared to some other areas...) and bikers unfamiliar with the area all add up to DANGER/DEATH POTENTIAL--WE STRONGLY SUGGEST WEARING A HELMET**
Driving/Vehicle Parking: We're conveniently just off the Allston/Brighton/Cambridge interchange of the "Mass Pike"/Interstate 90; parking is on the street, with no permit required; we've always found a space within a block or so. We're sorry but you can't use our driveway—we're busily coming and going at unpredictable times…
Airplane: While we've yet to add a landing strip or helicopter landing pad right at our property itself (coming soon), Logan--Boston's international airport--is perhaps 60 mins to an hour away by "T", or perhaps $25-$35 ~twenty minute taxi ride if you have a lot of luggage, it's late, you're really tired, or not good at finding your way initially in new cities, etc.
No, we can't pick you up/take you to airport/bus/train etc (actually occasionally we can/do if schedules correspond, but it's unlikely..); one trick is to take Green or Redline stop as above, *then* take a taxi (probably less than $10) which will force taxi to find the address the first time. Just an idea if some assistance would be helpful finding us, perhaps we're not able to respond quickly to your phone call for directions, etc (or nighttime, or language or map-reading challenges, etc...)
Also...ALERT! **CONFUSING LOCAL NAME ISSUES**:
1. STREET NAME SIMILARITY: In BOSTON (separate city from CAMBRIDGE nearby), "North Harvard Street" IS NOT THE SAME AS "Harvard Avenue"--See maps/**be alert!** Both **N Harvard St** AND **Harvard Ave**are near our house!! Other nearby cities have streets with same/similar names!! Consider printing out and USING MAPS available on site or as recommended here (Mapquest etc) once you book with us.
2. "ALLSTON" where we live, is a part of the City of BOSTON (some parts of Boston which joined the original Boston some years after its founding are, like ALLSTON, confusingly sometimes called by their prior independent town names--and sometimes not…). There is no other town/city of Allston in this state.
REFERENCE WEBSITES--Googlable if you like:
1. MAPQ****T: We're near Royal St and Hooker St intersection at US Zip 02134; you can use "Directions" part of site to at least roughly figure out how to get from our place to places you want to go.
2. MBTA (Massachusetts Bay Transit Authority, the "T"--the trolley, train, bus, ferry organization for the area): We're between the "B" Green Line Harvard Ave stop and the Red Line Harvard Square stop as above; busses 64 and 66 are closest.
SOME ISSUES WE'D LIKE TO MENTION, COMING FROM EXPERIENCE RENTING TO A LOT OF FOLKS:
We rent the room itself, and bathroom use. We're friendly and often talk to folks/invite to be with us upstairs, but we've had a few folks kind of move into the whole place and that's not ok. PLEASE **DO NOT** (THAT IS, **do not**) SURPRISE US (AS HAS HAPPENED) BY:
..WALKING AROUND IN OUR BEDROOM AREA CLEARLY 2 FLOORS AWAY FROM THE 1ST FLOOR RENTAL ROOM (as we found one woman doing, saying--"Oh I was just wanted to look around up here"...);
..HELPING YOURSELF TO OUR KITCHEN, UTENSILS, POTS 'N PANS ETC (as one woman recently did, saying, "I guess it's ok!");
..HELPING YOURSELF TO LAUNDRY FACILITIES WITHOUT ASKING (as has happened with one man--"I just have one load" was the disclaimer...) We can likely negotiate clothes washing/drying for folks staying a week or more, but we're not set up for a lot of laundry (including big, multiple loads sometimes people want to catch up on from travelling during just a short stay with us--a very understandable situation, but we'd ask you find laundromat for that).
ISSUES WHICH LEAD SOMETIMES TO COMPLAINTS: Pls be aware of these and simply go elsewhere, for all of our happinesses, if you think these might be problems: We have adult sons/other adult visitors living in the area/sometimes staying with us often; various combinations of us are sometimes out of town for some time, and we sometimes have friends and family staying with us in other rooms, so you may see various folks coming and going. There are others living in another apartment unit in the same building who sometimes need to come into our unit (eg resetting building wifi)--friendly folks also! Note that sons/other family visitors usually use same bathroom as AirBnB guests, sometimes leading to less than 5-star cleanliness ratings, so pls take that into consideration--and we do our best to work with sons on this issue and keep the bathroom as clean as hectic household/teenage male cleanliness sensabilities allow! We've also had a small minority--couple folks--say they've not liked the beds. **If bathroom cleanliness, nicer beds are a very high priority issue for you, **simply stay elsewhere** to avoid any questions!** Other complaints we've had: not giving refund when one guy left early (when we said we'd discuss it, then he said to forget it...; one chap felt the bed was "hot" [bed has plasticy-rubbery mattress cover which we use to keep it clean])
**SO IN GENERAL, IF YOU HAVE OFTEN FOUND PEOPLE OR ACCOMODATIONS LACKING AND NOT UP TO YOUR STANDARDS, IT MIGHT BE BEST IF YOU SIMPLY GET A HOTEL, other excellent local AirBnB place, OR SOMESUCH, AS WE'RE AN IMPERFECT (but not tooo bad!) HOUSEHOLD**
We do our best to be accurate in the posting and helpful in hosting, but we are busy and have not been as constantly attentive as a couple folks have wanted. Do let us know if there are things we need to update here, problems with the room, etc! Pls feel free to ask questions not answered here or Googlable!
*WHEN YOUR RESERVATION IS COMPLETE, PLEASE PRINT OUT AND FOLLOW THE 'HOUSE MANUAL', BE SURE YOU HAVE MAP WITH TO GET TO OUR HOUSE, AND CALL US BY VOICE THE DAY BEFORE--thanks..high volume and this is how we're set up here... : )
We look forward to your messages and to you staying with us!
(Aug '15 update)
Servicios y zonas comunes
Otros aspectos destacables
Things usually go pretty well.. : )
---
Tipo de habitación: Habitación privada
---
---
Personas adicionales: 13 / noche después del primer huésped
Descuento por semana: 14%
Comunícate siempre a través de Airbnb
Para que tus pagos estén protegidos, nunca transfieras dinero ni te comuniques desde fuera de la página o de la aplicación de Airbnb.
Más información
---
The (URL HIDDEN) use of tobacco/smoking/substances of abuse (including alcohol) on the property...quiet during night (you can go in and out as you like, just of course be quiet when we might be sleeping, as we try to be if coming home late when you might be in bed)...tell us a bit about yourself if you like and pls ask us about anything we might be able to tell you about locally/perhaps assist with...contact us when you're here with any questions! We particularly dislike jokes having to do with avocados. : )
Do sign our map of where you're from.
Some more room/house use points:
-> If you need it before we actually meet and show you, the bathroom is upstairs; feel free to get water for your use from bathroom faucet (it's fine to drink here, and in most of the US. Bottled water is rarely different than usual US tap water, with the bottling craze a big drain on resources, to be actively eschewed for the sake of our Mother Earth...).
-> If you need to borrow a towel, there should be some in drawer in the bedroom--or ask us.
-> If the refridgerator and microwave aren't plugged in and you want to use them (we usually when not in use to not waste energy), feel free to plug in and use!
->There are bowls, utensils in the chest-of-drawers in the room for your use;
->Hot water for food/drink in the room: We provide two bowls and cups and a little water pitcher--get yourself some water from bathroom and microwave it! That makes it hot!
-->When 2 people stay: bottom bed pulls out from below; use sidebar to lock in "up" position; we'll show you as you like.
If it's at all possible given specific situation you're in at the time, don't worry and pls be happy!
SOME ISSUES WE'D LIKE TO MENTION, COMING FROM EXPERIENCE RENTING TO A LOT OF FOLKS:
--We rent the room itself, and bathroom use. We're friendly and often talk to folks/invite to be with us upstairs, but we've had a few folks kind of move into the whole place and that's not ok. PLEASE **DO NOT** (THAT IS, **do not**) SURPRISE US (AS HAS HAPPENED) BY:
-->WALKING AROUND IN OUR BEDROOM AREA CLEARLY 2 FLOORS AWAY FROM THE 1ST FLOOR RENTAL ROOM (as we found one woman doing, saying--"Oh I was just wanted to look around up here"...);
-->HELPING YOURSELF TO OUR KITCHEN, UTENSILS, POTS 'N PANS ETC (as one woman recently did, saying, "I guess it's ok!");
-->HELPING YOURSELF TO LAUNDRY FACILITIES WITHOUT ASKING (as has happened--"I just had one load" was the disclaimer...)
Entry--Again, pls call us (by voice, not texting/email etc; we don't pick up when you call?--Leave a message with clear return call info for us from within the US) the day before and we'll tell you where we'll leave the keys in case we're not here when you get here.
You'll come in the initial "30" Royal St one head-on first entry door;
Inside that, there are two unit entry doors. Ours, the one where your room is, is "2" on the right.
So you'll enter the right hand inside entry door, then your room is just immediately to the right, just inside! There's world map on the door.
---
Estricta
Cancela hasta 7 días antes de tu viaje y obtén un reembolso del 50 %. Cancela en los 7 días previos a tu viaje y no se te reembolsará la reserva.
---
Estancia mínima de 2 noches
---
Bill & Baifeng son encantadores, la habitación es bastante espaciosa y se duerme muy bien. La única pega es la ubicación, por la noche y en fin de semana la frecuencia de los autobuses baja mucho y hay que coger un taxi para llegar hasta allí. Pero bueno, por el precio de la habitación comparado con otros te lo puedes permitir.
---
Per the hosts' instructions, I called the day before my arrival. Check-in instructions were easy and clear. A few things to note for future tenants: 1) The bed is single-sized, but there is another single-sized bed that could be pulled out. 2) Roughly 10 minutes walking from Harvard Avenue Station (Green B Line). The walk could be sketchy (dark, over a bridge, empty streets with lots of graffitis) 3) About 2-4 minutes walking to bus stops to Cambridge agrea (Central Red T Line). About 10 minutes for the bus ride 4) Bathroom is clean, but you should bring your toiletries just to be safe. 5) Towels, sheets, and cups are available in the drawers. 6) Overal, I expected traveling around to be more convenient, but it is about the same at other lower-priced listings. Other than that, the place is ok to stay!
---
Massachusetts, Estados Unidos
Se registró en Febrero 2011
Baifeng and Bill (and sons) are Chinese and American, in healthcare (mental health) and education (exchange program development etc). Friendly, busy, welcoming... 15 and 25 y/o sons often in the house...
: )
Idiomas:
Deutsch, English, Español, Français, 中文
Ratio de respuesta:
100%
Tiempo de respuesta:
en pocas horas
Tendrás los datos exactos de la ubicación cuando la reserva esté confirmada.
Descubre otras opciones en Boston y sus alrededores
Más alojamientos en Boston: