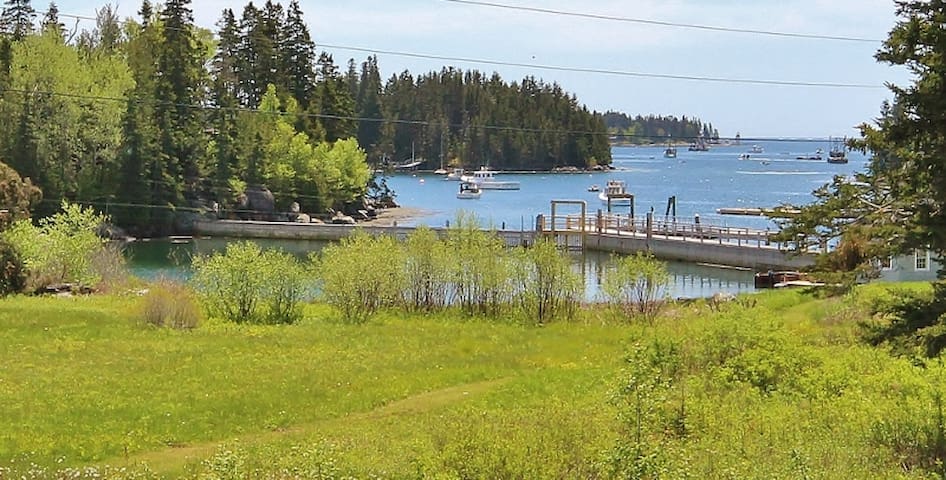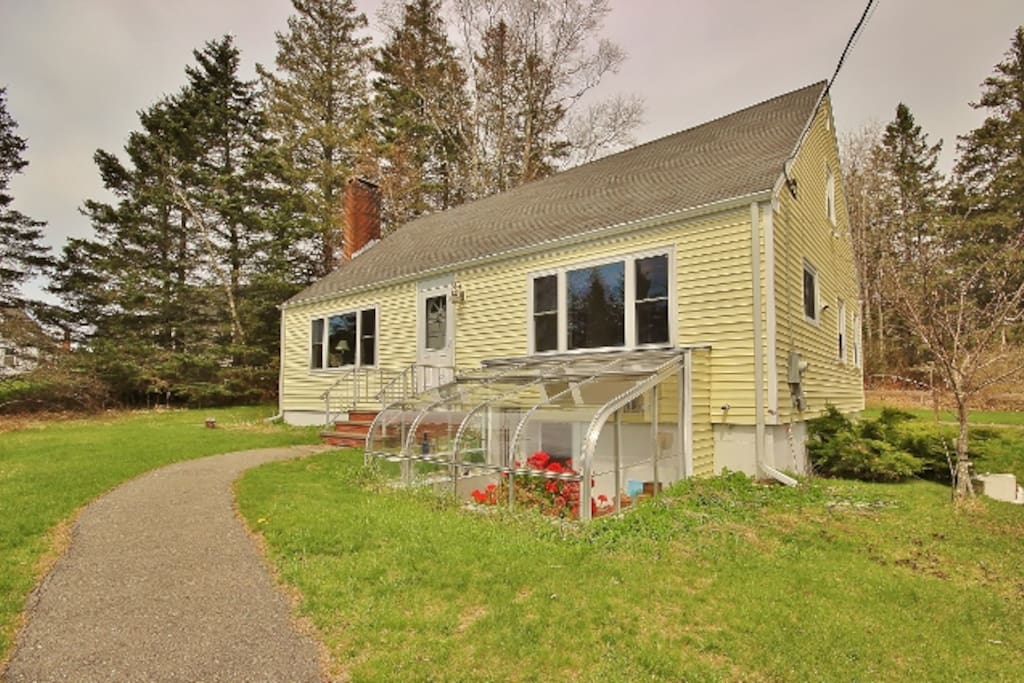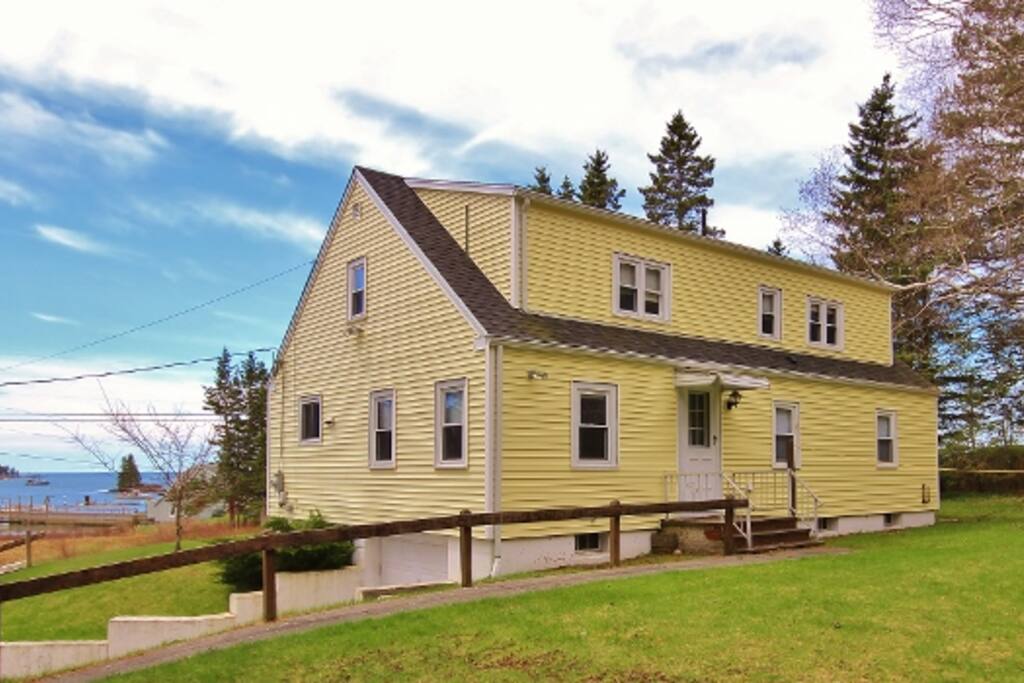 Charming waterview cape on coveted Horse Point Road, walk to village
El alojamiento
Lighthouse Lookout is a darling, neat-as-a-pin house located halfway down coveted Horse Point Road in Port Clyde Village. Horse Point Road is dotted with quintessential Maine coastal cottages and houses and this property, with its lovely views of the Harbor, fits right in.

Lighthouse Lookout is a renovated cape that hasn't lost its classical styling and pays homage to the simple architectural styling of so many Maine fishing villages. The back of the property is bounded by a tall pine trees and the front of the house gives a bold, sunny face to the water view. The walk to the village – with several restaurants, shops, general store and a ferry to Monhegan Island, is pleasant and meandering and sandy Drift Inn Beach is nearby.

The house has 3 bedrooms, 1.5 bathrooms and sleeps 6 comfortably. Furnished with an easy blend of comfortable antiques and stylish modern furniture, the house has hardwood floors and a spacious feel.

The first floor has a bedroom with a queen bed and is located next to the full bathroom. There is a den, with a flat screen tv, at the back of the house and a more formal, but comfortable, living room at the front of the house.

The eat-in kitchen (rooms for 6) is bright, sunny and spacious with modern appliances and plenty of counter space for meal preparation (note: there is no dishwasher)

Upstairs find 2 bedrooms and a half bath – both bedrooms have queen beds.

The property offers wireless Internet, a washer and dryer, a gas grill and outdoor seating.
Servicios y zonas comunes
Privacy level Low (the can be subjective. Please call with questions)

Ocean views

Bedroom 1- Queen-main floor
Bedroom 2- Queen-2nd floor
Bedroom 3- Queen-2nd floor

Bathroom 1-full-main floor
Bathroom- 1/2 bath- 2nd floor

Full kitchen
Gas stove
Microwave
Keurig coffee maker

Washer/dryer
Fans

gas grill

Cable Television
WIFI


WIFI NOTE:SummerMaine recognizes that access to the internet is as important as electricity and running water to most, if not all, people. However, Maine is a more rural state by nature and infrastructure. Accessibility is limited, often unpredictable and unreliable depending on location.
While some properties do have internet connection that is more "modern", many properties are in locations that only allow for DSL or satellite connection which can be slower and at the mercy of weather, whole network connectivity and the like.
Please be aware SummerMaine cannot guarantee the speed or accessibility of the internet at any of our properties during your stay.
Outages of any type are not the basis for a refund. We cannot guarantee repair times or repair person availability.
With that said, if you have certain needs regarding the internet, please let us know and we will indicate the properties providing the service that best meets your needs.

Other:
All linens and towels are provided.
No boats, kayaks or other watercraft are provided due to insurance restrictions. Please contact Port Clyde Kayaks for rental options.

Household Consumables and items: The following items are typically found at the properties to get you started.
-Dishwasher, liquid soap for sink dish washing, washing machine detergent.
- New Kitchen sponge per guest turnover.
- All purpose counter cleaner
- All purpose bathroom cleaner
- Hand soap for Kitchen & bathroom
- Bathroom tissue/toilet paper 2 rolls per bathroom per guest turnover.
- Paper towels for kitchen 1 starter roll
- A few trash bags
- Coffee filters
- Propane or Charcoal for Grill. Grill tools- scraper/steel brush, spatula, tongs, fork. Oven Mitt.


You should plan to bring with you or purchase shortly after arrival:
- Groceries, coffee, condiments
-Some properties will have dry spices and other items. We are not able to inventory these things…if you will want to have something special to cook with we suggest bringing it with you.
-Additional paper towels, toilet paper, paper/plastic ware etc.
-Laundry detergent
-Shampoos, body soaps and other personal hygiene products.
-Beach gear- beach towels, chairs, sunscreen, bug spray, etc.
-Approved pets will need a leash.

-Baby equipment (you can always rent equipment from our friends at Mid-Coast Family Rentals)

Clothing: The weather can change dramatically from one day to the next. You will want to dress for the season. It is best to be prepared. Even in the warmest days of summer the nights can get cool. In the fall it is always a good idea to have a sweatshirt or jacket with you.
Atención a los huéspedes
SummerMaine is only a call or email away if you need assistance. (PHONE NUMBER HIDDEN). We have 24/7 phone coverage for emergencies. Please refer to your properties house book for instructions.
Otros aspectos destacables
N ADDITION TO THE RENTAL AMOUNT the following fees and tax apply
A $160 CLEANING FEE, DOG FEE (if applicable),
9% TAX on Rent, Dog Fees and Cleaning Fees,
A Processing Fee of 6% of the rental amount.
*ALL FEES ARE NON-REFUNDABLE.
*A NON-REFUNDABLE DEPOSIT OF 1/2 OF THE RENTAL AMOUNT IS DUE UPON RESERVATION.

Cleaning requirements before check out: Please leave all used towels in the tub. Please remove all items from the refrigerator and wash dishes. All furniture and furnishing MUST be returned to the original location they were in upon check in. Please bag all trash and leave in receptacle provided.

Check in and out times: Check in is 4:00 PM and Check out is 10:00 AM. Early check in/out is not allowed in the high season. Guests who have not vacated by 10:00 AM will be charged $25.00 every 15 minutes after 10:00 AM.
---
Aparcamiento gratuito en las inmediaciones
---
Depósito de seguridad 876 €
Comunícate siempre a través de Airbnb
Para que tus pagos estén protegidos, nunca transfieras dinero ni te comuniques desde fuera de la página o de la aplicación de Airbnb.
Más información
---
La hora de llegada es a partir de las 16:00
Salida antes de las 10:00
IMPORTANT INFORMATION-PLEASE READ

SummerMaine Properties Rules and Regulations/Terms and conditions are agreed to upon renting this property.
SHORT TERM LEASE OF A COASTAL MAINE HOME
A LEASE made between The Property Owner and LESSOR, acting by and through its Agent, SummerMaine Properties P.C. and the LESSEE.
1. Property Location, Lease Term and Permitted Occupancy:
Lessor agrees to lease the property to Lessee. The lease term shall begin at 4:00 PM on Arrival Date and will end at 10:00 AM on Departure Date. (*Gable Ends, Rose Cottage have a check out time of 9am.)
______(Initial) Lessee acknowledges that they have full and complete knowledge and accept same in its "as found" condition. The lessee will not exceed the maximum number of persons to occupy the premises. Should occupancy exceed the maximum permitted, Lessee may, at Lessor's sole option, be required to immediately vacate the property without refund.
_______(Initial) Lessee acknowledges that they have read the full description on the website regarding what is and is not provided with the property. This includes amenities, maximum occupancy, as well as but not limited to water view, water access if applicable.

Please list all guests: Age

2. Rent, Fees & Taxes:
Total rent, plus an 9% Maine Lodging Tax, a cleaning fee, and a Processing Fee equal to 6% of the rental amount.
Payment, Cancellation Policy: "SUPER-STRICT". When booking with Airbnb please refer to their terms and conditions for payments and cancellation policies. https://www.airbnb.com/home/cancellation_policies#super-strict-60
100% Payment is due upon booking. 50% of the booking is NON-refundable.
Cancellations: Guests must initiate the cancellation- Airbnb will refund 50% of the booking for cancellations made up to 60 days prior to arrival.
All rental amounts and taxes must be paid in full before occupancy. All fees are non-refundable.
No Rental deductions or set-off for weather are permitted.
3. Security Deposit: A Security Deposit of $500 will be held by the booking agency. Damages caused by the negligence of the lessee or their guests will deduct from the security deposit. Damages over the amount of the security deposit will be the responsibility of the lessee and will be due immediately.
IF an emergency calls for fire or medical service is made please SummerMaine when the situation is safe.
4. Breach of Lease:
In the event the lessee defaults by failing to pay make all payments required under this Agreement; permits occupancy by more than the permitted number of persons; or, violates any obligations set forth in the Lessees' obligations as attached then all monies paid shall be forfeited by Lessees.
Please initial both of the following:
___ I am fully aware, understand and accept the cancellation policy of SummerMaine.
___ If I choose to purchase cancellation insurance, I understand that the insurance company holds the policy and SummerMaine does NOT determine eligibility of any claims.
5. Lessor's Obligations:
a) The property will be delivered in furnished condition and with utilities provided at no additional cost to Lessee.
b) Lessor warrants that the premises and all appliances, heating, plumbing and electrical systems are in proper working order and that the cost of any necessary repairs are the sole obligation of the Lessor, unless due to gross negligence of the Lessee.
c) Property will be professionally cleaned and made available for occupancy at Lessee's arrival date and time specified above; however, housekeeping services are not provided during rental period.
6. Lessee's Obligations:
a) Lessee shall use the premises for residential purposes only and agrees to keep premises in good repair, reasonable wear and tear excepted.
b) Lessee agrees to vacate the premises at the termination of the lease term and return key to Lessor in lockbox or to a location as directed.
c) Lessee agrees to adhere to, and follow, the Rules and Regulations of the Property (attached as Exhibit A) Agreement; to be responsible for extraordinary cleaning required to return the property to the "as found" condition: and, agrees that such extra cost, will be the responsibility of the Lessee.
d) Lessee agrees to permit the Lessor, and Agent, to enter the premises to perform necessary repairs and/or maintenance, if notified in advance. Lessee may peaceably hold and enjoy the premises without interruption during the Lease period.
e) If property is rented for more than a month, guests are permitted a $200.00 heating/electricity allowance per month. Any amounts over are the responsibility of the Tenant.
7. Dogs:
______ (Initial) Dogs are not allowed on the premises unless the property has been designated as a pet-friendly property by the Lessor. In order to bring a dog or dogs onto the property, Lessee and/or Lessee's invitees must have prior written approval of the Lessor, pay the required non-refundable dog fee (dog fee is determined by size and age) and execute a Dog Agreement as part of this Lease. Lessor reserves the right to refuse any dog on the basis of breed, size, age, etc.
8. Other:
No sublet is permitted. If the premises should be destroyed by fire, become uninhabitable, or be rendered un-rentable due to physical causes prior to or during the lease period (assuming no negligence on the part of the Lessee), prorated rent shall be returned to lessee.
______ (Initial) No rent shall be returned or prorated for the following: lack of TV reception, internet, cable services or cell phone reception.
______ (Initial) Smoking is NOT permitted in the residence or on the property. All SummerMaine homes and condos are Non-Smoking. This includes tobacco, marijuana, any and all smoking materials, on decks, balconies, docks, etc. The use of all illegal narcotics is illegal. Failure to adhere to this important rule will result in immediate eviction with no refunds or proration of rent. Any damage caused by smoking is 100% the responsibility of the Tenant.
This Agreement and the attached Rules and Regulations, as well as all other Attachments, comprise the whole Agreement between Lessor and Lessee, and all prior written or verbal agreements, understanding, promises, or statements, are merged herein. This Agreement may be modified only by written amendment, signed by both parties.
This agreement shall be interpreted under the laws of the State of Maine.



SummerMaine Properties P.C.
EXHIBIT A
AMENDMENT TO SHORT TERM LEASE OF A COASTAL MAINE HOME
Guest Rules and Regulations
For all properties rented through SummerMaine Properties, P.C. renters must adhere to the following guidelines:
• Check in/out: information and instructions on how to obtain keys to your unit will be emailed to you the week of your arrival. Check-In is after 4:00 pm, Check-Out is before 10:00 am without exception* Guest and Guests' entire party must vacate the property and leave the keys on the kitchen counter by 10:00 am.
We cannot accommodate early check in request or late check outs at any point in the season. Early departures for any reason or at any time are not subject to rental fee proration.
• QUIET USE AND ENJOYMENT: SummerMaine does not guarantee quiet use or enjoyment of the property due to noise from other persons, construction, maintenance, road work, etc. from neighboring properties or municipal areas and will not grant a rebate for circumstances originating outside the property.
• Keys: Most houses are equipped with a lockbox for initial check in – please return the key to the lockbox and use the keys that are inside the property during your stay to avoid lock out. If you lock the keys in the house, there is a fee of $50.00 during regular business hours or $100.00 after business hours for key service. This fee is due at time of service.
• No Smoking: All homes and condos are Non-Smoking. This includes smoking any tobacco, marijuana or other product(s) on decks, balconies, docks, etc. Failure to adhere to this important rule will result in immediate eviction. Any damage caused by smoking is 100% the responsibility of the Tenant.
• Heat, A/C, etc.: Guests are not allowed, under any circumstance, to install A/C units or heating units of any type. This includes floor and window units. If your property is equipped with air-conditioning, please close all windows and doors and turn off the unit when you will be gone for long periods. If heat is needed, please adhere to the same consideration and keep heat to 70 and under.
• Washer and Dryer: If your unit is equipped with a washer and dryer, please use "HE" (High Efficiency) laundry detergent in the washing machine. Also, please check the dryer vent for lint before using and never dry laundry if leaving the property.
• Inclement Weather: During inclement weather, doors and windows must be closed. Because of the salt content of the air and the ability for weather to change quickly, all window and doors must be closed if the house is going to be vacant. Rain damage from windows being left open is the responsibility of the guest and is not covered by the Damage Waiver included in the processing fee.
• Neighbors: Please respect neighbors and others around the property – do not go onto other's property.
• Quiet time: Quiet time should be observed after 9:30 PM – remember, if windows are open loud voices can travel.
• Firepits: Firepits are not allowed if the property is not equipped with one. Guests are not allowed to dig a firepit on the lawn or on beaches.
• Fireworks: Fireworks aren't allowed on the property or to be used in any capacity on the property at any time. Use of fireworks will result in immediate eviction.
• Owner's Closet: Most properties are equipped with a locked Owner's Closet. Please do not tamper with the locks or attempt to open this closet.
• Septic Systems and Wells: Most properties are on private septic and wells and must be treated with care. Do not flush anything but toilet paper and do not run the water unnecessarily. In the dry months, wells in Maine can dry up. Take shorter showers at different intervals, do not run the dishwasher, washer and showers at the same time and limit dish and laundry loads.
• Fireplaces: Some insurance companies do not allow guests to operate fireplaces or woodstoves. Please inquire about individual properties containing fireplaces or woodstoves. No firewood is provided. Guests who use these amenities must be well-versed in proper and safe utilization. Pools, private beaches, quarries, ponds: Guests understand that properties with these amenities do not provide any lifesaving devices, lifeguards, etc. Use of these amenities are at guests' own risk
• Docks and Wharfs: Guests renting properties equipped with these amenities recognize that the use of these facilities is at guests' own risk. If a boat is to be tied up to the wharf, it is the guest's responsibility to determine that the wharf and float can handle the length and weight of boat and that depth of water at high and low tide is adequate for the draw of the boat. This is also true for properties equipped with moorings. Guests hold Agent and Property Owner harmless for any damage caused to the any vessel by use of these amenities.
• Pet Policy: The pet policy is applicable to dogs only – cats or other pets are never allowed. Every pet (even a visiting pet) must be disclosed to (URL HIDDEN) BEFORE your arrival. If you arrive with an unapproved pet you will be immediately evicted with no return of deposited funds. All pet waste must be picked up and disposed of properly, pets are never allowed on the furniture or beds and no wet pets are allowed in the house. All pets must be leashed when outside. Please consult individual towns for beach rules regarding dogs on the beach. You are responsible for researching this information as ordinances can change yearly.
• ______ (Initial) Cleaning, check out: If an excessive amount of cleaning is required (more than 4 hours), the guest will be responsible for extra cleaning and laundry fees. In order to avoid this, we ask that guests, prior to check-out do the following: start a load of dishes, sheets stripped and used towels neatly in the bathroom (not mixed please), remove leftovers from the refrigerator, take all trash to trash cans. All windows are to be closed and locked. In addition to any damages caused due to windows and doors being left unlocked - a service charge of $75.00 will be charged. Keys are to be returned to the location they were at arrival. Keys locked in house will be subject to a service charge of up to $50.00.
• Maintenance: Problems in the home or condo will be handled in a timely and professional manner but are subject to availability of repair people, etc. There will be no refunds or adjustments for malfunctioning equipment.
• ______ (Initial) Damages: damages should be reported to SummerMaine immediately for assessment. Damages due to negligence of the lessee and all associated costs will be the responsibility of the Lessee.
• Phones: Landlines are not always provided - if a landline is required, you are responsible for determining if the property is equipped with one prior to your reservation. No rent shall be returned or prorated for lack of phone service.
• Cell Phone Service: Cell phone coverage cannot be guaranteed and will also be affected by the elements such as fog or location (remoteness from cell service tower).
• ______ (Initial) Internet, Cable/Satellite, DVD, etc.: We DO NOT provide internet, cable television or satellite television support and/or troubleshooting. Login information is provided in the House-book at each house – please consult this book for additional information. Service calls can take as long as a week to schedule, therefore, we cannot guarantee cable and internet. No rent shall be returned or prorated for the following: lack of TV reception, internet, cable services or cell phone reception.
• Forgotten items: SummerMaine is not responsible for items left behind. If items are found and guest would like to have the item(s) returned, the fee will be $50.00 plus postage.
• Mail: For mail and package delivery during your stay, please contact the local post office before your arrival. You may find the contact number for all local post (EMAIL HIDDEN)
• Events: We no longer offer any of our properties for weddings or gatherings of any size. You may not host a reception or any event of any kind (anniversaries, reunions, etc.) at any of our properties.
Exception for check out time: Gable Ends in Port Clyde and Rose Cottage in Port Clyde have a check out time of 9:00 AM. Check in time is 4:00 PM. If you are a guest at these properties, you must adhere to these times.
Lessee has read and understands the rules and Regulations of Renting a SummerMaine Property.

SummerMaine Properties P.C.
---
Detector de monóxido de carbono
---
Estancia mínima de 3 noches
---
We have to say thanks so much to our hosted family. the helped us on the way to the house, and we found an amazing house, beautiful , with all kind of details, and all the things that one can expect for his own house. our expectations were absolutely covered by the house,the property and the town of port clyde in st george we will return soon. thanks again. really.
---
Rockland, Maine, Estados Unidos
Se registró en Agosto 2015
One-on-one attention is a rarity these days. Luckily, at SummerMaine, it is the foundation of our business. So don't expect to get a receptionist or have to press "1" for rentals.

When you contact me, you are contacting a company that truly wants to make your vacation as perfect as possible. As crazy as it sounds, I am as excited about your vacation to Maine as you are!

SummerMaine is essentially a matchmaking service — a matchmaker pairing vacationers with the perfect house to make their vacation just right. If one house isn't the right fit for your needs, I will help you find another that is.

After you find the house, look to SummerMaine to be a guide to the area. Want to eat a lobster dinner on a dock or take in a world-class concert? How about a ride on a lobster boat or a day at the spa or the perfect place to have a picnic? Just ask...I'll point you in the right direction.

The reason SummerMaine is so good at this? I love Maine — after all, I was born and raised here and ultimately made to decision to return after 10 years of living "away."

Being brought up in the small community of Tenants Harbor gave me a unique view of the world which has been enhanced by the opportunity to explore places outside of Maine's borders. I enjoyed everywhere I went but, after all, there is no place like Maine! I know why people want to come here, to vacation here and to be part of our unique way of life — whether it is for one week or the entire summer.

The Midcoast area is such a special place. The feeling you get here is about more than being on vacation. It is about an experience and an escape for family and friends. I believe in the absolute joy of spending time in Maine and that's why I love this business.

I love sharing a place I cherish with people who may have never experienced its pure simplicity and welcome back those who have already fallen in love with it.

SummerMaine is Maine and SummerMaine is where your perfect vacation starts. We look forward to making you vacation a memorable one!

See you this summer,

Fletcher
Ratio de respuesta:
90%
Tiempo de respuesta:
en el mismo día
Descubre otras opciones en St George y sus alrededores
Más alojamientos en St George: