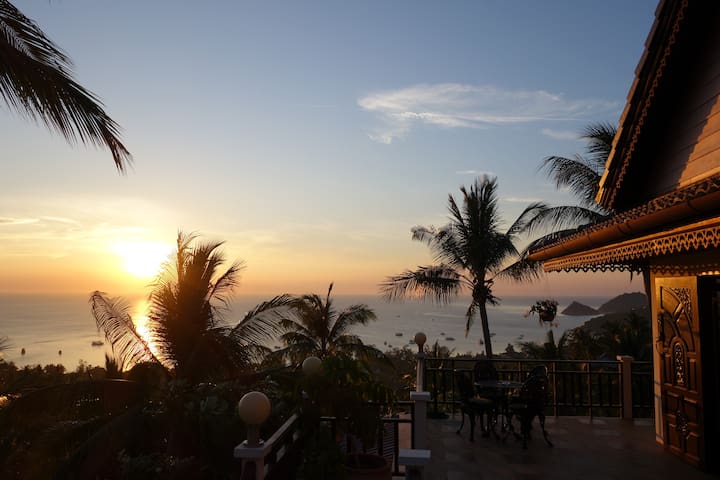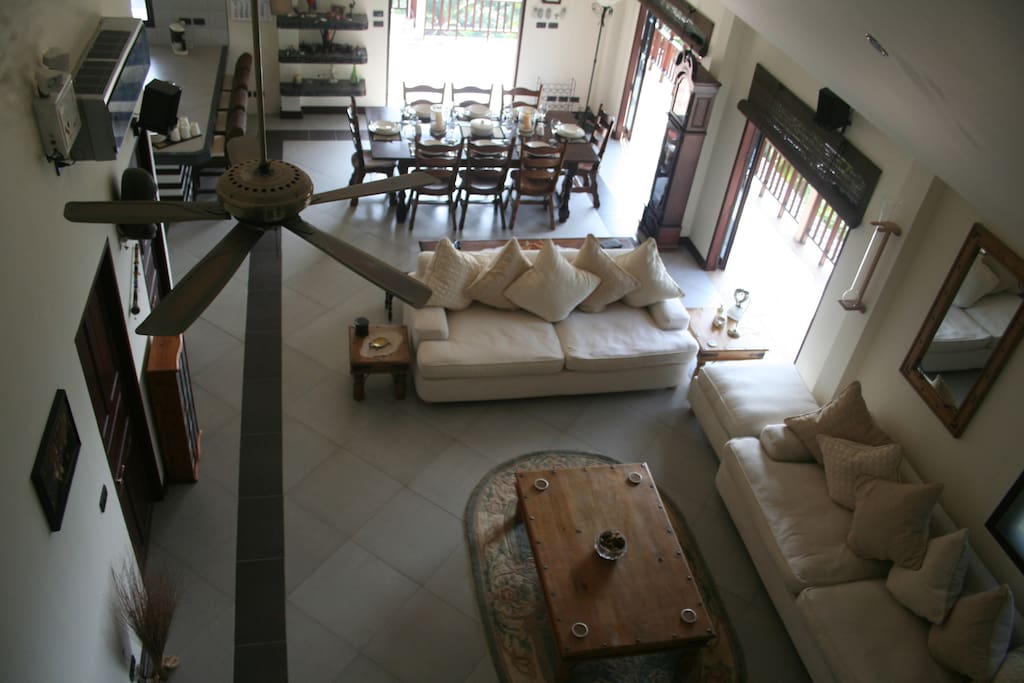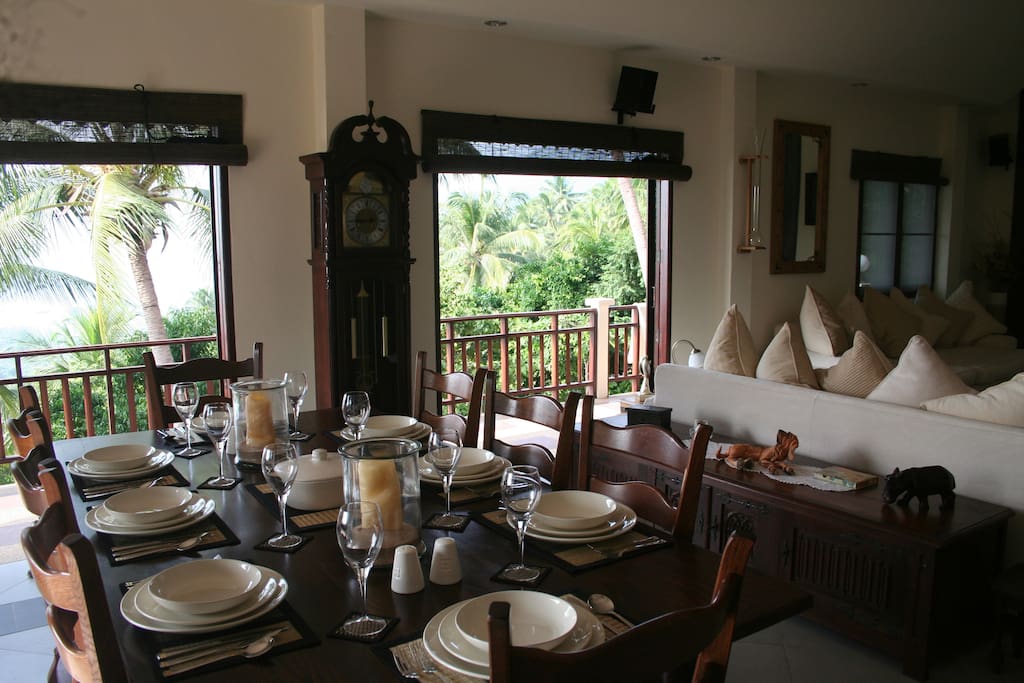 Información sobre este anuncio
Our Penthouse apartment is truly a one-off property on Koh Tao. Its vaulted ceiling and open plan design are instantly striking, giving the sense of space and light, and its panoramic views of Koh Nang Yuan, and the Gulf of Thailand are spectacular.
El alojamiento
Koh Tao Star Villa is a modern villa nestled in jungle clad hills overlooking Sairee Beach, the longest and most popular beach on Koh Tao. It enjoys a superb location, near the end of a private road, giving you peace & isolation, and very easy access to Sairee Beach where there is a huge variety of bars, restaurants and clubs to suit all tastes. We provide a free taxi service to/from Sairee Town up to 10.30 at night and the use of a mobile phone for your convenience.
Koh Tao Star Villa blends Thai architecture with western concepts to produce a sophisticated living space in a tropical jungle setting; and by integrating indoor and outdoor spaces we have made the most of its elevation (about 80 meters above sea level) and the geography of the area to provide naturally cooled accommodation.
Perched on the side of the hill, Koh Tao Star Villa is overlooked by a huge granite boulder and there is a temple just behind the villa. The Penthouse has nearly 200 square meters of living space providing ample room for up to 6 people. There is an open-plan living/dining/kitchen area; 2 bathrooms (one en-suite), two fully furnished, air conditioned bedrooms with king sized beds; a library on the mezzanine floor; and a large wrap-around west facing terrace. Add to this some high quality Yamaha audio/visual equipment, free Wifi, stunning panoramic sea, jungle and sunset views and customer service that goes "the extra nine yards" (including our free taxi service till 10.30pm) and you have an amazing place to stay on Koh Tao.
The Penthouse at Koh Tao Star Villa is designed for 4 people but can accommodate just 2 people at discounted rates (please enquire).
It can also accommodate 6 with an extra mattress set up in the library on the mezzanine floor. For the sake of clarity, the mattress is a queen sized inflatable mattress supplied with linen, pillows, extra towels and dressing gowns; this would be located in the library. Please note that this room is not air-conditioned. It does have floor standing fans for cooling but there is no air-con. The air-con units in the bedrooms are designed for and are the right power to cool the bedrooms only. They cannot be used to cool the whole Penthouse. Please note that there is an ADDITIONAL charge (1,000 baht per night) for the supply of the extra mattress. The price quoted by Airbnb is for 4 persons only. This additional cost is payable in Thai Baht (cash) at check-in.
Servicios y zonas comunes
Please note that Star Villa is on the side of a hill and as such there are many stairs and it is not suitable for the elderly or persons with walking difficulties. For this reason, we also do not take children under the age of 10.
There is a games room at Star Villa with a professional quality pool table, darts board and assorted board games.
The two one-bedroom apartments at Star Villa share a huge terrace. We do ask that you respect the privacy of the guests in the other apartment and do not treat the whole terrace as your own.
Atención a los huéspedes
We (Alan & Heidi) are available almost all the time to give you any help that you need including hints and ideas for places to see, things to do and places to eat/drink.
Otros aspectos destacables
Please note that the Penthouse at Koh Tao Star Villa is designed for 4 people but can accommodate just 2 people at discounted rates (please enquire). This special offer is for 2 people sharing one bedroom - the second bedroom (and en-suite bathroom) will be closed off.
---
Llegada: A partir de las 14:00
Tipo de habitación: Casa/apto. entero
---
---
Personas adicionales: Sin cargo
Descuento por semana: 10%
Comunícate siempre a través de Airbnb
Para que tus pagos estén protegidos, nunca transfieras dinero ni te comuniques desde fuera de la página o de la aplicación de Airbnb.
Más información
---
La hora de llegada es a partir de las 14:00
This is a copy of our House Rules:
At Koh Tao Star Villa we are committed to providing you with first class accommodation and service and in return we ask that you respect our beautiful villa, its contents, the surrounding environment and fauna and flora of Koh Tao. We do everything we can to help preserve the fantastic nature and beauty of Koh Tao and we would like to ask for your help in this matter. Koh Tao does not have fresh water mains or sewers so all waste has to be managed, therefore, to all these ends, we require all our guests to follow these simple, common sense, 'house rules':
- Fresh water is a precious commodity on Koh Tao (we receive far less rainfall than elsewhere) so please be 'conscientious' with its use especially if you do any hand washing and please use the washing up bowl provided when washing dishes as this also reduces the amount of water used. Please never leave the tap running when washing up or doing laundry.
- Our toilet waste systems cannot handle toilet paper or ladies sanitary products, please dispose of these in the bin next to the toilet.
- No items – crockery, knives, forks, towels, dressing gowns etc., are to be removed from your apartment.
- Beach towels are provided free of charge. Please do not use our white towels for the beach. If you need any other item for any reason please just ask - we are sure we will be able to oblige in some way.
- There is a clothes horse provided for the hanging of wet items, please do not hang any wet towels/clothes etc on the furniture, wooden doors or leave on the bed. With the humidity here things go mouldy very quickly if left damp.
- There is a 'recycle' bag provided in the kitchen. Please use this bag for unwanted plastic/glass bottles, tins, cans, plastic bags and cardbord.
- Do not put used batteries, aerosol cans or broken glass in the bin – please leave to one side, we will handle these separately for you.
- Unlike some places, we do not use "electronic key fobs" to turn the electric off when you leave the apartment so we do kindly ask that you turn all electrical items off when leaving the apartment (particularly air-conditioning) except your outside lights, where we recommend that you leave these on when going out for the evening as it does get very dark up here on the mountain. But please turn them off when retiring for the night, this will also keep our neighbours happy. If the lights on the stairs are off when you return home you will find the light switch at the bottom of the stairs below the "Koh Tao Star Villa" sign.
- The bedroom(s) has air-conditioning for you to use should you so choose to, but please turn it off when you are not using the bedroom. They are not however, big enough units to cool the whole apartment. When using the air con please close all the bedroom windows and doors.
- Please ensure that all external doors and windows are always secured using the latches provided – the wind can pick up in seconds and replacements are costly.
- No smoking inside the apartment. Please always dispose of cigarette butts responsibly wherever you are on the island. An empty can or bottle will serve as an ashtray until you can dispose of them or bring them back to the Villa where we can dispose of them for you.
- Please be particularly careful with creams, oils, suntan lotion and cosmetics. These are not easily removed from towels, bedding and particularly furniture cushion covers. If we are unable to clean an item we will have to charge for specialist cleaning on Koh Samui or charge for replacements. There are packaged cloths for you to use for wiping suntan/cosmetics etc. from your hands or face. Please feel free to use them.
- Please do not encourage the animals into the apartment.
- All damages, breakages and missing items will be charged for.
- Please note that check-out is by 10.00am.
-
Please note that if your booking is for more than 4 persons, then there is an ADDITIONAL charge (1,000 baht per night) for the supply of the extra mattress. The price quoted by Airbnb is for 4 persons only! This additional cost is payable in Thai Baht (cash) at check-in.
---
Estricta
Puedes cancelar hasta 7 días antes del viaje y recibir un reembolso del 50 %, más las tarifas de servicio.
---
Detector de monóxido de carbono
---
The stay at this house was very unusual. We were told that the furniture is not to be used. Everything was covered with "sheets " and they immediately showed us the pricelist for stains on the furniture , sheets and towels etc. we weren't allowed to even hang our t-shirts on the kitchen chairs. We weren't allowed to use our own sunscreens because they could stain the sheets so they provided us with their own sunscreens. We weren't allowed to lye on the sofas because they told us we have dirty feet.we weren't allowed to play pool after midnight because they said we were to loud and having a party, wich we were not. When we were out or sleeping they used to come in to the house and turn off lights & aircon and "check on us it felt like we were teenagers living at home with strict parents. The have air conditioner in the livingroom but it's not switched on, cause it takes too much electricity. That was not so comfortable especially when we hade a guy sleeping in that area on a inflatable mattress and we hade to pay 1000baht extra for that / night. The view was nice & drinks in the fridge was good priced.
Thank you Daniel for taking the time to give us your feedback. We try very hard indeed to make sure that people know what they are getting before they book Koh Tao Star Villa. We are as honest and 'up front' with our room descriptions as we can be and this is backed up by the communication that we have we guests. We believe that this is the only way to be - nobody wants surprises when they turn up at their chosen place to stay. The 'sheets' that cover the sofas are purpose made, heavy fabric 'throws'. They are there to protect the sofas because, although the sofa covers are washable, they are a major pain to take off, wash and replace so we do our best to protect them with throws that can be easily cleaned. I am sorry if you felt this was a negative point. Most people think nothing of it. You will notice that the maximum number of guests that the Penthouse holds matches perfectly with the beds available. This is because we specifically do not want people sleeping on the sofas - it is a very simple matter to change the linen on a bed but, as we said, it is a very difficult matter to change the sofa covers. Nobody mentioned anything about 'dirty feet'. Yes, we do state very clearly 'only the bedrooms have air conditioning (it cannot be used to cool the whole apartment)', so why do you think that there will be air conditioning units available to use in the living room? And yes, for the extra person (over and above the 4 that the Penthouse is designed for - it has two double bedrooms), the cost is 1,000 baht per night for the inflatable mattress. Again, this is in the room description and it is repeated in our first communication with yourself as is the fact that that room (the library on the mezzanine floor) does not have air conditioning. Sunscreens are a big problem for us so again we try to be as up front as we can be. Nobody wants stained sheets and towels when they stay in a nice place and the ultra waterproof type of sunscreen are not washed off in the shower and turn our white sheets and towels yellow and these stains cannot be removed (the labels normally say something to the effect of 'may permanently stain fabrics'). So we, rather generously, say that if you have this type of sunscreen, we would prefer that you use sunscreen that we provide you free of charge in order to prevent this kind of damage. IF you still wish to use your super waterproof sunscreen and it damages our linen, you will be charged for it. And we provide a list of prices. A very fair and honest approach we think. Nobody said you could not use your own sunscreen. Screaming and shouting whilst playing pool till 6am is NOT acceptable. Again, we are very clear on this. Remember our statement: 'please note that Star Villa is not a party pad. It is a place of peace where our guests can escape from the noise and heat of Sairee'? You completely ignored the fact that we had other guests and you then went on to explain that you consider a party to be 50 people running around shouting with music played at massive volume and that your behavior did not constitute a party. Though your companions did understand the distinction, you preferred not to. I would suggest that you consider things from a more 'average' perspective in future. Come in to turn the aircon off whilst you were sleeping?? Another fabrication. However, did we turn off the lights, fans and aircon whilst you were out - of course we did. Why would you burn fossil fuels (Koh Tao has electricity thanks to Diesel generators) running these things when there is nobody there to benefit from them? That is crazy. You are familiar with the issues facing this planet in relation to fossil fuels I hope. Also, please bear in mind that leaving a common area (the games room) looking like a bomb has gone off it not acceptable to most hosts. Thank you for raising these points so that future potential guests understand where we are coming from. Particularly the sunscreen issue as so many travelers are unaware of the issues with these and arrive here wondering why half of their holiday wardrobe has been ruined.
---
I had a chance to spend the day relaxing by myself and the penthouse was perfect for this. Doors open to let in the breeze and soak in the 100km views. Feet up on the couch, pay tv keeping me entertained and a cold beer in my hand was the ultimate therapy for my travel weary legs. Alan and Heidi took me out for dinner and drinks and I got to see how the locals live it up, play soccer pool and sit right on the water line with some of their friends . All in all a thoroughly enjoyable experience and I'll be rebooking on my next trip over.
---
The place was in a great location and very nice. Very clean and well kept. Alan and Heidi were quite helpful but had a lot of rules in place which can take away from the experience at times. Alan was also a bit passive aggressive at times and was very insistent on getting money from us and wouldn't wait until the last day.
Pranit. Thank you for your review. Yes, you are quite correct the place is very clean well kept. It is like that because we ask our quests to respect it and that is why we have (pretty standard) house rules. I would suggest that if you wish to carry on using Airbnb and staying in people's houses, that you try to understand why they have those rules and to respect them. If I came across as 'a bit passive aggressive at times', I would suggest it was more a display of restrained frustration with the way you and your friends were treating our property. As for the money, this was for the extra 2 persons staying (over and above the standard 4 people in the Penthouse). Please read our property description again. It says: 'Please note that there is an ADDITIONAL charge (1,000 baht per night) for the supply of the extra mattress. The price quoted by Airbnb is for 4 persons only. This additional cost is payable in Thai Baht (cash) at check-in.' This was also repeated in my first communication with you. This small amount was not paid at check-in and I did not ask for it at that time, but I did end up having to ask for it more than a couple of times since it would seem that the 6 of you never had 3,000 baht between you at those times?? Please consider staying in standard hotels in future.
---
Tailandia

·

Se registró en Septiembre 2014
Originally from the England, we (my wife Heidi and I) have lived on Koh Tao since December 2006. We love our life meeting new people and helping them to get the most out of their stay on Koh Tao.
Ratio de respuesta:
100%
Tiempo de respuesta:
en el mismo día
Tendrás los datos exactos de la ubicación cuando la reserva esté confirmada.
Descubre otras opciones en Ko Tao y sus alrededores
Más alojamientos en Ko Tao: