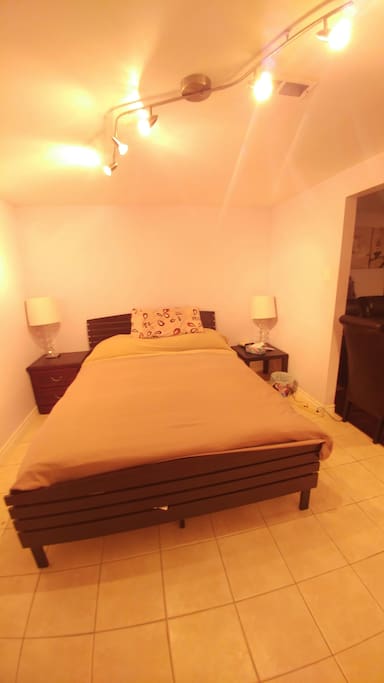 Well furnished cozy large spacious room with $9000 worth of stuff-bedroom&entertainment area with high-end 4K TV.Very clean&air care,own kitchen,laundry facilities,Keurig2,1Gbps WiFi,many TV chanels&AirPurifier+Heater.Little to no traffic noise.The bed has $1000 memory foam mattress&luxurious feather duvet.Bacon,eggs&much more food included,you can prepare yourself breakfast,meals,snacks for a few days.Smoke-free scent-free home,but you can have air fresheners.Old 2016 YouTube video fReJQs-yLf4
El alojamiento
Well furnished cozy large spacious (22ftx14ft) room - includes a bedroom area and an entertainment area. A portable single sized bed is available for the children/second adult. Watch the YouTube video fReJQs-yLf4 (taken before Airbnb-enabled luxury added) for a complete tour of the space you will experience in the house; alternately, you can search YouTube for "22ftx14ft" (copy and paste in the YouTube search bar. Sorry, Airbnb does not allow links.) (IMPORTANT: Take caution with watching the video on your phone if you are on a limited or expensive data plan!!!)

Half the earnings from the room are reinvested into things for guests. As such, your stay in the room helps improve your and others' future stays in the room. Currently, the room contains $9000 worth of stuff, and this does not include the value of items in the kitchen and other areas. Next planned purchases for my guests: Kindle Oasis and Paperwhite ($600), 3-D printers ($1300 and $4000), Roomba ($1300), wifi lights, more home automation, more outside solar lights, more Perplexus games, security cameras.... All will be bought new from retailers for the benefit of the chain of companies involved with their production and sale.

I believe you will want a very sanitary place, so you will feel at ease making it your own during your stay. This is why I put a ton of effort and expense into thoroughly cleaning your place from top to bottom before you arrive. I use powerful machines capable of cleaning many times more effectively than hand tools; in particular, the machines are a germ killing steam cleaner, three different purpose vacuums, and an uncompromising two-head scrubber. I also recognize cleanliness goes beyond the seen to include the air as well. I try to improve the quality of your stay by having the air continuously filtered or exchanged with outside air.

You will use a shared bathroom with a strong 110 CFM bathroom fan containing fun high quality bluetooth speakers. It is shared with the male co-host, who stays in the room next door. The fan is controlled through a manual and WiFi switch, which means you can turn the fan on and off from anywhere through your smartphone or simply by pressing the switch. The fan can also run on schedule, which it is currently set to have the fan run a few minutes during each nighttime hour (7 PM to 7 AM) so the air stays clean during the night; however, during mild weather days the fan is kept constantly on to keep the air always pleasant and fresh, but you are free to control the fan as you like.

(Note: Photos will be updated, but the video will NOT be updated. The video shows the simple place before the added luxury from Airbnb earnings, while the photos reveal a lot of the currently available and frequently added goodies. Also, not shown on the video are the newly installed safety hand railings on both sides of the 8 step stairs to the basement.)

A Dyson Pure Hot+Cool Link allows you to continuously monitor the air quality, temperature and humidity of the room, while using it to keep the room's temperature and air pleasant for you. The fan plus air purifier plus heater is top of the line, costing $800. It is packed with technology helping reduce allergies, reduce disturbing noise during operation, and distribute air using the latest most effective methods. You can control it with its own dedicated remote, or with the Dyson Link app via WiFi.

The Dyson Pure Hot+Cool Link is complimented by a highly rated humidifier, an indispensible friend during the cold dry months. The PureGuardian H 1250 CA Hundred-Hour Ultrasonic Cool Mist Humidifier in your room will mitigate the problems dry air causes, such as, dry flaky skin, aggravated cough and cold symptoms, accellerated wear down of things, and high static electricy. It helps improve your health with better breathing and better sleeping. The PureGuardian H1250CA provides features, such as, smart mist sensor monitoring the humidity level, humidity releasing to a specific humidity level, Silver Clean Protection fighting the growth of slimy mold and mildew in the water tank, having a soft-glow "on-off" night light, directing the mist in various ways, and being one of the quieter humidifier. Please, use only distilled water with the humidifier. Distilled water will help prevent the growth of bacteria and water scales in the water tank, as well as prevent particulates being spewn out into the air. You are given enough distilled water to operate the machine for the duration of your stay.

The room has a $1000 high-end 2016 model 43" 4K LG UHD TV (43UH6500), one of the most popular and highly rated 2016 TV's. It is an IPS display, and sports the webOS 3.0 Smart TV platform for accessing Web platforms like YouTube. Other features include ColourPrime for enhancing the colour by more than 10%, Ultra Surround sound for extremely good audio, 2 HDMI ports and 2 USB ports. Currently, it receives thousands of channels from around the world through an IPTV service, 66 channels through Bell Fibe TV, an antenna signal with 11 excellent channels having crisp HD images, direct connection to the Internet, a Netflix subscription with access to 4K-quality video, and a signal to it from your phone or laptop for you to expand your viewing options and take advantage of its features. (A 12ft HDMI 2.0b cable is available, so you can connect your computer to it with a 4K signal. Also, to be more clear, the IPTV has English, European, Spanish, Russian, Chinese, Arabic, Indian, and channels of many other regions and languages, along with specialty channels, such as, sport, movie, and adult entertainment channels; you can enjoy all the cultures and television genres in the world from your seat.) The 1 Gbps Bell Fibe Internet provides enough bandwidth for you to watch your high-resolution TV content, while still allowing everyone in the house to use the Internet at full speed with their phones or computers. I can order additional Bell Fibe TV channels, movies, services (e.g., CraveTV), PPV and VOD items, for you for a price equal to their cost plus a fee, which will help pay for upgrades to the entertainment systems provided to my guests; the fee being $4 for each of the first four orders, and $1 for each of the additional orders.

The TV is connected to a 2017 NVidia Shield TV. It runs on the Android system, but it is not your ordinary Android box. The NVidia Shield TV is made by the leader in graphics hardware, giving it 256 processing cores and 3GB of RAM, making it three times faster than the closest competitor. Not only can it show 4K, but it can show 4K with the best colour (4K HDR)! It is also packed with cool features, such as, Go ogle Voice Search, headphone jacks in controllers, touch sensitive controllers, and support for the Android TV app. A GeForce Now subscription is added, so you can play tens of games for free. The games are rendered using NVidia's latest technology at its facilities, giving you the best visual experience. Three game controllers are provided, so you can play with your companions. Also, connected to the NVidia Shield is the $130 Logitech K830 media keyboard, which has an ergonomic design, sensor illuminated keys, a track pad, Android support, sweet key pressing experience, and many built-in functions. If you find it inconvenient to use a keyboard of that size, you can instead use the $25 highly rated and personally tested Tripsky P3 remote, which operates via WiFi and has a backlit feature, an air mouse, a media-buttons side, and a mini keyboard side.

Two Go ogle Home devices plus one Go ogle Home Mini device are arguably the funnest things out of everything included. You can ask them anything verbally, and get instant answers or responses. This is new age technology, enabling relevant information to come at you in a constant stream with practically no effort on your part. You literally do not have to move a finger to get things done or discover new knowledge. Some of the other particular things you can do with it is play music, turn on or off the bathroom fan, set alarms or timers, play games, and listen to specific radio stations. All you have to do is say, "Hey Go ogle" or "OK Go ogle," and get started. One Go ogle Home is placed in your room, and another is placed in the bathroom. The Go ogle Home Mini is placed in your kitchen.

You will have three or more accounts of Spotify premium to log into during your stay, one for you and one for each of your companions. Spotify premium provides best quality streaming of songs. You will have a collection of over 30 million songs to choose from, meaning practically every song ever recorded. Additionally, playlists to suit your tastes, and also radio stations, are available through Spotify. You will definitely notice a quality difference between music streamed through Spotify premium and freely available platforms, such as, YouTube.

A Canadian texture premium subscription is made available to you and your companions for the duration of your stay. With it, you have access to over 200 magazines in circulation, through your smartphone. The most recent magazine issues, along with past issues, are accessible. You will have endless exciting reading material during your stay.

Four Sphero's provide you some excellent entertainment. The remote-controlled balls are maneuvered with your finger using your smartphone, finally giving you the power to control something the way you want to in real time and space. You can make up challenges to do with them, played just by yourself or yourself and your companions. The Sphero SPKR is also programmable in such a way that you do NOT have to have prior programming experience. The Sphero versions available are the SPKR+, 2.0, Star Wars BB-8 with Star Wars force band, and the golf-ball size Mini.

Five extremely enjoyable Perplexus 3-D mazes are also provided, namely, the Star Wars Death Star, Epic, Warp, Original, and (now discontinued) Twist versions. Perplexus puzzles exist in clear plastic globes. You will have to maneuver a steel ball through a series of paths with hundreds of obstacles and challenges, and you will often be delighted by the genius of these masterpieces. It will take eye-hand coordination as well as a good amount of dexterity to reach the end of the mazes.

You will have two cool Boogie Boards, the Sync and the Dashboard, to write and doodle endlessly. A Boogie Board is epaper, which can be drawn on and erased an unlimited number of times. The higher end Boogie Board Sync has the useful added functionality of being able to wirelessly transfer your drawings to your smartphone or computer. An additional cool factor is the "live draw" functionality of the Sync. With it you can turn the TV into a whiteboard (simply beam your smartphone's screen, which is displaying a replica of the Boogie Board drawing through the live draw functionality, to the TV.) The Boogie Board Dashboard lacks the drawing transferring ability of the Sync, but you can still lose yourself contently doodling for many hours with it. Both are the same, tons of fun.

You will be given one package of each uncooked eggs, pancakes, and bacon. The kitchen fridge and everything in it are yours. Sometimes the fridge will have extra stuff in it for you. Some bread, instant noodle packages, macaroni and cheese boxes, bottled water, cans of tuna, canned meat, pasta, different flavoured tomato sauces, instant rice packages, packages of microwave popcorn, a few slices or a piece of cheese, frozen vegetables, four pieces of fruit, instant oatmeal, sausages, and a bag of homo milk will also be available to you. Condiments, spices, coffee, tea, and oils are available as well. You may cook in the kitchen anytime, day or night (please use the exhaust fan regardless of time you are cooking.)

Other or more items of food (e.g., milk, cereal, potatoes, onions, flour, and whatever else is not in your kitchen) already available in the house can be provided for a reasonable price.

Inside the room is a coffee station at a corner, containing:
-a Keurig 2.0 K500 coffee machine (see YouTube video TluIHvH2DW8)
-At least 10 complimentary Keurig pods, usually of 10 different flavours
-a coffee maker
-coffee
-coffee mate
-sugar
-$120 electric (corded) milk frother (in kitchen)
-paper coffee cups,

so you can drink coffee to your heart's content. You can buy Keurig pods of your liking, individually, from nearby Johnvince.

In addition, two Table Mate tables and two lap desks are available, so you can use your laptop or smartphone, or eat your food comfortably while sitting anywhere.

A quality cloud-connected motion-activated high-definition 10" digital photo frame is available for your use. Originally, the images on it will contain various information you should know about your new place, but you are free to remove and add images to it according to your desires, or shut it off if you don't like it. You and whoever you want can set images on it easily with the FitzFrame app for smartphones (you are provided with the login information, which you can share with family, friends, and so on.) You can also set images on it through the NVidia Shield TV in the room. It is a fun little addition to the room, which can help you stay connected with the important people in your life or customize the room a bit more to suite your style. The frame only turns on when it detects someone's presence, almost any place in your private living room.

Up to two kids under 2 years old may accompany you for free. Sorry, but due to safety concerns in terms of the room's furniture, kids between 2 and 10 years old cannot be accommodated.

The room features a $1000 memory foam queen size mattress. Your cover is a super cozy and warm feather duvet. For your head cushion, you can choose between two feather cushions, one foam cushion, one king size regular cushion, and one normal size regular cushion.

Bookings are enabled in such a way that the maximal amount of time between bookings is available for upkeep and enhancements. Two days before and two days after a booking are not allowed to be booked, so work can be done on the place. At least 10 hours of work is invested in each booking, 7 hours for cleaning and 3 hours for configuration.

I give my place an 9 out of 10 rating for cleanliness. The following is performed for each booking, regardless how clean things appear after the previous booking and the length of the previous booking:
-The majority of surfaces, especially the ones where human contact can occur, are sprayed with very hot pressurized steam from a Homeright C900053.M Steam Machine, which promises to kill 99% of all bacteria. Some surfaces, like bathroom facilities, are scrubbed while being steamed.
-The couches and chairs are air vacuumed, steamed, scrubbed, washed and wet vacuumed, sometimes one or more of them being performed more than once.
-Everything is carefully inspected for dirt.
-The bed sheets (even the two covers of the feather duvet) are replaced with clean ones.
-Micro-particles in the mattress are sucked up with the Dyson V8 vacuum.
-The mattress has two water-proof covers, and both are washed separately after every guest.
-Each head cushion has two covers.
-The bed frame, including the headboard and footboard, is cleaned.
-The couch cushions are washed.
-The kitchen and bathroom are cleaned thoroughly.
-The towels are washed twice, first the clearly used towels are washed using a stain-removing detergent (not all stains can be removed, unfortunately), and then the used towels are washed again along with the unused towels using a fragrant-free dye-free skin-friendly detergent.
-All laundry is dried for at least an hour in a drier, which should heat-treat the laundry and blow out debris and loose fibers from everything.
-The bath mats are thoroughly rinsed, and then washed in the laundry machine.
-The cushioned toilet seat is an economic toilet seat replaced every other month due to various afflictions, including getting stained, discolored screws, and scratched by my cat.
-The small kitchen and bathroom towels for wiping are washed or replaced.
-The scrubs or sponges for doing the dishes are replaced.
-All the items at the coffee station are wiped, washed or replaced as appropriate.
-All the items in the entertainment station, contained on the boxed shelving structure of your private living room, and the shelving itself are thoroughly cleaned.

The air is kept clean as follows:
-Using the Dyson Pure Hot+Cool Link, which is top of the line in air purifiers.
-The bathroom fan is scheduled to turn on often, especially during the night, allowing stale air to be drawn out and new air from outside drawn in.
-The highly rated PureGuardian H 1250 CA Hundred-Hour Ultrasonic Cool Mist Humidifier is especially useful during cold dry weather, helping make the air comfortable to breath, more skin-friendly and just more friendly to everything. Please, use only distilled water for the machine. I will give you the distilled water.
-During good weather, almost all windows are opened. Windows are present all along both the basement and upstairs levels of the house, and the upstairs level has huge windows.
-The furnace is equipped with the highest quality air filters on the market, which are at least as good as the filters of air purifiers. They capture dust, pollen, mold spores, bacteria, and more.
-The furnace air filter is inspected at least once a month, and changed as needed, which is oftentimes much sooner than the recommended change time stated on the packages.
-The house has many indoor plants of all types.

Also on the subject of cleanliness, the kitchen sink is practically free of yukky mold and so is the bathroom shower. I would, personally, have no problem enjoying any area of your living space.

Note that scent-free dye-free skin-friendly detergents are used for washing bed things and wiping the room's surfaces, except on the rare occasions we are currently out of such detergents and except for mopping the floors.

The bathroom contains a complete setup. Stuff included: liquid soap for washing hands, extra toiled paper, hair dryer, paper towels, scissors, shampoo, body wash soap, and a small digital watch. The cushioned toilet seat is exclusively yours, and is thoroughly washed after every guest (feel free to clean it yourself as often as you like.) A just-washed large hand towel is provided in the bathroom, also for your exclusive use. The toilet has a dual-flush system, one flush for solids and one flush for liquids, which can be useful sometimes.

A state-of-the-art 2016 model $800 Dyson V8 Absolute vacuum is available to you in the laundry room for performing cleanups. A 6.5lb (2.61kg) light cordless vacuum, the Dyson V8 is 150% more powerful than the previous extremely popular V6 model. It features quieter and longer operation. The vacuum also has independently operated motorized floor heads, and includes a head for hard floors and a head for carpets. In all, the vacuum has 7 cool heads you can play with.

If the Dyson V8 is not for you, the Bissel Crosswave multi-surface vacuum might be. It is available upon request. This machine does it all: vacuuming, sweeping, mopping and sucking up liquids. It can wash or vacuum hard floors and carpets, transitioning seamlessly between hard floors and carpets. Other nice things about it are there is no foul air emitted by it, and there is no hazardous dust to contend with as all the dust is trapped in the waste water, which can be flushed down the toilet or thrown outside. I found the Bissel Crosswave to be a dream vacuum as I can clean my upstairs floor, a combination of hard surfaces and carpets, in 15 minutes. Tell me when you want to use it, and I will provide it for you.

Three umbrellas are available to you at the back outside door, which is your own entryway into and out of the house.
Servicios y zonas comunes
Most items and doors are pictured, so you can freely find the stuff intended for your use.

You get to have your own kitchen. You can prepare your own food with the kitchen facilities, anytime, day or night (please use the exhaust fan regardless of time you are cooking.) The kitchen has an "in-your-face" design having everything openly laid out in front of you for you to find at first glance.
Laundry, washing machine and drier, is included. The drier is old, but the washing machine is a recent high-end LG model. Three baskets, two for dirty clothes and one for clean clothes, are provided for you in the laundry room; although, feel free to move them into your room.

The washroom is shared with the adult male co-host who lives in the room next door. He uses the bathroom between 8 a.m. and 9 a.m. for about 30 minutes, but you can request he use it at a different time. He does not use the toilet seat, which is cushioned, removable and washed thoroughly after every guest. Alternate washroom facilities are available for emergency use. A batch of clean towels is provided to you at most once every three days (at least, one clean towel per person per day is made available.)

The washroom is equipped with a powerful manual and WiFi controlled fan that doubles as stereo Bluetooth speakers. You can run the fan to keep the air clean, while listening to whatever you want on the speakers, which produce excellent quality sound in the washroom. Any phone or device capable of recognizing Bluetooth speakers can operate the speakers; many phones and devices, even older ones, fall into this category. It's simply a matter of connecting your phone or device to the speakers via Bluetooth, and playing whatever music or video you want on your phone or device. The fan is also scheduled to run a few minutes every hour from the night the day before to the morning, helping with the indoor air being frequently replaced with fresh outdoor air.

The kitchen is all yours, meaning you will be the only one using it. Everything in the kitchen, including everything in the fridge, the large collection of cookware, and the large assortment of herbs and spices on the counter and in the cabinets, are for your use; however, the things in the freezer (other than what is mentioned here) and the clearly marked bottom shelf of the large white standing cabinet are NOT for your use. The kitchen has a user-friendly "in-your-face" design.

The kitchen is fully equipped:
-KitchenAid mixer
-KitchenAid food processor (small)
-Champion juicer and Breville JE98XL 850W juicer (producing good quality juice and having large intake hole, making juicing easy)
-Highly rated DeLonghi EMF2BK milk frother with hot and cold function
-Single serve blender (please handle with care, because there are no safety features with this blender - ask and I will gladly show you how you should use it)
-Stainless steel pots and pans, stovetop ceramic pots, The Rock non-stick pans, stovetop glass pots, T-fal non-stick pans, ceramic and metal casserole dishes, Romertopf clay cooker, and steamer
-Toaster and microwave
-Slow cooker
-Original "Made in the USA" bundt cake pan
-All the expected non-electric little kitchen tools and utensils.
more to come.... (I reinvest some of my Airbnb earnings into cool kitchen gadgets.)
-Available upon request: Meat grinder, large flat grill, electric cheese/vegetable grater

Do not hesitate to play with the different toys I have in the kitchen, but be forewarned using some of them can be time consuming. Please cleanup afterward.

The room has some items for your convenience and comfort, including:
-A high-end 43" 4K LG UHD TV (model 43UH6500)
-A Dyson V8 Absolute cord free vacuum (located in the laundry room)
-Two Table Mates and two lap desks (for placing laptops on while sitting on any type of seat; note, the legs of the Table Mates do go under the couches, but at an angle so some fidgeting with them is involved)
-A leather chair and a wood chair
-Four lamps, one on each of the room's backwall corners
-Three small rubbish baskets
-Kleenex boxes
-Four coffee tables, one large central one
-Two cabinets for storing clothes
-Two tall mirrors
-Electric outlets at almost every corner of the room
-Designer lights with at least 10 body warming halogen lights
-Two leather couches with four recliner seats, so you and others can sit with your legs raised up
-Shoe rack for storing your shoes
-Dyson Pure Hot+Cool Link
-The powerful 2017 NVidia Shield TV, which is hooked to the TV and can be used as a computer, TV box, or a gaming console
-Three NVidia Shield game controllers
-Logitech K830 media keyboard
-Tripsky P3, a backlit wireless air mouse + remote + mini Keyboard
-Two Go ogle Homes
-One Go ogle Home Mini
-Sphero SPKR+, 2.0, Star Wars BB-8 with Star Wars force band, and the golf-ball size Mini
-5 Perplexus Maze Games
-A quality 10" high-definition digital photo frame that gets its images from the cloud (i.e., Internet) and, also, is motion activated (e.g., only shows something when it detects someone)
-A PureGuardian H 1250 CA Hundred-Hour Ultrasonic Cool Mist Humidifier
-Bissel Spinwave
-Bissel Little Green Proheat Portable Deep Cleaner (5207L)
-HomeRight C900053.M Steam Machine
-Subscriptions: Bell Fibe TV, IPTV, Netflix 4K, Canadian texture Premium, GeForce Now online gaming, Spotify Premium

The furniture of the room can be rearranged to suite your style; just, please, do not damage anything in the process.

One parking space included.

Free 1 Gbps Wifi Bell Fibe Internet, which reaches all the property of the house.
In the yard, you have a gas or charcoal operated barbeque. Enough fuel (i.e., gas or charcoal) is provided for at least one barbeque. Alternatively, you can cook outside on a portable electric range with one heating element. Also, available are lawn furniture under a clear plastic roof, which shields you from the rain during wet weather. You can enjoy a swing or a lie down on a hammock. You can also treat yourself to a half-complete tree house.
Atención a los huéspedes
Someone will almost always be available for your assistance.
Otros aspectos destacables
The home is a smoke-free scent-free home, but you may add air fresheners to your room for the duration of your stay.

A night light and scissors are available. Nail clippers are available on request. Umbrellas are available.
Aparcamiento gratuito en las inmediaciones
Apto para familias y niños
Personas adicionales 14 € / noche después del primer huésped
Comunícate siempre a través de Airbnb
Para que tus pagos estén protegidos, nunca transfieras dinero ni te comuniques desde fuera de la página o de la aplicación de Airbnb.
Dormitorio 1
1 cama de matrimonio grande, 1 cama individual, 2 sofás
No se admiten fiestas o eventos
No adecuado o inseguro para niños (2-12 años)
La hora de llegada es flexible
Salida antes de las 00:00
No parties allowed, but you may have guests over as long as they don't stay over night.
No smoking inside the house.
No illegal activities.
No alcohol for the purpose of getting drunk, and no marijuana or other substance abuse.
Otras cosas que debes tener en cuenta:
Hay que subir escaleras
Puede haber ruido
Hay animales de compañía en el alojamiento.
Hay zonas comunes que se comparten.
Detector de monóxido de carbono
Pestillo en la puerta del dormitorio
Estancia mínima de 7 noches
A home away from home! This place is very likely to meet your needs if you need laid-back, easy-going accommodation for a few days or even a few weeks. The people (Waas and his mom) are lovely and kind and will be there to help you out whenever you need; they will make you feel right at home, from beginning to end. The place itself is well equipped with furnishings, linen, technology (internet & more than enough entertainment choices) and basic food items and seasonings so that you can cook up as much (or as little) as you want. You will not want for anything! The location is quiet and peaceful, in a residential area with a park right next door for a stroll, picnic or game. Although there are no shops immediately outside, a light 10-15 minute stroll or the TTC bus (which runs right outside) will get you to shops, drugstore, restaurants etc. So, it was a wonderful stay and I will most likely be back and be recommending this place!
---
I am a housewife who loves animals, cooking and taking care of the house. Coffee is my life blood, and I am a bad ass driver. I have a zest for life, living in the moment with passion.

I take care of my kids, one of whom lives with me and is the co-host. The first, Wassim, is an aspiring Web entrepreneur. He co-hosts my Airbnb guests. The other, Jocelyne, is a hairstylist. She has a baby son, who she takes care of and I babysit sometimes. Of course, I care for my husband, Elias, as well.

I am Lebanese, but I really have no allegiance to Lebanon whatsoever. I love Canada, and do not want to live anywhere else. I came to Canada 30 years ago, and I have owned the home in which I host Airbnb guests 20 years.

I own a baklava bakery with my husband, called Armenian Village Bakery. We're not Armenian, though, we're native Lebanese. We directly employ Jews, Christians, and Muslims.
Ratio de respuesta:
100%
Tiempo de respuesta:
en menos de una hora
Descubre otras opciones en Toronto y sus alrededores
Más alojamientos en Toronto: