Perfect blend of luxury and nature. Little House Mia has a big hart that is open to families, romantic couples and to all who want to experience the joy of beautiful Croatian countryside.
Tipo de habitación
Casa/apto. entero
---
Tipo de propiedad
Villa
---
Capacidad
6
---
Dormitorios
Bosiljevo, Karlovačka županija, Croacia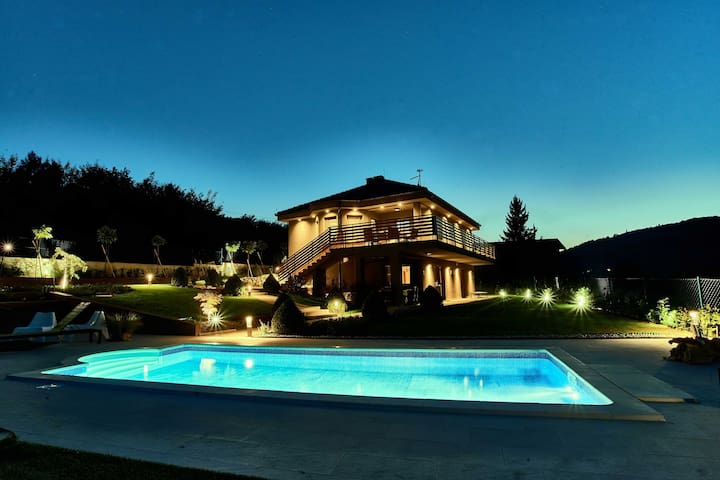 Villa was renovated a few years ago and completely exudes sophistication and grace of their owner. It is fully luxuriously equipped for 4 - 8 people. The villa has 170m2 on two floors.
Luxury villa located in the beautiful surroundings of Mrežnica, only 10 meters from the beautiful waterfalls where in the summer months you can swim and enjoy the charms of a natural jacuzzi while beside you in the nature swans are swimming. The basin of the river Mrežnica has unique climate characteristics, so in the summer months the temperature during the day is the same as in the Adriatic, and the nights are at a pleasant 21-22 degrees which acts soothingly on a body under stress, and benefits people with chronic illnesses and children who do not bear the heat well. Mreznica is one of the cleanest rivers in Europe, in which you can have a swim in and drink at the same time. The peace and quiet of this beautiful nature park with the constant noise of waterfalls filling your soul and body, and bring you peace from the hectic life and stress ... The village of Donji Zvečaj, only a 15-minute drive away from the picturesque town of Karlovac, and 6 minutes from the town of Duga Resa, where you can find banks, a post office, shopping centers, service stations, hospitals, veterinary clinics, train and bus stations. Villa was renovated a few years ago and completely exudes sophistication and grace of their owner.   The villa has a built-in security system and in its entirety is protected by an alarm. It is fully luxuriously equipped for 4 - 8 people.  The villa has 170m2 on two floors. The first floor consists of a living room with a kitchen and a dining room, a pantry, bathrooms, an area with a barbecue under the eaves and an outdoor pool with a gazebo in the shade of ancient pines. The upper level consists of 3 bedrooms and bathrooms with a Turkish bath and sauna. Kitchen and bathrooms are equipped with high-quality Household appliances and other appliances (kitchen: dishwasher, fridge, ceramic hob, hood, oven, microwave, coffee bread baking, deep fryer, various ovens, freezer, bathroom: washing machine , dryer, high quality sanitary ware, sauna, Turkish bath ...).The upper floor was done in a shabby chic style, because the owner is eco-friendly, and paid great attention to the choice of materials used in the renovation.   Villa can be used all year round, both summer and winter. Vila has a built in electrical heating (radiators) through the entire house and under floor heating, a wood-burning fireplace will add to your enjoyment, in a warm and comfortable space in this unique landscape in the true winter atmosphere. With a comfortable balcony that runs the entire length of the villa you have a wonderful view of the river Mreznica, and especially on a cascade of waterfalls that run the full width of the river. This is a place which in the summer months transforms into a favorite resort for the owners of surrounding villas and cottages, it has an arranged place to enter and exit the river, a place for jumping and a beautiful lawn for relaxing and sunbathing after a bath. In addition to the waterfalls there is a small pontoon pier, which can serve well for safe entry and exit from a canoe, from which you can explore the Mrežnica and its shores. In the immediate vicinity of Villa you can enjoy: -           swimming in rivers Mreznica, Kupa, Dobra, Korana and Lika -           top culinary specialties of environmental origin (iconic restaurants DP and Zeleni kut) -           rafting and canoeing -           Hunting and Fishing (Fly Fishing) -           bicycle paths -           tennis and beach volleyball -           harvesting forest products (mushrooms) If you're in the mood for short trips and meeting with other Croatian beauty, you've come to the right place. You can enjoy:  -           hiking Klek, Risnjak, bijele stijene or cliffs abyss of Đulin ponor -           speleological survey of cave Medvedica (16.396m) -           skiing on Bjelolasica and Begovo razdolje -           swimming at the outdoor thermal pools (Lika Lešće) -           the most beautiful adrenaline park (Rizvanuša village near Gospic) -           National parks: Plitvice Lakes and Paklenica -           Northern Velebit Nature Park (with reservation for the bears Kutarevo) -           Rastoke site registered in the Register of Immovable Cultural -           the holds of the old cities of Karlovac (Dubovac), Slunj and Ogulin -           enjoy the Croatian capital of Zagreb, which is only 45 minutes drive away Distance from other cities: River - 1 hour drive Zadar - 1.5 hour drive Ljubljana - 1.5 hour drive Maribor - 1.5 hour drive Trieste - 2 hours drive Vienna - 3.5 hours drive Graz - 2 hours drive Zagreb - 45 min. drive
Warm welkom in een geweldig huis in een magnifieke omgeving.
Ph. J.M.
2016-06-13T00:00:00Z
After a few stays at Croatia's coast, we decided to see the country inland. We chose Villa Art Vita for its proximity to the beautiful Mreznica river. Our experience confirms that it was a very good choice. The Villa is located in a calm area by the river. It is accessed by a very small local road so there is practically no traffic in the vicinity. The area is quiet - except for the sound of water in the river. The villa is very comfortable and clean. It has three elements which we considered a must-have when making our selection: a pool, a big shaded terrace and a stone barbecue. It has also all the necessary equipment indoor (dish washer, washing machine, etc.). The hosts were very friendly and accommodating (which is not always an easy task as we are travelling with two small kids and a dog). They provided us with useful tips for our holiday activities, and for the daily routines (we really appreciated shopping for organic food at a local market). During our stay, we enjoyed all comforts of the Villa, and also all aspects of Mreznica: from very nice walks along to group rafting organised by a local company. It is definitely a place to recommend - and for us to come back to.
Magda
2016-07-04T00:00:00Z
In een woord "wauw" wat een mooie omgeving, huis en prachtige rivier met watervallen! Als je een even een weekje rust en tot jezelf of je gezin wilt komen is dit perfect. Heerlijke week gehad met de mooie watervallen en ons privé zwembad
Natascha
2016-07-23T00:00:00Z
We had a great time in the villa, the children loved the swimming pool and the river at the bottom of the garden steps. An ideal location for a quiet escape away from tourists to see the true beauty of Croatia.
Catherine
2016-08-06T00:00:00Z
A beautiful and safe area, listing exactly as we anticipated, if not better. Mia was so lovely and welcoming, her English is really excellent.
Victoria
2016-08-16T00:00:00Z
Tipo de habitación
Casa/apto. entero
---
Tipo de propiedad
Villa
---
Capacidad
7
---
Dormitorios
Donji Zvečaj, Karlovačka županija, Croacia
Uz cestu koja se kod nas naziva "Jozefina" prema Austrougarskom caru Josipu II koji ju je dao izgraditi, a koja je najkraća kontinentalna veza prema moru, i započinje u Karlovcu a završava u Senju, na cca 15 km od njena početka u Karlovcu nalazi se mjesto Donji Zvečaj. U naselju obiteljskih kuća za odmor, nalazi se naša kuća Vila Mila, 2 min od glavne ceste, sa uređenim lokalnim automobilskim pristupom.
Tipo de habitación
Casa/apto. entero
---
Tipo de propiedad
Villa
---
Capacidad
10
---
Dormitorios
Donji Zvečaj, Karlovačka županija, Croacia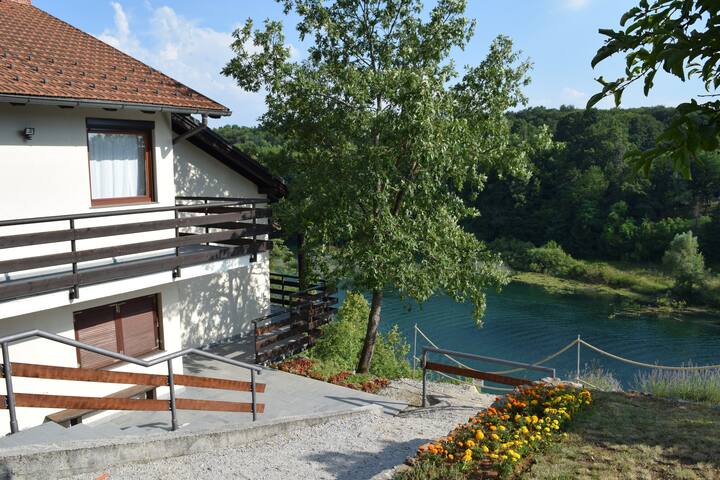 Great house for max. 8 persons in beautiful nature. You can swimm in a pool or in the river Mrežnica. If you preffer active vacation you can go rafting, fishing or walking. Our house gives you opportunity to have quality time with your friends and loved ones but also allows you space to have some time on your own.
Beautiful house in beautiful nature!
Gorana
2017-01-02T00:00:00Z
Tipo de habitación
Casa/apto. entero
---
Tipo de propiedad
Villa
---
Capacidad
8
---
Dormitorios
Zvečaj, Karlovačka županija, Croacia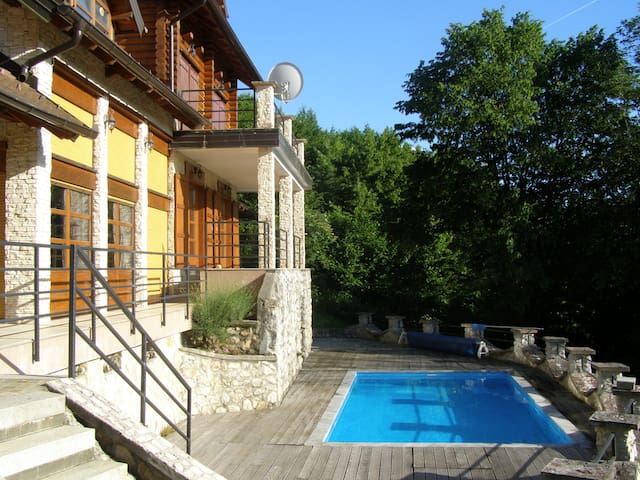 This spacious 300m2, well-equipped holiday home, erected in 2015 and built on the hillside, offers comfort during stay. The estate has a fence around with the automatic gate opener providing the privacy for guests. Heated external swimming pool with retractable glass cover is an ideal place to relax at any time of the day irrelevant of weather conditions around the year, except for winter.
* Basement – spa center: sauna shower and separate toilet; a room with open fire space (Istrian style) for barbecue connected with the bar with accessory kitchen facilities (a dishwasher, electrical cooking stove); utility room with washing machine, cleaning accessories etc. Garage for one big or two small cars. * Ground floor - kitchen, dining room, living room with Finish fire place (Tulikivi), walls covered with original Croatian naive art; separate hall with closet space leading to bedroom and bathroom. * 1st floor – multipurpose hall equipped with spare TV set, two seater sofa, writing desk, and for those who like to exercise - total crunch and a mat; 3 bedrooms for 6 people and two bathrooms - one bedroom with bathroom en suite, a big bathroom with a double basin vanity unit for other two bedrooms. Beautiful panoramic view on meadows and hills from the balconies on the ground and 1st floor.
Welcome to Begovo Razdolje a place of untouched nature in the heart of Gorski kotar. A beautiful scenery, and a real paradise for nature lovers, offers opportunities for relaxation, recreation and sport. Located at the western hillside of the hilly Bjelolasica mountain, at an altitude of 1078 above sea level, it is the only permanently populated settlement located at such altitude in Croatia. Due to its unique location and nature, the opportunities it offers ( climbing mountain, nordic walking, bicycle riding, cross-county skiing, sledging, finding herbs, hunting etc) this picturesque small place with only 47 permanent inhabitants, attracts people who seek peaceful surroundings and activity at the same time.
Tipo de habitación
Casa/apto. entero
---
Tipo de propiedad
Villa
---
Capacidad
8
---
Dormitorios
Begovo Razdolje, Condado de Primorje-Gorski Kotar, Croacia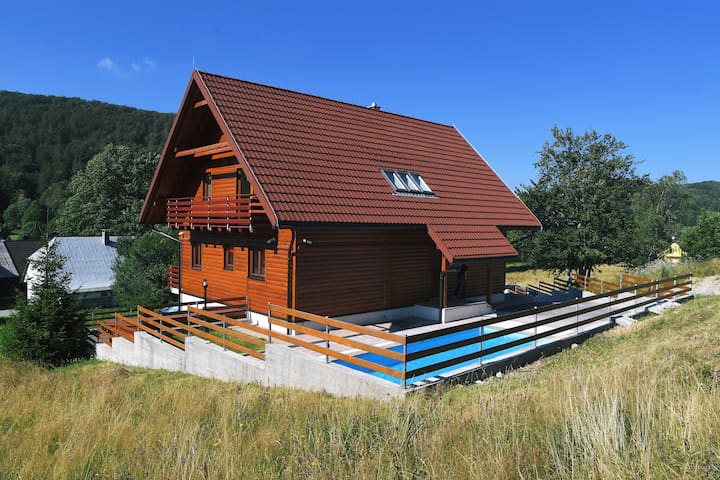 A five star lakefront property close to Plitvice Lakes NP is offering an "all-in " vacation concept. Amenities such as indoor squash court, gym, home cinema, pool, Jacuzzi, sauna...and many more will ensure there is something for everyone. Welcome.
House is designed to provide the best leisure to a few families with kids or group of friends willing to trade a posh and typical tourist surroundings for a tranquil and secluded oasis, however not far away from tourist spots at the coast or inland. We have more than 400m2 of internal space including a squash court, gym, state of the art home cinema. A wine cellar is under construction and will be available from Nov 2016.
Villa Jelenic by Bertovic is located at the Lake Sabljaci, only 10 min drive from Ogulin and 50 min from Zagreb. The house has more than 15,000 m2 of land and is a hidden private oasis where you will experience privacy and the true meaning of the word. The World's famous Plitvice Lakes national park is 60 minutes away; wine country Plesivica is 45 minutes away, the lake is 200m from the house where you can enjoy kayaking and other sports. You can visit castles, caves, you can climb our famous mountains, enjoy in rafting, horseback riding, biking, tracking, quad rides and many more. Our famous coast is only 45 minutes away... Closest golfing opportunity is within an hour drive. For more info visit our web page (URL HIDDEN)
Nous avons passé un séjour inoubliable ! La maison est encore plus belle en vraie qu'en photos et déjà elles nous vendaient du rêve ! Nous sommes partis une bande de 12 amis avec des enfants, l'espace disponible permettait de se sentir libres, toutes les activités de la maison ont permis de s'occuper quelque soit la météo ! Barbecue à l'extérieur, tournoi de foot, piscine ou bien films dans la salle de cinéma, match de squatch, jacuzzi avec vue sur le lac. On peut vivre des vacances exceptionnelles en autarcie complète ! La région est très verte. Incontournable le parc naturel de Plitvice ! Mais surtout c'est l'accueil de Krunoslav et de sa femme qui a mis une cerise sur le gâteau ! On s'est senti comme chez nous, tout est parfaitement expliqué et la moindre demande réalisée dans l'instant, un service 5 étoiles pour une maison 5 étoiles ! Le bonus : la location d'un Quad pour des balades autour du lac. Pour les enfants : une cabane dans les bois, un bac à sable, balançoires, et un trampoline ! Tout pour le bonheur de tous ! Merci encore
Aurélie
2016-08-13T00:00:00Z
Tipo de habitación
Casa/apto. entero
---
Tipo de propiedad
Villa
---
Capacidad
12
---
Dormitorios
Ogulin, Karlovac County, Croacia