Introduce la fecha de llegada en el formato dd/mm/aaaa
Introduce la fecha de salida en el formato dd/mm/aaaa
Anuncios que no requieren que el anfitrión acepte la solicitud.
15 lofts
· Špindlerův Mlýn
15 lofts
· Špindlerův Mlýn
Introduce las fechas para ver el precio total. Ten en cuenta que se aplicarán tarifas adicionales y es posible que se añadan impuestos.
En julio y agosto, podrás disfrutar de 100 de los alojamientos con las mejores valoraciones de Sonoma a precios muy diferentes y disfrutar de la cara más auténtica de la ciudad. Relájate y disfruta de tu estancia sabiendo que puedes hacer una reserva inmediata, llegar a cualquier hora y disfrutar del vino de la zona y de otros tentempiés.
Nice, clean and quiet apartment, exactly as described. Very good communication with the host. Strongly recommend!
Jakub
January 2017
It was the perfect stay at Veronikas place. The flat has everything you need and Veronika took care of us. Wonderful flat to start hiking tours.
David
December 2016
Tipo de habitación
Casa/apto. entero
---
Tipo de propiedad
---
Capacidad
6
---
Dormitorios
2
Lomnice nad Popelkou
This duplex appartment is situated in 1st floor and attic of the house in Tanvald, Šumburk nad Desnou with beautiful view to Tanvald Špičák mountain. Own kitchen, bathroom and WC for guests. Suitable for summer and winter holidays in Jizera mountains
Family house is situated at sunny location with view to local hills. There are forests around where you can go for a nice walk. Winter and summer sports possibilities Its just 700 m to town center. From spring till autumn garden covered swimming pool and fireplace with seatin area is available. There is a sandpit and swing for children. Hosts live in ground floor of the house, they are always ready to help.
Calm place at the subburbs of Tanvald near skiing areas such as Tanvaldský Špičák, Rejdice, Harrachov and also cross country skiing areas such as Štěpánka, Jizerská magistrála and Jakuszyce. It is suitable for bike trips or hiking in summer. there is bus and train station 700 m from house. there is parking for 3 cars opposite of house. Entrance is shared, 1st floor is accasable through common vestibule and hall. There is a cloakroom for guests in vestibule to be used as a skies storage place as well. There is table tennis table, pool table and stove in guest rooms. Guests can also use sauna in their bathroom. There are 2 more rooms in 1st floor which are occasionally used by hosts daughter.
Perfektní vybavení včetně bazénu. Potěšily mě i základní potraviny, které se hodily k snídani. Ubytování mohu doporučit i náročnějším hostům!
Adam
June 2016
The apartment was wonderful, very cosy and warm and with so much space! We loved the fireplace and the sauna and the kids playroom with a million toys! Jaroslava and family were super welcoming and friendly throughout. Definitely recommended for a week or two very close to nature.
Janet
December 2016
Pobyt byl úžasný v krásném prostředí a s pěkným okolím. Hostitelka byla příjemná a milá. Cítil jsem se tady báječně :-)
Michal
July 2016
Tohle byla naše první zkušenost s Airbnb. Když jsme zvonili u dveří hezkého rodinného domu, byli jsme zvědaví a malinko také "vyjukaní", co se z toho vyklube. Nyní s odstupem pár dní bych to shrnul slovem vynikající. To platí jak pro vlastní prostory, které jsou vkusně zařízené a nabízí mnohem mnohem víc, než "air bed and breakfast" :-) To je ostatně vidět i na fotkách. My jsme nejvíc ocenili dobře vybavenou kuchyň, prostornou koupelnu včetně sauny a místnost s pinkpongovým stolem. Lokalita je zcela klidná, takže se nám i skvěle spalo. No a když přejdu od těch materiálních věcí o úroveň výš, bylo to moc fajn popovídat si s hostitelkou u čaje o všem možném a vzájemně se trochu poznat. Jsme rádi, že jsme si vybrali toto ubytování a můžeme ho srdečně doporučit i dalším cestovatelům.
Tom
March 2016
A whole (2nd) floor + another bedroom in the attic of a nice clean house in a very calm part of Tanvald, with a well equipped kitchen, and a lot of space. Ideal for kids (separate play-room). Very nice overlook of the vicinity. Not a single problem.
Roman
March 2016
Paní Jaroslava a její manžel jsou velmi milí hostitelé, byli jsme jejich prvními hosty a nemůžeme si pobyt vynachválit. Dům je postavený v klidné části Tanvaldu s hezkým výhledem. Apartmán je velmi prostorný, čistý a přesně takový jak je popsán. Vhodné pro rodiny s dětmi, k dispozici je hrací místnost plná hraček. V kuchyni byly k dispozici základní suroviny, klasická i mikrovlnná trouba, lednička. V koupelně šampón, ručníky i fén. V přízemí je místnost, kde je možné uschovat lyže, či jiné sportovní vybavení. Lyžařská střediska Tanvaldský Špičák, Severák, Bedřichov jsou dostupná autem do pár minut. Ubytování vřele doporučuji!
Dagmar
February 2016
Ubytování bylo rezervováno pro moje rodiče a mladšího bratra. Oceňuji velmi rychlou komunikaci s paní Jaroslavou. Zároveň jí velmi děkuji, že nám vyšla vstříc se změnou termínu (z důvodu nemoci). Mohu jen tlumočit nadšení svých rodičů - Paní Jaroslava je velmi příjemná hostitelka. Okolí domu je klidné a výhled je přímo fantastický. Ubytování bylo čisté a uklizené. Oceňuji hlavně velké množství hraček pro děti. Celkově tedy upřímně doporučuji!
Markéta
May 2016
Thanks a lot for the beautiful sojourn. The housing is perfect for a family with little kids. The rooms are designed very friendly. Furthermore, everything is included that someone needs to have the best and most relaxing holidays. Even a huge playroom for the children is included. Our personally highlight was the table tennis plate in the room. The entire place was lovely designed with plenty of space especially for our kids, pool and a little place for a nice campfire inclusive. Jaroslava and her husband were really polite and good hosts. We felt completely good, so that we had spontaneously lengthened our visit for one more night. We would come back at this nice place.
Ingo
October 2016
Tipo de habitación
Casa/apto. entero
---
Tipo de propiedad
---
Capacidad
7
---
Dormitorios
2
Tanvald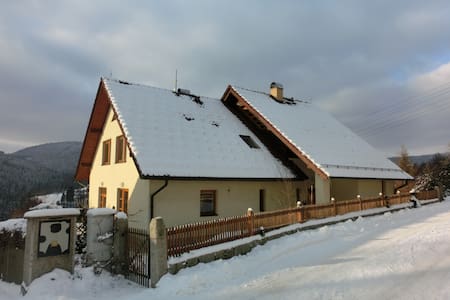 Noclegi stylowy. Lasy. Pokój i spokój. Sport i aktywny turystycznych przez cały rok. Kulturalnych i historycznych atrakcji w pobliżu. Centrum Jablonec i Liberec 10 min. Highway 10 min. Transport miejski. Doskonała domu browar. Gospody.
Stylish accommodation, apartment. Quiet surroundings. Garden barbecue. Year-round sports and tourist activities. Cultural and historical monument. Center of Jablonec and Liberec within 10 minutes. Capital City of Prague 45 minutes by car. A bonus for guests is home brewery and traditional Czech hospitality. Place countries, Czech Republic - Poland - Germany. This is the accommodation in the apartments in the adjacent building. There is a whole lot. Host is available throughout your stay.
Jaroslav have explained very detail how to get to the apartments so we haven't any problem with it. He met us together with his cute and friendly dog and gave some tips for attractions in this area. The location is very close to Liberec(15 min on car) , the one of a beautiful cities in Czech Republic with a lot of pubs and without a lot of tourist. People that like to do treks can spend his time in the mountains another 15 min on car from Liberec. Additional plus it's the homemade beer of Jaroslav that he gave us to taste and it's the good one.
Andrey
November 2016
Jaroslav and his wife gave my friends and me a very warm welcome. The house is freshly renovated and very tidy. We had a great stay walking in the mountains. I would definately recommend staying here again. It's also worth noting the place comes with a huge, very active and very friendly dog as well as some homebrewed beer :)
David
May 2016
Very Nice and cosy little chalet in wood built by Jaroslav himself ! Jaroslav is very kind of personne do all for you to be well on your home. Juste pity we couldn't discuss better together to improvr my Czech and him is French ;-)
Eco
March 2016
Tökéletes szállás, nagyon hangulatos, fenyőfából épült vendégház. Fido, a kutya nagyon aranyos és barátságos :) A házi sör nagyon finom, már csak azért is megérte! A környék és Liberec elbűvölő, túrázásra, kikapcsolódásra kimondottan alkalmas. Végül, de nem utolsó sorban a házigazda, Jaroslav nagyon vendégszererő, közvetlen és mindent megtett, hogy jól érezzük magunk. Mindenkinek csak ajánlani tudom!
Bence László
October 2016
Nice house in a quiet area. Everything is clean and the house had a great atmosphere. Jaroslav is a great guy and he makes a delicious breakfast and even better beers!
Geert
October 2015
Přivítání od majitelů bylo velmi vřelá a příjemné. Cítili jsme se vítáni a byli jsme moc spokojeni. Pivo z mikropivovaru bylo moc dobré. Mohu doporučit všem, kteří touží po klidném ubytování a příjemné atmosféře.
Jaroslav
September 2015
Tolle Unterkunft. Nette Gastgeber. Wir haben uns Pudelwohl gefühlt und die Kinder auch. Wir kommen gerne wieder. Vielen Dank!!
rachel
April 2016
Das Studio ist sehr schön eingerichtet, es fehlt an nichts. Jaroslav ist ein toller Gastgeber und wir haben einen schönen Urlaub gehabt. Wir durften Jaroslavs selbstgebrautes Bier probieren. Der Garten ist schön groß und toll für die Kinder zum spielen. Fida ist ein sehr netter Hund. Wir hatten eine schöne Zeit und kommen gern wieder.
Daniel
April 2016
Tipo de habitación
Casa/apto. entero
---
Tipo de propiedad
---
Capacidad
5
---
Dormitorios
2
Jablonec nad Nisou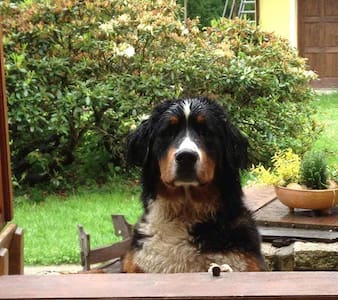 Bukovec, one of three Jizera apartments offers comfortable accommodation in the heart of Jablonec nad Nisou. This is a two-storey apartment designed for two people, with a bathroom and a spacious upstairs bathroom and bedroom.
What a lovely apartment! Michaela was on hand to explain the functions of everything to us, even though we arrived a bit later than we thought. The apartment was spotless, warm and very well appointed. We appreciated all the comforts as we were quite bone weary by the time we arrived. Linen and towels were of good quality and added that extra comfort to our stay. Michaela is very friendly and easy to communicate with and was on hand should we require any further information. The apartment is centrally located and within easy walking distance of supermarkets and eateries as well as bus lines. I can recommend this apartment and will definitely stay here should we ever visit Jablonec again. Thank you so much, Michaela!
Lyzet
October 2015
The host canceled this reservation 25 days before arrival. This is an automated posting.
Markéta
We really lived the apartment. It's right in the heart of jablonez and you can walk to so many places easily. The apartment was so clean and lovely. We arrived at 12:45am, after traveling from the states and was so appreciated that the key was exactly where he said it was, and there were drinks in the fridge. We will diffently use his apartment again.
Merry
July 2016
Logement impeccable. Trés bonne prestation bien équipé. Hôte à l'écoute. Corbeille de fruits proposées à l'arrivée est un vrai plus. Attention pour les personnes de grande taille pour l'accés à la baignoire, sinon parfait.
Eco
January 2017
Tipo de habitación
Casa/apto. entero
---
Tipo de propiedad
---
Capacidad
2
---
Dormitorios
1
Jablonec nad Nisou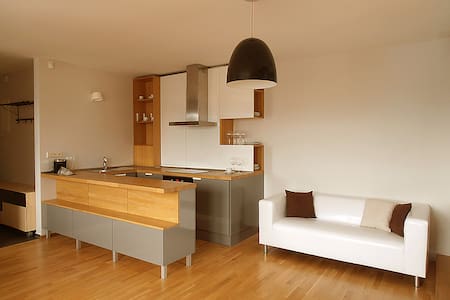 Siamo stati 3 giorni nell'appartamento di Veronica. A dispetto dell' edificio che esternamente non sembra attrattivo, l'appartamento e' molto curato, accogliente, pulito ed arredato con molto gusto. Il soggiorno e' stato allietato dalla simpatia di Veronika e del suo compagno, dalle loro mille attenzioni, dalla loro riservatezza e dalla loro estrema disponibilita' oltre ogni nostra aspettativa. Lo consigliamo vivamente.
Alessandro
December 2016
Tipo de habitación
Habitación privada
---
Tipo de propiedad
---
Capacidad
4
---
Dormitorios
1
Mladá Boleslav
The accomodation is in 136 old house in the centre of Bohemian Paradise. We offer whole apartment with two bedrooms, one parking slot, breakfast and many many services like photography, babysitting by teacher from forrest kindergarden etc. We are great place to start your trips.
You can live 200 meters from town square in flat in 136 old house with amazing history. Town Turnov is heart of Bohemian paradise ( Český ráj). In winter it is 20 minutes to Javornik, where you can ski, or 40 to Bedřichov - centre of Jizerská padesátka - cross country race. It takes 40 minutes to get to Prague. When you come back from trip, you can make Barbecue in our garden. We will willingly recomend you best places to get your staff or we will buy it for you. You can place your bycycles or skies at our storage. We live here in the house, so we are almost always available to talk. :)
The best thing about Turnov is, that it is calm small town with history. You can buy regional stuff here, you can literally walk to Bohemian paradise and I feel relaxed when I am here. It is 20 minutes easy walk to central bus and train station. www.housefullofangels.wordpress.com
Weronika is an amazing and very friendly host. Talking to her was very nice. Whenever we had a question, we could ask her. Top! The appartement was amazing. For us (4 friends in the age of 25), was the appartement a perfect one to hang around and relax. You could have nice walks in the city. In the city are some bars, but we didnt used it. In the near of the appartement is a supermarket. The appartement itselfes is very clean, has a perfect size, and is very beautiful. The rooms are very good and big enough! We loved it there. You have everthing there u need for a nice trip. Hopefully we see us again. It was amazing. Thanks for everything.
Sophia
January 2017
Tipo de habitación
Casa/apto. entero
---
Tipo de propiedad
---
Capacidad
5
---
Dormitorios
2
Turnov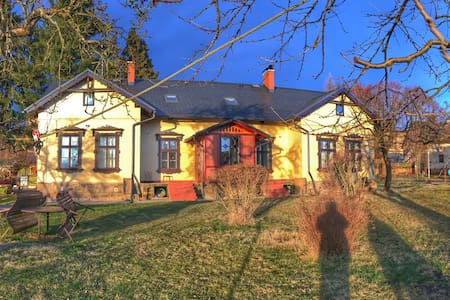 Alles super gewesen Danke für alles
David
January 2016
Tipo de habitación
Habitación privada
---
Tipo de propiedad
---
Capacidad
3
---
Dormitorios
1
Čistá u Horek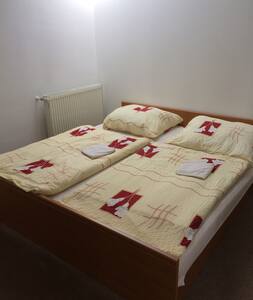 Winterflur cottage is in s-secluded place. Cheep comfort accommodation with gazebo, natural swimming pond, children playground. Capacity 12 guests for maximum comfortable stay, following 6 guests have to use unfolded beds in bedrooms.
Children friendly cottage space with extra entry from the garden side. and meadows near a wood. Sufficient privacy both in summer and winter. Lets use vast garden, gazebo with grill, natural swimming pond, children playground. Many table games, toys, sport equipment available. In case of your need I can manage big grill party. I can rent tapping equipment including beer tap, manage your refreshment, etc.
The location of the cottage makes it possible to reach a huge number of goals both in summer and winter tourism. There are flyers, maps, leaflets and information ready for you in the suites offering possibilities how to spend a sunny and rainy day in the attainable surroundings. You can reach us only by car.
Petr is a very nice man with a beautiful big flat! We were 8 adults and 6 little kids and had enough space to enjoy our stay at his place. The garden and the playground are perfect to spend some time outside! We totally recommend to stay there!!
Martina
January 2016
Tipo de habitación
Casa/apto. entero
---
Tipo de propiedad
---
Capacidad
16
---
Dormitorios
4
Čermná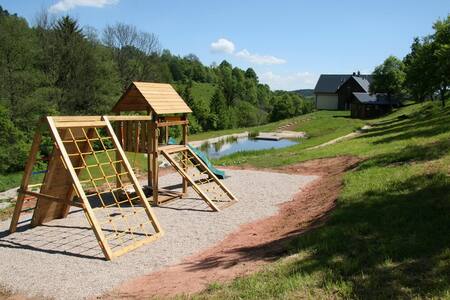 https://www.youtube.com/watch?v=rkJ6EdJxTMg www.disman.cz Oddělené patro v rodinném domě / Private floor of a family house Vybavená kuchyň / Fully equipped kitchen TV, wifi internet Parkování před domem / Parking https://www.youtube.com/watch?v=rkJ6EdJxTMg
Ubytování u Dismanů vám nabízí příjemné zázemí pro váš zimní i letní odpočinek. Nechte se okouzlit přírodou Orlických hor a vychutnejte si atmosféru plnou horského vzduchu, bílého sněhu a zelených lesů. ____ Ubytovani u Dismanu ("Accomodation at Dismans") represents delightful place for your winter & summer vacation. Get yourself fascinated by the most exciting nature of Orlicke Hory ("Eagle Mountains") and enjoy breathtaking atmosphere full of fresh mountain air, wide green forests, raw nature and tons of snow during winter months. Pronajímáme celé kompletně oddělené horní patro rodinného domu. Dispozičně se patro skládá ze 4 pokojů, 2 koupelen a plně vybavená kuchyň kuchyně s jídelním stolem. K dispozici je rovněž lyžárna/místo pro kola a parkování před domem. Ideální pro rodiny s dětmi. ____ We offer accommodation in private and completely separated upper floor of a family house. The floor consists of 4 separated rooms, 2 bathrooms and a fully equipped kitchen with dining table. For active guests we also offer ski or biking equipment storage room. Parking is available right in front of the house. Náš rodinný penzion si svou klientelu získal na bází doporučení. Původní skupina přátel a známých, která k nám začala jezdit, se rozšířila na širší klientelu především rodin s malými dětmi, pro které je naše zázemí perfektní. ____ Our family pension bulit its customer base through word of mouth sharing. The initial portfolio of relatives and friends thus grew into wider customer base. Primarly, our pension is sought after by families with kids, for whom the disposition of the house and locality (decent ski slopes, ski school, moderately hilly biking terrain etc.) is more than perfect.
https://www.youtube.com/watch?v=rkJ6EdJxTMg Autem – z Prahy 2 hodiny jízdy. Po dálnici do HRadce Králové, potom přes Třebechovice a Opočno. Z Brna 2,5 hodiny jízdy přes Ústí nad Orlicí a Rychnov nad Kněžnou. Autobusem – z Prahy a Hradce Králové příme spoje do Deštného. Z Brna do Dobrušky (18km od Deštného) a tam přesednout na přímý spoj do Deštného. Další příme spoje z okolních měst (Rychnov nad Kněžnou, Náchod, Nové Město nad Metují) ____ By Car – from Prague 2hrs drive, take a highway to Hradec Kralove and then through Trebechovice and through Opocno. From Brno 2,5hrs drive through Usti nad Orlici and through Rychnov nad Kneznou By Bus – direct connection from Prague and Hradec Kralove. From Brno you will need to change bus in Dobruška (18km from Destne). Other direct connections from Opocno, Rychnov nad Kneznou, Náchod, Nove Mesto nad Metuji) Deštné v Orlických horách a celé Orlické hory jsou ideálním místem pro letní a zimní rodinnou dovolenou. V létě ideální na pěší tůry a cyklovýlety. Doporučujeme využít širokou nabídku cyklobusů. V zimě nabízí Deštné ideální podmínky pro rodinné lyžování s jednou z nejlepších lyžařských škol v republice. Kromě lyžařského areálu jsou celé Orlické hory protkány desítkami kilometrů upravovaných běžkařských stop. Výlet na Velkou Deštnou, nejvyšší vrchol Orlických hor, je úžasným zážitkem v létě i v zimě. ____ Destne v Orlickych horach as well as the whole Orlicke hory ("Eagle Mountains") range are a perfect location for family vacations. It offers beautiful hikes and biking trails in summer and full range of services to enjoy ski/winter time vacations during winter time.
Byt je ještě lepší než na fotkách. I ve 3 lidech jsme ocenili praktičnost dvou koupelen. Velmi praktické vybavení. Během pár minut jsme získali jasné a stručné informace o možnostech v blízkém i vzdálenějším okolí. Celkový dojem - naprostá pohoda
Václav
August 2016
Tipo de habitación
Casa/apto. entero
---
Tipo de propiedad
---
Capacidad
10
---
Dormitorios
4
Deštné v Orlických horách