Mind-blowing location, super-quirky set-up: an old wooden boat (possibly a Dunkirk 'Little Ship') stationed on land for the foreseeable future with a unsurpassed view of the Dyfi estuary. You'll love it.
Starting at the stern: the galley with gas rings, kettle, sink, all that kind of thing. Then the main saloon with woodburner, dining table, sofa, record player, all my books. A set of steps leads to the wheel house mezzanine with its unsurpassed view. There is a bathroom (with no bath) - just a sink with fresh water. Then finally at the bow is the bedroom. Outside is a 'conservatory' (more a 'lean-to') - the best place to sit outside sheltered from the elements, still with the view. At the other end is the compost loo and shower. There is also an pergola with swing seats and oak table, and a great bbq set-up.
Nick is sometimes around. And Geoff. Good people.
Our stay here was gorgeous. Loved the location, the boat was a joy....the glampiest of all glamping places with every home comfort...beautiful log burner, great record collection, and wonderful views...we loved it. Thank you x
Jason
2016-05-30T00:00:00Z
We didn't know what to expect before we turned up at Smugglers cove. But little did we know... we were on our way to paradise. Greeted by Giles who showed us through the blissful boatyard to his enchanting boathouse nestled between sea and slate where awaiting us inside was a roaring wood fired stove, bottle of wine and the wonders of this dreamy air bnb. This is the sort of place you want to keep your secret but tell the world. Giles was super friendly and helpful, he even let us sail his little dingy 'Brioche' with zilch experience! This was the most perfect place for us but it might not be for everyone, be prepared for an outdoor bathroom and higldy pigldy layout!
Holly
2016-04-25T00:00:00Z
I had a lovely stay on Giles' boat as it took me back to my youth a little bit - with an emphasis on reading books and listening to records, rather than watching telly and working on computers. This was a really great place to bring a dog to, as she loved the outdoors lifestyle and the close proximity of water.
michelle
2016-08-28T00:00:00Z
We really enjoyed our stay. Giles was an excellent host, he even had the fireplace going for us when we arrived, as we were coming late in the evening. The location is beautiful, the house boat was enchanting and super clean. And it is such a quirky and memorable place to stay with its bohemian vibe, great collection of vinyl and brilliant book collection. We had a great time!
Andrea
2016-08-15T00:00:00Z
Sure, the pictures make Gile's boathouse look idyllic and blissful, but they don't come close to describing what a special place this is! Cool host, coolest location and, when the sun shines, maybe one of the best places on the planet. Loved our stay.
Kevin
2016-06-06T00:00:00Z
Oh my gosh! We loved Giles' home!! The boat was incredible and pictures don't do justice to the serenity of the place! We spent hours listening to the fantastic record collection, reading, cooking and playing by the beach and in the water! Our sailing trip in Brio was eventful but so much fun! Giles was so accommodating for us and our pooch Lily! We were created with a tour, fresh flowers and wine on the dining table and not a single distraction! We WILL definitely be going back if Giles doesn't mind camping again :) hugely recommend!
Sarah
2016-06-13T00:00:00Z
Giles was super welcoming and his place is amazing! We had a truly magical time with our Ralph the puppy, running on the sands, swimming in the river, BBQing outside the boat and drinking wine listening to records. It really felt like an honour to be staying in such a special place and feel like we owe a lot to Giles for allowing us into his home. We'll definitely be back!!
David & Kasha
2016-08-19T00:00:00Z
It's hard to put into words just how incredible this place is. Giles's boat isn't just a place to stay - it's a way of life! Inside you can lounge among his books, records, photos, nautical knick knacks and hand-crafted furniture, while outside you've got the Dyfi estuary rising and falling with the tide. If it's raining just stick a record on, climb up to wheelhouse and watch the weather rolling in from the sea. At night, go to bed dry and snug from the wood burner and listen to the sounds of the outdoors, whether thats the rain, wind or the creak of a yacht mast. Of course, you've got the whole of Snowdonia on your doorstep too, but you might find it difficult to leave! The boat is kitted out with everything you need, including a hot shower (outdoors but very private), a well-equipped kitchen and a small fridge. But it's all the personal touches rather than the necessities that will seduce you about this place! Giles was the perfect host - he stays close by and showed me where I could find him if I needed anything but he also gave me the space to enjoy the solitude. He loves sharing his home and seeing other people enjoy it, and trust me - you will!
Rachel
2016-08-23T00:00:00Z
Tipo de habitación
Casa/apto. entero
---
Tipo de propiedad
Barco
---
Capacidad
2
---
Dormitorios
Gwynedd, Reino Unido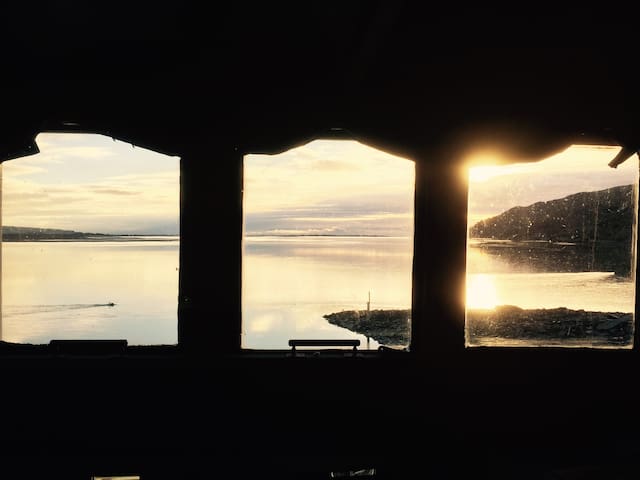 Beautiful vintage safari carvan sleeps 2 with upside boatshed ( shed of the year winner 2013) used as a basic kitchen chill out space overlooking the Cambrian mountains. Due to the fact we are surrouded by sheep no dogs are allowed.
Safari Caravan sleeps two Boatel sleeps two Award winning shed of the year Upside boatshed to be used as a kitchen /chill out space. Guests share the boat roofed shed with other guests and residents and no one has exclusivity on this structure.
We are on top of a hill that overlooks the cambrian mountains . very stunning views.
This place is totally out of this world, for people who love nature and want to connect with it. It has 360 degree views of the dramatic wales mountains and valleys. Totally peaceful. In fact it was so peaceful & relaxing that we dropped our idea of driving through snowdonia and decided to just relax. Sarah & Alex are the most friendliest, kindest , nicest hosts . They were there ready to welcome when we reached the place and made us familiar with the place. And as this was a sudden impulsive travel by us, we did not do the necessary shopping but Sarah very kindly took us to the local town where we could buy our food. She even went out of her way and drove us through some awesome scenic routes. There are actually two accommodations here on top of a mountain, the Caravan & the boat, with the shed as shared kitchen . The shed is beautiful & we had two wonderful evenings there ... very cosy. We even had a barbeque one evening. The whole experience was so surreal & calming, sleeping in the nature, waking up to wonderful views all around you... I have been dreaming of going back since the day i left the place. You do need a car and Sarah gives you very detailed instructions for reaching the place. If you go there expecting the comforts & luxuries of a hotel, you will be disappointed. But if you want a different kind of experience away from the busy world & more natural , then this is the best place for it. The photos don't do total justice to the views you will get there. Complete feast to your eyes & soul.
nandana
2015-07-23T00:00:00Z
My husband & I had an absolutely wonderful stay with Sarah & Alex! Their property is so unique and absolutely beautiful--It was a wonderful experience for us on our drive throughout the UK. We had originally booked the Boatel, but due to the damp weather (Rightfully so--It was very damp & wet mid November. Thank you Sarah!) we switched to the Caravan. Sarah & Alex were very accommodating--We were still able to still hang out in the Boatel, up until we went to bed. Alex was incredible--He started a fire in the Boatel for us, lit a bunch of candles, and even brought us up a bottle of wine so that we could just enjoy the evening drinking & listening to music. (We had a couple of visits from one of their cats & one of the pups--They were beautiful, friendly animals, and it was so welcome to hang out with them for a bit--We missed our own pups so much!) The Caravan itself was very comfortable--We had a space heater which kept us perfectly warm. And waking up in the Welsh countryside where their home is--It was incredible. The views are breathtaking. I would definitely recommend staying here--It's so incredibly beautiful, and our hosts were wonderful, friendly people.
Julia
2016-11-13T00:00:00Z
Sarah & Alex were such friendly and welcoming hosts! Their property provides a rustic and authentic experience. It's not a 5 star hotel, it is a real and beautiful place! Watching the sun rise from the famous shed of the year was a fabulous experience. We watched TV with them and were promptly sunggled by thier gorgeous animals :) Thanks for a great stay!
Tristan
2015-10-11T00:00:00Z
The caravan was a nice little spot. I visited quite late in the year and there was clearly a presence of damp starting to be present. The electrical heater was very helpful in there and the social area (upside down boat) was a great little spot. Overall this place had a lot of character and was worth a short stay but I feel some work is needed to rejuvenate the area back to what it once was.
Mike
2016-10-30T00:00:00Z
Absolutely loved our stay here! Check in was easy, as although Sarah and Alex were away they had a house sitter who was there to meet us and give us a tour. We had the place to ourselves which we preferred as we could spend evenings over a fire playing cards etc. The views were amazing also. Cooking equipment and utensils all provided which was very helpful and fridges in the caravan and shed meant we could buy food at the start of the stay! The caravan is a bit of a squeeze with luggage, but fine for a couple of nights! The bed was warm and comfortable also. The compost loo was nearby which was great as a middle of the night pop to the loo! But the house also had a toilet and solar powered shower (which had plenty of hot water). We loved our stay here up in the hills, and would come again for sure!
Anwen
2016-08-28T00:00:00Z
Sarah and Alex made me feel really welcome in their unique and beautiful home. The caravan was sweet and there was a sense of fun in all of the decorations and places to stay. Lovely view from caravan bed, and had breakfast looking over the hills, feels like you are on top of the world. Thank you Sarah and Alex for such a lovely evening, you are brilliant! X
Miriam
2015-08-20T00:00:00Z
Alex and Sarah were extremely hospitable hosts, made us feel very at home and gave us just enough space to feel like we were on a mountain getaway vacation, while being attentive to any needs we might have had. What a gorgeous location! Surrounded by sheep and exquisite views on every side. This is great stay for people who want a nature experience. We had planned to go into town but ended up staying up in the hills the whole time because it was so peaceful and rejuvenating. Thanks so much!
Kei
2016-07-31T00:00:00Z
Absolutely brilliant place to stay - lovely views of the hills, fantastic boat shed with beautiful fairy lights, candles and music, and snug little caravan for the night. Would definitely come again!
Chloe
2016-11-06T00:00:00Z
Tipo de habitación
Casa/apto. entero
---
Tipo de propiedad
Barco
---
Capacidad
2
---
Dormitorios
Cemmaes Road, Reino Unido
1

–

2

de

2 Alquileres de Barcos
Introduce las fechas para ver el precio total. Ten en cuenta que se aplicarán tarifas adicionales y es posible que se añadan impuestos.