Nota: esta es una "verdadera cama y desayuno", con los propietarios que viven Insite. Estamos siempre y de la licencia legal expedido por el Ayuntamiento y la Policía local.
Alojamiento y desayuno en Villa de 1700. espléndida de Vesuviana Tiene tres dormitorios con cuartos de baño, Internet Wi-Fi, aire acondicionado, zona de aparcamiento. A disposición de los huéspedes: gran jardín, habitaciones con muebles antiguos, solarium. A su proximidad al transporte público importante (Circunvesuviana, autobús, metro del Mar), el B & B Villa San Gennariello es ideal para excursiones a Pompeya, Nápoles, Sorrento, Capri e Ischia, Campi Flegrei. Las excavaciones arqueológicas de Herculano están a poca distancia (10 minutos). Habitación doble o doble uso individual: habitación grande y soleado, con baño privado, muebles de las antigüedades, aire acondicionado, internet WiFi, TV-Dig / satélite, DVD. Cama king size o dos camas individuales; posibilidad de añadir una tercera cama. Junior-Suite: habitación con dos ambientes, tamaño de rey / cama doble, un sofá-cama doble y una cama individual, baño privado, muebles de las antigüedades, aire acondicionado, Internet WiFi, TV-Dig / satélite, DVD. Perfecto para una familia de 5 personas max. Dependencia: Piso con entrada independiente, habitación con cama doble / doble y una cama individual, baño privado, cocina y una pequeña terraza con vista al jardín, aire acondicionado, TV-SAT. Bueno para larga estancia. Los tipos de las tres habitaciones aquí descritos pueden ser rápidamente adaptados a las necesidades del cliente (individuales, dobles, triples, etc.). Recuerde: usted está reservando una de las tres habitaciones; si usted está buscando camas para más de 3 personas, por favor, repita varias veces la reserva, en otra sesión (Sala # 2, # 3), hasta llegar a la cantidad solicitada (máximo 9 personas) !!
Una casa bellísima del año 1748 donde se respira el lujo de una clase social de la mas alta alcurnia ofrece la posibilidad de recrear la historia vivenciandola en su estancia. Emma y su hijo Francesco proporcionan todo lo necesario para complacer al visitante.
Federico Marcelo
2015-05-13T00:00:00Z
Uno de lo mejores alojamientos que he visitado en mis viajes. Perfecto para visitar Nápoles, Ercolano, Pompeya, además de Caserta. Puedes visitar las ciudades cercanas en tu coche ya que cuanta con garaje privado o ir en tren a la ciudad. Villa San Gennariello esta decorada con sumo gusto, con habitaciones y espacios comunes amplios y limpios, sientes el esplendor del buen gusto italiano. Además cuenta con un magnifico jardín. La ultima noche cenamos fuera con la magnifica cocina de Emma, la anfitriona todo corazón y una excelente chef, con gusto por la cocina Italiana, además puedes probar el vino local de una cercana bodega, un descubrimiento fantástico. El completo desayuno te da todas le energías que necesitas para conocer los lugares cercanos. La familia de Emma, son todos encantadores y hacen que te sientas como en tu casa. Recomiendo como indispensable la Villa San Gennariello para cualquier visitante de Nápoles(URL HIDDEN)
Eduardo
2016-07-13T00:00:00Z
Villa San Gennariello is a lovely villa in a great location for archealogical sites. It was wonderful to stay in a 'grand' house and we felt very special. There is an abundance of room and the place is extremely comfortable. It is also very secure. Franceso is passionate about Pompeii, Ercolano, Vesuvius and Napoli and has much information to give about the areas. Emma is gentle and caring and makes delicious breakfasts that include the world's very best blood orange marmalade. Divine. We recommend a stay here.
Christine
2012-03-04T00:00:00Z
What a delightful warm welcome we had! Emma and I had such fun swapping recipes, and I have left with lots of ideas for Italian Easter cakes! Our room was vast and comfortable, and the house is so interesting. It is also extremely well placed for both Herculaneum and Pompie. We hugely recommend a visit.
Ann
2016-04-02T00:00:00Z
Our stay with Emma and her family at this grand villa proved to be a great choice for us. Napoli is located quite far but if you're not into the busy crazy scene, this is a good place to stay and get away. Francesco was always around giving us some advice and letting us in and out of the villa. When I mean villa, this is really a villa. It's huge and has high ceilings with very historical architecture from another century ago. The pics are (URL HIDDEN) believe the hype. FYI, the only drawback is the walk from the train station on Via Liberta is a good 15 minute walk and filled with speeding cars and mopeds so you better ask Francesco to pick you up for a fee (25 euro) or suck it up and walk. Napoli is always kind of frantic so guess you just gotta live with it. I recommend this place but if you need a central location, you should look to other places. Cheers to the Cozzi family.
Adam
2011-11-19T00:00:00Z
The Villa San Gennariello is as beautiful as the pictures posted on Airbnb. Emma and her family are very helpful and friendly. They gave us expert advice on how to get around the area. The town of Portici is real Italy. It is not touristy so you get a feel for the average Italian experience. Our room was enormous and the facilities were very clean. Breakfast was very good. I highly recommend this BandB.
Leanne
2012-03-29T00:00:00Z
We'd been looking for an accommodation in Naples, but chose that villa in small town Portici, that close to Naples. So, we didn't doubt a moment about our choice during the stay. First of all, the allocation is great. You can reach easily Vesuvius, Pompeii, all small towns all around and of course Naples. We didn't have problems to visit even Capri. Portici town itself is very south Italian and non- touristic place. Halls in the villa look even much better than on the pictures. Just small piece of spirit of royal palace. The host tell us nice story about the villa, that used to be royal hunter house in 18 century. The owners were very hospitable, gave us many advises about places to visit and to have a dinner. We've been very happy to take the advises. Also we've been pleasantly surprised to get amazing breakfast that was absolutely not Italian. It wasn't just a coffee and croissant. It is the best place to stay during your visit in Naples.
Liubov
2012-06-23T00:00:00Z
My husband and I highly recommend the Villa San Gennariello as a landing place perfectly positioned at the foot of Mt. Vesuvius with quick access to Naples and all points on the Amalfi Coast. If you're looking for old school Italian flair, this lovely B&B is the place for you. Emma and her family are fabulous hosts. We really enjoyed the hearty, delicious breakfast each morning of our stay, and relaxing in the gardens and on the rooftop terrace. The highlight for us, though, was Emma's home cooked, multi-course Italian dinner on our final night in Italy. The dinner was delicious and a great value. So, don't miss the chance to have her cook for you!
Shannon
2016-08-28T00:00:00Z
Tipo de habitación
Habitación privada
---
Tipo de propiedad
Bed & Breakfast
---
Capacidad
3
---
Dormitorios
Portici, Campania, Italia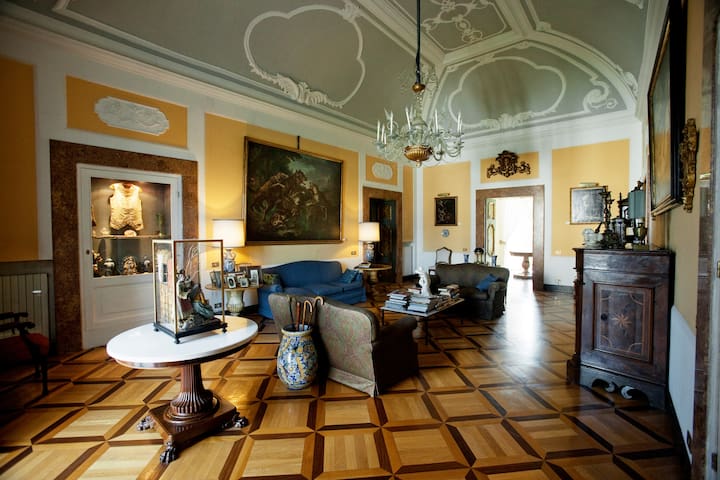 B&B Arts and Music è situato nel centro storico di Ancona, a pochi passi dai monumenti principali, dal porto e facilmente raggiungibile dalla stazione. Ideale per un week end fuori porta o per il vostro soggiorno lavorativo in Ancona. Wi-fi gratuito e colazione inclusa nel prezzo.
Il B&B Arts and Music è unico nel suo genere, arredato con stile, in una posizione invidiabile e centralissima, Dispone di tre camere da letto: - camera Arte (matrimoniale) - camera Musica (matrimoniale) - camera Danza (quadrupla) E per migliorare il vostro soggiorno gli ospiti possono disporre di: smart TV a LED, TV LCD in tutte le camere, free wi-fi, Playstation 4, Dolby Surround, Netflix.
La zona que vivo es muy céntrica y, a menos que tenga al no llegar a lugares en los suburbios, que no necesita la máquina, se puede llegar allí y dar la vuelta al centro fácilmente a pie y llegar tanto al mar y varios restaurantes, tabernas, pubs, fábricas de cerveza o supermercados distribuidos en las calles de los alrededores.
Federico fue muy buen anfitrión, es muy simpático, nos dio enseguida consejos sobre la ciudad y nos ayudó en algunas dudas sobre transportes, etc. La casa estaba muy limpia, ordenada y era acogedora. Además, el mismo me compró productos sin gluten para mi desayuno ya que yo soy celíaca (en otros B&B hemos tenido problemas con esa petición). Además, estaba justo en el centro, con lo cual nos fue muy fácil ir a comprar, ver la ciudad, coger medios de transporte para la playa, etc. Desde luego, un sitio muy recomendable!!!
Carla
2015-07-20T00:00:00Z
Soggiorno ottimo, casa pulita e come da descrizione. Titolare molto disponibile e preciso. Consigliato.
Ilacl
2016-10-16T00:00:00Z
Beautiful apartment - bright and sunny :) The location is perfect for being right in the heart of shopping & food in Ancona. Fede made us feel very welcome.. perfect place to relax.
Ebony
2014-06-08T00:00:00Z
Staying at the B&B city center was fantastic. The room was clean and spacious and it was exactly as shown in the pictues and I had my own bathroom. The location of the B&B was ideal, right between two key piazzas on a very nice centrally located street. The B&B is just a short bus ride from the train station, which only ocst 1.2 euro. Federico was the perfect host. He made me breakfast every morning and had lots of maps and information about things to see and do in the area. I definitely would stay here again when I return. I would recommend this place to anyone. Michael
Michael
2014-07-31T00:00:00Z
Federico was a very easy host and everything was well organized. The room and location were perfect! No complaints
srikanth
2015-05-08T00:00:00Z
Unfortunately,I didn t had the chance to be there but my friends had a great time.. I m jealous.. and this is why I ll go for sure, soon!! First of all the house is on a market street About Federico.. he was very helpful, answers to all of my questions and was friendly as my friends told me. Hope to meet soon Federico!! Gracie :-)
Vasoula
2014-12-29T00:00:00Z
Federico is a charming host and we enjoyed our stay their.
george
2014-10-10T00:00:00Z
Fede was flexible and accommodating due to uncertainty in my arrival schedule, and the fact that I did not have a phone. The place is clean, comfortable and right in the center of Ancona. I would stay here again.
Robin
2017-02-23T00:00:00Z
Tipo de habitación
Habitación privada
---
Tipo de propiedad
Bed & Breakfast
---
Capacidad
10
---
Dormitorios
Ancona, Marche, Italia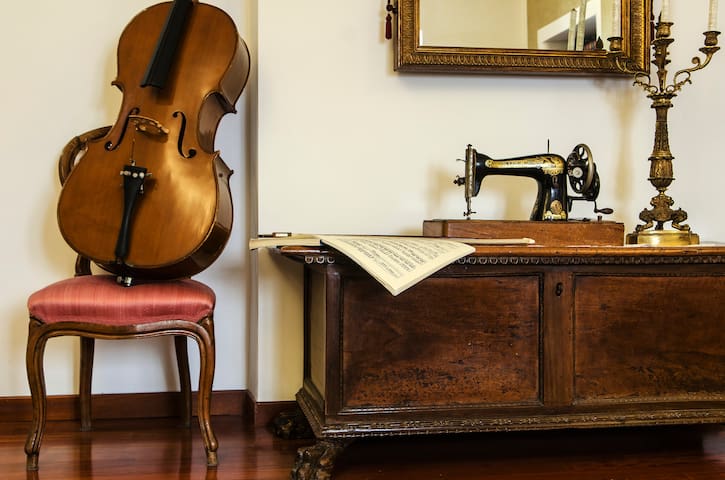 Our bright and quiet B & B overlooking the Vittoriano is placed in one of the most beautiful squares in the old town. It 'made up of 2 bedrooms 1 double and 1 single plus a living area, shared bathroom. Excellent connections Tram-Metro-Bus.
Our B & B is located in a beautiful historic building of 1600 with elevator. The ambiance is quiet and bright. The furniture between the classic and the modern makes the rooms very comfortable. It enjoys a beautiful view of the Vittoriano monument, the palace of Capizzucchi and the palace of Campitelli. Bordering the ancient monastery of St. Francesca Romana
Margana Square is a pedestrian zone in the small village Campitelli under the steps of the Capitol and Aracoeli, in the background the Teatro Marcello bordering the Synagogue inserted between the Tiber Island and the Portico d'Ottavia (old Jewish Ghetto). Piazza Mattei with the Turtle Fountain is one of the jewels of the village. Margana Square is placed 10-minute walk to the Colosseum, the Trevi Fountain, Piazza Navona, Campo dei Fiori, Trastevere, Roman Forum, Circus Maximus, the Baths of Caracalla, and so on...
la verdad que todo fantastico. tuve que pagar unos euros mas por llegar despues de las 22 h , cosa que no me habia quedado clara en el anuncio de la habitaciòn però el me lo aclarò antes de aceptar mi peticiòn así que aunque me surprendiò el cambio de precio según el horario de llegada, el fue clarissimo ... y lo entiendo , siendo horario muy tardio por Italia. La casa espectacular la verdad, y Emanuele muy muy amable... el sitio es muy recomendable y el, un anfitrion muy bueno. Gracias
roberta
2016-09-10T00:00:00Z
Mi estadia con Emanuele fue mi primera experiencia en airbnb y fue excelente! Es muy buen host, siempre esta dispuesto a ayudar y dar indicaciones, pero tambien la privacidad necesaria para disfrutar tu viaje. El desayuno a la mañana es un excelente detalle para resaltar, siempre riquisimo. El lugar es exactamente como se ve en las fotos, muy limpio y ordenado. Es muy centrico, cerca de todo lo que uno desea ver en Roma. Definitivamente lo recomendaria y probablemente me quede nuevamente con el cuando vuelva a Roma. Gracias por todo Emanuele!!!
Carlita
2015-05-28T00:00:00Z
Emanuele es un excelente anfitrión, siempre atento a todas las necesidades y dudas que pudieran surgir. Me ha hecho sentir como en mi propia casa y ha estado constantemente disponible ante cualquier eventualidad. Es una excelente persona que no duda en compartir todo lo que sabe con su anfitrión, aun en mi caso haciendo el esfuerzo de hablarme en castellano para que pudiéramos comunicarnos mejor. Recomiendo su casa para una estadía a todos los que quieran disfrutar de Roma en el mejor ambiente posible. El barrio es inmejorable y la habitación ideal. 100 % recomendable!!!!
Martín
2015-10-14T00:00:00Z
Wonderful stay! Emanuele was a great host and really helped make my one night in Rome a memorable experience. He had good (non-touristy) suggestions on where to eat and was able to explain the best way to get around the city and to/from the airport. I will certainly request to stay here again for my next visit.
Lauren
2016-01-18T00:00:00Z
It was pleasant
Hernán
2015-04-14T00:00:00Z
Nice, quiet room in a very heart of Rome.
Chi Duc
2016-05-07T00:00:00Z
Amazing stay! Emanuele was away in China but his older brother Jean Marie was great. Very attentive to all my needs. Breakfast was just what I needed every morning to get a great start to the day. The apartment looks just like the pictures. His suggestions and explanation of the city was sooo helpful. Appreciated everything so much!
Kayd
2015-11-20T00:00:00Z
Emanuele's room was simply amazing. The position of the house, the actual room, the view, the (URL HIDDEN) was exactly what I was hoping for. Despite being very central, the house is actually very quiet. It is situated by (and in) a convent. The bathroom was also nice, but very small and without a bathtub. The entire place was extremely clean. Emanuele himself is a lovely host. He took time to explain at lengths what were the best places to eat in town (he is clearly a foody, which was so nice!!). He gave me a map and even called the taxi twice for me at no extra fee. I would definitely come back! Thank you Emanuele!
Roxana
2016-03-23T00:00:00Z
Tipo de habitación
Habitación privada
---
Tipo de propiedad
Bed & Breakfast
---
Capacidad
1
---
Dormitorios
Roma, Lazio, Italia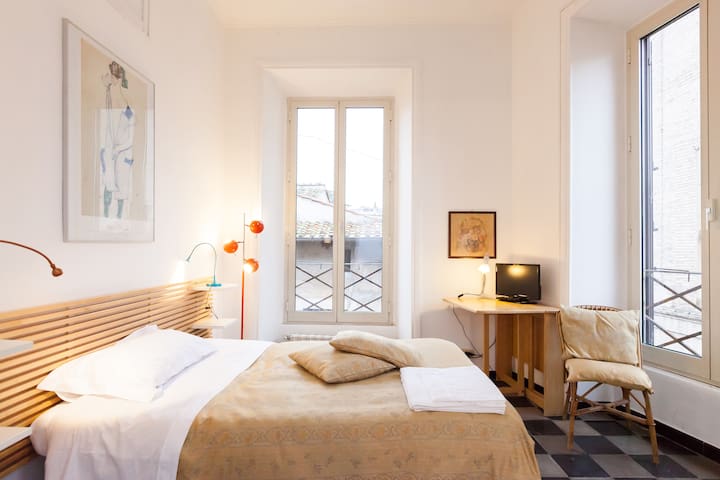 (URL HIDDEN)lovely cozy trullo in Cisternino's countryside. Our trullo is perfect for a couple or a family (max 4 people).
Far from the beaten tracks of mass tourism, surrounded by the enchanting scenery of the Valle d'Itria, Pietraviva is just outside Cisternino, awarded as one of "The Most Beautiful Villages in Italy" and "Slow City". Restored more than 30 years ago by a genuine school of old "trullari" masters, the Trullo Pietraviva is a rural whitewashed "Casedda" with 4 cones, featuring stone arches, niches and a minimalist decor that reuses old objects and instruments from the peasant art. The B & B can accommodate up to 4 people in the typical star-vaulted bedroom and in the Trullo itself. The perfect formula for a family or for a couple seeking an unusual place to spend their holidays. Nestled in the country, the resort features a terrace overlooking the whole Valle d'Itria and an outdoor patio ideal for relaxing at sunset, perhaps returning from the beach. An ideal place for those who love the countryside and enjoy long walks between stone walls, old olive trees, almond trees and wildflowers. Genuine colours and flavours and homemade products from our garden… no way you're going to skip breakfast! On the table you'll find delicious fresh dishes every day. Being among Brindisi, Bari and Taranto, you can easily reach the beautiful coastline of the Adriatic and Ionian Sea and most typical villages of our territory such as Martina Franca, Locorotondo, Alberobello and Ostuni. To reach the B&B you need a car.
We are in the country side, here you can enjoy silence and relax. You will be away from stress and enjoy nice walk around
Fue una experiencia maravillosa: la ubicación, la atención de Benedetta y Ana, su madre, el gusto con q estaba decorado el lugar, un lujo, muy, muy recomendable!!!!
Eugenia
2016-08-27T00:00:00Z
Un joli trulli au milieu de la vallée d'Itria à quelques kilomètres de plusieurs très beaux villages des Pouilles. Benedetta et sa famille habitent à côté et sont très discrets. Les apéritifs au soleil sur le toit terrasse vont nous manquer. Je recommande pour tous ceux qui recherchent un logement complet au calme et au milieu de la nature.
Emmanuel
2015-05-13T00:00:00Z
Hospitality outstanding. Thanks for the experience and insights into your local.
Jean
2015-07-07T00:00:00Z
Benedetta and her family were the perfect hosts and the trullo was wonderful. We were made very welcome and breakfasts of home made pastries, local fruits and omelette/ eggs was brought to us each morning. Eating on the terrace in the morning sun was a pleasure. Beautiful artistic touches were everywhere around the house which was spotlessly clean and very comfortable. This trullo has real character and is even better than the photos but watch the low headroom of doorways! Well worth a visit and Benedetta will make you feel instantly at home.
Malcolm
2015-11-16T00:00:00Z
The trullo of Benedetta is absolutely stunning. Also Benedetta, her dad, mom and brother are the best hosts we have seen so far. Such warm, welcoming and helpful people. The trullo is clean, very nicely furnished and decorated and is even more beautiful than it is on the pictures. The bed is comfortable, we slept very well. Also, you'll have everything you need within the trullo. The breakfast they served is a real delight, with different omelettes every day and even delicious home made cake. Both terrasses are relaxing, especially the one upstairs with beautiful view. Benedetta came with very good recommendations for restaurants and cycling routes. It was very nice that we were able to use the bikes! Val d'Itria is wonderful with lovely cuisine, wines, nature, etc. B&B Pietraviva is the best place to stay and to explore Puglia. Nearest town is Cisternino which is a 20 minutes bike - drive uphill and max. 15 minutes downhill. Thanks a lot Benededetta, Giovanni and your mam and dad.
Déan
2015-10-02T00:00:00Z
Benedetta was the perfect host before we even met in person! She regularly corresponded with us prior to the trip and when we told her of our interest in a Puglian cooking class, she went so far as to arrange for her own mother to teach us traditional dishes! Using their own homegrown produce, we had such a great time with Benedetta and her family preparing dishes like Panzerotti, homemade Orechiette, Polpette and Focaccia! We then all sat together at the dining table and ate together with our new adopted Italiano family, sharing great food and stories. It was such a fantastic experience! The trulli that we had the pleasure of staying in was beautifully decorated and well equipped. In close proximity to a number of sites like Martina Franca, Alberobello and Cisternino, it's the perfect place to base yourself for a few days (at the very least!) Thank you so much Benedetta, Giovanni and your wonderful family for making our Puglian experience such an unforgettable one, we would happily recommend you to anyone and everyone!!
Beth
2013-07-28T00:00:00Z
The hospitality of Benedetta and her family was really appreciated. Giovanni, her brother, cooked one evening for us some typical local food and that was just perfect. Pietraviva is a really charmant Trullo lovely decorated with a magnific view on the Istria Valley from the roof terrasse. We really enjoyed to relax there, taking the time for real breakfast outside every morning. Benedetta gave us very good tips to go out for a drink/dinner in Cisternino, which is a very nice village, where you could easily meet locals. Morarella Bar is the best! We hope to comeback soon by Loconte Familly Thanks again! Anne & Philipp
Anne
2014-05-29T00:00:00Z
We had a wonderful time at Benedetta's Trulli just outside of Cisternino in Puglia. It is a beautiful and peaceful place, and we enjoyed the tranquility and rural atmosphere, along with the friendship and hospitality of Benedetta and her family. Benedetta's mum and brother both helped provide our lovely, fresh breakfasts that we ate outside in the sun in the courtyard each morning; and one night we cooked and ate at home upstairs on the rooftop overlooking the local countryside, enjoying the sunset, the bright evening light and the stars (and some local wines of course). The Trulli was in a great location, close to many places to visit. We were able to do some long walks on back roads and lanes between some of the villages, enjoying the local landscapes and the Trullis. We enjoyed our morning chats with Benedetta, discussing our plans for the day, talking about where to eat, and more. The family's friendship and hospitality helped enormously in our enjoyment of our stay. Benedetta's clear directions on how to get there made it very easy to find - not like our GPS who could not find the right place! Benedetta was a wonderful host, and her Trulli B&B is highly recommended.
David
2015-06-12T00:00:00Z
Tipo de habitación
Casa/apto. entero
---
Tipo de propiedad
Bed & Breakfast
---
Capacidad
4
---
Dormitorios
Cisternino, Apulia, Italia
In B&B La Gufa between Ostuni and Cisternino rent stone trullo with bathroom . Carmen and Thomas will be happy to accommodate you in one of the most populated and lives Apulian countryside .
Trullo with underfloor heating and furniture from olive wood handmade. The trullo is a bathroom with shower , but no cooking facilities.
Los anfitriones son muy amables, el alojamiento se encuentra en un lugar tranquilo y el desayuno está delicioso.
Miriam
2016-07-25T00:00:00Z
Abbiamo passato un giorno al trullo La Gufa. La casa è immersa nel verde ed è vicino a Cisternino. Molto bella l'idea di essere completamente fuori da tutto, isolati e in relax, e in più la colazione molto buona. Grazie per averci ospitato!
Domenico
2016-08-20T00:00:00Z
Il trullo era bellissimo..molto (URL HIDDEN) particolare a chi ama allontanarsi dalla vita cittadina.. Situato in aperta campagna "molto (URL HIDDEN)
Nicol
2015-06-17T00:00:00Z
My wife and I stayed 1 night in this unique accommodation. The Trulli is simple, clean and peaceful and the hosts are friendly. The valley is idyllic and good for star gazing. You may need to pre-arrange to meet the host at the nearby train station because the house is down a small lane.
Vien
2015-05-29T00:00:00Z
Nous avons vécu une superbe expérience dans ce magnifique trulli. Un grand merci à Nicoletta et sa famille pour son accueil chaleureux et leurs bons conseils qui nous ont permis de mieux cibler nos visites. La situation de leur trulli est idéale, centrale pour découvrir cette magnifique région des Pouilles...
axel
2014-08-13T00:00:00Z
Sleeping in a Trullo is an experience you should have done in your life. If you stay in this one make sure u really go along with each other because there is no bathroom door, just a curtain and it is not as spacious as you might expect. The breakfast was nice: Tea, coffee and home made goodies. The Garten is beautiful! You could hear the birds singing and it is super relaxing and calm.
Merle
2016-10-25T00:00:00Z
What an adventure! Snowy days in Trulli land are beautiful and worst the travel! And stay in a real trulli near Cisternino was so great - Thomas and Carmen are so lovely and pay attention to everything / hard to leave after tree days spend with them Thomas is a great guy loving nature and create lightings with olive wood Carmen a great cake cook I totally recommend to stay in their trulli for fews days and enjoy Alberobello, Ostuni, Locorontondo, Castellana caves and more
Charlène
2015-01-04T00:00:00Z
Io e la mia ragazza abbiamo avuto una magnifica esperienza in questo posto! La nostra notte nel trullo è stata la prima della vacanza ed ha dato un tocco bucolico/avventuroso/romantico al resto del nostro viaggio. Nicoletta è stata molto gentile e disponibile nell'organizzare il nostro soggiorno, anche se purtroppo non ci siamo incontrati. In compenso siamo stati accolti nel trullo da Tommaso e Carmen, i due fantastici padroni di casa. Hanno subito creato un'atmosfera rilassata e piacevole e, dato che siamo arrivati un po tardi, ci hanno lasciati andare a riposare facendoci trovare della frutta di campo e della crostata in camera. Il trullo è meraviglioso: esternamente fa parte di un complesso di trulli mentre all'interno consiste di una camera da letto e un bagno. La camera è piena di dettagli tra cui i vari lumi e la testiera del letto realizzati da Tommaso. La mattina successiva abbiamo fatto colazione con prodotti tipici e squisiti e una bella chiacchierata con i padroni di casa. Ci è dispiaciuto dover ripartire dopo una sola notte, ma sicuramente torneremo in questo posto stupendo e cercheremo di restare un poco più a lungo! Un abbraccio forte da Sessa Aurunca!
Fufo
2016-08-01T00:00:00Z
Tipo de habitación
Habitación privada
---
Tipo de propiedad
Bed & Breakfast
---
Capacidad
2
---
Dormitorios
Ostuni, Apulia, Italia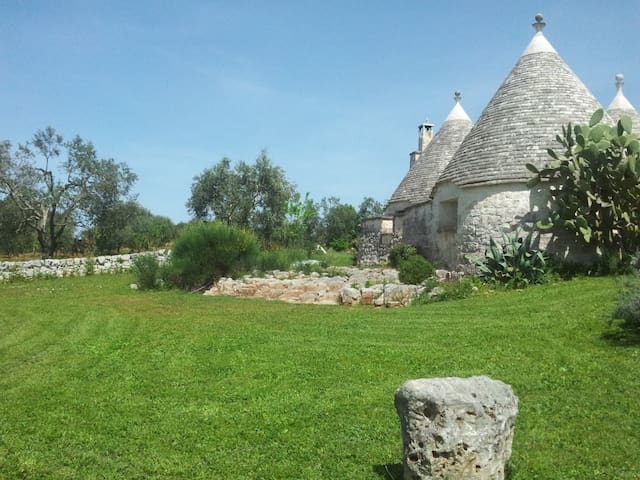 Accoglienti 2 Camere matrimoniali ,nel più bello e affascinate Rione di Roma,Monti a due passi dal Colosseo,fori Imperiali,piazza Venezia,campidoglio ,..ben collegata.metro,treno,aeroporto
camera accogliente posso ospitare 2 persone
lMonti comprendeva il colle Esquilino, il Viminale e parte dei colli Quirinale e Celio, estendendosi sugli attuali rioni Castro Pretorio ed Esquilino, costituendo il primo e più esteso Rione di Roma. Nel rione Monti sono presenti importanti vestigia di epoca romana: I Fori imperiali (Il Foro Traiano, il tempio di Augusto e di Nerva), il Ludus Magnus (la palestra dei gladiatori), le terme di Tito, le terme di Traiano, le cisterne delle Sette Sale, parte delle Mura Serviane e Aureliane. Sul colle Oppio troviamo una parte della villa di Mecenate e i resti della Domus Aurea neroniana che per la sua antica estensione oltrepassava ben oltre i confini del rione. Il medioevo ha lasciato varie torri, Santa Prassede e Santo Stefano Rotondo. Altri luoghi di interesse sono la basilica di San Giovanni in Laterano (Duomo di Roma), la Basilica di Santa Maria Maggiore e numerose chiese e palazzi di varie epoche storiche fino ai nostri giorni.Oggi tra le più importanti arterie di comunicazione Via Nazionale, Via Cavour e Via Merulana. Il Rione attualmente rientra nell'amministrazione del Municipio 1
Fue una experiencia agradable. El hospedaje está ubicado muy cerca del Coliseo romano y varios lugares de interés. El internet es un poco lento pero no es inconveniente para el sitio. Marítza es una gran anfitriona.
Edward James
2015-12-23T00:00:00Z
Es el mejor lugar donde te puedes quedar en Roma excelente ubicación Y comodidad. Además, los anfitriones son fabulosos super amables, te brindan toda la información y ayuda posible. Super recomendado.
Marcela
2016-10-20T00:00:00Z
Fueron super amables.. la ubicacion es excelente y la alcoba es justo lo ofrecido... Recomendadisimo!
Diego Armando
2016-10-31T00:00:00Z
La estadía con Marisa fue maravillosa, su departamento tiene una ubicación muy buena, es limpio y cómodo. Ella y su familia fueron muy amables conmigo, la recomiendo ampliamente.
Eleonora
2016-11-12T00:00:00Z
Los anfitriones fueron muy amables con nosotras, la habitación estaba muy limpia y no faltaba nada de lo que se dice en el anuncio, y el desayuno, que es en un bar de ahí al lado, muy bueno también. La zona está bastante bien, muchos restaurantes y tiendas, y cerca del metro y autobuses, y apenas a 5 minutos a pie del Colosseo y la Piazza Venezia
irene
2016-03-06T00:00:00Z
El hospedaje que ofrece Marisa se encuentra dentro de un edificio antiguo pero modesto, ubicado como a 250 m del Coliseo. La comunicación previa con Marisa, para coordinar nuestra llegada fue oportuna y fácil. Cuando mi hija y yo llegamos al hospedaje, tanto Marisa como su esposo nos esperaban con un mapa de Roma, así como con detalladas explicaciones y recomendaciones para disfrutar mejor esa ciudad tan llena de historia. Ellos fueron muy amables y cordiales y siempre se mostraron muy deseosos de ayudarnos para que nos sintiéramos a gusto. El dormitorio que nos asignaron es limpio y amplio (el baño es el que es pequeñito); sin embargo consideramos que le falta comodidad, como un espejo, o algo para poner las cosas que uno tiene en uso. El desayuno se ofrece en un restaurant que se halla a la vuelta del edificio donde se encuentra el hospedaje. Es un desayuno simple y sencillo, pero tiene la ventaja de que abre desde la madrugada, por lo que uno puede disfrutarlo aunque parta muy temprano de Roma, como fue nuestro caso.
Iliana
2014-10-03T00:00:00Z
Muy buena atencion de parte de ellos dos y excellente ubicacion , muy recomendable . gracias a ellos por el bonito apartamento muy limpio.
ivan
2015-11-18T00:00:00Z
Fuimos recibidos por Remo, el marido de Marisa, quien nos esperaba en la puerta de la casa y nos ayudó a subir las valijas. Los dos son encantadores y muy eficientes. Nos quedamos charlando y nos dieron muy buenos consejos sobre lugares a los que ir, restaurantes, nos mostraron los diferentes caminos en un mapa y nos dieron información valiosa sobre medios de transporte y sobre Roma en general. Tanto Marisa como Remo harán lo necesario para hacer de tu estadía una experiencia fácil y amable. El departamento es cómodo y está excepcionalmente bien ubicado. La habitación es muy amplia y tiene aire condicionado, cosa no menor en Roma. La limpieza es impecable. El barrio es PRECIOSO, rodeado de restaurantes lindos, con una hermosa piazza a 50 metros. Cuando llegamos, nos avisaron que no funcionaba la TV, pero estimo que fue algo circunstancial y que ya estará solucionado. La señal de wi fi es bastante débil, así que funcionó alternadamente. Este aspecto sí fue un poco complicado para mí, que necesitaba estar comunicada, pero no ocasionó mayores problemas. Es, sin duda, un lugar excelente para alojarse en Roma y para conocer a dos auténticos romanos.
Laura
2014-10-09T00:00:00Z
Tipo de habitación
Habitación privada
---
Tipo de propiedad
Bed & Breakfast
---
Capacidad
2
---
Dormitorios
Roma, Lazio, Italia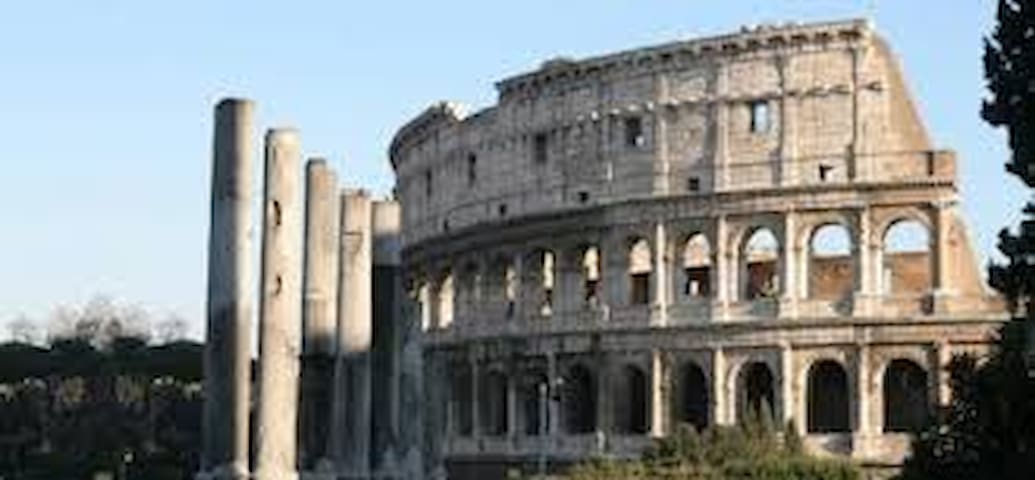 Our house is on the coast road, with a beautiful sea view. We have 5 rooms and we are near to the most enchanting locations of Salento. Otranto, S.M. di Leuca, Gallipoli, Lecce, but in a quiet position for your relaxation.
In Salento in Castro, a short walk from Otranto and S.M Leuca di, immersed in Mediterranean vegetation of the natural park, you will find our B&B that blends fairly with dry stone walls and the surrounding vegetation. We have five bedrooms, three of which with sea view. We serve a nice breakfast with local and genuine products that you can enjoy on our terrace facing the sea. Simple and familiar hospitality. Bikes can be hired for exploring the beautiful coast and the hinterland characteristic of Salento. Free parking and WIFI. The room LEVANTE has at its disposal 2 bathrooms shared with 2 other rooms.
Castro is a medieval village with its Aragonese castle. Do not miss the walk around the walls. In Castro Marina you can swim and walks or drinking something frsh in front of the sea. The Adriatic coast around us is rocky, the first sandy beach in Otranto is located about 20 km.
We hebben heerlijke dagen gehad bij Amadeo. Wat een plek, een uitzicht om te zoenen en heerlijk rustig! Amadeo is een goede gastheer, hij maakt een heerlijk ontbijt met zelfgebakken taart en zelfgemaakte jam. Hij geeft tips over de omgeving, is behulpzaam en in voor leuke gesprekken! Het huis en onze kamer waren sfeervol en comfortabel! Ook nog een compliment voor de fantastische tuin, zo mooi! Wij komen graag nog eens terug, Amadeo! Gr, Leo en Dieuwke
dieuwke
2015-05-06T00:00:00Z
Une maison sublime avec la mer à l'horizon, une chambre agréable donnant sur la terrasse, un petit déjeuner copieux et imaginatif préparé chaque matin par Amedeo : tout y était pour passer des vacances reposantes, déconnectées du stress parisien. Depuis Castro, vous pouvez rayonner et visiter tout le Salento et le soir, rentrer dîner tranquillement (tout est à disposition pour cuisiner). Je reviendrai certainement ! Merci pour cet accueil :)
Céline
2014-09-05T00:00:00Z
This is a beautiful place overlooking the sea. Lovely people, a great terrace for practicing Yoga. The breakfast is good, its great to eat outside with an inspiring view and it was nice to have use of the kitchen. Bedroom was clean, Bathrooms are shared, but that was fine. It was a bit cold (in April) but very quiet this season.
maija
2015-04-12T00:00:00Z
very helpfull people
Greet
2015-07-28T00:00:00Z
Le passage chez Amedeo était super. Villa année 70 splendide et (restée authentique), chambre avec vue sur mer. Le chef Gabriele, nous a concocté un dîner délicieux. Le cadre est très calme et idyllique (maison entourée de nature) et l'accueil excellent. Je recommande !
alice
2016-04-14T00:00:00Z
Amedeo was erg gastvrij en we voelden ons welkom. Prachtige lokatie, zeker een plek om terug te keren!
Frances
2016-05-18T00:00:00Z
Amedeo et Gabriele furent des hôtes adorables. Leur maison est magnifique et la vue époustouflante. Nous nous sommes régalés avec les petits plats de Gabriele. Nous reviendrons c'est certain mais en été ;-)
anne
2016-03-04T00:00:00Z
Wonderful stay at Macchia de pele! Amedeo was helpful and present while letting us have our privacy. Close to town yet far enough away to be very peaceful. Delicious breakfast too! Highly recommended!!
Jodi
2015-06-04T00:00:00Z
Tipo de habitación
Habitación privada
---
Tipo de propiedad
Bed & Breakfast
---
Capacidad
2
---
Dormitorios
Castro, Apulia, Italia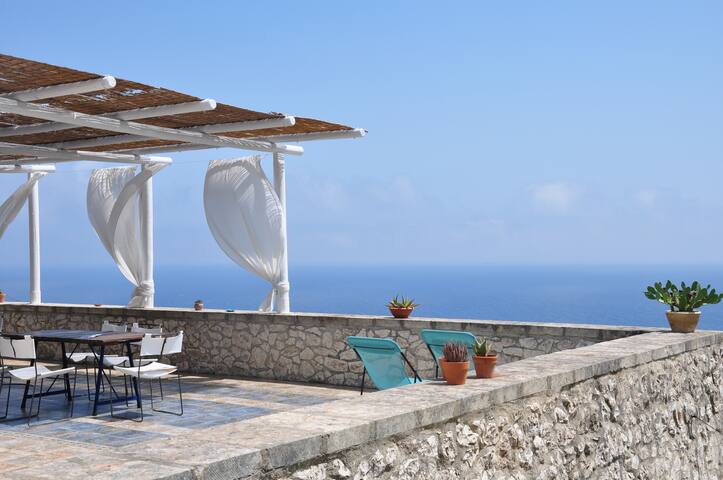 Very spacious, bright room, with a special charm.
Sweet flat with a little terrace behind with organic garden. Apartment have two comfortable rooms. One is sunny room, another is angels room, both are very quiet, clean, and very charming. Each room has a duble bed, whit possibility of extra beds, and extra price. With charge! We share the kitchen and the bathroom. In front of aparment is a parking place. Free wireless internet is included. My flat is very near from everything. By foot: 5 min from Bus station, 5 min from Korzo, 15min from Railstation and 15 min from Farry port. People make places unique, and when we meet, you will know why guest usually say: thank you so much:)) Welcome!
Bruna is a great host. she made us feel so welcomed to Croatia. We felt at home. Her flat is really nice, the room is big and confortable. She welcomed us and we had an awesome breakfast as well. The center of town was easily accessible in walk. I would greatly recommend Bruna as an host!
Yacov
2015-06-22T00:00:00Z
Bruna's place is really great, the apartment is situated in an old charming builduing, and we realy enjoyed its atmosphere and high ceilings. Bruna is a nice host, always willing to help. She showed us the map of the city and gave some tips about the places which were worth to visit. Thanks, Bruna! :)
Irina
2014-06-21T00:00:00Z
Bruna was was a great host, she gave us quick overview of Rijeka (where to go and what to eat), perfect food recommendations (delicious sea food) and what we can see on our way to Dubrovnik. The room was also great, comfortable and close to the center. If you are driving you can find free (white) and payed (blue) parking spots in front of Bruna's apartment. To pay for parking you will need coins. The whole experience was great, I just wish we had more time to spend in Rijeka, one day is not enough.
Rafal
2015-07-15T00:00:00Z
Bruna is a lovely and friendly host, we really enjoyed our short stay. She is not only a warm and talkative person, but she is perfectly willing to help you in every possible way to realise your plans about Rijeka and the rest of Croatia. Her appartment was just as fantastic as her presence: clean, cozy and tastefully decorated. We would definitely recommend this place and we would doubtlessly like to stay another time with Bruna!
Laurence
2013-08-22T00:00:00Z
OMG Bruna's place is more beautiful than I ever deserved. Great location too. It's only too bad that we were unable to meet her since she was away but, in any case, thank you so much!
Chidi
2014-05-11T00:00:00Z
We spent a great night in Bruna's room. She welcomed us with a very good local fruitjuice , gave us all the worth advice to discover Rijeka's town. Bruna is a very nice person and her appartment is nicely and tastefully decorated, the room is spacy, bright and clean, very well situated (5min by foot for the center) and it is easy to park with a car. A shame we didn t stay longer, we definitely recommend a stay in Bruna's accomodation !
Vincent
2013-08-13T00:00:00Z
Bruna made us so welcome in her home and was a fabulous host. The house was clean and wonderful and she was amazing with my son. She showed us round Rijeka and made us fall in love with the city. It was an absolute pleasure to stay here and without doubt we would come again.
Crissie
2015-08-27T00:00:00Z
The day we arrived in Rijeka was a rainy day but Bruna's smile and hospitality rapidly shed the sunshine for my wife and I. Bruna's reception was very warm and welcoming. Bruna was very helpful with all the required information. The room is clean. The location of the apartment is excellent just within a few minutes walking distance to the center and the port area. Everything needed for our morning breakfast was ready on the table.
alberto
2015-10-08T00:00:00Z
Tipo de habitación
Habitación privada
---
Tipo de propiedad
Bed & Breakfast
---
Capacidad
2
---
Dormitorios
Rijeka, Condado de Primorje-Gorski Kotar, Croacia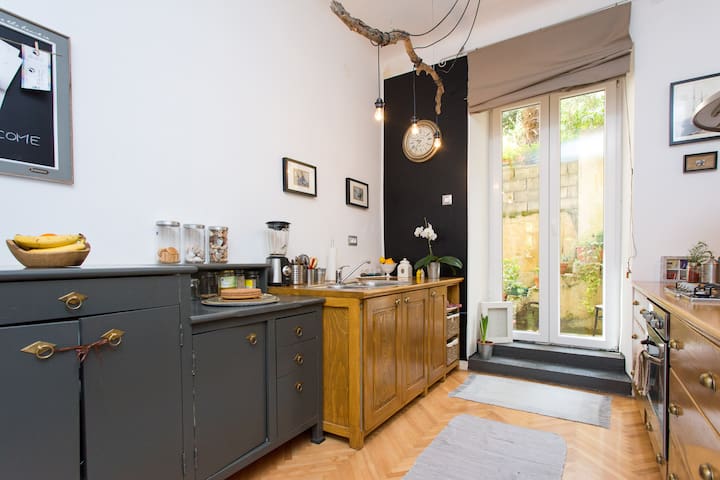 Luminosa stanza in casale situato a pochi passi dai Magnifici Templi, a soli 700m dalla stazione e ad 1 km dal mare, punto base per visitare il Cilento, a chi ama pedalare è offerto servizio bici. Il casale può ospitare in 4 stanze 10/12 persone.
PAESTUM HOUSE camera spaziosa e luminosa in edificio degli anni 60, semplice e spartano,che ha conservato invariata l'ampiezza degli spazi della sua pianta originale. E' circondata da un fiorito giardino, con area riservata alle auto e bici, ha un ampio terrazzo con veduta su fantastici tramonti, dal quale si accede alla casa. Composto da 5 camere, grandi e luminose con letto matrimoniale e possibilità di ospitare comodamente 4 persone. La cucina in comune è spaziosa e attrezzata, i bagni grandi e confortevoli. Come arrivare a PAESTUM HOUSE: Dall'aeroporto di Napoli con ALIBUS si raggiunge piazza Garibaldi e la stazione FS Napoli Centrale,da qui con il treno, in 1 ora e 15 minuti e fino alle 20:24, si raggiunge Paestum. Dopo le 20:24 treni fino ad Agropoli o Salerno; Dalla stazione di Paestum , girare a sinistra per via Porta Giustizia ( con percorso pedonale intorno alle mura antiche)e proseguire fino all'incrocio con semaforo vicino il ristorante Simposium, girare a sinistra e proseguire per circa 300 metri su via Magna Grecia, in contrada Santa Venere, a destra l'ingresso di PAESTUM HOUSE al n.590. Da Salerno:Treno per Paestum, 40 minuti; Da Salerno: Autobus dal piazzale della stazione e arrivo a Paestum in circa 40 minuti con fermata da richiedere al quartiere Santa Venere. Per chi arriva in auto da Napoli o Salerno: Uscire dall'autostrada a Battipaglia o Eboli percorrere la Statale 18, uscire a Capaccio Scalo, percorrere via Magna Grecia, all'incrocio vicino alle mura antiche svoltare a sinistra, seguire via Porta Aurea, via Porta Giustizia , al semaforo vicino al ristorante Simposium, svoltare a sinistra percorrere circa 300 m., sulla destra l'ingresso del vialetto dell'alloggio.
Il quartiere si sviluppa a sud delle mura dell'antica città, da Porta Giustizia,subito dopo la fabbrica conserviera CIRIO di inizio '900, con fattorie di bufali da visitare e dove degustare ottimi prodotti caseari, molti ristoranti con veduta sui templi sono raggiungibili a piedi . Il mare, a 1,5 Km e raggiungibile a piedi in 20 minuti attraverso un percorso comodo e suggestivo che costeggia il lato sud delle mura. Il litorale sabbioso si estende da Salerno ad Agropoli, punto in cui la costa comincia ad essere rocciosa e frastagliata. PAESTUM HOUSE è a soli 600 metri dalla stazione. La fermata dell'autobus,appena fuori casa, permette il collegamento con Salerno e i vari paesi del Cilento. PAESTUM HOUSE mette a disposizione degli ospiti una bici per muoversi a Paestum e in tutta la piana del fiume Sele. In bici si può percorrere una strada lussureggiante, raggiungibile attraversando il sottopasso della stazione, che costeggia i piedi del monte Calpazio.e porta a Capodifiume, sorgente del fiume Salso artefice del travertino su cui poggia l'antica città e con cui sono stati costruiti i templi le case e i monumenti. In bici dirigendosi verso il mare si può percorrere la strada litoranea direzione nord costeggiando l'estesa pineta di Pino Domestico e Pino d' Aleppo e macchia mediterranea. Per chi ama le spiagge tranquille c'è una splendida spiaggia libera, protetta da un'ombrosa pineta curata da anni con amore da Lega Ambiente. Proseguendo si arriva al fiume Sele, chi ama osare di più, con qualche pedalata, può godere di un'escursione nei pressi della foce e arrivare ai resti del tempio di ERA Argiva e al Museo Narrante. In bici con una pista ciclabile che costeggia il mare, si può arriva ad Agropoli e ai suoi approdi marini rocciosi.
Carmen es una excelente anfitriona. Se preocupó por ver que llegara bien a su casa y al llegar a la hora de la cena pude disfrutar un momento muy agradable con otros pasajeros. La propiedad es muy linda y las habitaciones amplias y cómodas. Realmente es muy recomendable su hogar para pasar una estadía larga. La cercanía a los templos de Neptuno y otros hacen una visita mucho más interesante y recomendable para disfrutar. Carmen es una persona divina y muy cordial!
Flor
2015-08-28T00:00:00Z
Carmen est très enthousiaste, généreuse et chaleureuse, nous avons passé un agréable séjour, c'est une adresse à retenir !
leila
2016-07-30T00:00:00Z
Carmen è sempre stata disponibile via telefono e ha fatto il possibile per un check in senza problemi, che infatti è avvenuto. Ottima comunicazione, anche sul come raggiungere la casa. La casa è molto bella, pavimenti in marmo, ben arredata, bel gusto. Grandiosa terrazza sulle campagne di Paestum, abbondante colazione inclusa, insomma ci siamo sentiti a casa. L'unica "pecca" è stato l'avere una stanza (molto grande e pulita) con finestra su strada, comunque non molto trafficata. Il rumore delle macchine comunque non ci ha pregiudicato una buona dormita, ma lo riporto per completezza. Comunque ecco ottimi voti all'esperienza!
Adriano
2016-08-31T00:00:00Z
L'esperienza da Carmen è stata sicuramente positiva, premurosa e disponibile non ci ha fatto mancare nulla e si è dimostrata molto professionale. La stanza che avevamo era adeguata, così come i due bagni per gli ospiti (in totale 3-4 stanze). La colazione è stata abbondante e di qualità con marmellate fatte in casa. La collocazione è ottima: 5' a piedi dall'inizio dell'area archeologica, 5' in auto dalla spiaggia.
Germano
2016-08-14T00:00:00Z
All the good reviews are true, five stars all the way.
Artem
2015-08-24T00:00:00Z
Carmens house is spaceous with two shared bathrooms and a big terrace, weich is great for relaxing! its very close to the old temples and is a good Base for Trips in the surrounding area. Carmen is a very friendly person and you can enjoy her breakfast with self made jam!
Florian
2016-09-13T00:00:00Z
Il luogo bellissimo, l'ubicazione perfetta, l'accoglienza eccellente. 100% raccomandabile!
Jeremy
2015-10-27T00:00:00Z
We stayed at Carmen's place for three nights - she welcomed us warmly and was very helpful during the stay. We especially enjoyed the big terrace where we had breakfast in the morning and spent our evenings with self cooked dinners, relaxing from the summer heat. The beach is not that far off, so you can definitely spend some time here and not only pass through for the (amazing) temples. The train connects Paestum to the cities close by (like Salerno). I would strongly advise you to ask for one of the bigger rooms, off the street and with a fan - my boyfriend and I really had trouble sleeping in the small, hot and noisy room, directly next to a very busy road.
Antje
2015-07-27T00:00:00Z
Tipo de habitación
Habitación privada
---
Tipo de propiedad
Bed & Breakfast
---
Capacidad
2
---
Dormitorios
Paestum, Campania, Italia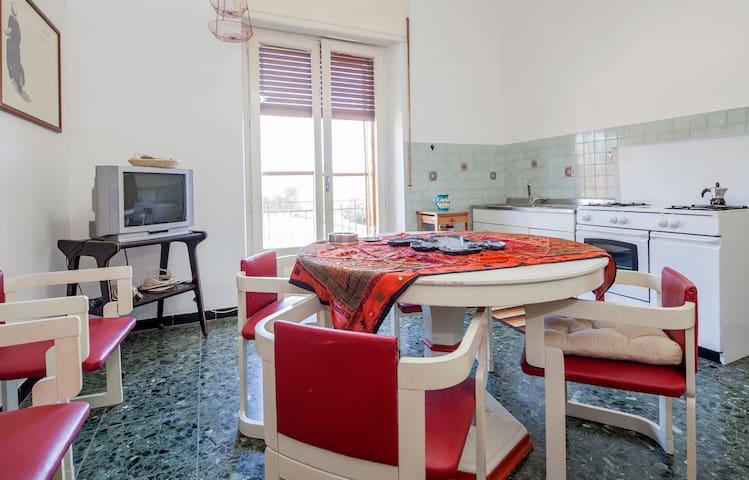 En Hotelito cada habitación tiene aire acondicionado, se puede usar el wifi gratis, el desayuno-almuerzo de desayuno con productos ecológicos y Km 0. Informal y dinámico, en el Hotelito, la hora de entrada / salida veces son flexibles a sus necesidades.
A pocos pasos de la playa en Cesenatico, es un hotelito Jembai y "un lugar para alojarse, ver, explorar, disfrutar y volver. Debido a que por encima de todo, el hotel está construido en una declaración. El retorno a la tierra, la vuelta a los sabores auténticos y las delicias gastronómicas a las raíces y al territorio. E 'puede tomar ventaja de un B & B con desayuno-brunch incluye con productos BIO y Km 0
L 'Hotelito se encuentra a pocos pasos de la playa en Cesenatico
Séjour très agréable dans ce bed&breakfast. L accueil y est chaleureux, le petit déjeuné extra et le prêt de vélos à facilité nos déplacements. Les hôtes sons toujours souriants et disponibles.
Alexandra
2016-08-03T00:00:00Z
This place is so beautiful and they are the kindest people you could ever hope to stay with. They were great! Highly recommend!
Denise
2014-09-04T00:00:00Z
Ottimo posto. Ci siamo trovati davvero bene. Si vede che fanno il loro lavoro con passione. Ospitalità, gentilezza e disponibilità sono decisamente sopra la media, e fanno la differenza. La colazione per qualità e varietà è decisamente meglio di quella che si può trovare tantissimi hotel a 5 stelle. Complimenti ragazzi! Ci rivedremo presto!
Mauro
2016-05-23T00:00:00Z
Ottima accoglienza e servizio, persone deliziose e molto disponibili, esperienza da ripetere appena possibile :)
Cristina
2014-08-25T00:00:00Z
caruccciooooo tutto!! entri... primo pensiero... che STILE! shabby chic minimal e tanti dettagli che saltano all'occhio come la macchina del caffè un pò vintage e Belise, un cagnone buono buono e bello bello. La posizione è il top per godersi Cesenatico, vicino a tutto senza che si sprofondi nei clichè turistici (scritte al neon, hotel per bimbi, ecc ecc) della riviera... ed è ad uno schioppo dal mare! Le stanze sono pulite e rivisitate con tanta personalità in stile minimal. I condizionatori d'aria sono nuovi di pacca. Chiara e Fede sono fantastici: Fede prepara un cappuccio da oscar e la colazione handmade by Chiara resta sicuramente impressa! Inoltre, cosi a pelle... quei due sanno mancare; insomma "c'arbecamo presto cocconi" :)
Sabrina
2014-06-10T00:00:00Z
Hotel bellissimo, una pensione in stile Riviera romagnola riadattata secondo i gusti dei proprietari, che dopo varie peripezie in America Latina, hanno riportato in Italia un po' di quello spirito - quindi reception con libri, seggiole, amache...qualcosa di veramente innovativo dalle ns. parti! Inoltre sono di una gentilezza disarmante, segno che amano davvero il lavoro che fanno. Sicuramente anche la colazione doveva essere all'altezza della fama che ha, peccato esserci svegliati tardissimo dopo una notte da leoni ;)
Andrea
2015-09-21T00:00:00Z
Velmi příjemný pobyt. Útulné pokoje i zázemí hotelu, milí a ochotní hostitelé, skvělé snídaně a kafe. Na pláž pár minut. S přáteli jsme si to báječně užili! Navic půjčovna kol zdarma, stačí zarezervovat ;)
Petr
2016-06-27T00:00:00Z
Esperienza semplicemente fantastica, ben al di là delle aspettative. Chiara e Federico sono due host straordinari che hanno saputo creare da una piccola e vecchia pensione del nonno di Federico una situazione ed un'atmosfera semplicemente unica. Di per di per sé stesso l'hotel si presenta come molto spartano e semplice nelle camere ma comunque molto ma molto carine e pulite;la hall è molto bella con anche un spazio per i bambini. Chiara è una cuoca favolosa ed ha dimostrato con le sue colazioni che la fama che la precede è vera. Federico è una persona semplicemente squisita per non parlare della loro figli Talita di 10 mesi e dello loro bellissimo mastino Belize. Ciò che rende Hotelito una struttura speciale e'quanto vi si respira dentro, qualcosa di unico e che ci ha fatto sentire non solo a casa ma a casa nostra con amici cari. Da consigliare in assoluto e ci torneremo sicuramente grazie di cuore
Giulio
2016-06-21T00:00:00Z
Tipo de habitación
Casa/apto. entero
---
Tipo de propiedad
Bed & Breakfast
---
Capacidad
16
---
Dormitorios
Cesenatico, Emilia-Romaña, Italia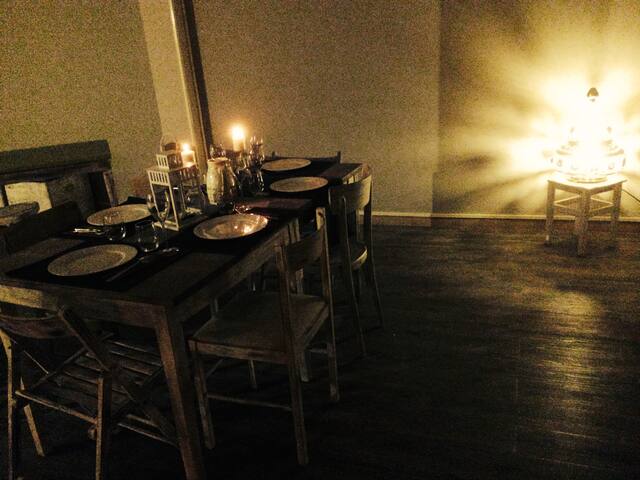 Nuestra casa está a 5 minutos a pie de las playas más hermosas en el mar Adriático. Todas las habitaciones tienen balcones con hermosa vista panorámica del mar y están equipadas con aire acondicionado, TV vía satélite, conexión wi-fi, baño, hervidor de agua y nevera. Todas ellas son habitaciones dobles con la posibilidad de cama adicional. También ofrecemos desayuno que incluye bebidas calientes al gusto, variedad de pastas para untar, embutidos, queso, mantequilla, tomates, huevos de muchas maneras, varios tipos de cereales .... El desayuno no está incluido en el precio. 100 m de la casa se encuentra el mercado, panadería, farmacia, cajero automático, cafetería y restaurante. En el centro de la ciudad, que está a 200 m de la casa, se encuentra también la oficina de correos, oficina de cambio, 2 mercados, panadería, oficina de turismo, parque infantil y varias cafeterías y restaurantes.
Apartamento con buenas vistas a 5 min de la playa.
Javier
2017-03-31T00:00:00Z
It was a very wonderful accommodation. The room was very clean and you have a amazing view and can look the sunset.
Yasemin
2015-09-09T00:00:00Z
Great appartement! Brela is beautiful!!! Brela war super, das Zimmer war super und eine echt freundliche Familie! highly recommended!!! Würde sofort wieder nach Brela und zur Familie Medic gehen.
Basil
2013-07-19T00:00:00Z
Eine warm-herzliche Unterkunft bei Josip Medic und seiner Frau. Die Möglichkeit bei Ihnen gut zu frühstücken, dies mit einer reichhaltigen Auswahl und einer wunderschönen Aussicht auf das Meer, hat uns gefallen. Die Zimmer sind praktisch und sauber mit einer fantastischen Aussicht. Am Abend kann man auf seinem Balkon, was gemütliches trinken und die Aussicht vom Hafen über das Meer zu den gegenüberliegenden Inseln gleiten lassen. Alles was man benötigt ist in der Nähe. Wir werden noch lange an unsere Ferien in Kroatien zurück denken und an die nette Familie Medic. Der Kontakt mit Maja zur Buchung war perfekt. Wir können diese Unterkunft, Bestens empfehlen! Markus und Andrea
Markus
2014-06-08T00:00:00Z
Sehr gepflegtes, angenehmes Zimmer mit wunderbarem Blick aufs Meer, einige Schritte vom Dorfzentrum und dem Strand entfernt. Maja antwortete umgehend auf unsere Kontaktaufnahme und Fragen. Im Haus wurden wir von ihren ausserordentlich sympatischen Schwiegereltern empfangen und während unseres Aufenthalts aufs freundlichste betreut. Wir haben uns sehr wohlgefühlt und empfehlen diese Unterkunft sehr gerne weiter! Herzlichen Dank an alle!
Ursula
2016-08-26T00:00:00Z
Maja has been on a business trip so her parents cared for us. They have been generous and friendly hosts, Brela is a really nice place and the apartments are beautiful and in fact located just a short walk and some stairs from the (beautiful) see. Unfortunately we had to leave early because of a death in the closest family. However, we wish we could have stayed all the time we booked and will try to visit Brela and Maja's house again. Thank you! tl;dr you'll love it!
Christoph
2013-07-10T00:00:00Z
We had a very pleasant stay at Maja's house. The room was great, amazing view from the balcony. We were picked up at the bus station by Maja's father-in-law, and he also brought us back to the bus station the next day. That was very nice! I could really recommend this place. Very close to the beach, comfortable room.
Emma
2015-08-09T00:00:00Z
Maja's appartment has a beautiful view and is exactly like the pictures: bright, clean and with happ colors. It takes about 5 to 8 minutes to get from the appartment to the town and beach. We loved to stay and felt safe as we could park our car at the private (big) parking.
Lenia
2016-08-06T00:00:00Z
Tipo de habitación
Habitación privada
---
Tipo de propiedad
Bed & Breakfast
---
Capacidad
3
---
Dormitorios
Brela, Split-Dalmacia, Croacia
Colle dell'Ara no es un hotel. Estar con nosotros, en nuestra casa, significa tratar de una experiencia rara. Con nosotros usted tendrá la oportunidad con nosotros para disfrutar de unas vacaciones en el corazón de los sabores, los aromas y los colores de nuestra tierra.
Colle dell'Ara no es un hotel. Estar con nosotros, en nuestra casa, significa tratar de una experiencia rara. Estamos en Positano, en el pequeño pueblo de Montepertuso, que se encuentra justo por encima de este rincón del paraíso en la costa de Amalfi. El edificio está situado en la cima de la colina y se puede llegar a pie en 5-6 minutos a través de un camino antiguo, totalmente iluminado por la noche.
El centro de Positano se puede llegar en autobús en 20 minutos o 35-40 minutos a través de una escalera de siglos de duración. Para los amantes del trekking, nuestra estructura está directamente relacionada con los principales caminos de Monti Lattari y el más famoso Walkpath de Dios.
Espectacular el servicio, el lugar, muy hermoso, cómodo y exclusivo.
Nadia
2016-04-22T00:00:00Z
Referente al lugar, habitación y servicio, excelente . Referente a las personas que componen la familia, una gente muy amable, servicial y cariñosos. Realmente nos sentimos como en casa. Comentario constructivo: mejorar senda de acceso a la casa. Atentamente Noemí
Noemi
2013-07-16T00:00:00Z
My friend and I were exploring Positano and accidentally went to the other building owned by Pasquale. He had no problem driving us back to where we needed to be and was extremely helpful. Made us dinner reservations and explained the bus system. Place was clean and the spacious bathroom shower is just what you need after a long day of traveling. But the best part is the terrace view.. the picture on Airbnb does not do it justice. It's absolutely breathtaking. Loved everything about my stay here.
Monika
2016-09-23T00:00:00Z
Pasquale was so nice helped with everything like transfers ect. Makes a half decent coffee aswell
Mark & Haylee
2015-09-08T00:00:00Z
If you are looking for a great place to go during the summer months but don't particularly like the crowds, this place is for you! It is perched high up in the hills of Monterpertuso overlooking the beautiful Amalfi coast. Pasquale and his family made us feel most welcome. His brother Marco was there to greet us and took our bags up with the help of a lift. He was also great in recommending restaurants and making our reservations. On our last night, Pasquale, Marco, and their dad made us a meal of the organic fruits and vegetables they grow around their place. It was fantastic and the highlight of our stay.
Carol
2016-06-24T00:00:00Z
Colle dell'ara is undoubtedly Positano's best kept secret. This gorgeous bnb situated on the side of a mountain overlooking Positano is tranquil and relaxing, the perfect getaway for couples who enjoy good food and wine and want to take in the stunning view. Giacomo and his family went above and beyond anything we could have expected - preparing coffee and a delicious breakfast in the mornings and homemade meals using fresh tomatoes, zucchini and basil from the garden at night. Above all, they were incredibly generous and welcoming. We cannot thank them enough for making our stay so memorable and amazing. We cannot wake to come back soon!
Allegra
2011-08-15T00:00:00Z
- Unexpected experience with a cute old italian man throwing our bags in a gondola and it zooming up the mountain -family run, we met 2/3 brothers and a dad-all totally charming -Magical cliffside view overlooking Positano -DO NOT TURN DOWN DINNER IF OFFERED-it was the best meal we had in Italy. Most of the vegetables were picked from their garden -Going to meet up with marco(a brother) when he comes to ny
Kai
2012-06-04T00:00:00Z
Pasquale was very friendly and a great host. His B&B is beautiful and the view surrounding the house and from our rooms was unbelievable. Although a bit remote, the house is easily accessible if you have some stamina. Pasquale made us feel at home and the breakfast he surved was really nice :) I would definitely like to go back to this place in an other season.
Vincent
2015-04-21T00:00:00Z
Tipo de habitación
Habitación privada
---
Tipo de propiedad
Bed & Breakfast
---
Capacidad
2
---
Dormitorios
Positano, Province of Salerno, Italia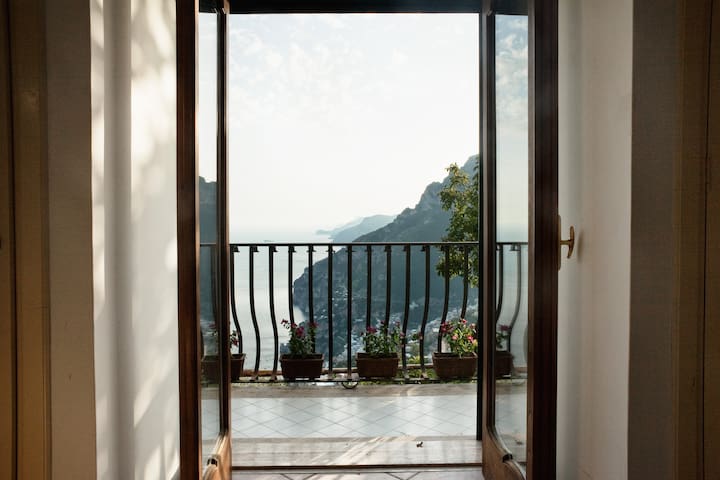 It will be a pleasure for us to welcome you! Our house is located in the hilly countryside of Abruzzo, land of good wine and great food, two kilometers from the Adriatic Sea. Colonnella is a charming village on the hill of ancient origin, has a quaint downtown, which is accessed through a beautiful staircase of the Spanish flu, to visit as a whole, in particular not to be missed church Saints Cyprian and Justina in square People's, Roman Cisterns, Old Source. The beaches closest to us are: Porto d'Ascoli, San Benedetto del Tronto, Martinsicuro,equipped with bars, restaurants, beach umbrellas, deck chairs, or free and natural. In half an hour by car, or a convenient train from Porto Ascoli, you can visit the city of Ascoli Piceno, one of the most beautiful and monumental city of Italy, with several squares between them being the Renaissance Square People, true open-air lounge, considered one of the most beautiful in Italy; impossible to list everything, Ascoli should be lived, discovered, tasted, with its many buildings from the Roman Era. In just over an hour by car, you can reach the Abruzzo National Park, the oldest in Italy, known for the conservation of wildlife species such as the wolf, the bear Marsicano, the Abruzzo chamois. We have a building made of wood, choice of life ecological, we have a large garden to live fully in the summer,with cats, dog, goldfish and goats. The availability of accommodation is a comfortable double bedroom, bathroom with shower, Wi fi; children up to 6 years are free. The breakfast included in the price is served in the garden in fine weather. The bus stop closest to us is one kilometer. Our guests can also enjoy free use of bicycles. We live with cats and dog, alert for those who have allergies, they are still very friendly and willing.
La más cálida bienvenida y preocupación porque se nos hizo tarde en la hora de llagada. Nos esperaba con mucha alegría y nos brindó su casa con mucho amor. El cuarto y el baño muy amplios y buenos. El desayuno exquisito preparado bajo su glorieta. Todo más que recomendable Elba y Osvaldo
Osvaldo
2012-07-01T00:00:00Z
la casa creativa ha soddisfatto pienamente le nostre aspettative.Fosca è stata molto disponibile e cordiale e i suoi piccoli amici hanno reso la vacanza molto piacevole...panorama stupendo...noi lo consigliamo!
Giuseppe
2014-07-25T00:00:00Z
Siamo stati accolti molto bene; la casa è un gioiello; in campagna con gli animali ( per noi era un pregio).
Claudia
2016-09-03T00:00:00Z
Esperienza positivissima. Siamo stati ospiti di Fosca per due notti e ci siamo trovati benissimo. La casa è molto bella e particolare. Complimenti per la cura dell'arredamento e l'eccellente stato di pulizia ed ordine . È una location strategica per chi intende visitare "mare e monti" . Fosca e suo marito sono stati molto gentili e disponibili e ci hanno lasciato godere della casa come se fossimo stati noi i proprietari. Sicuramente ripeteremo prossimamente il soggiorno presso la casa creativa di Fosca dove anche la colazione non ha uguali. Grazie !!!!!!!!!!!
Cosimo
2015-07-06T00:00:00Z
We enjoyed our stay at Casa Creativa, Fosca and her family was our very nice and helpful hosts. The room, as well as the bathroom was very clean and beutifully furnished. The location of the house just perfrectly fitted our needs: it was 2 minutes drive from the beautiful tiny little village of Colonnella built on the top of the hill, while at the same time we could easily get into San Benedetto and other towns nearby to enjoy the beach. It was a nice surprise that this very favourable price includes the breakfast as well. It was really a good deal.
Judit
2012-08-02T00:00:00Z
Ho soggiornato presso la Casa Creativa per una notte con mio marito e il mio bimbo di un anno e mezzo. La casa è proprio bella e molto pulita, la stanza e il bagno grandi, la posizione strategica per godere della tranquillità della campagna senza rinunciare alla comodità di raggiungere San Benedetto del Tronto in cinque minuti di auto. La colazione buonissima e super abbondante! Fosca e la sua famiglia sono veramente delle persone splendide, gentilissime e non invadenti. E anche gli inquilini a quattro zampe (il cagnolone Ulisse e i tanti gatti) sono adorabili! Non posso che consigliare questa sistemazione!
Elena
2015-07-07T00:00:00Z
We had two great weeks at their lovely home. I can only recommend to stay there. Grazie di tutto Fosca!
Miro
2012-08-29T00:00:00Z
La casa, completamente di legno, è un gioiellino vero e proprio, immerso nel verde e nella tranquillità. Fosca e la sua famiglia sono stati squisiti. Il cagnolone Ulisse è un coccolone! Colazione ricca e abbondante.
Claudio
2016-09-02T00:00:00Z
Tipo de habitación
Habitación privada
---
Tipo de propiedad
Bed & Breakfast
---
Capacidad
3
---
Dormitorios
Colonnella, Abruzzi, Italia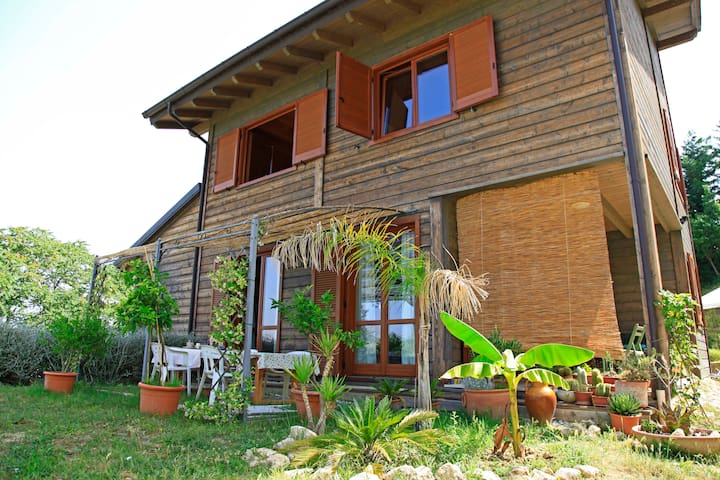 You are all welcome to come and enjoy the friendly and relaxed atmosphere that you will find it here whether you're traveling with your family whether you are in a group.WE ARE AT A HIGH FLOOR WITH ELEVATOR. The rooms we offer are double, twin, triple or quadruple with shared or private bathroom extern. . All rooms are spacious, clean, with heating, linen and towels included and also cleaning service.Our rooms offers a delightful garden panoramic view. Colosseum, Roman Forum, Piazza Venezia, Campidoglio, Santa Maria Maggiore , Fontana di Trevi, just away from us are virtually our neighbors . Facilities : All the necessary comforts for a pleasant stay: - Maps of Rome -Smoking area - Heating - Fully Equipped Kitchen with 4 burners - Fridge-freezer - Oven - Iron - Hairdryer - Brand new bed linen, bath and kitchen -Books in Various Languages - Wi-Fi - Tourist Information - Supermarket around the corner (open 08:00-20:00) -Transfer from the Airport (not included in the price). --parking nearby (It pays) -restaurant and pizzeria nearby. - Park for exercises nearb(URL HIDDEN) IMPORTANT!!!!! The city tax of 3,50€ are extra.(URL HIDDEN) IMPORTANT!!!! AFTHER THE RESERVATION I WILL SET YOU ALL THE INFORMATION ABOUT EVERYTHING YOU NEED.
El apartamento esta muy bien ubicado, a 15 minutos caminando al Coliseo pero alejado del ruido. Giovanni y quien le ayuda, Michelle, fueron muy amables y estuvieron atentos a todas nuestras necesidades. El cuarto era normal, bastante distinto a la foto, y sin baño privado. Cuando los otros cuartos están llenos con huéspedes los dos baños que tiene el apartamento y el espacio público como tal quedan bastante reducidos. Aparte de los cuartos y baños lo único que hay es una muy pequeña cocina. Agradecí poder usar la nevera pero el desayuno debe comerse en el cuarto porque no hay donde más sentarse.
Arlene
2015-09-21T00:00:00Z
buena localizacion, cerca del coliseo y de la estacion de metro. desgraciadamente la habitacion reservada no fue la que tuviemos al llegar, pero estaba limpia y tenia bano. la entrada del lugar no era muy limpia ni se veia muy segura pero no tuvimos problema. El propietario fue amable y nos explico con una carta los lugares a visitar y como llegar facilmente.
Astrid
2017-03-05T00:00:00Z
Muy buen anfitrión, nos estaba esperando con el mapa de Roma, nos explico todo lo que teníamos que saber, el departamento muy limpio, la habitación muy cómoda con aire acondicionado, realmente descance como en mi casa, el barrio tranquilo, estuvo todo muy bien, lo recomiendo, llegamos caminando a todas las atracciones, muy bien hubicado
Maria OLga
2015-08-28T00:00:00Z
Geovanni fue un excelente anfitrión! Nos estuvo esperando hasta la hora que llegamos, las habitaciones muy limpias y cómodas y el piso en general estuvo muy bien! Fuimos bien atendidos, el desayuno muy bueno!
Ana Sofía
2015-07-09T00:00:00Z
Ubicación muy buena, limpieza y amabilidad de los anfitriones, incluso Giovanni nos explico en un mapa los puntos de interés y como llegar mejor de lo que lo hicieron los de información turística. El desayuno magnífico. Muy recomendable
David
2015-05-12T00:00:00Z
Giovanni tiene todo organizado y todo salió muy bien. Sólo no tenía claro el pago del impuesto de 14 Euros adicionales. De resto todo muy bien. El apartamento muy bien ubicado y la guía turística muy buena. El lugar limpio y cómodo
CARLOS ALBERTO
2015-11-15T00:00:00Z
Lo recomiendo, Giovanni es un buen anfitrión la ubicación es muy accesible para disfrutar de Roma, y pude aparcar sin ningún problema .
carlos
2015-09-10T00:00:00Z
Pasamos una excelente estadía!!! El departamento es súper cómodo, la habitación muy limpia y el colchón excelente (muy importante para nosotros). Muy cerca de todo. Giovani y su esposa son excelentes! Nos dieron datos de cómo recorrer la ciudad y donde comer. El desayuno nos encanto principalmente las facturas! Recomendamos el lugar un 100%!!!!
Andres Marco
2016-05-21T00:00:00Z
Tipo de habitación
Habitación privada
---
Tipo de propiedad
Bed & Breakfast
---
Capacidad
5
---
Dormitorios
Roma, Lazio, Italia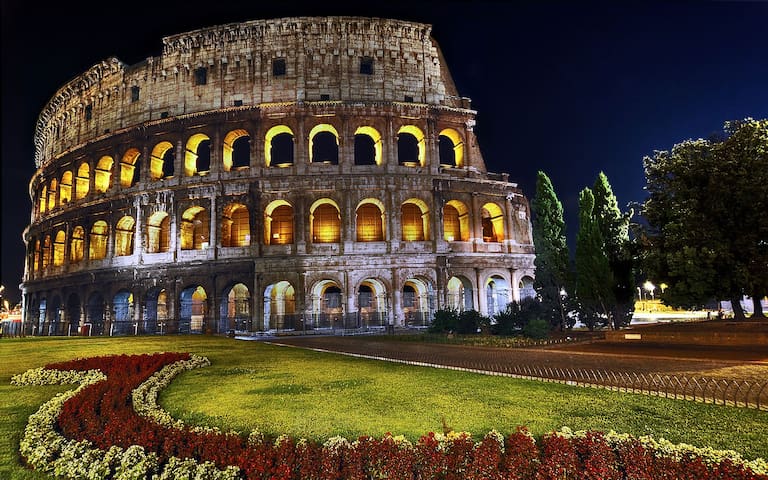 Colorato e accogliente B&B in una delle zone più vivaci e caratteristiche della capitale! Feel at home in our new colourful and cozy B&B based in one of the liveliest and most characteristic neighborhoods in Rome!
Il B&B si trova in un appartamento di un palazzo di fine '800 adiacente le mura romane del III sec. d.C., nello storico quartiere di San Lorenzo. La zona è raggiungibile a piedi dalla stazione Termini (circa 10 minuti) e collegata al centro storico da diversi mezzi pubblici. La casa è stata da poco ristrutturata rispettando le caratteristiche architettoniche originarie (come gli archi e i mattoncini a vista nelle volte), ma pensata per travolgere chi varca la porta di ingresso dall'allegria dei colori, che per noi sono sinonimo di natura e vita. Abbiamo creato con tanta passione un ambiente caldo e accogliente, con diversi arredi e oggetti realizzati da noi stessi, in cui vogliamo regalare un'esperienza di soggiorno unica e personalizzata. Nella gestione della casa, ci impegniamo a minimizzare l'impatto sull'ambiente e cerchiamo di sensibilizzare i nostri ospiti a fare lo stesso; a colazione troverete prodotti biologici, a km 0, di stagione o equo-solidali, i prodotti per la pulizia personale e della casa sono ecologici, promuoviamo la raccolta differenziata anche nelle camere, utilizziamo solo acqua in vetro e carta riciclata. Offriamo alloggio in una camera doppia, la "Nel blu dipinto di blu", omaggio alla tranquillità del blu e dell'azzurro, con il suo aroma caratteristico. Nella camera è presente un letto matrimoniale e un divano letto. La camera è dotata di cabina armadio, scrivania, tv a schermo piatto con programmazione SKY (cinema, calcio e sport), zanzariera e aria condizionata. Il bagno è esterno e comune alle due camere presenti nel B&B (dedicato solo agli ospiti) ed è dotato di doccia idromassaggio e radio; in caso di necessità, è possibile usufruire anche del bagno dei proprietari. Nello spazio comune, dedicato al colore arancione, viene servita un'abbondante colazione (al prezzo aggiuntivo di 5€ a persona); durante tutto il giorno si può accedere all'angolo bevande (caffè, cappuccino, tisane, tè, ecc.) e rilassarsi al grande tavolo da bar. Offriamo ai nostri ospiti biancheria da letto e da bagno completa, un set cortesia composto da bagnoschiuma e shampoo ecologici, asciugacapelli, tappetino scendi doccia per ogni camera, doppi cuscini per ciascun ospite (uno morbido e uno più rigido in memory foam), un kit con numerose informazioni turistiche e la possibilità di utilizzo del frigorifero, del microonde e dell'angolo cottura (solo per preparare panini, insalate o riscaldare cibo pronto) e della lavatrice. The B&B is situated in a building dating back to the 1800's, next to the Roman walls of the 3rd century A.C. We are based in the historic district of San Lorenzo, with Termini station only a 10 minute walk away. The flat has recently been refurbished preserving the original arches and exposed brick vaults, with the addition of a few personal touches. Once you have walked through our front doors, you will be immersed in a world of colours connecting you with nature and life.We have created a warm and welcoming ambience, which we hope gives our guests a unique and personalized holiday experience. We are committed to minimizing our environmental footprint and the impact of our house management and try to encourage our guests to do the same: we serve seasonal organic, fair trade products for breakfast,all of which have been locally sourced; bath foam and shampoo are environmentally friendly; we only use returnable glass water bottles and recycled paper; we promote waste recycling in all our rooms. Look out for furniture and various objects which have been handmade or recycled in the spirit of this! We offer accommodation in a quiet room, the "Nel Blu Dipinto di Blu", a tribute to the tranquility of blue, having its distinctive aroma. Room features a double bed, a sofa bed, 2 pillows for each guest (soft and memory foam ones), a small walk-in closet, a desk, flat screen TV with satellite channels, mosquito net and air conditioning. The bathroom is shared between both guest rooms and is equipped with a massage shower and radio. The common area is painted in orange and it's where breakfast is offered (extra price of 5 € per person); throughout the day you can always help yourself to the drinks' corner (coffee, cappuccino, tea, infusions, etc.) and relax around the large bar table. We offer our guests bed linen and towels, shower gel and shampoo, hair dryer and shower mat in each room, a kit with lots of tourist information and the optional use of fridge, the microwave and the kitchen (only for preparing sandwiches, salads and to heat ready to eat food) and washing machine.
San Lorenzo, anche grazie alla vicinanza con l'università La Sapienza, è una delle zone più vivaci e caratteristiche di Roma e un'area di sperimentazione artistica e culturale, con stradine animate da gallerie d'arte, studi e botteghe artigianali e creative, caffè, locali, associazioni, negozietti dei più disparati e supermercati. Anche solo affacciandoti alla finestra della camera, potrebbe capitare di osservare dei ragazzi mentre scolpiscono le loro opere e, girovagando per il quartiere, ti sembrerà di essere un residente e non ti sentirai mai solo! A pranzo e cena avrai l'imbarazzo della scelta, potendo scegliere tra innumerevoli proposte di street food, cucina tipica romana, piatti vegani, cucina internazionale, ecc. e potrai scegliere tra decine di opportunità culturali e di intrattenimento, per esempio visitare l'antica basilica di San Lorenzo o il Cimitero monumentale del Verano, guardare un film in un piccolo cinema caratteristico, fare un giro a una mostra d'arte al Pastificio Cerere, mangiare un goloso pasticcino nell'Antica fabbrica del cioccolato, bere un caffè in una libreria o comprare uno strumento per le arti circensi! San Lorenzo, given its proximity to La Sapienza University, is one of the liveliest and most characteristic neighborhoods in Rome. It is an area brimming with culture and art, with streets full of art galleries and workshops, cafes, clubs, supermarkets and a variety of shops. You may be lucky enough to watch some artists working on their crafts and be captivated by the vibrant atmosphere around the streets of our neighborhood. At lunch and dinner, you'll be spoilt for choice, with many options at your disposal: street food, Roman cuisine, vegan dishes, international cuisine, to name but a few! Experience the many cultural and entertainment opportunities: visit the ancient San Lorenzo's Basilica or the Verano monumental cemetery, watch a film in a tiny peculiar movie house, visit an art exhibition in the Pastificio Cerere, eat a delicious pastry in the Ancient chocolate factory, have a coffee in a bookstore or buy a tool for the circus! The choices are never ending!
Carmen es una Superhost! Me recibió bien temprano, me oriento y me facilito tickets para el coliseo sin esperar largas lineas (muy recomendable). Es muy hospitalaria, servicial y me hizo sentir muy cómoda. El departamento es bello! Y con muchas comodidades. Cerca de Termini la estación central
Gaby
2016-10-27T00:00:00Z
Relación calidad precio inmejorable, los anfitriones muy educados y agradables el sitio inmejorable
Carlos
2017-04-03T00:00:00Z
Carmen es una persona extraordinaria, amable, servicial y muy empática. El lugar es muy cómodo y hermoso, corresponde absolutamente a la descripción previa. El barrio tiene todo lo se necesita, es seguro e interesante. Solo puedo agregar que si volviera a Roma lo haria donde Carmen, me ayudó en todo lo que necesité considerando que llegué con una doble fractura de tobillo por un accidente el día anterior a mi llegada.
Mónica
2016-07-23T00:00:00Z
we were very pleased with everything . Carmen was a wonderful hostess and we would not hesitate to stay here again . It was nearly perfekt for me and my two children. A great recommendation in one of the most beautiful cities in the world !
Margrit
2016-08-06T00:00:00Z
This place was perfect for our 2-day trip to Rome! Fantastic location and wonderful hosts (who were very helpful in giving us tips about the local area/transportation) - everything exactly as described. Thank you for a great time!
Cara
2017-03-07T00:00:00Z
Carmen was a great host and the room was just what I needed. The whole apartment is meticulously clean and cared for. I found it easy to walk to the places I wanted to visit. I highly recommend her and her apartment and I would love to stay again some time in the future.
Silvana
2016-12-02T00:00:00Z
We only stayed one night with Carmen but we were very happy with the room and apartment - it's got a lot of character and was very clean. Carmen was a fantastic host, our flight was delayed so we ended up arriving a few hours late but Carmen accommodated these changes and even let us stay later the following day. The area comes alive at night, lots of lovely restaurants and bars within walking distance. We would definitely stay again.
Sarah
2017-02-24T00:00:00Z
Wir haben unsere Zeit in Carmens gemütlichem B&B sehr genossen. Sie und ihr Mann haben uns sehr freundlich begrüßt und wir haben viele Tipps für unseren Aufenthalt bekommen. Es gibt auch eine Pinnwand mit Restaurants usw. in der Umgebung. Die Tipps waren großartig! Alles ist extrem sauber. Fast wie im Hotel, wenn gewünscht wird das Zimmer gereinigt und neue Handtücher gibt es auf Wunsch auch. Das Frühstück wird sehr liebevoll von Carmen zubereitet. Wir kommen bestimmt wieder.
Alina
2017-03-22T00:00:00Z
Tipo de habitación
Habitación privada
---
Tipo de propiedad
Bed & Breakfast
---
Capacidad
3
---
Dormitorios
Roma, Lazio, Italia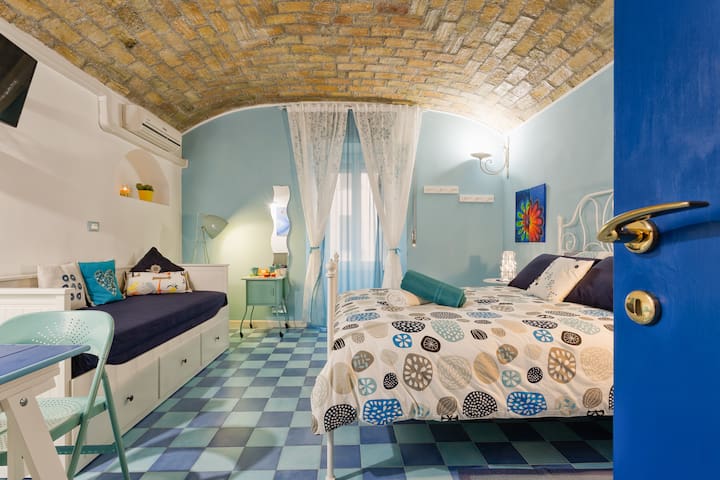 Our house is located in a quiet safe and friendly residential area not so far from the touristic center (the island), close to the bus stops and all amenities!
Casa d'Oro is a beautiful house in a quiet residential area in Venice mainland, the perfect place to rest after a busy day out sightseeing. Our house is in Favaro Veneto, a Venice mainland district, close to the Marco Polo (VCE - Venice) airport We are very well connected to: - Venice island (the historical area) 15-20 minutes by bus n.19 and 4, or 35-40minutes by Tram (metro) T1, running all day 6a.m.-1a.m. - ticket 1,5euro - Marco Polo (VCE) airport: 5-10 minutes by bus n.45 - ticket 8 euro - Santa Lucia Venice train station: same as Venice Island - Mestre train station: 25-30 minutes by Tram (metro), From station take n. T2 to Mestre Centro , then change T1 to La Piazza - ticket 1,5euro -Cruise terminal: Take People Mover to Pl. Roma, then bus no.19 or Tram - ticket 1,5euro Shops, coffee and delicious ice cream/gelato shop, pizza shop, banks and ATMs and one the best trattoria restaurant of Venice are 5 minutes walking only from us. Wi-Fi, air conditioning, towels, bed linen and hairdryer provided. A large breakfast room is available at ground floor, where we serve breakfast from 8a.m. to 11a.m. (included) A free and safe public parking is available 24hrs/24 just 300meters from us. Every room goes with its set of keys so the guest is 24hrs/24 totally independent. If needed we can provide trasportation. Just ask us
The neighborhood is very safe and friendly and one of the best trattoria of Venice is only 2 minutes walking from us. We are very well connected to Venice island , Marco Polo airport and Mestre train station
Aunque no tuvimos el placer de conocer a Hsinyi y Gabriel (estaban de viaje), conocimos a su simpático y particular hermano Cristian, el cual nos dió una excelente bienvenida, nos atendió de la mejor manera y fué más allá para hacernos sentir cómodos y bienvenidos con buena vibra y energía. El b&b es agradable, limpio, acogedor y muy tranquilo. Excelente para descansar después de un largo día en Venecia. Cristian nos dió muy buenos tips en cuanto a transporte a la Isla e incluso nos llevó a la estación de bus con mucha amabilidad ya que el clima durante nuestra estadía no fué el mejor (llovió todo el día). El mejor tip de Cristian fue el de "Piero Tratoria y Pizzería" un restaurante que queda a un par de cuadras del b&b...literalmente la mejor pasta que me he comido en mi vida!!! Excelente atención y muy buenos precios...lo recomiendo 100%. En general, mi experiencia en el b&b fue excelente y lo recomiendo totalmente.
Camilo
2015-03-27T00:00:00Z
Es un lugar que está apartado de Venecia, pero tiene buen acceso por medio de transporte público en 35 minutos. Teniendo en cuenta que alojarse en Venecia es más caro y complicado. estuvo muy bien para ser un B&B, Muchas gracias Gabriel!!!
Fabián
2017-02-17T00:00:00Z
Una excelente experiencia. Cristian nos ayudó desde que llegamos indicandonos la opción para ir a Venecia. La habitación y en general el B&B estaban muy limpios y ordenados. Muchas gracias por todos!
JImena
2015-04-29T00:00:00Z
Bonita casa, cuarto y baño muy cómodos. Muy buen desayuno.
Juan
2015-08-05T00:00:00Z
Gabriel fue muy bien anfitrión nos dio las instrucciones precisas. Gracias por todo
Sandra
2015-12-27T00:00:00Z
Tuvimos mala experiencia con el hermano del anfitrión. Nuestros anfitriones Hsinyi y Gabriel estaban de viaje, nunca los conocimos. Al llegar nos recibió el hermano de Gabriel, todo parecia normal hasta k nos ofreció llevarnos al aeropuerto x 25€ a la mañana siguiente después de hacernos el desayuno. Al dia siguiente NI nos hizo el desayuno ( k pagamos) NI apareció para llevarnos al aeropuerto. Esperamos media hora antes de salir pitando a cojer el bus!!!!(1 cada hora) para llegar al vuelo k obviamente hubieramos perdido, sino es xla suerte de volar con vueling k tuvo retraso en el embarque de media hora. Y para rematar la faena escuchamos pitidos de su coche pasándo x delante de la parada del bus, NO para disculparse, NO para llevarnos rápido al aeropuerto?.!! Sino para pedirnos la LLAVE!!!!(llave k por descontado permanecia en su sitio.)NUNCA he estado TAN NERVIOSA en toda mi vida,sabiéndo k perdíamos el avión. Espero k Gabriel se ponga en contacto con nosotos y desdeluego k nos devuelvan el importe de nuestro desayuno. El alojamiento es correcto, esta limpio, el baño compartido.JoseM. Pol & Ita
Ita
2016-07-12T00:00:00Z
Nuestra estancia en casa de Gabriel fue muy buena. Su casa es hermosa a las afueras de venecia, sin ser lejos, es un lugar muy tranquilo y relajado. Gabriel es un excelente anfitrión, fue muy amable todo el tiempo.
LEONARDO
2014-06-11T00:00:00Z
Buena ubicación cerca al aeropuerto, limpia y cómoda. Encuentras buenos lugares para comer muy buenos y cerca.
Angela Maria
2014-07-30T00:00:00Z
Tipo de habitación
Habitación privada
---
Tipo de propiedad
Bed & Breakfast
---
Capacidad
5
---
Dormitorios
Venecia, Véneto, Italia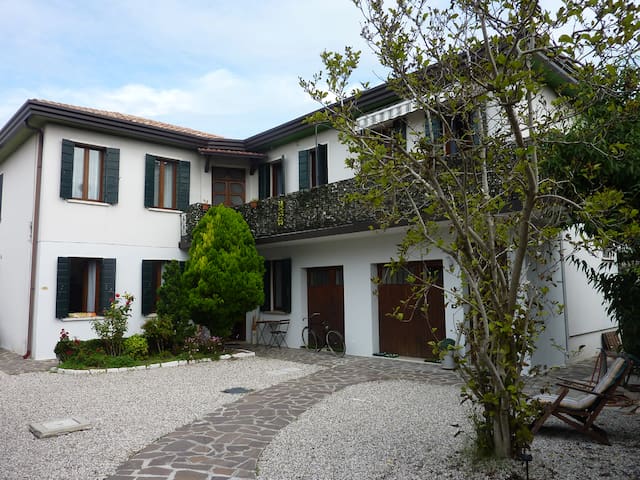 Stanza Degli Amalfitani comfortable bedroom with king size bed and private bathroom. Sea view balcony furnished, A/C, Wi-Fi, LCD TV and all the comfort offers from us.
Salerno in Alto Mare B&B is located in St. Augustine Square, the heart of the historical center of the city. The location is ideal to visit the central area of Salerno and easily reach the Amalfi Coast, Pompeii, Paestum, Capri and more. The B&B is on the seventh and top floor and offers three rooms with private bathroom. All rooms have sea views balconies furnished, LCD TV, Wi-Fi, air conditioning, hairdryer. Possibility of parking, shuttle service, rental of boats and bikes.
The B&B Salerno in Alto Mare is located at the beginning of the old town of Salerno in a low-traffic area, safe and lively during the day and night. The property is near the most important monuments of the city, just a few meters away is the promenade and the beach, from where you can run or take a little of sun and relax. The area offers plenty cafes, ice cream shops, traditional restaurants and various shops.
INCREÍBLE Luca es una gran persona y un gran casero, lo que sumado al sitio privilegiado del apartamento hacen de la estancia un experiencia única y muy recomendable. Las vistas son espectaculares, está al lado de la playa y en pleno centro por lo que se puede visitar todo a pie. Buen servicio, todo limpio y unos riquísimos "cornetto" para desayunar. Para mi: 10
Luis
2016-09-30T00:00:00Z
Muy buena atención y predisposición. El lugar muy lindo, bien aseado y está muy bien ubicado. Realmente recomendable!!!
Gisela
2016-05-03T00:00:00Z
Nos encantó la habitación, muy luminosa, baño privado y hasta con balcón, una vista genial. Luca y Veronika son excelentes personas muy amables y atentas. Tienen en lugar muy bien equipado y con muchos folletos de los lugares turísticos y a donde se puede ir a comer muy bien y sin gastar demasiado. Pasamos unos días excelentes en Salerno. Excelente lugar para hacer base e ir a visitar la costiera amalfitana. We loved the room, very bright, private bathroom and even with balcony, a great view. Luca and Veronika are excellent people very friendly and attentive. They have in place very well equipped and with many brochures of the tourist places, and where you can go to eat very well and without spending too much. We spent some excellent days in Salerno. Excellent place to do base and go to visit the costiera amalfitana.
Juan Alberto
2016-11-21T00:00:00Z
Luca y su novia fueron grandes anfitriones. Nos ayudaron para saber cómo ir a los lugares que buscábamos y además nos dieron grandes recomendaciones de restaurantes, playas, transporte, etc. El departamento es muy lindo, perfectamente ubicado y el desayuno es genial! Pasamos grandes días allí y volveríamos a elegirlo sin dudas. Gracias Luca!
Lucas
2016-07-31T00:00:00Z
Simplemente Lucas un fenómeno !! A pesar q no hablábamos el idioma nos entendimos sin problema ... Su lugar es excelente y de acuerdo con la descripción . La zona está muy bien , tiene todo cerca
Jimmy
2016-06-24T00:00:00Z
Luca and Veronika's B&B is a very gut location in Salerno with a perfect connection for the train, bus, ferry. You have a good possibility to visit a lot of places and discover the south of Italy. The both host were very friendly and helpful. It was real pleasure for me to stay with Luca and Veronica. Their apartment has a very pleasant atmosphere, everything was very clean. I would high recommend B&B Salerno in Alto Mare to visit Salerno, Amalfi Coast and another places in the near. Thank you for this nice stay!
Tanja
2013-09-13T00:00:00Z
Cordiale e disponibile, non posso che dare la mia massima raccomandazione! Il B&B è pulito e ben arredato, con una bella vista dal balcone della cucina e salotto.
Tommaso
2014-03-29T00:00:00Z
We had a very pleasant experience at the B&B in Salerno. After missing our train and being a day late, Luca was very understanding. He was friendly and helpful and made us feel so welcome. The apartment was very clean and His breakfast was oh so good! I would definitely recommend staying at this B&B. I only wish we had more time to stay in Salerno!
Lin
2016-05-19T00:00:00Z
Tipo de habitación
Habitación privada
---
Tipo de propiedad
Bed & Breakfast
---
Capacidad
2
---
Dormitorios
Salerno, Campania, Italia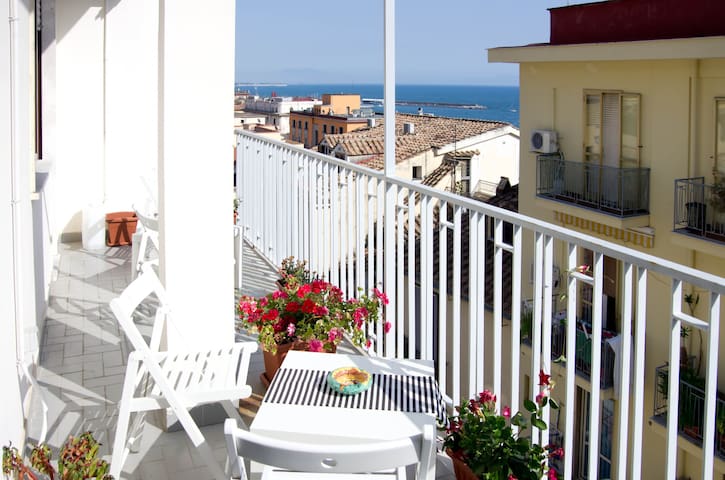 Siamo nella zona centrale dei Sassi di Matera , a pochi passi dai monumenti e dalle chiese rupestri ed immersi nella vita vera dei Sassi , con gli mici ,le botteghe , i vicini , i falchi grillai e le rondini
La casa è situata nel cuore del Sasso Caveoso in un palazzo del '700. Noi la abitiamo oramai da trenta anni e già tre generazioni si rincorrono , la posizione molto vicina al centro di Matera rende facile raggiungere tutti i monumenti e gli angoli più belli della nostra città .
La stanza è situata a pochi passi dalle Chiese Rupestri che caratterizzano i Sassi. Da qui si può godere della vera essenza dei Sassi con le botteghe artigianali, i falchi grillai , gli abitanti e i commercianti .
L'appartamento è molto bello e accogliente, pulito e curato nei minimi dettagli. Molto apprezzata la colazione offerta. L'appartamento si trova in una zona ottima perfetta per visitare i bellissimi sassi e la zona centrale limitrofa di Matera. Consiglio l'alloggio come soluzione perfetta anche per più giorni.
Anna
2016-08-25T00:00:00Z
Nastassia, è una delle persone più dolci che io abbia mai visto, molto gentile, e tranquilla. La stanza ha una posizione fantastica, è molto comoda e tranquilla. Consigliatissima!!!
Farhad
2016-10-16T00:00:00Z
All was perfecto! I didn't meet Nastassia but was in contact with her and her husband. My arrival was not exact but her father let me in to the room which was like the pictures, very clean and quaint. Marcelo , Nastassia's husband provided breakfast both mornings-excellent cappuccinos! The location was great too-walking distanc to all in old town. I highly recommend !
Daniel
2015-10-10T00:00:00Z
Great place and great host!
Albin
2016-11-23T00:00:00Z
La camera e' graziosa, in posizione strategica nei sassi. Accoglienza non pervenuta, nel senso che non abbiamo avuto il piacere di un saluto n'è' all'arrivo n'è' alla partenza.
Elisa
2016-08-19T00:00:00Z
Immerso nella parte più caratteristica di Matera
Valeria
2017-02-05T00:00:00Z
Manca la TV ma sicuramente è' una scelta per far vivere a pieno l'esperienza dei sassi, posto centralissimo nei sassi, cortesia pulizia e disponibilità', mi sono trovato benissimo e qualora tornassi a soggiornare a Matera tornero' da Marcello e nastassia, grazie della graditissima ospitalita' e a presto
Marcello
2016-03-09T00:00:00Z
Super emplacement et petit déjeuner copieux et gourmand pris dans la charmante petite rue dans laquelle se trouve la chambre. Idéal pour visiter la vielle ville de Matera.
Marine
2015-08-18T00:00:00Z
Tipo de habitación
Habitación privada
---
Tipo de propiedad
Bed & Breakfast
---
Capacidad
3
---
Dormitorios
Matera, Basilicata, Italia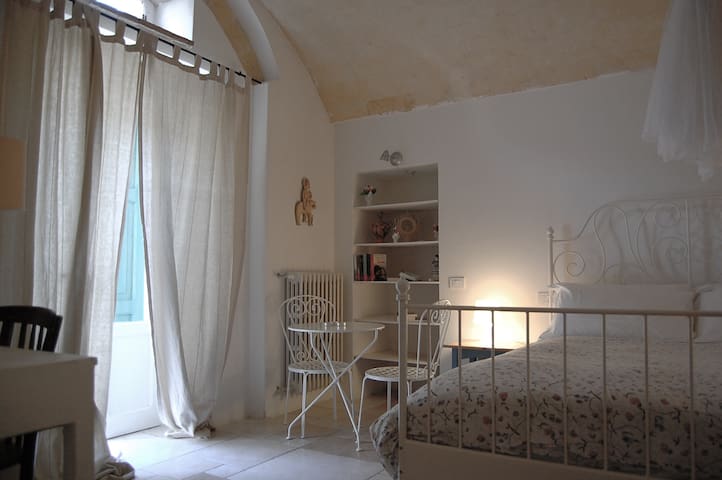 Adriatic Sea - Airbnb
:
Una media de

4.74

estrellas de un total de

5

de

2708

evaluaciones de huéspedes
1

–

18

de

Más de 300 alquileres
Introduce las fechas para ver el precio total. Ten en cuenta que se aplicarán tarifas adicionales y es posible que se añadan impuestos.