A nice designed and comfortable place to stay. worm and peaceful energy. Equipped with all you need in the house and outside a lovely deck balcony. In the middle of the kibbutz between Haifa and Acre- north IL. The perfect place for children.
Tipo de habitación
Casa/apto. entero
---
Tipo de propiedad
Casa
---
Capacidad
6
---
Dormitorios
Afek, North District, Israel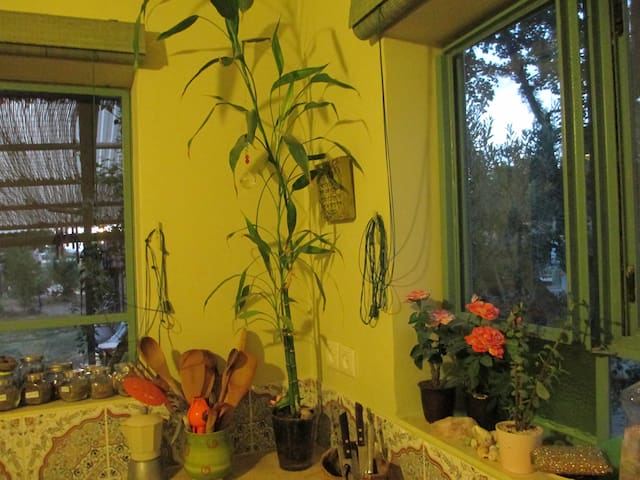 Mi lugar está cerca del transporte público, centro de la ciudad, tiendas de conveniencia 24 horas, el transporte público 7min a Haifa y zona. 7min pie del centro comercial y principal st. Kiryat Ata. 1 minuto andando al supermercado grande y barato. metro directo a los jardines de Bahai, los trenes, la playa de Haifa, etc.Ambience está abierto y gratuito, acceso wi-fi, agua caliente siempre disponible para duchas, bar agua caliente y fría. Usted es libre de utilizar nuestro kitchen.Flatmate totalmente equipada con una energía impresionante, siempre para una risa y nuevos experience.Loves para conocer gente nueva y hacer amigos.
Mi lugar es un gran plano con una gran sala de estar, balcón, cocina grande y totalmente equipada, más enorme en la azotea, con fácil acceso.
This is a decent room in a beautiful, totally modern, nicely furnished apartment that you share with a bunch of friendly, very chill young guys. It's a quick ride into Haifa on the Metronit (line #2, which doesn't run from mid-afternoon Fri until Sat night), and everything you could need is on Kiryat Ata's main shopping street, a few minutes' walk away. (A few minutes' walk in the other direction: farms!)
Aviram
2016-12-04T00:00:00Z
We had a really great stay here! Everything was clean and comfortable. We need only a few bus stops to the Center of Haifa, so everything was uncomplicated.
Anne
2017-04-04T00:00:00Z
All was very good,well equipment kitchen,good house. I stay here 28 days and want to stay more, but can't do it cause Not begin repair of the rogh. So everything was good, thanks for host.
Pavel
2016-11-03T00:00:00Z
Tipo de habitación
Habitación privada
---
Tipo de propiedad
Casa
---
Capacidad
2
---
Dormitorios
Haifa, Haifa District, Israel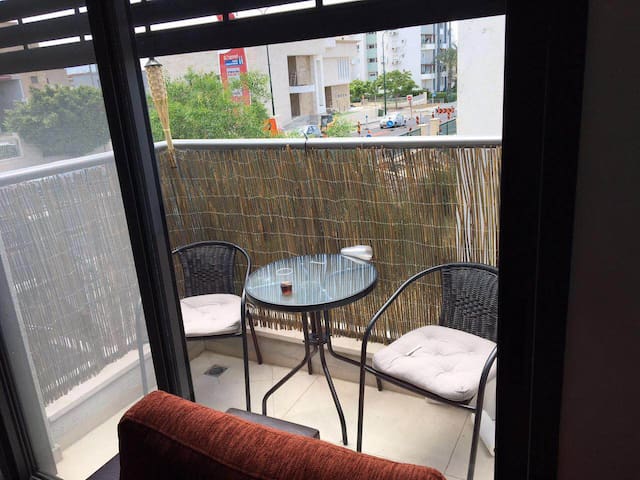 The apt is in a quiet neighborhood but well situated to main roads and town center.The apt is light and airy and has everything you could possibly need for couples or families with children. The pool is up in the summer months. Read our reviews !!
READ OUR AMAZING REVIEWS !!! A beautiful modern fully equipped apartment on the second floor above our own home. A spacious living room with lots of light and an open kitchen. A large bedroom with a comfortable double bed and two couches/beds in the living room.(There is also plenty of room to put up another folding bed ). A modern bathroom . Linen and towels included. Our apartment is 65 square metres and is well suited for a couple or a family looking to stay in a warm and welcoming atmosphere . We have a private entrance so that you can come and go as you please.Outside a garden with fruit trees, garden furniture and a pool in the summer months. From the garden a view of the Galilee hills. We have internet, cable TV and air conditioning. Free parking. Up on a hill just north of Haifa,the neighbourhood is suburben and quiet but we are so well situated that it takes only 5 minutes to get to the main roads north or south bound. Tiberias 45 km, Nazereth 25 km and Caesarea 40 km. There is also a very good bus and train service. Shopping centers and restaurants are only minutes away. For those who like to hike and have a picnic, it is a 10 minute walk into the Usha forest from our home.If you come with children ,there is a great playground just up the road. By car it is a 15 minute ride to the beach. Being travellers ourselves , we love to meet people fom all over. We can also help you to plan your day trips. Our guests will enjoy hot homemade bread for breakfast everyday - a speciality in our home.
Un lugar agradable , limpio, luminosos, ubicado en una colina muy pintorezca Rina y Buky nos recibieron de una manera muy calida y satisfaciendo todas nuestras necesidades la pasamos genial! estuvieron atentos a todo lo que neceistabamos y dando ideas para lugares para ir a pasear 100% recomndables!
yael
2014-02-25T00:00:00Z
Rina and Buky are amazing rockstar quality hosts. They are delightful, informative, caring and truly lovely people who have a beautiful home. We have learned so much about Israel's history and current social and political issues, covered places we'd never had thought possible without their help, provisions and guidance, and had the opportunity to meet four members of their beautiful family. The apartment was a perfect fit for our family of four. Everything was in order, comfortable and clean, and they always made sure we had what we needed. Location couldn't have been more perfect to explore the north, as the private apartment is about a 2 minute drive from a major highway. There is also a mini-market, a local supermarket as well as a very nice playground all easily accessible and within the complex. We've fallen in love with Israel in great part due to Rina and Buky's warm hospitality, attention and time. Their friendship is something we will treasure always.
Melva
2014-04-08T00:00:00Z
Where is the extra Star? I was thinking of many titles for this feedback and they could have also been like that: This is what airbnb is about! Or dream airbnb. Or your perfect home away from home. It is more than true! In brief the apartment is beautiful and has everything you need. The location is perfect for short trips in the North. Haifa, Akko, Lake Galilee. All are less than 1h drive away. And most important the hosts are kind, helpful and caring. Follow their advice and you will have the best time. And yes it is true - there is actually a homemade bread for you waiting in the morning.
Ariane
2014-04-30T00:00:00Z
Very nice place to stay. Comfortable and plenty of room. Hosts were very friendly and helpful. Parking was difficult to find at times. Overall, I would highly recommend and will stay again on our next trip to Israel.
Calvin
2015-09-27T00:00:00Z
Rina and Buky's apartment was perfect for our trip through northern Israel. They were extremely hospitable hosts, providing maps and information for the places we wanted to visit, as well as fruit, vegetables, eggs and milk in the fridge when we arrived. Each morning, they baked delicious bread for breakfast. The apartment was clean and spacious, with a separate entrance for us. It is in a quiet location, close to Caesarea, Akko, and Nazareth, among other cities. We had no problems with the internet connection, and Rina and Buky were very kind and friendly. The beds were comfortable and warm, just like our overall experience. I highly recommend staying here.
Katie
2013-12-29T00:00:00Z
Charming hosts, they did everything in order to make us happy in our vacation. we have received more than what is specified in the site. The housing unit is linked to the family's villa located in a small neighborhood. Plenty of nearby attractions for families.
annie
2016-10-19T00:00:00Z
רינה ובוקי היו מאוד מסבירי פנים ומאוד נהננו אצלם.
adi
2015-08-24T00:00:00Z
What a great time we had. Rina and her husband great hosts, they made us feel at home from the moment we arrived till the day we left, they where there to help us with every aspect of our stay and more, every morning there was freshly baked bread waiting for us at the front door. The house was very comfortable with every thing we needed for our family, we found every thing that was promised and more to make for a very comfortable stay. We would highly recommend Rinas place for a nice relaxed brake.
Danny
2016-06-22T00:00:00Z
Tipo de habitación
Casa/apto. entero
---
Tipo de propiedad
Casa
---
Capacidad
5
---
Dormitorios
Kiryat Ata, Israel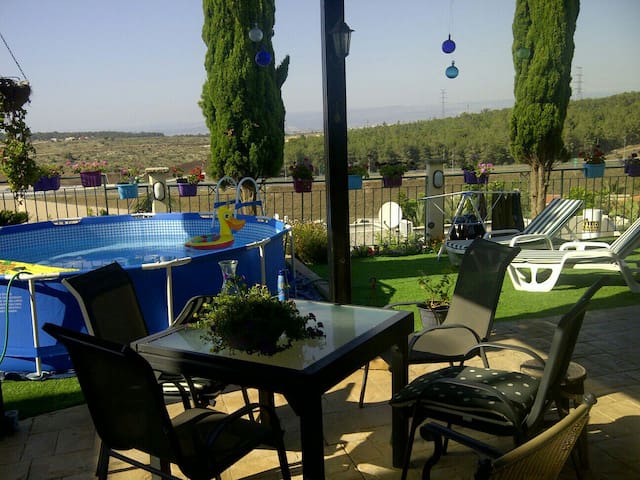 Small room, very cozy, located near the shopping center.
Tipo de habitación
Habitación privada
---
Tipo de propiedad
Casa
---
Capacidad
2
---
Dormitorios
Кирьят-Бялик, Хефа, Israel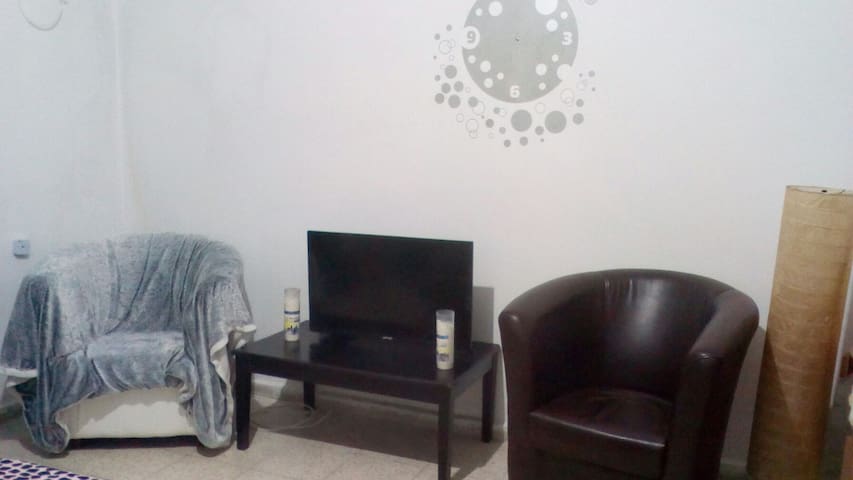 Liebevoll eingerichtete Wohnung ist sehr zentral und verkehrsEinkaufsZentren und Meergrünflächen wandern. Die Wohnung befindet sich in einem Abstand von 10 Minuten Fahrt von Haifa nach Akko und Nahariya entfernt.
The host canceled this reservation 2 days before arrival. This is an automated posting.
irit
2017-04-08T00:00:00Z
Tipo de habitación
Casa/apto. entero
---
Tipo de propiedad
Apartamento
---
Capacidad
4
---
Dormitorios
קריית ביאליק, מחוז חיפה, Israel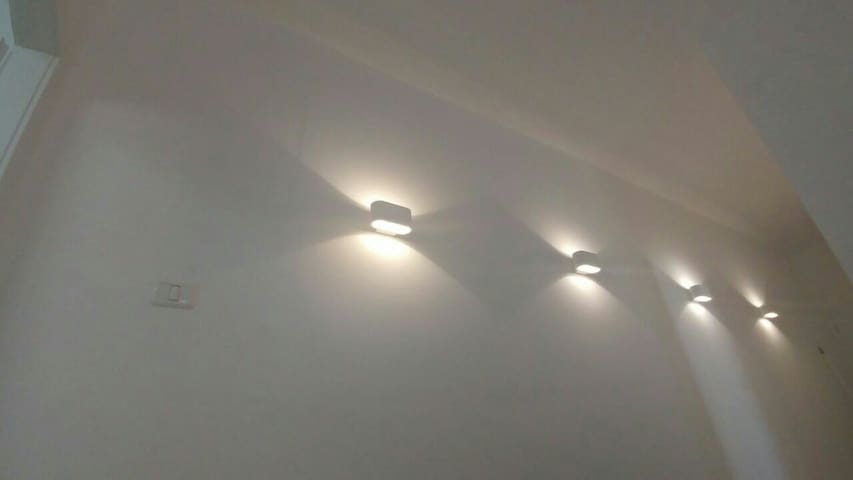 A cozy private deluxe studio w/ double bed partitioned off of a comfy salon with a fully equipped kitchen in a quiet neighborhood, 1.4 Km from the beach, ~10 Km from Haifa center, ~1 Km from the train station, and 0.2 km from public transportation.
The apartment is on the first floor of a charming villa located in a quiet neighborhood in lovely Kiryat Yam. Access to the apartment is through a private entrance. Only five minutes walk to coffee shops, shopping, bakeries and great restaurants. And just a fifteen minute walk to a great beach with all kinds of water sport activities. In the apartment, within the salon, there is a comfortable couch, cocktail table, and cozy chairs with a 50" cable TV, air conditioning and heating. The kitchen is fully equipped with a four burner stove top, microwave, toaster, kettle, refrigerator, dishes, utensils, pots and pans, everything you need for preparing your own delicious meals. Coffee and tea also provided complementary. Guests will enjoy the private patio area just outside the apartment entrance that includes two unique egg shaped swinging chairs to relax in. Guests can also enjoy the lovely garden of the Villa that is also shared with our family. The villa is also only a few steps away from public transportation. The Bus,Train, and Metronit (local tram type) are all in few minutes walking distance. Our address is Daganit 8A, Kiryat Yam. Also if needed: Haifa's hospitals - Rambam, Bney Tzion, Hacarmel, Elisha, and the Italian Hospital are ~ 10-15 Kilometers from the villa.
The neighborhood is very quiet, and located in a strategic location, close to shopping centers, beach, and public transportation.
Svetlana and Arie are very kind and helpful host who spoiled us with great time during our vacations in Israel, interesting conversations and a family-like atmosphere at home. The place is nice and the house is close to the public transport system. We had a comfortable time, I would come any time again. Thanks very much. Jacek, Monika, Weronika,Pola
Jacek
2016-04-01T00:00:00Z
Svetlana and Arie are the best hosts one can think off. Nice, helpful and most considerate. All my requests were answered immidietly and with a big smile. I arrived late in the evening in the kitchen I found coffee, tea, bread, cheese and more to help me to overcome the first day or two, the unit was clean, bed was comfortable and the location is great.
Hanna
2015-07-27T00:00:00Z
Arie & Svetlana are very nice and warm people, and as a host fantastic. Arie pick us from station early morning and after few days he drove us to Haifa to our next place. Everything was ok, beautiful apartment, beautiful yard, interesting neigbourhood (architectual). We were even invited to Sabbath dinner with Arie, Svetlana and their friends. This will not be our last visit to Qiryat Yam. Thank you Arie & Svetlana, for making our visit so perfect.
Uri
2016-11-07T00:00:00Z
Os anfitriões foram prestativos e cordiais sempre dispostos a nos ajudar, se tornamos amigos. O local esta em ótima localização, próxima da praia, transporte coletivo e comércio.
mauricio
2015-10-07T00:00:00Z
Фотографии несколько лучше, чем реальность + есть насекомые и продукты жизнедеятельности собак, но в целом хозяева милые и место хорошее.
Elvira
2016-08-07T00:00:00Z
Notre séjour chez Arié et Svetlana a été un enchantement. Voilà une maison et des hôtes accueillants. Arié a tout fait, et plus, pour que nous nous sentions bien chez lui et à Haïfa. C'est aussi un guide parfait qui a facilité notre séjour, fait découvrir Akko, aidé en maintes circonstances. Plus qu'un hôte, un ami ....
Didier
2015-05-12T00:00:00Z
Location is half way between Akko and Haifa in a quiet residential neighbourhood. The hosts provided little extras that were much appreciated.
Gabor and Brenda
2016-11-16T00:00:00Z
Accueil exceptionnel avec bouteille de vin et de vodka accompagnés de chocolats. Arri nous a donné plein de conseils. Il nous a accompagné sur la route pour nous montré le chemin pour Arkko et nous même emmené dans un restaurant. Quartier résidentiel sans commerces à proximité. Couplé charmant très serviable. Arri est très pittoresque ancien lutteur très serviable.
jean christian
2016-11-11T00:00:00Z
Tipo de habitación
Casa/apto. entero
---
Tipo de propiedad
Apartamento
---
Capacidad
2
---
Dormitorios
Кирьят-Ям, Haifa District, Israel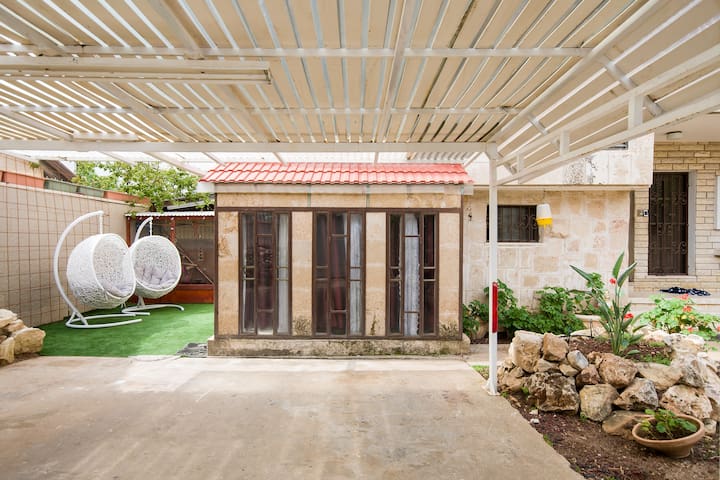 Centrally Located-Close to major Express ways, Metronit High Speed Line Station, Train Station. 4 bedrooms spacious apt Quite, Safe and Comfortable. Home Away from Home-Private, Cozy, Sunny, Airy, Safe Day or Night, Shopping, Transportation, Beach, Metro, Zoo, Pool, washer&dryer, AC, Dish Washer. 55" TV, 100MB WiFi
Cozy, Sunny, Spacious, close to expressways, train, metronit, Shopping, buses etc. Beach is 7 minutes drive away, Haifa, next town is 20 minutes away. High Ceiling, quite and safe neighborhood, everything from Banks, restaurants, shopping mall and more; walking distance. HD TV, WiFi, Washer Dryer, Dishwasher and Balcony and yard to relax ***Portable Crib for Proud Parents with a baby(fold and carry) (URL HIDDEN) (URL HIDDEN) (URL HIDDEN) Be an Israeli for a short while, whether you are a family or a corporate employee, ideal settings in Kiriat Bialik, used to be a small farming community back in the days when Israel was established, it had developed into a charming little town, it is serene, and green, and ideal for a relaxing and enjoyable stay. There is a metro station, train station close by. It is 7 minutes drive to the beach, 10 minutes to Acre and 20 minutes to Haifa, 1 hour away from Tel Aviv to the South, 1.5 hour to Jerusalem, less than 1 hour to sea of Galilee in the East, the train station is 5 minutes away, and will take you to Any major town in Israel, including, directly to the airport terminal, a 1 hour train ride. Bus lines are $1.5 and taxis are $5 for most local destination, walking is easy and pleasant. great place for kids to have fun all hours of the day, or night, safe with lots of green parks. Still, there are plenty of restaurants and pubs to hang out. Must be over 18 to drink. Large (140 Sq M ) Air conditioned, (There is a large AC in the Living room-Westside, and a 2nd AC in the master bedroom-Eastside, thus there is good airflow through the rest of the house), ground level apartment, with separate entrance, in a 4 unit 2 story building, There are large windows in the Living room, allowing for a nice breeze throughout. There is wifi and cable, 42" HD, SMART (web surfing) TV. ,Washer and dryer, kitchen etc. There are 3 bedrooms, 2 full baths, one bedroom with full bathroom, large living room with cable tv, also, a yard and a balcony, where you can sit and enjoy morning or evening drinks. on a quite street, in Qiryat Bialik, a town midway between Haifa and Acre, 5 minutes from the ocean ( by car), 15 minutes (by bicycle). The Kirion, One of the biggest malls in Israel is a walking distance There is also nice zoo near by, plus a few swimming pools, tennis courts and a few sport clubs. All amenities are a walking distance away, including groceries, restaurants and banks, there are bus lines, train and cab service close by. The apartment is available all year If you come with a car, plenty of street parking.
The apartment is 5 minutes from the beach, close to banks, restaurants, shopping mall, tennis, gym and more. Transportation is easy, car either by bus, taxi or metronit that operates 24x365
The house was nice and comfortable. The host was helpfull making sure any need will be addressed.
Aviv
2014-08-30T00:00:00Z
Ze'ev is a great host! I'll recommend him and his place to stay. All the time was wondering how to help us to have the best experience possible.
Javier
2014-04-12T00:00:00Z
Zeev Was a very helpful and welcoming owner. He tried to help us anytime we need. The appartment is big enough for 4 adults and 2 or 3 children and is well located in a quiet neighborhood. There is 3 rooms but only 1 of them have air co. There is a small garden perfect for breakfast! Good value for money!
Virginie
2013-08-17T00:00:00Z
Es waren zwei wunderschöne Wochen in Kiryat Bialik. Ze'ev hat uns zu beginn sehr freundlich empfangen. Wir bekamen eine gute Auskunft über alle nötigen Sachen. Die Wohnung war in einem sauberem Zustand als wir eintrafen. Für Bettwäsche und Handtücher war gesorgt. Für sämtliche Sachen, wie Kochen usw war alles schon zur Hand (lediglich die Lebensmittel musste man einkaufen) und dank seiner Beschreibung zu den einzelnen Shops, konnten wir alles finden. Er war immer als Ansprechpartner sofort erreichbar. Es kam zu keinen Problemen in den zwei Wochen Die Gegend ist, sehr ruhig (Einfamilienhäuser, keine Blockhäuser) und nur 10 Minuten mit dem Auto vom Strand entfernt. Wir haben die zwei Wochen dort sehr genossen. Ich empfehle in wärmstens weiter!!! Это были 2 чудесные недели в Kiryat Bialik. Ze'ev нас очень приветливо встретил. Мы получили детально инструкцию обо всем что нужно. Квартира была в чистом состоянии. Постельное белье и полотенца были в достаточно в квартире. Хорошая кухня - совсем что нужно для приготовления пищи (лишь продукты нужно было покупать - ;) ) и благодаря его описанию к отдельным магазинам, мы могли находить все быстро и бес приключении. Он всегда был недалеко, если нужна была помощь в чем то. Никаких приключении и проблем за эти 2 недели Местность очень спокойно и только 10 минут машиной до пляжа. Хорошо отдыхнули за 2 недели. Я всем эту квартиру если кто-то побыть в блызи Хайфе. It were 2 wonderful weeks in Kiryat Bialik. Ze'ev has friendly welcomed us. We have received in details the instruction about everything that we need in his appartment. The apartment was in a clean state. And it is really big appartment for 3 person Great kitchen and two bathrooms - He always was nearly if we need sth to ask. We hadn't any problems in these two weeks. The district is really quiet. And you can reach the beach in only 10 minutes by car. We've enjoyed to stay in this appartment. I recommend it to all who wants to see Haifa and the north Israel!
Varuzhan
2016-04-23T00:00:00Z
pleasant and comfortable we loved our stay thank you so much to Erika for your friendliness blessings to Ze'ev hope to meet you again
Rita
2013-10-23T00:00:00Z
Abbiamo avuto il piacere di conoscere Ze'ev al nostro arrivo, persona molto gentile e disponibile col quale si è sempre chiacchierato volentieri. Durante la nostra permanenza ha messo a punto gli ultimi dettagli per rendere il nostro soggiorno e quello di chi verrà più piacevole. L'appartamento si trova in una zona tranquilla della città ed è molto comodo per negozi, banca, bar ma soprattutto a parcheggiare.
luciano
2012-08-09T00:00:00Z
Ze'ev was extremely gracious and available at all times. We would definitely try to stay with him the next time we are on vacation.
fred
2013-09-05T00:00:00Z
Tipo de habitación
Casa/apto. entero
---
Tipo de propiedad
Apartamento
---
Capacidad
6
---
Dormitorios
Kiryat Bialik, Israel
The room is located in a villa in one of the most luxurious houses in Israel, the house is located in Tal Hill, overlooking the sea, Haifa,and Galil. The room is very spacious about 30 square meters plus a huge balcony overlooking the stunning view. The romantic bed immersed in a stunning wooden floor.The location is excellent 15 minutes from the beach, 20 minutes from Haifa. An hour and a quarter to Tel Aviv, half an hour to the Galil, an hour and a half to Jerusalem.
Tipo de habitación
Habitación privada
---
Tipo de propiedad
Casa
---
Capacidad
2
---
Dormitorios
Kiryat Ata, Haifa District, Israel
A 1 szoba található, a legfelső emeleten egy villa egy csendes környéken, 1,4 kilométerre a tengerparttól, ~ 10 km-re Haifa központtól, ~ 1 km-re a vasútállomástól. 200 méterre a tömegközlekedés.
Privát szobák villában a strand közelében A 2 szoba található, a legfelső emeleten egy villa egy csendes környéken, 1,4 kilométerre a tengerparttól, ~ 10 km-re Haifa központtól, ~ 1 km-re a vasútállomástól. 200 méterre a tömegközlekedés. A 2 szoba, amely található a 2rd emeleten egy villa egy csendes környéken. A szobákban található egy szoba, egy 37 "kábel TV-vel, légkondicionálóval és fűtéssel, egy kis nappali és gardrób. Van is egy WC helyiség, és egy zuhanyzó. A konyhában, az 1. emeleten, akkor mikrohullámú sütő, főzőlap, kenyérpirító, vízforraló, hűtőszekrény, külön edények, poharak, edények, amire szükség van elkészítése saját ételeiket. Kávé és tea is biztosított kiegészítő. A szobák egy privát 25 négyzetméteres nyitott terasz egy ülés területet, amelyek segítségével az étkező, pihenés, stb Akkor is, ha szükséges: Haifa kórházakban - Rambam, Bney Tzion, Hacarmel, Elisha, és az olasz kórház a ~ 10-15 km-re a villa. A vendég lesz a szoba, az erkély mert saját használatra. Is tudják használni a kertben a Villa, amely megosztja a család. Ha tudunk segíteni, akkor örömmel, hogy segítse a minden, ami van szükség, beleértve a pickup egy autó Kiryat Motzkin vasútállomástól. Azt is nagyon ismerős a közeli helyeken, és ő is irányítja és segíti, ha szükséges. A környék nagyon csendes, és található egy stratégiai helyen, közel a bevásárló központokhoz, strand, és a tömegközlekedés. Vonat, busz, és Metronit (helyi villamos típus) minden pár perc séta.
A környék nagyon csendes, és található egy stratégiai helyen, közel a bevásárló központokhoz, strand, és a tömegközlekedés.
Gracias por tu buena atención!!!
Alexander
2016-04-05T00:00:00Z
Judit is a wonderful host, welcoming and caring. She was there when we needed her but we also had a lot of privacy. Judit's villa is a nice place, cosy and spacious at the same time, equipped with everything necessary, and also children-friendly, with a high chair, a baby cot and a baby safety chair that she kindly offered for our use. The area is a quiet, green neighbourhood of two-three storey villas. There are bus stops to a shopping mall (7 min by bus), a very good zoo (2 stops) and to the sea (must be also 2 stops, but we preferred to walk as there is a beautiful shady boulivard leading to it). A supermarket and metronit are also close by. Dear Judit, thank you for your hospitality, we were very happy in your house!
Ekaterina
2016-05-08T00:00:00Z
Very nice experience. I felt at home in Judith`s house.
Dan
2016-04-01T00:00:00Z
Everything was great! Judith received us with a wonderful plait of fruit and gave us great tips for the rest of our trip in Israel. We had a wonderful and restful night sleep! Would stay here again!
Ana
2017-02-19T00:00:00Z
Judith is a lovely person, sweet, kind and attentive. She is always ready to help everyone. Her house is beautiful! Very close the sea, the main street, shops, transportation to and from Haifa. The room was very cosy, has a balcony, TV, wi-fi, a shower and a toilet, kitchen and fridge. I loved the bed) to Sleep was very good. In the morning I listened to the birds singing. A lot of greenery around. I was pleasantly surprised when on the day of arrival in the room I found sweets and fruit from Judith. I got much more than expected. Thank You, Judith
Lyudmila
2016-02-25T00:00:00Z
the hostess was extremely friendly ans beautiful i couidn`t hope that there are such a welcoming people in the world as Yudit but she made my rest so relaxing! there were (in Yudit`s villa): - a large-spaced rooms - convient beds - all nesessary devices - a lot of tv - quiet garden - good parking - 11 min walking to amazing sea - very comfortable and quiet location inside Kiryat Yam - very tasty coffee it`s exelent place for everybody and it`s perfect for travellers with children best price on coast thank you Yudit so much!
oleksii
2015-11-02T00:00:00Z
Judit is avery very nice host.We did enjoy our stay in her Villa.Thank you
Helen
2016-10-05T00:00:00Z
Judy is a wonderful person and host, my family and I spent a really nice time at her place! She invited us the most amazing chicken soup, she is careful for their guests. Her house is clean and neat.
Hector
2016-01-02T00:00:00Z
Tipo de habitación
Habitación privada
---
Tipo de propiedad
Casa
---
Capacidad
2
---
Dormitorios
Kiryat Yam, Haifa District, Israel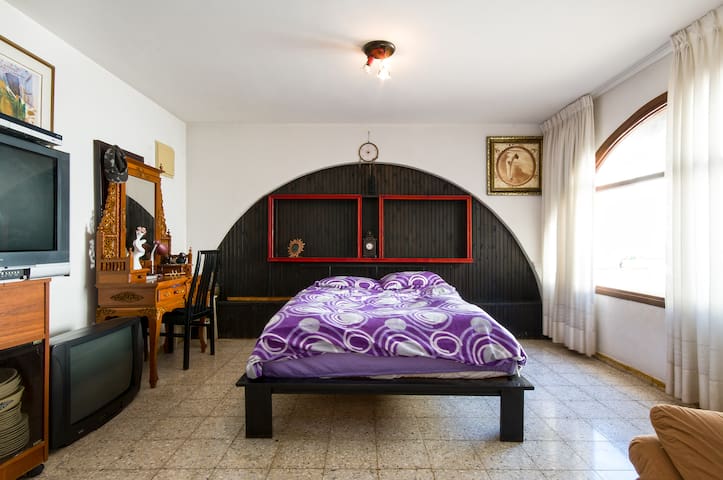 Great location, close to neighborhood shopping center, easy access to Kvish Hahof (Highway 4 connecting to Highway 2), central location between Northern Israel and Tel aviv: Penthouse with great view of the Carmel mountain.
The host canceled this reservation 182 days before arrival. This is an automated posting.
Elke
2016-02-12T00:00:00Z
Tipo de habitación
Casa/apto. entero
---
Tipo de propiedad
Apartamento
---
Capacidad
6
---
Dormitorios
Kiryat Bialik, Haifa District, Israel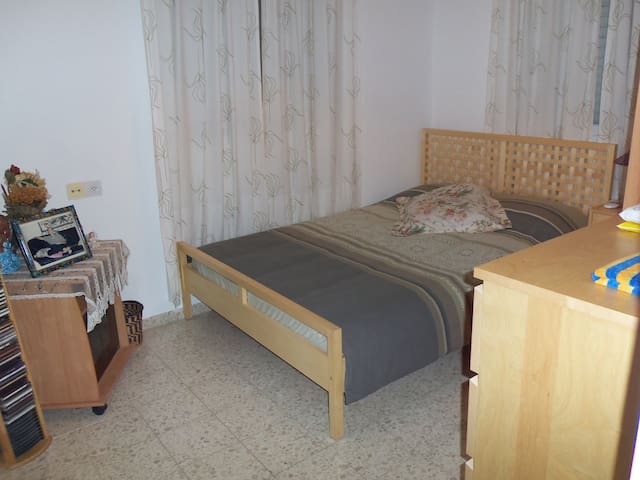 Ce apparment entièrement meublé est à 15 minutes à pied des différentes plages Kiriat Yam à pied. La nouvelle Metronit de marque est à quelques pas de nous, vous donnant un accès facile à tout ce que Haïfa et ses attractions touristiques a à offrir.
The building was hard to find and when we arrived the place was unclean. It was less personal than the pictures showed and basic things, even toiletpaper wasn´t there! After we had cleaned the knifes, forks and plates before use we wanted to cook but also a lighter or else was missing to turn on the gas and there wasn´t any oil or pepper or salt.
Sidsel
2015-10-17T00:00:00Z
No comment, ho preparato le foto del palazzo ma purtroppo non ce modo di mostrarle. L'entrata e le scale erano fatiscenti sporchi e prive di illuminazione di sera bisognava entrare con una pila per arrivare all'appartamento al terzo piano, sembrava un'edificio abbandonato al degrado. L'appartamento era appena accettabile ma parte dei materassi e cuscini erano indecenti (logori) Nella mia ingenuita pensavo che la Airbnb controllasse gli appartamenti in qualche modo prima di metterli sul sito. Sottolineo che pensavo di pagare un servizio (AIRBNB COSTI DEL SERVIZIO (IVA INCLUSA) 41€) che a questo punto non esiste ....
Doron
2014-03-12T00:00:00Z
We stayed 2 nights in Kiriat Bialik, didn't meet Hannah she left the key in the electric box. The apartment is situated in a very noisy main road, the place is not well maintained, it sure needs a handy man to repair both tabs from kitchen and bathroom, and a cleaner, the toilet was dirty, there are nothing to dry your dishes when you clean them, the soap left for dishes was water with a drop of soap, no kitchen towels....this are basic things really needed when you stay 2 nights. The beds were not prepared didn't know which sheets fitted the bed. We were very disappointed about the place even though Hannah was very nice on the phone or messages.
Viviane
2015-11-15T00:00:00Z
Tipo de habitación
Casa/apto. entero
---
Tipo de propiedad
Apartamento
---
Capacidad
3
---
Dormitorios
Kiryat Yam, Israel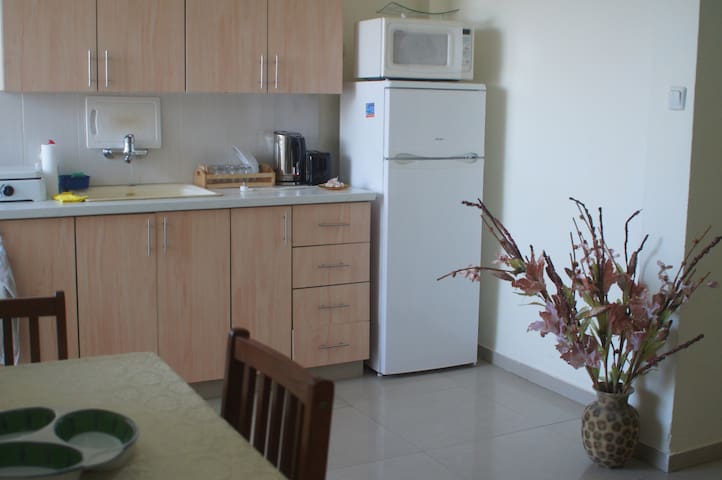 Ich bin eine alleinerziehende Mutter mit einem nicht-weißen Kind. Wir sprechen Spanisch zu Hause. Mein Vermieter in der oberen Etage ist ein polnischer Holocaust-Überlebende von 95 Jahren (und ich wünschte, ich würde so fit sein, wie er ist). Er hat mehrere russische Pflege Abnehmer. Die Nachbarn sind eine Mischung aus Französisch Marokkaner, Chihuahuas, große Hunde unbekannter Rasse, Straßenkatzen, Russen und Argentiniern und lokale Israelis. Dies ist die beste Gegend der Stadt mit zweistöckigen Einfamilienhäusern und Gärten. Wir reden miteinander und besuchen Sie für Kaffee.
Wir leben im Erdgeschoss in einer Drei-Zimmer-Wohnung. Sie und Ihr Partner und / oder Kind wird im Gästezimmer schlafen auf einem Bettsofa, Kleinkind-Size-Matratze sind. Wenn Sie das Kind mit Ihnen schlafen bevorzugen, kann ich eine Grenze bereitzustellen, so dass das Kind das Bett nicht abrutschen. Das Bett kann an die Wand gestellt werden, für das Kind ein Abfallen von der Wand geschützt werden. Nur ein Ventilator / Heizung im Zimmer (von der Jahreszeit abhängig), keine Klimaanlage. Klimaanlage nur im Wohnzimmer. Die umliegenden Bäume halten den Ort frisch im Sommer. Stechmücken kann ein Problem sein, aber ich versuche, mein Bestes zu tun, um sie von uns selbst und meine Gäste mit Schutz verschiedener Arten fern zu halten. Sie können die Küche benutzen und haben Ihr eigenes Gäste-WC mit Waschbecken. Ich kann Ihnen mit einem Toilettensitz zur Verfügung stellen, um es für ein Kleinkind hinzuzufügen. Mir wurde gesagt, sie auch in einem Geschäft durch weg potties verkaufen Shilav genannt, so könnte man auch die für Ihr Kind, wenn das Kind Windeln nicht mehr benötigt werden. Wenn Ihr Kind tut, können Sie das Schlafsofa mit einem Handtuch unter für Windel Chance zu nutzen. Ich werde Sie mit einem Behälter zur Verfügung stellen, um die Windeln zu verwerfen. Bitte bei mir überprüfen, wenn Sie die Dusche zu benutzen wollen, wie Sie in unserem Wohnheim zu Schritt, dies zu tun, und Sie können auf unsere Datenschutzübertreten, wenn dies zu tun, oder ich kann mich im Bad sein. Ein Stuhl wird es für Sie, Dinge zu platzieren oder zu sitzen. Ein Aufhänger für Ihre Kleidung sowie eine Kommode. Wenn Sie möchten, kann ich einen Autositz setzen wir derzeit nicht als ein Kleinkind Sofa dort verwenden. Mein Kind mag das alte Kindersitz so zu verwenden. Ein großer Sitz für ein Kleinkind oder Baby kann für die Zuführung zur Verfügung stehen. Ich habe nicht eine Baby-Badewanne nicht mehr, wie ich es verschenkte. Aber ich habe eine Badewanne, die Sie verwenden können, um ein Kind zu waschen, zusammen mit Spielzeug und Kindersicherung Badeprodukte. Es gibt einen großen TV-Bildschirm im Zimmer, aber kein TV-Zugang. Es ist eingerichtet, um Ihren Laptop zu verbinden, von dem Sie Filme aus dem Internet auf Ihren streamen. Wenn Sie Hilfe benötigen, dass bis Einstellung jemand tun wird, dass (nicht obwohl ich, als ich zum größten Teil nicht wirklich ein Tech Person bin). Sie erhalten Zugang zum Garten und Terrasse, wo Sie Ihr Frühstück wird Ihnen serviert werden, wenn Sie aus der es nicht entscheiden, wenn Sie buchen. Die "Garten" Katzen sollen nicht in das Haus zu kommen. Sie versuchen, obwohl obwohl betteln Essen. Wir jagen sie aus, aber wir füttern sie manchmal auf der Terrasse, da dies verhindert, dass sie sich von einem Schädling, wenn wir draußen essen wollen. Also, wenn Sie Allergien gegen Katzen haben, lassen Sie es mich wissen, damit wir Platz zu einer Ecke des Gartens Fütterung bewegen, wo man nicht sitzen.
Die Nachbarschaft hat zweistöckige Einfamilienhäuser, sehr ruhig, sehr sicher. Es ist auch im Großen und Ganzen eine sehr saubere Nachbarschaft (es sei denn, die Nachbarn das Grün in ihren Gärten geschnitten und die Stadt ist es nicht sofort abholen). Es liegt in der Nähe der Innenstadt, so dass Sie Geschäfte in der Nähe. Aber vorsichtig, dies ist der einzige Ort in ganz Israel, wo einige Geschäfte in der Nähe für Siesta am Mittag. Ich habe als gesagt, sobald es so, dass im ganzen Land war wegen der Mittagshitze, und dies ist der einzige Ort, an dieser Tradition hält sich immer noch. Die Supermärkte sind allerdings in ganz offen. Wie es auf einem streng religiösen Gebiet grenzt, gibt es ein koscheres Café in unmittelbarer Nähe. Der Strand ist nicht weit entfernt, aber es ist eine geschätzte 15 Minuten zu Fuß vom Haus entfernt. Aber man kann den Bus drei Stationen an den Strand nehmen. Das Stadtzentrum liegt auf halbem Weg zwischen dem Haus und dem Strand. Es gibt Supermärkte in unmittelbarer Nähe für Sie Lebensmittel zu kaufen. wenn Sie auswärts essen Im Großen und Ganzen wollen, werde ich empfehlen zu den benachbarten Städten reisen, da die Qualität des Essens gibt es viel besser ist. Es gibt mehrere Orte, die Kinder willkommen. Im Großen und Ganzen Israel ist ein sehr kinderfreundlicher Ort, so dass Sie fast überall kein Problem nehmen Sie Ihr Kind haben wird. Es gibt auch einen Zoo mit einem schönen Park, einem Restaurant, einem Spielplatz, einem See und einem Brunnen in unmittelbarer Nähe. Während der Eintritt Zoo Kosten, am späten Nachmittag sind die übrigen Räumlichkeiten geöffnet kostenlos. Manchmal gibt es kostenlose Open-Air-Konzerte oder andere Festivals in diesem Ort.
Adriana is very friendly! She told a lot about the local sights! She always helped me with advice across the whole. The room is very clean and comfortable! Recommend to everyone!
Andrei
2015-06-12T00:00:00Z
Adriana is very friendly! She told a lot about the local sights! She always helped me with advice across the whole. The room is very clean and comfortable! Recommend to everyone!
Andrei
2015-06-17T00:00:00Z
Tipo de habitación
Habitación privada
---
Tipo de propiedad
Bed & Breakfast
---
Capacidad
2
---
Dormitorios
Kiryat Yam, Haifa District, Israel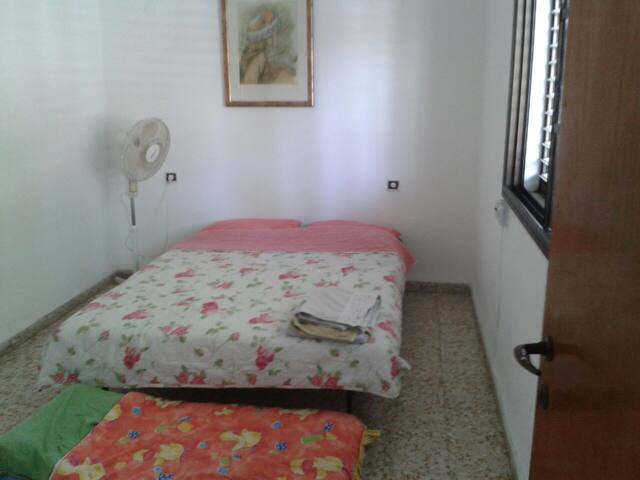 Near my accommodation with great views. You will enjoy, because in my housing have comfort, views and people. My accommodation is suitable for this purpose: a pair of solo travelers and business travelers. Bright appartment with incredible sea view, clean beach, warm sea, water sports (surfing, kite surfing), fresh fruit from local market. Friendly and hospitable hosts. Convenient transportation to Haifa, Tel Aviv. Free parking zone.
Maria is comunicative and kind. The room has a super view to the sea. It was a nice stay.
Nelly
2017-01-21T00:00:00Z
The host canceled this reservation 4 days before arrival. This is an automated posting.
Rosemary
2017-02-15T00:00:00Z
Maria is nice and communicative. She offered us tea at the arrival. The room was very cold (we stayed in Feb), but a heating pad provided by Maria helped. A bit smell of cat (which is otherwise cute) in the room.
David
2017-02-15T00:00:00Z
Tipo de habitación
Habitación privada
---
Tipo de propiedad
Apartamento
---
Capacidad
2
---
Dormitorios
Kiryat Yam, Haifa District, Israel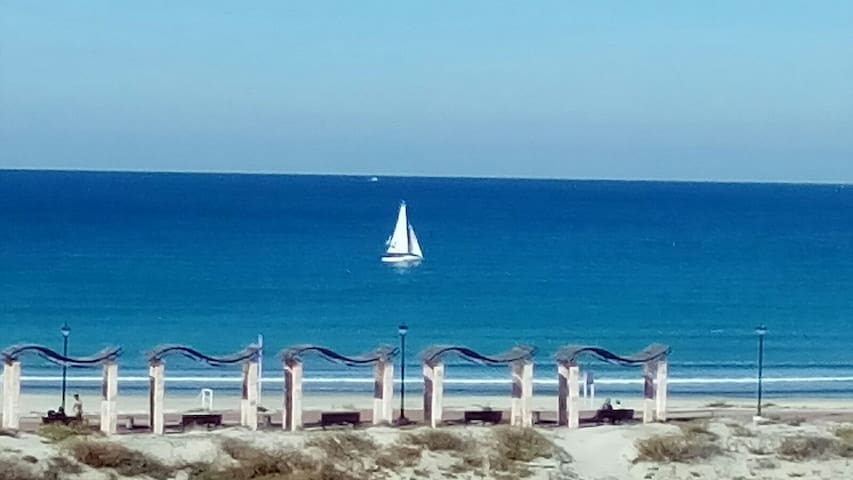 Загруженный кабины, удобное расположение в нескольких минутах ходьбы от океана, находится в религиозной сфере, в синагога пешком. Подходит для всех типов людей, особенно традиционных. до 5 людей, уютного благовидныма с 1 кроватью и возможностью для детской кроватки, пола матрасом или раскладушки. Снаружи зона отдыха с BarBQ и зоной для курения. Я не отвечаю на телефон в Шаббат и праздники!
.tzimr роскошный, полностью оборудован и меблирован. В нескольких минутах ходьбы от пляжа и в синагоге. Подходит для молодых пар и семей с двумя детьми. Включает открытую зону для отдыха с барбекю В том числе Wi-Fi и кабельное телевидение Там нет телефонного автоответчика в выходные и праздничные дни
Tipo de habitación
Casa/apto. entero
---
Tipo de propiedad
Cabaña
---
Capacidad
4
---
Dormitorios
Haifa, Haifa District, Israel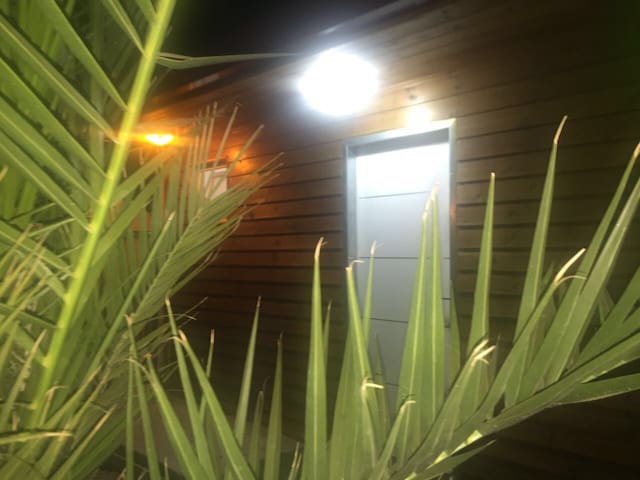 A krásné 40 metrů čtverečních soukromý byt se zahradou v klidné čtvrti Haifa. Pojme až 4 osoby. Centrální poloha - velmi blízko ke všem městskou hromadnou dopravou, kavárny, bary, restaurace a pláž. Ideální pro páry a rodiny. Stačí si přečíst hodnocení předchozích hostů nás opustil, a pochopíte, proč je to pravé místo pro vás :-)
K bytu patří dvě prostorné místnosti, oddělené závěsem, který může vytvořit téměř úplné oddělení mezi nimi. Jeden z pokojů je vybaven manželskou postelí a malý úložný prostor pro oblečení. Druhý pokoj je vybaven sedací soupravou, která může otevřena ke dvěma samostatnými lůžky (která může být připojen), velký displej kabelovou TV a rozšiřitelnou tabulky. V tomto pokoji je také plně vybavená kuchyň s ledničkou, veškerým potřebným nádobím, elektrickým sporákem, mikrovlnnou troubou a rychlovarnou konvicí. Samozřejmě, k bytu patří také plnou koupelnu. Klenot v koruně je velká zelená zahrada.
El apartamento está situado en el corazón de Kiryat Haim, un suburbio de Haifa (8 km de distancia, unos 15 minutos en coche o en tren). Es muy conveniente para llegar desde el apartamento a todas partes en el norte de Israel- unos 15 minutos de Akko, a 30 minutos a Nazaret, y 45 minutos para el Mar de Galilea y Sefad. El barrio es muy tranquilo y silencioso, pero a sólo 3-10 minutos a pie desde el centro de la vida nocturna, bares, restaurantes y cafeterías (y también un supermercado) del Haifa. Si quieres ir a la playa, que está a sólo 4 minutos en coche o 15 minutos a pie ...
My stay at Shimon and Naomi's apartment was wonderful. They are a very welcoming couple, and even though the apartment is separate, they offered to have me in their home a lot and made sure I was always comfortable. The bed is comfortable, the television area is great and there is a nice little kitchen area. The apartment is well situated. There are trains and buses (which are very easy to use) very close to the apartment! Within 3 minutes there is a large selection of shops. The beach is close by also! Overall, I had a fantastic time and look forward to returning. Henrietta. Mon séjour chez Naomi et Shimon était super. Ils sont très accueillants. Bien que l'appartement soit séparé, ils m'ont invité souvent dans chez eux. Le lit est très confortable et la salle télé avec la petite cuisine est parfaite. L'appartement est bien desservi par le transport. Je prenais le bus chaque jour pour aller au travail à Haïfa- il était très facile. A trois minutes à pied on peut trouver une grande sélection de magasins. La plage n'est pas très loin (j'y suis allée quatre fois). Dans l'ensemble, je me suis amusée beaucoup chez Shimon et Naomi. Il me tarde vraiment de revenir.
Henrietta
2016-01-18T00:00:00Z
Shimon and Naomi are great hosts. The studio is confortable and located in a nice place. We enjoyed very much our stay in Haifa.
catherine
2016-07-15T00:00:00Z
Жильё соответствует описанию и фото, тихий район, приятный садик при квартире. Хозяева всегда рядом (живут по соседству), очень приятные и предупредительные люди. Мы в основном общались с Наоми. В квартире чисто, скромно, но есть все необходимое и даже больше. Хозяйка сразу предложила бутылку с водой, молоко, соль, сахар, раст.масло, кофе,чай и т.д. Было очень кстати. Есть парковка, удобно для путешествий по северу и Галилее. Рекомендую.все
Inna
2016-11-04T00:00:00Z
We felt like visiting relatives. They were very caring and took good care of us. I loved sitting in the garden and enjoying the smell of the flowers.
Anastasia
2016-07-23T00:00:00Z
The location was great and easy to find. A short walk from busy areas for any of your daily needs, but not too close that it is noisy. It is in a peaceful and quiet area. The place was exactly as described and pictured. Amazingly cosy and warm, with a great shower (I think the pressure is even better than my one at home!) The hosts were fantastic and extremely accommodating from day 1. They were always available on the phone with any questions I had and were willing to help at any time. There were no issues at all and they were very flexible will all my requests. I would definitely book this place again without even thinking twice! Thanks again!
Tal
2016-02-14T00:00:00Z
Shimon and Naomi were gracious hosts, very warm and accommodating. The apartment was perfectly located, close to the action in Kiryat Haim. It was clean, well stocked and met all of our needs; when we needed additional beach towels they provided them immediately. We were treated like family.
Fred
2016-04-28T00:00:00Z
Shimon is an excellent host! She was helpful, informative, and very easy to communicate with. The home is small, but comfortable and has all of the amenities you may need. It is very well located for accessing tourist sites (Acre, Haifa, Tiberias). The biggest plus is that there is a large, free parking lot that is less than a minute walk from the home. I would recommend this to couples, or to a family of up to 4. Thank you for your warm hospitality Shimon!
Eric
2015-12-07T00:00:00Z
We loved very much our stay in this apartment. The apartment is small but very nice. Public parking place is close and big-very convinient to arrive by car. Hosts are very open, nice and hospitable.
Yulia
2015-10-06T00:00:00Z
Tipo de habitación
Casa/apto. entero
---
Tipo de propiedad
Apartamento
---
Capacidad
4
---
Dormitorios
Haifa, Haifa District, Israel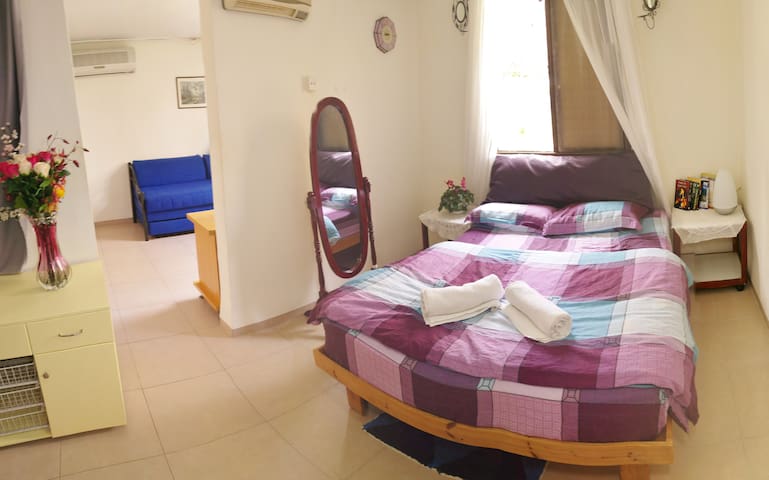 Cerca de la playa con mi vivienda, transporte público, restaurantes y cafés. cocina equipada, lavadora, aire acondicionado, wi-fi 1 minuto de la estación de autobuses, 6 minutos a pie del supermercado, 9 minutos de la Rama Postal 9 minutos para el banco, 10 minutos a pie al Estación de tren 14 minutos a pie de la playa . Usted disfrutará, porque en mi vivienda tiene ubicación, cocina y confort. Mi alojamiento es adecuado para este propósito: un par de personas que viajan solas, viajeros de negocios y familias (con niños).
Доброго времени суток. Хочу сказать спасибо за гостеприимство!! Замечательная квартира, в спокойном районе Кирьят Хаим, 1.5 часа от аэропорта Тель-а -Вива , удобнее всего добраться на поезде, перон прямо в аэропорту, на вокзал ехать не нужно, встречают приветливые хозяева, готовые помочь вам в любой ситуации, полностью соответствует описанию на сайте, в квартире есть все для комфортного проживания, на местности удачное расположение вблизи общественного транспорта (3 минуты) и крупных супермаркетов, с хорошими ценами (15-20мин), если идти пешком. Рядом в 15 минутах неспешной ходьбы, центральный пляж Кирьят Хаим, удобный ,хорошо оборудованный, всем необходимым для пляжного отдыха. Кафе, зонтики, душ, спорт.площадка для воркаута, постоянно дежурят спасатели.
Павел
2016-08-24T00:00:00Z
The apartment was nice and clean. Mariana was helpful and available. The location is good and has parking space
Nancy
2016-11-30T00:00:00Z
Это самый лучший вариант для вас. Если вы хотите совместить отдых на море, экскурсии по Израилю и личные дела, то эта квартира именно для вас. Но самое главное это отношение хозяев квартиры. Они всегда помогут и подскажут. Это очень добрые и гостеприимные люди. В следующий раз я буду арендовать квартиру только здесь. И всем своим друзьям буду это советовать.
Елена
2016-10-31T00:00:00Z
Nice , clean apartment, walkable distance, near public transport
Inga
2017-01-18T00:00:00Z
Отличная и просторная квартира, все необходимое для полноценного отдыха есть. Мы были втроем и места было предостаточно. Остановка автобуса в минуте хотьбы, электричка в 10 минутах неспешным шагом. Рядом магазины, в одной остановке автобуса имеется огромный русский супермаркет. Радушные хозяева, готовые ответить на все вопросы, помочь в путешествии и словом и делом. Ирина, Станислав огромная вам благодарность за то, что встретили и разместили нас ночью и нам не пришлось ждать до утра! Вы- прекрасные люди, порядочные и отзывчивые, спасибо за все!!!
Anastasia
2017-03-27T00:00:00Z
The place is located in a suburb of Haifa. The apartment is simple but confortable and well equiped. The area is not pleasent, but in our case, looking mainly for a place to sleep, it was perfect.
Marcelo
2016-12-21T00:00:00Z
It was a pleasure staying at Marina's place. It isn't often in life when you meet such a wonderful family who'll extend their hospitality beyond any expectation. Thank you Marina, Ira and Stanislav.
SuperHost
2017-03-01T00:00:00Z
Wonderful apartment . Very helpful owners with everything. We got more then our money's worth. Very recommended
Zohar
2017-02-15T00:00:00Z
Tipo de habitación
Casa/apto. entero
---
Tipo de propiedad
Apartamento
---
Capacidad
4
---
Dormitorios
Haifa, Haifa District, Israel
A 1 habitaciones situadas en la planta superior de una villa en una zona tranquila, 1,4 km de la playa, ~ 10 km del centro de Haifa, ~ 1 kilómetro de la estación de tren. A 200 metros del transporte público.
It was very nice staying at Judits place. The room was comfortable and Judit is very friendly
Julia
2017-04-08T00:00:00Z
Спасибо большое Юдит за гостеприимство. Прекрасный, большой, уютный дом, в котором есть все для отдыха. Мы отдыхали с10 месячным ребёнком, в комнате нас ждала краватка и кормильный столик для него. Доброжелательная, открытая хозяйка. Создалось впечатление , что побывали в гостях у родственика. Обязательно посетим Юдит снова!
Daniel
2016-05-03T00:00:00Z
The house wasccomfortable and Judit was a very warm and friendly host. Qiryat Yam is a quiet suburb of Haifa - it was good to be there with a car, though a bit far from things.
Mark
2016-05-25T00:00:00Z
Very nice house but we couldn't stay because of my girlfriend. Judit was very kind and helpful
Konstantinos
2016-05-09T00:00:00Z
I really enjoyed my stay. Judit was a wonderful host who made it as point to let all her guests feel welcome and special throughout the entire visit. I have family in Kiryat Yam and I liked the excellent location of this Airbnb facility.
Zvi
2016-08-20T00:00:00Z
Judit's place is the best choice! You'll have her friendl help and advise on everything you may need in Israel. She has also one more room that you can find as well. The most important for me was an air conditioner - as Israel is a hot place indeed :) Also I highly recommend her apartment for a family with a kid - as you have 2 rooms as a one here and a big veranda. You need only 15 minutes walk to the beach, 5 minutes walk to any stores :) My daughter was very happy here :)
Виктория
2016-06-24T00:00:00Z
everything was great the area was very nice and the hostess was amazing we had there everything we needed a warm atmosphere and clean place :)
Roiy
2016-07-23T00:00:00Z
Мы остались очень довольны своим пребыванием на вилле Юдит.Дом чистый и опрятный,в комнате и в ванной комнате есть все необходимое. очень уютно и по домашнему.Юдит нас встретила на ж/д станции и показала окрестности и транспорт ( мы собирались осмотреть Хайфу).Юдит очень гостеприимная и отзывчивая хозяйка.всегда предлагала подвезти,если была дома. Было очень приятно с дороги Юдит встретила нас фруктами и сладостями.вечерами устраивали посиделки на веранде.всем рекомендую останавливаться у Юдит и если будет возможность снова приехать в Израиль,обязательно остановимся у Юдит вновь.
Tatiana
2016-09-07T00:00:00Z
Tipo de habitación
Habitación privada
---
Tipo de propiedad
Apartamento
---
Capacidad
2
---
Dormitorios
Kiryat Yam, Haifa District, Israel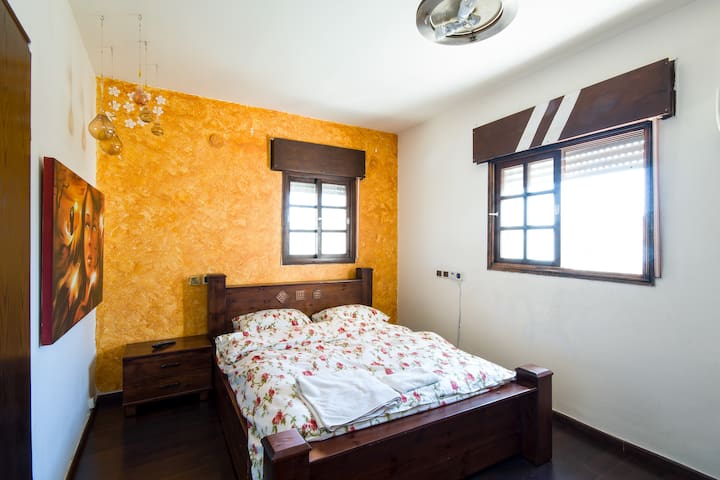 Σε μια μικρή γειτονιά, 1 υπνοδωμάτια σε μια εξαιρετική τοποθεσία 10 λεπτά από την παραλία, ήσυχη περιοχή
Tipo de habitación
Casa/apto. entero
---
Tipo de propiedad
Apartamento
---
Capacidad
2
---
Dormitorios
Haifa kiryat haim, Israel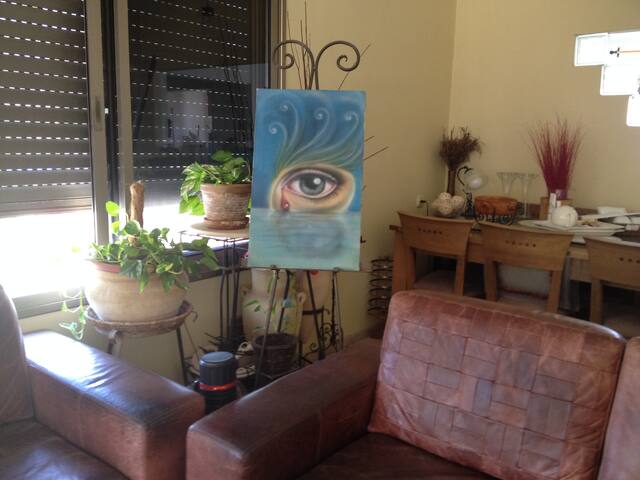 Introduce las fechas para ver el precio total. Ten en cuenta que se aplicarán tarifas adicionales y es posible que se añadan impuestos.