Introduce las fechas para ver el precio total. Ten en cuenta que se aplicarán tarifas adicionales y es posible que se añadan impuestos.
2 Alquileres de Villas
· Agassiz
2 Alquileres de Villas
· Agassiz
En julio y agosto, podrás disfrutar de 100 de los alojamientos con las mejores valoraciones de Sonoma a precios muy diferentes y disfrutar de la cara más auténtica de la ciudad. Relájate y disfruta de tu estancia sabiendo que puedes hacer una reserva inmediata, llegar a cualquier hora y disfrutar del vino de la zona y de otros tentempiés.
Reward yourself with a relaxing stay in this luxury Chateau nested in a picturesque setting overlooking majestic mountains, an acre direct-access waterfront property, 5 min walk to a beautiful lake, large swimming pool and hot tub in the backyard.
THIS LISTING IS FOR BOOKING THE ENTIRE HOUSE. One-of-a-kind gorgeous house emulating a European chateau, custom-built to entertain and impress even those with the most lavish expectations. Watch people drive by to see or photograph it:) Fantastic venue for family reunions and gatherings, anniversaries, birthdays, celebrations of all kinds, even small weddings (please enquire). Comfortably sleeps 8 people, ~4,000 sf living space! The following is the description of each room in the house: Living room - spacious, cozy brick fireplace, high ceilings, expensive leather traditional Italian style furniture, tasteful decorations, stained glass large windows, massive french doors opening to the outdoor living space, engineered hardwood floors and rugs to make your evenings peaceful and relaxing. Window seat makes a cozy space for reading or just day dreaming. Dining room - adjacent to the living room, dining table for 8 people. Doors opening to the pool area with beautiful views of the rose garden and the mountains. Kitchen - luxury is the definition. Large entertaining size, cherry cabinets with carved wood details, high end appliances (SubZero double door fridge), expensive granite countertops and bar area. Fully stocked with everything you need to feel at home, cook, host and entertain. Family/game room - accessed from the kitchen, the family room features a big screen TV/entertainment system, Wii game console and cable TV. Sofas and chairs are motorized recliners, with just a push of a button find that perfect position to enjoy your favourite movie or show (selection of movie DVDs available or bring your own!). Family room also features an office area with a desk and printer. You will find a comfy convertible queen bed with high end memory foam mattress also available in this room. Family room can serve as a spare bedroom with its own access to a closet and the bathroom on the first floor. Second Floor Bedrooms Master Bedroom - feel like royalty! High end traditional Italian style furniture, king size bed with a luxury Kingsdown Eurotop mattress, seating/reading area, walk-in closet and dressing area, large stained glass window, valeted celling, fireplace, TV, ensuite bathroom with a Jacuzzi tub, generous size shower with luxury fixtures, Egyptian cotton bath robes and towels, $1,000+ luxurious bed linens, pillows and duvets, organic Canadian made bathroom amenities, and every other necessity to feel pampered in this spa-like bathroom. Mountain views from EVERY window, including the three windows in the bathroom while you have complete privacy. French provincial bedroom all in white - dream bedroom for every girl - young or young at heart! We decorated this bedroom with unique pieces of antique and vintage furniture, all hand painted with Anne Slokan all natural chalk paint that feels like velvet to the touch and looks extremely pleasant. Crystal chandelier, vintage lamps, queen size bed with Kingsdwon Eurotop mattress, and luxury bedding. A chalkboard if you want to get creative and a TV. Vanity table to die for (in fact we designed the room around this piece of furniture:). Closet and storage space in the room. Bathrobes waiting for you. Mediterranean bedroom - find a mix of Spanish/Portuguese and Tuscan decorations in this room, southern European accents in this beautiful room overlooking the swimming pool, backyard and the mountains. Wake up to a beautiful view of the Hope mountain seen from your bed; is it covered in mist or fog? Rain or shine - it's always breathtaking! The room is furnished with a luxury wrought iron queen size bed with a Kingsdown Eurotop mattress, midcentury marble top night stands are made in Portugal and glow with amber lights to make your evenings and nights cozy. Wrought iron vanity table and bench to put your make up on and dress for that special evening, ample closet space. Bathrobes in the room. Second floor bathroom - this bathroom is an easy access through the hallway from the French Provincial and Mediterranean bedrooms. It's large in size, containing a deep soaker tub overlooking the pool area and beautiful mountain views while you enjoy your bath and a standing shower. Luxury amenities, all you need, oh, did I mention the heated floors? General amenities inside the house WiFi - available everywhere on the property Heated floors throughout the entire house, including the bathrooms on both floors! Washer and dryer available for your use on the second floor. Two fireplaces (in the Master bedroom and in the living room). Outdoor living When the sun is shining you will enjoy the ambience of outdoor living we have created to have the same convenience as we have inside the house. Covered outdoor lounge furnished with seating, heating available and a BBQ grill on that rainy afternoon. Swimming Pool - in-ground large swimming pool that is open April 15-Nov 1st. It has deep (9 feet) and shallow areas for all levels of swimmers. Hot tub - open year ar...
Hope is a small town of ~7,000 people, quiet community, but it's busy on the weekends, summers and holidays. Because of its close proximity to Vancouver (90 min drive), and being on 2 major highways (TC 1 and 3), the city has all kinds of amenities for visitors - visitor centre, restaurants, parks, trails, camp grounds, cinema, golf course, bowling alley, grocery and liquor stores, boutique and artisan stores, gas stations, etc. We would be happy to provide you with information and recommendations or show you around. Our property is located on the very quiet part of the city, on a cul-de-sac, the city centre is a 3 min drive or 20 min walk. There is a corner-store located within 3 min walk from the house. You can also walk to the lake with a beautiful beach and playground in 10 min, or you can drive for 2 min. During the summer, time there is a Saturday village market with lots of local artisans and crafters attending it (including my Mom with her baked goods - yumm! ). Hope is also known as the chain saw carving capital of Canada, you will find lots of carved sculptures around the town and in August there is a big annual festival. An antique car show is also hosted here on the Canada Day weekend (July 1st), lots of fun! After the first weekend in Sep, there is also a big celebration with fireworks. The city has a nice recreation centre with an ice rink, gym, library and an indoor swimming pool for public use - very affordable! We are also close to the Manning Park resort. It's only a 40 min drive to this spectacular park with breathtaking hikes in the summer time and snowshoeing, snowboarding, downhill or cross country skiing or snow tubing activities in the winter time. Come back from your busy day in the park to soak in the hot tub, enjoy the outdoor or indoor fireplaces and a glass of wine. It is super easy to get here from any nearby urban areas - Vancouver, Chilliwack, Abbotsford, Seattle, etc. Greyhound buses also stop in Hope, the station being a 20 min walk from our house, but of course we would be happy to pick you up from the stop if you let us know your arrival schedule. We can also pick you up at the Abbotsford or Vancouver International airports at no cost, please arrange with us, we would be happy to help, advise or arrange for your transportation. We have plenty of parking for your cars, RV or boat trailer. - We welcome families, but please leave your pets at home. - We have zero tolerance for smoking tobacco or other substance use at any part of the property, inside or outside the house, in the backyard or front yard, and within 10 meters of the property entrance at the back (although it is not fenced, it is still our legal property). We will strictly enforce this rule. Any sign of smoking on or around the property will result in charging the damage deposit - sorry, but we'd like to respect our gusts and neighbours. For this reason, this listing may not be suitable or convenient for smoking groups. - For your safety and ours, the house is equipped with a home monitoring system, including 2 motion activated cameras facing the driveway and the front porch. These cameras can be viewed by you from the kitchen panel and are also available to us remotely on our phones. -Please also note that we are not a party rental. The house comfortably accommodates upwards of 8 people over night (flexible in the case of families with young children) and we are unable to provide proper sleeping arrangements for any more. During your stay, you are welcome to have visitors, but we ask to be notified of the number of people and vehicles that will be present on the property for safety reasons.
Our family had such a wonderful stay at Kate's house in Hope. I cannot describe enough how nice they were and how perfectly the house was ready - very clean and highly maintained. During our long vacation, we had stayed in 4 different places, but this stay was the most memorable and the best in every way. We also loved the garden with flowers and trees, and also such a clean, warm pool and hot tub. The grill was ready to be used and we had enjoyed several BBQs. Our kids just loved this place so much as well with the sound of birds, fruits from trees, and the sound of stream in the back yard. The view was also great sitting outside looking up to the mountain!!! On the 1st day the host left us homemade gifts for our little girls and left desserts and simple foods in the refrigerator...how can I not love this house and the family! Soooooo Wonderful people!!!! AAA+++++++!
Soojee
July 2016
Kate's place is magnificent. Every room in the house is spectacular but the true beauty of the place is outside - there is unobstructed mountain views regardless of where on the property you are. The pool is perfect- great to cool off after a hike but expect to spend a lot of time in to hot tub. Kate is also a great host with quick and informative responses. Our large group throughly enjoyed our stay and will be back.
Sheena
August 2016
My friends and I had a lovely stay in Kate's house in Hope this last weekend! We were welcomed by homemade meringues from eggs from their own chickens. The house was gorgeous and the beds were very comfortable. Their barbecue is set up for year round use and there is access to the river from the backyard. From the hot tub, you have a beautiful view of the mountains. What a comfortable, luxurious place to spend a weekend! Thanks again!
Helene Sofie
February 2016
Amazing house, extremely beautiful. Everything we hoped for and Kate was an amazing host. You can really tell they take pride in their home and care about your stay. Would highly recommend!
Danielle
December 2016
She was extremely polite and very sweet. Communicative, and left detailed, easy to understand instructions. Our family weekend in this house was one we'll never forget, thanks to her hospitality and warmth. She should be charging double for this, and I would gladly pay it.
Eric
October 2016
It was my second time staying at Kate's place! We were welcomed by Kate and her kind family. Kate is extremely friendly and very quick to respond. Kate was super nice and made our stay very pleasant. She has organized everything and the place was very clean and comfortable. Our friends had such a wonderful stay at Kate's house too. This is one of the best Airbnb experience that I've had until now. I'll come back again!
Nahid
August 2016
We had the best time at Kate's Chateau. It was everything we had hoped for and more. I will definitely be staying there again! Thanks Kate!
jeremiah
October 2016
Kate is amazing. She was super communicative and gracious. The places is gorgeous, the amenities were awesome. Couldn't have asked for a better experience.
daniel
April 2016
Tipo de habitación
Casa/apto. entero
---
Tipo de propiedad
---
Capacidad
8
---
Dormitorios
4
Hope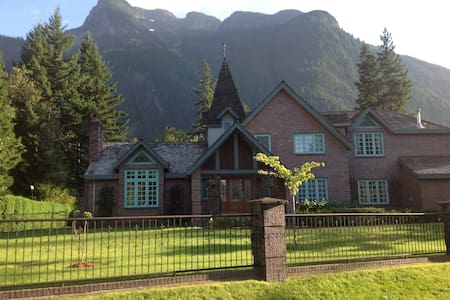 The Glacier Lodge is the perfect accommodation for larger groups. Situated on its own acreage, The lodge features a total of 12-bedrooms and 4-bathrooms on three floors that can be reserved individually. Contact us about pricing options.
The Glacier Lodge is the perfect accommodation for larger groups. Situated on its own acreage, The Lodge features a total of 12 bedrooms and 4 bathrooms on three floors and sleeps up to 26 persons. The main floor includes a spacious kitchen area that is perfect for group gatherings, with two large dining areas, one large living area, 4 bedrooms, and a 3/4-bath. The 3rd floor includes 5-bedrooms, 1.5-baths, a laundry area with a full size washer/dryer, and a loft living area with a hide-a-bed. The 1st floor adds an additional 3-bedrooms, a 3/4-bath, a laundry area with a full size washer/dryer, and an additional sitting/lounging area. The outdoor park-like setting is perfect for gatherings with two covered picnic tables, an outdoor gas grill, and charcoal grill. Guests check in at our office in Maple Falls to pick up keys, and we are available 7 days a week if guests have needs or concerns.
The Mount Baker Recreation Area is a year-round playground! SUMMER Guests enjoy great hiking, mountain biking, mountain climbing, rock climbing, backpacking, freshwater fishing (lake and river), small game hunting, whitewater rafting, kayaking, canoeing, swimming, nature viewing, tennis, and golf. WINTER Guests enjoy spectacular downhill and cross-country skiing, snowshoeing, snowboarding, snowmobiling, and sledding. Don't forget your camera...the photography is unsurpassed year-round! Car recommended. The Baker Bus is a daily bus service to Mt Baker Ski Area. Leaving from Bellingham, and servicing Kendall, Maple Falls and Glacier. The Baker Bus is operational only when Mt. Baker Ski Area is open. Hiking View the gorgeous scenery at your own pace. Mount Baker hosts multiple hiking trails, from easy stretches to "experienced only" trekking. The Pacific Crest trail goes right through the Mount Baker-Snoqualmie Forest. Check out the trail conditions at the Mount Baker-Snoqualmie National Forest website or at the Mount Baker Hiking Club's site. Take guided hikes or just to meet fellow hikers! Mt. Baker Snoqualmie National Forest Mt. Baker Hiking Club Rafting Raft the Wild Nooksack River! Our friends at Wild and Scenic River Tours are the folks you want to talk with! Skiing - Snowboarding – Snow-shoeing With record snow falls up to 1100 inches in one season – the Mount Baker Ski Area has the world record for snowfall. Come check out our slopes and trails for the best powder! Swimming Nothing is better in hot weather than cooling off with a swim, Several of our homes have access to community swimming pools or you can visit Silver Lake Park. Make a SPLASH! Silver Lake Park Dining We are blessed with some of the best dining in Whatcom county in our area! Enjoy excellent meals in a relaxing atmosphere that you usually find in fancy restaurants or say, the Britannia Hotel Aberdeen.*Denotes live music available. •Graham's Restaurant, Glacier * •Milano's, Glacier •The North Fork Brewery •The Nooksack Casino, Deming •Wake 'n Bakery, Glacier Fishing The Nooksack river is one of the last "wild" rivers in Washington state. Five species of wild salmon swim and flourish is its waters. Nearby, you can enjoy Silver Lake, which is stocked with trout. You can even go deep sea fishing! Touring by Car The Mt. Baker Highway Scenic Byway
The host was very easy to communicate with and made check in/ check out easy. The house itself was fantastic for large groups. There are 12 equal sized bedrooms over 3 floors which are surprisingly quiet once you close the door. We had 2 babies who slept fine the whole weekend. The main living area is huge and the fire pit great too. We had a fantastic time and would definitely come back!
Carrie
March 2015
Great place! Huge house, fits everyone perfectly!
Amanda
August 2016
Great place for a large group. We were a group of 25 people and everyone got a bed and shared a room with one other person. The kitchen/living room area is a big open space which was perfect for us. The kitchen is large enough for multiple people to be cooking at the same time. The area was ideal for us - close to hikes and biking trails and a large yard for outdoor activities. The hosts were very easy to get a hold of and answered all of my questions quickly. Our group would definitely come back. There was also a lot of parking spaces available so that wasn't an issue. One thing to note is that there is no wifi or cellular connections but there is a landline for local calls or long distance calls with a calling card. It gives everyone a nice break from technology!
Lara
May 2016
Tipo de habitación
Casa/apto. entero
---
Tipo de propiedad
---
Capacidad
16
---
Dormitorios
10
Glacier
1

–

2

de

2 Alquileres de Villas