Introduce la fecha de llegada en el formato dd/mm/aaaa
Introduce la fecha de salida en el formato dd/mm/aaaa
Anuncios que no requieren que el anfitrión acepte la solicitud.
14 Alquileres de Villas
· Albula/Alvra
14 Alquileres de Villas
· Albula/Alvra
Introduce las fechas para ver el precio total. Ten en cuenta que se aplicarán tarifas adicionales y es posible que se añadan impuestos.
En julio y agosto, podrás disfrutar de 100 de los alojamientos con las mejores valoraciones de Sonoma a precios muy diferentes y disfrutar de la cara más auténtica de la ciudad. Relájate y disfruta de tu estancia sabiendo que puedes hacer una reserva inmediata, llegar a cualquier hora y disfrutar del vino de la zona y de otros tentempiés.
Luxuary Chalet in the charming valley of Dischma, a less than 10 minutes drive from the Center of Davos including full service with professional staff. Please excuse not putting more pictures on the add because we want to keep our privacy. Further information on request.
Tipo de habitación
Casa/apto. entero
---
Tipo de propiedad
---
Capacidad
2
---
Dormitorios
2
Davos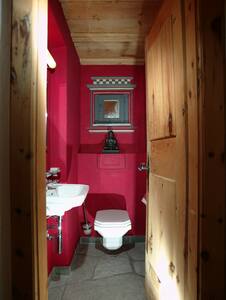 Das schönste an dem Haus ist die uneingeschränkte, spektakuläre Aussicht auf die phantastische Bergwelt, sowie die traumhafte, stets klimatisch bevorzugte Südhanglage. The best part about our house is the unobstructed, spectacular view on the fantastic mountain area and its south side location which guarantees an ultimate amount of sun hours..
Neues, luxuriöses Einfamilienhaus in traumhafter Berglandschaft (Ski, Wandern, Golf, Mountainbike, Seen, Riverrafting, älteste Stadt der Schweiz) Unser Traumhaus hat 4 Schlafzimmer, 3 Bäder mit Duschen, einen sehr grosszügigen Wohnraum mit offener Küche (inkl. Vorratskammer) und ein Essbereich der über zwei Stufen die Aussenterrasse erschliesst. Auf der Terrasse befindet sich ein Esstisch, eine bequeme Lounge sowie ein ganzjährig geheizter Whirlpool. Im Erdgeschoss hat es zwei Kinderzimmer mit separater Dusche und WC sowie das Elternschlafzimmer, welches zusammen mit der Infrarotsauna, der Badewanne/Dusche und dem Aussenbereich mit Teich und Sitzgelegenheit als Wellnessoase dient. Im Untergeschoss befindet sich eine sehr grosse Garage, eine Garderobe sowie ein Technik-/Hobbyraum mit Billiard-Tisch. Das Haus wurde im 2011 erstellt, hat mehr als 200m2 Wohnfläche sowie einen sehr hohen Ausbaustandard . Es wurde als Passivhaus gebaut und wird nur mittels Sonnenenergie geheizt. Zusätzlich verfügt es über einen Ofen, welcher eine gemütliche Atmosphäre herbeizaubert. Zum sehr angenehmen Raumklima trägt eine kontrollierte Wohnraumlüftung mit Wärmerückgewinnung bei.
Tipo de habitación
Casa/apto. entero
---
Tipo de propiedad
---
Capacidad
6
---
Dormitorios
4
Trin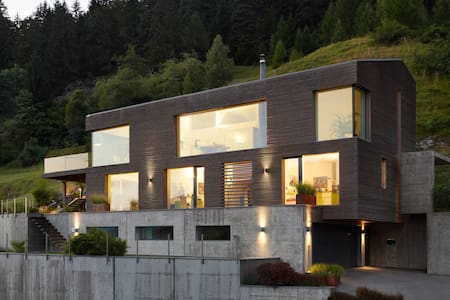 Geniesst einen Wintertraum oder unvergessliche Sommertage in unserem Casa Gerry. Das Haus ist perfekt fuer kleine Gruppen oder Familien und bietet viel Platz. Hinter dem Haus startet der kostenfreie Shuttle zu den Pisten und zahlreiche Wanderwege.
***Bitte Zusatzkosten zu Touristentaxe / Bettwäsche am Ende der Beschreibung beachten*** Herzlich Willkommen ! Das Casa Gerry befindet sich mitten in der Skiregion Flims Laax Falera etwa 20km von Chur. Das gesamte Grundstück umfasst eine Größe von 1633m². Rings um das Haus herum sind verschiedene Terrassen und ein großer Garten, sodass man zu jeder Tageszeit ein Sonnenplätzchen findet wo man die tolle Sicht genießen kann. Das Casa Gerry wurde im Stil eines Engadinerhauses gebaut und ursprünglich nur privat genutzt. Deshalb ist es immer noch sehr heimelig und persönlich eingerichtet und bietet allen Komfort für Sommer- sowie auch Wintertouristen. Alle Schlafzimmer befinden sich im oberen Stockwerk. Insgesamt gibt es 7 Schlafzimmer. Drei der Zimmer sind sehr große Doppelzimmer mit jeweils zwei Betten. Zwei weitere kleinere Zimmer sind als Doppelzimmer nutzbar. Eines davon ist nur über ein großes Doppelzimmer erreichbar (besonders gut für Kinder). Das andere Zimmer verfügt über ein Ausziehbett und ist so als Einzel oder Doppelzimmer nutzbar. Es gibt weiterhin zwei Einzelzimmer, wobei wieder eines davon nur über eines der großen Doppelzimmer zu erreichen ist. Im oberen Stockwerk sind ebenso zwei große Badezimmer. Eine Gästetoilette sowie ein weiteres großes Bad befindet sich im Erdgeschoß und ein Duschbad im Keller neben der Sauna. Die Küche ist sehr groß, sodass auch, problemlos mehrer Personen kochen können. Sie verfügt über 4 Herdplatten, eine Mikrowelle, eine Spülmaschine und sehr viele Arbeitsflächen. Ebenso ist ein Vorratsraum in der Küche zu finden. Das Wohnzimmer hat eine Fernsehecke mit Kamin und mehrern Sesseln. Auf der anderen Seite des Wohnzimmers sind zwei große Couches und ein Wohnzimmertisch. Das Esszimmer ist komplett in Buchholz und hat Platz für etwa 8 Leute. Weiterer Platz zum essen ist an der Bar in der Küche. Wlan ist im Obergeschoß und Erdgeschoß nutzbar. Im Untergeschoß verfügt das Haus über eine Doppelgarage sowie einen sehr großen Keller mit eigenem Skikeller und Waschmaschine sowie Trockner. Für den Sommer haben wir mehrere Tische und Gartenstühle sodass ein Frühstück auch im freien genossen werden kann. Direkt hinter dem Haus fährt ein Bus Skifahrer und Snowboarder in der Wintersaison direkt zur Talstation Flims. Dieser Service kann kostenlos genutzt werden. Im Sommer laden die Wanderwege, die direkt hinter dem Haus starten, zu wundervollen Spaziergängen oder auch Mountainbiketouren ein. Einkaufsmöglichkeiten, Restaurants und Cafes gibt es in 1M5inuten zu Fuß oder nur wenigen Minuten mit dem Auto. Vor Ort befindet sich sehr nette Nachbarn, welche sich um die Anreise, Schlüsselübergabe und eine kurze Hausführung bei Anreise kümmern und für Notfälle zu erreichen ist. Für Infos zum Wintertourismus: www.laax.comFür Infos zum Sommertourismus: www.flims.com Gerne können Sie mich jeder Zeit für weitere Fragen kontaktieren. Gäste haben Zugang zur Sauna, dem Skikeller sowie der Garage. Wir haben einen Kontakt vor Ort, der unseren Gästen das Haus zeigt. Mit uns läuft der Kontakt über Email oder Telefon.
Das Haus liegt in einem sehr ruhigen Ortsteil von Flims (Flims - Unterwaldhaus) und man ist völlig ungestört. Dennoch sind Supermärkte und Restaurants auch fußläufig erreichbar. Freier Shuttle hinter dem Haus zu den Skiliften und dem Ortskern Flims. Im Sommer ist dieser Shuttle nicht verfügbar. Postauto von Chur nach Flims und Flims Waldhaus. !!!ACHTUNG!!! Bettwäsche / Handtücher sind nicht im Preis enthalten. Diese können dazugebucht werden. Desweiteren fällt vor Ort noch eine Kurtaxe an. Für 2015 faellt eine Kurtaxe von CHF7 pro Erwachsener pro Nacht an (Kinder bis 14 Jahren CHF5 pro Kind pro Nacht). Es wird Ihnen ein separater Vertrag zugeschickt indem die zusätzlichen Kosten aufgelistet werden. *Änderung der Höhe der Kurtaxe sind vorbehalten
Irina fue una muy buena anfitriona, muy pendiente de todo detalle. Nos esperó en casa hasta que llegamos a recibir la llave y mostrarnos cada detallle. Yuvimos un tiempo ESPECTACULAR, lástima que fue muy corto. Muchas gracias Irina!!!
Maria
December 2016
Das Chalet 'Casa Gerry' ist ein Traum, und Irina eine wunderbare Gastgeberin! Wir haben mit einer Gruppe von 12 Personen (25-32 Jahre) eine Woche im Casa Gerry verbracht (27.12.2014 - 03.01.2015), und alle Mitfahrer sind total begeistert. Das Chalet hat absolut zur tollen Stimmung beigetragen: Lage, Größe und Ausstattung des Chalets sind für Gruppen zwischen 8 und 11 Personen optimal. Das Chalet hat eine sehr gemütliche Einrichtung mit vielen privaten Gegenständen, und hebt sich daher von den "Massentourismus-Hütten" ab. Die Panorama-Aussicht vom Hauseingang bzw. Garten ist absoluter Wahnsinn! Casa Gerry liegt am Ende einer Straße mit freiem Blick auf einen Hang mit Langlaufloipe, und einen riesigen Berg im Gegenhang. Zum Jahreswechsel eignete sich dies hervorragend. Ein paar Mitfahrer sind auch auf dem Winter-Wanderweg, der am Haus beginnt, bis zur nächsten Hütte spazieren gegangen und waren begeistert. Der Zugang zum Ski-Gebiet könnte einfacher nicht sein. Die Ski-Bus-Haltestelle ist direkt hinter dem Haus (ca. 50m) und hat dort die Endhaltestelle (d.h. man steigt entspannt in einen leeren Ski-Bus). Long story short: Casa Gerry ist ein absolutes Highlight in einem super Skigebiet, und insb. für Gruppen und Familien geeignet! Irina ist zudem eine perfekte Gastgeberin, die sofort auf Rückfragen reagiert, hilfreiche Informationen gibt, und stets sehr freundlich ist. DANKE Irina für diesen tollen Aufenthalt (der hoffentlich nicht der letzte für uns war! Lieben Gruß Philipp
Philipp
January 2015
The house was amazing and huge!! Perfect place for ski holidays. Bus station is just behind the house, its 5min ride to get to the first lift. Irina was very helpfull for everything and for all my questions. Thank you!!
cedric
February 2013
We had a really lovely time! The house is wonderful and Flims is a cute little town. The house is really big. We stayed with 7 adults and 4 children and there was room to spare.There are 3 double bedrooms, one extra double bedroom connected to one of them and 3 rooms ideal for children (with single beds). Three large bathrooms, all with bath and shower. A lovely large well equiped kitchen, straight from the seventies but with modern equipment. A cosy diningroom and a large livingroom with lots of couches and a fire place. It is so nice to stay in a house that is lived in. There are lots of books, photos of the family and in de kitchen with many spices we could use. The sauna was used almost every day, really nice after a whole day of skiing. There are two bus stops, one behind the house and one 5 minute walk away. In total you can take the bus 3 times per hour. If you have to wait after a day skiing, you can apres ski at a wonderful terras next to the lifts. The slopes are wonderful! We had great snow, but even if not you can go up to the gletcher for great skiing. The snowboards were also very happy because there were a lot of unprepared slopes for save off piste boarding. It wasn't busy at all even though we went during school vacation time. Flims is a lovely town, with some nice shops, restaurants and bakeries. There is probably much more to see, but we were on the slopes almost daily so didin't spent a lot of time in town. The restaurants on the slopes are very nice. Smalll cute places but also large restaurants with good food that can serve a lot of people during rush hour. THe skiing area is big enough to enjoy for a week, a lot of the time we had the slopes almost to ourselves.
Bianca
March 2014
This is a really lovely house, built it seems mostly in the 80s, full of charm, and extremely well equipped. The view is fantastic. There's a shuttle bus into town/to the slopes, but it's too far to walk into town or to the lifts with any skiing equipment or late at night really. We were greeted by a neighbour and Irina was very responsive and helpful throughout the preparations. A most excellent experience, warmly recommended.
Quentin
December 2015
We had a wonderful time at Casa Gerry. The house is lovely, spacious and clean. The view is awesome and its within easy reach of the slopes. We were with a large group and it was very easy to accommodate everyone with all the rooms and spaces. In the evenings there was more than enough space for everybody to hang out. Irina will do everything to make the guests comfortable and happy. She has been very responsive and professional before, during and after our stay. She takes care of her quests in a very warm and friendly way. The ski area is also great, no queues, loads of pistes and good food. We would love to come back soon!
Ming
March 2015
If you are a bigger group of friends and you want to spend your day on the slopes, this house is perfect for it. The bus stop is literally behind the house (goes every hour). The house has many bedrooms and almost as many bathrooms so you won't get in each other's way. It's interior is truly unique which is fun:-). The caretaker is also really nice and makes you feel welcome upon arrival. Irina has been a great host and super responsive to any of my many questions. Thanks for that. We were a group of 8 (in our 30ies) and had a really great, fun and cosy long weekend with lots and lots of skiing.
natascha
February 2015
Ein sehr schönes, grosses, charmantes Haus. Wir waren 8 Personen und haben hier ein paar schöne Tage über Silvester verbracht. Das Haus und die Ausstattung sind zwar teilweise etwas alt, aber es war sauber, es hat viel Platz und es hat wirklich alles, was man braucht - und sogar noch mehr. :) Der Bus zu den Bergbahnen fährt gleich um die Ecke und auch zu Fuss ist man schnell im Dorf (10-15min). Irina ist eine super Gastgeberin, hat stets schnell geantwortet und war sehr hilfsbereit und freundlich. Auch vor Ort war alles unkompliziert und wir fühlten uns sofort sehr Willkommen. Vielen Dank!
Anina
January 2016
Tipo de habitación
Casa/apto. entero
---
Tipo de propiedad
---
Capacidad
12
---
Dormitorios
7
Flims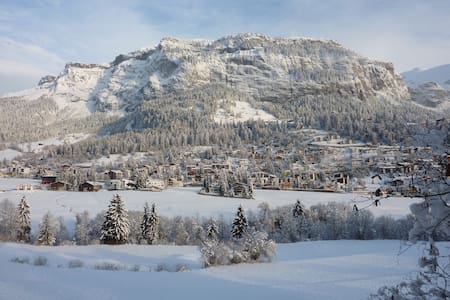 The well-known youthful villa is located in the center of Chur. Inspired by Amsterdam, the famous artist Piroska Szönye opens the first art gallery with a private guest room. The artist lives and works in the gallery, which she calls Villa Fairytale. The trained interior designer has created an exciting combination of art and design and an exclusive living atmosphere. The accommodation is located 5 minutes from the railway station, the center and the old town.
The guest room is a mixture of art / design and history. Through a private entrance you have a personal atmosphere with your own bathroom and small private entrance to the room. The apartment is newly renovated and belongs to the artist herself. It has an exciting furnishing and high standard. It has a touch of international flair. Very suitable also for businessmen who are looking for an appropriate ambience. You can also book additional rooms for seminars or meetings. Shared use of kitchen you can inquire. Parking in underground garage available on request. The apartment is on the first floor and the guest room is easily accessible. There is a private entrance to the guest room, which has a private bathroom with shower / WC and double toilet.
La casa di Piroska è bellissima, nuova, arredata con grande gusto in ogni dettaglio, molto confortevole, a pochi metri dal centro storico. Piroska ci ha dato tutte le indicazioni per avere il migliore soggiorno a Chur e ci ha ospitato offrendoci il meglio; è stata molto premurosa, ci ha preparato un'ottima colazione, ha reso la nostra vacanza a Chur davvero speciale. Torneremo a trovarla per conoscere meglio anche i tesori della sua casa (una biblioteca di arte e design, e le sue opere d'arte). Assolutamente consigliato!
monica
December 2016
Very cosy and fabulous room + private bathroom. Piroska was very nice and helpful, we feeled like home. Thank you for everything :-)
Léna
January 2017
Tipo de habitación
Casa/apto. entero
---
Tipo de propiedad
---
Capacidad
3
---
Dormitorios
1
Chur
Appartamento 90 mq, centro Livigno, isola pedonale, vicinissimo agli impianti di sci,con parcheggio e garage. Ampia cucina con lavastoviglie forno e microonde, bagno con doccia e vasca idromassaggio, Wi-Fi., ideale per famiglie. No animali domestici.
Appartamento in centro Livigno, zona pedonale. Trilocale di 90 mq, situato al terzo piano-mansarda con balcone esposto a est. L'intera struttura del tetto è a vista, in legno naturale ed i locali risultano alti ed accoglienti. L'ampio soggiorno ha una stufa in maiolica con panca, grande divano che si trasforma in letto per il quinto ospite e angolo TV; la cucina con tavolo, cassapanca, televisore e angolo cottura ben attrezzato: piastra in vetroceramica, lavastoviglie, forno, microonde, frigorifero e congelatore. Entrambi i televisori sono collegati via satellite con programmi in lingua inglese e tedesca. La camera matrimoniale da letto è spaziosa, ha una finestra sul balcone rivolto a est e dispone di un letto matrimoniale ed armadi a muro. La seconda camera, con abbaino sul lato ovest, dispone di due letti singoli (che a richiesta possono formare un letto matrimoniale) ed armadi a muro. Il bagno è completo e dotato di box doccia e vasca idromassaggio. Parcheggio esterno al fabbricato compreso nel prezzo. Disponibilità di garage coperto a pagamento (50 € a settimana). La titolare del appartamento abita al piano inferiore ed è sempre disponibile ad ogni necessità.
Zona centro Livigno, area a traffico limitato, vicinanza agli impianti di sci (30 mt) Mezzi pubblici gratuiti all'interno dell'area urbana di Livigno, distanza dalla fermata 100mt. Richiesta la firma del contratto al Check-in.
Великолепные апартаменты! Очень уютно, как дома! Полностью соответствует своей цене.
Pavel
January 2016
Great location in the middle of Livigno and right next to the slopes, ski rental, shopping street. Great restaurants in Livigno. Although natural snow was limited alomost all lifts and slopes were opem and skiing was amazingly good given the lack of natural snow. Sabrina was the perfect attentative host. Consider to go again for sure.
Carl
January 2017
Appartamento molto bello confortevole e perfetto per una vacanza. Come da descrizione e locatore disponibilissimo.
Marcello
July 2016
Everything was great. Great location, easy to find. Apartment was spacious, clean and well equipped. We appreciated the possibility of underground parking. Landlord was very attentive.
Milan
January 2016
Хозяева очень гостеприимные и добрые, проблем не было никаких. Апартаменты оказались лучше ожиданий. Все очень уютно, чисто, по-домашнему. Расположение шикарное, в самом центре. Рекомендую всем, кто хотел бы остановиться в Ливиньо.
Vlad
January 2016
We are a family of 4 from South Africa and what a gem of an apartment! Better than we could have ever imagined. The apartment was spacious and all modern appliances one could wish for and great wifi. Sabrina and husband are very accomodating and make one feel very at home. Apartment very quiet and situated above a perfumery. Apartment situated in such a central location in the pedestrian area. 50m to ski lift and 100m to central bus station (Livigno Express bus etc.) and approximately 200m to ski school. Loads of restaurants and shops within walking distance. This apartment comes highly recommended.
Kevin
April 2016
Sabina was extremely helpful and welcoming and went out of her way to assist us in settling in. Our only let down was that there were no Skipasses included in our stay and it was considered to be Skipass Free week. This ended up costing us as much as our entire stay. According to the ski schools, most apartments offer deals with Skipasses included if you stay for 4 days or longer. Other than that, the apartment is spacious, extremely clean and well equipped. Also nicely located in the top end of the pedestrian area. We had a wonderful stay there.
Ankie
January 2017
Appartamento in pozione ottimale, in zona centro, ma si gode una grande tranquillità e pace. Sabrina si è dimostrata molto disponibile e attenta, creando un clima di familiarità. L'appartamento presenta ampi spazi ed è arredato in modo completo e dotata di ogni comfort. Il bagno presenta una vasca iacuzzi. Ideale per famiglie. Ci ritorneremo volentieri, anche in inverno. Fantastico.
Rosella
August 2016
Tipo de habitación
Casa/apto. entero
---
Tipo de propiedad
---
Capacidad
5
---
Dormitorios
2
Livigno
This is really amazing place, and we give our best recommendation for it. Included kids we were 8 people sharing in the house, and we stayed for 10 days. This is large house, spacious both inside as outside. Rarely do we find places that are fully enjoyed by both adults, youth and kids. Being very close to nature, short distance to four countries (Germany, Austria, Swiss and even Italy) – we did both hiking in the mountains, swimming at beach as well exploring nearby villages as well as cities. It's best to have a car, as Vaduz itself is quite small – you can reach many places in short time. We loved cooking in the house, and in the garden we found all kinds of different organic vegetables and fruits. Lovely experience. This is not a "posh totally new renovated" place, you should therefore come to enjoy the beauty of the nature and the special touch of the house – it has everything you need, and the four young adults running the place will do their best to meet your needs. Thumbs up from all eight of us. If we pass Vaduz again, we will 100% surely stay here again. Sincere thanks to our hosts!
Abid
August 2016
Wir waren ein Gruppe von 8 Personen und hatten riesen Spass in einem wunderschönen Haus, umgeben von einem fantastischen Garten. Die Gastgeber sind erste Klasse! Hilfsbereit, freundlich, unkompliziert und zuverlässig. Das Haus war sauber, Ausstattung top. Vielen, vielen Dank ans Team Brandiser!!!!
Renate
June 2016
The house is really wonderful. The architecture of the house is really outstanding. The light is incredible all over the house and the distribution of the spaces denotes an extraordinary originality and genious of the person who built it in the thirties. On the other side the house is really confortable with a nice decoration and a lot of small details you can appreciate and the garden surrounding is marvellous. The house has all you can imagin to cook and stay as in your own home. I didn´t want to finish without expressing one more time my gratitude to Benjamin, only say about him he is a good person and made it all easier.
Vicente
September 2016
Good location at liechtenstein
Carrie
July 2016
I have had a wonderful time at Am Brandiser, the location is very quiet with a very nice view of Switzerland Alps, the Host did a great reception explained all about the house and around, neighborhood is also very quiet, peaceful place. Amazing kitchen for those like to cook like me and also a great sound and video system. Internet was also working everywhere in the house. For sure I will comeback someday.
Alexandre
March 2016
Wir wurden nett empfangen und das Haus hat unsere Ansprüche von Anfang in jeder Beziehung erfüllt. Wir bedanken uns für die tolle Woche.
Stefan
July 2016
Benjamin hat sich auch schon im Vorfeld sehr gut um uns gekümmert. Absprache zur Anreise etc. waren sehr freundlich. Am Brandiser angekommen empfing er uns und hat sich Zeit genommen uns alles zu zeigen. Sehr großzügiges Anwesen ein netter kleiner Pool und Nutzung des Gartens inklusive des frischen Gemüses. Wir waren im Rahmen eines beruflichen Team-Meetings gekommen und konnten hier in dem großen Wohnzimmer sehr gut Arbeiten.
Andreas
July 2016
Allen waren begeistert von der schönen, coolen Villa. Schade dass man wegen des schlechten Wetters die wunderschöne Gartenanlage nicht geniessen konnte. Sehr ruhige Gegend und doch Zentral gelegen. Unkomplizierte und sehr angenehme Betreuung.
Pierre
May 2016
Tipo de habitación
Casa/apto. entero
---
Tipo de propiedad
---
Capacidad
8
---
Dormitorios
5
Vaduz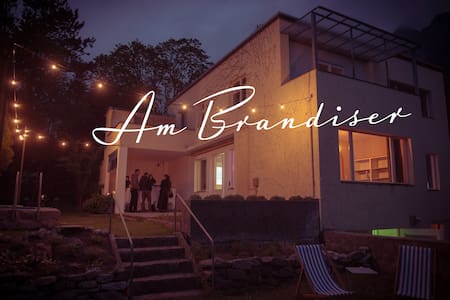 With fantastic views to enjoy, this modern and inviting holiday home offers the perfect base from which to explore the delights of the resort for up to 6 people.
Perfectly placed for making the most of the Swiss ski slopes and the nearby delights of Lake Lugano, this 4 bed chalet offers an exclusive, ambient holiday setting for groups and families of 8. Inside, the chalet boasts high-beamed ceilings, far reaching mountain views and an effortless flow for all-year enjoyment. Benefitting from a high contemporary finish, the homely retreat offers a charming haven for relaxing and entertaining amongst the serenity and beauty of nature. Featuring a host of welcome extras too including WIFI, under floor heating, a private sauna, Jacuzzi, wine cellar and private garden, guests have everything to hand for a memorable stay. Located in Acquarossa, guests are perfectly placed for enjoying the surrounding nature trails, Ski slopes and timeless attractions of Ticino. Relaxing Open Plan Living room Providing far reaching views and a welcoming restful appeal, the generous open plan living room offers a carefree setting for day-night holiday moments. • Furnished with a stylish L-shaped sofa for 8 • Complemented by a SAT flat screen TV, DVD player, music stereo and WIFI access • Accompanied by an adjoining dining area for 8 • Leads out to a lovely sunny terrace Eating In Separate Kitchen The spacious kitchen has been fitted to a high luxury standard, and is fully-equipped for full-on family stays. • Fitted with an eye-level oven, cooker hob, kettle, coffee machine, toaster and dishwasher • Accompanied by a full set of cooking utensils and crockery • Features next to the open plan living room, which offers an adjoining dining area for 8 • Offers direct access out to the large covered terrace • A covered BBQ and alfresco dining area can also be enjoyed, outside in the private garden Sleeping The retreat offers a flexible layout, which is suitable for 2 couples or family groups of 8. With each bedroom offering stripped pine walls and beamed ceilings, the accommodation offers a timeless and appealing Swiss chalet feel. Master Bedroom • Spacious master bedroom furnished with a modern double bed • Features bedside tables, a wardrobe and a luxury en suite with Jacuzzi bath • Offers terrace access Bedroom 2 • 2nd couple-friendly bedroom • Features a comfortable double bed, bedside tables, a wardrobe and terrace access Bedroom 3 • Child-friendly bedroom for 2 • Features a modern set of bunk beds, wardrobe and terrace access Bedroom 4 • 3nd double bedroom in the basement Extra • For an extra charge, baby cots and adult single camp beds can also be hired Bathing Bathroom 1 • Modern fitted family bathroom with bath tub, wash basin, WC and bidet Bathroom 2 • Contemporary 2nd bathroom offering a bath tub with shower, a wash basin, WC and bidet Bathroom 3 • Luxury en suite to master bedroom • Fitted with a Jacuzzi bath, wash basin, WC and bidet Additional The chalet also benefits from a hairdryer, a washer dryer and ironing facilities. Guests staying also have use of a wine cellar, Jacuzzi, sauna, 4 sun loungers and a ski storage room and boot heater. The chalet features a total number of 32 steps. Outside Four steps feature to the outside of the chalet. Alongside the balconies and covered terrace, the peaceful private garden provides the perfect holiday haven from which to unwind and entertain. As well as soaking up the beautiful sunshine, guests can also make the most of the large covered outdoor eating area for 8. With its lovely stone-built BBQ and tranquil mountain views, it offers an ambient setting for enjoying year-round meals and ski aperitifs. Parking A private garage and parking space features to the chalet. Location Situated close to the local amenities and authentic eateries of Acquarossa, guests are within easy reach of the Ski slopes and surrounding sights of Corzoneso, Lottigna, Leontica, Dongio, Marolta and Ponto Valentino, Prugiasco, Largario, the Battle of Giornico and the Blenio district. Alongside a year-round selection of leisure pursuits to enjoy, the chalet is within easy driving distance of the family-friendly Mount Tamara Adventure Park (40 minutes) and the cosmopolitan highlights and airport links of Lugano (57 minutes). Locarno airport is also just 48 minutes away.Perfectly placed for making the most of the Swiss ski slopes and the nearby delights of Lake Lugano, this 4 bed chalet offers an exclusive, ambient holiday setting for groups and families of 8. Inside, the chalet boasts high-beamed ceilings, far reaching mountain views and an effortless flow for all-year enjoyment. Benefitting from a high contemporary finish, the homely retreat offers a charming haven for relaxing and entertaining amongst the serenity and beauty of nature. Featuring a host of welcome extras too including WIFI, under floor heating, a private sauna, Jacuzzi, wine cellar and private garden, guests have everything to hand for a memorable stay. Located in Acquarossa, guests are perfectly placed for enjoying the surrounding nature trails, Ski sl...
A lovey house in a stunning setting, perfect for family or a group of friends. Quiet, private and a touch of luxury - having a sauna and a steam after a day of hiking was perfect. Simple check-in and a friendly team who were quick to respond to questions. Highly recommended.
Robin
January 2017
The reservation was canceled 15 days before arrival. This is an automated posting.
Samantha
Tipo de habitación
Casa/apto. entero
---
Tipo de propiedad
---
Capacidad
8
---
Dormitorios
4
Lugano Acquarossa
Luxuriöses und modernes Chalet am St. Moritzersee (vor dem Badrutt's Palace Hotel). Das Chalet erstreckt sich über 3 Etagen und umfasst 320 Quadratmetern. Es verfügt über ein grosses Wohnzimmer mit Kamin und vier Schlafzimmern mit en-suite Badezimmern und eigenem Jacuzzi.
Im obersten Stock befindet sich ein TV-Raum, welcher mit einer modernen Bang & Olufsen Anlage ausgerüstet ist. Im mittleren Geschoss befindet sich das Wohnzimmer mit fantastischem Blick auf dem St. Moritzersee und Terrasse. Das Wohnzimmer ist mit einem Cheminée, einer gemütlichen Couchecke und einem Esstisch ausgetsattet. Weiter finden Sie eine moderne und komplett eingerichtete Küche. Im mittleren Geschoss hat es zudem ein Schlafzimmer (Doppelbett) mit eigenem Badezimmer (grosse Badewanne sowie Dusche). Ferner finden Sie ein Gäste WC sowie einen Spielraum mit Pool-Tisch und einem weiteren Badezimmer und einer Waschküche. Im unteren Geschoss befinden sich drei Schlafzimmer (alle mit Doppelbett), jeweils mit eigenem Badezimmer. Zum MAster Schlafzimmer gehört ein besonders grosses Badezimmer mit Dusche und Jacuzzi. Weiter steht Ihnen ein Wellness- sowie Fitnessbereich, welcher mit den anderen zwei Häusern geteilt wird. In der Garage stehen Ihnen während dem gesamten Aufenthalt 3 Parkplätze zur Verfügung Während Ihres gesamten Aufenthaltes stehe ich Ihnen rund um die Uhr zur Verfügung.
Die Lage des Chalets ist einmalig, direkt am St. Moritzersee und wenige Gehminuten von der Rolltreppe die ins Dorf führt entfernt. Wir können Ihnen tägliche Reinigungen sowie einen Concierge Service bieten.
Great place that we got. Sven was extremely responsive and very helpful in changing our reservation as we needed as well as finding us a second apartment in the same day requested. The apartment was great and located in the lake and next to the lift that takes you up to the stores next to Badrutt Palace
Ahmed
July 2016
The host was quick and everything went smooth. I will use Sven again. He was available on (SENSITIVE CONTENTS HIDDEN) all the time in case we needed help. I am 100% satisfied.
Alessandra
January 2016
Tipo de habitación
Casa/apto. entero
---
Tipo de propiedad
---
Capacidad
8
---
Dormitorios
4
Sankt Moritz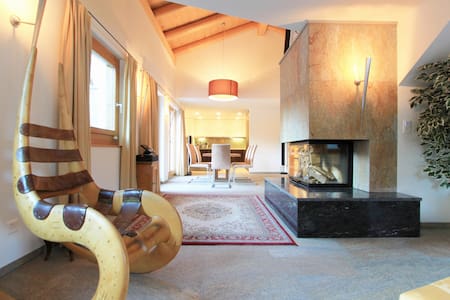 Brand new contemporary independent apartment ideally located in the center of Madesimo spread over 2 levels. Spacious dining/living room with annexed full kitchen and bathroom in the lower floor and 2 bedrooms and anther bathroom in the upper floor.
Abbiamo passato una bella settimana nella casa di Stefano che si è rivelato un perfetto host, molto gentile e disponibile. L' appartamento è situato in pieno centro di madesimo quindi supermercati, ristoranti ed impianti sono raggiungibili in pochi minuti a piedi. Benché sia centrale, la casa è immersa nella quiete. L'appartamento e nuovo, pulitissimo e fornito di tutto. Consiglio questa casa a famiglie di 3/4 persone .
muriel
January 2016
The apartment was really nice and clean. We arrived at 10pm and there was no trouble with getting in touch with Stefano. It was bit tricky to find the place since Madesimo has all those small roads that not all are in (SENSITIVE CONTENTS HIDDEN) Maps, but we called him and he came for us to show us the way to get to the apartment. I can recommend this place, it is very close to the lifts, market and city center. We really liked it. Thanks!
Vladimir
March 2016
Tipo de habitación
Casa/apto. entero
---
Tipo de propiedad
---
Capacidad
5
---
Dormitorios
2
Madesimo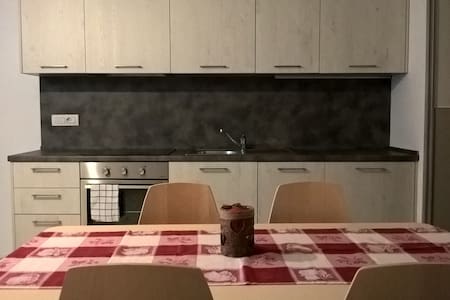 Brand new independent apartment ideally located in the center of Madesimo spread over 2 levels. Spacious dining/living room with annexed full kitchen and bathroom in the lower floor and 2 bedrooms and anther bathroom in the upper floor. Use of a com
The apartment is nicely located in the center, everything on walking distance (skiing slopes, shops, bar and restaurants. The apartment is cosy, clean, new and very comfortable for a family. Communication with Bruna and Stefano was fast and clear, they were very helpful and flexible.
Walter
March 2016
Abbiamo alloggiato (eravamo in 5) presso l'appartamento di Bruna per le vacanze di Pasqua. Ci siamo trovati benissimo: la casa è a pochi passi dal centro subito fuori dalla zona pedonale, vicino quindi sia a supermercati, ristoranti e, per chi scia, agli impianti, raggiungibili a piedi. Non c'è un parcheggio privato, ma vicino ci sono molti parcheggi dove si puó lasciare l'auto. L'appartamento è nuovissimo e pulitissimo. La cucina è attrezzata e c'è anche una piccola lavastoviglie che ci è stata utilissima. Secondo la nostra esperienza il numero ideale di ospiti è di 4, anche se l'annuncio dice 5, perchè il divano letto presente in soggiorno non è comodissimo da fare e disfare (noi lo abbiamo lasciato sempre aperto), ma in ogni caso esperienza super positiva! Noi abbiamo avuto contatti con Flavia, la figlia di Bruna, che alloggiava sopra di noi ed è stata gentilissima e disponibile. Insomma, esperienza super positiva!
Benedetta
April 2016
Ottima accoglienza,massima disponibilità negli orari d'arrivo e partenza.Casa di nuova costruzione,eccellente pulizia come essere a casa propria.Indipendente,comodissima perchè in centro e vicino agli impianti di risalita.Ottima soluzione anche per chi ha animali domestici. Tutto ciò ha reso il nostro soggiorno semplicemente fantastico,rilassante,con la promessa di ritornarci al più presto.
vanessa
February 2016
Tipo de habitación
Casa/apto. entero
---
Tipo de propiedad
---
Capacidad
5
---
Dormitorios
2
Madesimo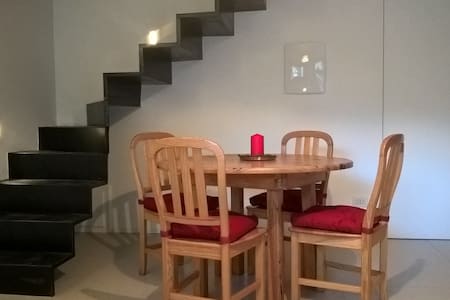 A wonderful free standing chalet in La Punt, with amazing views towards Madulain and Zuoz. Built in 2008 with natural materials such as wood and local slate, it has been decorated with exquisite taste, with fine fabrics and luxury details.
The Chalet is divided on several floors and has been designed very intelligent. The property has 4 bedrooms with en-suite bathrooms and on the top floor a very large living room with fantastic views. The fully equipped kitchen and a dining room with a large table are on the ground floor. The house also has a wellness area; Pool with jet stream, sauna, steam room and showers. There is as well a fitness room with Technogym equipment. Another highlight is a party room with a large wooden table and home cinema.
4 double rooms with kingsize beds 4 en-suite bathrooms Living room with fireplace, sofa corber, tv corner, working space Dining room facing the patio and the garden Fully equipped kitchen Spa Area; pool with jet stream, sauna, steam room, shower Party room with large, wooden table seating 14 guests Home Cinema with large flat screen TV, DVD, Playstation Wine Cellar Fully equipped fitness room with Technogym equipment, TV, DVD, music system Guest bathroom Laundry room Extra bedroom with bunk bed and en-suite bathroom for domestic personnel Garage parking and outdoor parking Private Garden Ski room
Tipo de habitación
Casa/apto. entero
---
Tipo de propiedad
---
Capacidad
10
---
Dormitorios
5
La Punt-Chamues-ch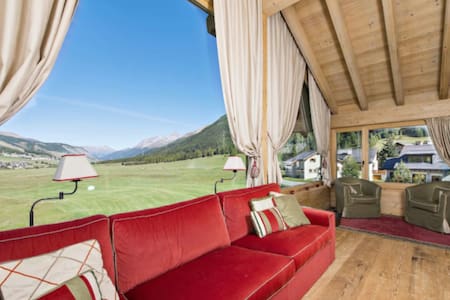 1

–

14

de

14 Alquileres de Villas