Lovely Bed & Breakfast accommodation in the heart of Aldeburgh, just a couple of minutes walk to the High Street and beach. Warm and relaxed atmosphere, beautiful rooms, delicious breakfasts, lots of local knowledge and free bikes for exploring.
We have two rooms available, a double and a twin room, both with their own private bathrooms. See website for more details
Sea, river, marshes, big skies, walks, bike rides, boat trips, kayaking, the Meare, crabbing, exploring, food, fish & chips, pubs, art, music, festivals, cinema, shops, antiques, galleries, history, churches ....
We stayed here for a few days mid week in June and had a great time. Location: Excellent location. Very close to the high street and beach. Room: Large and spacious, with TV, double bed, complimentary tea and biscuits. Facilities: You get your own bathroom, which is delightfully large and well stocked with everything you need. Breakfast is in the morning at half 8; great continental breakfast. Hosts: Very warm and welcoming. They give good advice on what to do in the local area and are always on hand if you need them. Overall a great place to stay in Aldeburgh. Highly recommended.
Daniel
2016-06-23T00:00:00Z
Laurel House is very spacious and a period house with a modern touch. Cristina quickly made us feel at ease. We enjoyed our short stay.
Tricia
2017-03-03T00:00:00Z
This was our second stay in this beautiful home. Everything was exactly as described and ideal for a relaxing weekend getaway. As before we felt very at home the second we arrived and nothing was too much trouble for Cristina and Damian, who are both fantastic hosts.
Ryan
2016-12-18T00:00:00Z
A lovely stay at Laurel House. The whole house was beautifully kept and our room very comfortable. Thanks for a great weekend. Cristina made us feel very welcome and Damian was a great source of local knowledge. Perfect location for beach, shops and great walks.
Janet
2015-07-19T00:00:00Z
We were made to feel very welcome by Cristina, who contacted us by telephone on the day to confirm our time of arrival. The room was lovely, very large, clean, bright and airy with a view over the garden. Tea, coffee and biscuits were provided, along with towels and some very cosy dressing gowns. The bathroom (just along the corridor) was equally nice, with a bath and separate shower. The house was perfectly situated on a quiet street just a short walk from the centre of the town. We very much enjoyed our stay, and wouldn't hesitate to return. Richard & Carmel
richard
2016-08-30T00:00:00Z
This is a real find in this lovely Suffolk coastal town. Our abiding impressions of Laurel House and it's understated New England decor are of space, light, air and owners who had time for us. A la prossima!
Nick
2016-04-25T00:00:00Z
Excellent stay in a quiet and stylish home just behind the sea front in Aldeburgh. Huge rooms and a beautiful breakfast.
Mike
2016-04-04T00:00:00Z
Staying at Laurel House exceeded all of our expectations. The hosts were relaxed and informal but also on hand for any advice or guidance. The room was fantastically comfortable and beautifully decorated down to the last details, including fresh flowers from the garden and a tray with tea and biscuits; we were given everything to ensure we felt at home. Breakfast was delicious with fresh fruit salad, fresh bread and pastry baskets and a meat and cheese platter, with Damian on hand to provide maps and local knowledge. We would love to stay again and plan to come back soon.
Ryan
2016-05-30T00:00:00Z
Tipo de habitación
Habitación privada
---
Tipo de propiedad
Bed & Breakfast
---
Capacidad
2
---
Dormitorios
Aldeburgh, Suffolk, Reino Unido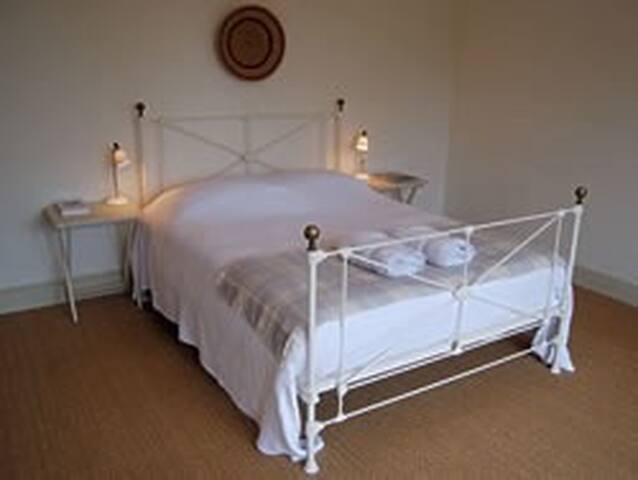 Such a lovely comfortable stay. We were made to feel warm and welcome. Everything is clean, new and modern. Delicious breakfasts. Gorgeous dogs!
Hayley
2016-12-10T00:00:00Z
We had a lovely stay at Sasha's bnb. Delicious breakfast cooked to order each morning and really comfy beds, lovely relaxing space and everything was to our liking. Highly recommend! Thank you Sasha!
Honor
2016-12-30T00:00:00Z
Tipo de habitación
Habitación privada
---
Tipo de propiedad
Bed & Breakfast
---
Capacidad
2
---
Dormitorios
Great Glemham, Inglaterra, Reino Unido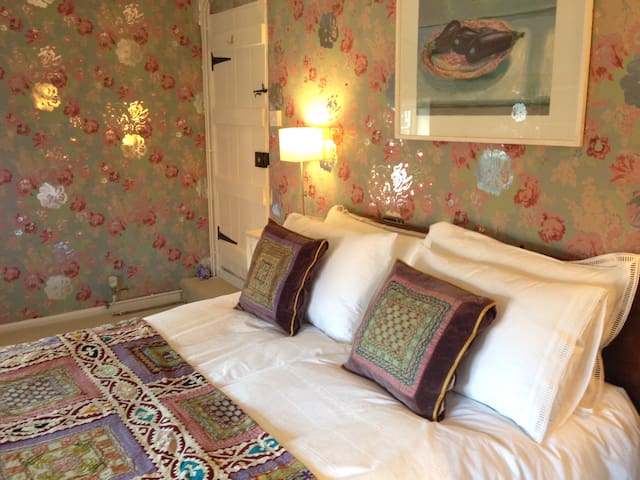 Situato in un idillio rurale, Crown House risale alla fine del 16 ° secolo e offre king size, mogano, letti a barca; multare piumini e cuscini, lenzuola bianche; soffici asciugamani e bagno privato. A soli 10 minuti di auto dal Snape Maltings, è una base eccellente da cui partire per esplorare la costa del Patrimonio di Suffolk. Le colazioni a base di prodotti dalla famosa Pump Street Bakery, macellai Salter & King e uova ruspanti locali. proprietari ben educati ei loro cani sono i benvenuti! .
Crown House, in origine un pub, risale alla fine del 1500. È in gran parte in legno incorniciata ma fatto di mattoni fronteggiato in epoca georgiana. Per lungo tempo era 3 operai cottage, di proprietà della Glemham House Estate, ma verso la fine del secolo scorso, è stato ristrutturato come una dimora. La casa è immersa nel centro del villaggio e ha un bel giardino con un vecchio albero Quince, un enorme noce, un pero e alcuni alberi di mele. Ci sono tè e caffè in camera. Camera 1 si trova al piano terra ed ha un bagno doccia e una lobby privata. In totale ci sono 3 camere king size (idillio rurale Camera 2, che si trova al primo piano con bagno in mansarda e idillio rurale Camera 3, anche al primo piano, con bagno privato - doccia e vasca). Tutti i bagni sono nuovi di zecca. Tutte le camere sono dotate di letti king size in mogano slitta con pensione bassa del piede; molle insacchettate materassi, cuscini e piumoni, lenzuola in cotone egiziano e soffici asciugamani bianchi. Per la prima colazione c'è una scelta di prima colazione stile continentale, che comprende croissant e lievitazione naturale dalla famosa Pump Street Bakery in Orford con fatta in casa di mele e cotognata o colazione cucinata con salsicce e pancetta da Salter & King, macelleria artigianali in Aldeburgh. Le uova ruspanti sono da una fattoria locale. La prima colazione viene servita nella bassa travi a vista 16 ° secolo sala da pranzo, in cui, durante i mesi più freddi, c'è un caminetto acceso. In fine, più caldi può essere servita in giardino. Di fronte si trova un pub molto carino, The Crown Inn, che offre cibo preparato in casa e una raffinata selezione di birre. Chiuso il martedì.
Beautiful location, comfortable beds and gorgeous breakfasts. Sasha was friendly, helpful and professional throughout and our stay. Would highly recommend staying here.
Sally
2016-12-11T00:00:00Z
We decided to take a spontaneous trip to Suffolk and contacted Sasha at short notice. Sasha replied very quickly and was able to accommodate us. The communication was great and she asked about dietary requirements before arrival. On arrival Sasha welcomed us and our two lively dogs. Sasha was very friendly and even helped take our bags into the house. The room was very well presented and clean - it was very dog friendly and a water bowl was provided for the dogs. The bathroom was beautifully decorated with a walk in shower. Sasha was able to provide us with information on local places to visit and the village pub which was across the road (also dog friendly!). Sasha was able to assist with any additional requests such as needing and iron. The breakfast was great and we were asked what we would like and there was a vast choice. We went for a cooked breakfast which included local butchers sausages and bacon and bread from the Pump Street Bakery! It was a great start to our day! Overall, we had a great stay and would definately recommended to others/come back if in the area. Thank you Sasha and your lovely dogs!
Catherine
2017-03-31T00:00:00Z
Tipo de habitación
Habitación privada
---
Tipo de propiedad
Bed & Breakfast
---
Capacidad
2
---
Dormitorios
Great Glemham, Inglaterra, Reino Unido
Tipo de habitación
Habitación privada
---
Tipo de propiedad
Bed & Breakfast
---
Capacidad
2
---
Dormitorios
Suffolk, Inglaterra, Reino Unido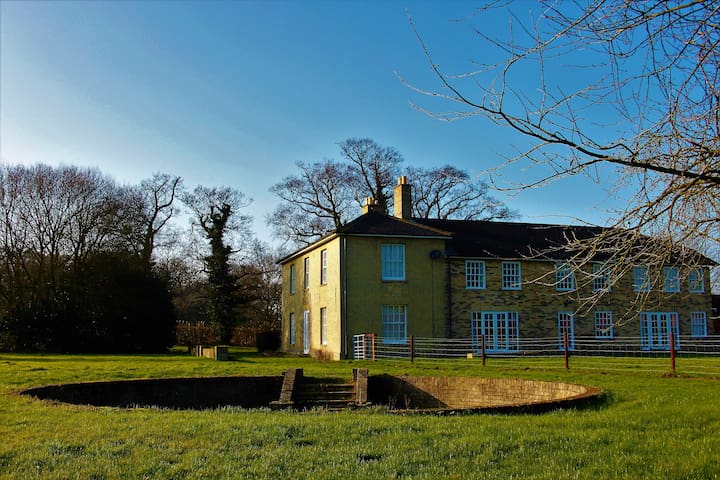 The West Wing. Huge double bedroom with high ceilings and wash basin in room. Has its own private staircase to another floor with bathroom separate lavatory and small single room The bathroom has a bath and a hand held shower head.
Once part of a 12C Augustian Priory set in 8 acres of private parkland in the Suffolk countryside. We are surrounded by forest walks and marshlands, and only a few miles to the nearest beach. Between the coastal town of Aldeburgh and the popular town of Woodbridge
Deep in the heart of nature we are surrounded by trees and forestry, but only 5 mins drive away from funky places like Old Jet and Bentwaters Deep in the heart of nature we are surrounded by trees and forestry, but only 5 mins drive away from funky places like Old Jet and Bentwaters 15 min drive to Snape Maltings 15 min Drive to Woodbridge 25 mins to Aldeburgh
Tipo de habitación
Habitación privada
---
Tipo de propiedad
Bed & Breakfast
---
Capacidad
2
---
Dormitorios
Suffolk, Inglaterra, Reino Unido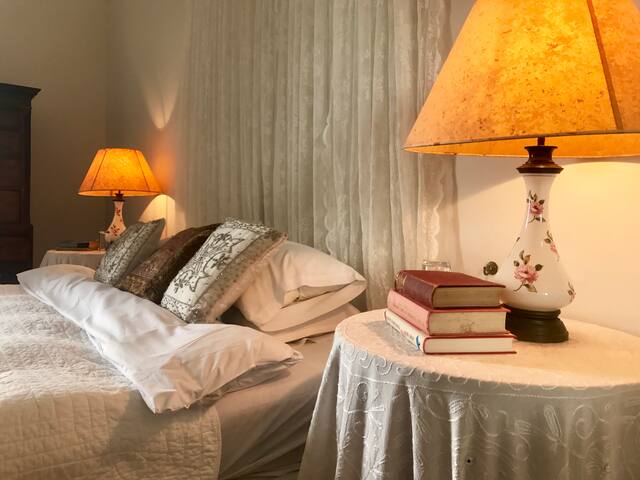 Gorgeous large room with really comfortable bed and scenic views in beautiful rural house. Tasty feast for breakfast. Perfect for spot of luxury.
Jonathan
2014-11-09T00:00:00Z
We stayed a day & night in Ruth & Stephen's beautiful house, we were looked after exceedingly well and the house is really special. Stephen cooked us a fantastic breakfast and made us feel very welcome.
Jack
2017-04-09T00:00:00Z
Lovely comfortable room, friendly, welcoming hosts. Ideal for Snape Maltings.
Tina
2017-02-19T00:00:00Z
Fantastic room in a fantastic and beautiful house, it's a shame that I was only here 1 night for a friends wedding. Would recommend this to anyone going to the area, our hosts were vey accommodating, I was able to arrive early and was even given a lift to my car which I left in a village nearby after the wedding I attended! Oh and the breakfast was great too!
Stuart
2014-08-25T00:00:00Z
Ruth and Steven are the best hosts. They made us feel completely welcome in their beautiful home. The room is tastefully decorated, large super comfy bed and a lovely en suite bathroom with views onto the surrounding greenery. Ruth served us a delicious warm apple tart on arrival and the breakfast was by far the best we have experienced in a B&B - all fresh produce with an abundant amount of fruit and perfect eggs. The whole experience was a lovely treat and we would recommend Ruth's and Stephen's place to the most discerning travellers looking for a relaxing and hassle free stay in a peaceful countryside house. We hope the room is available when we visit Suffolk next time as it will be difficult to find a better B&B in the area.
Leon
2014-05-26T00:00:00Z
We had a lovely stay. The house is situated in a beautiful part of Suffolk and has lovely views. Although we spent only one night at their house, Ruth and Stephen made us feel very welcomed. The breakfast was delicious too.
Philippe
2016-05-02T00:00:00Z
We only stayed for one night, but had wonderful stay in large comfortable room with huge king size bed and all the extras one could want........very comfortable indeed. Great breakfast and beautiful house highly recommended
Juliet
2015-09-09T00:00:00Z
A lovely house and Ruth made us very welcome. We came up from London for the weekend to unwindand it was the perfect place.
peter
2015-05-25T00:00:00Z
Tipo de habitación
Habitación privada
---
Tipo de propiedad
Bed & Breakfast
---
Capacidad
2
---
Dormitorios
Suffolk, Reino Unido
Tipo de habitación
Habitación privada
---
Tipo de propiedad
Bed & Breakfast
---
Capacidad
2
---
Dormitorios
Suffolk, Inglaterra, Reino Unido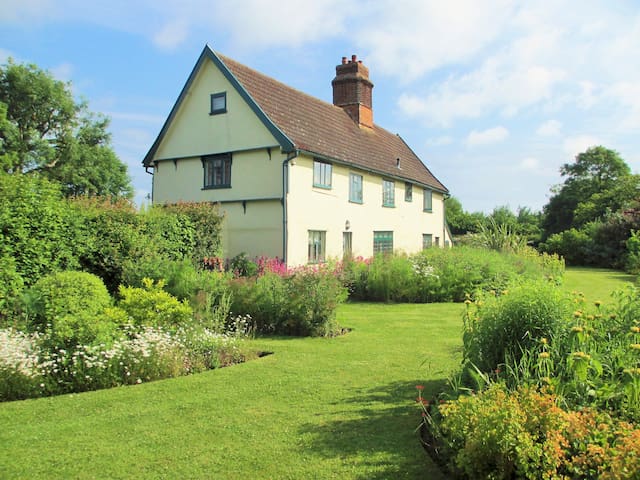 A 2nd bedroom only for family or friends, of those renting our (seperately listed on Airbnb) ensuite double in this seaside home in a beautiful tucked away setting, yet close to some of the best that the famous Suffolk Heritage Coast can offer
Made to feel welcome by enthusiastic host, room basic but clean, not en suite but clean bathroom just down corridor. Stunning village location, quiet.
jonathan
2016-08-21T00:00:00Z
Louise made us very welcome and the location was brilliant.
lesley
2016-10-24T00:00:00Z
Great location for the joys of Thorpeness and Aldeburgh. Lovely back garden and interesting 70s retro property. Bedroom tastefully furnished and Louise really wanted to make the stay an enjoyable one.
Rhett
2016-07-18T00:00:00Z
Tipo de habitación
Habitación privada
---
Tipo de propiedad
Bed & Breakfast
---
Capacidad
2
---
Dormitorios
Thorpeness, Reino Unido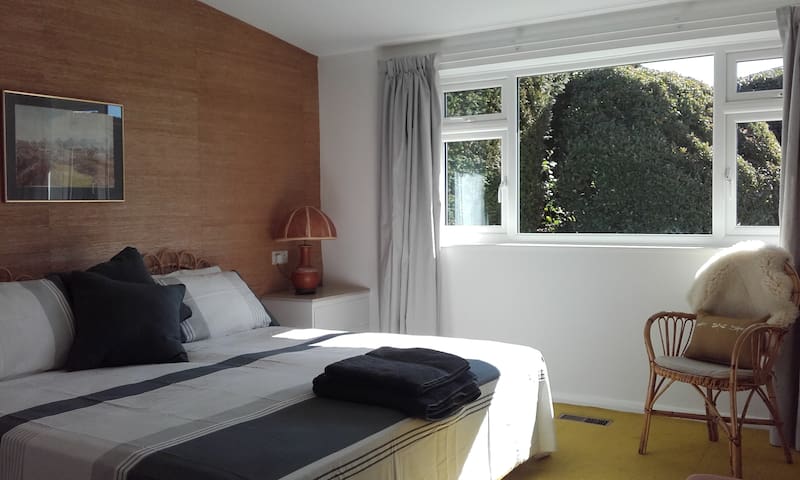 Really enjoyed my stay at the chapel! Ros was super friendly and made us feel so welcome! Gorgeous house. Amazing weekend. Would definitely stay again and would highly recommend the chapel and ros!
Lizzie
2015-08-16T00:00:00Z
The Chapel is as impressive as it is unique. A beautiful, huge ensuite room in rural Suffolk! Ros and her family make you feel so welcome and couldn't be more warm and kind. I would definitely recommend staying here.
Rebekah
2016-07-04T00:00:00Z
Had high expectations after reading the reviews, which were met entirely. Really lovely space in rural Suffolk, great hosts and a good night's sleep. Only wish we could have stayed longer. If we're ever in the area again, we'll be back!
Katie
2016-08-01T00:00:00Z
Ros was a superb host, accommodating our arrival so we could arrive late and Ros made it seem effortless. The pictures don't do The Chapel justice, it's a home, gallery and more. Even though we had the first snow of winter, the room was made cosy. We struggled to leave Ros after breakfast... We were talking so much and had to apologise to leave to go and visit family. We'd love to come back, if only for a cup of Ros' coffee! A lovely stay with a fabulous host.
gary
2015-11-23T00:00:00Z
The Chapel is a great and unique space and Ros and family very welcoming, couldn't ask for more.
Glynis
2016-09-11T00:00:00Z
We had a truly wonderful stay with Ros at the Chapel - a beautiful, treasure trove of a place, very close to all the best Suffolk beaches and towns. Ros was a brilliant host, telling us lots about the local area and places to visit, and we loved talking to her late into the night. The room room was full of character, very large and lots of natural light. We'll definitely be back!
Nerissa
2015-08-13T00:00:00Z
Fabulous converted chapel with a lovely guest room. It was one of the quietest nights we've ever had, yet there is a very good pub down the road too, so not isolated yet peaceful. Excellent walking and cycling straight from the door. Delightful, very interesting hosts and wonderful artwork everywhere. A thoroughly good experience.
Fiona
2015-08-05T00:00:00Z
The chapel is a quirky, arty space with a relaxed atmosphere and a unique sense of history; the room is comfortable and private, with its own front door and ensuit shower. Ros was a charming and conscientious host, who not only made us feel at home, but went out of her way to be helpful. Highly recommended.
Luke
2015-07-19T00:00:00Z
Tipo de habitación
Habitación privada
---
Tipo de propiedad
Bed & Breakfast
---
Capacidad
2
---
Dormitorios
Rendham, Suffolk, Reino Unido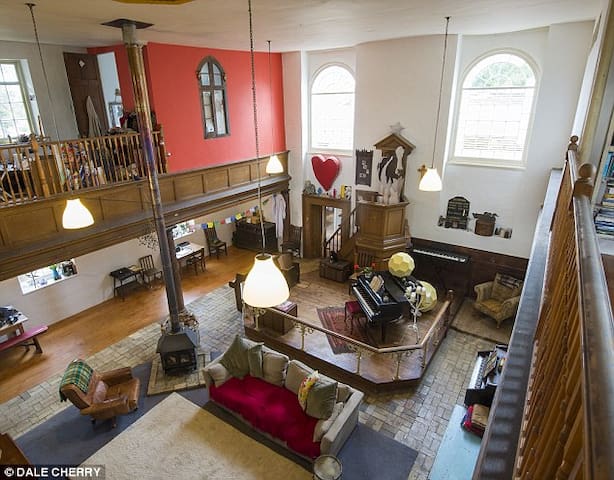 Um luxuoso B & B em uma casa do século 16 Suffolk apenas 4 milhas da costa em Aldeburgh. Rodeado por belas paisagens, Billeaford Hall é um agradável refúgio se você está à procura de inspiração ou relaxamento.
Atualmente, oferecemos um quarto king-size, que tem a sua própria casa de banho privada e casa de banho e inclui: linho de algodão, toalhas brancas, TV de tela plana, rádio DAB com ligação para iPod, wifi, artigos de higiene pessoal, bandeja de hospitalidade com chá, café e bolo caseiro ou biscoitos. Um Inglês ou pequeno-almoço continental usando Suffolk produto, sempre que possível, é servido na sala de jantar com vigas, com uma lareira nas manhãs mais frias. Nos dias mais quentes, você está convidado a sentar-se no jardim e desfrutar da tranquilidade e canto dos pássaros, ou sair para a pista privada e siga as belas trilhas. A área imediata é um paraíso para os amantes da música, amantes da natureza e entusiastas perseguição ao ar livre também. O Concert Hall Snape Maltings, Minsmere RSPB Reserve, dois campos de golfe bem conhecidos e uma abundância de ciclismo off-road são todos por perto. Esperamos que você vai encontrar neste canto do Suffolk tão especial como o que fazemos!
Lovely place to get away for the weekend. Mark and Jan are wonderful hosts. The breakfast was fantastic.
Thomas
2015-08-31T00:00:00Z
Mark and Jan were both warm and welcoming hosts, offering us recommendations on places to go and things to do. The property is situated in beautiful grounds and a mighty impressive breakfast is available.
Tom
2014-07-20T00:00:00Z
We stayed at Billeaford Hall for a wonderfully relaxing night and cannot thank Mark and Jan enough for the warm and friendly welcome. Our room was spacious and very comfortable and we had a wonderful night's sleep after a day of bird watching at nearby Minsmere. It was clear that a lot of care had been taken to make our stay as comfortable as possible- from home made lemon drizzle cake on arrival to helping out with restaurant and sightseeing recommendations. The breakfast was absolutely delicious featuring eggs from Jan and Mark's chickens and wonderful warm fruit muffins. All the communication prior to arrival was swift and efficient and the description of Billeaford Hall was completely accurate. The location meant that we were able to travel easily to nearby Aldeburgh, Thorpeness and Snape and Jan and Mark were really helpful in recommending things to see and do in the surrounding area. Overall, a lovely stay in a beautiful part of the world- we definitely hope to return for another stay at Billeaford Hall and will be recommending to friends and family.
Kate
2014-07-14T00:00:00Z
We had a delightful weekend in a lovely house with fabulous hosts Mark & Jan. Can't fault it - first class!
Adrian
2015-07-05T00:00:00Z
What a lovely stay. The hosts were incredibly welcoming and kind despite we had an infant and a small child so at times a bit noisy. The area is lovely and the house is in a perfect location. We were given also great tips for walks pubs and activities.
Tommaso
2016-05-31T00:00:00Z
Beautifully situated house with bags of charm.The hosts made us very welcome and we felt completely at home in the very comfortable bedroom with spotless huge bathroom next door.Delicious breakfast.Can highly recommend
Nicola
2015-07-09T00:00:00Z
our host made us feel most welcome - the house was delightful and very comfortable. The surrounding gardens were beautiful and immaculate. We would definitely stay there again and warmly recommend it to friends.
Berenice
2016-08-16T00:00:00Z
Charming hosts, luxurious room and wonderful food! What more need I say....will definitely be coming back.
Ian
2016-08-19T00:00:00Z
Tipo de habitación
Habitación privada
---
Tipo de propiedad
Bed & Breakfast
---
Capacidad
2
---
Dormitorios
Knodishall, Reino Unido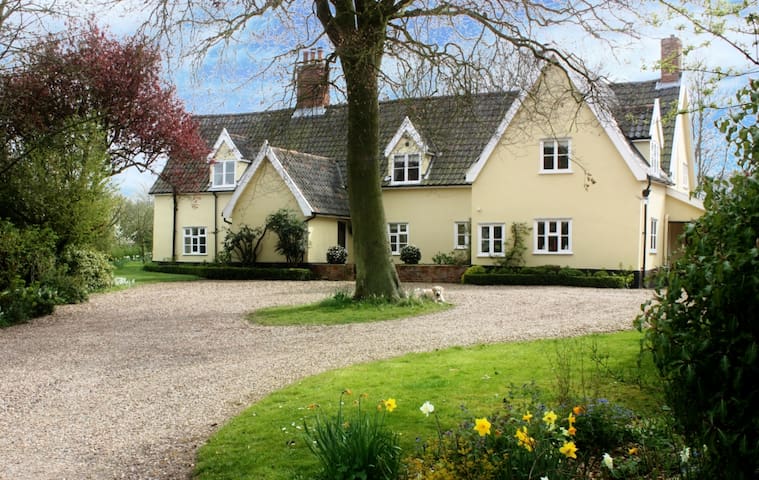 Our one bedroom accommodation in a converted cart shed is a great place to unwind. Located on the edge of the village green, one mile from Saxmundham, six miles from the coast at Aldeburgh. Well placed for bird watching, walking or taking it easy.
Self contained accommodation, sitting room, bedroom and bathroom for B&B or sitting room, bedroom, bathroom and fully equipped kitchen for self catering. (We have WiFi but do not list it as available because reception can be patchy although most guests have been able to connect to check emails etc.)
Benhall Green is in a great location for access to Aldeburgh, Snape, Southwold and Woodbridge. With plenty of lovely places to eat out and golfing, walking and bird watching within easy reach.
Wendy was very welcoming & we couldn't have had a better place to stay. It was great staying i(URL HIDDEN)where we had our own very comfortable lounge with tea & coffee making facilities & even a fridge . My elderly mother thoroughly enjoyed her stay ,as I did.
Lesley
2016-09-26T00:00:00Z
This is a fantastic B&B - very spacious, cosy and super convenient for the coast and local amenities. The village and surrounding area is beautiful. We were really well looked after by Wendy, who makes a yummy and hearty breakfast to set you up for the day! The directions to the place were very clear and easy to follow. We really enjoyed our stay!
Jessica
2015-08-31T00:00:00Z
Wendy was very accommodating and the accommodation itself was beautifully clean and had everything you need for a mini break. Would highly recommend.
Letty
2017-02-19T00:00:00Z
Tipo de habitación
Habitación privada
---
Tipo de propiedad
Bed & Breakfast
---
Capacidad
2
---
Dormitorios
Benhall Green Nr Saxmundham, Suffolk, Reino Unido
Tipo de habitación
Habitación privada
---
Tipo de propiedad
Bed & Breakfast
---
Capacidad
1
---
Dormitorios
Suffolk, Inglaterra, Reino Unido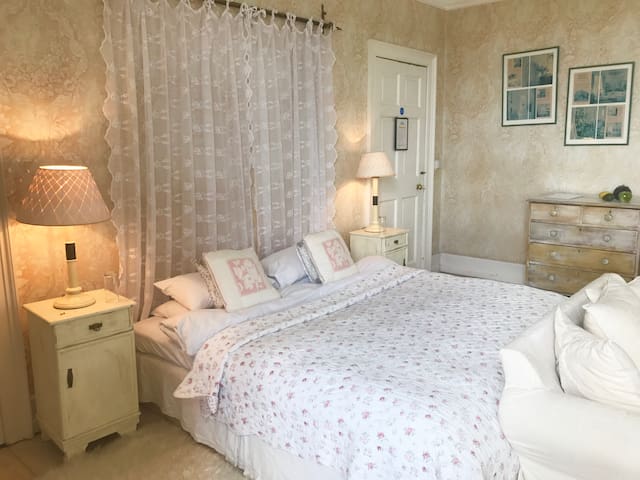 Very friendly welcome. Nice to be in a self-contained building, quiet and peaceful while convenient for where we wanted to go.
Will
2016-07-23T00:00:00Z
We had a lovely stay in Jill's chalet. What a beautiful room in a beautiful setting. It had all the home comforts you could need. Thank you Jill
Natalie
2016-09-15T00:00:00Z
Lovely place to stay with wonderful hosts. Very convenient for touring east coast. Charming cottage.
Di
2016-09-03T00:00:00Z
The chalet was lovely and comfortable. Jill and Neil are very welcoming and hospitable. We had come down for a wedding and were only able to stay for a night but if we were visiting the area for longer we would have definitely stayed here. The only item of feedback I have is that the exact location of the chalet can be difficult to find on the sat nav but Neil kindly directed us by phone. Just remember it is before the Shell petrol station!
Deepali
2016-07-11T00:00:00Z
We had a lovely stay in the little chalet. Jill welcomed us when we arrived and we chatted with her five beautiful horses. We had all we could possibly need and were so pleased with the lovely location. Thank you!
Lucy
2016-09-18T00:00:00Z
Pleasant, rustic chalet in a rural area right on the A12 for easy access to the seaside or Latitude festival (our reason for visiting). Nice and cool in summer, with plug-in heaters for winter, electric shower and towel rail. The bedroom is large with a very comfy bed, and the farm has a nice feel with some very friendly dogs in the garden :) Jill answered our questions quickly on email, and was flexible about check-in times. The kitchen is small and basic, but fine for making a few sandwiches, and tea things were provided. Bathroom a bit cramped but hot water available at all hours via the electric water heater.
Laura
2016-07-17T00:00:00Z
Jill and her husband were very friendly and helpful, even offering to post something that I left behind. They provided supplies in the fridge which was a lovely touch and meant that we got the best of both worlds- the privacy of a separate annexe, and breakfast! Great location near Aldeburgh and a fab night's sleep.
Caroline
2016-09-25T00:00:00Z
The host canceled this reservation 3 days before arrival. This is an automated posting.
Shelagh
2016-08-12T00:00:00Z
Tipo de habitación
Habitación privada
---
Tipo de propiedad
Bed & Breakfast
---
Capacidad
2
---
Dormitorios
Stratford Saint Andrew, Reino Unido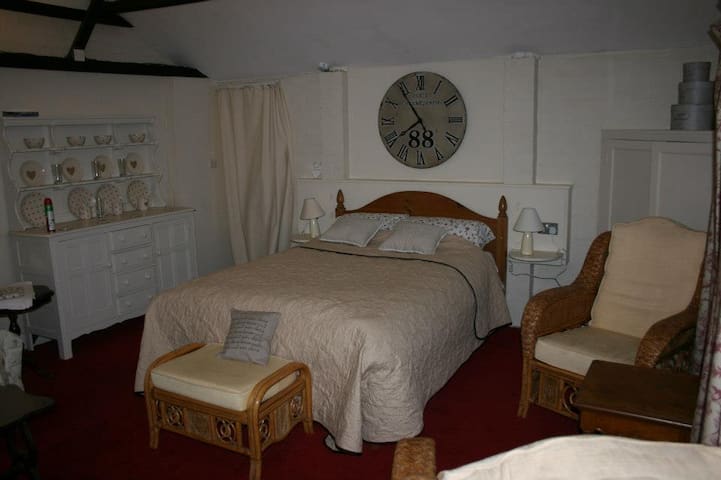 Tipo de habitación
Habitación privada
---
Tipo de propiedad
Bed & Breakfast
---
Capacidad
2
---
Dormitorios
Great Glemham, Inglaterra, Reino Unido
Our home is in the quiet and small village of Ekye, Woodbridge. We are 3 miles from the town centre, which takes around 8 - 10 minutes by car, and is also on the bus route. Near the A12 (10 minutes by car) and Rendlesham Forest.
This charming Neo Georgian house is warm, cosy, and has a very calming feel. There are twin beds in the room, two wardrobes, and bedside tables with touch lamps.
Eyke is one of Woodbridge's smaller villages, and is located just a few miles from the town centre of Woodribge. There is a local shop, and a small local pub which are within walking distance from our home.
Stuart's house is very comfortable,large and clean. Our stay was peacefu and we both slept welll. Ideal if you are visiting that beautiful part of Suffolk
Richard
2017-02-26T00:00:00Z
A very nice place to stay, super clean and comfortable. The hosts were welcoming and helpful.
Sara
2015-06-07T00:00:00Z
We only stayed one night as a quick stop over but the place was very clean, comfortable and friendly. Would recommend :)
Rachel
2016-07-17T00:00:00Z
A very comfortable stay in a modern clean warm house. Wonderful value which means we will return.
Pat
2016-02-07T00:00:00Z
Lovely room in a quiet countryside location, all very comfortable and spotlessly clean. Having own bathroom with shower was a definite plus! Stuart was welcoming and friendly and I would certainly go back and recommend it to others. Woke to the sun rising and birds singing, perfect!
Helen
2016-05-02T00:00:00Z
Really good experience and very straightforward arrangements. Thanks Stuart for your warm welcome and lovely home.
Jez
2016-08-08T00:00:00Z
I had excellent communication with Stuart, and the accommodation was 5 star! Beautiful, clean room and very clean bathroom. We slept really well. Breakfast was left out for us next morning and we had cereals, bread to toast , fruit and yogurt. Stuart takes great care to provide excellent service. Thank you very much x
Marisa
2015-08-29T00:00:00Z
Stuart and Lorraine were welcoming and helpful, with good suggestions of local places to eat. The room was comfortable, clean and nicely decorated. I would happily stay there again.
Joanna
2016-03-28T00:00:00Z
Tipo de habitación
Habitación privada
---
Tipo de propiedad
Bed & Breakfast
---
Capacidad
2
---
Dormitorios
Eyke, Reino Unido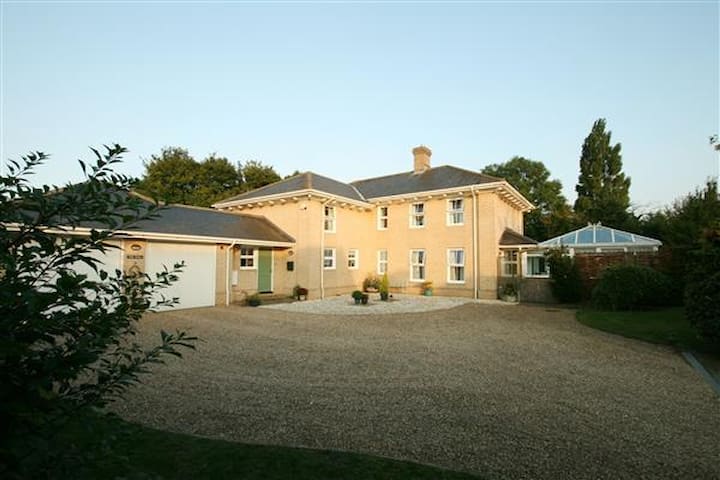 Liz's house is a beautiful old farmhouse. She gave us a warm welcome and made a great recommendation for a meal in the evening. The room and bathroom are clean and comfortable. We had a good night's sleep and a delicious breakfast in the morning. We were impressed that she could cater for a vegetarian at a couple of day's notice.
Jo
2017-02-14T00:00:00Z
Tipo de habitación
Habitación privada
---
Tipo de propiedad
Bed & Breakfast
---
Capacidad
2
---
Dormitorios
Middleton, Inglaterra, Reino Unido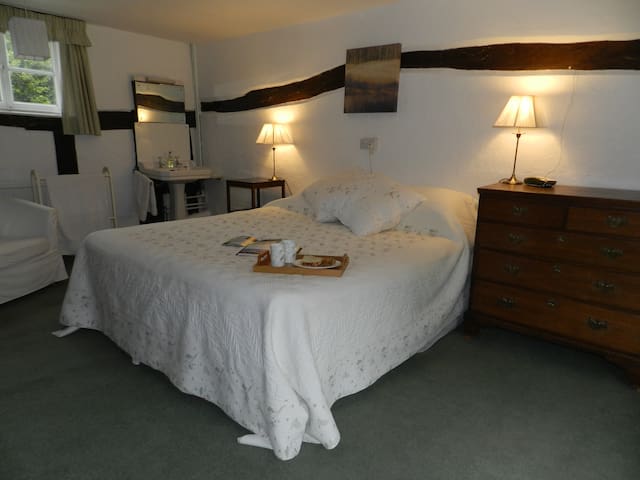 visit and book via our website www oldrectorybb com
Tipo de habitación
Casa/apto. entero
---
Tipo de propiedad
Bed & Breakfast
---
Capacidad
4
---
Dormitorios
Campsea Ashe, Inglaterra, Reino Unido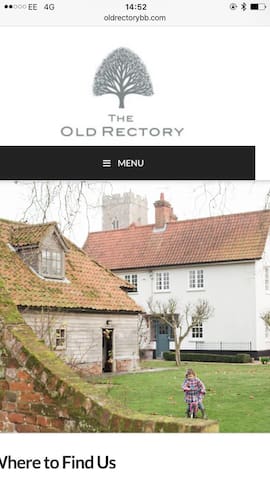 Tipo de habitación
Habitación privada
---
Tipo de propiedad
Bed & Breakfast
---
Capacidad
1
---
Dormitorios
Suffolk, Inglaterra, Reino Unido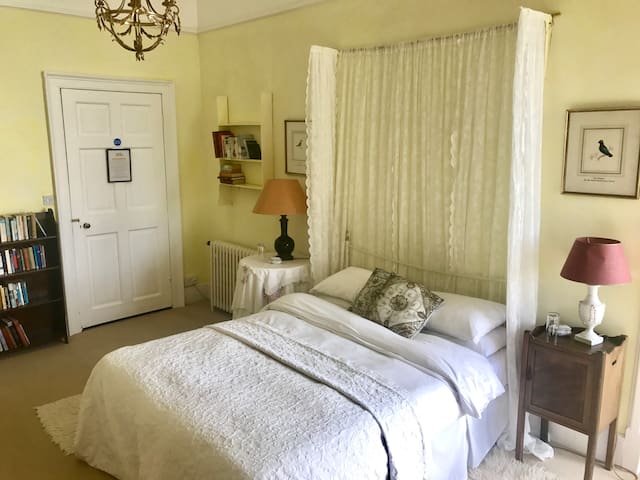 Aldeburgh - Airbnb
:
Una media de

4.75

estrellas de un total de

5

de

194

evaluaciones de huéspedes
1

–

18

de

27 Bed & Breakfasts
Introduce las fechas para ver el precio total. Ten en cuenta que se aplicarán tarifas adicionales y es posible que se añadan impuestos.