Introduce la fecha de llegada en el formato dd/mm/aaaa
Introduce la fecha de salida en el formato dd/mm/aaaa
Anuncios que no requieren que el anfitrión acepte la solicitud.
8 Alquileres de Cabañas
· Altoona
8 Alquileres de Cabañas
· Altoona
Introduce las fechas para ver el precio total. Ten en cuenta que se aplicarán tarifas adicionales y es posible que se añadan impuestos.
En julio y agosto, podrás disfrutar de 100 de los alojamientos con las mejores valoraciones de Sonoma a precios muy diferentes y disfrutar de la cara más auténtica de la ciudad. Relájate y disfruta de tu estancia sabiendo que puedes hacer una reserva inmediata, llegar a cualquier hora y disfrutar del vino de la zona y de otros tentempiés.
Hickory Homestead is 5 minutes from Tyrone, 20 minutes from Penn State University. The cabin was built in the late 1700's and has beautiful craftsmanship throughout. Situated next to a creek there is plenty of outdoor space to enjoy a fire, read, fish, or hang out with friends and family in a nice country setting.
The cabin allows you to relax whether you are inside, or down by the creek. There are 4 beds, and has room for additional air mattresses. The driveway allows parking for up to 6 vehicles. The entire cabin and property is yours to enjoy, relax, and hang out with your family and friends. I live next door to the property and you dictate interaction.
Please avoid the fenced in area's, garage, and any vegetable beds.
This place was everything we were looking for and more! Our host, Dave, was on top of everything from the moment we arrived until the time we left. We couldn't have asked for a better experience. The property is on about 3 acres right next to a trout stream. There was plenty of room for 7 people and 3 vehicles, great outdoor space, and an easy drive to State College.
Matthew
October 2016
Tipo de habitación
Casa/apto. entero
---
Tipo de propiedad
---
Capacidad
7
---
Dormitorios
3
Tyrone
Nestled in Rothrock State Forest near Raystown Lake and Trough Creek State Park. Quiet and remote setting with outdoor space to relax. 3 fire pits, horseshoe pit, 2 decks and a balcony. Games and DVD player. Closed Dec - March. 20% discount for 7 nights.
Private location surrounded by State Forest. There are three decks for relaxing and two areas for fires. Guests are renting the entire cabin and it is situated on 2 acres in a private community. We live nearby and certainly willing to offer any support that is needed but we absolutely respect your privacy.
This is a small vacation community surrounded by State Forest. Parking is available for up to 3-4 vehicles. Access to the location is via a gravel forest road and the road is well maintained, however there is no winter road maintenance. Bring movies to watch or watch one of ours! There is no cable, dish or Wi-fi service. Cell service is limited or not available.
This was our first experience using Airbnb, and we couldn't have been happier. Kevin and his son met us at the gate/cabin to show us around and give us tips for our stay (they even had a book and brochures for attractions in the area). The cabin was immaculate having every amenity you would need for cooking and personal needs, including a closet full of games and movies to firewood for the fire pits. It was great being at this perfect secluded place away from all the crowds but still being able to easily get to hiking, biking and Raystown Lake to enjoy the area. It was a much needed get away to relax which we did!! We hope to return to this cabin again in the future. Thank you, Kevin and Judy!!
Deb
August 2016
Judy was a great host could not have ask for a nicer person.
Wayne
August 2016
We felt very welcomed by Judy and Kevin when we arrived. The cabin has everything you will need. Plenty of blankets, towels, cooking supplies. It was very clean and roomy. We loved the area and took 2 walks around the circle. It was peaceful and relaxing. If you are going to explore Huntingdon or Raystown Lake, the big blue book has plenty of suggestions and directions that Judy and Kevin provide. We would definitely recommend staying at this cute little cabin in the woods! Loved it!
Lori
June 2016
The cabin was just as described, clean, homey and perfect for our stay. Judy was responsive to anything we needed or had questions about and made sure we were comfortable. I would definitely stay here again.
Jennifer
September 2016
We had a great time. Judy was attentive and helpful and understanding. The house was beautiful and immaculate. Beautiful grounds. Loved all the fire pits. My only real issue is I would have liked some shades on the bedroom windows. I don't want to wake up at dawn while on vacation. Wifi would also have been nice. All in all a great experience and a great time.
David
June 2016
Another wonderful stay in Judy & Ken's stress-free cabin. Private but easy to access. Quiet, livable and pleasant with a wonderfully simple and easy-to-maintain design. Always spotless when we arrive.
Richard
July 2016
A+ cabin to stay at!, Clean, Excellent location. We were greeted by family member at the gate who was a gentlemen and was very informative of the cabins features. I will book again! Keep up the excellent work.
kevin
October 2015
This cabin is phenominal! Everything that we needed was right there. We walked through Trough Creek State Park and enjoyed their very abrasions Trails. Already booked a second weekend!
William
July 2015
Tipo de habitación
Casa/apto. entero
---
Tipo de propiedad
---
Capacidad
6
---
Dormitorios
3
Huntingdon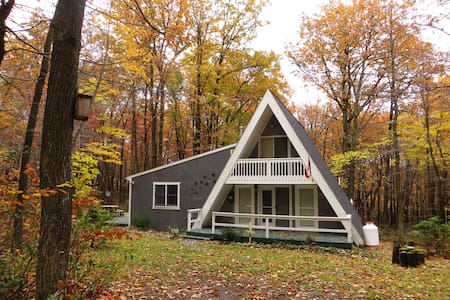 This charming NEWLY RENOVATED cabin is located 3 miles from the famous Raystown Lake. James Creek Boat Launch is a short 10 minute drive with tons of parking. Located 15 minutes away is Raystown Resort and Water park. Bring only your luggage!
This ultimate newly renovated cabin is minutes to Raystown lake and James Creek Boat Launch. Enjoy camping without roughing it! The cabin is nestled in the woods. Whether you a hunter, hiker, lake fan, or true outdoorsman this place will leave you happy and satisfied. The area is extremely safe and pet friendly. Unlike every other place in the area everything is provided, from sheets, towels, toilet paper, soap, paper towels and cookware. All you need is you, your guests and food to eat! Due to the remote location and tree coverage there is no cable or WIFI however many dvd movies offered. Whether your hiking, swimming, or biking this cabin will provide everything you need. The fire pit in the back yard is a guest favorite! Fully furnished House No access to Garage None Yes for Emergencies
Secluded and easy access to the lake James Creek Boat Launch 10 Min Safe and Friendly no ****Pennsylvania has a mandatory sales tax of 6% on all Vacation Rentals plus Huntingdon County has a 3% Tax. The rate you see includes this so please do not ask for more of a discount ***If pets are approved there is a pet policy of two and a pet fee of $50. If more than two it will be a $25 fee for the 3rd and or 4th. VIP pet package includes Food & water bowls, doggie bags, pet bed, Pet towels, pet crate, and an endless treat jar. Also the nearest market is in Saxton and a 20 minute drive. Next would be Hundington
Our experience at the cabin was great! Elizabeth was responsive to all communications and everything was accurate about the listing. We would definitely consider staying here again.
Clinton
May 2015
Great place! You can tell care was taken in making this spot in the woods feel very comfortable and clean. Everything was as listed, everything in the kitchen & bathroom worked properly, heat worked well. The fenced in area was perfect for us & our dog, and the firepit, too. Elizabeth was clear & easy to communicate with. Overall a really nice & cozy spot!
Todd
November 2015
What a wonderful place to getaway! The cabin couldn't have been cozier with its little fireplace and huge fenced-in yard for the doggies. Adorable, lakeside decor and well-equipped with all the essentials. We spent some time on the screened-in front porch just enjoying the scenery. Wendy, the property manager was so pleasant and helpful and Elizabeth, the owner was gracious and flexible when we decided to extend our stay an extra evening. An absolutely serene and relaxing place to escape to!!! Would return in a heartbeat!
Kira
December 2015
We had an amazing time. Everything was exactly as it was described. Our family of three and our dog thoroughly enjoyed our stay. Elizabeth was very responsive and accommodating. If you are looking to get away and get back to nature, yet have a nice place to rest, then this is for you!
David
October 2016
A friend and I stayed here instead of a hotel for a meet in the middle type hunting trip. It was a great value and had everything you could need in a stay over. We have already decided to rebook for next year. Very clean and comfortable. Thank you
Michael
December 2016
Great location in the wood near the lake, beautiful and comfortable cabin , big kitchen well equiped, nice rooms and good beds , perfect screened porch. We highly recommend this place.
Marie
August 2016
Quiet place in the woods.
Cameron
November 2016
The stay was great. Elizabeth was a great host and checked with us to make sure everything was good. Its is a great remote stay off the beaten path. Very quiet. Everything is just as described in listing. And not far from boat launch and lake.
Angela
June 2016
Tipo de habitación
Casa/apto. entero
---
Tipo de propiedad
---
Capacidad
6
---
Dormitorios
3
Entriken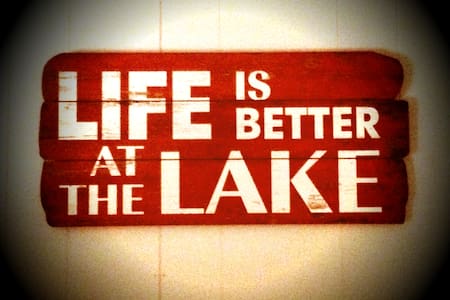 Multi-family or couples get-away.  Getting back to nature, this cabin is a peaceful, rustic retreat from the stress of everyday life. A place where you can escape and relax, but still have the modern conveniences of home. This cabin requires 4 wheel drive or All wheel drive access
Fully equipped kitchen with stove/oven, refrigerator; dishwasher; coffee maker; microwave and toaster as well as pots, pans, utensils and more; Bathroom with large shower; Large front porch and large rear deck; Basement (unfinished) area featuring a pool table and dart board; Large eating area in great room, able to accommodate a large group of people; Handicap accessible (available use of 4 wheel mobility scooter-upon request) Please contact me for any additional questions or help. We want you to really enjoy your time here
Close to Juniata River and Raystown Lake All wheel drive or 4 wheel drive required.  *Water nonpotable*. Must bring own drinking water. 
Great cabin in the woods. Secluded and private
Joel
September 2016
My experience was more than amazing at Terris place, I dont have one single thing to complain about. When I got there her brother was waiting for me and my friends. He was extremely friendly and showed us everything in the house. Answered all the questions and helped us getting the car up on the hill. The cabin is just much better than the photos. Extremely clean and cozy. Best airbnb ever.
Raphaella
November 2016
Hosts were fantastic. They were all extremely friendly and sought to accommodate our needs. Rich's brother-in-law was waiting there to meet us and show us the place. We arrived later than expected and he wasn't the least bit upset that he waited around. The property is an adorable, clean space with incredible tranquility. The road leading up to the cabin was as steep as we were told. You definitely need a 4 wheel drive or SUV to navigate the slope. However, driving up the driveway was half the fun. We were particularly impressed with how clean the cabin was. Considering this place is in the middle of the woods, there were no cob-webs, spiders or dust. It was very clean. There was a fire pit that we used and enjoyed. The front porch was a great place to sit, relax and enjoy the sounds of nature. We would definitely come back.
Jonathan
September 2016
The cabin was excellent, and the host was just as good. All communication with the host was timely and concise, and upon arrival we were cordially greeted and given a brief run down of the amenities of the cabin and the local area. I definitely would recommend this place to a friend.
David
September 2016
Terri was great on supporting each and every need. Cabin is great and very clean. Thank you so much to Terri
Sai
October 2016
We got a little lost and Terri's brother was friendly and helpful in helping us find our way to their cabin. When we finally got to the cabin, despite being late, he was welcoming and gave a us a thorough tour of the cabin, shared some stories, and gave recommendations on what to do (fireplace, firepit, hiking, local points of interest). He sent a couple of messages to make sure we were alright and were happy, as did Terri & Rich. As for the place itself, the pictures and description were accurate though I have to say it was larger and cleaner than I'd expected. My wife and I brought my 3 year-old daughter and she didn't want to leave! We got up the hill on a rainy evening with our Subaru hatchback and it was no problem. My one regret on this trip was we didn't realize how beautiful the mountain view would be on the drive down so we didn't stop for a picture. If you go in the fall, you might want to do so!
y
October 2016
Tipo de habitación
Casa/apto. entero
---
Tipo de propiedad
---
Capacidad
10
---
Dormitorios
2
Mapleton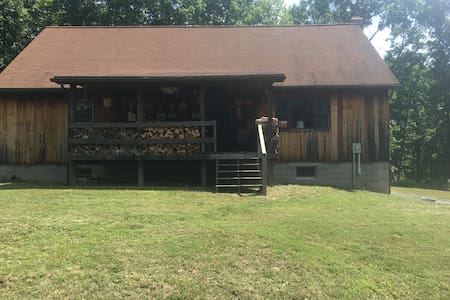 This great cabin is close to State College (20 min) and Philipsburg (5min). Access is generally easy, but in snowy conditions 4WD is a must. The cabin has electric (generator) and indoor plumbing with hot water. There is a functional kitchen (range, microwave, sink), but no fridge, so you are reliant on coolers and ice. Heat comes from a wood stove. For those who want some privacy and a really relaxing space, this is the place. Let's talk to make sure it is right for you.
The host canceled this reservation 10 days before arrival. This is an automated posting.
Artur
Erik was incredibly responsive during the entire experince - when I first started researching prior to booking, he wanted to make sure I understood that it was a rustic cabin so I knew what I was booking. After we booked, he and his wife were very accommodating and texted us to see if we needed anything during our stay. It was such a great experience, nice location as it was incredible peaceful and what a gorgeous cabin! Would definitely book again.
Missy
October 2016
Tipo de habitación
Casa/apto. entero
---
Tipo de propiedad
---
Capacidad
10
---
Dormitorios
4
Philipsburg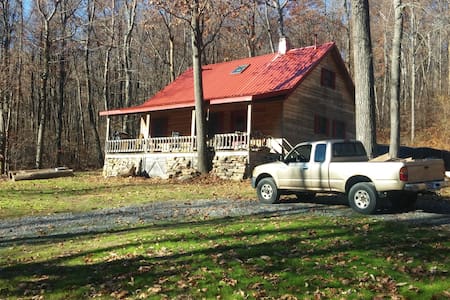 This authentic Stabbur was built as a replica of those on farms in Norway. Every detail is custom made and full of Scandinavian style. Other room options available on the property at the main house of the Inn at Solvang. At Solvang we have been hosting guests as a b&b for over 20 years! Find us as "The Inn at Solvang" for our full site and see our 5-star reviews. 10 minutes to Juniata College, 35 minutes to PSU, 15 minutes to Raystown Lake, across the street from golf course.
One-of-a-kind authentic Norwegian Stabbur/Treehouse is set on 80 acres fields and forest with hiking trails and trout stream. Full use of space with kitchenette and sauna. 80 acres of wooded property to explore. Other property buildings will be off limits. Guests must arrange checkin time on arrival day with innkeeper prior to checkin. You will have a private stay with an innkeeper within walking distance on the property in case you need anything during your stay. We have been hosting guests for 20+ years as B&B owners of the Inn at Solvang (find us on Tripadvisor) and we know how to give the personal touch without infringing upon guest privacy!
We are located conveniently near Raystown Lake, Juniata College, and Penn State University. We can recommend local restaurants, shops, and outdoor activities. Just ask us, we are happy to guide you! Maiden's Taxi Service is available to local transport and Amtrak train service connects Huntingdon with Philadelphia, Harrisburg and NYC. Free parking, but will need to share parking lot with guests of the bed and breakfast in the main house, the Inn at Solvang.
Tipo de habitación
Casa/apto. entero
---
Tipo de propiedad
---
Capacidad
3
---
Dormitorios
1
Huntingdon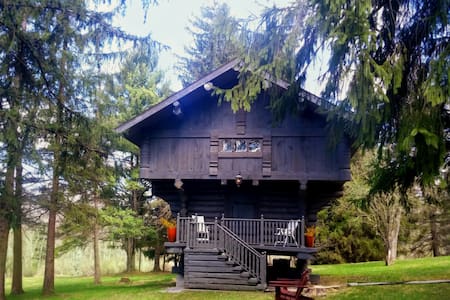 Our cabin embraces nature and comfortable living. Combine the peace and meditative beauty of the forest without the roughing it. A perfect place for an intimate weekend, a quiet writer's retreat, a get away with friends just a jaunt away from Happy Valley, or an after wedding stay.
Private cabin with Swedish sauna, composting toilette, beds for 4 guests (additional guests can be approved of by host): 1 queen and a full size futon, heated outdoor shower, wifi, hi-def projector, wood stove, fire pit, fully stocked kitchen. Separate driveway from main house and park next to your cabin. 2 night minimum stay on PSU home football weekends. Friday night check-in Sunday morning departure. We are able to be flexible to accommodate your travel. Enjoy our cabin, sauna and walk our groomed private trails. Land line phone access available due to poor cell service. A stocked full kitchen for your use and all house linens provided. We will welcome you at the cabin and be available for any needs at our house down the hill, otherwise you've got the place to yourselves.
We are walking distance to C. Barton McCann School of Art, all of our neighbors are privately dispersed on 10+ acre lots; so it feels very private. It's a quick 20 minute commute to PSU for football games or campus events on Rt. 26N. Juniata College is a 25 minute drive on 26S. Taxi services available out of State College. We have a little farmette with a friendly managerie of chickens, horses, a dog & some cats. These critters reside downhill from your cabin. The cabin itself has been pet free.
The cabin is lovely and the owners are super friendly and helpful. The walking trails and sauna are definite highlights. Both secluded and super close/ convenient for PSU games.
Matt
October 2016
A truly unique and memorable experience, my wife and I did not want to leave. Hand crafted cabin and sauna have wonderful charm and simplicity with all the comforts of a resort. Morning spent listening to the relaxing sounds of the forest on the front porch, evening around the bon fire, this was a wonderful way to get away from the city and very close to State College. Jessica is a fantastic host who provided just the right amount of direction and communication while also offering plenty of quality food and drink. I couldn't ask for better hospitality.
Nick
October 2016
We stayed at Jessica's place because we were attending a Penn State v U of MD football game with our nephew and his wife. Very sad game, but we had a great time. Jessica kept in touch as our trip got closer but not overly so. Just enough to get us excited about our upcoming weekend. If anything, she understated the amount she stocked up in the fridge and pantry! Cell coverage is spotty so her directions worked out well and we had no problem finding the place. The location is definitely out of the way which we loved. But conveniently close to State College. Don't let the composting toilet scare you - it's very clean and odorless! Loved the outdoor shower and spent most of our time on the front porch and around the fire pit. The overall ambience was delightful. The sleeping arrangements are perfect for a small family or two couples. The kitchen is cozy and has a good complement of cooking tools. Jessica provided us with the essentials - coffee from a local roaster, eggs, milk, butter, OJ, and shower supplies, to mention just a few! Everything, including the sheets and towels were high quality. We were lucky enough to meet some of the family, including one of the horses and a dog named Jack who hung out with us - must've known we missed our pups. We will definitely consider a future visit so that we can better explore the area.
Pat
October 2016
We had a wonderful stay at the cabin while visiting our youngest son in State College and attending a PSU football game and only wish we had had a bit more time to spend relaxing at the cabin that was just as described in the listing. Jessica and Michael had everything prepared for our arrival with a well stocked fridge and pantry and wood ready to light in the sauna and firepit. As another reviewer noted, don't be intimidated by the compost toilet - there was no smell or issue at all - and the outdoor shower warm on a crisp fall morning. The cabin was well suited to 4 guests and the beds very comfortable. It was a gem, well worth the cost and short drive compared to the pricey and crowded hotels on a PSU football weekend.
Kathryn
November 2016
Tipo de habitación
Casa/apto. entero
---
Tipo de propiedad
---
Capacidad
4
---
Dormitorios
1
Petersburg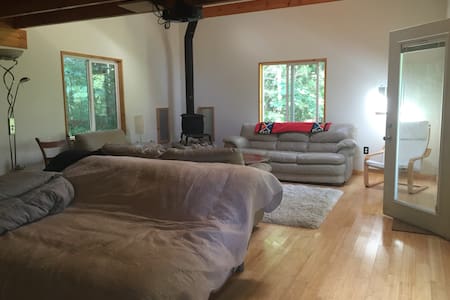 Only 18 miles to Beaver Stadium! Covered porch w/ 2 swings, gas grill, stocked trout stream, firepit, horseshoe pits, 2 Dish TVs. Stone Valley, Greenwood Furnace & Whipple Dam parks within 10 minutes. 2 night min stay. Call Kurt 585-734-4858
2 double beds, 3 singles and 2 pullout couches allows for flexibility during your stay kbernier@frontiernet.net contact Kurt 585-734-4858 anytime with questions
Kurt's place was really nice. It accommodated the perfect number for us and we all felt like there was ton of space. The house had all the amenities needed for a group of Rutgers fans staying the weekend during a Penn State game. It was a bit rural for us city folk, however it was super easy to get back from the game- I guess no one was going our way. I would definitely recommend this place for anyone staying for a Penn State game, or for anyone looking to disconnect and relax in the Pennsylvania "country".
Elyse
September 2015
We just returned home from a weekend at this wonderful house! The house was large enough to accommodate our needs. It was very comfy! There was a ton of space in the living room to visit with our daughter who just graduated from Penn State. The location was perfect to go back and forth to university Park ! The location was peaceful with a creak right beside the property and the porch was amazing to sit in the morning with a cup of coffee before the busy festivities. We thoroughly enjoyed our stay.
Beth
May 2016
Tipo de habitación
Casa/apto. entero
---
Tipo de propiedad
---
Capacidad
6
---
Dormitorios
3
Petersburg
1

–

8

de

8 Alquileres de Cabañas