26 Alquileres de apartamentos
El apartamento está situado en el centro de Sittard. Hay una gran cantidad de cafés, restaurantes, tiendas. Se puede aparcar el coche de forma gratuita en las calles que se encuentran a poca distancia del apartamento
El apartamento está situado exactamente en el centro de Sittard. Hay wi fi. Estacionamiento gratis. Una gran cantidad de tiendas y cafés cerca del apartamento. En la cocina se puede encontrar todo el equipo necesario, aceite de oliva, sal, pimienta, café, etc. Ropa de cama, toallas, champú, jabón están incluidos.
Una gran cantidad de tiendas, cafés, restaurantes. Estacionamiento gratis.
Tuvimos una muy buena estancia en Sittard. Céntrico, confortable (tanto la cama como el sofá-cama) y a muy buen precio. No hubo ningún problema. Éramos cuatro huéspedes y el apartamento era mas que de sobras. Muy recomendable!
Genís
2016-11-22T00:00:00Z
El apartamento fue correcto, el lugar muy céntrico del barrio llamado Sittard. Guido estuvo atento.
Roberto
2016-01-24T00:00:00Z
Position: Central position in Sittard, parking place not far, House : Clean, comfortable, wifi good, well heated, Guido: prompt communication, flexible, understanding, Stay again: I would stay again for sure(URL HIDDEN)
shaqir
2016-02-17T00:00:00Z
Nice flat with comfortable double bed, good central heating and good internet. Very close to the central market area in Sittard and just a short walk from the supermarket. Landlord is friendly and flexible. 10/10 would stay again.
Stephen
2016-02-02T00:00:00Z
Very good apartment for the price, parking is nice and close, very close to the town center and a nice neighborhood. Apartment owner is easy going and is help full with giving directions and giving info about Sittard. We have had a wonderful time staying here.
jan
2015-12-27T00:00:00Z
Awesome apartment,perfectly located to a great Mexican bar/restaurant/music venue.
Nikola
2016-10-14T00:00:00Z
Sleutel bij bovenbuurman; verhuurder in het geheel niet gezien. Prima appartement op loopafstand van het centrum.
Marinus
2016-05-13T00:00:00Z
The host canceled this reservation 3 days before arrival. This is an automated posting.
DANIELA
2016-06-07T00:00:00Z
Tipo de habitación
Casa/apto. entero
---
Tipo de propiedad
Departamento
---
Capacidad
4
---
Dormitorios
Sittard, Limburgo, Países Bajos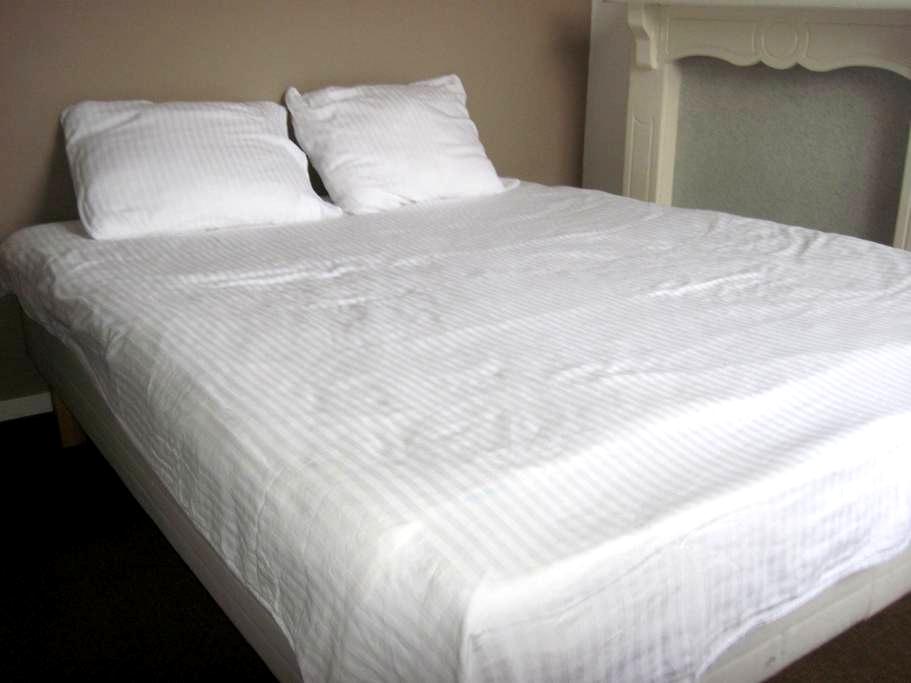 Brand new ranch home on a very strategic location. All the original elements have been preserved in this compact renovated apartment. (40m2) Topped with luxury, really well equipped. Welcome to Sittard!
Luxury apartment in renovated farmhouse, retaining original features!
Near the center, railway station and motorway! Maastricht, Heerlen and Roermond 20 km
This apartment was beautifully put together and has everything you could want - full kitchen with utensils and all necessities, washer/dryer, and even a lovely indoor fireplace which was a delight in the evenings. Danny was wonderful to work with - prompt with communication and kept us stocked up with firewood during our stay. I would DEFINITELY recommend staying here!
Kelly
2016-11-30T00:00:00Z
Der Gastgeber war sehr zuvorkommend und die Unterkunft haben wir in einem sehr sauberen Zustand angetroffen. Es war alles vorhanden, sogar eine Waschmaschine und eine Kaffeemaschine. Sogar der Ofen war eingeheizt!
Thomas
2016-12-18T00:00:00Z
Een heel gezellig en schoon appartement! Fijn contact met verhuurder...een aanrader!
Jan
2016-08-11T00:00:00Z
Het appartement is smaakvol verbouwd met mooie materialen en een praktische indeling. Je hebt alle privacy door een eigen opgang. Danny zorgt voor een warm welkom door zijn Limburgse gastvrijheid en door de al aangestoken kolenkachel. Het hout wordt iedere keer weer aangevuld. Locatie is top, dichtbij valkenburg, Aken, Maastricht en de mooie brunssummerheide. Voor ons zeker een plek om nog een keer terug te gaan
Trudy
2016-02-29T00:00:00Z
We had a very nice stay at Danny's house. It is a beautiful place, decorated with taste and very well equiped. Danny is a friendly and caring host.
Rei-Willem
2016-01-07T00:00:00Z
Danny was an excellence his . Despite our very late arrival he kept waiting to show us all the amenities. Everything was as described. I strongly recommend.
Dimitrios
2016-01-25T00:00:00Z
Prima verblijf gehad in een prachtig appartement, waarbij slim gebruik is gemaakt van materialen en de ruimte, alles ziet er keurig netjes uit en was prima geregeld. Op loopafstand van het centrum van Sittard en parkeerruinte voor de deur, dus ideaal.
Paul
2016-04-25T00:00:00Z
Danny's place is a most lovely little house. We stayed 3 days and enjoyed it a lot. The place is warm, very modern but due to the wood and good design it is not soulless. There was everything we needed in the apartment, from a hair dryer to oil and spices, an oven to bake bread:) Communication was quick and helpful, too. Very much recommended.
Egor
2016-01-20T00:00:00Z
Tipo de habitación
Casa/apto. entero
---
Tipo de propiedad
Departamento
---
Capacidad
4
---
Dormitorios
Sittard, Limburgo, Países Bajos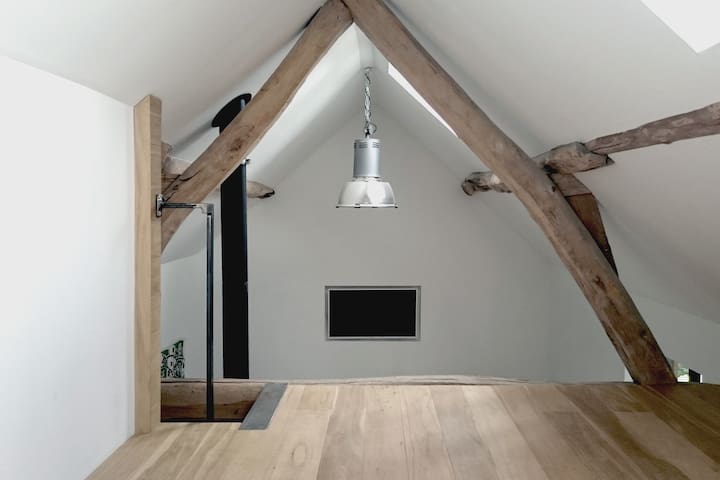 max. 2 huéspedes (mujeres) apartamento de planta baja con jardín 2 dormitorios, baño, cocina, sótano zona tranquila, cerca del parque de la ciudad 350m. a bus 1 km. la estación de tren, parada para todos los trenes que van al sur y norte 20 km. desde Maastricht / aeropuerto 1 km. al centro de la ciudad y un supermercado AH Posiblemente estoy en casa yo también.
casa con una sensación de calor en una ciudad preciosa
barrio verde y tranquilo, muy cerca (700m.) hermoso centro de la ciudad medieval con muchas terrazas y restaurantes; gran cine 6 km. de Bélgica; 3 km. de Alemania; 2 horas a Amsterdam, 1 hora a Bruselas, 4 horas a París
Lovely house in a great location - with a great kitchen and comfy beds. Marie was generous and wonderful, with local knowledge and sharing her kitchen with us.
James
2015-05-25T00:00:00Z
Eine sehr zu empfehlende Untetkunft mit einer tollen Gastgeberin.
Ottmar
2017-04-06T00:00:00Z
Marie is a warm hostess and a beautiful human been. Highly reccomended!
Djamila
2017-02-03T00:00:00Z
The stay at Marie's place was fantastic. It is very close (walking distance) to the centrum (center) of Sittard, which has a very nice market with plenty of stores, restaurants, pubs, etc. Marie is a very welcoming host, is helpful, and very interested in making sure the stay is pleasant. Would highly recommend to anyone looking to visit Sittard.
Mark
2016-02-01T00:00:00Z
Bij aankomst ontvangen met een kopje thee en vlaai. Het hele huis staat tot je beschikking. Alles is aanwezig. Mooie omgeving om te fietsen met de racefiets. Marie geeft je het gevoel welkom te zijn
Wouter
2016-05-23T00:00:00Z
Cozy environment, friendly hostess, great experience. I strongly recommend it.
Bing
2016-11-19T00:00:00Z
I spent two days in Marie's house while being in Sittard for work. The neighborhood is beautiful, and the house and garden lovely. Although we did not meet, me and Marie kept in touch regularly via email. She and Hans have promptly responded to all my questions and needs, and were very flexible and understanding. Everything was clean, comfortable and welcoming. I would definitely recommend Marie's place.
Alexandra Daniela
2016-08-28T00:00:00Z
Tipo de habitación
Casa/apto. entero
---
Tipo de propiedad
Departamento
---
Capacidad
1
---
Dormitorios
Sittard, LI, Países Bajos
maravillosa historia, sino también un moderno apartamento en el piso superior de de Limbourg Sittard, equipada con todas las comodidades. Situado justo en el centro, a poca distancia de toda la estación de tiendas, cafeterías, restaurantes y tren. Así que es una recomendación!
Parte de De Limbourg, Sittard, ubicado en la hermosa Sittard. Atmosférico, auténtico y, sobre todo, divertido! El apartamento está totalmente equipada con una cama doble grande, un baño con ducha, inodoro y bañera de hidromasaje, un aseo en el pasillo, dos salones, un comedor, vajilla, seguro y armarios suficientes para poner tus cosas en el almacenamiento. La superficie total de este apartamento tiene 32 140 metros cuadrados.
Compruebe el (URL HIDDEN) sitio para ver el calendario de la ciudad, que está llena de eventos y actividades en y alrededor de Sittard-Geleen. Hay una oficina de turismo en el mercado donde se puede obtener información sobre el barrio y organizan paseos y excursiones. Hay un montón de tiendas para los compradores entre nosotros y otra ventaja es que de Limbourg Sittard está en el mercado, en el centro de Sittard, rodeado de cafeterías y restaurantes. ¡Así que Disfrutá!
The host canceled this reservation the day before arrival. This is an automated posting.
Tuan Anh
2016-05-09T00:00:00Z
Tipo de habitación
Casa/apto. entero
---
Tipo de propiedad
Departamento
---
Capacidad
2
---
Dormitorios
Sittard, Limburgo, Países Bajos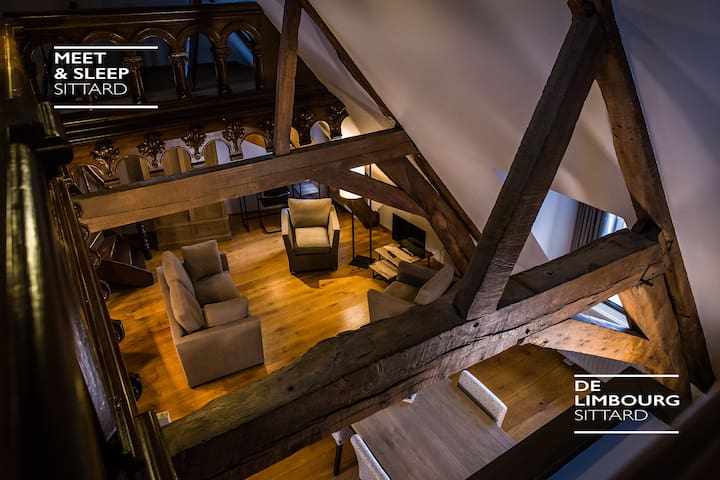 Vlakbij het historische centrum van Sittard. (voetgangers/gebied) 1e verdieping: 1 slaapkamer met 2pers.bed en toegang tot het ruime terras met tuinmeubelen; ruime en moderne keuken, ruime woonkamer met eethoek, 2 lounge banken, HD TV en leuke toren hoek. 2de verdieping: slaapkamer 2 pers.+ extra 1pers.bed; badkamer met toilet en inloopdouche; Aparte strijk/droog/wasruimte. Free WIFI.
Het appartement werd onlangs gerenoveerd en is van 1907. Luxe en comfort gecombineerd met prachtige nostalgische details. Een mooie houten trap is de spil in dit aangename leefruimte. De ingang bevat een vestibule, die geschikt is voor het veilig stallen van uw fietsen.
De binnenstad van Sittard biedt tal van leuke shoppingstraatjes en een mooi Historisch marktplein. Hier zijn vele gezellige cafe's,terrasjes en restaurants gevestigd. Voor elk wat wils! AH en Aldi op 200m. Theater,museum,bibliotheek en filmhuis in De Ligne ! 100m.
.
Simon
2016-10-17T00:00:00Z
Tipo de habitación
Casa/apto. entero
---
Tipo de propiedad
Apartamento
---
Capacidad
5
---
Dormitorios
Sittard, Limburgo, Países Bajos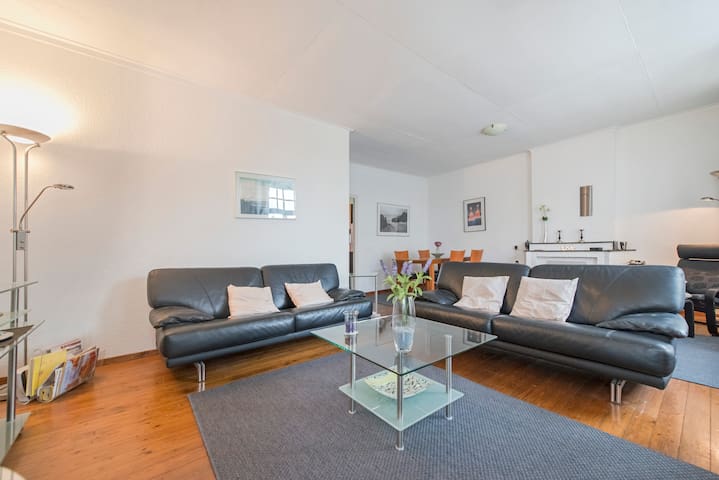 Nice place located at natural park Brunsummerheide (park on walking distance from the apartment. Very near to nice cities as Maastricht ,Valkenburg Aken(Germany) Luik(Belgium) Maasmechelen Belgium. Nearby to Zoo and Snowworld (indoor ski)
Very private and cozy in natural surounding. warm in winter and cool in summer. all necesseties are availabel in the apartement. Free wifi and touristic information of the area availabel. Nice area to ride a bike or hiking in area. The place is always hygenic and clean when guest(s) arrive. very comfortable for 2 persons. Also invalid/disabled friendly no stairs.
Its very calm and safe to live here. Friendly people in neighbourhood. Most off them are individuals that don`t bother others.
I slept like a baby.Quiet, clean and very quick response. Brilliant!
Dominik
2015-05-08T00:00:00Z
Nice place, clean and according to description. Nice host, very customer friendly.
Menno
2016-08-06T00:00:00Z
Excellent stay, lovely apartment and friendly host. Just perfect. Thanks
Rachel
2014-05-19T00:00:00Z
Een erg prettig verblijf bij Vitria en Martin. Ze reageren erg snel op evt vragen en laten je verder volledig met rust. Het appartement bevind zich onder de woning. Het huis staat in een doodlopende straat waardoor er geen verkeer hoorbaar is. Het overdekte terras staat ter beschikking en aan de grote tafel is het goed eten/drinken in de ochtend en in de avond. Winkels/Supermarkten zijn op loopafstand in de directe omgeving. Er ligt informatie klaar in 2 talen mbt winkels, restaurant en uitstapjes in de omgeving. Als ik weer in omgeving Heerlen verblijf staan ze boven aan mijn lijstje.
Pat
2014-08-10T00:00:00Z
The palce was amazing and a unique hospitality. We really felt home
Giulia
2016-08-08T00:00:00Z
We enjoyed our stay very much. Especially liked to eat outside on the porch next to a lovely garden. The bed was really comfortable, too. Our hosts were very friendly and helpful.
Arpad
2015-07-06T00:00:00Z
Siamo stati accolti con gentilezza e calore da Vitria e suo marito, che ci hanno fornito utili consigli per visitare la zona. La casa è comoda, pulita e curata, dotata di tutto il necessario. Abbiamo apprezzato molto il giardino per la colazione e la cena. Il quartiere è tranquillo e silenzioso. C'è un grande supermercato a meno di 1 km dalla casa. Appartamento ideale per chi vuole restare vicino alla città e allo stesso modo non molto distante dalla bella campagna circostante.
RENATA ROSARIA
2016-08-28T00:00:00Z
Perfect location for out itinerary - they were more than helpful during our stay!
Joseph
2015-08-03T00:00:00Z
Tipo de habitación
Casa/apto. entero
---
Tipo de propiedad
Departamento
---
Capacidad
3
---
Dormitorios
Heerlen, Limburgo, Países Bajos
Pas gerenoveerd appartement op loop afstand van centrum Heerlen. Bus en trein op 3 minuten lopen.slaapkamer met dubbel bed. Eigen badkamer. Eigen Keuken met woonkamer. Gemeubileerd en instapklaar. Eigen buitenhof met tuinset voor 2 personen.
Het appartement van 40 m2 is aangrenzend aan de tuin van de buren. Het heeft een eigen buitenhof van 14 m2. Het appartement is geschikt voor 2 personen doordat er maar 1 slaapkamer is. Door de ruimte opzet van het appartement, is het goed "vertoeven". :)
Centrum Heerlen op loopafstand. met Restaurants en bezienswaardigheden. Regio heeft veel recreatiemogelijkheden. Zoals Snowworld, Gaya park, Mondoverde. Parkstad Limburg is bekend om zijn bosrijke omgeving.
Prima locatie dicht bij het centrum Alles was goed verzorgd !
Miriam
2017-03-02T00:00:00Z
We vonden het super goed
R
2016-06-15T00:00:00Z
The apartment was so lovely and the host are one of the nicest people I have ever met in my life. Thank you so much for your hospitality and the beautiful stay.
Veronica
2016-06-11T00:00:00Z
Keurig appartement. Gemeubileerd en heel geschikt voor een langer verblijf. Centrum, supermarkt en treinstation zijn op loopafstand.
Judith
2016-10-01T00:00:00Z
Het appartement is netjes. Heerlijk geslapen op het bed. Voordeel van het appartement is dat het centrum op loopafstand is en de supermarkt is om de hoek. Hans was er om mij welkom te heten en toen de cv het niet deed was hij er direct om die te maken.
Rina
2017-01-09T00:00:00Z
The host canceled this reservation 35 days before arrival. This is an automated posting.
Tine
2016-09-01T00:00:00Z
Prettige, kleine, simpele woning. Verwacht geen luxe of uitgebreide voorzieningen. Maar alles wat er is, is meer dan prima. Aardige mensen.
Mieke
2017-03-11T00:00:00Z
The host canceled this reservation 338 days before arrival. This is an automated posting.
Mario
2016-06-29T00:00:00Z
Tipo de habitación
Casa/apto. entero
---
Tipo de propiedad
Departamento
---
Capacidad
2
---
Dormitorios
Heerlen, Limburgo, Países Bajos
Huis beschikt over keuken, douche, 2 slaapkamers. achtertuin van ca. 20m. diep met 2 zitjes. In een rustige buurt bij het stadspark. - centrum 1 km. - Maastricht airport 20 km. - treinstation 1 km. - supermarkt (AH) 1 km. Max. 2 gasten (vrouw) Mogelijk ben ik zelf thuis.
huis met een warme uitstraling
groene omgeving , park en roeivijver
Buurt prima, redelijk dichtbij centrum. Voorzieningen prima, communicatie uitstekend. Slaapkamer wat kleiner dan verwacht, maar ok.
HGA
2016-08-20T00:00:00Z
I was nice to stay at Marie´s home during her trip. It´s a small, but nice place close to the park in Sittard.
Janne
2017-03-15T00:00:00Z
Tipo de habitación
Casa/apto. entero
---
Tipo de propiedad
Apartamento
---
Capacidad
1
---
Dormitorios
Sittard, LI, Países Bajos
Prive kamer met eigen badkamer en balkon in rustige omgeving dichtbij het centrum van Heerlen en andere uitvalswegen zoals Maastricht, Valkenburg en Aken. In de kamer is o.a. een groot bureau met stoel aanwezig om rustig te kunnen werken of te ontspannen. Water, thee en koffie altijd aanwezig! Snowworld, gaiazoo, mondoverde en nog veel meer bezienswaardigheden dichtbij. Parkeren gratis.
Very close to trainstation Heerlen de kissel which directly connects to Maastricht, Valkenburg and Aachen within 20 minutes. Free car parking.
Was nice provided what I needed even before asking.
André
2015-09-20T00:00:00Z
It is already the third time that I stay here. Mahir is always a good host.
André
2016-05-06T00:00:00Z
I had a very nice stay at Mahir's place! It was very convenient and comfortable, close to the centre, good and quiet neighbourhood, good internet connection. Mahir is a great guy, very helpful and thoughtful of his guests' needs. He was also so kind to extend my stay as long as I needed.
Florin
2016-01-22T00:00:00Z
Mahir is een vriendelijke en goeie gastheer! Goed bed en eigen goeie warme douche!
Bas
2017-03-03T00:00:00Z
Rustige, stille, donkere kamer. Zeer vriendelijke gastheer. Snelle internet. Prive badkamer. Bus halte dichtbij.
Yannick
2015-11-02T00:00:00Z
As usual, had a nice stay with Mahir.
André
2016-07-01T00:00:00Z
Mahir was again a wonderful host providing all the help and amenities you would need and more! I happily recommend him to anyone who needs a convenient, comfortable stay in Heerlen and a very friendly and thoughtful host!
Florin
2016-01-29T00:00:00Z
Many thanks again Mahir.
André
2016-09-06T00:00:00Z
Tipo de habitación
Habitación privada
---
Tipo de propiedad
Departamento
---
Capacidad
1
---
Dormitorios
Heerlen, Limburgo, Países Bajos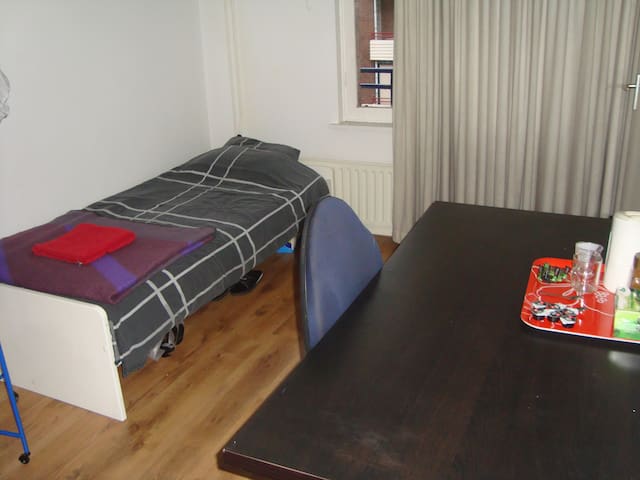 The apartment is fully equipted and close to Heerlen Cental Station were you can also take the bus. Also by car the highway (A2) is nearby with cities as Aachen, Vaals, Brussels and Maastricht in short distance. No Internet / TV connection.
Modern apartment with a new kitchen and bathroom with rainshower. The living area is upstairs (first floor). Modern appartement met een nieuwe keuken en badkamer met regendouche. Het leefgedeelte is op de eerste verdieping.
My apartment is actually semidetached and the living space is upstairs, so you won't hear anybody. The neighbourhood is close to the citycentre and trainstation (10 minutes walk), but you will not notice this, because it is in a quiet area.
Prima appartement ondanks dat onze smaak totaal anders is. Maar we hebben er heerlijk geslapen omdat het een rustige buurt is. Verder was de communicatie met de verhuurder erg vlot en vriendelijk.
Anouk
2016-10-15T00:00:00Z
Prettige ontvangst / zeer gastvrij. Locatie op loopafstand van het centrum.
John
2016-09-27T00:00:00Z
RUstige buurt maar toch dicht bij het centrum en de uitvalswegen naar België en Duitsland. Prima verblijfplaats, niet bijzonder maar wel functioneel.
Wouter
2016-10-23T00:00:00Z
Heel snel en prettig contact met de verhuurder. Beschrijving van het appartement was keurig in orde, op loopafstand van station en stadscentrum. De buurt was prima in orde, hoewel wat rustig 's avonds. Parkeergelegenheid voor de deur was helaas niet mogelijk (vergunninghouders), maar er is een parkeerplaats op 5mins loopafstand.
Kenneth
2016-10-30T00:00:00Z
Er stond een fles wijn klaar en een vriendin van de verhuurder was er op de afgesproken tijd om ons te verwelkomen. Verhuurder had op de mail nog een paar goede tips gegeven over het huis.
Marja
2016-09-17T00:00:00Z
Ramona was heel vriendelijk en flexibel. Wij wisten tot de dag van tevoren niet hoe laat we aan zouden komen, maar dat was geen probleem. Omdat ze zelf niet aanwezig kon zijn regelde ze een behulpzame vriendin om ons in te checken en wegwijs te maken. Zelf belde ze ook nog op om te vragen of we alles konden vinden e.d. Het appartement was leuk en comfortabel, heel handig geleden. We hebben dan ook een paar topdagen beleefd!
Berber
2016-02-08T00:00:00Z
We hebben genoten van ons weekendje in Heerlen en van de hartelijke ontvangst door Ramona! Het vooraf afspreken via mail verliep heel vlot en ter plekke was alles zoals we het hadden verwacht. Heerlen is een leuk stadje om in rond te wandelen en we genoten van het vuurwerk in de buurt (oudejaarsavond!). Dank je wel, Ramona! We wensen je nog veel reisplezier!
Evelyne
2016-01-02T00:00:00Z
Mijn eerste airbnb ervaring en meteen een hele fijne. Ramona was vriendelijk, snel in haar communicatie en dacht goed mee. En haar huisje was gezellig, mooi en lekker dicht bij het station. Zeker aan te raden!
Mirjam
2016-09-04T00:00:00Z
Tipo de habitación
Casa/apto. entero
---
Tipo de propiedad
Departamento
---
Capacidad
2
---
Dormitorios
Heerlen, Limburgo, Países Bajos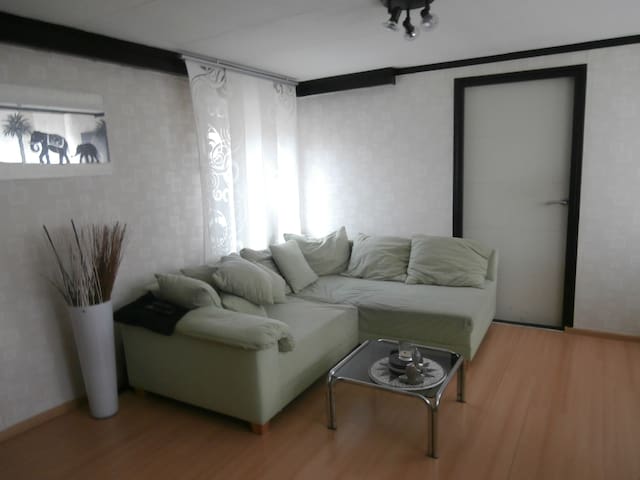 Op 1 minuut loop afstand van bus en trein station biedt dit modern en ruim appartement veel rust & privacy. Het appartement is van alle gemakken voorzien. Zeer ruime lichte woonkamer & keuken, ruime slaapkamers met 2 pers. bed, badkamer met bad. Parkeren in nabije omgeving. In/-uitchecktijd kan in overleg.
Onze eerste airbnb ervaring is ons goed bevallen. De communicatie met Mike verliep vlot. Bij aankomst zijn we ontvangen door de vader van Mike. Het appartement is ruim en licht. Het was proper en Mike had zijn best gedaan om de rookgeur te maskeren met geurstokjes. Het centrum van Heerlen is vlakbij en we hebben in de buurt enkele goede restaurants ontdekt.
Olivier
2016-05-08T00:00:00Z
Great location, with easy access to buses, trains and the center of the city. Large supermarket within walking distance. The apartment is spacious, light and airy with a cosy balcony to enjoy the evening sun. Mike's father, Hans, took very well care of us during our stay. All in all a pleasant home-away-from-home!
Hans
2016-08-21T00:00:00Z
Wij hebben een nacht in het appartement van Mike geslapen vanwege een bezoek aan Pinkpop en het verblijf was top! Mike is een hele aardige, relaxte host. Flexibel qua in- en uitchecktijden (we konden iets langer blijven om uit te slapen ;-) Het appartement is heel ruim en schoon en ligt op loopafstand van station Heerlen. Ideaal. Zeker een aanrader!
Lotti
2015-06-13T00:00:00Z
Keurig op tijd en volgens afspraak ontvangen. Appartement ziet er keurig uit. Persoonlijke spullen van verhuurder stonden achter slot en grendel, alles waar we wel bij konden mocht ook gebruikt worden. Duidelijk en overzichtelijk. Prima uitvalsbasis voor Zuid-Limburg! Als je met de auto komt wel even opletten dat voor de deur de meeste tijd vergunningparkeren is.
Friso
2015-05-25T00:00:00Z
Ruim apartement, wat basic in voorzieningen. Handig dichtbij station. Communicatie met Mike snel en adequaat.
John
2016-04-12T00:00:00Z
Prima ontvangst en sleutel overdracht.
Bas
2016-05-22T00:00:00Z
Hij verwelkomde ons heel vriendelijk en heeft ons wegwijs gemaakt in het appartement. We mochten alles gebruiken wat er was. Het appartement was heel ruim en netjes. De ligging is ideaal, vlak bij het centrum en het station. Wat ook prettig was dat het een rustige buurt is, s,nachts is het heel stil. Zeker een aanrader.
Carien
2016-04-17T00:00:00Z
Good arrival and departure time flexibility from Mike. Thanks. Nice place.
Thierry
2016-06-27T00:00:00Z
Tipo de habitación
Casa/apto. entero
---
Tipo de propiedad
Departamento
---
Capacidad
3
---
Dormitorios
Heerlen, Limburgo, Países Bajos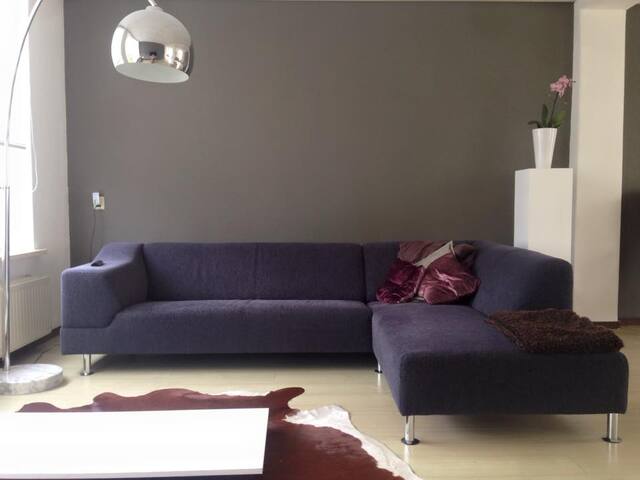 Op loopafstand van trein en busstation. Dicht bij het maankwartier. 42 m2 met woonkamer/keuken. Aparte slaapkamer. Badkamer. Met ruime douche.
The location is good--right next to the train and bus stations. Hans is really nice and helpful. The apartment is clean and spacious.
Samantha
2017-03-27T00:00:00Z
That was an amazing experience in Heerlen, the location of the house is really perfect becouse it's exactly in the central and have public transportation close to. Hans is a friendly and available host, I absolutely recommend to stay in this appartment.
Mona
2016-12-12T00:00:00Z
Tipo de habitación
Casa/apto. entero
---
Tipo de propiedad
Departamento
---
Capacidad
2
---
Dormitorios
Heerlen, Limburgo, Países Bajos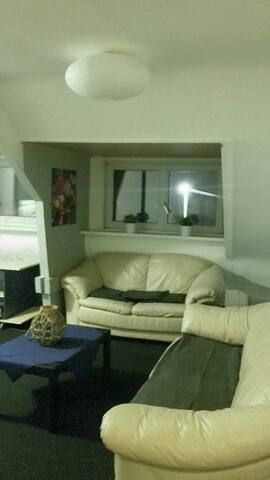 Nette kamer dichtbij Heerlen Centrum/Station Nette kamer met eigen keuken 5 minuten van Heerlen centrum/station voor €350 alles inc. (gas/water/electriciteit). De badkamer en wc is gedeeld met nog 2 werkende mensen. Deze wordt schoon gehouden.
Tipo de habitación
Habitación privada
---
Tipo de propiedad
Departamento
---
Capacidad
1
---
Dormitorios
Heerlen, Limburgo, Países Bajos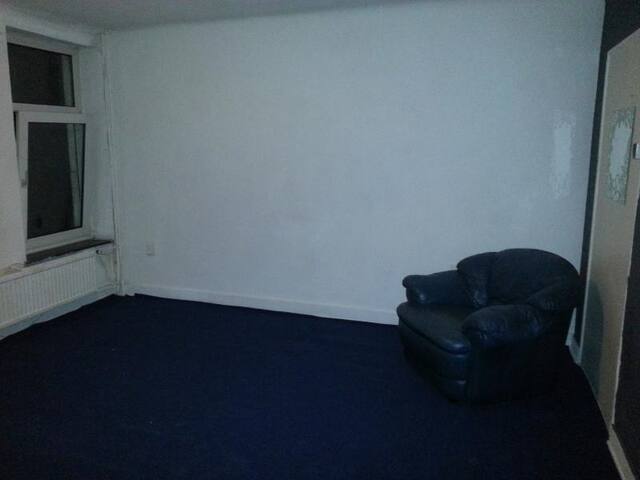 Studio with a variable interior because my heart is in the decorating styles of homes. The studio is part of a converted farm and was recently renovated. Authentic details have been preserved. The forest borders the property for a nice refreshing walk. Big cities are easily accessible and beautiful hill is located in the vicinity.
The studio has recently been completely renovated and equipped. A private place for all to dream away for two. Enjoy, laugh and unwind in this beautiful studio in a special place in the sunny south. If the weather does not bother me, I care a sunny welcome. On the ground floor is the kitchen which can be lovely cooked then fine after-dinner. Upstairs there is place to sit and sleep. The bathroom with toilet is also located on this floor. There is also the possibility to enjoy the garden and indoor sitting.
In the vicinity are lovely walking and cycling routes as Pieterpad and the Amstel Gold Race. After a walk or cycle there are plenty of cozy eatery to enjoy after while enjoying a snack and a drink.
Inspirerende studio, ik zou alles wel willen verplaatsen naar ons eigen huis. echt een plaatje. bij aankomst een heerlijke taart gekregen. binnen 5 kilometer zit je in Valkenburg en 15 kilometer in Maastricht. Een mooi stuk Nederland, we hebben van alles genoten Bedankt Jacqueline voor de goede zorg
maurice
2016-08-05T00:00:00Z
Jacqueline heeft ons hartelijk en gastvrij welkom geheten. De studio was mooi ingericht en zeer schoon. De bedden sliepen lekker en er was een gezellige overkapping buiten waar we konden zitten! We hebben een erg fijn verblijf gehad Spaubeek.
Rutger
2016-07-03T00:00:00Z
Fijne vakantieplek. Het appartement is precies zoals op de foto's. Heel stijlvol en sfeervol ingericht. Goede uitvalsbasis voor Valkenburg en Maastricht.
Roel
2016-11-18T00:00:00Z
Prachtig ingericht appartement met mooie details en een grandioze douche.
Cathelijn
2016-07-11T00:00:00Z
Jacqueline a été une hôte fantastique. Nous avons été très bien accueillis dans un superbe logement décoré avec goût. Le logement est très proche de Maastricht ce qui était important pour nous. Nous le recommandons sans hésiter.
Laetitia
2016-08-01T00:00:00Z
The studio is so beautiful ! Everything is clean. What a taste for the décoration ! Jacqueline is very welcoming and available for any questions. To recommend without hesitation !
Elsa
2017-01-22T00:00:00Z
We hebben een heerlijk weekendje Limburg gehad. Jacqueline is een fijne gastvrouw. In de prachtige studio is het heerlijk om te zijn. Een fijne keuken die van alle gemakken voorzien is, heerlijke bedden en een superfijne douche. Het is echt zo'n ingericht. Echt genieten, echt een aanrader!
Annelies
2016-10-23T00:00:00Z
Definitely the cutest airbnb we've ever seen. Everything was perfection; the beautiful decor, the comfy bed, the amenities available and of course, the lovely host. Jacqueline replied very quickly to all our questions, was very helpful, kind and accommodating. This airbnb is perfect for a romantic weekend getaway. We have one regret: we stayed only one night. 2 nights would have been better to fully benefit from this gorgeous studio. Thank you, Jacqueline!
Ana
2016-09-25T00:00:00Z
Tipo de habitación
Casa/apto. entero
---
Tipo de propiedad
Departamento
---
Capacidad
3
---
Dormitorios
Spaubeek, Limburgo, Países Bajos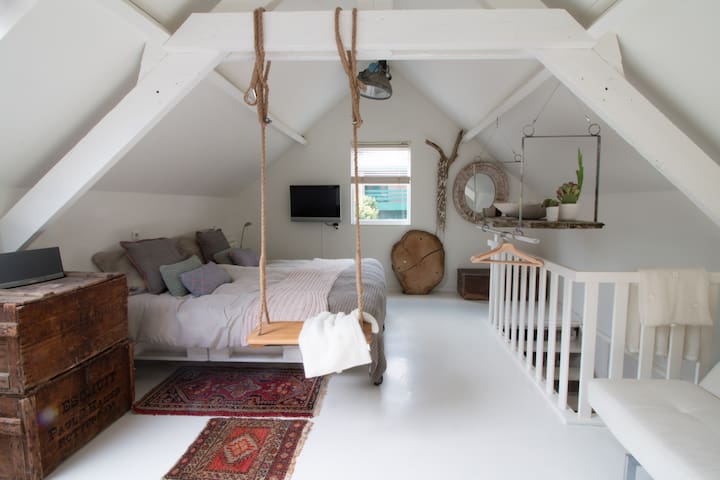 Beautifully located and quiet ownthoyse. Lots of light and large living room with open kitchen. Two bedrooms with double beds. Bathrooms with bath, shower and sink. Room with washer and wasdroger.een parking garage. Good position to visit Maastricht, Sittard, Aachen, Liege, Etc.
Tipo de habitación
Casa/apto. entero
---
Tipo de propiedad
Departamento
---
Capacidad
4
---
Dormitorios
Hoensbroek, Limburgo, Países Bajos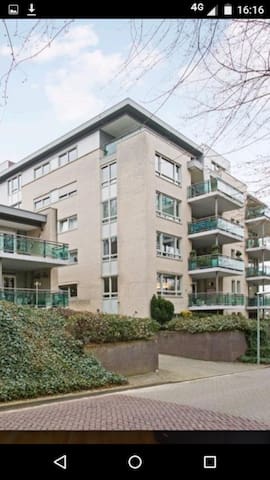 Quite and peacefull neighbourhood in the south of the Netherlands. 20 km from the city center of Maastricht Mooie en rustige goede wijk in het zuiden van Nederland, 20 km vanaf het centrum van Maastricht.
Private entrance. There is a spacious living-room and a bedroom with big king bed and wardrobe. Separate shower and toilet. Fridge and microwave and tea and coffee facilities (Nespresso) There's also a beautiful garden with sun chairs. Entrance with private parking. Prive entree. Ruime woonkamer en slaapkamer met ruim bed en kledingkast. Aparte douche en aparte toiletruimte. Koelkast, magnetron en thee en koffie faciliteiten (Nespresso). Er is een mooie tuin incl. Zonnebedden. Eigen privé parkeerplaats.
Nice quite neighborhood with not much traffic or noices. Townhall is down in our street located. As well as a lot of international restaurants and shops. Near the Townhall is also a nice Parc with waterspots. Not to mention the Brunssummerheide. a large freely accessible walking nature area with special flora and fauna. See the Shepherd with his sheep en dogs living and working. Goede en rustige wijk. Het gemeentehuis ligt onderaan onze straat. Tevens zijn daar gezellige internationale restaurantjes. Naast het gemeentehuis ligt een mooi stadswandelpark met grote vijver. Op wandelafstand ligt de Brunssummerheide. Een groot vrij toegankelijk natuurgebied met speciale flora en fauna. Zie de schaapherder en zijn schapen en honden aan het werk. Distance to: Afstanden: MAASTRICHT. 20 km TEFAF the famous art fair. Maastricht is an old historical town with nice terraces, good restaurants and fine shops LANDGRAAF 8 km to Pinkpop 3, 4, 5, June 2017 Traditionally since 1990 Pinkpop takes place during Pentecost weekend. Several famous artist : Justin Bieber, Kensington, Sean Paul, Green Day, Martin Garrix, Kings of Leon, Imagine Dragons etc VALKENBURG 15 km Amstel Goldrace. Cycletour 8 km to. Snow World Landgraaf Worlds longest indoor ski slopes, 10 professional lifts and fresh snow 25 km to AACHEN in Germany 25 km to MAASMECHELEN Belgium
We had a great stay in Brunssum. The hosts were very kind and welcoming, they provided us with everything we needed. The apt was cosy, clean and big enough for three of us (although we didn't spend that much time there). We needed a last-minute accomodation for the Amstel Gold Race cyclo, if which the start was about a half hour bike ride away. Lastly, the town of Brunssum is home to enough nice restaurants, a pick-and-mix with something for everyone. Can't really say a bad thing about anything regarding our stay, really.
Dirk
2016-04-18T00:00:00Z
Het verblijf in het appartement in Brunssum was erg prettig. Mooie lokatie, een prettige ontvangst, goede bedden en verder van alle gemakken voorzien. Ook de ligstoelen in de tuin waren erg fijn in het zonnetje! Een aanrader!
Saskia
2016-08-08T00:00:00Z
We had a wonderful stay at Maud's place. The owners made us feel so welcome and like we were staying in our own home. Great location to make you feel like you are actually living like the Dutch. Short drive to many different attractions and things to see. We had a great time and would highly recommend this stay!!!
Emily
2016-09-02T00:00:00Z
Tipo de habitación
Casa/apto. entero
---
Tipo de propiedad
Departamento
---
Capacidad
4
---
Dormitorios
Brunssum, Limburgo, Países Bajos
My house is surrounded by nature, you'll love my place because of the location, the atmosphere and outer space. My room is suitable for couples, solo adventurers, business travelers and furry friends (pets). Maastricht and Valkenburg 10-15 minutes away! Aachen and Belgium on 20 min drive
Nature, tranquility and yet fine from Maastricht, Valkenburg, Aachen
Living in the middle of nature and yet 5 minutes away shops.
Dit is echt een unieke locatie. Het huis is mooi, ruim, knus, gezellig ingericht en voorzien van alle comfort. De locatie is uniek. Midden in de velden , geen directe buren, vlakbij prachtige wandelroutes maar ook dicht bij Valkenburg en Maastricht. Een echte aanrader!
Willemijn
2017-01-02T00:00:00Z
Prachtige omgeving en vriendelijke gastvrouw!
Natasha
2017-03-19T00:00:00Z
Wat een prachtige plek, wat een gastvrije verhuurster, wat een geweldige omgeving. In de paar dagen dat we er waren enorm genoten en tot rust gekomen. In het sfeervolle huisje heb je privacy ondanks dat het aan het woonhuis zit maar kun je ook gebruik maken van alle sfeervolle plekjes in de tuin. Onze 2 honden werden snel opgenomen door de 4 van Gerti en zodoende hadden ze alle ruimte om los over het terrein te struinen en kennis te maken met alle verschillende dieren. Verse eitjes, kruiden uit de tuin nieuwe aardappeltjes maakte elke maaltijd een feestje. En dan de dag eindigen met een glas wijn bij het haardvuur. Top!!!
Pierre
2016-08-01T00:00:00Z
Relaxing and peaceful apartment in the country surrounded by farm. Isolated, yet less than 30 minutes drive from Maastricht, Aachen and many great things to see in southern Limburg. Gertie was a very friendly and accommodating host. The house is quite large and was kept very clean. Outside, there is a great sitting area and plenty of interesting animals on the property.
Max
2016-09-25T00:00:00Z
Gertie's home is in a wonderful location surrounded by walking/biking paths. The property has horses, chickens, peacocks, dogs, and even llamas. She kindly left us fresh eggs upon our arrival, was very flexible with check-in, and was very welcoming to us and our dog (border collie) who accompanied us.
Kelly
2016-11-25T00:00:00Z
Tipo de habitación
Casa/apto. entero
---
Tipo de propiedad
Departamento
---
Capacidad
2
---
Dormitorios
Nuth, Limburgo, Países Bajos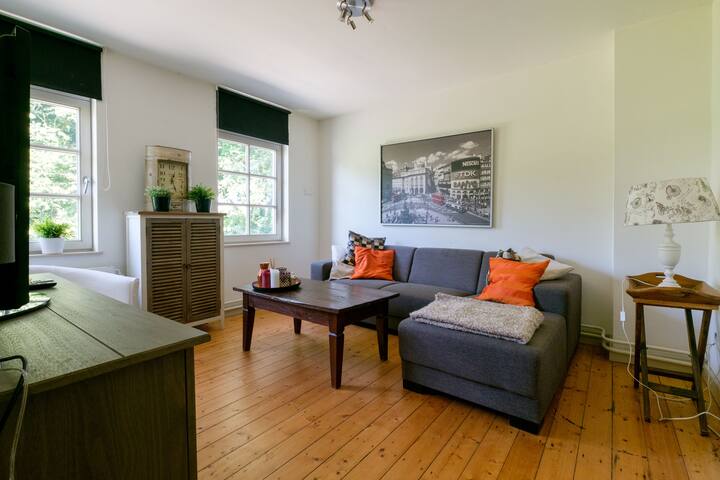 Mediterranean furnished apartment with spacious bathroom, kitchen, living room and bedroom with wardrobe. Walking distance: 2 min. Center with shops, supermarkets, restaurants, cafes and great park. Bus - 15min by bus to train station. Within radius of 15km: Heerlen Valkenburg GaiaZoo Snow World Mondo Verde Roda JC ring Woonboulevard Heerlen Amusement Falconer Within radius of 30km: Maastricht Aachen Outlet Roermond Maasmechelen Outlet Mosaqua Three countries point
Very spacious apartment with private entrance. There is a spacious bathroom with washer and dryer, toilet, shower
Walking distance: 2 min. Center with shops, supermarkets, restaurants, cafes and a great park. By car / public transport: Maastricht Outlet Roermond Maasmechelen Outlet Mosaqua Three countries point Bus stop 2 min. Walk and 15 minutes to do about Station Heerlen
Tipo de habitación
Casa/apto. entero
---
Tipo de propiedad
Departamento
---
Capacidad
2
---
Dormitorios
Brunssum, Limburgo, Países Bajos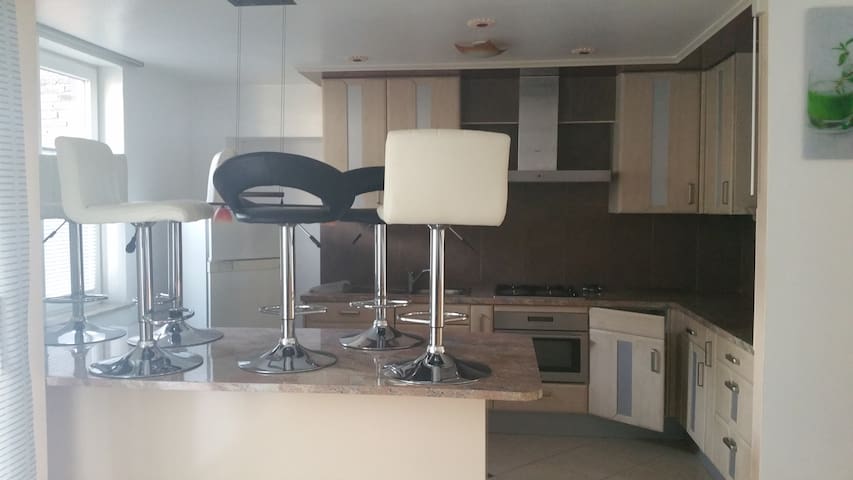 1

–

18

de

26 Alquileres de apartamentos
Introduce las fechas para ver el precio total. Ten en cuenta que se aplicarán tarifas adicionales y es posible que se añadan impuestos.