2 apartamentos en alquiler
Das traumhafte 50m2 apartment mit grossem balkon, kuechenzeile liegt direkt am wasser mit blick auf tagbilaran. kurze wege zur stadt zu den straenden und zum hafen. This wonderful 50m2 apartment with a large balcony is right on the water, overlooking tagbilaran short distances to the white beaches, the city, the harbor and the airport. . market is 5 minutes from here. alonabeach is 20 km away.
its a very nice 60sqm apartment for two person. near the city and near the white beach (10 minutes) near the port ,marina and airport. 20-25 minuts to alona. Dear guest we have a good strong DSL INTERNET. Sometimes the operator PLDT (there is only one) problems and the internet can be punctual fail, we have no influence on it. This can happen all over the philippines. Please do not leave any food around the ants enjoy !!
alle beneiden uns fuer den tollen ausblick und die frische briese. die lage und das haus ist besonders . wir leben auf den ph. und es gibt hier in der umgebung huehner, hunde , katzen ziegen. bitte lassen sie kein muell rumstehen die ameisen freuen sich.
My partner and I stayed here for 3 nights while we were visiting Pangalo and Tagbilaran city. We had such a lovely relaxing time. Fatima and her husband were so welcoming and friendly, and they went out of their way to make us feel welcome.The apartment itself was spacious and clean and was close to the city or an easy 20min tricycle ride to the beaches around Alona beach. the view is wonderful and having a swim in the pool in the morning.... So peaceful.
Rosanna
2016-11-21T00:00:00Z
At first, Fatima and her partner were welcoming. And because the space was nice and bright with a lovely pool and view, we didn't mind overlooking a slight ant problem and the lack of prepared essential amenities (e.g. only towels and used bar of soap compared to the listing). Unfortunately, the day before we came they were having internet trouble. We were not notified until after we arrived the next day. Although it started working that night, it stopped the next morning again. We had some work to do online, so we decided to leave one day early. Failing to provide amenities listed is cause for refund under Airbnb policy. However, we were made to feel guilty and met with passive aggression for leaving. Our official request for refund on the website was denied by Fatima and her partner without a single word in response to our message.
Chacey
2016-06-19T00:00:00Z
The place is clean, quiet and spacious but very hard to locate at the beginning. It s not very far away from the ferry terminal, about 10 minutes by tricycle ~ 40 pesos.
Trung
2016-12-05T00:00:00Z
Loved the location, view from the house, and our hosts' hospitality. Wonderful, wonderful stay and great value for money. It was great to stay away from the usual bustle of a tourist beach strip, and enjoy a quiet getaway. Super accessible to both town and major attractions can be reached by motorcycle.
Wang
2016-06-14T00:00:00Z
The house is wonderful, same as the picture. The room is comfortable and big. Expecially the balcony u can see sunrise in the room. Also the swimming pool is my favorite. Fortima is a kind girl. Always help us to find what we want to go, recommend us driver, or places to go. When we got problems she help us Immediately. If u came to Bohol. U must stay here!!! U won't disappointed!!!!!
玫萱
2016-08-14T00:00:00Z
Great place to stay.
Armi
2016-09-09T00:00:00Z
Amazing view. We love it. Very clean and quite
lingyun
2016-08-04T00:00:00Z
Fatime and Mario were great hosts! They helped us out with everything we needed! Apartment is nice, but it does not have air con which was a problem. There was also quiet a few ants in the apartment. It was also quiet hard to find the apartment originally, as it is located about 250m off the main road, the road is rough gravel which meant we had to carry our suitcases to and from the apartment in high heat! The shower is poor also! Did not work on the first night, and when it did, well we refereed back to using the bucket and cup to wash like we did the first night as the shower pressure was quiet low. However, overall we enjoyed our stay! Thanks for having us!
Pauric
2016-05-10T00:00:00Z
Tipo de habitación
Casa/apto. entero
---
Tipo de propiedad
Apto. en complejo residencial
---
Capacidad
2
---
Dormitorios
Panglao, Bisayas centrales, Filipinas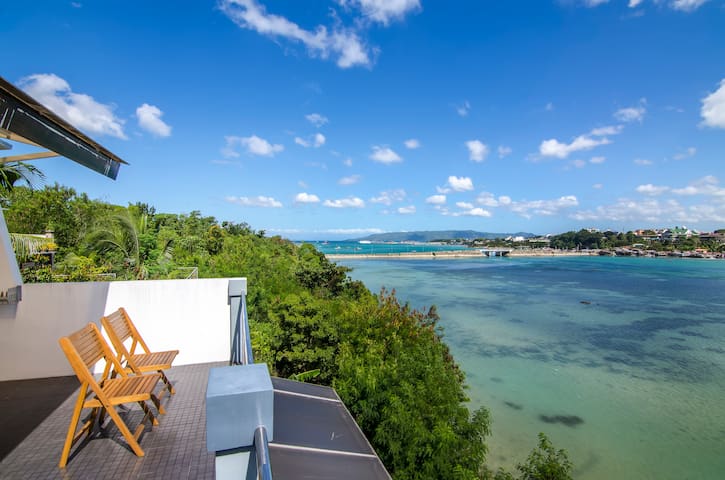 우리는 수도 근처에 있지만 멀리 쇼핑몰, 디스코 라이브 음악 클럽과 영화관, 시내 중심, 부두와 공항에서 10 -15 분 시내 noises.5 분에서입니다. 하얀 해변에서 10 분 거리에 있습니다. (1) 우리의 초콜릿 언덕. 20 ~ 25 분 해변 알로합니다 .. 당신은 우리의 장소를 좋아합니다 우리는 최고의 전망과 신선한 바람을 가지고있다. 당신은 휴식과 기분 좋게 할 수 있습니다. 좋은 이웃은 우리의 장소 커플, 싱글 및 비즈니스 여행객을 위해 좋다.
자신의 입구, 14 SQM 테라스, 바다를 볼 수있는 큰 거실. 및 도시 전경.
우리는 NICE 이웃을 가질 .BETWEEN 600m 및 1,000m WE 도시 5-10 MINUTS 당신은 필리핀 FOOD CAN을 FOUND ........... FRUIT 물고기 VEGETABLE AND 특수 생선 시장을 구입 MANY LITTLE 상점 가질 (GERARDA "S) (10시 31분). ITAL. 식품 마시모, 또한 길거리 음식. 카페 SHOP LIKE GELATERIA, 또는 버즈 카페. DISCO ATMO는. MUSIC 마틴 BAR 라이브 .....
Really like my stay here! Great view! Great host! Mario and Fatima were very friendly and helpful! Location is great for relaxing but when you want to eat or do something you have to take tricycle. To go to town, can cost you between 20 to 40 if you don't go too far and depending on the driver. Would definitely stay there again! Thanks!
Sylvain
2016-12-29T00:00:00Z
This apartment is perfect bieutiful view ,bed is confortable ,hot water shower ,kitchen is perfect for cooking ,swimming pool is clean I will defenitly go back the host is nice and communication is fast they were there to help with any request
Myrko
2017-01-24T00:00:00Z
Highly recommend
Thomas Christian
2017-01-31T00:00:00Z
I would suggest this place to anyone. Great apartment. Great hosts. Beautiful views. Wish I was still there!!!
Marc
2017-01-14T00:00:00Z
Great place... No awesome place! Really nice room and the view is even better. Really good value for your money! Stay here, its the best you will find oq and rent a scooter, its the best way to see the island!
Johan
2017-03-07T00:00:00Z
Fabulous view! The floor to ceiling windows in the living and bed rooms showcased the amazing view of Tagbilaran across the water. I never got tired of it. The host greeted me warmly when I arrived and checked frquently during my stay to make sure I had everything I needed. The road from the highway s very bumpy but in my experience that is normal in the Phillipines. I had no trouble getting a mototcycle taxi or tricucle at the highway. In fact, I booked with one motocycle driver to take me all around Bohol, including the Chocolate Hills, the Tarsier conservatory, and Alona Beach. I did walk into town one day but it took me a half hour. After a long hot day of touring, the infinity pool is cool and refreshing. Suggestion: get up early to witness the stunning sunrise--you will be glad you did.
Lorna
2017-02-09T00:00:00Z
Great appartment hosted by the very friendly and helpfull owner Mario and his partner Fatima. As discribed in previous reviews, this appartment has a great view and is very near to Tagbilaran City, ferryterminal and airport. When renting a motorbike, all the Panglao island with it s beaches will be very accesible too. Great hospitality and very helpfull hosts. I definatly should like to come back and regret we regret we could stay there for just 4 nights.
Ron
2017-03-15T00:00:00Z
Very amazing place ! Beautiful view ! Very quiet and relaxing and the pool is very nice. The hosts are really friendly, welcoming and helpful. It's a pity we only stay one day.
Derek
2017-03-09T00:00:00Z
Tipo de habitación
Casa/apto. entero
---
Tipo de propiedad
Apto. en complejo residencial
---
Capacidad
2
---
Dormitorios
Bohol, Bisayas centrales, Filipinas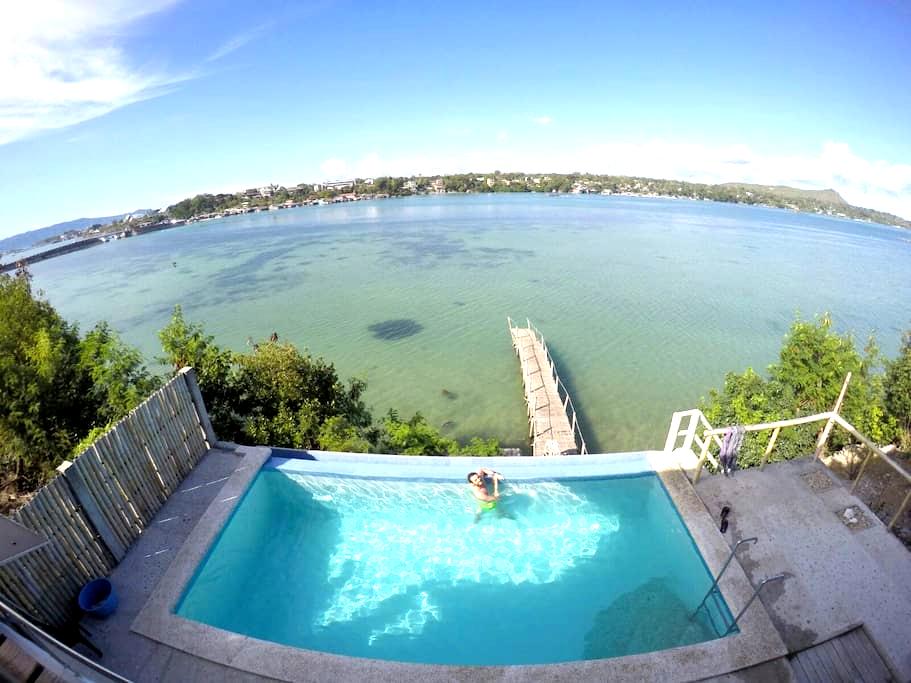 1

–

2

de

2 apartamentos en alquiler
Introduce las fechas para ver el precio total. Ten en cuenta que se aplicarán tarifas adicionales y es posible que se añadan impuestos.