HELGRAH is a stylish open plan, self catering cottage with cooking facilities, a queen sized bed, comfy leather sofas, TV and DVD and gas log fire, with ensuite and washing machine. Your personal balcony has awesome views of mountains, forests and gardens..
The views over mountains, gardens and forest are some of the best in the Yarra Valley, and we are only on the edge of town. The space is open plan, and takes 1 - 2 people. Just bring your food and refreshments. We supply fresh milk, tea bags and a pod coffee machine. All linen, bedding and towels are provided as are all kitchen utensils.
Healesville is a very pretty town, and has cafe's, restaurants, hotels, wineries and the wild life sanctuary, near by....
Helen was really nice and accommodating. Even thought it was a really hot day, the cottage stayed with the air conditioning. Cute basic cottage with amazing views. 3 minutes drive to the Healseville main strip. Lovely cafes and restaurants there and wineries closeby.
Shae
2016-01-03T00:00:00Z
This beautiful cottage was just as it was described. It was warm, cosy (and Helen had even left us crumpets & coffee!) It was in the perfect location so close to Healesville and had sweeping views oft he valley. Helen was so welcoming and gave us great tips as to where to eat & visit. We would recommend this to anyone who is visiting the Yarra and wants a self contained unit in a beautiful spot.
Yatu
2015-10-25T00:00:00Z
The view really was stunning and the cottage was very comfortable and well equipped. We really enjoyed our stay and Helen made us feel very welcome.
Nicola
2016-01-05T00:00:00Z
-
Lina
2016-02-14T00:00:00Z
The cottage was warm and inviting and had everything you needed. Very clean and clear instructions on how to use everything. The views are breathtaking and really make the place. Road noise from the Highway but didn't ruin the peaceful vibe. Lots of beautiful birds. Great breakfast provisions.
Sarah
2016-10-01T00:00:00Z
The host canceled this reservation 14 days before arrival. This is an automated posting.
Maria
2016-01-09T00:00:00Z
Cottage was lovely and Helen greeted us on our arrival. Our stay was very comfortable and the view is stunning.
James
2016-01-28T00:00:00Z
Thank you Helan we had a great week in your cottage plenty to do in the Yarra Valley. The cottage was a pleasure to come back to, comfortable clean and quiet
Jacqueline
2016-09-26T00:00:00Z
Tipo de habitación
Casa/apto. entero
---
Tipo de propiedad
Loft
---
Capacidad
2
---
Dormitorios
Healesville, Victoria, Australia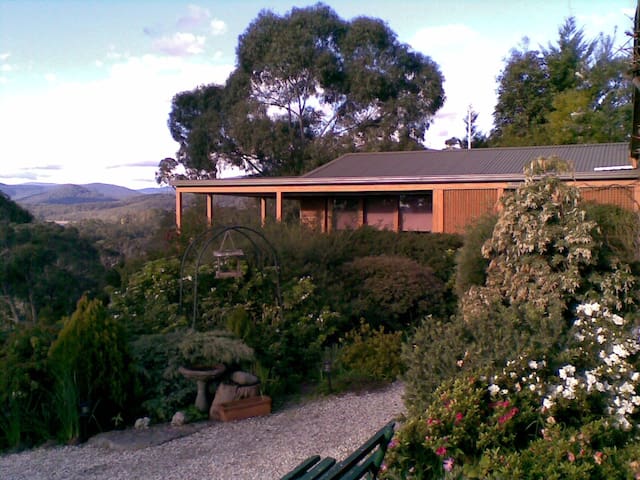 With rustic charm this comfortable & spacious 2 story loft has everything you need to make for an enjoyable break away including spa & spa deck to unwind, have a drink & watch the sun go down over the city lights. Privacy & space in a beautiful setting. Please be aware there are some tight stirs to be aware of. Take a peak at Genevieve's blog (URL HIDDEN)
A truly beautiful space. Beautiful gardens, amazing views across beautiful Melbourne city, Western port Phillip bay & Cardinia dam. Sunsets, space & privacy. The 1000 steps are just a few minutes away access them at the top of the National Park to avoid the conjestion at the bottom - then relax in the spa or hit a restaurant or local bar for a drink to unwind.
So beautifully quiet & private.
The loft was great! The spa really was a nice touch, a great little escape to a beautiful part of the world. Fiona was most helpful and great to communicate with :)
James
2016-11-05T00:00:00Z
Loved our stay here....very secluded with amazing views over Melbourne! We used the loft as a base for our wedding and I got ready here with with all my bridesmaids. The space worked really well with the option of opening all the doors to create an alfresco room opening out to the gardens. It's a beautiful spot!
Vanessa
2017-01-30T00:00:00Z
Fionas loft was every bit adorable. We had a lovely stay and especially enjoyed the outdoor spa! There was no tv reception but that added to the privacy and feel of been secluded from the real world. The steep climb to the loft bedroom got a bit tiring for my boyfriend with an arthritic knee but apart from that we had a lovely stay.
Stephanie
2016-12-10T00:00:00Z
The loft is a lovely place with a pleasant atmosphere for some quiet or romantic time away. It's spread across two levels with a rather steep and narrow ladder connecting them. The bedroom is on the top level and everything else is on the bottom level. Both levels are spacious and inviting. There's plenty of outdoor access with decking, chairs and a spa and the garden surroundings are lush and relaxing.
Sharon
2017-03-12T00:00:00Z
It was absolutely breathtaking. Getting to the place was an adventurous task but as we finally made it to the hidden loft, it was all so worth it. The second you start exploring this loft, you can tell that Fiona has put in so much effort into making your stay as relaxing and enjoyable as possible at such an affordable price. It's perfect for a little romantic get away from the melbourne rush. I highly recommend this rustic, cosy loft and I can't wait to come back!
Danielle
2016-12-08T00:00:00Z
The place is in a very nice location. It is two storeys with a ladder to the upstairs bedroom. It doesn't have a full kitchen, just a portable stove with a grill/oven function if you are planning on cooking. Overall, nice place providing the price isn't too much
David
2017-01-21T00:00:00Z
A lovely scenic little spot. Fiona was a very helpful host, great communication and was very accommodating in arranging a later check out for us under special circumstances.
Kim
2017-02-23T00:00:00Z
Thanks Fiona, great loft in the trees! Very clean and tasteful decor. Will come again.
Grant
2016-12-18T00:00:00Z
Tipo de habitación
Casa/apto. entero
---
Tipo de propiedad
Loft
---
Capacidad
3
---
Dormitorios
Ferny Creek, Victoria, Australia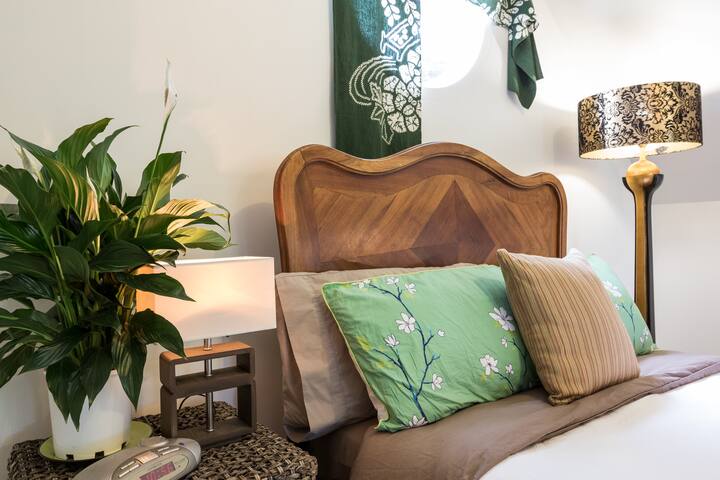 Fabulous self contained loft apartment with WiFi on top of the garage and seperate from the main residence. More than a hint of rock'n'roll for those looking for somewhere to stay with personality plus. Very private with your own lock up entrance and plenty of parking available. Located a stone's throw from Burwood village shops, restaurants, bars, the 75 tram into the city and a walk to Deakin University. Perfect Melbourne escape for singles or couples.
A relaxed space to just sleep the night or if you feel like hanging out, watch a movie, play a CD or old school record. Cold or hot weather is not an issue as we have reverse cycle air/heat. There are facilities to make a cuppa, have a coffee or use the fridge/freezer for drinks, microwave meals, etc. There is also a toaster, cutlery, crockery, glasses, etc. Any special requests? Try us!
We are located in a quiet spot just a walk around the corner to fabulous cafes, restaurants and a couple of bars. Chinese, Thai, Middle Eastern, Woodfired pizza, Souvlaki, Dumplings, Noodles in a box, Japanese, McDonalds and more. All within 5 minutes walk.
we like the house very very much.the host very nice.rent it dont hesitse.:)
昭慧
2017-01-02T00:00:00Z
My wife and I had a great 3 night stay at Tim & Rose's place. We only met Tim who was a very friendly host and provided great communication before our stay. The accommodation consists of a large room above a large double garage - a big space with couch, table/chairs, queen bed, small kitchen, large fridge and freezer, stereo, large TV and a good sized bathroom. Everything was clean and worked well, particularly the internet - fast and stable. The space is very private and quiet - located in a cul-de-sac and only a couple of hundred metres from the No. 75 tram which goes straight into the Melbourne CBD. Also numerous restaurants are nearby, including the golden arches. Value for money is excellent in this property, a highly recommended stay.
Greg
2017-01-12T00:00:00Z
Brilliant location. If you love cars, you must stay here. Tim and Rose's collection of HotWheels and other memoribilia is amazing. I will stay there again.
Marius
2017-02-16T00:00:00Z
Tim and Rose's lovely loft is the epitome of what Airbnb is all about. Its open space and exquisite decor makes it truly comforting and luxurious at the same time. Located at the end of a cul de sac as well as a stone throw away from tram stops makes it very accessible and private. Tim was a more than welcoming host, with quick replies ensuring smooth and easy communication. We wouldn't hesitate recommending this loft to anyone visiting Melbourne!
Hwan Juet
2017-02-11T00:00:00Z
Tim and Rose went above and beyond to make sure the bed sheets were hypoallergenic for us. The loft is a fun and comfortable place to stay, absolutely neat and clean with the added bonus of friendly hosts. Highly recommended :)
Will
2017-03-12T00:00:00Z
I had another very relaxing break at Rose and Tims' bright and cosy Loft. The air conditioning was very comfortable during the heat wave and being in a quiet street you can open the windows at night to let the cool air in and have a good sleep. Thankyou for having me and I hope to stay again.
Ingrid
2017-01-19T00:00:00Z
Tim and Rose have a lovely space that will be of particular interest to fans of classic cars and classic car related literature! No more spoilers - go and visit them! You won't regret it.
Mark
2017-03-31T00:00:00Z
A great place for live! A separated room with a clean bathroom. Hospitable host!
Taowen
2017-02-25T00:00:00Z
Tipo de habitación
Casa/apto. entero
---
Tipo de propiedad
Loft
---
Capacidad
2
---
Dormitorios
Burwood, Victoria, Australia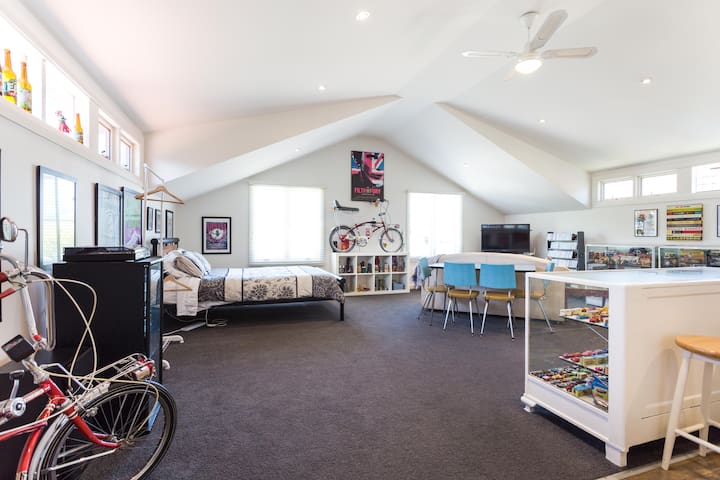 Romantic Weekend Retreat or Family Country Escape 4 Ballina Court Buxton Fish the Stevenson River from the back yard Sleeps 6 Wood Fire heater,Self-contained,Linen can be provided,BBQ area Close to Marysville,Cathedral Ranges,Lake Eildon
A perfect place for native bird watchers.
A quite residential street, a mix of permanent residence and weekenders. A location where if you are not aware of it you would overlook, just like a hidden treasure :)
The host canceled this reservation 13 days before arrival. This is an automated posting.
Katie
2015-12-14T00:00:00Z
Really lovely place, surely the best on the block. Very private and comfortable. Helen was very attentive, but relaxed and helpful. Was a real pleasure, the creek and the loft bedroom were highlights. Perfect vantage point to lake mountain which is teeming with wild flowers and so quiet this time of year. Lovely experience!
Jenna
2015-12-06T00:00:00Z
The house is even more beautiful when you see it in person! Huge backyard with lots of space to lounge around, the river is right next to the property. Helen let us know everything we needed in advance and it was all really easy. It's a small quiet town about ten minutes' drive from Marysville, there is a general store and a local pub down the road. We loved our night here and might be back in the future!!
Steph
2016-02-14T00:00:00Z
We had a very comfortable 2 night stay, the house is situated in a very picturesque area, with an extensive garden, the perfect backdrop for our short stay. We enjoyed all amenities the house had to offer, including cosy fireplace, comfortable beds, and only a short distance to our destination at Lake Mountain. Thanks again Helen for a wonderful stay.
Natalie
2016-08-15T00:00:00Z
Quiet, spacious and peaceful respite with nature. River at the back of the yard and no traffic noise. Superb retreat from Suburbia and the City. Helen has provided a romantic and secluded retreat with romantic touches and superb decoration. Really enjoyed our week there thank you!
colin
2017-01-18T00:00:00Z
Place was very nice and quiet and there is many thinks to do with family very happy with trip to buxton great!!!!
rajendra
2017-01-05T00:00:00Z
Helen was very responsive to our questions for this lovely house in an idyllic spot surrounded by lots of great outdoor activities to do such as mountain biking, hiking, swimming and last but not least fishing.
Marc
2016-01-10T00:00:00Z
Beautiful location, fantastic gardens. Plenty of room for 4 adults and 2 children.
Karl
2016-06-14T00:00:00Z
Tipo de habitación
Casa/apto. entero
---
Tipo de propiedad
Loft
---
Capacidad
6
---
Dormitorios
Buxton, Victoria, Australia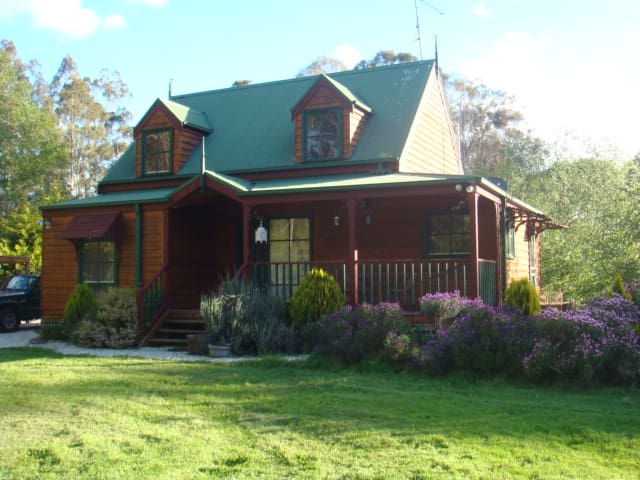 Loft is cool in summer & warm in winter. Just 15 minutes to a Zone 1 station, 35 minutes to the CBD. Chadstone is a 10min bus ride. Bus or walking distance to Monash University & Hospital. Everything for a short or long stay to enjoy, TV, fast WiFi. Many takeaway food shops are within walking distance. The variety ethic foods and styles. Our neighbour hood is quite and peaceful.
The loft is about 39 sq metres which is a lot of room. It comfortably takes two adults with two children. Every item you need to enjoy yourself is ready to use. The ensuite is complete with shower, hand basin and toilet. Queen bed & double sofa bed. We offer good facilities suitable for all styles of cooking in the main house.
Peaceful, quite, safe, green and friendly, we often chat to all our neighbours. Huntingdale Road has many cafe' that provde a range of cultural meals.
Me sentí muy agusto e integrada en esta casa. Los amfitriones són muy amables, generosos y me han ayudado muchísimo! El loft era tal cual aparece en las fotos. Limpio, completamente equipado ( microondas, tostadora, aire acondicionado, toallas, lámpara para la mesita de noche, muchos enchufes, etc.), plácido, espacioso y con mucha luz. Además, contaba con pamfletos informativos que como turista me parecieron muy interesantes. La zona es tranquila y su ubicación se ajustaba perfectamente a mis necesidades. Muchas gracias Bryce y Diane por estos días! Me ha encantado conoceros!
Blanca
2015-07-14T00:00:00Z
Thank you Bryce and Diane, the accommodation was great and the location was as well, being not far from Monash Uni. Thank you both for the breakfast and information regarding directions. It was lovely to meet you both, thank you for allowing us to stay. Warm regards, Paige and Marty
Paige and Marty
2016-01-25T00:00:00Z
This was my first AirBnB experience and everything about this place was fantastic! Bryce and Diane were very friendly from the start and did not hesitate to offer help whenever I needed anything. You will definitely feel welcome here. The space itself is more than enough for one person and has everything you'd want. Perfect for long term stays. Wish I could stay longer! If I ever find myself back in Melbourne, this will be the first place I'll check for availability. Thanks again!
Ivan
2014-10-19T00:00:00Z
Bryce is very friendly and welcoming, he welcomed us with a basket of bread, home made jam, honey, and fresh eggs that really made us feel home. The place is as described, and the neighbourhood is calm and close to transportation.
Moataz
2015-12-12T00:00:00Z
Bryce and Dianne were excellent hosts and made me feel very welcome. Room was as described online and very neat and clean. Very helpful and hospitable hosts
Aaron
2015-06-06T00:00:00Z
Bryce and Diana helped out when we were in urgent need of accommodation. Please note the ladder stairs to the loft are steep, good to know if you have balance/vertigo issues. It had suitable blankets and heating for the cold windy nights. Soft bed for those who like soft beds. Well equipped kitchen, fresh eggs from the chooks.
Penny
2015-06-11T00:00:00Z
Bryce welcomed me and my kid as if we had been longtime friends. He showed us around his wonderful garden, where we saw a lovely dog, two cats, chickens, parrots and honey bees. My 5 year old son was always happy throughout the stay as he felt like staying in a farm. The loft was well equipped. I especially loved the gorgeous air-con, which controlled the room temperature and humidity so nicely that we did not experience Melbourne's cold morning or hot evening in the comfortable room.
Takehito
2015-01-13T00:00:00Z
Bryce and Diane were friendly and welcoming hosts. They were generous with their hospitality and made me feel at home. The loft was cosy, photos were accurate, and I would certainly recommend this as a comfortable place to stay.
Sarah
2015-11-23T00:00:00Z
Tipo de habitación
Habitación privada
---
Tipo de propiedad
Loft
---
Capacidad
2
---
Dormitorios
Huntingdale, Victoria, Australia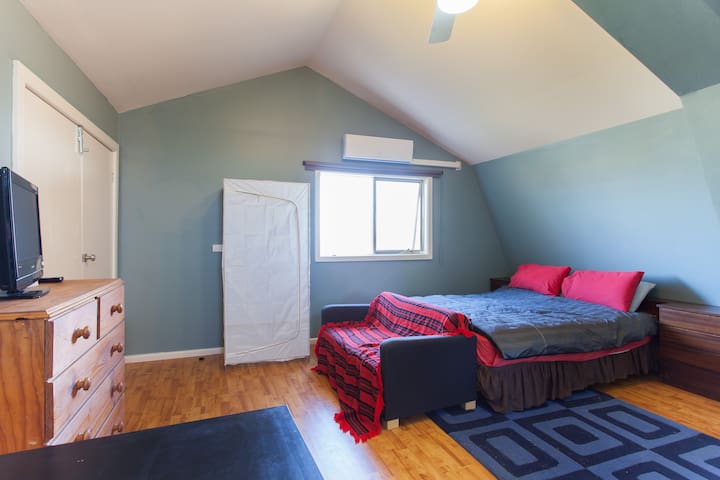 Our cosy secluded Kookaburra Cottage is perfectly situated near the Olinda and Mt Dandenong villages, as well as the National Rhododendron Gardens. Minutes drive to most of the beautiful wedding venues in the Ranges too. You have a wonderful treed and garden view even from the loft bed! Enjoy the generous American-style breakfast hamper supplies at a time to suit you, and late checkout of 11am.
Nestled amongst the magnificent rhododendrons and camellias, Kookaburra Cottage is the ideal setting for relaxation and indulgence. A stunning elm tree shades the private deck, whilst the floor to ceiling windows offers spectacular garden views and an abundance of light. Architecturally stunning, Kookaburra Cottage is set over two levels with the queen size brass and cast iron bed on the mezzanine level where it is cosy and warm. Relax in front of the gas log fire, curl up on the couch or stroll around the many paths of the established gardens. Immerse yourself in the romantic ambience by soaking in the spacious and deep double spa. There is a CD player, TV and DVD player for your enjoyment and a fully equipped kitchenette for your convenience. Breakfast provisions including some local produce are included in your stay so you can stumble out of bed when it suits you. An extra adult or child can be accommodated in a foldaway bed for an extra charge of $30. Awaiting your arrival, Kookaburra Cottage will be warmly lit with soft lights so you can leave your stress at the door.
Cambridge Cottages sit in 1.2acres of gardens, a discreet distance from our own house which was built in 1947. We are one of the closest bed and breakfast accommodations to the National Rhododendron Gardens which are spectacular especially in the spring when the cherry blossoms, rhododendrons and azaleas are at their best. We are about 10 minutes walk to either the Olinda or Mt Dandenong villages, and minutes away from many attractions, shops, cafes and gardens, as well as wedding venues, making us the ideal base for guests and honeymooners.
Tipo de habitación
Casa/apto. entero
---
Tipo de propiedad
Loft
---
Capacidad
3
---
Dormitorios
Olinda, Victoria, Australia
Newly renovated 1 bedroom (~25 square meters) studio with modern ensuite & walk-in wardrobe, and lounge area with sofa and access to a a laundry. Beautiful views of the Blackburn water-catchment area and 5 minute walk to the Blackburn Lake Sanctuary or Forest Hill Shopping Centre.
The studio is part of a house, though there is adequate sound-proofing to ensure privacy for hosts and guests (similar to apartment living). There is a new queen size bed in the bedroom, and additional beds/mattresses can be added as required. Our property, located in a quiet court, backs onto a leafy water catchment area (basically a large park). The studio has views of this beautiful area, making for a peaceful and serene environment.
The property is in a quiet court, and a 5 minute walk to Blackburn Lake Sanctuary, which has lovely walking paths, a huge new playground and a beautiful lake with native wildlife. Ideal for morning walks or evening runs! The property is conveniently located - a 5 to 10 minute walk to Forest Hill Chase Mall with three supermarkets (Coles, Woolworths and Aldi), discount department stores (Target, Big W, Harris Scarfe), a food court and an array of shops and dining options. There is also a gym and cinema located on the top level. Mahoneys Road, next to the shopping mall, also has a number of eateries. 20 minute walk to the train station (or 10minute bus ride) - and a 25 min train ride to the CBD. Free street parking is available.
Miriam is a very kind and caring host . The decoration of the house is awesome! My mum and sister really enjoyed the stay! highly recommended.
echo
2016-08-15T00:00:00Z
Nice and calm place to stay with a family. Miriam and Kevin both a really helpful. Everything is available for a small family. Value for money.
Ivantha
2016-07-30T00:00:00Z
Tipo de habitación
Casa/apto. entero
---
Tipo de propiedad
Loft
---
Capacidad
4
---
Dormitorios
Blackburn, Victoria, Australia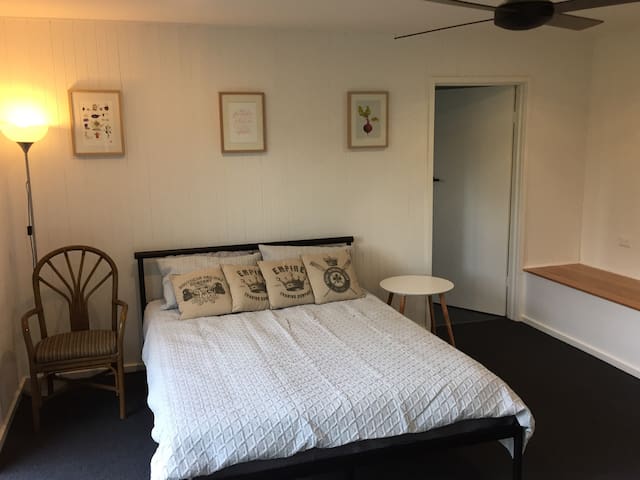 Introduce las fechas para ver el precio total. Ten en cuenta que se aplicarán tarifas adicionales y es posible que se añadan impuestos.