This studio loft backhouse is all to yourself. Garage converted. Its comfy, brand new and adequate space and location for price. fully furnished new equipped - kitchen bake oven, cooktop mini fridge, utensils, towels, smart Tv and wifi! Just bring yourself and your bag! The backyard is super zen with sand!
Rustic studio with bed loft and trundle sofa day bed. Great for 2-3 people visiting or 1 person with lots of space Parking : there is street parking in front of house
Trader Joe's, banks, market, Starbucks, organic ice creamery 5 min drive up road Beach and Downtown Long Beach is 10 min less on 710 freeway. Or scenic local streets is 15 min 20 min to downtown LA and LAX airport. Cal state Long Beach and LBCC within 15 min.
Classic neighborhood. Mind street parking signs.
ROSE
2017-03-14T00:00:00Z
This is honestly and amazing place to stay. It's close to the freeway so everything is close. Within half an hour you can be at Disney, Downtown LA, or the beach. Perón was helpful and came to bring us extra blankets and towels. She made sure everything was okay and kept in contact if we needed anything. I would highly reccomend staying here if you are visitng LA.
Michael
2017-03-08T00:00:00Z
Cute place! Super close to the highway and getting around. More or less 30 minutes away from major areas (LA/Anaheim) Would definitely recommend!
Debbie
2017-04-04T00:00:00Z
I would like to start off by saying that if we stayed anywhere else the week would not of been as great as it was. Perón was great, every time we had a question she answered quickly, she advised some great spots to eat and go out. I am very happy with our stay and recommend it to anyone who wants to stay in Long Beach!
Ikko
2017-03-19T00:00:00Z
Nous vous suggérons cet endroit sans hésiter. Il faut être conscient par contre que c'est situé tout juste à côté d'une autoroute et que le garage n'est pas isolé. Pour tout le reste c'était super!
Emilie
2017-03-31T00:00:00Z
Tipo de habitación
Casa/apto. entero
---
Tipo de propiedad
Loft
---
Capacidad
3
---
Dormitorios
Long Beach, California, Estados Unidos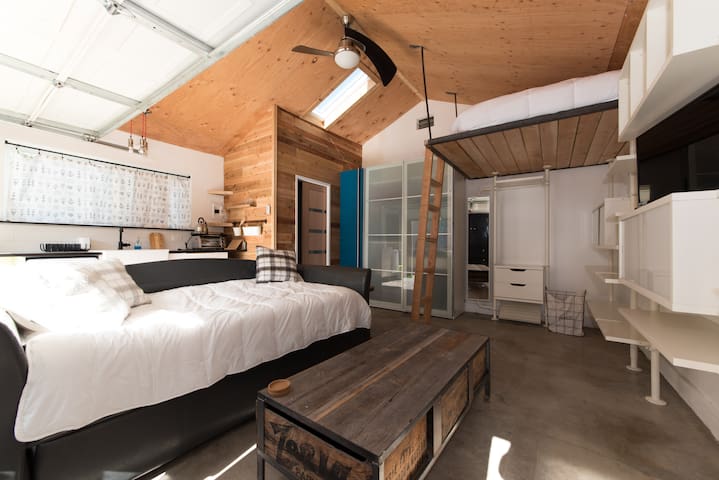 This 1920's historical bldg has been skillfully refaced in the last year. With palms &bamboo surrounding perimeter & the just completed newly designed remodel of the interior with minimalistic style but its got everything you'll need to getaway &stay
Windows Windows Windows you might drown yourself with natural light. The modern design will keep you in stylish comfort. The bed in the upstairs loft has a new queen size Modloft elite mattress and wenge wood bed with white pleather headboard. This loft space sleeps ONLY two 2. (No exceptions) Any more than 6 people in the space categorizes it as an EVENT. In the event your having more than six people ,the space can host comfortably sitting 15 people and 25-35 standing. See the Event page, as it will changed the cleaning fee and rental fee and house rules. Events are not an overnight option. Everything in this space is new It has just been through a design and remodel. I've decked it out with simple minimal style. The floors have been blasted and splashed with epoxy to give it a updated rustic appeal. The illuminated high end lighting and electrical in this space is all on Legrand Adorne style dimmer switches to keep it just right for whatever your mood. The loft is located on the main drag in Downtown Long Beach but not so close that you'll hear all the bustle. But just steps away. Our fine city has just implemented a bike share program , but I've furnished this space with two new GLOW PureFix bikes that are available for your stay. Playfully dubbed GLOW due to the fact they GLOW in the dark. The kitchenette is equipped with a coffee pot, cook top, sink, convection toaster oven, microwave oven etc. a temp. controlled wine, & a beverage refrigerator. Located downstairs the rugged but luxurious bathroom and shower is going to make you feel like your at a spa. The 63" shower panel will blow you away. I think the striking comfort in design this space has is evident in the wo's and wow's I get as someone sees it for the first time.. I love hard surface materials and the color or lack there of in the hue of white. I need to say this to clear up any misunderstood declines.
The loft is located in the oldest part of Long Beach , Wilmore, District 1. It's where the city of LB began. The oldest homes and commercial structures are here in Wilmore. . The 1920s brick and mortar rests on the corner of a 4 way lighted intersection. We here in Wilmore take pride in historical preservation and you will see it all around you. The loft space is extremely well lit with natural sunlight. But being a brick building its stays quite cool. But if not that big brand new AC will meet your temp needs. With the doors open you can hear the street. But the traffic is extremely light. You'll likely hear the sound of the city. A child playing, an ice cream truck, UPS delivery truck, owners walking their dog (This makes no noise at all) I think the first moment I knew I was home was when I hopped on a bike and rode miles throughout the city. Taking in its beauty at a slow cruise. You see all the gorgeous architecture and the cities diversity up close. Pine Avenue like I mentioned is "the Main Drag" and with that comes sprinkled traffic. Inside the loft the noise level is minimal at best. Everyone takes in nose differently. Urban lofts are in the city.
Sherry was amazing and her loaf is beautiful. She has thought of everything and is there to make sure that your stay is perfect. I would deff recommend staying here and cannot wait to use her space again!
Charlotte
2017-03-28T00:00:00Z
I can't imagine a better exhibition/event space anywhere in Long Beach for a small gallery or event- bright, airy and full of light. She seems to come up with everything you might need, chairs/tables etc. We would definitely do this again. The owner, Sherry even helped with set up!
pete
2017-03-05T00:00:00Z
Sherry is an amazing host! She will make sure that your stay is comfortable and she will go above the standard to make sure you are happy. Not only is she amazing, but the loaf is one of the most beautiful places that I have stayed. I cannot wait to go back and stay!
Charlotte
2017-03-27T00:00:00Z
Host was extremely welcoming and provided guest passes to local events and gift cards to local stores as well as furnishing us with a couple bikes to ride around in. There were new fixtures throughout that gave the space a contemporary feel. The location is pretty central, but the street noise can be a bit much if you are anything other than a heavy sleeper. There is no conventional kitchen area so plan on eating out. The owner had a bunch of snacks and drinks gratis which was nice to snack on. The place seems like it is still a work in progress and doesn't have AC, so don't expect to be walking into a fully fleshed out living space yet although that may update soon. Overall, it has potential, and will soon be where it needs to be
Christy
2016-04-20T00:00:00Z
Fantastic Space. Sherry is a talented artist who has created a space using natural light and modern whites. Truly, even better than the pictures. She greeted us with kindness, gave us privacy, but also was a text away. Everything was clean and ready for us. We enjoyed the comfortable bed and especially the most amazing shower head. Sherry has thought through every detail. For Example: We love going to the beach and she has beach chairs and towels. So glad we chose this space for our vacation.
Julie
2016-08-23T00:00:00Z
This was my best experience I've had traveling to date. The space is clean, modern, spacious and conveniently located in the heart of Long Beach. Sherry, our wonderful host is incredibly nice and accommodating. Everything worked out wonderfully for the duration of my stay and I hope to visit Sherry and her beautifully designed space in the near future. If you're still reading this, don't wait, book now!
Minh
2016-04-11T00:00:00Z
Sherry was such a welcoming host. She had fresh flowers, snacks and fresh fruit for us. The bathroom was stocked with ample towels and toiletries. The bikes were great to ride downtown to grab brunch. There is free street parking, and Sherry can help you with spots if you are arriving home late. The loft is huge, clean, and with easy access to the highway if you are exploring nearby areas. Thanks for everything, Sherry! We had a blast!
Tiff
2016-07-09T00:00:00Z
The photos listed are exactly what this modern loft looks like in person. Sherry was there as soon as I arrived to show me around the space, and she has gone through great measures to ensure that her guests have a pleasant, memorable experience. I appreciate people who are attentive to details, and Sherry definitely fits the bill. She has obviously worked very hard on this place, down to the smallest of things. If you're an artist, this is the place for you and Sherry is an extremely lovely individual.
Macie
2016-06-18T00:00:00Z
Tipo de habitación
Casa/apto. entero
---
Tipo de propiedad
Loft
---
Capacidad
2
---
Dormitorios
Long Beach, California, Estados Unidos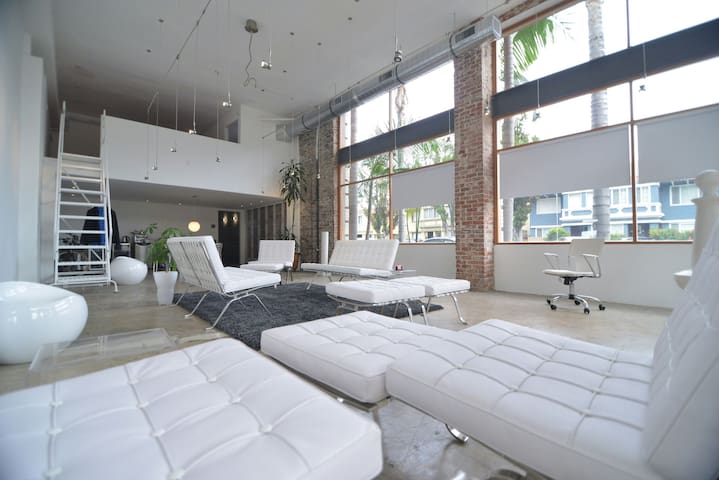 (URL HIDDEN) look up the place. verry bautifull area with spa and pool,tenniscourt.walking distance to many shopping center with all kind of markets and retaurents 1mile from longbeach lagoon 1mile and a half from the beach. 4 miles from downtown..strait on pacific coast highway. the apt has a unique decore. aircondition, gaz chemine, balcony, reef aquarium and 75inch curv 4k tv in the living room, 50"smart tv in the room and another 35 in the second room internet, hulu, netflix avabile, each room has its on bathroom. high ceiling all the apt and walking closet and closets.
the decore and the space plus location the heart of longbeach pch
one of the best longbeach area verry international atmosphere
Tipo de habitación
Casa/apto. entero
---
Tipo de propiedad
Loft
---
Capacidad
5
---
Dormitorios
Long Beach, California, Estados Unidos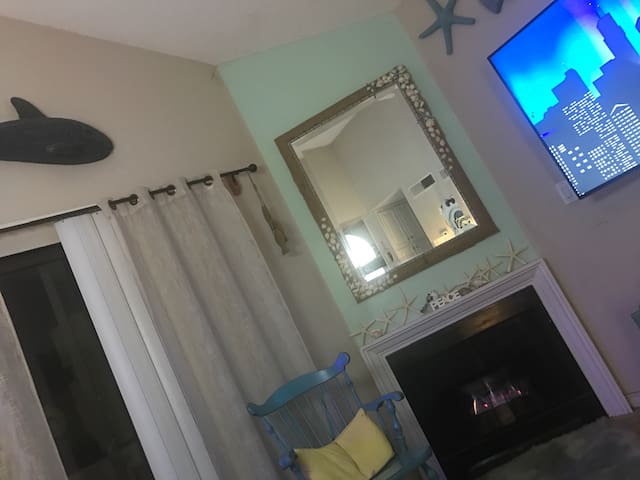 SunnYSidE UP is a 3200 Sq Ft Multi-Disciplinary Creative Warehouse dedicated to providing space for creatives to fluidly work in an environment of clarity & inspiration while traveling. One can do just about anything they want here as long as it is uplifting. BiankA is a 12 year veteran barista & chef who will make delicious coffee & fresh organic breakfast during your stay. You can also partake in the various creative workshops provided here at SunnYSidE UP. Rates on our webpage SunnYSidEUPYUP.
This place is specifically designed for Creative Beings. It is perfect for artists and musicians traveling & on tour. You can use the space for your craft while you're here or learn something new at one of our workshops offered. Please note that scheduled workshops may or may not be happening during your stay. You are welcome to schedule your own if you like. Check out SunnYSidEUPYUP on Instagram to get a sneak peek of what's going on. Then check out our webpage SunnYSidEUPYUP.
Our neighborhood is located in an area of Long Beach called Alamitos Beach. We are located on Retro Row. Retro Row is a sweet little block full of great restaurants, vintage and thrift stores, coffee shops, bike shops, a wine bar, various bars, barber shops, hair dressers, a juice bar, and a sweet old school movie theater. It's truly a gem! We're just 4 blocks from the beach in this very vibrant, diverse, and family friendly neighborhood. It is full of little parks you can kick it in for a little afternoon sun and it has a great farmers market 4 blocks away at Bixby Park on Tuesday Night's and Saturday's Morning's. This Farmers Market is full of food trucks and right off the bluffs of the beach. Grab a bite and watch the sunset on the water!
Tipo de habitación
Habitación compartida
---
Tipo de propiedad
Loft
---
Capacidad
6
---
Dormitorios
Long Beach, California, Estados Unidos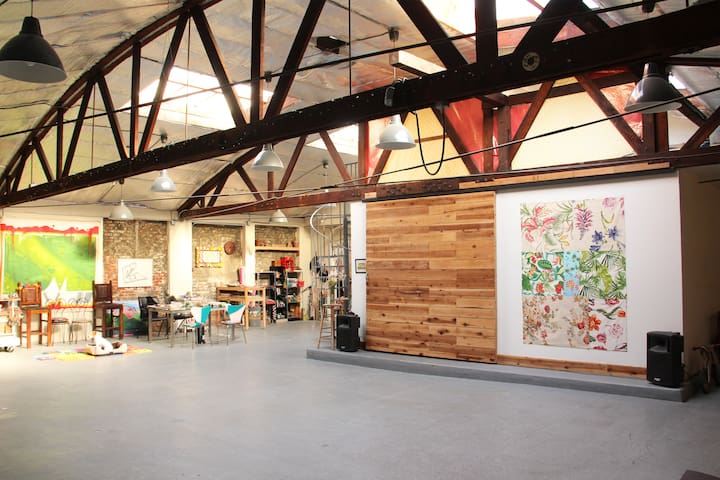 Introduce las fechas para ver el precio total. Ten en cuenta que se aplicarán tarifas adicionales y es posible que se añadan impuestos.