¿Buscas algo diferente? ¿Por qué no reservar unos días a bordo del NOMAS. Nuestro velero está amarrado con seguridad en Marina Portimão o fondeados en el Río Arade y se le garantiza una experiencia emocionante.
Nuestro barco está amarrado en el puerto deportivo de Portimão, un lugar bien protegido con una hermosa vista sobre el río Arade ya poca distancia de Praia da Rocha. playas de aguas cristalinas están en la vecindad, el antiguo pueblo de Ferragudo está a la vuelta de la esquina y para aquellos que aman a descubrir la zona hay cosas mucho que hacer.
Aire limpio, hermosas playas y senderos rocosos, mar azul, las montañas en la distancia, restaurantes y bares, centros comerciales y por encima de todas las hermosas puestas de sol. Si te gusta ir en un safari de delfines (le recomiendo que), voy a hacer los arreglos necesarios para usted.
It was great to stay at Ankie's boat. We had a great time with Cees and Ankie who made our stay unforgettable. We would really recommend a stay on the 'mighty' Nomas to everybody.
Ben & Mei
2015-10-02T00:00:00Z
Ankie and Cees were great hosts and were very welcoming to us. They met us at the scheduled time and showed us around the area with recommendations for places to eat and car rentals. Very helpful! They even invited us to happy hour with their friends and we had a lot of fun. Enjoyed visiting with Ankie and Cees each morning over a delicious breakfast and in the evenings while enjoying wine and chocolate. We were able to go out sailing for a few hours and absolutely loved it! We were even lucky enough to see dolphins! Great hosts and everything exceeded our expectations. Highly recommend staying aboard the NOMAS for a unique and fun experience!
Rachael
2015-05-24T00:00:00Z
Many thanks to our hosts Ankie and Cees! They made our stay at the Nomas unforgettable. They were so kind and hospitable. Hope to come back sometime!
Daniela
2015-08-13T00:00:00Z
Wij hebben twee nachten doorgebracht op NOMAS (in de haven van Portimao). Ankie en Cees waren erg gastvrij. Het afstemmen van de aankomst liep vlekkeloos en wij voelden ons snel thuis. Leuk om de verhalen van hun zeilavonturen te horen. Helaas konden we niet gaan zeilen vanwege de te harde wind. De kinderen vonden het erg leuk dat ze wel gebruik mochten maken van het kleine motorbootje. Unieke ervaring om een keer op een zeilboot te overnachten.
Monique
2015-08-08T00:00:00Z
The boat was amazing experience Ankie and her husband were super nice
Anas
2016-05-03T00:00:00Z
Was für eine wunderschöne Erfahrung für unsere Familie. Ankie und Ihr Mann haben uns wunderbar mit Getränken und Keksen empfangen und alles dafür getan damit wir uns wohlfühlen. Unser 14-jähriger Sohn war total begeistert - wir auch. In unserem gesamten Urlaub haben wir bei Ankie und Cees auf dem Boot am besten, gemütlichsten und kuscheligsten geschlafen. Die Nachbarschaft auf dem Boot ist angenehm ruhig. Am nächsten Morgen hatten wir ein absolut grossartiges Frühstück zusammen und haben uns noch gut den Vormittag über alles Mögliche unterhalten. Die beiden sind super gastfreundlich, offen - und tolle Gesprächspartner. Wir würden diese Art der Übernachtung bei Ankie und Cees jederzeit wiederholen. Höchste Punktzahl in allen Bereichen.
Marion-Bettina
2016-05-23T00:00:00Z
We just returned from a four day stay on Nomass. Ankie's and Cees' boat and could not have had a better, pleasant and more beautiful short vacation. Ankie and Cees were very helpful and caring and even welcomed us with a nice bottle of red wine on the boat. Very nice touch. The boat was beautiful and very cozy, also offering privacy. This was our first time on a boat and we couldn't have asked for a better experience. Our hosts offered us suggestions for restaurants in the area which were also very helpful. Both really make you feel very welcome and took very well care of us. We wish we could've stayed longer but we will see Ankie and Cees again in August for our next stay in Portimao. If you ever want to have a great holiday on the beautiful boat with great and caring hosts, do not think twice but go for the Nomas experience with Ankie and Cees.
M Ramin
2015-06-14T00:00:00Z
It was a real pleasure getting to know Ankie and her husband in their amazing sailing yacht. This was our very first experince actually spending the night and sleep on a boat. They did everything to make our stay on NOMAS as comfortable as possible. We loved it. They invited us for drinks on board the night we arrived. We had great conversations along with their neighbours. The night sleep was comfortable. The bed, sheets and towels were clean. Bathroom was so cute. Definitely was worth the experience. We had an amazing breakfast on board the morning after. Lots of great conversations regarding different topics. We really wished if we could stayed longer. My wife and I are so looking forward to meet Ankie and her husband again. You guys are so lovely, inspiring, kind and fun. We wish you all the very best wherever you are.
Ehsan
2015-05-14T00:00:00Z
Tipo de habitación
Habitación privada
---
Tipo de propiedad
Barco
---
Capacidad
2
---
Dormitorios
Portimão Municipality, Distrito de Faro, Portugal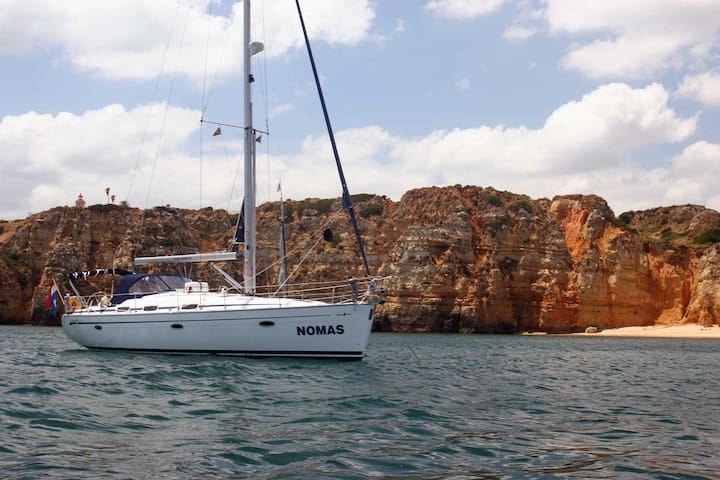 Experience the Algarve how it is supposed to be experienced, on the sea! This unique holiday rental is sure to stand out against a tradition hotel or apartment stay. Book you sailing boat stay today with us and let the adventure begin!
This 2 bedroom sailing boat features a comfortable living space with kitchen and a toilet area. Outside you will find tanning space and direct access to jump into the sea! The boat is anchored in the Marina of Alvor and you will have access via tender (small rigid inflatable boat with engine) to the pier, allowing you to stock up on food as well as discover the town of Alvor and its magnificent beach. Every part of Alvor is within walking distance and there are plenty of sea-food restaurants and great bars / pubs to be found. The sailing boat is used as a holiday accomodation, comparable to a holiday apartment, but surely more original! Imagine all the cool instagram selfies! Please note that the sailing boat is not to be removed from its anchor point, if you wish to undertake a day trip with it and explore the coast, then a skipper will be available with a surcharge of €150. Please note that there is no WIFI and no shower onboard.
Alvor is a fishing village famous for its restaurants and beaches. It is conveniently located near Portimao, a large city in the area. There are numerous beaches and it is a very relaxing area which is usually not over crowded.
Tipo de habitación
Casa/apto. entero
---
Tipo de propiedad
Barco
---
Capacidad
3
---
Dormitorios
Alvor, Faro, Portugal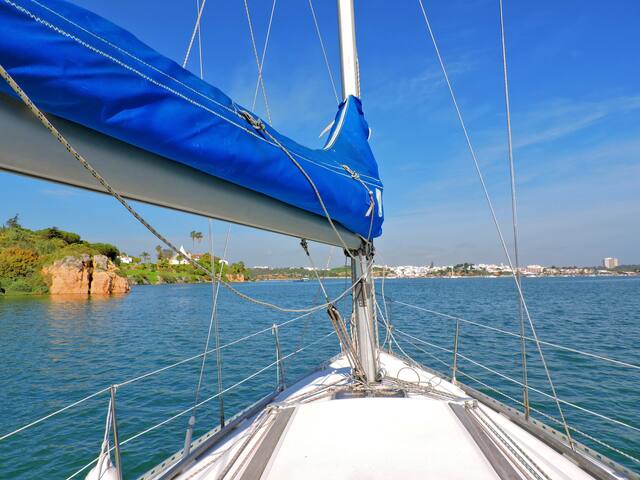 Enjoy the monumental views and all the glitz off the Algarve Coast. Hop from marina to marina or form secluded cove to secluded cove.
Tipo de habitación
Casa/apto. entero
---
Tipo de propiedad
Barco
---
Capacidad
8
---
Dormitorios
Albufeira, Portugal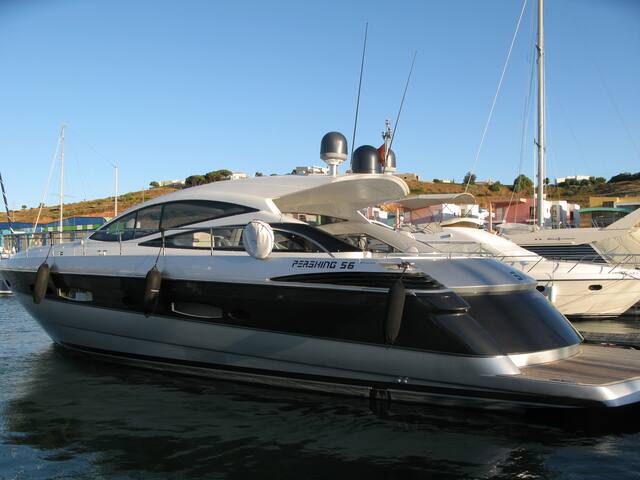 Columbia is a stunning Sunseeker 53 luxury yacht. She has 3 bedrooms, external sun-lounging areas to the front and the rear. Timeless moments vilamoura boat charter. Perfect for any occasion, and absolutely the best way to celebrate a special day such as a birthday, anniversary, wedding proposal.
The host canceled this reservation 31 days before arrival. This is an automated posting.
Ann
2017-03-29T00:00:00Z
Tipo de habitación
Casa/apto. entero
---
Tipo de propiedad
Barco
---
Capacidad
4
---
Dormitorios
Vilamoura, Faro, Portugal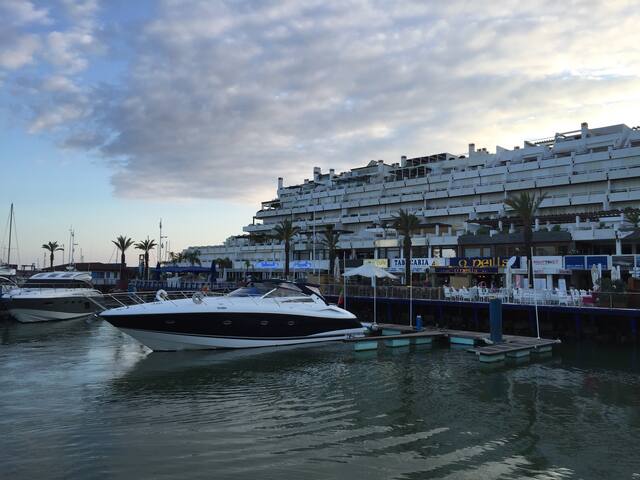 She´s a beautifull Ferretti 590 built on 2005 - Full Extra - and ready to offer you great moments onboard. If you are willing to spend some days in the South of Portugal (Algarve) and if you are a sea lover, do not hesitate in booking with us. Comfort and style onboard a Ferretti 590 for those who want to experiment an unforgetable sea jorney departuring from Vilamoura, Algarve, Portugal. The price is related with overnight accommodation. Quotes for boat tour upon request. Thank you.
Tipo de habitación
Casa/apto. entero
---
Tipo de propiedad
Barco
---
Capacidad
7
---
Dormitorios
Quarteira, Faro, Portugal