Your private Bondi oasis awaits! This new designer studio cabin is nestled in a stunning tropical garden, just a few blocks away from sun, surf, nightlife and unique vibe of the iconic Bondi Beach and a bus or ferry ride away from the Sydney Opera House!
This fabulous newly furnished studio features designer furniture, super-comfy new bed, breakfast facilities, a relaxing deck and access to a Balinese style garden complete with pond and chillout space. The studio is self contained in our backyard with shared access to our newly renovated bathroom. Non-smoking guests only.
Well, as you know you will be staying in the world famous neighbourhood of Bondi Beach. Our Street is a 5 minute walk down a few blocks right to the bustling bars, restaurants and amazing Bondi Beach. Here you can laze on Bondi or take the famous coastal walk and discover neigbouring beaches such as Tammarama, Clovely, Bronte and Coogee. You will be amazed by the choice! Our street is leafy, quiet and feels old-school suburban but with a beachy edge.
Such a relaxing cabin in a beautiful garden just behind the beach. Plenty of tips for brunch and Ray has been super flexible for keys and times too...sadly I could only stay a week.
Simone
2015-11-22T00:00:00Z
Ray and Andy's house was absolutely fantastic to stay in and I would recommend it to anyone who travels to Syndey and wants to stay in Bondi. The house is very well located, just minutes from the very central hall street and a short walk to the beach. It is done with a lot of taste, with a Balinese garden, a very big and very nicely set room, and all sorts of local organic goodies for the guests to use. Both Andy and Ray were exceptionally nice hosts, the check in was very simple and easy and they checked in with us several times to make sure we if everything we needed. They also know and obviously love their area so can give very helpful advice.
Katia
2015-12-02T00:00:00Z
It was the property that caught our attention at first- but that quickly became second, as we were warmly welcomed as part of a family and so much visitors or guests. Thank you guys for a memorable stay and making us feel at home xxx Ethan & Lovely-Angelik
Ethan
2016-12-18T00:00:00Z
Ray and Andy's place is a great spot from which to explore Bondi and Sydney. The cottage is charming and a peaceful oasis just steps away from the bustle of Bondi Beach. There are lots of great coffee shops, bars, shops and restaurants in walking distance and you can easily catch a bus to other parts of the city. The cottage is airy with a comfortable bed, lots of towels, beach towels and a shady garden to relax in. Perfect for a solo traveler. I felt completely safe and at ease. Ray and Andy are great hosts.
rachel
2017-01-08T00:00:00Z
What an absolute delight of a place to stay. As soon as we walked in Ray had everything ready for us (including champagne) the place was spotless and the garden perfect. The design here on the interior was exceptional - really well thought out to feel like you were in a cabin but totally warm and clean with many intricate details. A really special place to stay - and also for any couples - very romantic. Thankyou Ray :)
Manny
2016-05-30T00:00:00Z
Ray and Andy's cabin is the perfect place to getaway in Bondi. They gave us great advice about which places to visit and went out of their way to make our stay as enjoyable as possible. The cabin itself is clean, quirky and just moments away from the beach, and the garden is a beautiful spot to relax in after a busy day exploring. My partner and I really enjoyed our time here and we will definitely stay again if we return to Bondi.
Bianca
2016-02-27T00:00:00Z
Ray and Andy were sweet hosts, starting off with good communication before we even arrived. We were welcomed immediately to a well stocked cabin complete with a bottle of sparkling and chilled glasses to celebrate the new year. The fridge was also stocked with other essentials. They gave us our privacy and at the same time ensured we were well taken care of. The cabin was well decorated, spacious and clean. Stepping out into the garden from the cabin feels like you're in a little paradise of your own. It was such a lovely space to come home to after a day out at the beach. The bathroom was always kept clean and smelled nice; the candles and fresh flowers were a nice touch. An easy 5-10 min walk gets you to the main stretch of cafes, shops and beach. We absolutely enjoyed our time and would definitely have stayed longer if we could. + The dogs are adorable, wish we had more time to play with them!
malcolm
2016-01-03T00:00:00Z
Ray and Andy were lovely hosts. Fantastic with communication and accomodated all of my needs. The studio is adorable, and the garden is a little oasis. Highlights for me were the bed, silence while sleeping and special touches that made me feel at home. The place is only a short walk to the beach and the great eateries in the neighborhood.
Allissa
2016-02-07T00:00:00Z
Tipo de habitación
Casa/apto. entero
---
Tipo de propiedad
Cabaña
---
Capacidad
2
---
Dormitorios
Bondi Beach, Nueva Gales del Sur, Australia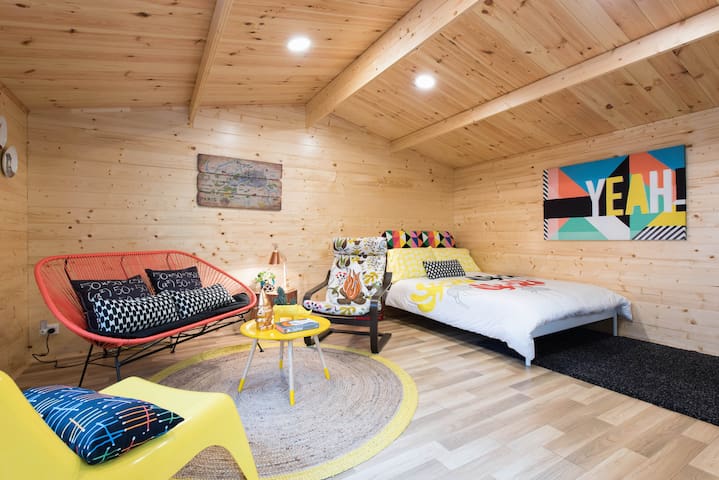 10 minutes/900m level walk to Coogee beach, this bright and spacious studio has a large kitchen, open plan living and bedroom area and a separate bathroom with shower and toilet. It is bright and sun filled and set at the back of a semi-detached house, so has no road noise and is incredibly quiet. It has a separate entrance to the main property and shares a common garden. Buses to the city are only a 3 minute walk away with a travel time of approximately 20-30 minutes to the city. It is fully furnished with a LCD TV and has WIFI. Towels and linen provided. There is one double bed with a new(2011), good quality and very comfortable mattress. One set of keys will be provided. There is a small computer desk with a laptop stand and keyboard for your use. Full size fridge, heater and fan are also provided. There is free on street parking which is un-timed. There is no laundry but the laundrette is located near the bus stop 3 mins walk away. The local shops include 2 great restaurants (X74 and Chat Thai), 2 newsagents/general stores, laundrette/dry cleaning/ a doctors surgery.
David and Monica were really great hosts. Gave us lots of recommendations and tips on how to get there...etc. The Studio was good and the bed is very comfortable. We stayed here 4 nights and enjoyed it. :)
Natalie
2012-12-03T00:00:00Z
I stayed for 5 nights at this Coogee studio.just perfect for my needs.Clean,comfortable and plenty of space.Nice and quiet.Only 15 mins walk to UNSW where I was doing a course, and 10 mins walk to the beautiful Coogee Bay beach, and its restaurants. Hosts could not have been more helpful, and the Thai takeaway/restaurant is one of the best I've eaten at
Gillian
2012-12-08T00:00:00Z
Would definitely stay here again - great location, very comfortable bed and David and Monika were so helpful and friendly. Thank you!
Numira
2012-11-19T00:00:00Z
David and his partner were very friendly and welcoming. The studio was immaculate. It was light, airy and tastefully decorated. We were given some great recommendations for exploring the area. It is perfectly located in a quiet street, 10 minutes walk to Coogee Beach. Coogee Beach is a beautiful beach community with lots of activities; yoga, walking, swimming, surfing, and nice cafes and restaurants. Public transport into the city was straight forward also. It is a half hour bus ride right into the Sydney CBD. I would definitely recommend the studio for couples looking for a quiet restful getaway with fantastic hosts!
Cherry
2012-11-02T00:00:00Z
Tipo de habitación
Casa/apto. entero
---
Tipo de propiedad
Cabaña
---
Capacidad
2
---
Dormitorios
Randwick, Nueva Gales del Sur, Australia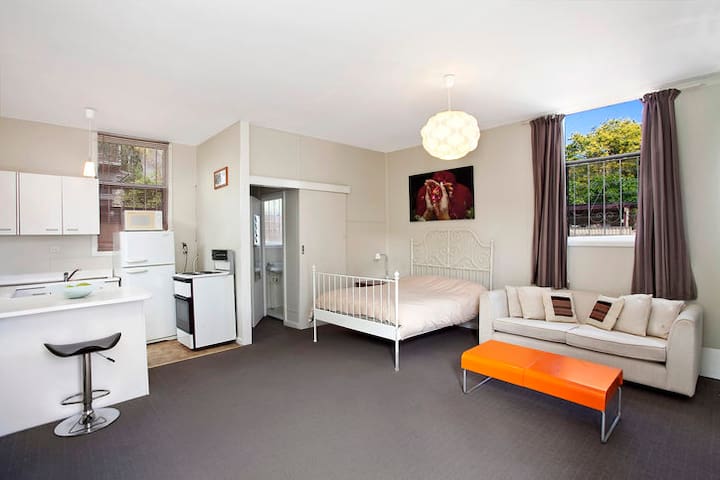 Renovated private garden studio in the Moore Park precinct of Redfern 5 minutes walk from the restaurant strip on Crown St. It has air con,wifi, bathroom, kitchenette, TV and its own street entry. Covered parking is available by request.
This spacious studio is unique in the inner city. Close to all amenities but set in a quiet garden and with your own private access. Secure onsite parking can be arranged on request and is not included in the room cost.
My favourite thing about the area is that you can walk to just about everything you need.
Micheal was very pleasant when we met him. He had limited time as we arrived during his lunch hour from work. We didn't see Michael after our arrival as the room is self contained and we were out all day and not back until around 10 each evening making the most of the city.
Sue
2016-03-19T00:00:00Z
We had a lovely stay at Michael and Claere's studio. We really liked the fact that it feels like an independent house: private entrance, detached building, and our hosts were very careful to respect our privacy and at the same time make sure that everything was going well for us. Great people, great place.
Bruno
2016-02-25T00:00:00Z
Michael is a great host and the studio is perfect. You'll arrive to a clean studio which is in the garden of their house and yet you'll retain plenty of privacy. He includes a load of complimentary provisions which was extremely helpful, plus some home baked cookies. The studio is located in a fashionable residential district with plenty of restaurants and cafes. Plenty of buses to get around. Highly recommend, and would come back.
Paul
2016-08-20T00:00:00Z
Great host, accommodation and location. The studio apartment is good for singles or couples who want to stay in the hipster neighbourhood of redfearn and surrey hills. Fantastic restaurants, boutiques and coffee shops within walking distance. The studio has good facilities and was clean and tidy. The queen bed was ok, although those travellers with back issues may find it uncomfortable.
Krishan
2017-02-24T00:00:00Z
Michael and Claere are the BEST. Last week my husband and I stayed in their garden studio attached to their perfectly located Surry Hills home. After weeks of traveling and staying in hotels, it was so nice to have the personal touch of an apartment. The apartment is perfect: it had a wonderful garden view and everything you need...including a WASHER AND DRYER. This was phenomenal to use after weeks of hotels with no such luxury. They even brought us fruit and chocolate each day! Michael and Claere remind me of my parents, and I felt so at home and well taken care of with them. They were completely respectful of our privacy while being incredibly accessible and helpful when I'm sure many others would not be. They were also flexible and accommodating when coordinating key pick up and drop off and are really laid back people - the best kind of people to be with on vacation. :) I can't say enough positive words about these two. If you're considering staying here, you should do it knowing that you will be dealing with wonderful people (which makes all the difference when traveling). We had some unfortunate timing with Sydney's worst cyclone passing through for 2/3 days we were in Sydney. Michael and Claere went above and beyond to make sure we were taken care of during a storm-caused water outage. They left us huge tubs of water, gave us extra umbrellas, and even coordinated with a neighbor who had not lost water for us to take a shower that day. Claere offered her recommendations on what to do with a super rainy day in Sydney. We followed her advise (Museum of Contemporary Art and explored The Rocks) and had a great day. These two are warm and welcoming and everything about them made me feel comfortable and at home. We really adored them within minutes of meeting them. At the end of our stay, they even invited us to have dinner with them on our last night. My husband and I have been raving to one another about how wonderful they are and how lucky we were to find them. Stay at Michael and Claere's garden studio! Promise you won't regret it!
Amanda
2015-04-25T00:00:00Z
Great hosts and fantastic accommodation in a really good location.
Dominic
2016-02-15T00:00:00Z
A great flat, I would definitely stay there again. The location is excellent, near many goods restaurants and cafes. Communication was easy and convenient.
Scott
2016-10-13T00:00:00Z
This is a great place to stay and excellent value. It's really near lots of cafes, bars and restaurants and has an excellent bus service into the Sydney. Michael left us a welcome pack which was much appreciated as we arrived late in the evening. He's a great host - responds quickly to mail, friendly and helpful but not intrusive.
jill
2016-02-03T00:00:00Z
Tipo de habitación
Casa/apto. entero
---
Tipo de propiedad
Cabaña
---
Capacidad
2
---
Dormitorios
Redfern, Nueva Gales del Sur, Australia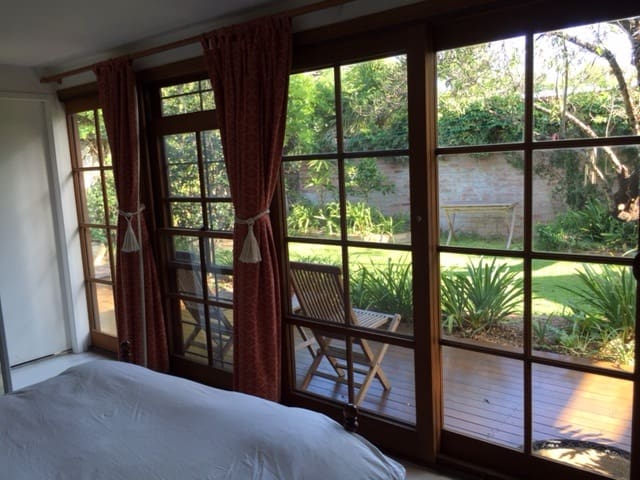 Un hermoso y tranquilo estudio, contemporánea, situado en la parte trasera de un frondoso jardín privado con una amplia terraza y gran ciudad views.Comfortable, artista inspirado, un espacio de la habitación con un baño separado, a menos de 30 minutos de la ciudad, playas, parques y orientales 10 minutos. caminar a la UNSW.
Construido como estudio de un artista, tiene buena luz, techos altos, puertas correderas a una larga y amplia terraza que se asoma a un jardín y vistas al barrio y la ciudad exuberante privado. Hay un moderno cuarto de baño, así como un área de preparación de alimentos, incluyendo una ola, tostadora y nevera bar micro. (Comidas ligeras solamente.) De té, café y leche, así como un desayuno europeo que incluye fruta de temporada, yogur, cereales, mermelada y tostadas son provided.There es una cama confortable, así como una cómoda cama plegable individual, mesa de comedor y cuatro sillas. Ideal para dos personas. Pueden dormir 3. Este estudio se encuentra casi en el centro de la ciudad y muy cerca de las playas y parques y clubes. Es un retiro en la ciudad. El aparcamiento está siempre disponible. WIFI, TV, DVD incluido.
Nuestro barrio de Kensington es tranquilo, pero casi en el centro de la ciudad, cerca de las universidades, playas, Centennial Park y hasta el aeropuerto está a sólo 15 minutos en coche ya que estamos muy cerca de la autopista que significa que puede llegar a casi cualquier parte de Sydney y de Sydney fácilmente. También estamos a poca distancia de la última precinto arte de Danks Street en Surry Hills ya poca distancia de Fox Studio recinto para mercados, las películas y los restaurantes de los agricultores. El centro de todo.
Spot ubicado entre el aeropuerto y la ciudad (el taxi desde el aeropuerto cuesta al menos Aud35), Michal es una estupenda host, preocupada y atenta. Ofrece desayuno y buena conexión wifi, su perro es adorable. Se recomienda por la cercanía al aeropuerto.
Constanza
2017-03-14T00:00:00Z
Michal was a lovely host and her little garden retreat was a great place to stay for the one night that we were in Sydney. A close walk to Anzac parade and UNSW, Michal's was in an ideal location to bus stops and shops while also being secluded and quiet.
Joy
2015-02-25T00:00:00Z
It was an absolute pleasure to stay at this Little oasis! I couldn't have felt more at home. There was everything I could have needed. It was close to public transport, accessible to the airport and to the city and in a lovely neighbourhood. I would highly recommend anyone to stay here who is heading to Sydney! Thank you again for a wonderful stay!
Jamie
2014-03-16T00:00:00Z
Our stay with Michal was our first experience with Airbnb - we were looking, just as everyone does, for the ultimate combination of comfort, location and price, and we were not disappointed. Before we arrived Michal called to ask for our preferences on bread and milk - but we arrived to a generous (additional) supply of eggs, natural yogurt, muesli, strawberries, condiments, and an overflowing fruit bowl. Michal quickly showed us where everything was, and then left us to our own devices. The studio is quite literally the oasis it is advertised as. It has private access around the side of the house, and is elevated so as to separate it entirely from the world around. The bed was comfortable, the egg chairs on the veranda were highly utilized, the wifi was speedy and the bathroom was stocked. Michal, herself, was generous and kind-hearted, but also highly professional. We were skeptical about feeling like intruders on our weekend away, but this wasn't the case at all - Michal did everything she could to make our stay as enjoyable as possible while simultaneously making us feel like we were in our own little world. The location is excellent, parking can be found readily (so long as you can park on a hill), and we highly recommend staying here. Thank you Michal, we will be back!
Bronte
2015-11-08T00:00:00Z
The best airbnb host ever!! It was really lovely at Michals place. She offered us breakfast and were very helpful. Her place is more clean than some hotels are!! Just perfect!! Thank you Michal :)
Susanne
2015-11-15T00:00:00Z
Michal's studio was perfect for our 2 days in Sydney. She was charming, relaxed and welcoming. The situation suited our needs perfectly, including the 15 minute drive from the airport, proximity to the eastern suburbs and the excellent dining in Surry Hills. Michal left us plenty for breakfast; we especially appreciated her asking us which bread we preferred and providing a delicious sourdough loaf.
Kate
2015-07-25T00:00:00Z
Michal responded quickly to all our communications, her little studio was perfect for us for an overnight stay in Sydney. We appreciated the little extras, yoghurt and muesli for breakfast, bread and milk etc. The queens-size bed was excellent but the pull-out bed - I guess it was about as comfy as those things can be! Good location for access to buses and trains and some excellent food and coffee places too.
Laura
2016-08-15T00:00:00Z
Convenient. 15-20 minutes from city.
Jamie
2013-12-03T00:00:00Z
Tipo de habitación
Casa/apto. entero
---
Tipo de propiedad
Cabaña
---
Capacidad
3
---
Dormitorios
Kensington, Nueva Gales del Sur, Australia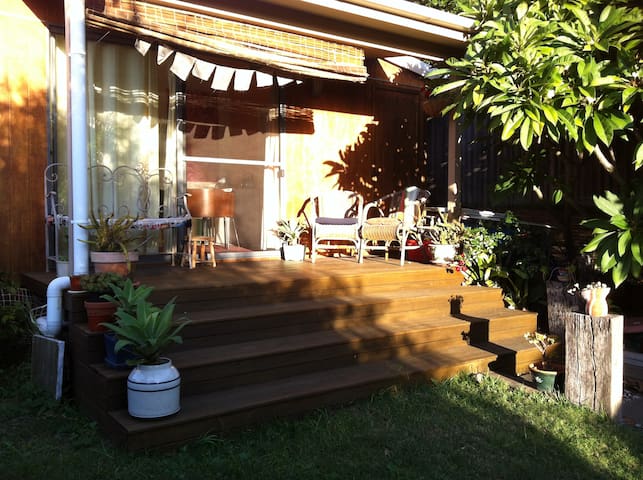 Bondi Beach - Airbnb
:
Una media de

4.61

estrellas de un total de

5

de

253

evaluaciones de huéspedes
1

–

4

de

4 Alquileres de Cabañas
Introduce las fechas para ver el precio total. Ten en cuenta que se aplicarán tarifas adicionales y es posible que se añadan impuestos.