Relajarse en este barrio tomó nota de mediados de siglo en un loft de 784 pies cuadrados con 12 pies techos. Ocho pies correderas abiertas a una vista perfecta de la piscina privada y San Juacinto Mtn. Muchas opciones de asientos ofrecen sala de estar, cocina o patios privados. Damos la bienvenida a los viajeros del mundo. Enviar consultas de disponibilidad de alquiler a largo plazo. ** Calefacción de la piscina es un cargo adicional. Por favor, consulte la sección Reglas de la Casa de la fijación de precios y la información.
Este es un concepto de loft. A 48 "Smart TV se puede ver en todo el espacio. Armarios dobles dormitorios se encuentran en el área de la cama privada. Otro de almacenamiento se encuentra en el armario grande hall de entrada adicional y en el / sala privada baño de lavandería. Hay un amplio vestidor extra con lavabos y ducha abierta. Esto tiene acceso a una ducha al aire libre y un aseo habitación separada / lavandería. Disfrute del ambiente interior / exterior de la gran sala de estar abierta, un cuarzo encimera de cocina asientos 4 para cenar y ofrece un excelente espacio de trabajo. Opcional comidas al aire libre también está disponible. el loft mira hacia el oeste a la hermosa montaña de San Jacinto. Sunmor es un barrio tranquilo de mediados de siglo (muy seguro para caminar), cerca de la terminal del aeropuerto, con acceso rápido a los pueblos del valle al sur. Hay una amplia gama de cercanías actividades que incluyen rutas de senderismo, rutas a caballo, campos de golf, bolos y tenis. Palma de la mano Aeropuerto de primavera a 5 minutos en coche o 15 minutos a pie. * Nota: en el desván y el exterior es un punto de acceso wifi; no hay teléfono fijo disponible.
SUNMOR es un barrio central de Palm Springs conocida compuesta de una colección sorprendentemente intacta de las viviendas construidas a mediados del siglo a finales de los años 50 y principios de los 1960. El barrio está bordeado por Palm Springs City Hall y el aeropuerto internacional en el este, Farrell Drive en el oeste y este Taray y Andreas carretera al norte y al sur, respectivamente. Los dos constructores principales de las casas eran Sunmor constructor local prominente Robert "Bob" C. Higgins y el nivel nacional prominente Alexander Construction Company. Ver más en: (URL ocultos) Para información, Historia y consultar los datos, véase: (URL ocultos) NOTA: February Modernismo semana podría traer un recorrido por las casas SUNMOR.
This is an excellent choice for your stay in Palm Springs. It is a beautiful, private location with beautiful and modern decor. Highly recommend Kevin and Chris, they were so friendly and helpful.
Tracey
2017-04-03T00:00:00Z
Kevin and Chris's Sunmor Loft is a beautiful pool-side setting with all the amenities that one needs. The pool is wonderful and the landscaping is beatiful. There were even some floaties in the pool just waiting for us! The view of the mountains and palm trees as you sit besides the pool in the warm California sun is just amazing. It's a bit of heaven on earth. Palm Springs is a very unique place with an eclectic and diverse crowd. There are plenty of great places to eat and see, as well as crowd watching. Joshua Tree National Park is a must see while there. If you get the opportunity to book this Sunmor Loft, do not hesitate! You will definitely leave happier than when you arrived! Thank you both again!
Steven
2017-03-23T00:00:00Z
Although our hosts were not physically present during our stay, we never felt disconnected. (They were at a family reunion.) Kevin and Chris made sure our "guest host" was present on arrival to orient us to the place (and available as needed). And Kevin checked in with us occasionally via text anyway. We could also be in touch via cell if needed. Located just minutes away from PS Airport, the space was perfect, providing us with the quiet and comfort we were hoping for. We would definitely book here again. It didn't take long for us to settle in, realizing that this was our most restful b&b experience to date. The space is well designed and laid out, only footsteps from the pool. We really love this space(URL HIDDEN)
Maggie
2016-09-08T00:00:00Z
Kevin and Chris are lovely! The main house is very close to the guest house but they are as available as you need them to be. Very welcoming. The house is amazing! I just came for a peaceful little getaway and it was exactly what I wanted.
Sarah
2016-07-30T00:00:00Z
I thoroughly enjoyed my stay at Kevin and Chris place in Palm Springs. Even though they were going to be out of town, they did a great job of communicating this to me and lined up Joe (who was awesome!) to be present and available to get me checked in and answer any/all questions. They helped me find an excellent gym to use during my stay and even referred me to a realtor who helped me look for places in Palm Springs. At one point, I had a question about starting their gas grill, Chris called me back within 5 minutes to walk me through the process. Loved staying there - it was an awesome place, a beautiful neighborhood and the perfect working vacation from LA.
Stan
2016-08-20T00:00:00Z
Kevin and Chris were delightful hosts. They gave great recommendations and their guest home is modern and beautifully decorated. Ideal location and will look forward to future visits.
david
2016-10-24T00:00:00Z
Kevin and Chris were exceptional and generous hosts who provided a quality, clean and highly enjoyable location. Would happily revisit if Palm Springs is on my travel plans again.
Jim
2016-10-18T00:00:00Z
Kevin and Chris's place is a fantastic get-away. The guest house is wonderfully appointed, beautifully modern, and very comfortable. After hiking Death Valley for several days it was the perfect end to my vacation. As hosts, there are few people as generous and enjoyable as Kevin and Chris who not only included me in their Thanksgiving dinner, but treated my experience overall as top priority. I recommend their guest house and this experience to everyone.
Chad
2016-11-27T00:00:00Z
Tipo de habitación
Casa/apto. entero
---
Tipo de propiedad
Loft
---
Capacidad
2
---
Dormitorios
Palm Springs, California, Estados Unidos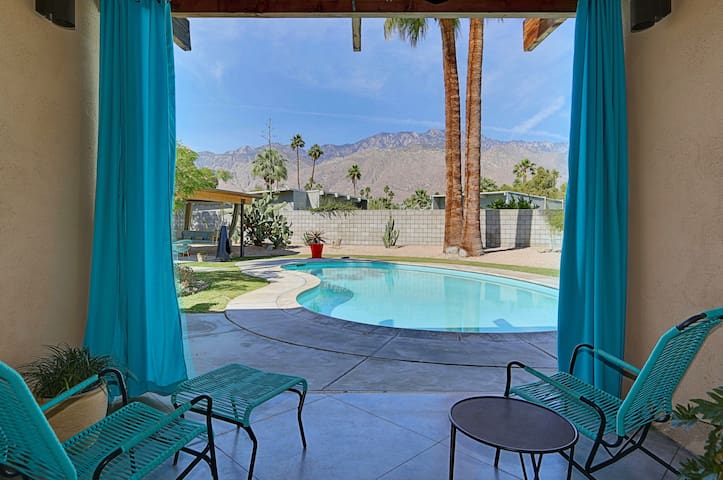 A peaceful and private mid-century modern studio fits two adults beautifully! An LGBT friendly retreat from the world with dual french doors looking out to private lush gardens, pool and hot-tub. Unobstructed desert mountain and valley views. Fully equipped kitchen, gas fire place, large modern bath with 2-person shower. Indoor / outdoor living as only can be had in the desert. Private outdoor clothing-optional space available upon request.
My artistic studio oasis is high up in Cathedral Canyon, away from the noise and bustle of the Coachella Valley cities, yet is only minutes drive-time from Trader Joes, Target, PSP airport, McCallum Theater and 8 miles from downtown Palm Springs attractions. Miles of hiking trails are nearby without getting into your car, and the large private gardens and yard, shared with the main house, allow clothing-optional living outdoors in your own private spa-like retreat. Peace and quiet of the Cathedral Canyon means beautiful stars in a dark night sky, coyotes howling at the moon and humming birds visiting during breakfast on the patio are all part of your stay here. During winter, fresh grapefruit can be picked from the garden and eaten for breakfast. Summer yields pomegranates, plumeria blossoms and cooking herbs, while year-round cumquats ripen for the picking. Upland and valley views of the distant desert up to 40 miles from the pool-deck, while nearby hills and mountains frame the vistas through the double-french doors from your bed.
The Mid-century Modern Artistic Oasis is located in a suburban neighborhood built in the early 1960's with single family homes with some small casitas / studios on 1/3-1/2 acre lots. We're high up in a canyon and our location is in a quiet cul-de-sac with almost no vehicle traffic. Downtown Cathedral City is 1.5 miles NE of the property, and the Big Horn Sheep Wildlife Refuge surrounds the neighborhood on 3 sides. The only noise heard in the neighborhood are the occasional dog barking, coyotes in the canyons howling at night, and numerous honey bees, song birds, hawks and humming birds who visit the waterfall and enjoy the flowering plants in the garden. We are high up in Cathedral Canyon about 700 feet in elevation above the Coachella Valley floor. There's miles of great hiking in the Big Horn Sheep Wildlife Refuge with rapid elevation-gain, views, peace and quiet without getting into your car. The edge of the refuge is a 5 minute walk from the property, and the trails are well marked. Carry water and snacks, and take out everything you carry in to keep our nearby desert pristine. Hiking maps are available to Airbnb guests in the back of the guest-guide-book provided.
Calvin and Jim made us feel very welcomed in their beautiful guest home. They were very responsive to all my email/text messages. Their Airbnb has everything that one would need for a wonderful stay, and the patio/hot tub/pool area was very inviting. Definitely a beautiful oasis that we would highly recommend!
Jennifer
2015-05-11T00:00:00Z
Jim was very gracious in accommodating us during our transition to Palm Springs. We had plenty of privacy in his relaxing casita. We definitely recommend Jim's place!
Michael
2016-04-28T00:00:00Z
This is my third time staying here. Everything was ready, it was easy to access. Even though Jim was not there he made sure to check in to see if everything was ok. It continues to be a wonderful quiet place for retreat.
John
2016-01-15T00:00:00Z
My host, Jim, was just great. He is charming and a perfect host. The casita was spotless, well appointed and I couldn't have asked for a more comfortable place to stay. Jim was able to answer any questions I had and directed me to wherever I needed to go. I have to say that floating in the pool at midnight beneath the stars and moon was heavenly. This was a great experience that I hope to repeat in the future.
Paul
2016-07-19T00:00:00Z
Jim's apartment is a haven nested against the gorgeous mountains of Cathedral City. My boyfriend and I stayed here for a weekend and we fell in love w/ the hot tub, amazing fireplace and beautiful bathroom. It has a full kitchen, which is nice for eating in and groceries. And anything we needed was not more than a 10 minute drive away. Couldn't ask for more. I highly recommend this place and we'll definitely be back!
David
2016-01-11T00:00:00Z
100 percent as advertised. Located in a quiet neighborhood overlooking the city, with easy access (driving) to most everything, the place is immaculate, comfortable and well-equipped (full kitchen). The pool and gardens are beautiful, and the grapefruit plucked from the tree was the best I ever tasted. Jim is a great host, easy to contact, and full of ideas for things to do and see. Definitely among the best places I've stayed.
Tom
2016-03-18T00:00:00Z
This place is a diamond in the rough close to everything but yet away
Tracy
2017-01-13T00:00:00Z
This is such a wonderful space! It has everything you could possibly need. I will definitely be returning. I had a fantastic time enjoying the pool and casita. :)
Jenn
2017-03-10T00:00:00Z
Tipo de habitación
Casa/apto. entero
---
Tipo de propiedad
Loft
---
Capacidad
2
---
Dormitorios
Cathedral City, California, Estados Unidos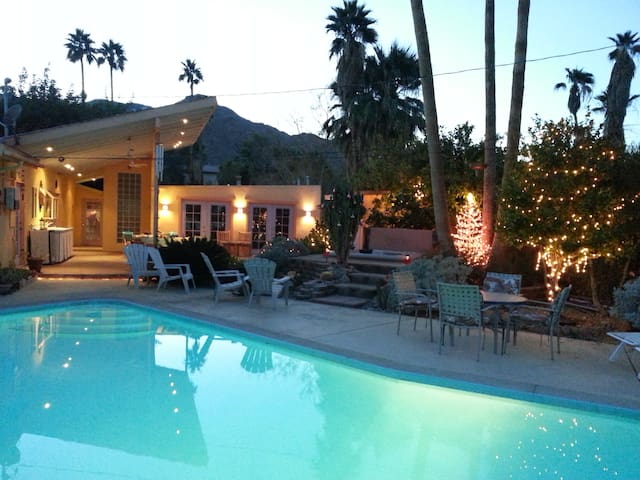 Loft studio over garage in the forest in Idyllwild, CA. Peaceful and serene...view of trees from every window and skylight. Queen bed with full bath and kitchenette (but no stove). 10% Riverside County occupancy tax to be collected upon arrival.
Rental unit available in bucolic Idyllwild, CA: The Loft -- a newer studio apartment above an oversized garage that sleeps two. Approximately 250 square feet of space. Includes reading chair and ottoman, writing desk, and small dining table with two chairs. Wonderful views of the surrounding forest. Come enjoy charming, rustic accommodations in beautiful Idyllwild in the San Jacinto mountains of Southern California. Situated near the Idyllwild Arts campus and less than one mile from the village center, Harmony Ridge is ideally situated for your vacation in the mountains. Enjoy all that Idyllwild has to offer: hiking on scenic mountain trails, wonderful restaurants, quaint shops, and the eclectic Idyllwild jazz scene.
Forest setting...clean cool air...easy accessibility to the village (3/4 mile)...nice café in easy walking distance (1/3 mile)
I would recommend this rogers loft. It is ina. Great location, close to downtown Idyllwild but still secluded and far enough away from town. If you have allergies to fur I would probably say to stay away, the place is dog friendly and while the place was pretty clean the rugs were full of dog fur.
Ashley
2017-01-15T00:00:00Z
Roger is an EXCELLENT host! We had such a great experience at the loft. First of all, it was clean, cozy and quiet! The windows and skylights offered lovely views of the trees and the bed was super comfortable. There was coffee, tea, a mini fridge, glasses and silverware available, and lots of TV channels (always good, haha). When we arrived, Roger had wine and cheese set out in the new pub area and we sat and chatted for awhile - what an awesome guy! I would definitely recommend this place for a relaxing getaway in beautiful Idyllwild. Thanks Roger!
Samantha
2014-09-29T00:00:00Z
Roger was an excellent host and we thoroughly enjoyed our stay in Idyllwild! The loft is clean and comfortable and exactly what you need for a weekend trip to the area. The loft is not far from key parts of town and you can access some great local restaurants just by walking. Roger is also very helpful with suggesting great places to eat and visit. If you are special he will even invite you into his wine bar next to the loft! - Overall great experience, would recommend this to anyone!
Greg
2015-04-27T00:00:00Z
Roger was an EXCELLENT host and I can't say enough about "The Loft in the Forest." It was absolutely adorable! Every amenity was thoughtfully provided. The room was professionally decorated with leather chair, ottoman, secretary and comfy bed. And Roger was the penultimate host. He even left coffee, cream and coffee cake by the door one morning. Skylights opened to towering pines with eagles, hawks, woodpeckers and jays. Paths led up the mountain. It was SO relaxing and peaceful - which is just what my husband and I needed as we waited for our house to close. This was our first experience with Airbnb and I can say without a doubt that we'll definitely return to Roger's mountain oasis. You'd be hard pressed to find a more tranquil, storybook setting. Thanks Roger! Thanks Airbnb!
Andrea
2015-04-03T00:00:00Z
Great host. Tranquil space. Very comfortable and well maintained - we will be back!
Nick
2016-10-23T00:00:00Z
The loft was a lovely, cozy place and fit our needs perfectly. We were visiting our daughter and the location was great, close to her with easy access to town. The weekend was very relaxing.
Marla
2014-10-14T00:00:00Z
Prior to our stay, Roger emailed us twice to provide some information about The Loft and where to find things and that it was clean and ready for our stay. When we arrived there were pamphlets about the areas restaurants, shops, and hikes and upon further inspection in the desk draw there was a binder that gave more information about The Loft including the wifi password. The Loft was very close to most of what Idyllwild had to offer. When we first arrived everything was set up nicely and the Loft appeared cozy, and we were impressed, but after actually walking around and exploring the The Loft, it was clear that the floor had not been cleaned at all. There was lots of white dog hair in all of the carpets ( clearly not vacuumed) and dirt and more hair on much of the wood flooring. We had brought our own dog because this was a pet friendly location, but pet friendly should not mean covered in pet hair and dirty. I also found a large earring piece on the carpet which further indicated it had not been vacuumed. Unfortunately, my husband was sneezing all night and the times that he left The Loft the sneezing stopped so it was not allergies to the outdoors in the Idyllwild area. The duvet/quilt on the bed also had various stains on them ( they may have been washed old stains? but no one wants to sleep in an unfamiliar bed that has mysterious stains on the bedding). We ended up sleeping there 1 one night because we arrived very late and night and had no other choice. The next day we called every other hotel in the area and they were unfortunately all booked for the weekend so we had to cut our weekend get away short. Roger did provide us with a full refund and apologized our negative experience with The Loft which we appreciate, however, we were very sad that our weekend that we had planned and waited for was cut short and ruined by our room being dirty/ full of allergens.
Christine
2015-04-20T00:00:00Z
Roger's Loft studio was wonderful! He has installed a new kitchenette which was really handy in whipping up sandwiches before heading out to our hikes. The pictures also don't do it justice - there are 2 beautiful skylights, such wonderful natural light - you feel like you're up in a tree house! He was the perfect host, available and helpful when we needed him, yet let us have our space. We will be back and would highly recommend to anyone else!
Claire & Daniel
2015-10-19T00:00:00Z
Tipo de habitación
Casa/apto. entero
---
Tipo de propiedad
Loft
---
Capacidad
2
---
Dormitorios
Idyllwild-Pine Cove, California, Estados Unidos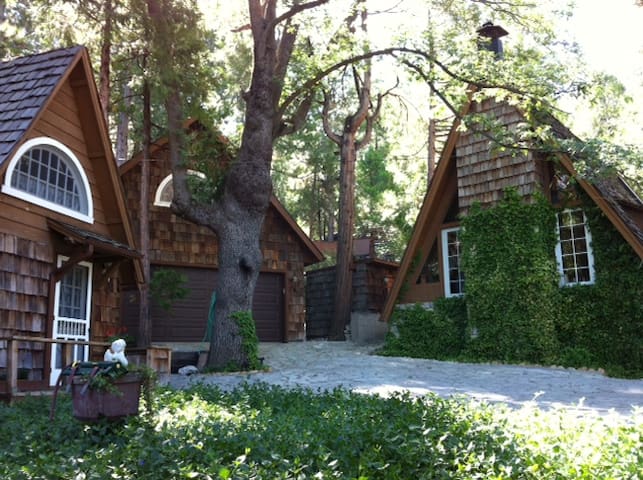 Industrial loft 11 min away from Desert Trip Festival, Coachella/StageCoach site, This listing is for the lounge in my recording studio, comfy COUCH to crash on and can set up air mattress for 2nd person, this place is all vibe and vinyl ! Feel free to ask any questions
This is a working recording studio so if you get inspired to jam and record that can be worked out, additional cost apples for studio time. Of course we have a stripper pole for exercise of course. 2 min off Freeway exit and 11 min to site Private room with comfy couch for one person and portable air mattress for other, Small dog friendly and there is a big dog park literally 2 min walk away. This spot is all about positive energy and creativity, I'm a professional musician and artist and this is my creative heaven, if you're like minded you will love it here. I will be working in studio FYI The vinyl is OFF limits to guests due to miss use.
Winco grocery store 3 min away open 24 hours, Walmart same distance open till midnight Target same distance open till 11 pm, Tons of Restaurants nearby Amazing mexican and Phó close by!
I had a really good time staying at Arthur's place. He is very nice and fun and make me feel I was on one of my friend's house. He definitely was always helpful and very easy to talk with. I recommend his place 200%, when I go back to Indio I will stay there again. As he mentioned on his post the place is full of good vibe and vinyl, that's so true. I went for Coachella festival and the place is located 10 mins by car from there so very close. Thanks Arthur for everything!!! :)
Linda
2016-05-04T00:00:00Z
Room was as described and it was comfortable. Arthur was easy to talk to and made sure if I needed anything or had any questions to just let me know. He was a good host and definitely helped me out in a short notice situation. I would stay here again if I'm ever in the area and need a place to stay. Also it was nice of him to leave a bottle of water and an energy bar on the spare air bed. It definitely was needed after my first day of stagecoach.
David
2016-05-02T00:00:00Z
Arthur is a courteous host and responded quickly in a desperate time. Unfortunately I did not actually end up staying at his home due to some highly unforeseen circumstances, but he refunded the money, even though I did not expect one.
Carla
2016-04-18T00:00:00Z
Tipo de habitación
Habitación privada
---
Tipo de propiedad
Loft
---
Capacidad
2
---
Dormitorios
Indio, California, Estados Unidos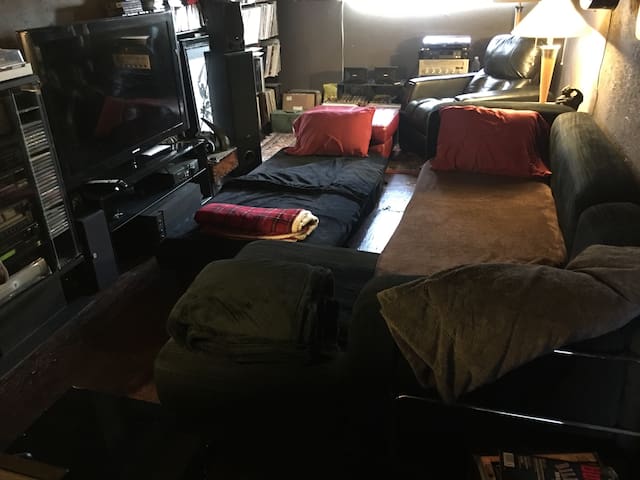 IMPORTANT NOTE: 2 HUGE BUNKS AVAILABLE - $54 PER PERSON ONLY 6 people stay in the whole place so its not crowded. 5000 Square foot Party loft with COMFY BEDS, new sheets and blankets LOUD amps. HUGE dance floor with lighting and custom art walls in black light. Fast Wireless No Volume limitation you can rock til dawn. There are no neighbors. Pool table, Ping Pong, Movie Screen, Beanbag toss, JACUZZI, Huge Kitchen, Bathtub AND Shower..many more features in this one-of-a-kind space!
Giant Movie Screen with HBO, Netflix, Amazon Prime Video and basic Network Channels 3 Bathrooms and Shower and Tub 15 Foot tall Bunk Beds - top 2 Bunks each have their own TV AC/Heat Huge Kitchen and also outdoor BBQ
Griffin was super cool and the loft was amazing. It was just as cool as the pictures make it look. We had the best time and Griffin was so chill and welcoming. Highly recommend this place for parties or get togethers. Would love to go back again and will be recommending this place to friends. Thanks Griffin for the good times :)
Stephanie
2016-11-06T00:00:00Z
The host canceled this reservation 4 days before arrival. This is an automated posting.
Jonathan
2016-11-07T00:00:00Z
Interesting experience.
Dave
2017-01-01T00:00:00Z
Tipo de habitación
Habitación compartida
---
Tipo de propiedad
Loft
---
Capacidad
6
---
Dormitorios
Palm Springs, California, Estados Unidos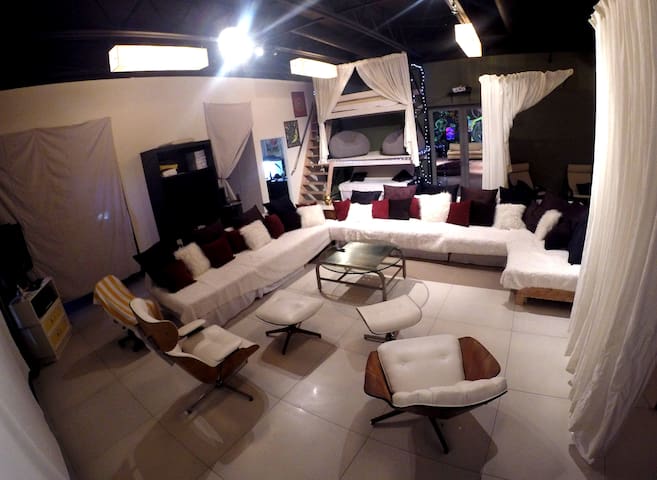 Surrounded by National Monument trails yet close to stores and restaurants in Palm Desert. Apt. has brand new appliances, and fully stocked. Beautiful view of mountains. Very private and serene. Separate small, shaded corral for 1 horse or 2.
Trails leads right off the property. Beach access is 1 and 1/2 hr drive. Palm Springs, Arial Tram, Joshua tree Nat. park and White water easy drive. Shopping in Idyllwild or relaxing with the grill outside. High desert Pinyon Pine surroundings.
Few neighbors. Dirt roads. No street lights.
Tipo de habitación
Casa/apto. entero
---
Tipo de propiedad
Loft
---
Capacidad
4
---
Dormitorios
Mountain Center, California, Estados Unidos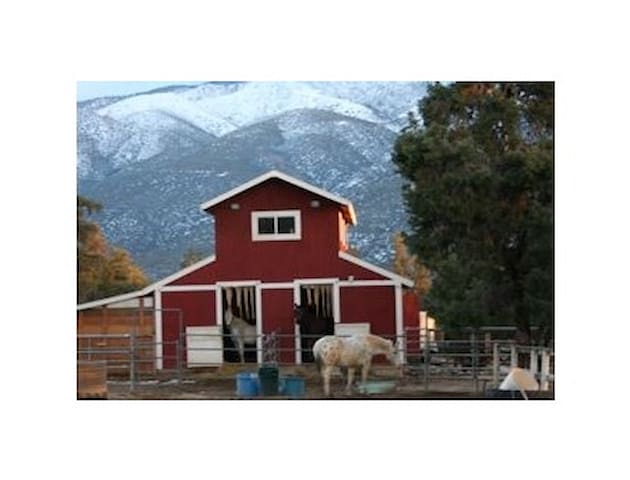 Introduce las fechas para ver el precio total. Ten en cuenta que se aplicarán tarifas adicionales y es posible que se añadan impuestos.