Nestled amongst the Lake Winnipesaukee area in beautiful New Hampshire sits this rustic lakefront carriage house on peaceful Mirror Lake, minutes to Wolfeboro NH, close to dining, shopping and a short drive to New Hampshire's White Mts National Park Region
Carriage House second floor Studio Loft with a rustic log cabin feel, on the shore of Mirror Lake with mountain and lake views from every window. Queen size bed, full bath, futon couch, fridge, microwave, coffee maker, dishes, utensils, drink ware, bedding, towels, shampoo, conditioner, hair dryer, 42in flat screen TV, dining space and living room area. Limited wifi. There is a grill and outside seating. A separate entrance affords privacy, parking for one car included.
We are located on the shore of a quiet private lake. Wedged between Mirror Lake and Lake Winnipesaukee, with beautiful views of majestic mountains, off the beaten path on a private country road. Quiet neighbors in a relaxed setting with North Country comfort. Listen to the loons or watch a beautiful sunset lakeside or on a romantic canoe ride. The Lakes Region of New Hampshire is host to numerous attractions and activities including boating, shopping, antiquing, dining, seasonal foliage, hiking, and exploring New Hampshire's natural beauty.
Beth & nick made us feel very welcomed, everything was just perfect more than we expected I love taking pictures of the loons and the lake was just beautiful. We love it up there.
Tara
2016-08-09T00:00:00Z
This was a wonderful place! Beth and Nick were wonderful-very welcoming and kind. The loft itself is very clean, cozy and comfortable with a lovely view of the lake. We couldn't have asked for a better place to stay!
Craig
2016-08-12T00:00:00Z
Beth & Nick were very welcoming! And the accommodations are superb! The view from bed of the lake is a great way to wake up each morning. They offer use of 2 bikes as well as a canoe & grill. And you're welcome to sit on the dock, in the yard, etc. We took the pastries & fruit that they provided down to the dock with our coffee and enjoyed very nice breakfast on our first morning. And the canoe trip we took on the lake at sunset was a great way to decompress. Highly recommend!
Tim
2015-09-28T00:00:00Z
Kate and I had an amazing experience. Beth and Nick were delightful hosts and insightful. It was good to come from an overloaded work schedule and enjoy the lakes of tuftenboro and wolfeboro. There are a lot of bonuses to stay with Beth and Nick, including but not limited to bicycles, a canoe, a gorgeous loft, and a lake that is much warmer than major lakes in the area.
Joseph
2015-07-04T00:00:00Z
This was an absolutely perfect getaway! Beth and Nick were lovely hosts - friendly and helpful but not intrusive.
Emma
2016-05-30T00:00:00Z
This place is amazing! One of my favorite Airbnb stays yet. Beth and Nick are warm and friendly, and made us feel welcome to their home. They had many nice touches – when we arrived they had a plate of tasty croissants and muffins, yogurt, cheese/crackers, coffee/creamer, and hershey's kisses. They also had a nice hand written welcome note for us, and a booklet with tons of recommendations for local attractions and restaurants. They had thought of everything – there were plenty of towels, beach towels for the lake, a basket of extra toiletries, etc. Beth and Nick were particularly gracious in giving us a late afternoon check out on Monday: we had come up for a weekend when it rained on Sat & Sun, and they let us stay late on Mon so that we could canoe and swim in the beautiful lake. This was so generous of them, and really completed our stay as we had a blast on the lake in the sun that day. The unit is beautifully done, even nicer than it appears in the photos. All of the materials are top quality – gorgeous wood walls, floors, and ceilings, and a beautiful tiled shower and modern bathroom. The unit even has a window with a great view of the lake. The property is right on Mirror Lake, and you have access to their canoe to paddle around the lake and swim. Mirror Lake is gorgeous – I think it's nicer than Winnipausakee itself, as it's smaller and warmer. It has a beautiful mountain in the backdrop, and the water is clear and refreshing. Highly recommend this place – we will be back!
Kristin
2016-07-12T00:00:00Z
If you are looking for a peaceful getaway, look no further. The place itself was fantastic and the location was convenient -situated on serene mirror lake, with easy access to the larger Lake Winnipesaukee and surrounding towns. As an added bonus - never have I had such a welcoming experience with an Airbnb.
Nicolas
2016-08-15T00:00:00Z
Beth and Nick were warm and welcoming, from start to finish. From inviting us to join them around an evening fire, to reminding us to enjoy the dock, a paddle on the lake and a bike ride (on bikes they provided), they extended their warm hospitality while still ensuring we had our privacy. The loft was provisioned with all we needed for breakfast - scones, fruit, coffee - the place was immaculate and so so peaceful. Beth made sure we knew what was going on in town, and provided a list of restaurants and things to do. We only wish we had more time to do it all! We definitely want to return.
Leslie
2015-07-20T00:00:00Z
Tipo de habitación
Casa/apto. entero
---
Tipo de propiedad
Loft
---
Capacidad
2
---
Dormitorios
Tuftonboro, New Hampshire, Estados Unidos
Mountain Edge Resort & Spa at Sunapee 5 pools, Gym, Spa, Tavern. Luxury accommodations at Lake Sunapee and Mount Sunapee.
Listing was just as described - It is located within a hotel/resort with all the amenities associated with such, while having access to a small kitchen, living room and balcony that provide the comforts of home.
Megan
2016-08-05T00:00:00Z
Great time for 4 adults 4 kids!
Kelly
2017-02-24T00:00:00Z
Great spot, close to the mountain.
meghan
2017-01-23T00:00:00Z
Awesome spot!
Ryland
2017-03-05T00:00:00Z
Nice place. Easy to book. Perfect for skiing at sunapee
Carolyn
2017-02-12T00:00:00Z
This place was amazing close to the slopes and a great spa
Jonathan
2017-02-26T00:00:00Z
Our stay at The Mountain Edge was just perfect. It had all the comforts we could need, great location and wonderful view. We wanted to spend a few nights in New Hampshire enjoying the fall foliage with our two children. It rained one of the days, but that didn't stop us from enjoying the adventure ropes course at Mt. Sunapee part of the day and on our down time, we had a great time enjoying the indoor pool, jacuzzi, sauna and lap pool. Tom and staff were courteous and helped offer suggestions for dining. On our last day, Tom suggested a great hike on Mt. Sunapee and directed us on a route to offer the best views in the time we had remaining. Very "home like feeling" from the library full of children's and adult books, games and movies. We are looking forward to returning for a ski weekend this winter and would stay here again!
urania
2016-10-10T00:00:00Z
Tom's condo was perfect for my group in town for a wedding.
Aaron
2016-09-05T00:00:00Z
Tipo de habitación
Casa/apto. entero
---
Tipo de propiedad
Loft
---
Capacidad
8
---
Dormitorios
Newbury, New Hampshire, Estados Unidos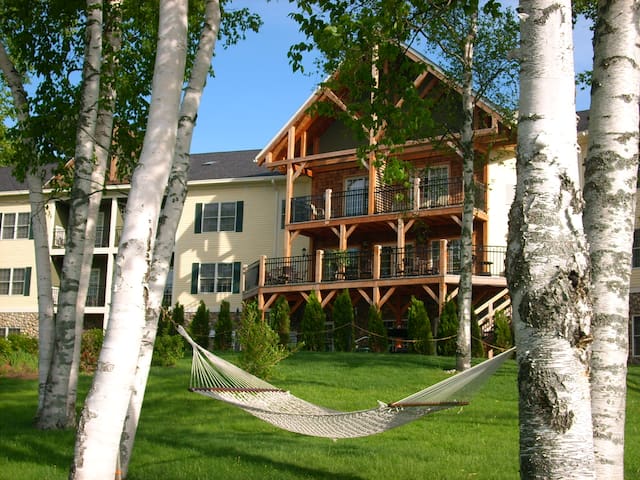 Amazing time of year for awesome skiing and snowboarding season! Don't miss out! *First time using airbnb. Must book before end of Dec (sorry for short notice) Will give res # when check received. No refunds.
2 floor loft with a kitchen and pretty big sized living room. Can sleep 6 (7 with couch, 8 if you can get an available cot or bring a blow up mattress) Also small outdoor balcony
(URL HIDDEN)
Tipo de habitación
Casa/apto. entero
---
Tipo de propiedad
Loft
---
Capacidad
6
---
Dormitorios
Lincoln, New Hampshire, Estados Unidos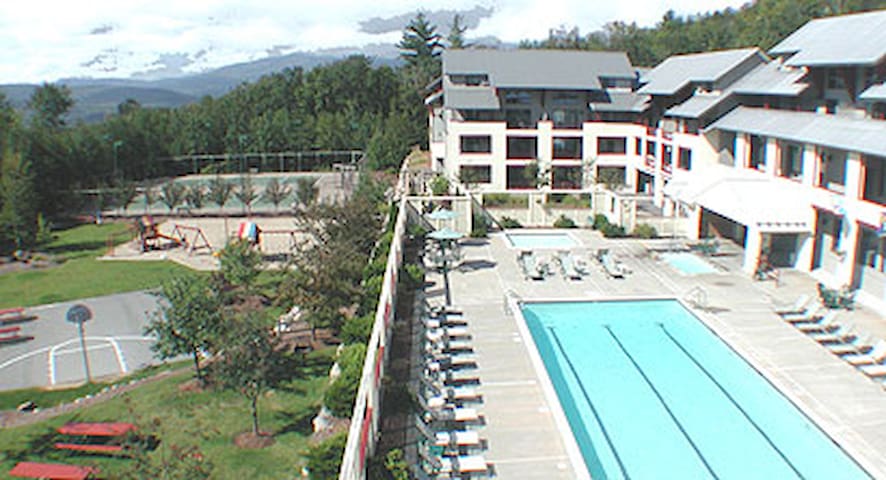 Este lugar es ideal para la generación más joven o grupo grande de. Estamos a poca distancia de la estación de esquí de Mount Sunapee. Ofrecemos un servicio de transporte gratuito desde y hacia la montaña, así como el lago.
Cool Spot! Rudi was a great host!
Tess
2016-12-31T00:00:00Z
Tipo de habitación
Habitación privada
---
Tipo de propiedad
Loft
---
Capacidad
6
---
Dormitorios
Newbury, New Hampshire, Estados Unidos
Situado en el centro a 3 cuadras del centro de la zona Concord. Amueblada concepto abierto 3er piso elevado. cama de matrimonio, sofá de cuero en forma de L, Smart TV, Internet, abastecido cocina, baño de 3/4. ropa de cama y toallas de monedas op. lavadora secadora aparcamiento en la calle.
Ellen is kind and welcoming. She was flexible and able to accommodate my arrival time. The space was private and architecturally interesting, as well as well located in downtown Concord. The bed was comfortable and the towels clean. Unfortunately the wifi, while available, was slower than optimal.
Caitlin
2016-10-02T00:00:00Z
Ellen was very accommodating in regards to my uncertain arrival time. She was willing to meet me with a 30 minute notice. The place is clean, quiet, and very comfortable.
Anthony
2016-03-16T00:00:00Z
Very gracious and loving home. The space was clean and the hosts were friendly
Eric
2016-09-12T00:00:00Z
Nice location!
Rachelle
2016-11-12T00:00:00Z
Ellen was very nice and the house was in a quiet neighborhood close to downtown and easy to find.
Catherine
2016-10-16T00:00:00Z
Cozy, elegant, minimalist. Thank you so much Ellen for a wonderful experience in Concord. The loft was so cool and all the good places were a short walk away. You were so friendly and accommodating and you really made us feel at home and welcome! Million times better than a hotel.
Daniel
2016-08-07T00:00:00Z
Nice space. Quiet, fun, easy. Ellen was the perfect host. We traveled to Concord from Massachusetts for a #24 hour vacation. Saturday night out - dinner at The Crazy Goat and a great live concert of Cape Brenton/Celtic fiddle music at the Concord City Auditorium. The morning after we enjoyed breakfast at Tuckers, followed by some good thrift store action and window shopping on the main drag which was a ten minute walk away. Thanks Ellen.
Timothie
2017-03-05T00:00:00Z
Ellen was welcoming and kind. The lofty was a very cool space and only made our visit more enjoyable. Her place is a 15 minute walk to town making it an ideal location for a weekend away. Thanks so much, Ellen!
Lindsay and Bill
2016-04-19T00:00:00Z
Tipo de habitación
Casa/apto. entero
---
Tipo de propiedad
Loft
---
Capacidad
4
---
Dormitorios
Concord, New Hampshire, Estados Unidos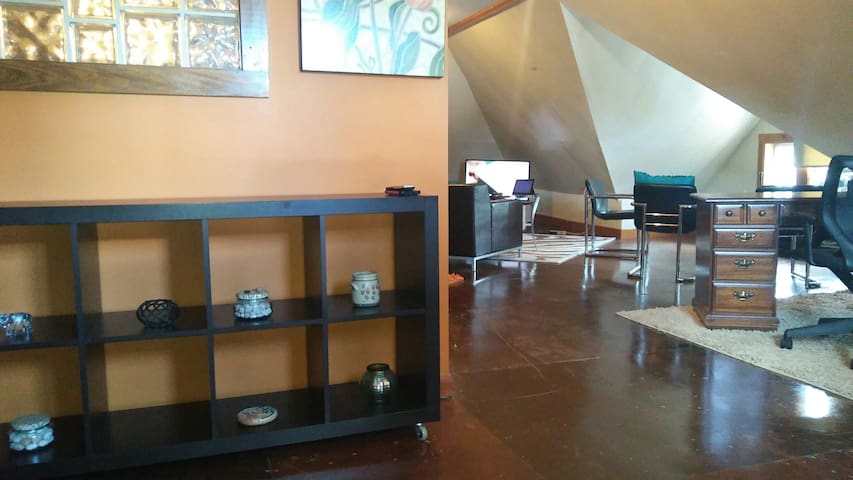 Brístol - Airbnb
:
Una media de

4.8

estrellas de un total de

5

de

45

evaluaciones de huéspedes
Introduce las fechas para ver el precio total. Ten en cuenta que se aplicarán tarifas adicionales y es posible que se añadan impuestos.