Tengo una habitación tranquila disponible, con una cama doble, baño privado, baño y vistas al jardín. Recoger, dejar y un desayuno completo Inglés (muy tarde o muy temprano no hay problema!) Están todos incluidos. El aparcamiento también está disponible bajo petición.
Tengo 10 minutos del aeropuerto de Gatwick y con recogida / entrega incluido en la tarifa, se encuentra la paz rural y la tranquilidad del inicio ideal o terminar con su aventura Reino Unido o los viajes al extranjero. Incluido en el precio son un desayuno completo Inglés, y un ascensor a / desde el aeropuerto o estación. Situado en el campo con los campos y el aislamiento, este es el corazón rural del sur de Inglaterra -, también está a 30 minutos del centro de Londres en tren. Reigate cercana ofrece muchas características de interés, incluyendo el Priorato Priorato con parque, un castillo normando y muchos paseos de campo en las llanuras del norte. No se preocupe de recoger temprano ups o dejar caer offs - Soy un elevador muy temprano. Me gusta la compañía de mis invitados Airbnb, y escuchar acerca de sus vidas y sus planes de viaje. Hay otros alojamientos que aparecen que están más cerca del aeropuerto de Gatwick. Si el ruido de los aviones a reacción en un concurrido apelaciones al aeropuerto las 24 horas, a continuación, estas alternativas son para usted.
La zona es un paisaje tranquilo, con un montón de paseos y aves para ver.
John was an absolutely super host - we could not have asked for more. Following a nightmare journey to our destination John could not have made things easier for us. We settled very quickly thanks to great hosting skills and slept like logs too. And then there was the breakfast - full marks on every front and a great start to the day. As our first airbnb experience we could not have been happier with our choice.
Ian
2014-05-05T00:00:00Z
What a good choice we made to start our trip through England at John's house. He and Judith were just lovely, very concerned about our comfort and well-being. Merci beaucoup, cher John, c'était super. Si l'occasion se représente, nous y retournerons sans hésiter!
marie
2015-08-02T00:00:00Z
John and Judith were warm, friendly and welcoming hosts in their comfortable home, in a lovely, peaceful rural setting. John makes the best breakfast in the south of England! I would definitely visit again.
Victor
2015-07-29T00:00:00Z
What wonderful hosts and his girlfriend Judith are. They make you feel welcome and at home immediately. It was so nice to be picked and dropped off at the airport, particularly after traveling for a few weeks prior, getting tired and preparing for my final leg home. John's home is lovely and as mentioned by others has a lovely garden outback which just adds to the charm of his place. John and Judith kindly invited me to dinner for one of John's perfectly cooked roast chickens served with Judith's outstanding gravy :-). It was by far the best of my B&B stays and a perfect end to my vacation.
Suzanne
2012-09-22T00:00:00Z
John's house was a perfect place to stay the night before our flight the next morning from Gatwick. We had a warm, friendly welcome and then slept peacefully to be woken to the sound of birdsong in John's fabulous garden. My husband and I enjoyed a delicious fresh fruit salad and a beautifully cooked massive English breakfast. This was all topped off by a lift to Gatwick airport. John is an extremely friendly host with many interesting stories and he will go the extra mile to make sure you enjoy your stay. When we return we will definitely stay longer than one night.
Angela
2014-05-22T00:00:00Z
John and Judith were extremely welcoming, especially given our late arrival. John's house is a tranquil haven which takes you by surprise being only 10 minutes from Gatwick. We had forgotten our bag with papers/boarding passes etc in and John very kindly let us print off new passes (and supplied toothpaste), thus alleviating my partner's growing panic! John prepared a light breakfast and even ran us to the airport at 4.30am for which I am eternally grateful. I was impressed with his intelligent and gracious manner and would thoroughly recommend him and his lovely home.
Jennie
2015-08-18T00:00:00Z
John and his partner Judith did everything possible to make us comfortable. John's home is in a very quiet, rural area (even though 10 minutes' drive from Gatwick), and has a lovely garden with bird feeders so you can watch the woodpeckers eating breakfast as you have yours. We had our own bathroom and shower, lovely bed linens, and a nice wardrobe for our things. John and Judith are also interesting people, and well-travelled. This would be a very pleasant introduction to England before heading out elsewhere, or a great base for exploring London attractions if you would prefer a rural setting. Would heartily recommend!
Laura
2011-06-19T00:00:00Z
John was very friendly and hospitable. The house is in a lovely secluded location and the room was clean and comfortable. John made me a cooked breakfast in the morning and even picked me up and dropped me off at the railway station, which was very kind.
Andrew
2014-08-16T00:00:00Z
Tipo de habitación
Habitación privada
---
Tipo de propiedad
Bed & Breakfast
---
Capacidad
2
---
Dormitorios
Reigate, Reino Unido
Modest but cosy double room in quiet road in Dorking town centre, Parking off or on road. Breakfast, towels and Wifi included. We are surrounded by the Surrey Hills but central London, Gatwick and the coast are all less than an hour away.
We would like to welcome you to our relaxed family home. The room is off our kitchen/dining room, which you will be able to use along with the bathroom on the ground floor (not shared). The bed is in fact a sofa bed but with a new memory foam mattress topper it is surprisingly comfortable.
Horseshoe type road. Quiet. It is a 5 minute walk to Sainsburys , and 10 to Waitrose . A big variety of local and charity shops,for example Oxfam , British Heart Foundation and many more. A range of pubs nearby.
Brilliant. They are a most friendly and helpful family that accommodated all my requests through the week and even giving me a lift into town when it was raining down. The house is well situated - do NOT go by the location on the listing, it is much closer to the town centre than that - and spick and span. I look forward to staying there again whenever I'm working in Dorking during the week.
Ashwin and Sneha
2017-03-24T00:00:00Z
Very friendly and helpful - faultless!
Peter
2016-12-11T00:00:00Z
Thank you guys for welcoming me into your lovely home. They were very keen to please and were very hospitable, the room and home was very clean. I was provided with everything I needed from use of my own bathroom down to leaving me some space in the fridge! The bathroom is very modern and well looked after. The continental breakfast was great, the neighbourhood is quiet and nice area and did I mention the hosts were great? Very sociable but not overly by any means, genuine people so I have to give them a lot of sugar ;) Very recommended, thanks again!
chris
2015-10-10T00:00:00Z
Kevin and Wendy are excellent hosts. They make you feel very welcome in their home. The room is a good size with a comfy double bed, and the bathroom has a good hot shower. I wouldn't hesitate to recommend this b and b. Many thanks.
Steve
2015-11-14T00:00:00Z
My stay at Kevin's place was perfect, the house is a short walk to the high street in Dorking and 15 mins to the train station. The bed is comfortable, breakfast is good and Kevin is flexible with check-in and check-out times. Most of all, Kevin and Wendy are very nice people, he even lent me a tie as I forgot to take one for the wedding I had that weekend!
Marco
2016-12-19T00:00:00Z
Very clean, ideal location for Dorking High Street. Very flexible and accommodating - we had a great stay, thank you.
Alan
2017-04-09T00:00:00Z
A very warm welcome from great hosts, room was clean and cozy with a very comfortable bed. Thank you :-)
Mick
2016-01-11T00:00:00Z
Nous avons été très bien accueillis par Wendy, Kevin et leur gentille petite fille Poppy. Nous avons bien apprécié échanger avec nos hôtes. Ils ont su nous mettre à l'aise. La chambre était confortable et nous avions une salle de bain privée. La chambre est à proximité de plusieurs sites à visiter. Très bon déjeuner.
Suzanne and Sylvain
2015-09-23T00:00:00Z
Tipo de habitación
Habitación privada
---
Tipo de propiedad
Bed & Breakfast
---
Capacidad
2
---
Dormitorios
Dorking, Reino Unido

Safely leave your car if flying to/from Gatwick. Ten minutes drive from Gatwick but so secluded you won't be disturbed by planes flying overhead. Bright and Spacious Annex, set on three acres with spectacular views. Unique rural hide-away, yet close to market towns of Reigate/Dorking M25/M23 network, London (35 mins by train) South Downs/Brighton/and beautiful National Trust properties. Walk in unspoilt countryside, discover friendly country pubs and just be in the midst of wonderful nature.
Spacious kitchen/diner, sitting room, bathroom, attic bedroom. High quality wooden floors throughout. Please note stairwell to attic double bedroom open on one side (wall with side rail on other). Bathroom downstairs. Another Sofa bed downstairs.
Relaxing walks through the wonderful countryside, find local country pubs, hike on Box Hill/South Downs. Close to Denby's Vineyard, Mersers Park Lake, golf courses and lots of National Trust properties. Shopping Guildford, London and Croydon as well as unique individual shops and cafes/bars in Reigate.
It is a lovely home - very isolated - but once we'd found it it was worth the drive. Tom and Tess were very welcoming and really went the extra mile to ensure we were happy there. Additionally they were very understanding and accommodating regarding jet lag and breakfast needs. I would highly recommend this home to any traveller(s) looking for somewhere with a bit of peace and quiet at the end of busy days - my only warning would be that it was hard for both my boyfriend and I to find signal to reach Tom and Tess once we'd found their postcode, so it would definitely be worth discussing that more beforehand.
Annabelle
2017-04-09T00:00:00Z
A lovely stay in a idyllic location and at great value! Would definitely stay again. Tom and Tess were the perfect hosts - Highly recommended!!
Daniel
2017-03-26T00:00:00Z
Tipo de habitación
Casa/apto. entero
---
Tipo de propiedad
Bed & Breakfast
---
Capacidad
2
---
Dormitorios
Surrey, Inglaterra, Reino Unido
Self-contained flat in central Dorking, within The Waltons B&B. £100 for Double occupancy. Extra £20 per person (up to a total of 4 in the flat) Price includes a continental breakfast.
A self contained flat (1 double bed, plus 2 single beds available) within a beautiful listed house in a conservation area, with wonderful views over the north downs. Entire lower ground floor of a large victorian house. With sole use of a kitchen, bathroom and separate shower room; also a private terrace.
An ideal base from which to explore the richly historic town of Dorking and it's surrounding countryside. The house, built in 1830, retains all of its original features and overlooks a green field, full of sheep. Despite being only meters from the main high street, you feel as though you are in the middle of the countryside. Dorking is a bustling old market town, full of lovely shops (vintage, antique, gifts, coffee) and offers a whole host of different restaurants.
We were made to feel very wlecome by our host and the listing was acurate. Gorgeous flat, with patio, lounge room, bedroom, kitchen and bathroom, plus a fabulous shower room and shower. All vewry clean and marvelous decor. Beautiful house overlooking a sheep field but in the centre of Dorking, very peaceful. The host wa slovely and the house smelt of delicious freshly baked cake. Very comfortable and a large space, beautiful bed. We were there with a toddler and a baby and it was a great space. Would definitely stay again.
Sarah
2015-06-03T00:00:00Z
I absolutely LOVED staying at Margaret's BnB – I would return in a heartbeat. It's not only a beautiful place – but also is within walking distance of the gorgeous Surrey hills and vineyards. Thank you for a wonderful stay!
Scott
2016-08-15T00:00:00Z
Warm friendly welcome. Fantastic accommodation, very spacious and equipped with everything you could possibly need. Lovely breakfast the next day. Makes you wonder why you ever stay in a hotel.
Sheila
2016-08-08T00:00:00Z
Great accommodation Walking distance to dorking centre Everything as described and more Would definitely stay again
Tim
2017-03-29T00:00:00Z
Very comfortable room. Maggie was very helpful in providing me alternative access to the house (I have a broken ankle) so I could minimize the stairs. We were in the self-contained unit so only had breakfast upstairs once but it was plentiful and Richard was very pleasant. The house is very well situated, an easy walk to everything, even with a fracture boot on. My only negative comment is that being in the downstairs flat you could hear people talking and watching TV and every step they took but it is an old house. We found it to be cold but as we came from the middle of an Australian heatwave we expected that! The only other thing was that due to the mirror in the bathroom having a picture of Marilyn Monroe on it we found it very difficult to do our makeup. There was also no powerpoint in the bathroom so I had to dry my hair at the dining table...
Stephanie
2016-01-16T00:00:00Z
It was a great place to stay! The flat was lovely and our host very welcoming and gave us everything we needed. We felt like home and the location is perfect too. I would definitely recommend it to my friends!
Fausta
2016-07-11T00:00:00Z
We had a very comfortable stay at this well located BnB. We were made to feel very welcome and were sorry to not have more time to make the most of our stay.
Khan
2015-07-06T00:00:00Z
Lovely place. Great location.
Sinead
2016-08-29T00:00:00Z
Tipo de habitación
Casa/apto. entero
---
Tipo de propiedad
Bed & Breakfast
---
Capacidad
4
---
Dormitorios
Dorking, Reino Unido
I have a very comfortable double bedroom available in my lovely house on the border of Redhill & Reigate. Our location is really convenient for the M25, Reigate & Redhill (30min train ride to London Victoria). You'll be staying in a private bedroom with a very comfy double bed. The room has a large desk, wardrobe, soap, shampoo, hairdryer, iron and tea/coffee making facilites. The house has high-speed Wifi internet
As well as your private double bedroom, you'll have access to a brand new shower room. There is an iron, radio, hairdryer, tea/coffee and cereal bars in your room as well as TV and DVD .
The house is located in a lovely, quiet road on the border between Redhill & Reigate.
Lovely one night stay, very comfortable and Mel made sure I had everything I needed on arrival.
Rosie
2016-07-14T00:00:00Z
Mel and Jon were very welcoming and friendly hosts and nothing seemed too much trouble. The room is lovely with very appliance needed and the bed very comfy whilst the bathroom is gorgeous and very spacious. There was plenty of hot water, everything worked perfectly and Mel ensured l understood how the shower worked. The area is really nice and the road easy to find not too far from the town. The in room breakfast was also just perfect for me. - Oh and of course everything was beautifully clean. Thank you both you are doing a great job here.
Joy
2016-06-16T00:00:00Z
Extremely hospitable with text, email and personal greeting. Could not be better.
John
2016-09-17T00:00:00Z
Was Airbnb was perfect for us as we were in the area for a wedding. Mel was extremely welcoming, flexible on our arrive and made us feel at home. The room was clean and comfortable with amazing amenities. Would definitely recommend anyone staying in the area looking for a room to stay. Thank you Mel.
Daniel
2016-07-18T00:00:00Z
Mel and John are great folks, and I thoroughly enjoyed my stay. Mel has outfitted the room wonderfully, and has gone above and beyond supplying everything/anything you'll need. I especially appreciated the snacks and beers left for me, and the personal note left for me when I returned late evening. I did think the bed a bit stiff, but I have heard that's more healthy. If business or holiday brings you to Redhill, I recommend you stay here.
Chris
2017-01-28T00:00:00Z
Tipo de habitación
Habitación privada
---
Tipo de propiedad
Bed & Breakfast
---
Capacidad
2
---
Dormitorios
Surrey, Reino Unido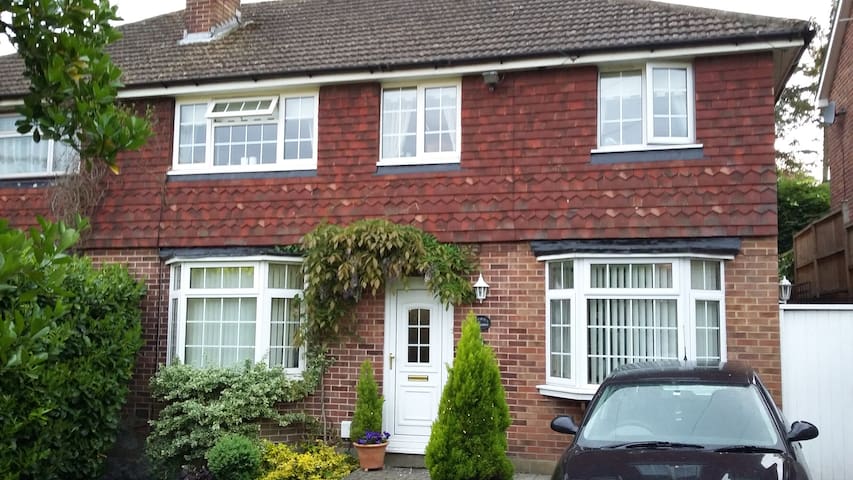 A beautiful family run bed and breakfast set within the North Downs situated between Dorking and Reigate and close to Boxhill. There are 3 Double en-suite bedrooms available all together with prices starting from £80 per room, which includes breakfast. Each room comes equipped with a television, tea and coffee making facilities and a kingsize bed. A guest lounge is also available complete with wood burner and sky television.
Brockham Village is a 10 minute walk with a picturesque village, offering local pubs and restaurants.
Tipo de habitación
Habitación privada
---
Tipo de propiedad
Bed & Breakfast
---
Capacidad
2
---
Dormitorios
Betchworth, Reino Unido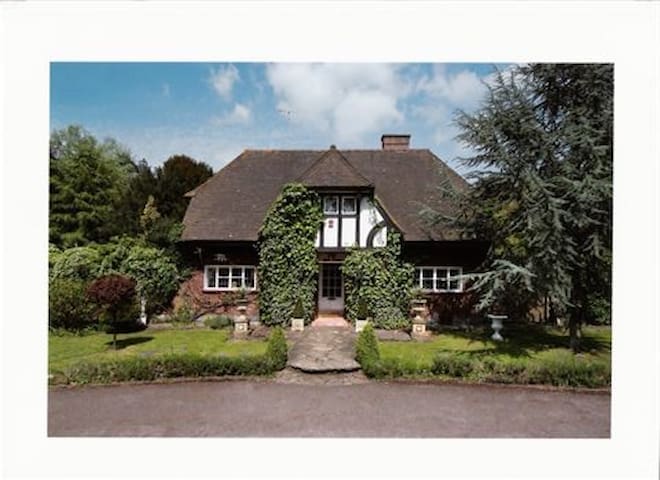 Buckland - Airbnb
:
Una media de

4.91

estrellas de un total de

5

de

183

evaluaciones de huéspedes
1

–

6

de

6 Bed & Breakfasts
Introduce las fechas para ver el precio total. Ten en cuenta que se aplicarán tarifas adicionales y es posible que se añadan impuestos.