Rustic on the outside - modern within. Nestled in a mature hardwood forest. Romantic and private getaway under an hour north of Toronto. Fireplace. Complete kitchen. Bath and Shower. Queen bed. Hike, snow shoe, cross country ski, skate on the pond.
. A unique and private cabin, fully equipped and stocked with everything you might need (except your food and drink). Perfect for a weekend retreat or mid week getaway. Many nearby conservation areas and access to trail systems for hiking, biking or cross country skiing. Well mannered pets are welcome. Please note. Parking for one vehicle only unless special arrangements are made in advance. Pull up to the door with your supplies and make yourself at home. We do live on the property and are available for directions and advice, but your privacy and comfort are our first concern. Our property is tucked away in a mature hardwood forest. The only distractions are the singing of birds, the scratching of squirrels, the splash of rainfall on a tin roof, the whoop of the steam train whistle from Tottenham, and on weekdays the squeal of the kids at recess in the schoolyard up the way. There is no public transport to our property. The cabin is heated primarily by woodstoves ( we include firewood in the rental) . There are electric heaters for emergency use - but we expect our guests to embrace the more pioneer spirit the cabin inspires. Lessons included free of charge. When it snows ( and it will) we're happy to lend snowshoes to the intrepid. The forest is a wonder in all seasons and will refresh even the most weary spirit. Please note - there is NO INTERNET access unless you can tag in via your cell phone. No cable or satellite tv. It's a cabin. Adults only. Please see House Rules for other conditions.
Our property is tucked away in a mature hardwood forest. The only distractions are the singing of birds, the scratching of squirrels, the splash of rainfall on a tin roof, the whoop of the steam train whistle from Tottenham, and on weekdays the squeal of the kids at recess in the schoolyard up the way.
Great spot for a relaxing stay in the forest
Eve
2017-02-08T00:00:00Z
Loved being surrounded by nature and able to share the space with my three pups!
Julie
2016-09-04T00:00:00Z
The cabin was exactly as described -- a wonderful sanctuary nestled in the forest. Wandering through the trails surrounded by fall colours was the perfect recipe from a busy life. Booth welcomed us when we arrived and gave us a quick tour of the place to make sure we were comfortable. Highly recommend this property if interested in unplugging from the world and enjoying some peace and quiet!
Greg and Holly
2015-10-31T00:00:00Z
The Cabin provided a lovely experience for my partner and I. We were looking for a weekend getaway and that's exactly what we got. Our goal of 'doing nothing' was made easier by the great hospitality of Booth and Janet. We truly loved reading on the deck and exploring the large property. Communication was made easy and all questions were answered promptly.
Hilary
2016-07-18T00:00:00Z
Amazing spot! Couldn't have asked for a better weekend.
Devon
2017-03-26T00:00:00Z
We had a fantastic time. Booth is great and super helpful. We enjoyed walking in the forest located on their property. Would come back again.
Kelly
2017-02-13T00:00:00Z
This cabin quite literally has everything you need, from cutlery, to tea, to the comfiest bed in the world, to the serene crackle of a wood stove. It was a privilege to be there and explore the forests and property. A trip we won't soon forget.
Natasha
2017-03-01T00:00:00Z
Absolutely amazing!
Patrick
2017-03-03T00:00:00Z
Tipo de habitación
Casa/apto. entero
---
Tipo de propiedad
Cabaña
---
Capacidad
2
---
Dormitorios
New Tecumseth, Ontario, Canadá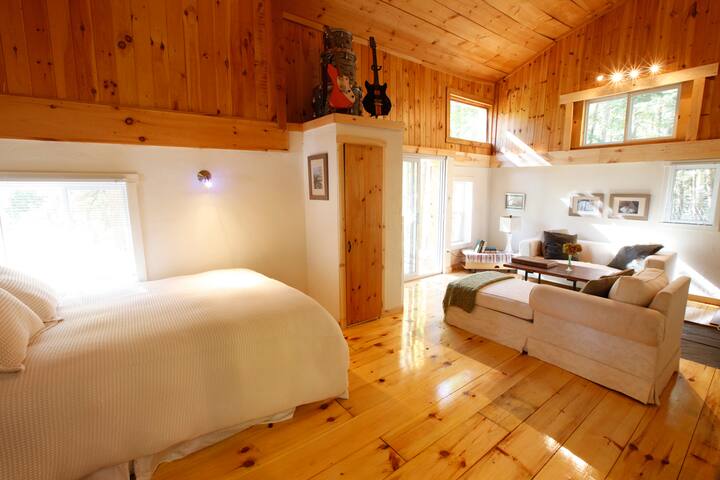 My place is close to Caledon ski club & Forks of the Credit. There is plenty of hiking/walking trails in the near by Parks & conservation areas. With a local coffee/bistro shop just around the corner & the Credit river across the street. You'll love my place because of the high ceilings, the location, and the ambiance. My place is good for couples, solo adventurers, and business travellers.
My boyfriend and I rented the cabin for 3 nights and had a great stay. The cottage is extreme cozy, clean, and beautifully decorated. It offered everything we needed. We also loved being just a short walk to a local coffee shop and conservation area, and a short drive to many other hiking trails and parks. The fireplace was greatly appreciated for the cold winter season.
Jenn
2017-03-13T00:00:00Z
Very clean and tidy small home. Perfect for a couple to get away for a weekend. Easy access to hiking trails and outdoorsy activities. Jacob was easy to contact and had everything laid out for us perfectly. Would recommend this to anyone.
Matthew
2017-02-12T00:00:00Z
Tipo de habitación
Casa/apto. entero
---
Tipo de propiedad
Cabaña
---
Capacidad
2
---
Dormitorios
Caledon, Ontario, Canadá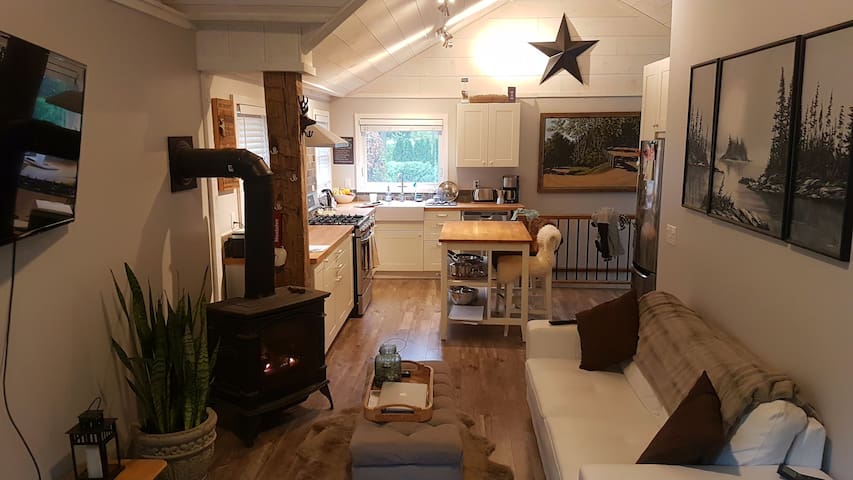 The perfect nature getaway for a family within 1 hour from Toronto! Miles of walking trails. Ski, spa, Bruce Trail, golf, upscale dining only minutes away. Very spacious open concept living / kitchen with wood stove. Large walk out screened gazebo. Weber BBQ on the deck.
The country cottage is located 0,7 km down a gravel hilly driveway. Breathtaking 115 acre estate with miles of trails through the meadows, woodland, hills and along the Nottawassaga river. Some of the best views of the Hockley Valley according to staff at the Bruce Trail Association. Very spacious open concept living room / kitchen with wood stove and large dining table. Ground level bedroom with Queen size bed. Sleeping Loft provides 1 Queen mattress and 1 single bed. Compact bathroom with shower and bath. (Beds available for 5 people in total) Space for sports, leisure and camp fire in the back yard. Beautiful views from the deck.
Activity highlights include: Miles of walking trails throughout the property. Located next to The Bruce Trail and Hockley Valley Park with additional endless trails. Hockley Valley Resort with ski, spa, golf and upscale dining only 2 minutes away. Located near horse farms, trails, country markets, restaurants and shopping.
We stayed at Bart's cottage over the Thanskgiving weekend and we had a wonderful experience. Bart met us at the house and told us about the property (including great walking trails and streams to watch trout swimming upstream). The grounds are beautiful and the house itself is well laid out with a large central area with a wood stove. We cooked a big meal and had everything necessary in the well equipped kitchen. Overall, we had a relaxing, cosy and peaceful weekend. Bart made us feel comfortable and communicated well. I would highly recommend this cottage.
Barb
2014-10-14T00:00:00Z
What a wonderful property! We are a family with three kids between 5 and 12 and the cottage fitted us well with the three kids sleeping in the upstairs space together and the parents had their own bedroom. The downstairs living space is spacious and the kitchen well equipped, we cooked most of our meals there. The property itself is beautiful with lots of well marked tracks. We were lucky enough to have access to the pond as there was no one in the big house but this isn't always the case. Bart was a wonderful host, really helpful. This is a very well managed and beautiful airbnb option.
Heather
2016-09-30T00:00:00Z
Fantastic place! Location is great the property is beautiful and Bart was a great host! Thanks Bart! We will be coming back.
Robert
2016-07-06T00:00:00Z
We had a great time at Bart's cottage. The place is nice and quiet, similar to the description and pictures available. Would love to go back in the winter to enjoy the fire place!
Margaux
2016-08-02T00:00:00Z
A lovely cottage tucked away in the woods. Looks as though there are good hiking opportunities. Our group of five women was happy to use it as a home base for late night chats and breakfasts together. The living area was airy and spacious. We attended a week long nearby function through the days and evenings. We found the cottage comfortable and very clean.
Pat
2015-08-17T00:00:00Z
We had a great stay at the Nut farm cottage! Bart greeted us when we arrived, and did a great job showing us around. He provided a map of the area, complete with walking trails and other cool sites. The cottage itself was great! Perfect size, light and airy, even on the exceptionally hot afternoon we were there. Spent most of our time in the screened-in gazebo, or in the "great room" (with incredibly comfy furniture). We could find whatever we needed for cooking in the kitchen (fully stock with pots and pans and dishes and such). Amazing stay that makes you feel like you're in the middle of nowhere, when you're really just an hour from the GTA. Highly recommend!
Leah
2016-07-24T00:00:00Z
Tipo de habitación
Casa/apto. entero
---
Tipo de propiedad
Cabaña
---
Capacidad
5
---
Dormitorios
Mono, Hockley Valley, Ontario, Canadá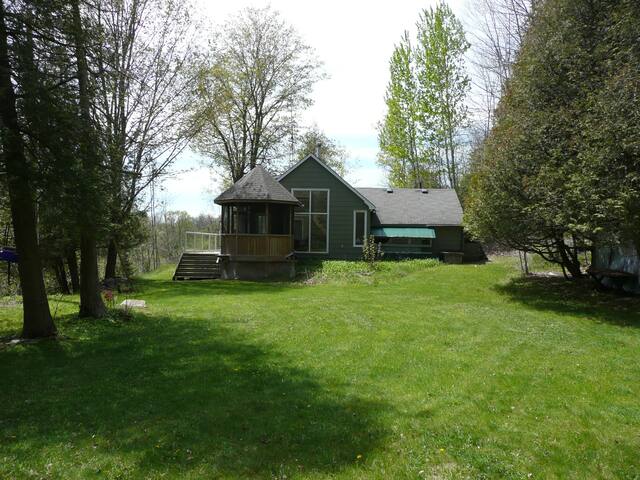 A private micro-cottage with a breath-taking view. Perfect for anyone looking to escape the city of TO in less than an hour, seeking a place to just talk and enjoy nature or anyone who needs a secluded spot for rest, relaxation and contemplation.
This is a 107 Square foot "bunkie" that was cut from genuine Canadian forest and built by hand onsite. The Setting is high atop a hill that has an amazing vantage point of the surrounding countryside. Just a 4 minute drive into the charming town of Erin, ON. We are situated approximately 20 minutes north of the 401.
This is a private cabin in the country. Within a very short drive however there are fantastic dining, entertainment and shopping options like the Toronto Premium Outlets. Our guidebook is filled with fun things to do during your stay.
Adorable clean bunkie! View from the deck is beautiful.
cathy
2016-07-10T00:00:00Z
Cozy and quiet-the bunkie is a perfect little getaway from the city. Close to various outdoor activities, restaurants and cafes. A lot of charming small towns nearby as well.
Sandra
2017-01-02T00:00:00Z
Great place to stay when you need a night away! David was so nice and accommodating! Can't wait to return in the summer!
Clara
2017-02-24T00:00:00Z
The bunkie had three heaters which was great for winter camping. It was private and a great gateway from the city. My only tip would be covering the wood in the fire pit and around so it's not wet and frozen.
Pelly
2017-03-17T00:00:00Z
We were cozy in our little shelter, the bed was comfortable with 2 heating blankets and an extra space heater David came and set up for us when it turned out the night would be chillier than expected. It's fun to stay here in winter, just be sure you have lots of warm clothes to bundle up in. Also plan your bathroom breaks as the outhouse device may be frozen. It's easy to work around it as there are coffee shops nearby. We went hiking at forks of the credit provincial park and came across a very pretty wooded river valley. David also provided lots of wood and we enjoyed a nice morning fire to read by and appreciated the pleasant view of the countryside. We had many memorable moments and felt at home in the bunkie... good value trip, thanks so much David and family!
Tamara
2017-03-04T00:00:00Z
Awesome cabin! The heater is a bit small so maybe bring another if you're staying in the winter. Amazing views and a great fire pit for cooking, just ask David for firewood! Such a peaceful getaway and 5 minutes from Erin. Bring TP!!
Duncan
2017-02-21T00:00:00Z
Even though the cabin itself is cute with a comfy bed and clean linen, and the surrounding scenery is beautiful, our experience was pretty disappointing. The porta potty was a far cry from what was shown in the instructions video. It was a clogged and unsanitary potty sitting behind the cabin with poop dumped less than 10 meters away. All those wires inside were a tripping hazard and the sparkling one outside in the rain was a fire hazard. If you're planning to stay at David's cabin, I recommend that you have Kleenex, toilet paper, hand sanitizer, cups, plates and cutlery.
Farhat
2017-04-02T00:00:00Z
Quaint, cozy and rustic just as advertised. It's a shame we arrived a little too late to really enjoy the view. Good communication and accommodating a later than usual arrival time. Recommend to update the video as amenities have changed.
Erika
2016-10-09T00:00:00Z
Tipo de habitación
Casa/apto. entero
---
Tipo de propiedad
Cabaña
---
Capacidad
2
---
Dormitorios
Erin, Ontario, Canadá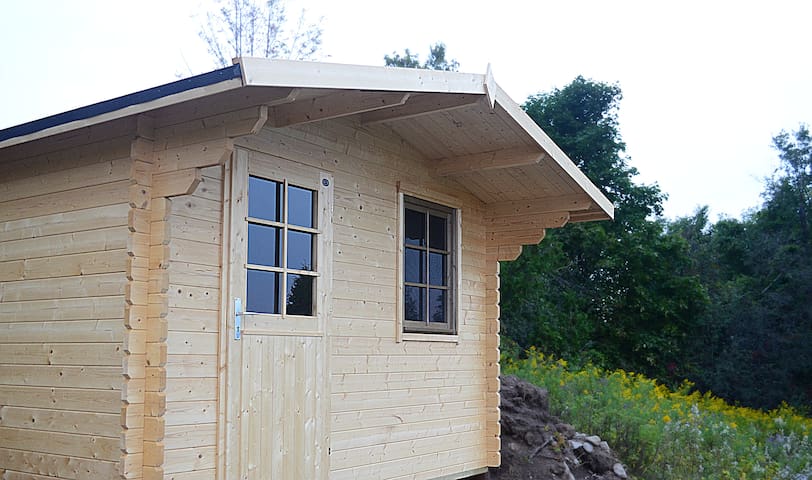 JECARA FARMS' Raven Cabin is located high on the Oak Ridge Moraine. The view directly north is a wonderful century+ old farmstead accentuated with a 25-30 acre marsh area as well as a small bass pond directly in front of the Cabin (quiet and private)
The cabin exceeded our expectations. It was clean, comfortable and picturesque. Although it wasn't actually too far, it felt like a complete getaway thanks to the landscape and atmosphere. We were worried about the outside stove/BBQ situation, but it was actually nice to be outside while cooking.
bora
2016-02-21T00:00:00Z
Great place ! Brett and Emma we're welcoming and provided us with every thing we needed. The time was peaceful and relaxing
Mellie
2016-06-19T00:00:00Z
The Raven cabin is the perfect little getaway! So close to the city and yet so secluded- we couldn't have asked for better. In the winter, it's the perfect place to sit by a fire with a good book, which is exactly what we did. Brett and Emma were easy to get a hold of and welcoming. Thank you!
Brittaney
2017-01-22T00:00:00Z
Bretts wife was there when we arrive, we where late but she was very helpful , great person. their property is paradise, i have absolutey no complains, i recomend this beautiful paradise
Merlina
2016-08-02T00:00:00Z
Jecara Farms is an awesome get away from the city. Brett is a down to earth kinda guy who will go out of the way to accommodate his guests. The property itself is immaculate & eco-friendly, and is diverse in its agricultural & arboreal landscape. Raven cabin is equipped with all your needs, and was one of the coziest, loveliest places I've had the pleasure of visiting. My dog Rafi & I enjoyed our days exploring, sitting by the fire & generally enjoying the peace & quiet that Jecara Farms offers. I highly recommend it!
Eleni
2015-12-13T00:00:00Z
We had a lovely 2 night stay at the Raven Cabin. Emma was very helpful when we arrived and gave us a tour of the property and cabin. It was very relaxing and the scenery was beautiful. Swimming in the natural pond was a great way to cool off after our run. Everything is provided for you...water, dishes, bbq, outdoor chairs, paper towel and toilet paper. We highly recommend a stay here. We can't wait to go back with the kids. Thanks Emma and Brett for a wonderful last weekend before heading back to teaching.
Hilary
2016-09-04T00:00:00Z
It's hard to put into words just how wonderful this place is. We rented it while I had to work in a nearby town, and it was such a pleasure to come home every evening to the peace and serenity of the cabin. Even though the listing says there is no kitchen, it's well stocked for cooking on the barbecue (which has a side burner), and there's a full supply of tableware, glassware, etc. You just need a cooler and ice for perishables. Brett and Emma are the perfect hosts -- responsive when you need help, but otherwise they let you enjoy the solitude. If I have to come back for work in the area again, I know exactly where we'll be staying!
Catharine
2015-10-16T00:00:00Z
We loved our evening at the Raven Cabin. I would highly recommend staying here if you are looking for a rustic getaway. The BBQ works really well. The hosts were communicative and very welcoming. We will definitely be back!
Darcey
2016-05-23T00:00:00Z
Tipo de habitación
Casa/apto. entero
---
Tipo de propiedad
Cabaña
---
Capacidad
2
---
Dormitorios
Schomberg, Ontario, Canadá