Sie werden meinen Platz wegen der Aussicht, das Ambiente und die Lage lieben. Mein Platz ist gut für Paare, Solo-Abenteurer, Geschäftsreisende, Familien (mit Kindern) und große Gruppen. Schlendern Sie entlang des Flusses, ein gutes Essen genießen oder einfach nur rumhängen an Bord für das Wochenende und beobachten den Fluss vorbeigehen!
Classique, bien construit et isolé 40 'Yacht océan voile. Amarres pour 7 personnes et peuvent être situés à divers endroits pour la durée de votre charte. Notre assurance ne vous permettra pas de faire fonctionner le navire, mais vous pouvez louer un des capitaines sur notre liste approuvée pour prendre votre groupe sur une petite croisière, si vous le souhaitez. Il est un voilier de croisière du monde et la tête et la configuration de douche sont assez basique, mais le salon est très confortable pour jouer à des jeux, manger et traîner.
Restaurants, Cafés, Stadt Exploration und großen Blick auf den Fluss alle in Sichtweite der Yacht!
The experience was like glamping in the city. We were close enough to uber/lyft everywhere and there was coffee and sushi in walking distance. The yacht was quite nice. Small shower/bathroom space. Chilly master bedroom. Shane was accommodating and showed us the different functions in the boat. He was available for any questions via cell text/call. It was a nice experience!
Deborah
2017-03-20T00:00:00Z
So this is a boat. It's not spacious or luxurious, but you already know that because it's a sailboat. You're doing this to get the experience of what it means to stay on a boat. If you're into that, then you made a good choice! The location in Portland is great, nice views of the river, close to downtown, etc. Shane was very helpful and friendly, and a good communicator. I recommend it highly if you understand what you're getting into.
nils
2017-04-09T00:00:00Z
Staying on Shane's boat was a blast. The cabin space slept four very comfortably and there was clearly space for a few more. The location was great with easy access downtown. Shane is very accommodating and we immediately felt at home - I would recommend anyone looking for a fun experience in Portland to stay here.
Derrick
2017-03-26T00:00:00Z
Great, Shane was very helpful
Aodhan
2017-03-12T00:00:00Z
We had a great time it was beautiful way to be introduced to Portland
Chelsea
2017-03-22T00:00:00Z
Shane showed us the ins and outs of the boat when we checked in. He explained how to use everything and made sure we found the gracious provisions he had stocked the boat with. The boat itself comfortably slept four, but could have easily slept two more. The location was terrific and will only improve with the weather. Thanks to Shane for a great experience. I would highly recommend his boat.
Geoff
2017-02-19T00:00:00Z
5 stars for Shane's boat after my friends and I had an unforgettable weekend in Portland! Shane is a FANTASTIC owner and goes out of his way to ensure you have a pleasant stay. Expectation management is key in this case: do not stay here if you're expecting all the luxuries and amenities that are characteristic of fine hotel living. DO STAY HERE if you love adventures and you're fine with more raw versions of living like camping or sleeping in an RV. The boat comfortably slept 6 adults in their 20's (two in the queen bed). The kitchen is functional and has two gas burners - again think RV living. The shower requires pressurization by hand but this only takes 15 or so pumps to get sufficient water flow. Aside from staying on a boat (as opposed to our other friends in a boring, regular Airbnb), the highlight of the trip was Shane taking us on a cruise up and down the river. Seeing the city of Portland from the quiet waters of the Willamette River with a great crew was unforgettable! Again I'd highly recommend this experience to adventurers who enjoy mixing things up. I feel like it's particularly appropriate to say in a place like this in a city like Portland. Cheers to fun, memorable times!
Kenny
2016-12-04T00:00:00Z
Tipo de habitación
Casa/apto. entero
---
Tipo de propiedad
Barco
---
Capacidad
6
---
Dormitorios
Portland, Oregón, Estados Unidos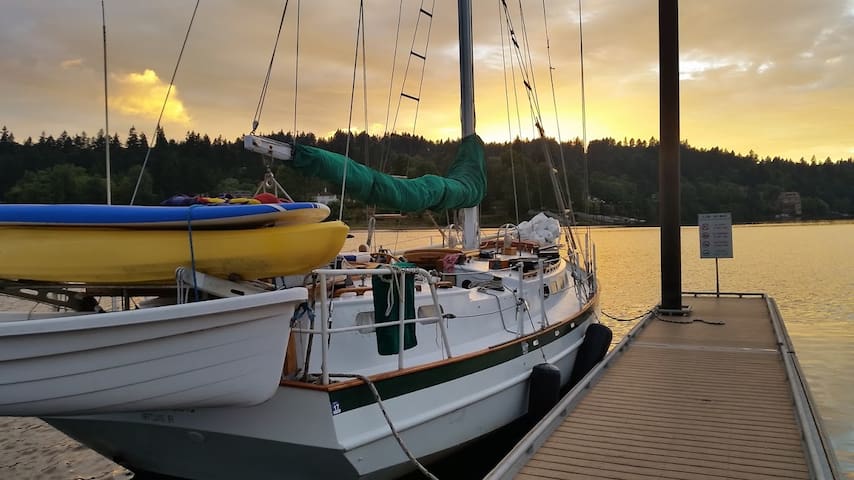 AMIS Bienvenue à bord pour une escapade extra-ordinaire. Notre beau voilier est accueillant et confortable. Notre bateau sera une base idéale pour toutes vos excursions d'une journée dans le nord-ouest et vous permet de Uber facilement de PDX. Nous vous invitons à profiter des couchers de soleil et les belles vues sur Mt.Hood et la rivière Columbia, tout en sirotant votre cocktail préféré ou célèbre bière Portland. Mieux encore ... se réveiller // hausse et brillance aux magnifiques levers de soleil sur le pont avec une tasse de café chaud.
Alors ... Bienvenue amis! Nous vous invitons à passer le temps à bord de notre voilier Hunter 30. Notre voilier peut accueillir deux personnes confortablement. La cuisine vous permettra de garder les boissons et les aliments froids dans la glace boîte / réfrigérateur et d'un bar-b-que sur le pont pour griller votre dîner savoureux, (autres options de cuisson ne sont pas disponibles). Sommeil jamais si profondément à bord, profitez de dormir sous les étoiles dans le V-couchette en ouvrant la grande tête de trappe. Laisser l'air frais de circuler librement, mais attendez un peu de bruit de temps en temps, tandis que les avions survolent que l'aéroport PDX dans les environs. Queen size bed dans les arrière permettra de vous laisser aller à un sommeil béat tout en balançant avec le mouvement de la rivière. Un appareil de chauffage portatif conserve la chaleur de la cabine et au chaud pendant les mois froids. Beaucoup de draps lit / bain frais. Cozy lancers et oreillers pour se blottir avec. Allumez les airs, lire un livre ou regarder un film sur votre ordinateur portable (wifi gratuit inclus). Ahhh, la vie est si bon !!! Sur le pont, prendre dans les sites et se détendre. Coussins de cockpit, coussins de plein air et l'éclairage solaire permet l'endroit idéal pour dîner en plein air, savourez le soleil couchant et l'appeler un jour!
La situation exceptionnelle de notre port de plaisance est une base idéale pour toutes vos excursions d'une journée dans le Nord-Ouest. Prenez une voiture jusqu'à la gorge, profiter de la vue, se promener la ville pittoresque de Hood River. Passez la journée à coups de pied autour de Portland, randonnée Forest Park, le dîner dans la Perle. Qu'est ce qu'on pourrait demander de plus? Explorez Mt. Hood, rivières et cascades magnifiques. Willamette Caves, The Fruit Loop in Hood River, The Rose Garden, le robuste, tout simplement à couper le souffle côte de l'Oregon .... vraiment, cette région a beaucoup à offrir! Quelques-uns de mes favoris à suivre: mange favorites (à proximité): Island Cafe sur l'île Hayden gorgées préférés: 10 Barrel Brew friandises préférées: Sel et paille crème glacée et bien sûr VooDoo Doughnuts hamburger préféré: The Tilt (Oh mon, les frites, outta ce monde!)
I had a wonderful time staying on the sailboat. Lori was the perfect host, very friendly, and with really nice touches like cinnamon roles, San Pellegrino and Starbucks coffee. The sailboat was really comfortable, quiet and very relaxing. I would definitely stay on the sailboat again if I visit Portland again.
Paul
2016-10-06T00:00:00Z
Absolutely amazing! Wanted to celebrate the wife's birthday with something a bit romantic and adventuresome. We have also been thinking about the possibility of the liveaboard life style. A bit spontaneous and last minute, but Lori and her husband responded very quickly and seemed to go out of their way to get everything set up for us. A very lovely and charming couple. Showed us around the boat and how various parts functioned. Loved the attention to detail, the small coziness and comfort of the cabin, the scenery, the gentle rocking of the boat, the quietness, and the friendliness of the boaters -all around an excellent experience and something we would both love to do again. Thank you Lori!
Roger
2017-02-26T00:00:00Z
My stay on the boat was amazing!!! Lori is the nicest host and took care of every detail to make sure our stay was as comfortable as possible. The Marina facilities are new, clean and comfortable. Five Stars!!!
Keith
2016-09-16T00:00:00Z
Coordinating this stay with Lori was super easy and convenient, the boat was clean, cozy and comfortable. Would recommend to anyone.
Kaci
2017-04-07T00:00:00Z
This boat was charming and the hosts were wonderful. The sailboat had nice decor and a working sink. A choice of two large beds, both of which were very comfortable. The bathrooms at the marina were clean and simple (think a nice campground) and the river is so nice! Lori met us on time, provided some water and lemonade, and was available as needed. She even let us sleep in and check-out a bit later on Saturday, which was really appreciated. Planes do fly overhead, but we only noticed the house for the first half hour, then it faded into the background. Can't wait to come back and tell our friends!
Erik
2017-03-25T00:00:00Z
What a FANTASTICALLY unique experience. Such a great mini getaway. Lori was so gracious and responsive. Close quarters but that is the allure of adventure -- the unexpected which served only to draw laughter, warmth, and stories we will tell for years to come. Carpe Diem my friends!
Merna
2016-12-04T00:00:00Z
Tipo de habitación
Casa/apto. entero
---
Tipo de propiedad
Barco
---
Capacidad
2
---
Dormitorios
Portland, Oregón, Estados Unidos
My son and I enjoyed our stay on the boat. Alexander was communicative, friendly, and helped make our first visit to Portland a fantastic experience.
Steven
2016-08-27T00:00:00Z
Alex is an awesome host! Super helpful and friendly. Beautiful boat with a great view. It was a very enjoyable experience for a great price as well! Thanks Alex your the best:)
Hannah
2016-08-18T00:00:00Z
What a fantastic stay! Alex was very accommodating and made us feel very welcome. Kayaking up to a cafe on the water was awesome. Great Thai a half block away. Staying on the water was incredible!! I highly recommend the experience. You will not regret it! Thanks Alex!
Mark
2016-08-02T00:00:00Z
Alexander was an amazing host. So accommodating and made every effort to make our weekend a trip to remember.
Lesley
2016-09-25T00:00:00Z
The stay was great! exactly what we needed. A interesting and different place to crash that would give you a glimpse into a different part of the city. Kayak usage was clutch. Alex was an awesome host. Plan on staying again next time I'm in Portland!
Devin
2016-08-30T00:00:00Z
If you want to try something different then stay on a sailboat. Granted it does require more effort than staying in a hotel but the unique experience was worth it. The marina is a very cute area within close distance to nearby cities. You will have to walk up a small ramp to use the shower and such but it's not that big of a deal if it's something you don't mind. Alex and his gf are very fun hosts.
Oanh
2016-08-24T00:00:00Z
My husband and I so enjoyed our time on the sailboat! Alexander is a great host. Would definitely recommend and return.
Brittany
2016-08-16T00:00:00Z
Alex greeted me up in the parking lot above the marina and helped bring my bags down to the boat. I probably wouldn't have known where to go if he wasn't up there waiting for my arrival. The neighborhood was great and had a nice tree covered walkway for most of the distance to the MAX station. However, that walk (2 mi.) was a bit long and became tedious as I traveled it each day. Don't think there is much Alex could have done about that, though, and once on the MAX, getting around town was very easy. Alex was very welcoming and had some great tips for getting around Portland and some suggestions of where to go.
Dan
2016-07-17T00:00:00Z
Tipo de habitación
Casa/apto. entero
---
Tipo de propiedad
Barco
---
Capacidad
2
---
Dormitorios
Portland, Oregón, Estados Unidos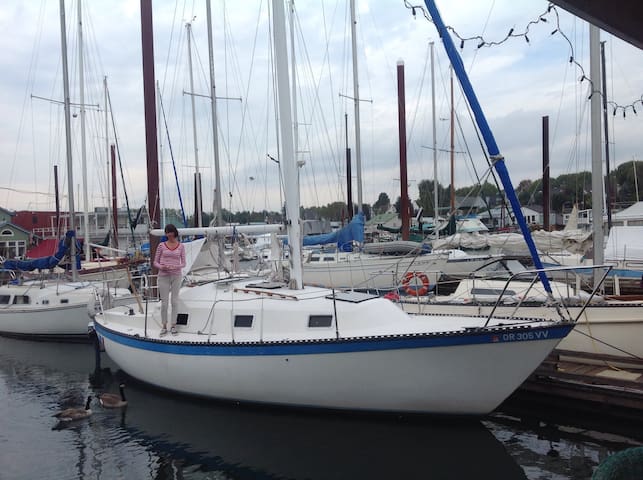 What a unique and fun place to stay. John made us feel truly welcome when he greeted us at the marina. The vessel was clean, well-maintained, and cold drinks were provided! The accommodations are appealing in a simple way. It wasn't too long a drive to Portland's downtown depending on traffic; though we found Uber/Lyft on the island to be sparse. There were some hiccups in planning arrival time but our experience might not be typical since we were a last-minute booking. Other than that it was smooth (haha) sailing! Sleeping on the boat was a fun adventure -- think camping! The toilet/bed/shower facilities are rather rustic but you can't complain -- you're on a sailboat! The dock and its neighborhood along the river are really pleasant and the sunrise on the river is amazing! John even offered to take the boat out next time we book and we'll happily oblige with a return visit!
Charlie
2016-08-14T00:00:00Z
John was a fantastic host! He provided a tour and brief history of the former racing sailboat that I would recommend to anyone looking for a fun getaway. Disclaimer: it may inspire a life at sea. :) Thank you John!
Daniela
2016-04-26T00:00:00Z
What a fun experience! John took the time to orient Justin was not even impatient when traffic made us late. This is cool and different and I highly recommend it!
Lorretta
2016-08-12T00:00:00Z
John was thee sweetest host! My husband and I LOVED staying on the boat! We had the best experience and loved getting the taste of life at sea! Would recommend staying with John 10 times over again!
Chandler
2016-06-12T00:00:00Z
He was very welcoming and explained the systems in the boat.
Kim
2016-09-19T00:00:00Z
Unique experience staying at the sailboat. John was very welcoming and coordinated the meet and guided us on how to use everything in the boat really well.
Ankit
2016-05-30T00:00:00Z
John was great.. really nice. We met at the marina and he walked us to the boat and told us about the systems. The boat was clean and nicely setup. The marina was quiet and made for a nice stay.
Jared
2016-05-29T00:00:00Z
My time on the boat was perfect. In the past I hadn't had the best experience with air bnb, but my stay here changed my opinion. John and his son were amazing hosts and were very accommodating. The boat itself was in great condition. Would recommend to anyone!
Tanya
2016-08-15T00:00:00Z
Tipo de habitación
Casa/apto. entero
---
Tipo de propiedad
Barco
---
Capacidad
4
---
Dormitorios
Portland, Oregón, Estados Unidos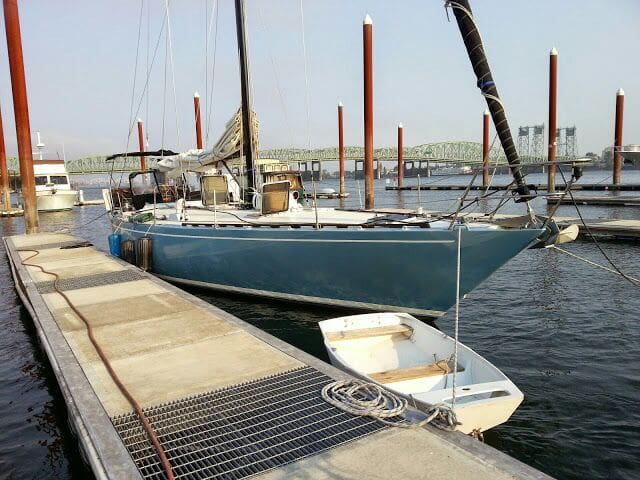 1

–

4

de

4 Alquileres de Barcos
Introduce las fechas para ver el precio total. Ten en cuenta que se aplicarán tarifas adicionales y es posible que se añadan impuestos.