Profitez de la paix et la tranquillité de Bearlia Farm, qui se trouve au cœur du pays du vin (il y a une porte à côté). chambre luxueuse avec un coin salon et salle de bain attenante avec douche à l'italienne. Réfrigérateur et un bain à remous à la disposition des clients.
Wendy was friendly, helpful, and went out of her way to make my stay pleasant. The room is comfortable and has a nice private bathroom, and Wendy left me an exquisite breakfast each morning. The natural setting of Wendy's farm is beautiful, and the house and everything in the surroundings are managed with great care and good taste, so if you like beautiful spaces you will particularly like staying here. It's clear that a lot of love has gone into it. I'd happily stay there again when I return to the area.
Daniel
2016-10-10T00:00:00Z
Wendy responded to my text about our arrival time and fielded our call when we got lost enroute! She greeted us with a smile, showed us our room, explained breakfast, told us about her dogs, chickens, and horses, and that we were welcome to 'visit' them! The room was great! Wendy was great! The farm was great! Can't wait to go back again!!!
Vicki
2016-09-08T00:00:00Z
Everything about this experience was wonderful! Wendy was helpful, responsive, welcoming and relaxed. The property is lovely - out in the country, peaceful, with a deck so inviting that we got dinner carryout and returned to eat it there. Breakfast included delicious muffins made with fresh raspberries, fruit from Wendy's own trees, homemade granola, etc. There are two friendly, well-behaved dogs. The bedroom and bathroom are roomy and comfortable. We had various family-related social engagements to attend during our time in the area, but staying here provided a relaxing respite in between activities.
Robin
2016-08-07T00:00:00Z
Wendy was an excellent host. The room was beautiful and comfortable. We were there 4 nights and had our 3 year old son. Wendy set up an extra Cot for him to sleep in and even went out of her way to put out toys and games from her grand daughter for him! The morning continental breakfast was always ready and with fresh baked pastries and even Farm Fresh boiled eggs after she noticed we did not eat the yogurt. Everything was high class from the linens, toiletries, and food to the fresh flowers in our room. This is a great spot for a romantic getaway. Will be going back and I highly recommend it to anyone needing a getaway.
Tammy
2016-07-23T00:00:00Z
Most comfortable bed we have ever slept in while travelling. Breakfast was fresh, wholesome, filling, and yummy. The farm is beautiful and enjoyed the farm animals and walking to the pond every morning. Perfect location if attending a wedding at Postlewait's which is only one minute away. Went to Silver Falls State Park and saw seven waterfalls on a moderate five-mile hike including one you can walk behind--a must see. Host was accommodating and down-to-earth. Thank you, Wendy.
Carrie
2016-10-23T00:00:00Z
We found Wendy's place to be in the perfect location for the wedding we attended. We were only 10 minutes from all of the different festivities. It is a private room and bath with a separate entrance on a quiet, idyllic little farm next door to a winery - the perfect respite from wedding party busyness. The room was comfortable and clean with all of the necessities provided. Wendy was a lovely host from her communication and flexibility surrounding our arrival to making us at home by serving delicious, homemade breakfast breads, muffins, and spreads. She was very warm and welcoming, willing to give us our space or chat with us depending on what we wanted. It was wonderful to be able to get some work done in the peaceful setting and take breaks on the deck with the dogs while she and a friend canned applesauce all afternoon. We so enjoyed our stay and will return if the occasion arises!
Sarah
2016-09-11T00:00:00Z
I can't say enough about what a lovely host Wendy is. She made me feel welcome and at home from the time I arrived until the moment I had to leave, yet she gave me plenty of privacy. The room was warm and spacious, with a super comfy bed, high quality linens and a beautiful attached bathroom. She offered a delicious European style spread each morning and was even willing to ship a package home for me after I left. Bearlia farm is charming and truly a relaxing sanctuary. I hope I am able to stay again soon... if you have the opportunity to visit, don't miss it!
Sunny
2015-07-19T00:00:00Z
Wendy's farm is the BEST that Airbnb has to offer. She is such a generous and thoughtful host. The farm is a work of art, the room is immaculate, and the breakfast is delicious. I was scheduled for 2 days and decided (immediately) to stay 4 days. I plan to return with my family and will also encourage my friends to stay with Wendy and her horse, donkey, chickens, ducks and 3 dogs for as long as possible. Wendy, thank you for creating such a healing and fun home.
Josephine
2016-08-12T00:00:00Z
Tipo de habitación
Habitación privada
---
Tipo de propiedad
Bed & Breakfast
---
Capacidad
2
---
Dormitorios
Canby, Oregón, Estados Unidos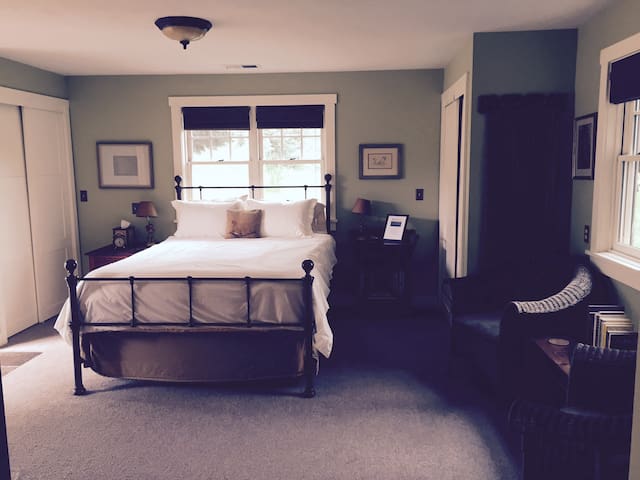 1

–

1

de

1 Bed & Breakfast
Introduce las fechas para ver el precio total. Ten en cuenta que se aplicarán tarifas adicionales y es posible que se añadan impuestos.