Right next to the Westfield Mall, Liverpool CBD. The Liverpool station is also nearby(800m). New property with a lot of natural light and cross-ventilation.
Our apartment is right next door to the Westfield Mall and is at the centre of Liverpool. It is surrounded by parks and coffee shops.
Great stay! House is modern and clean. The bedroom is nice and private, with own bathroom. It is lightly furnished but has all the necessities! The location is central and conveniently right next to Westfield Liverpool. Soham and the fellow housemates are all very welcoming and great company! They are very accommodating and inviting. The only downside is the noise from the main road, which could keep light sleepers up at night. The room has an air con and thick windows that can be closed for quietness yet stay well ventilated. Overall, would greatly recommend this location for anyone looking for a good central place to stay in Liverpool!
Brandon
2017-03-30T00:00:00Z
Central to Liverpool close to train
Sally
2017-04-10T00:00:00Z
Really nice people highly recommend staying there. Comfortable bed with ensuite right next door to Westfield shopping centre
Anthony
2017-04-08T00:00:00Z
This airbnb is great! Host Soham is really friendly, You have your own room and bathroom, close from the Liverpool station, just next to the westfield shopping centre. highly recommended!
Kyoungmin
2017-03-27T00:00:00Z
Tipo de habitación
Habitación privada
---
Tipo de propiedad
Apartamento
---
Capacidad
2
---
Dormitorios
Liverpool, Nueva Gales del Sur, Australia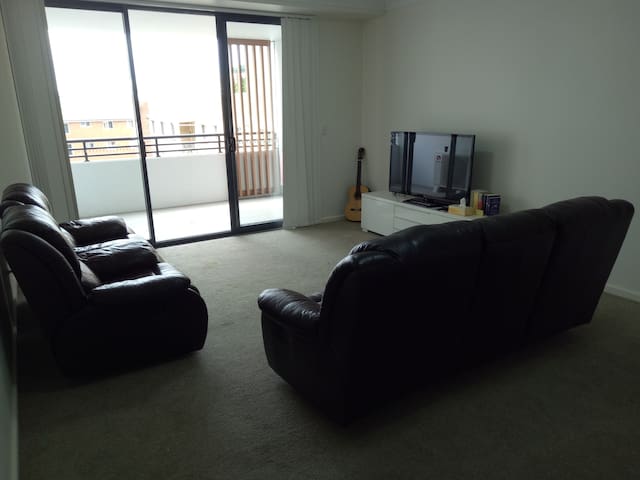 I have a big 2 bedroom unit. This room is one of the 2 rooms. I can host max 3 adults or 2adults + 2 kids under 12 years old. A stretcher bed with mattress will be set up upon request. Kids stay for free so you don't have to count them in number of guests (1 adult goes with 1 kid). A basket of some little treats (water, chocolate or cookie or fruit...) on the table in your room are with compliments. Free parking.
Huge living room. Large front and back balconies. Your bedroom is quite big with built-in wardrobe and large window.
Quiet and friendly neighbours. You can enjoy eating exotic food and interact with interesting Asian and Italian people right at the restaurants beneath the apartment.
Vy and her daughter were very welcoming. The place was as advertised and I would definitely stay again.
TJ
2016-11-18T00:00:00Z
I felt so at home in Vy's place. Bonnyrigg Plaza is just few minutes walk, theres a vietnamese restaurant and a pizza parlor downstairs. If u wanna cook, there's a an asian store downstairs as well, wherein you can find a lot of ingredients,veggies, fruits etc etc. A 7-11 beside the building is an added factor. Few minutes walk to bus stops. Vy and her daughter Victoria are so nice and very accommodating. As a matter of fact I just booked another week of stay.
Carmina
2016-10-02T00:00:00Z
good :)
Lachandula
2017-02-23T00:00:00Z
Vy was so kind and inviting. Her house was so clean and the bed was so comfortable. My daughter enjoyed playing with her daughter. I look forward to staying again.
Tiffany
2016-09-19T00:00:00Z
Vy was welcoming and nice,I had a good time with her and her daughter :)she's a great cook too,I'll stay with them again in future
(EMAIL HIDDEN)
2016-11-10T00:00:00Z
Very friendly & welcoming - good for people traveling at short notice- maintains privacy verywell
veena
2017-03-12T00:00:00Z
I want to thank Vy and Victoria for letting me stay at their home. I will definitely stay with them again when I am next in town with my business...
Rodney
2016-10-27T00:00:00Z
It's a gr8 time there. Such a lovely people .
Davinder
2016-10-10T00:00:00Z
Tipo de habitación
Habitación privada
---
Tipo de propiedad
Apartamento
---
Capacidad
3
---
Dormitorios
Bonnyrigg, Nueva Gales del Sur, Australia
Casa confortable en el corazón de Cabramatta, donde hay una gran cantidad de buenos y deliciosos restaurantes asiáticos. La gente de todo llegan a Sydney Cabramatta. estación de tren está cerca, que le llevará directamente a la ciudad.
Cabramatta es único debido a las famosas tiendas y restaurantes asiáticos en la zona. La gente de todo llegan a Sydney Cabramatta para disfrutar de la experiencia.
Good for asians people ..not fussy about the area and a basic apartment
Bernadette
2017-01-15T00:00:00Z
This was our first AirBNB booking and our lesson learnt was, don't assume, ask plenty of questions in advance! Ronald is truly a pleasant young man who is eager for you to have a good stay so ask away. The house is definitely clean (could just do with a paint job throughout), the beds are comfy and the shower's pretty good. Kitchen is crossed off the amenities because the cooktop is not working but there's a microwave. Not enough crockery/cutlery for eating takeaway but I'm sure Ronald will fix that, likewise not enough towels for all the guests, easy fix. The parking spot is quite small and couldn't really fit our large SUV, which was a small problem for us as all local parking is timed during the day. The local shopping centre is enormous and sprawling and parking is at a premium on weekends especially so you need to walk there but it's very close with lots of great eating places. The only working air con is upstairs in a bedroom and it's the only heating also if required. The only wardrobe is in the same room. Cockroaches are a problem throughout Sydney (not something they put in the travel guides) so no surprise a few got in the house the last night we were there, no drama. All-in-all it's fairly good budget accommodation. You get what you pay for. I'm sure Ronald will fix the minor shortcomings over time and make the place quite pleasant.
Arno
2017-03-20T00:00:00Z
Thank you Ronald for the great support and service. A great place in a great location. Comfy beds.
Daniel
2017-04-06T00:00:00Z
We had a good stay. Ronald is a wonderful host. We requested really last minute, but that was no problem for him. The house was really clean and the beds were really comfortable.
Cyrille
2017-03-10T00:00:00Z
厨房要清洁一下
俊
2017-01-25T00:00:00Z
The location of Ronald's place is convenient, near a shopping centre, and most amenities were satisfactory. However, the fridge was small and dirty, and there was a thick layer of dust on the lights with the occasional cockroach coming from under the floorboards. Cleanliness aside, everything else was alright.
Sean
2017-01-28T00:00:00Z
Tipo de habitación
Casa/apto. entero
---
Tipo de propiedad
Adosado
---
Capacidad
5
---
Dormitorios
Cabramatta, New South Wales, AU, Nueva Gales del Sur, Australia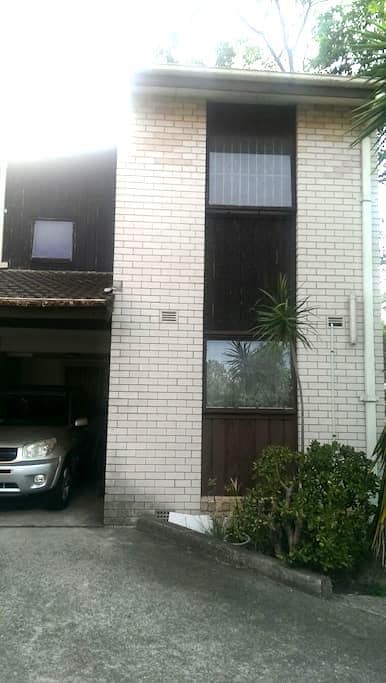 Tipo de habitación
Habitación privada
---
Tipo de propiedad
Apartamento
---
Capacidad
2
---
Dormitorios
Cabramatta, Nueva Gales del Sur, Australia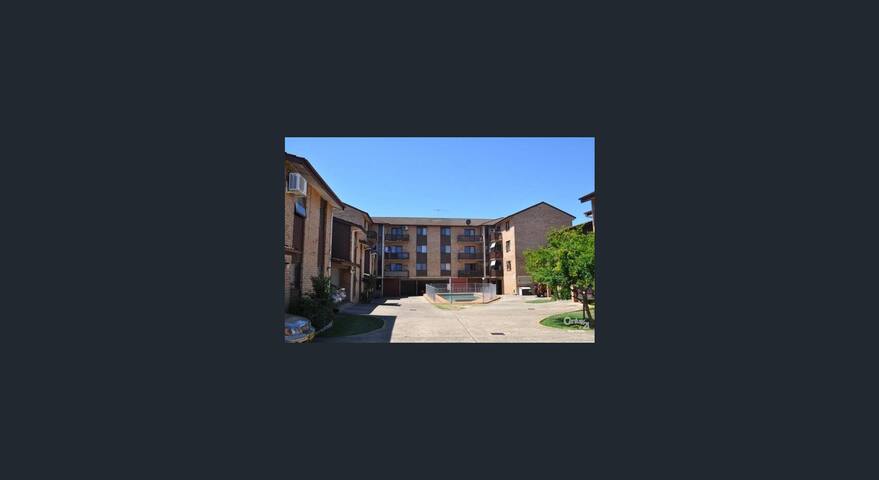 Spacious, more than a dozen high-ranking floor space, a large balcony overlooking sweeping vision, makes you relaxed, beautiful blue sky air quality, you'll open arms deep breath ......
High-rise overlooking the sweeping views, one hundred days the blue sky night sky lights. The scenery is very beautiful.
Transport Shopping hospitals are very convenient. Good living conditions.
The hostess is a really nice lady who takes good care of us during our stay here. She was very considerate towards our needs, and was very meticulous in ensuring that we have a comfortable stay. The place is well-furnished, clean and has all amenities/facilities needed. There is also a nice view to retreat to every evening; and the place is also very accessible. In short, it is a very cosy and comfortable place to live in with a very awesome and kind hostess.
Mona
2016-12-09T00:00:00Z
交通便利,房子很大很宽敞,阳台很棒,房间很干净,有独立卫生间,房东热情好客,很值得推荐的屋子
LU
2016-10-22T00:00:00Z
Hong is very sweet and her room is very comfortable. The little pup Daisy is such a gorgeous member of the family.
Sarah
2017-03-09T00:00:00Z
She was very particular about cleanliness, not happy with any oily cooking. Less privacy by leaving the note in the room telling me not to come back late and need to pay additional $10 if need to use her washing machine
WunKie
2017-03-23T00:00:00Z
The room is very clean and the whole environment is excellent. The host is warm and considerate and we had very good conversation. I would definitely recommend this place.
Jun
2017-01-29T00:00:00Z
The best of it for me was the close proximity to all that I needed in Liverpool.
Urszula
2016-10-29T00:00:00Z
Tipo de habitación
Habitación privada
---
Tipo de propiedad
Apto. en complejo residencial
---
Capacidad
2
---
Dormitorios
Warwick Farm, Nueva Gales del Sur, Australia
We are offering a large room. It features: Large Queen Bed, Fresh clean linen and towels, Comfy mattress & base We are not close to the CBD however a 30 min train ride will get you there in no time. We live only 10 mins drive from Parramatta CBD
Your room has built in wardrobe, drawers for storing those all important items. New carpet throughout the first floor level. We do not have locks on our doors apart from front This room has no ensuite you must share anyone of the 2 bathrooms available in common area's. We have another room advertised on Airbnb with its own private ensuite that room is $79 per night. Duct-ed air conditioning will keep you cool during the summer and warm during the winter. We offer a no frills stay however we try and keep standards high. Includes: free water, tea, coffee WIFI, Platinum TV, library use. Kitchen use of all appliances and utensils and provide one towel, pick up and drop off at Merrylands or Parramatta train station. Does not include: Meals & snacks, pick up or drop off at airport (approximately $27 each way by train), laundry, transport around Sydney. Laundry upon request/ ironing extra fee Free coffee/tea/hot *Discuss upon acceptance
I love our neighbors many of them have been in the street for several generations and are very neighborhood security conscientious. We are in walking distance to an animal reserve where you can get up close with some of Australias common wildlife. Its a great place to take the family and a lot of things to do. Close to fitness facilities and public pools. A 90 min train ride will take you to the beautiful Blue Mountains theres so much to do.
Rayna es una persona muy amable y su esposo también, los dos son muy buenas personas y serviciales, perdón por nuestro ingles y no poder comunicarnos con ustedes como nos gustaría pero hasta ahora somos estudiantes del idioma, Yo recomiendo 100% la casa de Rayna porque esta es muy bonita, grande, tranquila, limpia y ordenada y tiene una cocina gigante y un baño hermoso, realmente no lo dudaría en volvernos a quedar en tu casa.
Edwin Javier
2016-03-18T00:00:00Z
Rayna and her husband were very helpful and pleasant hosts who offered us their beautiful home to stay in for a week. The room was just as advertised, and it was very cosy and clean. The neighbourhood is also very safe, which gave us peace of mind when walking back home late at night. Their place is close to the train station which made traveling convenient. Plenty of shops nearby to get food and any other amenities as well. Rayna was also nice enough to offer to fetch us to our locations several times, even though we politely declined because we didn't want to trouble her. I really appreciate that initiative. Definitely recommend this listing. P.S: Their house cat Narnia is the most adorable thing.
Matthias
2015-05-24T00:00:00Z
Rayva (Pronounced Ray'n'a) is a unique individual with a lovely welcoming personality. A pleasant experience overall. Room was as described, house was overall clean, tidy and quiet. A comfortable stay, would recommend to others :)
Andrew
2016-08-03T00:00:00Z
Rayna est une hôte accueillante et attentionnée! Ça a été une expérience très enrichissante. La chambre était à la hauteur de nos attentes. Thanks a lot rayna and see you soon ! Isabelle et Ben
Isabelle
2015-07-23T00:00:00Z
Our stay at Ravya's house was absolutely wonderful! She was very helpful and friendly and the room itself was neat and tidy. The best part was the chocolate cake that she'd prepared on the day we arrived as it was absolutely delicious. Thanks for having us over. Ishan & Tarun
ishan
2015-09-26T00:00:00Z
Rayva was very kind and helpful, the house and the room are very nice, plenty of space and clean. Would recommend. Was very nice to met her.
Nathalie
2016-04-17T00:00:00Z
Good
Nidhi
2016-10-23T00:00:00Z
Thank you for all Rayva :) I was stay just 1week but she was very kindly and very friendly !! House was very clean!! I recommend you:)!!! Yuhei Thank you for every thing in I stayed here 2 weeks . Rayva is always thinking about make us stay confutable . very clean, always smile , some times make good dinner for us and etc,,,, I'll stay here again when my friends coming Sydney that why I can recommend this house. See you soon : )
yuhei
2015-03-18T00:00:00Z
Tipo de habitación
Habitación privada
---
Tipo de propiedad
Casa
---
Capacidad
2
---
Dormitorios
Merrylands, Nueva Gales del Sur, Australia
Tipo de habitación
Habitación privada
---
Tipo de propiedad
Casa
---
Capacidad
2
---
Dormitorios
Carramar, Nueva Gales del Sur, Australia
Very private, safe, Huge double KING Room with own entry door, private Bathroom and Showers. NEW Double Bed, New Firm Double Mattress, Very Clean. Large SAFE Family Residence with large and safe back yard. inc. own Kitchenette, tea and coffee area in the room. Large wardrobe, study table and chair High Speed NBN Internet. Sheets, Blankets and pillow provided. Shared: Fully equipped Kitch, Dinning, Lounge, BBQ and outdoor seating area. Ample security parking. pool & Sauna ext. costs
1 X Queen Bed 1 X Sofa Bed 1 X extra air mattress (or more) Sleeps upto 5 people. full linen, towels, provided, own bar fridge, own microwave, outdoor BBQ and outdoor kitchen, Laundry washing machine, ironing, outdoor cloth line, under cover clothes line, under cover seating area. Provided: Linen and Towels tea, coffee, milk, sugar Bar fridge Microwave oven Fan or A/C Blankets and sheets Fruits, bottled water, soft drinks, 2min. noodles on arrival Toilet paper/soap/shampoo and conditioners
Walking to Parks, 3mins walk to westfield shopping center, 10mins walk to Liverpool CBD and Liverpool Hospital.
Tipo de habitación
Habitación privada
---
Tipo de propiedad
Casa
---
Capacidad
4
---
Dormitorios
Liverpool, Nueva Gales del Sur, Australia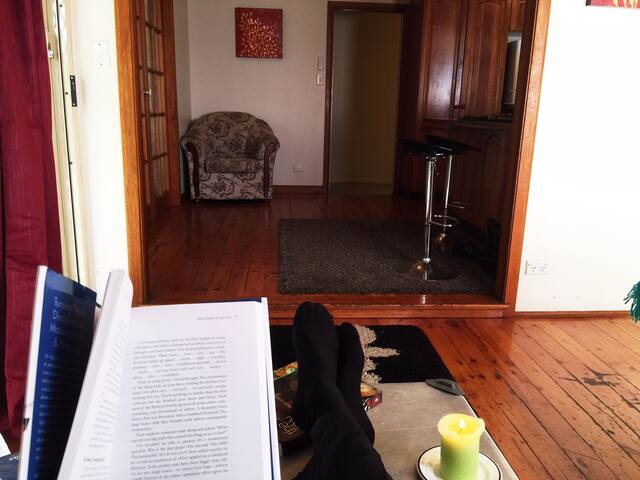 You'll love our place because of our outdoor garden area with a great morning sun outside your door step for that great cup of coffee. My place is good for solo adventurers, couples, business travelers, and families (with kids).Our place is approximatley 50 minutes to the Sydney CBD and 25 Minutes to Sydney Olympic Park,Homebush.
The accommodation is a Granny Flat which is situated out the back of our family home and is secure and private for all guests. The granny flat has 2 bedrooms, a kitchen, bathroom, living and dining area. There is accommodation for up to 4 guests.
Location is in walking distance to shops, restaurants, petrol station, gym and park.
Great experience, the flat was advertised accurately, was clean, tidy and had everything we needed for our 4 night stay. Great selection of food nearby at a short notice, and easy coming and going to the unit. We'd love to come back next year!
Richard
2016-10-18T00:00:00Z
- Nice place, Matches description - Off street parking (busy street) - Good location - Clean and tidy - Close to the shops - Welcoming host
Furat
2016-11-11T00:00:00Z
We really enjoyed our stay in the place. Our Host were very accommodating as we could only check in by 10:00 pm. They were very prompt in replying to any queries we had. The place was very clean and had extra blankets and towels. They provided us with an extra heater on request, on top of the air con they already have in the place. Place is just opposite the Bus stand which makes it easily accessible. Would highly recommend the place. Thank you.
Anna
2016-08-25T00:00:00Z
The flat was just as advertised, beds were comfortable, rooms were very clean and well appointed. The hosts were friendly. Overall a good place to stay and very reasonably priced. Would definitely stay again.
Geoff
2016-10-02T00:00:00Z
Good value for money. It does not have best of views or beds but it is for sure good value for a family to stay over for a few nights. We drove from Melbourne and hence had a car all the time which did not let us understand how well it is connected via public transport.
Dhimant
2016-11-22T00:00:00Z
We had a very comfortable stay at Smithfield. The place was tidy and had the little touches necessary for a stress free stay. Towels, soap, shampoo and milk was all provided. Extra blankets were on hand to tackle the cold should we need it. After a full day of sightseeing the beds gave us the comfort we needed to rest peacefully. Highly recommended.
Razia
2016-07-11T00:00:00Z
This was our first air BnB experience, our host was lovely and communication easy, the place was clean, tidy and had everything we needed and more. The bed was so comfortable we had a great couple of nights sleep. The place was quiet and private and only 15 min to the race track i can say it was better than a hotel thank you Patrick
Chris
2016-11-05T00:00:00Z
Hosts were super friendly. Nice unit, everything was clean and everything you could need!
Tim
2016-07-17T00:00:00Z
Tipo de habitación
Casa/apto. entero
---
Tipo de propiedad
Cabaña
---
Capacidad
4
---
Dormitorios
Smithfield, Nueva Gales del Sur, Australia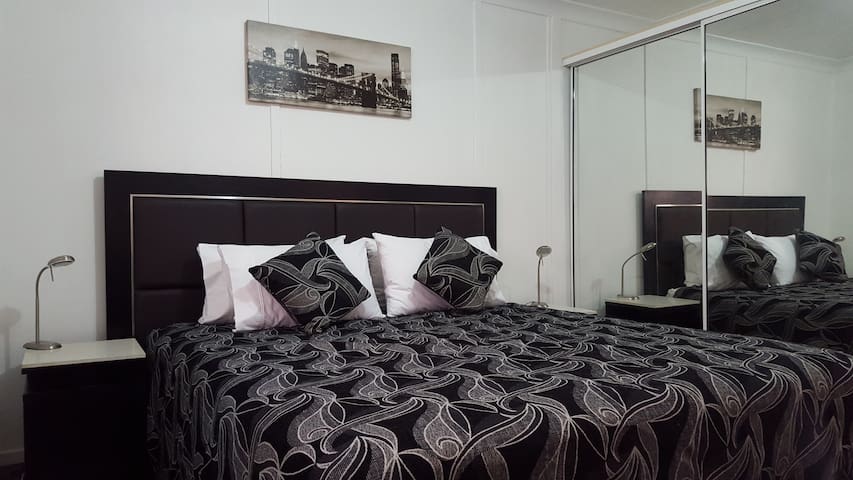 My place is good for couples, solo adventurers, business travellers, and families (with kids).
Our accommodation is a private cabin. It has 1 bedroom with 1 x King or 2 x Single beds and 1 x sofa bed in the living room, 1 bathroom, living, dining and kitchen area. It has an outdoor area and car space. We accommodate for up to 3 x guests.
Our location is close to public transport. We have a bus stop right outside our front door. The closest train station is 10 minutes away.
Great stay really friendly.
Daniel
2017-03-10T00:00:00Z
Good value for money if you are working in south west
Doug
2017-02-16T00:00:00Z
Very Clean and well kept "granny flat". Has all the basics for a comfortable stay. I stayed for business and worked for me. Thank you.
Matthew
2017-03-30T00:00:00Z
Roomy apartment at the rear of property. Has everything you need for a few days away from home. Off street car parking in front of apartment. Friendly hosts.
Alan
2017-03-17T00:00:00Z
I stayed at Studio 1/766 for a business trip to Sydney. I can summarise my experience as follows: Pros: • The location was perfect for me as most of my meetings were in Sydney's west. • It was great to have parking outside the front door of the unit. • The apartment was well sized, and the bed was very comfortable. Cons: • The apartment is dated and the fittings and fixtures have aged. • Standard of cleanliness was OK but could be improved. • Access door to the apartment could not be locked. I pointed this out and was assured it would be fixed. • Heating provided was a small Dimplex heater. The weather at the time of my stay was unusually cold and the heating was inadequate for the size of the apartment. • Internet was slow by today's standards (2 Mbits/sec). Overall, an average experience.
Lillian & Peter
2016-08-05T00:00:00Z
Excellent premises, easy to get to places. Highly recommended. Thanks Nav.
Rupert
2016-10-02T00:00:00Z
Great economical place
Garry
2016-11-16T00:00:00Z
Great stay and great location when working in the western suburbs.
Tom
2016-09-08T00:00:00Z
Tipo de habitación
Casa/apto. entero
---
Tipo de propiedad
Apartamento
---
Capacidad
3
---
Dormitorios
Smithfield, Nueva Gales del Sur, Australia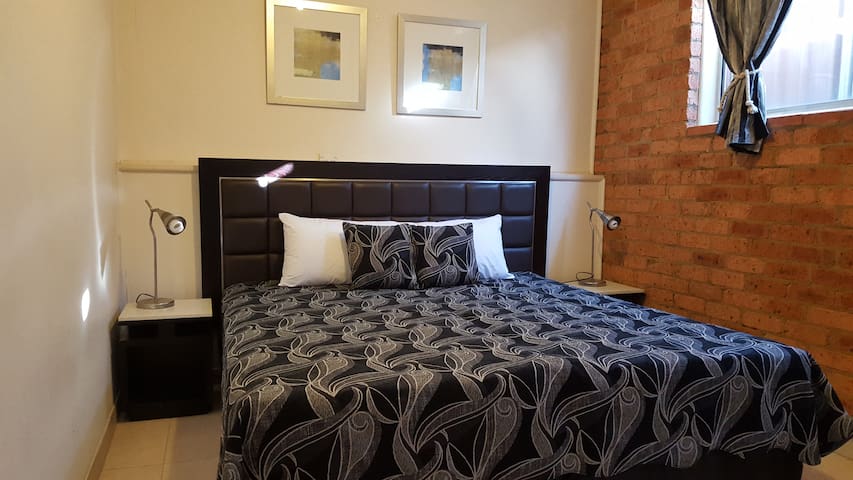 Nachází se na Warwick Farm, hned vedle Westfields Liverpool 5 minut chůze. 1 ložnice + 1 studovna na úrovni 3, Skvělá příležitost pro přístup!
Kompaktní apartmán s 1 ložnicí a 1 studovna, TV nastavení s NBN bezdrátový internet s pohovkou a koupelna sprchovým koutem s kuchyňskou linkou a mytí vlasů / zařízení jsou k dispozici
Zbrusu nových bytů, které byly otevřeny v dubnu 2015. Sousedé jsou dobré, jak to je byt žijící v kompaktní bytů.
Cute apartment walking distance from Good Time Burger
Mjay
2016-11-11T00:00:00Z
Great experience! spacious and clean one bedroom apartment with good facilities. Steven is very responsive and helpful with guiding us to the location and also on the amenities.
Ying Ying
2016-04-12T00:00:00Z
A nice apartment for a great price, close to everything and a friendly and helpful host.
Ali
2016-05-16T00:00:00Z
Steven was an excellent and most flexible host. He actively made the stay as easy and enjoyable as possible. His home was clean, in a very accessible and great location close to the shops. We greatly enjoyed our stay and highly recommend others to come. Thanks Steven!
ANTHONY
2016-04-10T00:00:00Z
Steve's flat is easily accessed with flexible key arrangement, and use of parking space. In our experience, the apartment was tidy, but could have used a bit of a clean before we arrived. However, it is good value and a convenient place to stay in the Liverpool area.
Lisa
2016-09-25T00:00:00Z
Nice location. Convenient to shops, restaurants and highways. Like the secure parking, and very nice to have a washer and dryer.
Z John
2016-11-11T00:00:00Z
good location and almost brand new apartment ! Thanks Steven~
James
2016-02-27T00:00:00Z
The apartment was really good value and Steven was lovely and communicative.
Sara
2016-05-03T00:00:00Z
Tipo de habitación
Casa/apto. entero
---
Tipo de propiedad
Apartamento
---
Capacidad
2
---
Dormitorios
Warwick Farm, Nueva Gales del Sur, Australia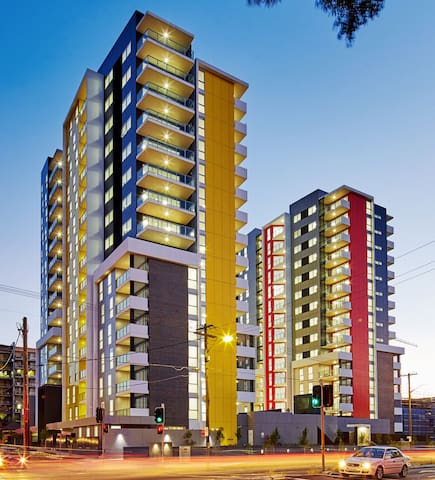 This house is just recently renovated. It is situated in a quiet street with a walking distance to Fairfield Forum (Coles, Kmart, and food shops) and Fairfield train station. We have one lovely cat to keep you company. We like travelling and meeting the locals to get the real experience of each place we visit that's why we would like to accommodate you to have great experience in Sydney. It's 40 minutes train ride to the city and there is a bus stop just outside the house.
Tipo de habitación
Habitación privada
---
Tipo de propiedad
Casa
---
Capacidad
1
---
Dormitorios
Fairfield Heights, Nueva Gales del Sur, Australia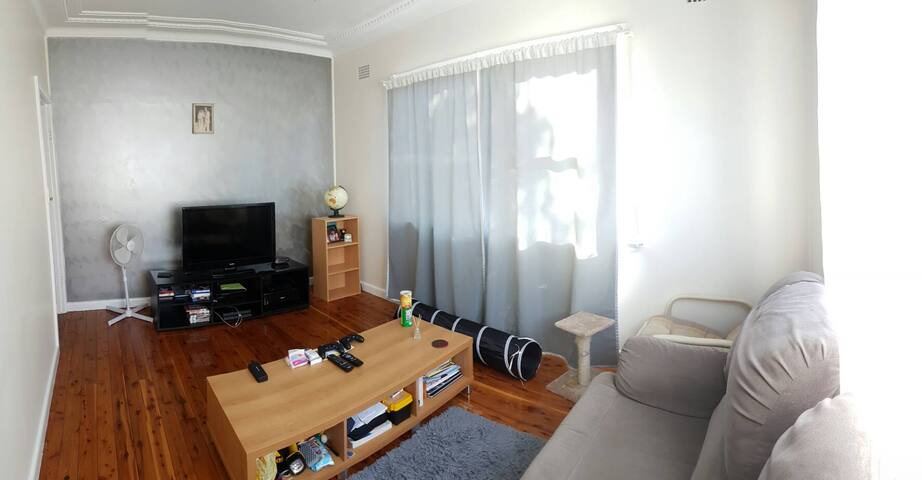 My place is close to Merrylands train station-8 mins walk, M4 motorway, Restaurants, Petrol station, Pharmacy. doorstep access to public transport, 5 mins walk to restaurants, 10 mins to the super market. Sunny room with Queen bed, wardrobe and attached toilet, secured accessed via lift, plenty of parking. Welcome to use the fridge & washing machine, watch tv or enjoy the terrace. It is good for couples, solo adventurers and business travelers.
budget stay with a queen bed and attached toilet. Short distance to the market, train station and public transport is a super luxury. Super friendly approachable and accommodating host
Thanks
Biswojit
2017-04-06T00:00:00Z
The room is very clean and owner is friendly.
Wenlei
2017-04-02T00:00:00Z
Shabir is a very open and friendly person. He was very accomodating and helped with all requests, e.g. for future guests Shabir is arranging for car space in the locked up garage.
Lina
2017-03-02T00:00:00Z
He was a lovely host kind and generous and it was a lovely Pleasant peaceful stay thank you very much.
Yasemin
2017-04-13T00:00:00Z
Thank you Shabbir! The room, house, everything was clean and he was really kind and a nice guy. Easy to walk shopping center, bus stop and train station. It's quiet outside at night, and i was comfortable all the time. I want to stay again when I come back to sydney‼︎ highly recommend to others.
Maz
2017-03-27T00:00:00Z
The place is big and clean as the room, and very comfortable. I really enjoyed my stay. Shabbir was nice, welcoming, and helpful. I highly recommend.
Nassim
2017-03-15T00:00:00Z
Tipo de habitación
Habitación privada
---
Tipo de propiedad
Apartamento
---
Capacidad
2
---
Dormitorios
Merrylands, Nueva Gales del Sur, Australia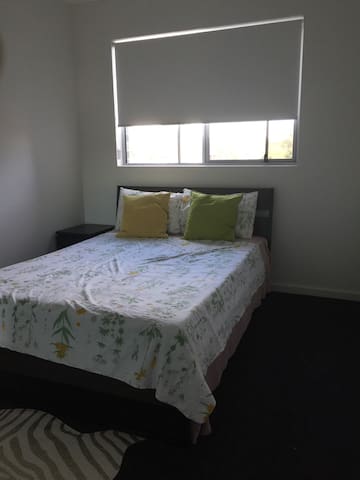 Spacious 2 bedroom unit that is conveniently located close to shops, restaurants, clubs and public transport. Can accommodate up to 6 people. A great place to relax and call home while in Sydney.
This is a spacious two bedroom apartment located on the first floor with balcony. Master bedroom has a comfortable queen size bed and a built in wardrobe. The second room has a single bed as well as a single over double bunk bed, which will easily accommodate for 4 people. Perfect for the kids to hang out. The living room is large and accommodating. You will have access to a small DVD collection, Wii console and games, books and games for the children to feel at home. There is plenty of seating in the living room. A large couch for you to rest and unwind after your day out exploring. The large eat-in-kitchen has a large dining table. The kitchen has all your standard utensils, pots, pans, cups and plates for you to prepare your own meals. I will leave you some pamphlets and maps to assist you in planning some sight seeing. Upon request I can also provide Opal card to make it easier for you and your travel party to get around on the Sydney train network. Plenty of free off street parking available.
Quiet neighborhood. Great restaurants offering a variety of cuisines like Thai, Middle Eastern, Asian, Italian. RSL club, Gym, Swimming center all just a couple of blocks away.
Coral was very welcoming.
Cassandra
2017-01-01T00:00:00Z
Coral is a very good host. She waited to welcome us eventhough we reached there around 11pm. The facilities are all good but a bit far to the city centre. Overall it was a good stay.
Meera
2016-07-26T00:00:00Z
The host canceled this reservation 10 days before arrival. This is an automated posting.
Hoang
2016-08-30T00:00:00Z
Price was good, apartment was not as clean as I would have it. There was mold on shower curtain, hair on the hand towel and on the bed sheets. A bit dusty and left over food in fridge.
Tanja
2016-09-06T00:00:00Z
Very nice family apartment located close to all amenities. Highly recommended for people with kids. Host is a professional nice person who is always helpful and ready to do everything to satisfy her guests. Thank you Coral and Rebecca we will book again.
Nadal
2016-08-18T00:00:00Z
Coral seems to be a lovely person and she was helpful in replying to questions and has a good attitude. There were no problems at all in communication. Everything there was adequate for a basic stay. However, it wasn't very clean overall, and was missing some basic housewares that would have made it more comfortable. The location is convenient for outer city travels to Olympic Park, Rosehill etc, as it's close to transport. The building has quiet neighbors.
Kitty
2016-08-22T00:00:00Z
Not recommended
Manish
2017-03-08T00:00:00Z
Great little unit and host is very contactable and acomadating
Corey
2017-03-05T00:00:00Z
Tipo de habitación
Casa/apto. entero
---
Tipo de propiedad
Apartamento
---
Capacidad
6
---
Dormitorios
Fairfield, Nueva Gales del Sur, Australia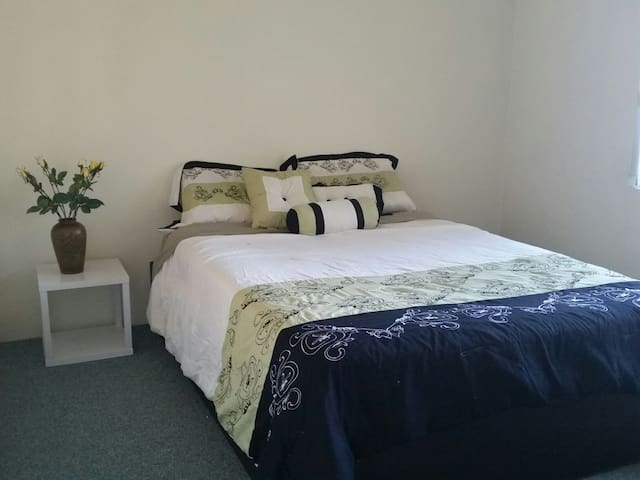 Furnished bedroom is available for rent . The apartment comes with all modern amenities. .The apartment is 1 minute distance to Westfield liverpool and has easy access to all public transport .
Tipo de habitación
Habitación privada
---
Tipo de propiedad
Apartamento
---
Capacidad
2
---
Dormitorios
Liverpool, Nueva Gales del Sur, Australia
你把所有我們家樓上的使用,因為我住在樓下。 3個臥室(主臥室套間)+另一個浴室。廚房,洗衣房,休息室,餐廳,日光浴室。 2分鐘開車到公共汽車站。 10分鐘到火車站。 45分鐘車程至悉尼市中心取決於N個業務。乾淨,舒適。高高的天花板,安全光幕,堵塊百葉窗。部分裝修。請檢查位置等。我有一個舊的拉布拉多犬。所以他不逃跑,就不能停放在門後,但你可以將車停在車道上。
我們正在接近購物中心(利物浦菲爾德和Stocklands維特萊爾公園),公園(塞西爾山公園等)和許多餐館(亞米契斯在澳是我本地的收藏之一)俱樂部(利物浦天主教俱樂部騎警等)。
Tipo de habitación
Casa/apto. entero
---
Tipo de propiedad
Casa
---
Capacidad
4
---
Dormitorios
Miller, Nueva Gales del Sur, Australia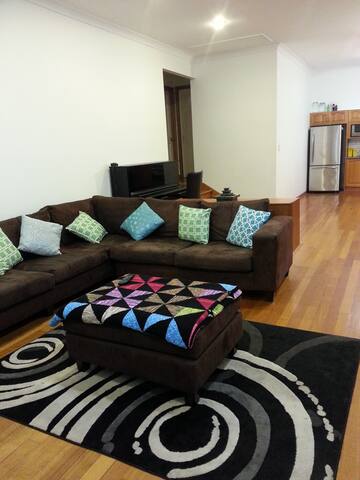 Ten przestronny, w pełni umeblowany pokój położony jest w spokojnej okolicy, pod warunkiem, parking oraz łatwy dostęp do środków transportu publicznego.
affordable, comfortable bed, great host, highly recommend, this is my second time and I am sure i ll be back.
SIONE
2016-05-28T00:00:00Z
I had a very comfortable and relaxing night stay at Omar's home. The bed was very comfortable and access and egress was easy and well communicated. Would happily stay there again and encourage others to do so as well.
Duncan
2016-08-09T00:00:00Z
nice place to live, very clean and comfortable.
wenlei
2016-10-10T00:00:00Z
I stayed for 3nights at Omars place (should have been 4, but my flight got delayed by a whole day, but as nice, flexible and well organised Omar is, it was not a problem to get access to his house) and I would highly recommend staying there. I definitely will come back next year! Clean house, his mum is a lovely and kind person, and I had my privat bathroom! If you look for a quite clean accomondation, this is for you. Even free wifi!
Dominik
2016-07-25T00:00:00Z
Stayed two nights. Nice room & bed. Own separate bathroom. Convenient entry/exit via back door. Wasn't there much as I was catching up with family & friends. Very convenient.
Geoff & Julie
2016-11-28T00:00:00Z
Omar and his mother were really friendly and helpful and made me feel welcome. The room also includes a bathroom next door for your use only so that was really convenient. They also provide spreads and condiments to make your own breakfast which was great as I then didn't have to bring my own stuff with me. The place is very neat and clean.
Jennifer
2016-09-12T00:00:00Z
awesome place as usual.
SIONE
2016-12-02T00:00:00Z
Excellent stay for the night, a bit out of the way but public transport is close. Very friendly host.
Martin
2016-11-11T00:00:00Z
Tipo de habitación
Habitación privada
---
Tipo de propiedad
Bed & Breakfast
---
Capacidad
2
---
Dormitorios
Bass Hill, Nueva Gales del Sur, Australia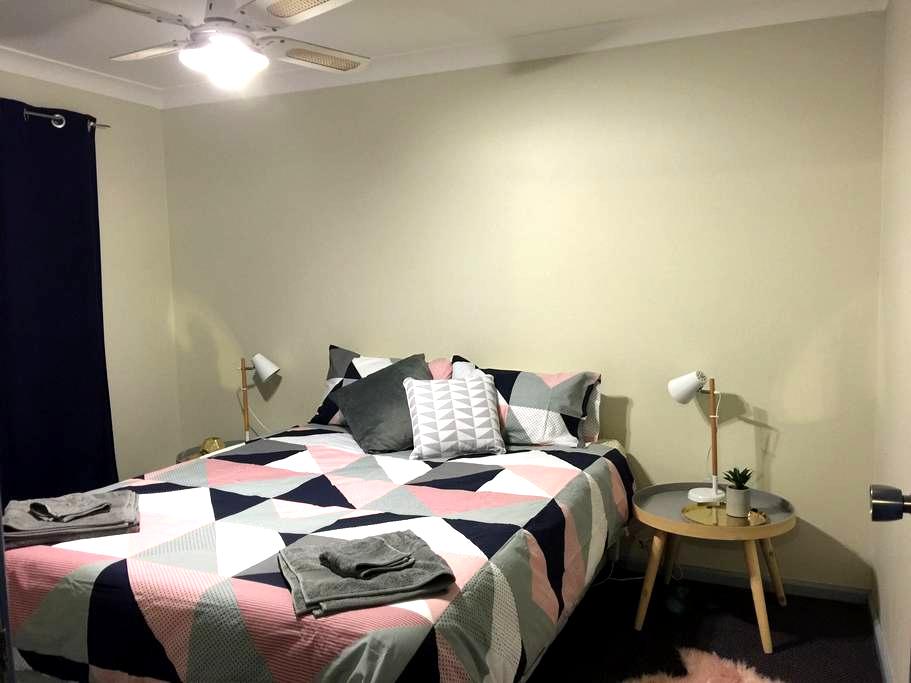 Atteindre la ville en une heure de train. Appels locaux illimités par téléphone fixe et une connexion Wi-Fi gratuite disponible. cuisine et WC à partager
Friendly host nice room
Angela
2017-04-06T00:00:00Z
Friendly host nice room
Angela
2017-04-05T00:00:00Z
Tipo de habitación
Habitación privada
---
Tipo de propiedad
Apartamento
---
Capacidad
2
---
Dormitorios
Guildford, Nueva Gales del Sur, Australia
Canley Heights - Airbnb
:
Una media de

4.45

estrellas de un total de

5

de

242

evaluaciones de huéspedes
Introduce las fechas para ver el precio total. Ten en cuenta que se aplicarán tarifas adicionales y es posible que se añadan impuestos.