Need a unique vacation on the water? This unique offer is you can stay on a boat on the Sacramento River with all the commendations needed. Also a Private limousine is available for $50 an hour if you want to go wine tasting or go to an event in style. "THE BOAT IS NOT AVAILABLE FOR ANYONE TO DRIVE." The only driver is myself and I can take you on a cruise to local restaurants/bars on the river for an additional price $60 an hour.
My 1987 Bayliner 2850 Contessa Has two sleeping quarters with large beds and a sitting area that breaks down to a sleeping area. Sleeps 5 to 6 people very comfortable. Has one bathroom, kitchen, stove, microwave, small refrigerator, sink and stereo. Very comfortable and clean.
Tami was just wonderful! She responded literally within minutes. Tami is a great host! The place was simply amazing. Clean, neat, totally prepared for our arrival. She gave us a ride on the boat and been patiently waiting up until we finish our dinner at a restaurant. Then we drifted back on the boat and as soon as the boat was docked, Tami left to allow us our privacy. In the morning, Tami gave us a ride on her Limo. The location where the boat parked is astonishing. Quiet, peaceful, only nature and yet less than 10 min away from a city. Three seals live just across the boat. To make the long story short, if you want to have an unforgettable experience, Tami's boat is the place. I would recommend her to all my friends. I look forward to staying there once again soon.
Kobi
2016-04-12T00:00:00Z
The host canceled this reservation 2 days before arrival. This is an automated posting.
Elizabeth
2016-03-18T00:00:00Z
Great time! Boat was a blast to stay on and much more interesting than staying in a hotel. The boat was exactly as described and Tami was extremely helpful in making sure I was set up well and knew where to eat etc. Thanks Tami!
Dan
2016-04-29T00:00:00Z
Tami responded to our booking request very quickly and arranged a meeting to exchange keys and information about the boat. The boat was exactly as described and perfect for our time in Sacramento away from the bustle of downtown. We enjoyed sitting on the deck with a glass of wine and waking up on the water was so relaxing. Would recommend this to anyone looking for a quiet escape. Thanks again Tami!
Laura
2016-07-19T00:00:00Z
Tammi was very friendly and I booked last minute. It was clean , cool and relaxing environment and my two boys loved the boat. My dog also enjoyed the sea lions watching us from afar.
Peter
2016-04-03T00:00:00Z
The Sacramento River area is beautiful. It was a lovely stay.
Kimberly
2016-07-22T00:00:00Z
We had a great stay at Tami's boat =] It was lovely to spend a weekend on a boat on a fresh air. Location is nice and calm but very close to the downtown. Perfect for a weekend and if you are looking something more interesting than a hotel room =]
Beata
2016-02-29T00:00:00Z
Fantastic place, peaceful and beautiful along the water. There was even wildlife (duck, duck, goose, and seals)! Tami was very welcoming and the boat was cozy, clean, and comfortable. Highly recommend walking to the Sturgeon for dinner. I didn't know the sunset in the middle of the city could be so pretty -- this is a gem.
Robin
2016-03-31T00:00:00Z
Tipo de habitación
Casa/apto. entero
---
Tipo de propiedad
Barco
---
Capacidad
4
---
Dormitorios
Sacramento, California, Estados Unidos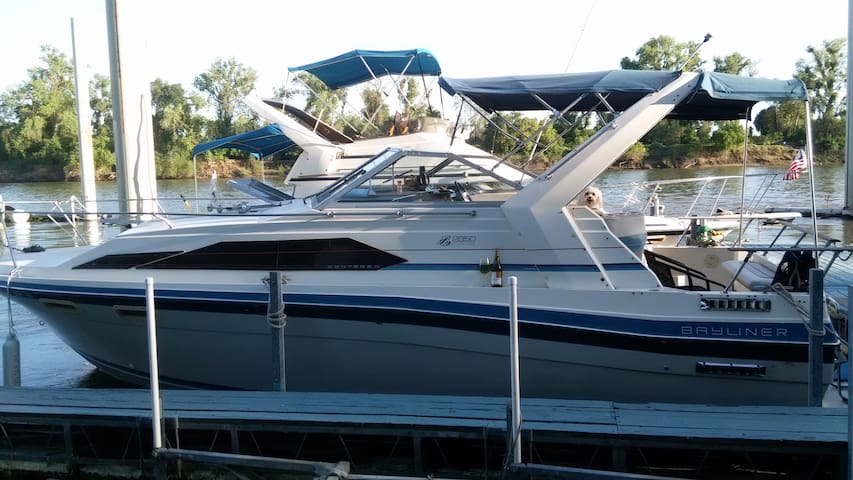 Permanecer en el agua en un barco. Esta es una experiencia que hay que probar. Ahora usted no tiene que pagar miles de poseer el barco simplemente disfrutar de ella.
Las cámaras de seguridad en las instalaciones y .Su Sus cuartos de baño completo servicio Hot-duchas. restaurante en el lugar. muelles de pesca, la playa y la ciudad todo a poca distancia. Frigorífico, Microondas, TV de pantalla plana y reproductor de DVD, Cafetera. WI-FI gratuito .. .Couples retirarse .. 30 pies Catalina Chris Craft, 1 cama 1 litera .Fully cargados listos para relajarse. Disfrute de su estancia en el frente de agua Marina en Rio Vista CA, ver una hermosa puesta de sol desde la cubierta de nuestro barco o bajar a la playa o muelle. Todo lo que necesita en el sitio. o 3 minutos a pie de la ciudad, ahora usted puede permanecer en un barco, y no tener que pagar el precio de ser dueño de ella. Noches refrescarse adjudicar tener un suéter, los días son cálidos disfrutar de la playa y el agua. Este es un lugar para relajarse. Puerto Maestro nos requiere ahora para mover el barco a la frente De área uso de los huéspedes durante la noche antes de su llegada. Por lo tanto se requiere un aviso, para que haya tiempo para mover el barco. cruceros al atardecer están disponibles por $ 100. Parque en la I Puerta, o área principal puerto deportivo, Barco se encuentra en zona de invitados durante la noche, a las afueras de Marina tienda, Claves para cuartos de baño están en el barco. Por favor, devuelva todas las claves o su un cargo de $ 50, Marina tiene wi-fi, y seguridad 24 horas de vídeo, Ubicación. Por favor, respetar a los demás propietarios de embarcaciones. Por favor, no fumar en el interior o en barco. No está permitido fumar en los muelles. Algunos fines de semana se reservan con meses de antelación no esperan .plan Ahead. Delta Marina se encuentra a 100 Marina Drive, Rio Vista, CA Mantenerse en contacto. (Phone number hidden) gerente de Dean Reserva con Ambassado (URL ocultos) (phone number hidden) Ailee (URL ocultos) (phone number hidden) Dino Aceptamos todas las tarjetas de crédito. En la ciudad hay que visitar Fosters, sólo 2 restaurantes de este tipo en los EE.UU., para los cazadores de caza mayor. Strippers café para el desayuno, el restaurante The Point in situ para la cena con vistas al río. La gente viene de todas partes y se detienen aquí para la cena y el almuerzo, por atracar justo en frente del restaurante con sus yates. Durante el invierno hace frío y el verano su caliente, así que prepárate. Durante la temporada de lluvias a veces las ventanas barco destilarán aguas que no se preocupe. Recuerde que este es un barco. Su son sin Taxi en Rio Vista. Cada cosa está a poca distancia de nuestra ubicación. . Taxis más cercana es Checker Cab 75.00 cargo mínimo. Disfrutar de un paseo y relajarse. . paseos en limusina se pueden organizar para Napa y Lodi Wine Tours. Ofrecemos: 24 hr. muelle de combustible con gas y diesel (C / C activada) Gran dársena de invitados baños limpios y duchas de agua caliente tienda de Marina Regalos / Marine & RV suministros / aperitivos Bloqueado, puertas codificado para salas de baño. Las cámaras de seguridad en todo el puerto deportivo Hielo / cerveza y vino / sodas disponibles en tienda en la estación Abierto todo el año para el público Compras y restaurantes a poca distancia Instalaciones de lavandería Pequeña ciudad con una gran historia, todos en pie.
Rio Vista es viejo pequeña ciudad situada en la orilla del agua. Un montón de viejas casas de estilo victoriano y pequeñas tiendas. Pasear y disfrutar de este pequeño pueblo perdido.
I really enjoyed sleeping on the boat and appreciate Dean's flexibility. It was more cozy than I imagined, and the weather wasn't the best, but I overall enjoyed the experience.
David
2017-03-26T00:00:00Z
It is, as stated, a boat; as such it is tied up at a dock and has a nautical somewhat damp feel. It rained while we were there so that was a bit restricting. We didn't have running water on the vessel, we didn't try hard to figure that out, we didn't use the onboard toilet as the marina bathrooms are right there and much nicer. The kitchen was a microwave and a Keurig and that's about it. The bed, while a bit cramped (it is a boat remember), was comfortable enough and my husband who is 6'5" fit. We brought our own sleeping bags and were glad we did. There is a nice sound system so bring your own CDs. For the price it was fine, the local restaurants and bars were nice, it was an interesting weekend, something completely different when the rain kept us from bike riding, camping or backpacking. It would be fun for kids, we don't have any, but just saying.
Jennifer
2016-11-01T00:00:00Z
The host canceled this reservation 95 days before arrival. This is an automated posting.
Dennis
2016-04-21T00:00:00Z
Awesome place to stay! Dean's boat was docked in a really nice marina. The boat was perfect for the 2 of us. Dean went out of his way to make sure we had everything we needed! The bathrooms at the marina were clean, nice & very up to date. There is a restaurant right in the marina that you can walk to. Rio Vista, the town, was cute & homey. We recommend Lucy's for dinner & The Flamingo for just grabbing a beer!
mary
2016-10-17T00:00:00Z
Had a nice time on the boat. Cool experience. Marina was very nice and staff very helpful and friendly. Did lots of fishing which is what we came to do on our combined bday weekend.
Kristine
2016-10-26T00:00:00Z
Our stay on the boat was excellent! Dean was easy to work with, everyone at the marina was very friendly and the area was beautiful. If we come back to the Rio Vista area we will stay here again. Thank you for your hospitality Dean!
Jennifer
2016-05-12T00:00:00Z
Great
karl
2016-07-10T00:00:00Z
Dean was very easy to connect with. I made a last minute reservation late the night before and Dean had everything ready to go the next day by noon. Pics were fair to the location and boat. Worked out great for a random last minute trip for the night.
Tyson
2015-09-11T00:00:00Z
Tipo de habitación
Casa/apto. entero
---
Tipo de propiedad
Barco
---
Capacidad
3
---
Dormitorios
Rio Vista, California, Estados Unidos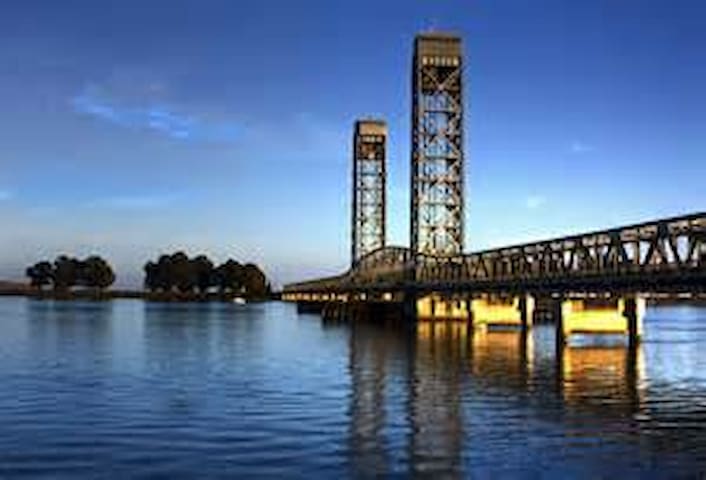 Our comfortable yacht is available for your luxurious stay on the San Joaquin Delta! Stay overnight on your way to Yosemite or Tahoe. Rent a ski boat, wakeboard/ski & discover the Delta & its waterfront restaurants then relax in luxury on your yacht. Island Oasis does not leave the berth, but is yours to enjoy. Boating is a seasonal adventure and pricing does reflect this. For me, summer is the best when you can enjoy the SUPs, Kayak and Paddleboat, others prefer the wildlife in winter.
We have our yacht docked on the Premium first dock-AAA. This gives you an open view of the Marina guest dock, restaurants, and incredible sunsets over the Yacht Club. Walk down past the restaurants and you have a beautiful view down a long channel where Delta wakeboarding is fantastic. If you are a business person working in Stockton, everything you need is on this yacht including a hand steamer for your jacket. The Island Oasis is our home away from home. Village West is the largest covered Marina in NORCAL with two great restaurants, Bob's (fantastic breakfast menu & burgers) and Garlic Brothers (careful of the Mai-Tais). Great bands on Thursdays thru Sunday. Summer Tuesdays are Taco Tuesdays with 1/2 price pizza and a band. There is an In-Shape Health Club right next to our dock with tennis courts, a heated outdoor pool sauna, and spa, ($13 per day). We do have tennis racquets available too. Please call me to request. A grocery store, Marina Market is less than a 1/2 mile down the road at Ben Holt and I 5. TV is only basic local stations, but we have Roku and DVD selection. Wi-Fi is a ATT Hot Spot.
Stockton, unfortunately, does not have a great reputation, but one of the best-kept secrets is the Stockton Delta. It is incredibly blissful. Sea lions follow the Stripers up in the river in the spring. Great Bass fishing. Beautiful white Egrets, turtles, and Canadian geese. Look at .org (California Delta). If you wish to rent a ski boat for your stay. Seven Crowns website. 20-foot ski boat with tower is $220 per day or $1050 for seven days from Paradise Point Marina. You would have to negotiate keeping ski boat out overnight or just return then drive back to Village West (15 minutes). The cost to moor at the guest dock at VW Marina (directly in front of your yacht) is 75 cent per foot overnight. ($15) Wine tasting is excellent in Lodi. Try Oak Farms first- (my (URL HIDDEN) is on the Yacht.
热情、享受、漂亮!
jun
2016-09-22T00:00:00Z
Wendy was the perfect host and the yacht was well appointed and very comfortable. We watched the sunset and enjoyed Sangrias and burgers on the back porch at the restaurant only 5 minutes from the boat slip.
Christine
2015-06-09T00:00:00Z
Wendy was always friendly and in touch and responded all my questions in a timely fashion. We meet Riley on arrival who was very welcoming and walked us through the yacht as well as provided very good suggestions for eateries based on our taste. The yacht was very clean. No weird smells as I saw on reviews for other yachts owned by other people. The marina is lively on the weekends with boats coming to the pier for the two restaurants right across from the Island Oasis (name of the boat). We laughed watching people laughing while leaving the pier after a meal at the marina restaurants. Everybody is just happier on the water . Wendy provided a kayak and paddle boards and there is even an older but perfectly working pedal boat that comes as a bonus to me. Kayaking around and pedaling was just bonus fun that we really appreciated. No need for TV, computers or anything other than a camera or your cell phones to take pictures and enjoy. Thank you for hosting us and providing such as great first impression at the idea of sleeping on a yacht.
Angel Antonio
2016-08-15T00:00:00Z
WOW and AWESOME don't do this adventure justice. Wendy is a fabulous host with an amazing yacht that far exceeded our expectations. The entire weekend was a surprise for my wife's birthday so when Wendy met us on the dock and walked to the slip my wife's jaw dropped big time. As Wendy showed us around, my wife was beside herself with all the luxury and awesomeness there is with this floating palace. Just before Wendy left us to get comfortable she handed us some tickets she purchased for us as another surprise, spending the evening with a hundred new friends at the yacht club dancing to the music of Willie G. What a great night! The yacht is fully stocked with all the appliances and paper goods needed, including an ice maker and blow dryer. The main bunk area has a large comfy bed with a master bath and a smaller bunk room just off the front bathroom and all the decorations were well thought out and tastefully done. We spent quite a few hours on the rear patio with a cold bottle of champagne, with the cool delta breeze, watching the ducks swim by and seeing the occasional fish jump as the tide rolled in and out while we splashed our feet listening to smooth jazz. We spent time with Wendy and Thom Saturday night talking, dancing, laughing and watching the band. What an awesome couple. We can't wait to do it again.
Kenneth
2016-06-27T00:00:00Z
Great place :D looking forward to see it again
Bea
2016-08-19T00:00:00Z
This was by far, the best Air bnb experience we've had so far. Wendy was a wonderful host, and her yacht was beautiful, well stocked, and had all the amenities we could've asked for and more. We would rent this place to live in if we could. We had so much fun! There's a paddle boat available for use, and we had fun on that. Wonderful food within walking distance, the neighbors were very nice and the marina was lovely. Absolutely top notch, and the hostess is pure class. We will be coming back! Thank you Wendy!
Jeremy
2015-10-24T00:00:00Z
We really enjoyed our visit to the Island Oasis. Very upscale boat, and Wendy was very responsive throughout the whole process. Just a word of caution to future visitors - the steps leading down into the staterooms and kitchen, and from the forward bed are somewhat irregularly-shaped and spaced. You will get used to them, but the first few days can be a learning experience. Non-boaters will also have to adapt to stepping over the bulkheads going into the bathrooms, but this standard for any boat. All in all, this is a great facility and host. Now, if only she could have the controlled the week of rain that we got!
Brad
2017-02-15T00:00:00Z
What a great weekend get-away!! Wanted to find a place close by that we could be on the water and away from home and this boat hit the spot. We went paddle boarding, kayaking and even took out the peddle boat. Kitchen was a perfect size to fry up some steaks and the sleeping accommodions where even better than we imagined. If you go on the weekend, they have live music at garlics across the way, which was a fun environment to let loose and cut some rug :) Thank you Wendy and Ryley, you made out weekend!
Tim
2015-07-27T00:00:00Z
Tipo de habitación
Casa/apto. entero
---
Tipo de propiedad
Barco
---
Capacidad
4
---
Dormitorios
Stockton, California, Estados Unidos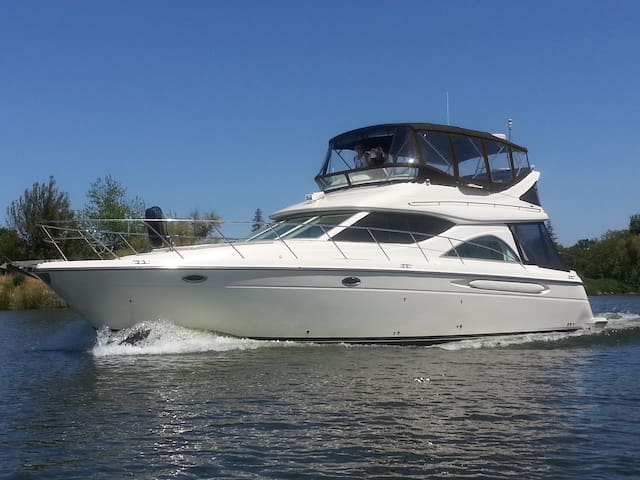 Barquito is a hundred-year-old classic yacht, lovingly restored and ready to transport you to another time while luxuriously spoiling you on your wine country adventure. Located in a charming waterfront town, close to everything, lots of great restaurants and shops, steps from a train to whisk you to San Francisco, so why would you want to stay anywhere else? you will be pampered by our crew and free to use all the amenities of her sister ship, Barkissimo, you will feel truly spoiled while here.
This antique classic yacht, built in 1917, has been beautifully restored in 2014 to better than original condition. She boasts lots of varnished mahogany, period antiques, and elegant lines with all the modern conveniences not available back then, such as a vacuum toilet, mood lighting, and a queen memory foam bed. Staying aboard Barquito is truly a trip back in time.
The historic waterfront district of Suisun City is one of the most charming places in all of northern California. There is easy transportation to San Francisco and all of wine country, as well as lots of choices for dining and gifts. Come explore this hidden gem and find out why Barkissimo decided to make her home here.
Tipo de habitación
Casa/apto. entero
---
Tipo de propiedad
Barco
---
Capacidad
3
---
Dormitorios
Suisun City, California, Estados Unidos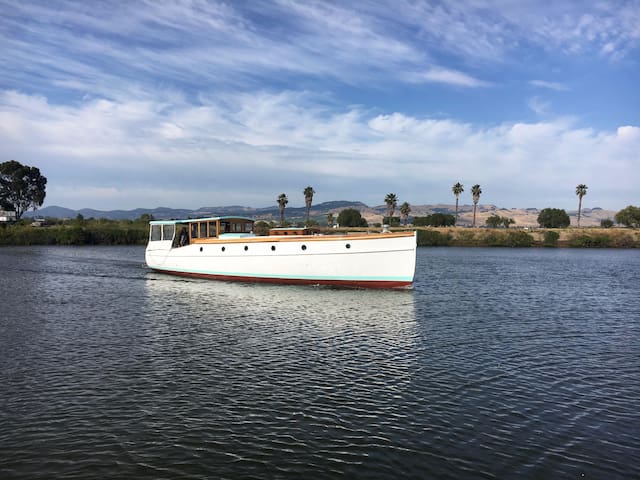 Fun and unique Stockton retreat aboard Skipper's Dream, a private Motor Yacht in her convenient, secure marina berth. Warm and cozy during cold weather. Great restaurants on/off site. Loads of amenities. Everything needed for pleasure and business travel. Located at the eastern edge of the California Delta, a recreational wonderland. Skipper's Dream was featured on TV channel ABC10 in their news story "HOW TO RENT A YACHT", aired on 9/17/2016. View on the ABC10 website (search: "yacht").
Skipper's Dream is a beautiful Viking 33' Convertible Motor Yacht. This private vessel is not available for charter but is made available only for nightly or weekly stays in a secure environment while docked in its covered berth at Village West Marina in Stockton, CA. Convenient free parking is at the entrance to the dock, within a security gated area. The marina is one of the nicest in the California Delta. Electric heaters provide a warm, cozy environment during cold weather. She normally sleeps 2 in V-Berths in the forward Stateroom. An additional 2 may sleep on the Salon Sofa bed. Features include a gourmet Galley, dining tables in the Salon and Cockpit, Wi-Fi Internet access, ROKU Smart HDTV in both the Salon and the Stateroom, Blue-Ray DVD & CD Stereo, DVD and CD Library. A large Visitor Information Library is also kept on board with brochures and literature for numerous wineries, visitor attractions and events, restaurants, venues and tours as well as on-line information. Two great restaurants are within the marina, a celebrity chef restaurant and numerous other restaurants are a short drive away. Coin operated laundry facilities are near the dock and an on-site convenience store is open during the day. A full service grocery is a mile away. The marina is very quiet and very convenient for both recreation and business travelers. If you're looking for a relaxing time while staying at a convenient and secure Stockton location on the California Delta, Skipper's Dream is the place to stay - The vessel is not permitted to leave the dock during your stay. You may rent fishing boats, ski boats, paddle boards, kayaks and other water toys at various Delta locations for a great time on the California Delta during the daytime and stay aboard this beautiful boat at night. Or, if you prefer, just hang out at the marina and/or explore the vast wine and tourist regions surrounding you. An In-Shape tennis & health club ($16/day/person) is adjacent to the marina entrance with Tennis Courts, Exercise Facilities, Sauna, Steam Room, Spa and an Outdoor Pool maintained at 85 degrees year-round. For the business traveler, what could be better at the end of a long, hard day than to return in the evening to the quiet, laid back environment of your private, floating oasis. Leave the rat race behind and enjoy the quiet solitude of life as it is in the California Delta with the conveniences of the vibrant businesses nearby. Stateroom - The stateroom has the standard V-Berth arrangement typically found in most vessels in this size range. Pillows and bedding are provided. The two comfortable mattresses are made of 4" foam plus topper; their dimensions each are approximately 6'4" long, 30" wide at the head and their combined width at the foot is 17". The stateroom also includes a hanging locker (closet) and four clothing drawers. Galley - The gourmet galley is fully equipped with dinnerware for four, Refrigerator, 2-Burner Electric Stove, Convection Microwave Oven, George Foreman Grill, Cooking Utensils and Cutlery, Percolator Coffee Pot, French Press, Instant Hot Water Kettle, automatic Ice Maker, Toaster, Crock Pot, Blender, Coffee Grinder and Ice Crusher. Unless you have a very unusual requirement, most everything you will need in the Galley except food is provided. There is also a sharing pantry where many guests leave their leftovers upon departure. Salon - The Salon, furnished with luxurious teak furniture, includes a Dining Table, standard size Sofa Bed and an Entertainment System. The Entertainment System includes an Android 5.0 Tablet, WiFi Internet access, a ROKU Smart TV with antenna for local channels, a Blu-ray DVD player with Internet TV and Games, a Stereo with Bluetooth and audio-in jacks for connection with your personal devices, and personal device chargers for micro USB, mini USB, and all iPhone/iPad/iPod models. Check with your host if you need help connecting to or using the WiFi Internet or other Entertainment System components. Head - The head includes a deluxe electric marine toilet and holding tank, sink and a shower. Cockpit and Flybridge - The carpeted Cockpit provides outdoor seating, a dining table and a ladder to the Flybridge. Above, on the Flybridge, the seats fold out to create two outdoor lounges. Village West Marina Facilities - Aside from the on board marine head and shower, the marina provides convenient, exquisitely maintained and spacious Restroom, Shower and Laundry facilities near the dock entrance and near the office and restaurants. There is ample secure, free and convenient parking available at the dock entrance, protected by an electronically controlled gate. You may launch a small boat at the launch ramp and store your trailer on the street just outside the marina entrance for the duration of your visit. Be sure to let your host know ahead of time that you will be bringing a boat to be launched while checking in (during marina office hours). There are two restaurants at the marina: Bob's At The Marina (breakfasts, burgers, hot dogs, sandwiches, Etc.) and Garlic Brothers Restaurant & Bar (lunches, dinners, drinks and fabulous views of the magnificent Delta sunsets, overlooking The Delta towards Mt. Diablo). Garlic Brothers also offers live music on weekends and some weeknights. Life on the delta and aboard a boat is slow paced, laid back and casual, a throwback to the way things used to be. The clock seems to run slower here and that's why the locals call it "Delta Time." Relish your Delta Time before you have to leave it behind and return to reality. Lounge in the cockpit in the morning and enjoy your favorite coffee and a bagel or pastry before heading out to explore the area. Later, if there are clouds visible in the western sky, return to the boat to enjoy the spectacular evening sunset over Mt. Diablo. The Garlic Brothers restaurant patio located at the marina is a fantastic place to view the sunset. Local Boating Knowledge - Boat rentals are available at several locations throughout the delta. Also, there are Delta Cruise Boat operators available that may be found online by web search. Although the Delta waterways are fresh water, they are at sea level and are tidal as twice per day they raise and lower several feet behind the incoming and outgoing ocean tides. At low tide some of the waterways can be very shallow. Also, the tidal action can result in some very strong currents so be careful if you go boating or swimming in the waterways. Should you encounter any difficulties on the water, the California Delta waterways are Federal waters and fall under the jurisdiction of the U.S. Coast Guard with assistance from local county authorities. Channel 16 on the Marine radio is monitored 24/7 by the USCG, Station Rio Vista.
If you like the water, the California Delta is a recreational wonderland. It is a fresh water vacation and recreational paradise consisting of navigable waterways located at the confluence of the Sacramento and San Joaquin rivers, where those rivers flow through the Carquinez Strait from the Central Valley into San Pablo and San Francisco Bays and the Pacific Ocean. The 1000+ miles of waterways are contained by large levies that prevent the water from invading the vast parcels of below sea level, reclaimed farm land, some of the most fertile on earth. The triangular boundaries (delta) are roughly Pittsburg-Antioch on the West, Sacramento to the Northeast and Stockton-Manteca-Lathrop-Tracy to the Southeast. The area is midway between Lake Tahoe to Yosemite on the East and San Francisco to Monterey on the West. Easily visit any Northern California location during a day trip while staying aboard Skipper's Dream. Or, spend your days exploring and playing on the The Delta, as it is commonly called. There are numerous restaurants, shopping centers and other businesses available within minutes of the marina on Benjamin Holt Drive, March Lane, Hammer Lane, or Pacific Avenue and beyond. Groceries are available at the on-site convenience store, one mile away at Marina Market on Benjamin Holt Drive near I-5, and 2.9 miles away with Podesto's Market, Trader Joe's and a discount market all located at Lincoln Center (Benjamin Holt Drive at Pacific Ave). Wine Country- There are over 85 Boutique wineries in the area and the Lodi Wine & Visitors Center is only 20 minutes from the marina. The diverse selection includes Zinfandel to Cabernet Sauvignon, Petite Sirah and Chardonnay and many varietals. The region features 110,000 acres of vineyards while boasting over 750 growers. Lodi was proclaimed by Wine Enthusiast as the '2015 Wine Region of the Year' beating out finalists Marlborough (New Zealand), Russian River Valley, Sicily and Walla Walla (Washington). Should you wish to venture a bit further for your wine, here is a list of the various AVA wine regions within a reasonable driving distance: - Lodi and the Delta (0-50 Miles) - Inland Valleys (15-135 Miles) - Livermore Valley(40-60 Miles) - Suisun Valley(50-70 Miles) - Sierra Foothills(50-110 Miles) - Yolo County(60-80 Miles) - Napa Valley(70-100 Miles) - Santa Clara Valley(70-100 Miles) - Sonoma County(75-140 Miles) - Madera County(110-140 Miles) - Monterey County(130-170 Miles) Wildlife - It is common to see Egrets, Herons, ducks, geese, swans, numerous bird species, otter, muskrats, beavers, raccoons and skunks during your stay. It is not unusual to see an errant Sea Lion sunbathing on a channel marker or feasting on a school of fish within the marina. During the winter months be sure to check out the magnificent Sand Hill Cranes with their 6' wing spans, only a few miles away or attend the Sand Hill Crane Festival in Lodi. Transportation - By land, there are numerous transportation options available in and around the Stockton Area. This area is central to the 17+ million population of the vast surrounding regions. From Yosemite to Silicon Valley, San Francisco to Lake Tahoe and Carmel to the Napa Valley wine country, all are readily available via Car, Trains, Planes, Buses, Taxis and Ride-Sharing Apps. Tours are also available to the numerous tourist areas and attractions. Search online for some of the buzzwords in the lists below for more information. --------------------------------------------------------------------------------------------- Suggested Nearby Automobile Trips within about 30 Minutes - - Lathrop (Ghirardelli Chocolate Factory Outlet) - Lodi (85+ Wineries, Historic Downtown, Hutchins Street Square, Cosumnes River Preserve ((website hidden)), Isenberg Crane Reserve) - Manteca (Murals, Bass Pro Shops, Big League Dreams Sports Park, German Glass Werks) - Numerous wineries between Lodi and Manteca/Ripon and surrounding area. - Roadside fruit stands all over Northern California rural roads - Ripon (Caswell State Park) - Stockton (Lincoln Center, Haggin Museum, Miracle Mile, Bob Hope Theater, UOP, Stockton Arena, Banner Island Ballpark, Weber Point, Stockton Waterfront, Port Of Stockton) --------------------------------------------------------------------------------------------- Suggested Automobile or Tour Bus Day Trips - - Calaveras Big Trees State Park (1.75 Hours) - Jamestown, gateway to the Gold Country along SR-49 (1.25 Hours) - Lake Tahoe - North Shore via I-80 or South Shore via I-50 (2.5 hours) - Livermore Wine Country (.75 Hours) - Monterey / Carmel (2.5 Hours) - Mt. Diablo State Park (1.25 Hours) - Napa Valley Wine Country (1.75 Hours) - Oakland / Berkeley (1.5 Hours) - Petrified Forest (Calistoga, 2 Hours) - Reno (2.75 Hours) - Railtown 1897 State Historic Park (Jamestown, 1.25 Hours) - Sacramento (.75 Hours) - Santa Cruz (2+ Hours) - San Francisco (2 Hours) - San Jose & Silicon Valley (1.5 Hours) - Sonora and Columbia, in the heart of the Gold country (1.5 Hours) - Yosemite National Park (2+ Hours) Events - For current information about events in the California Delta, visit the California Delta Chambers And Visitors Bureau website or any of the many other Visitor Information sites in the area. There are numerous annual festivals throughout the region on many weekends of the year. To name a few, there are the Asparagus Festival (Stockton), San Hill Crane festival (Lodi), the Almond Blossom Festival (Ripon), the Pumpkin Festival (Manteca), Delta Blues festival (Antioch), Reggae on the Delta (Stockton),The Brubeck Festival (Stockton) and many, many more. Fishing - Fishing is a large part of life in the California Delta. The Delta is home to Bluegill, Largemouth, Smallmouth, and Striped Bass, Crappie, Bullhead Catfish, Channel Catfish, Salmon, Steelhead, Sturgeon and, of course, delectable crawfish. Fishing Derbys are held throughout the Delta, some offering substantial prizes to winners.
My girlfriend and I had a blast on Al's boat. Cute and cozy, immaculate and well-provisioned. As said before, Al is super organized and went above and beyond to provide info on tours, kayaking, swimming, wineries, museums and other info I was seeking. He was available by phone during our stay. We also danced to a great band at the marina restaurant for hours!
Laurie
2016-10-02T00:00:00Z
Wow, a great week on a beautiful waterfront vessel. The facilities were perfect, and sunsets even better. Al was attentive to every detail, a great host.
Tim
2016-09-07T00:00:00Z
Al was so welcoming, helpful and very generous and patient with teaching us about nautical terms. He was very attentive and even checked in to make sure we were warm enough offering to bring us heaters if we were cold in the morning! The setting is spectacular and the yacht was so well appointed and obviously well cared for!
Alice
2015-10-04T00:00:00Z
Second time here and we had a great time. perfect weather, perfect accommodations, perfect host! We will be back soon and hopefully for a longer stay. Thanks!
Diane
2015-09-03T00:00:00Z
We enjoyed our second half of our stay just as much as the first. Highly recommend Al's boat to any type of traveler!
Joseph
2016-02-19T00:00:00Z
Staying on skipper's dream was a great experience. It was fun and beautiful and just really nice. It featured all you could wish for and is in great shape. The shower on the yacht got cold after 5 seconds on every use, but the showers in the bathroom facilities outside were flawless so that was no problem at all! Al showed us everything explicitly in the boat (which is really more than fully featured) as soon as we got there. We're very glad we chose skipper's dream and would stay again!
Lucius
2016-01-16T00:00:00Z
Al was the consummate host. The yacht was lovely and accurately described. We wish we could have stayed longer!
Emily
2016-11-08T00:00:00Z
Comfortable, warm and cozy boat. Great experience on the California Delta! Al was a good host. Loved the geese and birds. Peaceful and relaxing getaway. Thank you
Elizabeth
2017-03-30T00:00:00Z
Tipo de habitación
Casa/apto. entero
---
Tipo de propiedad
Barco
---
Capacidad
4
---
Dormitorios
Stockton, California, Estados Unidos
Charming Houseboat in Benicia You'll have a bedroom and sitting room as your jumping off spot for the entire San Francisco Bay Area. Napa is 30 minutes away and you can either drive to SF in 45 minutes or take the ferry (ten minutes away). Benicia itself has so much to offer; art, restaurants, trails through the State Park and it is all within walking distance. Or stay on the boat and enjoy the view while embracing the gentle ambiance of boat living.
Houseboat living is very different from sailboat, or even powerboat living. It feels much more like a condo on the water. There is very little noticeable rocking, even during stormy weather. In fact my friends who have visited, call it Ambien Cove, due to the restful sleep they have. The space for rent is the lower level. It has a roomy sitting area with plenty of closet space. The separate bedroom is what is called in boating, a cuddy. This cuddy has a queen sized bed, windows and shelving. The bedroom ceiling is 5 feet tall, so no standing. I hope you can tell from the pictures what I mean. I also have another cuddy upstairs that could be available for additional sleep space. You have your own bathroom, with a non-marine toilet (believe me, that's a plus) Due to water restrictions, I ask that guests use the shower at the top of the ramp. This is very close to my boat, keyed and private. Of course, this being a boat, I steal storage where ever I can and in this case I used the guest shower! I have two indoor/outdoor kitties, who run the place. They have their own kitty door and come and go as they please. One is an attention hog and will introduce herself as soon as you get on the boat. The other you'll rarely see. The front porch with all the plants, and beautiful view is a favorite in warm weather. The upper deck is the perfect place to watch one of Benicia's famous sunsets.
The marina is a unique place. Ten percent of the boats have live-aboard status like mine. Sitting on either of my decks you'll see the myriad of dog walkers, most of whom wave, walking the marina. The downtown of Benicia is only two blocks away, an easy walk to restaurants, bars and shops.
See the private to Lisa
Laurel
2017-03-20T00:00:00Z
The place is as described we stayed here for 1 night to celebrate my husband's birthday. Lisa was very friendly and regularly checked us if we need anything. My daughter loved playing with their cats :-) If are looking noise free, within budget and cosy environment this is the place. Ideal for pet lovers.
Babitha
2016-11-05T00:00:00Z
The houseboat was beautiful and Lisa was very helpful & understanding! Great place.
Angelia
2017-04-09T00:00:00Z
Lisa is an amazing women! She receive us as part of the family. We share dinner in her cozy place. The bed was so good! During the day so randomly she got this idea to goes sailing with her friends Chuck and Caro and invite me and my partner, so we just had a WONDERFUL time at Lisa's boat hose! For sure I'll hardly recommend it and come back again!
Stefany
2017-01-30T00:00:00Z
Lisa was a spectacular host! She went out of her way to make sure that our stay was enjoyable, comfortable and special. Her houseboat made the perfect get-away! It was clean, it was quiet, it was cozy and it was perfect! She even greeted us with dinner and wine then she left us with breakfast! Lisa treated us like we were her best friends(URL HIDDEN)am so happy that I chose Lisa and her charming houseboat.
Mr Q
2016-12-18T00:00:00Z
Great place. Quiet and scenic. Great host.
Brian
2016-11-16T00:00:00Z
Our night on the boat was very comfortable and felt like an adventure! Although we wouldn't recommend it for people who are claustrophobic, we thoroughly enjoyed ourselves and hope to come back in better weather.
Sally
2017-02-04T00:00:00Z
This place is fun and has a lot of character. It's a beautiful houseboat with a large deck. The room is cozy and cute. Lisa is a gracious and helpful host. I had a good time chatting with her. We had a great stay.
Tiffany
2016-12-29T00:00:00Z
Tipo de habitación
Habitación privada
---
Tipo de propiedad
Barco
---
Capacidad
2
---
Dormitorios
Benicia, California, Estados Unidos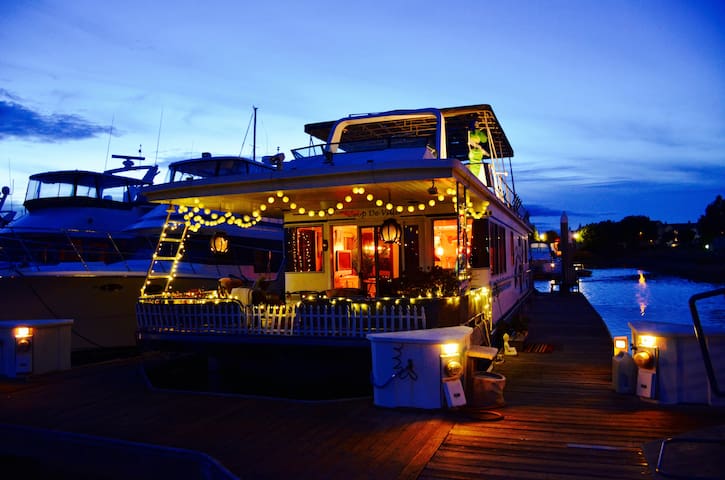 Central - Airbnb
:
Una media de

4.89

estrellas de un total de

5

de

205

evaluaciones de huéspedes
1

–

6

de

6 Alquileres de Barcos
Introduce las fechas para ver el precio total. Ten en cuenta que se aplicarán tarifas adicionales y es posible que se añadan impuestos.