Dentro del parque Geneste, abriendo el desván del granero. 150 m², en un nivel: está compuesto : - 6 habitaciones con baño y WC (14 camas), una suite de 30 m², - Una sala de estar de 35 m² con una cocina totalmente equipada, TV y Wi-Fi Pagar en el sitio: impuesto municipal de 0,70 euros / adulto / día En opción : sábanas y toallas: 15 euros / persona / estancia Fin de la estancia: 60 euros
En un parque de 23 hectáreas a 20 minutos de París
Châteaufort es un pueblo medieval de 1.500 habitantes situada en el corazón del valle de Chevreuse 20 minutos de París
L'accueil est toujours bon, même en arrivant tard le soir. Merci beaucoup !
Eric
2015-11-20T00:00:00Z
Perfect stay in a fantastic environment. Calm and quiet, surrounded by nature at its best
alberto
2016-06-19T00:00:00Z
Nous avons passé 5 jours dans ce grand domaine magnifique aux portes de Versailles et près du Golf National. Isabelle a été très arrangeante et efficace. Le logement est calme, spacieux, très propre et fait avec gout. Il est très fonctionnel avec une salle de bain dans chacune des chambres. Je n'hésiterais pas à revenir Merci beaucoup
Luciano
2016-09-05T00:00:00Z
Amazing location! Thanks a lot!
Alexia
2016-10-10T00:00:00Z
Nous avons passé un excellent we pour un enterrement de vie de jeune fille chez Isabelle ! Super accueil, au vert, tranquille, comme "à la maison" ! Merci beaucoup
Pauline
2016-06-06T00:00:00Z
Pour mon second passage, aucune mauvaise surprise : tout est propre, calme et agréable. Propice aux soirées de repos et de travail si vous êtes étudiant HEC (Exed).
Eric
2015-10-16T00:00:00Z
J'ai passé un bon moment ce domaine situé dans un environnement agréable. J'ai apprécié l'accueil sympathique d'Isabelle. Le logement est très bien avec une salle de bain dans la chambre.
Christophe
2016-07-04T00:00:00Z
L'endroit est très beau. Charme de l'ancien. Chambre propre est fonctionnelle.
victor
2017-01-20T00:00:00Z
Tipo de habitación
Casa/apto. entero
---
Tipo de propiedad
Loft
---
Capacidad
14
---
Dormitorios
Châteaufort, Isla de Francia, Francia
- 120m2 private Loft w/ independant access - Private bathroom, kitchen & living spaces - Beautiful artistic propriety w/ 5 acres garden - Gig landscape swimming pool (shared with our family) - Private forest & public lake - Tree house & fire pit - Heating / AC - 1 queen bed + 1 sofa-bed + 2 tatami floor beds - Wifi - Washing/Drying machines - Parking - Food menu available for purchase - 15% off all treatments at our Beauty Spa in Versailles - 7km from versailles & 20km from Paris
We are very happy to welcome you in our home :) My name is Barbara, and this is my parents' propriety (Odile and Eric). They live there with my three siblings (Brian 19, Kristopher 17, Erika 26), Samuel (Erika's boyfriend). There is also Maria & Mihai (who help keep the house safe and clean), and who are the ones that will be able to help if you need something. My parents are passionate about art and beauty, and I believe you will feel it during your stay in our house :) The space we are renting on Airbnb is my private apartment, a 120 square meter Loft, fully equipped, with an independant entrance. This is where I stay when I visit my family. I've been living in Montreal for the past 10 years now, so I don't spend much time in this Loft. That is why we decided to rent it on Airbnb, instead of keeping it empty. It is confortable and welcoming, and our propriety is amazing. Lots of art pieces, a swimming pool, an access to the forest with a public lake, and a fire pit. We wanted to share it with others... So we are very happy to welcome you! ********************************************************************** DESCRIPTION OF THE LOFT The Loft should have all the things you need for your stay. But if you feel you are missing something, you can ask Maria/Mihai at any time. Maria/Mihai has been working at our house for the past couple years. They are from Romania, and you'll see that even if they don't speak very well french, they are the most adorable people. They are the people in charge of cleaning and keeping the house safe and comfortable for everyone. So they are the one to ask for anything during your stay :) ***THE LOFT*** The loft is your private space, with an independant area. It is yours during your stay (no one will go there or disturb you). - You can control the heating and Air Conditioning - Wifi included - The washing/drying machines are not is the loft, so to have access you just need to ask Maria/Mihai. ***KITCHEN*** - Small fridge - Sink - 1 hot stoves round - 1 water boiler - 1 Nespresso machine - 1 microwave - 4 large plates - 4 soup plates - 4 small plates - 4 mugs and bowls - 4 water glasses - 4 wine glasses - 4 sets of utensils - 1 saucepan - 1 frying pan - cooking oil - salt and peper - some spices - instant coffee - tea bags - sugar (You need more ? Just ask us). ***BATHROOM*** - Bathtub - Shower - Toilet - Sink - Hair dryer We have a bathroom kit for your use (FREE) that includes: - Shampoo - Conditioner - Shower gel - Soap - Lotion - Towels and robes If you like the towels or robes, we sell them as well in our store. The prices are : Robe (90€), large towel (21,20€), medium towel (11,70€), small towel (4,20€) We also have an emergency kit in which you can purchase articles such as: razors, tooth brushes, combs, mousse, ear plugs etc. The price is 2€ per article. Just ask Mihai/Maria and they'll be able to help you with that! ***OFFICE SPACE*** Beautiful tree desk Desk computer for your use Wifi We have maps of Versailles and Paris available for you ***BEDROOM*** Round queen designer bed Tons of space to put your personal belongings ***OTHER BEDS AVAILABLE*** 1 Comfortable sofa bed in the living room (twin xl size - good for 1 adult or 2 kids). 1 Tatami type beds on the floor (queen size) ********************************************************************** IMPORTANT GENERAL INFORMATION POOL *The pool is NOT heated * The pool is closed from October 1st to May 15th. RESTRICTED AREAS We have only two restricted areas: 1) The main house, which isn't open to guests, because my family lives there. 2) The back garden, which is for our personal use. ***If you have any questions or you are not sure what's accessible for your or not, please make sure to ask Alfredo who is here to help you at any time :) OUTDOOR AREAS 1) You have access to all the front outdoor areas, which is where the swimming pool is situated. 2) The top parking as well is accessible for your use. 3) And the sports room, if you'd like to exercice. 4) In the back garden, you have access to the following only: fire pit, access to the forest, and tree house (if it isn't rented). But remember that all the chilling areas are restricted to our personal use only. ***Please note that to have access to your loft, you have to go up the stairs. So if you have trouble climbing up stairs, this isn't an ideal rental for you. This propriety isn't ideal for people with mobility issues *** This property isn't ideal if you do not like animals. We have 2 dogs and 4 cats around the propriety. NOTE that they DON'T have access to the Loft. So if you have any allergies there shouldn't be a problem. ***EVENTS*** We only accept small/private events such as engagement proposals, bridal showers, baptisms. In the case of an event, the rental fee goes : + Regular 6 persons rental fee for 2 nights + 40 euros per guest + 200 euros for a security person present during the event + 1000 euros safety deposit (will be returned to you after the rental if everything is in mint condition). *** NO SWIMMING allowed. ********************************************************************** The 10 rules of "Super guest"! 1. This is a NON SMOKING apartment. 2. NO DRUGS, no parties / events. 3. No other guests than those who made the reservation can stay in the apartment. 4. If you break anything, let us know as soon as possible please. We will need to replace it for the next guests. 5. Our family lives in the main house, so please respect our privacy and the restricted areas. Also, this Loft is my living space when I visit my family, so please respect my personal belongings. Don't open drawers that aren't available for your use, or use things that aren't yours (clothes, shoes...). Note that ALL belongings in the house are registered at our insurance company, and that an inventory and photos of the apartment are taken before and after each rental, for security purposes. 6. If you lose your key set, there is a 10 euros fee 7. The use of the swimming pool is at your own risks. Make sure that no kids is on his own around or in the pool. 8. The apartment must be returned in the same condition as when you arrived. 9. In case of any emergency, please contact us immediately, we're here to help! 10. And above all ... Enjoy your stay! :)
House, Barbara & Barbaras parents, garden and location are all posh. Although hard to find at the beginning house is fabulous with touches of good taste art everywhere. Its near a lake, a forest and a horse ridding facility , yet relatively close to train station and only half hour drive to Eifel Tower. Barbaras parents are living next door and they are very friendly and cosmopolit. If you like treasure hunting you will just need to have a walk in the garden and you will find little pieces of art everywhere. We visited mid Feb - not a chance to use the pool - but its not to big - i think in the summer will work only for little ones. We've been 4 persons but appartament can hold up to 6 that if you dont mind sharing 1 bath. Barbaras brothers and sister are young and party type - so if you are similar age - there you go for sone tips&treats'. No restaurants or supermarket nearby walking but Versailles is 10 min drive and there is all you need. Enjoy, Adrian
adrian
2017-02-26T00:00:00Z
We hebben 5 geweldige dagen gehad. Mooi appartement, geweldige tuin, zalig zwembad, schattige huisdieren en een zeer behulpzame gastheer, Alfredo. Geweldig om Versailles te bekijken. Kleinigheidje: er is maar 1 kookplaatje, geen 2 zoals vermeld, dus alleen geschikt voor simpele gerechtjes.
Miriam
2016-08-26T00:00:00Z
Lieu magnifique, accueil chaleureux ... Le loft est très beau, la literie confortable, les extérieurs et la piscine sont sublimes... Notre intimité à été respectée ... Nous avons grandement apprécié le calme environnant... Nous reviendrons sans aucun doute dans ce lieu où nous avons passé un super week-end !
sandra
2016-08-16T00:00:00Z
Beautiful loft with many extras, you Will enjoy your stay in Barbara's place. Highly recommended!!
Tomáš
2016-09-12T00:00:00Z
This was a real surprise behind a gated entrance and we were wonderfully received & looked after by Alfredo. The loft is an brilliantly designed large space which allowed a family of 5 to sleep and live very comfortably while visiting Versailles. Lots of nice touches from Barbara's mothers Hotel de De Beaute, including shampoo, soap and towels etc. Garden and pool are unique !
Patricia
2016-08-21T00:00:00Z
Nous avons passé un très bon moment, une parenthèse au vert à 20 mn de Paris. Alfredo est vraiment très accueillant, tout comme les parents de Barbara. Un grand merci!
Amélie
2016-08-15T00:00:00Z
Une parenthèse magique! Le lieu est exceptionnel, tout y est confortable, propre et choisi avec beaucoup de goût. Merci à la famille de Barbara et Alfredo pour leur accueil charmant, on reviendra avec beaucoup de plaisir. N'hésitez pas non plus à faire un détour par "l'Hotel de Beauté" de la famille: un cadre sublime, des soins au top, et tout cela dans une belle ambiance. Merci !
melodie
2016-08-07T00:00:00Z
Nous avons beaucoup apprécié le week-end passé au loft. Le cadre est magnifique, la piscine très agréable et originale, le loft est très bien équipé et conforme à la description. Alfredo a été très sympathique et discret à la fois, il a réussi à satisfaire toutes nos demandes. Nous avons peu échangé avec la famille, mais c'était à chaque fois très agréable. Nous allons certainement revenir. Merci de cet agréable week-end
François
2016-08-29T00:00:00Z
Tipo de habitación
Casa/apto. entero
---
Tipo de propiedad
Loft
---
Capacidad
6
---
Dormitorios
Les Loges-en-Josas, Isla de Francia, Francia

Este magnífico loft de 300 m del Palacio de Versalles, en 80 m de la estación de castillo Versaillles y la terminal de autobuses, Versalles bastante a pie. París en 20 min en RER (regional EXPRESS red). Todos los negocios a menos de 100 metros. Usted podrá apreciar (estimación) mi alojamiento (vivienda) para la ubicación y el ambiente. Mi alojamiento (vivienda) se completa para las parejas, las personas que viajan solas, los viajeros de negocios, los grandes grupos.
París en 20 minutos en RER. Todos los negocios a menos de 100 metros. Usted podrá apreciar mi alojamiento para la ubicación y el ambiente. Mi alojamiento se completa para las parejas, las personas que viajan solas, los viajeros de negocios, los grandes grupos.
El loft es de 3 min del castillo en pleno centro de la ciudad turística, pero sin ningún tipo de ruido en uno de los 3 más bellas avenidas de Versalles, en un barrio joven, restaurantes de cualquier especialidades (calle de Satory) y todos los negocios a menos de 5 minutos ( calle de Satory y la calle real).
Loft avec beaucoup de charme, meublé avec goût. Idéalement situé. Complètement au calme. Ce fut un séjour très agréable. L'accueil de Chantal était chaleureux et sympathique avec des petites attentions très appréciables. Grande propreté des lieux. Rien a redire !
Veronique
2016-10-23T00:00:00Z
Appartement très agréable, avec un petit cadeau de bienvenue et dans un environnement versaillais très proche des commerces et des transports.
Cecile
2016-12-26T00:00:00Z
Chantal a été tout simplement parfaite ! c'était la 1ère fois que je réservais sur cette appli et tout s'est très bien passé: appartement nickel, à moins de 5min à pied du palais des congrès et de la gare, très calme, une bouteille de vin offerte à notre arrivée, hôte très disponible par téléphone et a su s'adapter à nos contraintes horaires, nous a conseillé la brasserie juste en bas de son appartement et nous nous sommes régalés....bref vraiment rien à redire ! Idéal pour un séminaire pro ou une visite du palais :-)
Samantha Mouche
2016-10-15T00:00:00Z
Le logement de Chantal est idéalement placé. Ce logement est tout simplement magnifique et correspond totalement aux photos. Nous étions 5 et nous étions très bien installés. Chantal est adorable, à l'écoute des locataires et très disponible. Nous recommandons vivement cette location et un grand merci à Chantal
Pascal
2016-12-11T00:00:00Z
Nous avons passé un très bon séjour dans cette appartement qui se trouve à 2 pas du RER et du Château. Chantal nous à réservé un excellent accueil (croissants vin ....). Nous recommandons vivement
Aurelien
2016-10-06T00:00:00Z
Chantal est une hôte très accueillante, agréable, disponible et arrangeante! Je la recommande fortement. Son appartement est juste magnifique et très bien situé! On y reviendra sans hésiter.
Cindy
2016-12-04T00:00:00Z
Chantal is a very sweet host and her loft was super cute! Extremely close to the train station and palace. The apartment has a lovely view, great wifi, and comfortable beds. If you have severe pet allergies or asthma this might not be the place for you because there was pet hair on some surfaces and several air fresheners in the house. Other than that, we had a great stay.
Sascha
2016-12-17T00:00:00Z
This was a fantastic find! Chantal's loft was incredibly well located-you can see the chateau once you step out onto the street! There are plenty of excellent restaurants, cafes, bakeries, markets and stores for shopping nearby as well as museums, cathedrals and many other places of interest. The loft itself is clean and comfortable with two gorgeous windows offering natural light and a great view plus comfortable beds. Chantal, herself, is kind and friendly and very anxious that you feel at home. My family and I (3 of us) had an amazing time and highly recommend this location.
Tom
2017-02-27T00:00:00Z
Tipo de habitación
Casa/apto. entero
---
Tipo de propiedad
Loft
---
Capacidad
6
---
Dormitorios
Versalles, Isla de Francia, Francia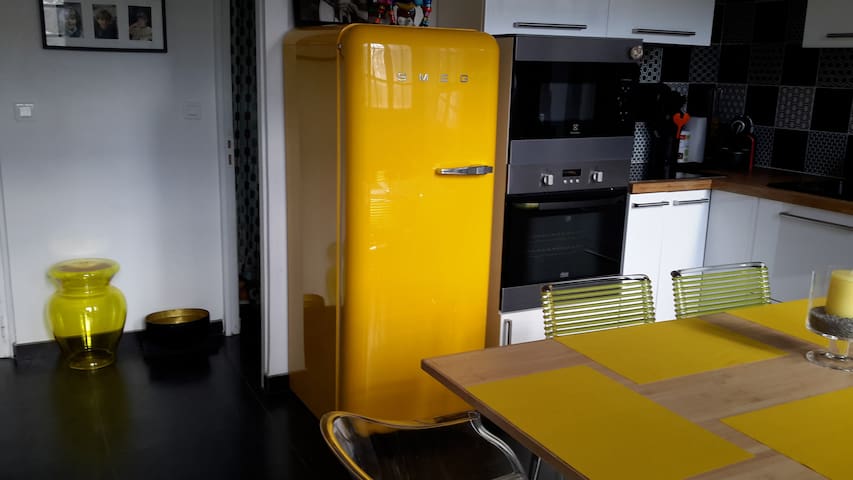 Introduce las fechas para ver el precio total. Ten en cuenta que se aplicarán tarifas adicionales y es posible que se añadan impuestos.