Más de 300 alojamientos en alquiler
Ruhiges Haus / Nachbarschaft, nur 2 km vom berühmten Scarborough Beach und das Nachtleben / Restaurants, die Scarborough Angebote. Eine günstige Uber werden Sie in die Stadt ($ 20- $ 25) erhalten, oder es gibt in der Nähe Bushaltestellen. Mein Platz ist gut für Paare, Solo-Abenteurer und Geschäftsreisende und ich bin bereit, weitere Informationen zur Verfügung zu stellen, die Sie benötigen.
Im Zimmer gibt es einen bequemen Queen-Size-Bett, einen großen Fernseher mit Zugang zu Netflix und Kleiderschrank, wenn zusätzlicher Speicherplatz benötigt wird,
Das Haus liegt in einer ruhigen Straße, aber nur eine kurze Reise nach Scarborough, wenn Sie das Nachtleben mögen. Ein kurzer Spaziergang führt Sie zu einigen Geschäften für Lebensmittel, wenn Sie wollen.
Good location for getting around - would recommend having a car to explore. Great for a short term stay. Glyn and his lovely boxer dog were really friendly. No complaints at all!
Danielle
2017-01-30T00:00:00Z
Second time with Glyn, and everything was perferct. Thanks
bruno
2017-01-22T00:00:00Z
Glyn is a nice and friendly guy, his dog Oscar was lovely and his house is just next to the beaches and shops and it's only a short way in the car to the city centre. Thanks for that great stay! We really recommend staying with Glyn.
Therese
2017-03-05T00:00:00Z
Glyn was a great host, room/house was as listed and I would be happy to stay here again.
Jaxon
2016-11-25T00:00:00Z
Unfortunately we had just a short stay at Glyns place. He's the typical chilled Australian guy, you imagine. He's really easy going and really courteous. We had a lot of fun watching sport stuff with him. His dog Oscar is totally cute. Also the room and the hole house was clean and I know how hard it is keeping carpet clean when you have a pet. We can totally recommend staying at Glyns place. Cheers mate.
Lars
2016-12-10T00:00:00Z
I really enjoyed staying at glyn's house! The location is very good, it's in a calm quarter with a small supermarket nearby. The beach is 2km away (5 mins by bike and 15 mins to walk). A busstop is also very close which takes you to the city centre within 25 mins. Glyn himself is a cool, chilled out guy with whom you can have a nice chat. He has got a very friendly white boxer dog. Thank you Glyn it was a pleasure staying with you!
Lucien
2016-11-02T00:00:00Z
Great host :) Glyn is very nice and easy going guy. Made us feel right at home. Super accommodating - was able to do a really late check out due to night flight. His dog Oscar is just the sweetest pup. Bed super comfy and the location is great for a beach getaway. Quiet location. Supermarket and pharmacy are nearby. Has many restaurants but need to drive. Took us around 20mins to get to downtown Perth and 25mins to get to the airport by car. No complaints. Will come back again. Thank you for everything!! Mike and Christine
christine
2017-02-06T00:00:00Z
Glyn made me feel welcome and was very comfortable stay
Bradley
2016-11-18T00:00:00Z
Tipo de habitación
Habitación privada
---
Tipo de propiedad
Casa
---
Capacidad
2
---
Dormitorios
Wembley Downs, Australia Occidental, Australia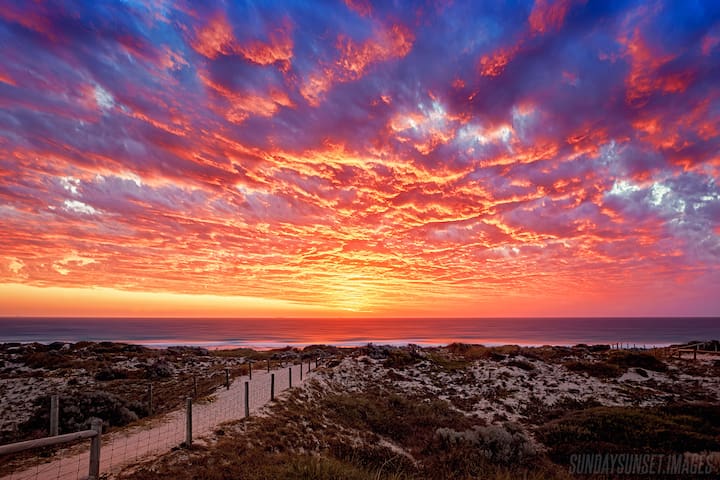 Thanks Mike and Justine for having us. Such an amazing part of the world. Loved being so close to scarborough and city beach. So many cafes close by to get our morning coffee. Will book this again when we come back to Perth for Christmas. Justine and Mike were so friendly and helpful with where to eat and shop. We really enjoyed ourselves and the house was clean and super comfortable. Having Foxtel Cable TV and wifi was also a nice added bonus. If you want to be close to everything then this is the perfect place to be!
Joel
2017-04-02T00:00:00Z
Tipo de habitación
Casa/apto. entero
---
Tipo de propiedad
Casa
---
Capacidad
4
---
Dormitorios
Wembley Downs, Australia Occidental, Australia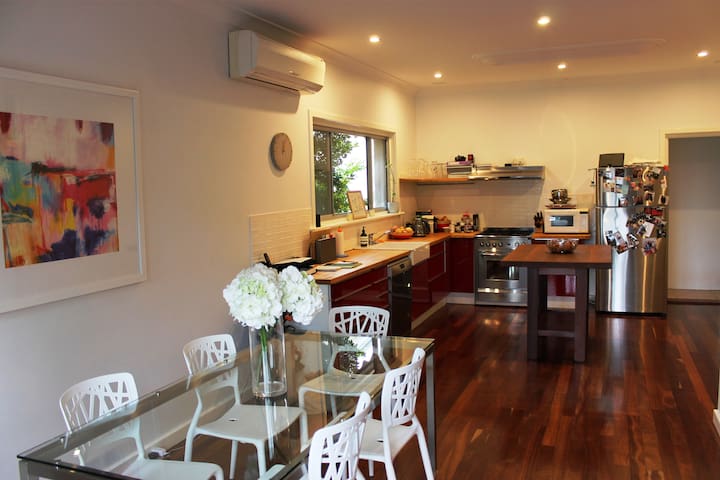 Tipo de habitación
Habitación privada
---
Tipo de propiedad
Casa
---
Capacidad
4
---
Dormitorios
Churchlands, Australia Occidental, Australia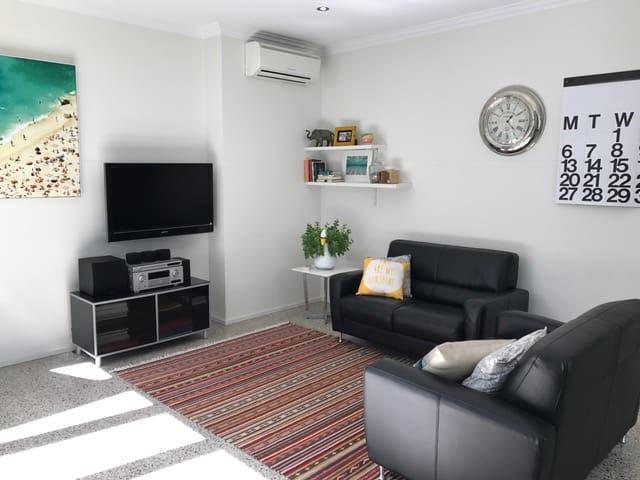 Schöne vordere Schlafzimmer mit Bad und WC. Sehr große Kingsize-Schlitten. Tolle Lage zwischen Perth City und Stadtstrand zu Fuß erreichbar Floreat Forum Einkaufszentrum. Riesiger Pool, Küche, Wohnzimmer und Theater. Wir haben 2 weitere Schlafzimmer zur Verfügung, wenn Sie mehr als 2 Menschen auf der Suche zu bleiben
Große Zimmer, High-End-Oberflächen und in der Nähe von neuen Haus
Schöne grüne Bäume und ruhig, Familie Nachbarschaft
It is a very big, warm and modern home. We had our own bedroom, toilet and bathroom, but we were allowed to use all rooms of the house. We had just the privacy we needed. There is a lovely swimming pool and the neighborhood is very safe. Just around the corner is a nice shopping centre with some shops and pretty good restaurants. Mary and Tom are two very special, warm and caring persons. They helped us the best they could in every possible way. In two weeks the house felt like my own home and I loved to speak with Mary at the end of the day. We had a lot of fun. I am so glad we chose for this airbnb and couldn't wish for anything better.
Cheyenne
2017-01-11T00:00:00Z
Home away from home
richard
2017-02-27T00:00:00Z
Great place, kind hosts, considerate and allowed my privacy, close to shopping centre, public transport, good parking and easy access to city and beaches.
Peter
2016-11-28T00:00:00Z
If you want to get a five star hotel experience for the price of a backpacker, that's the place! A truly beautiful house, luxurious king size bed and awesome bathroom. Add to that really accomodating and friendly hosts, and you'll get why we will certainly be keeping this adress in mind for our next trip! (Having a car is a plus though, as the area is residential, albeit quite close to buses). Loved it!
Marik
2016-12-22T00:00:00Z
Mary's place was conveniently located and very comfortable. Tommy and Mary were good hosts - although I was out much of the time
Jonathan
2017-04-04T00:00:00Z
A lovely home and comfy bed. All amenities (except bathroom and loo) are shared with the host. The hosts are very welcoming and relaxed. Well located for the city or the beach.
Perri
2017-03-24T00:00:00Z
We spent just one day at Mary's place but despite of such a short time - we loved it! House is beautiful and very comfortable. It is located very close to the shops and the beach. Mary is fantastic host - very friendly, open and helpful. We had amazing stay in Mary's palce and we recommend it a lot for all the travelers!
Anna Zielonka
2017-02-23T00:00:00Z
Tipo de habitación
Habitación privada
---
Tipo de propiedad
Casa
---
Capacidad
2
---
Dormitorios
Floreat, Australia Occidental, Australia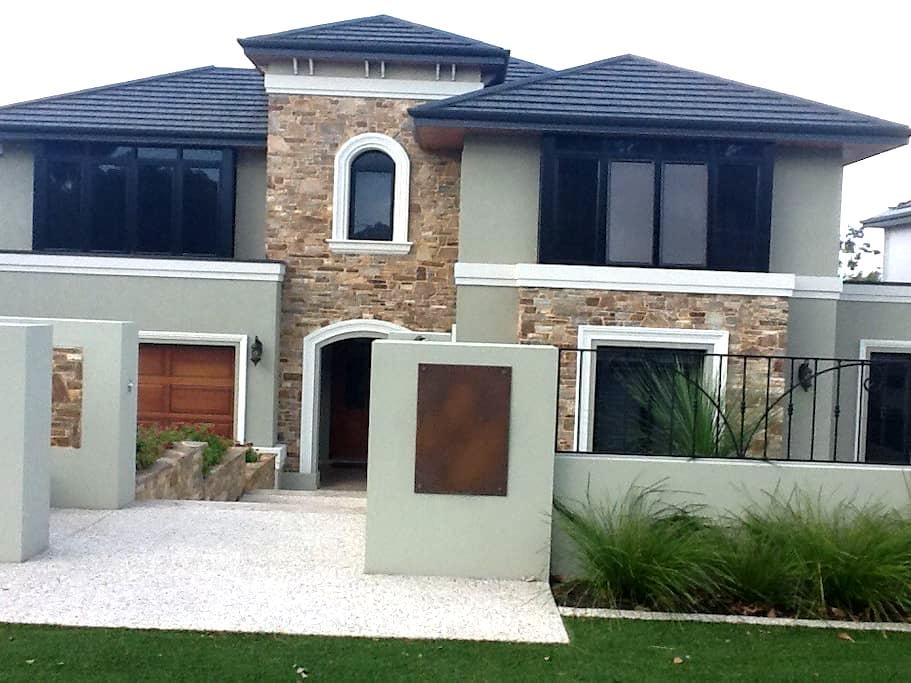 Aproveite esta encantadora sala e casa de banho renovado em zona calma City Beach, com sua própria entrada separada através de jardim do pátio para a ala de hóspedes. Acomoda 2. Inclui sala de estar com frigobar, mesa, torradeira e chaleira. Vamos ajudar com informações guia. Fazendo para parques fabulosos curto passeio das praias incríveis e restaurantes à beira-mar e cafés. City Beach é um amigável, calmo subúrbio 12 km a oeste do centro da cidade de Perth e cerca de 16 km ao norte de Fremantle.
localização fantástica praia em um subúrbio tranquilo muito perto da CBD, e outros locais turísticos. Confortável cama Queen. roupa de luxo. Lavandaria para seu uso, mediante solicitação. sala de lounge com TV. Curta caminhada para ônibus público rotas de transporte 83 e 84. 20 minutos para Perth CBD. unidade de 30 minutos para Fremantle. ciclovias ao longo da costa com vistas fantásticas de fácil acesso e menos de 500 metros de distância. restaurantes à beira-mar e cafés nas proximidades em Floreat, City Beach, Scarborough e Trigg. Desfrute de uma curta caminhada a essas instalações ou ciclo.
City Beach é um subúrbio costeira perto da cidade e algumas das mais belas praias de Perth. Vistas de Rottnest Island a partir de um parque extenso por trás dessa lista. A zona calma, muito curto passeio das praias, transportes públicos, cidade, Fremantle e outras atracções turísticas. Estamos servido por 2 linhas de ônibus públicos na próxima Hale Rd e Empire Ave para Perth CBD. praias patrulhadas no City Beach, praia Floreat, praia Scarborough e Trigg Beach..all dentro de pé ou de bicicleta a distância. Se você tem um estacionamento da praia carro nestas praias é gratuito.
Angela und Duncan war
Rainer
2017-02-07T00:00:00Z
Best airbnb experience so far! I've had to most wonderful time at Angela's place. The room is very comfortable and just renovated; you have a private ensuite bathroom, which is really convenient. Every morning I woke up to a delicious breakfast with fruits and freshly squeezed orange juice. You can enjoy your breakfast in your own private lounge, while watching some morning news. Angela and her family have been incredibly helpful during my stay. I could even borrow a bike to cycle along the beautiful coastline of WA. The place is located just a couple of minutes away from the beach. I couldn't wish for a better airbnb! Angela, thank you again so much! It was a pleasure staying at your place and I am very happy I got to meet you and your family. (Their dog is really cute too! ) All the best, Francisca
Francisca
2015-12-15T00:00:00Z
We made a last minute reservation at Angela's and everything worked out great. Communication, checkin, and checkout were easy. The room, bathroom and sitting area were all very clean and fresh. She even had coffee and breakfast items ready for us. Very recommended!
stephanie
2017-02-15T00:00:00Z
Best Airbnb experience ever!! Highly recommend. From the moment we booked the room, Angela has been so kind text me the weather, transportation so on some information we needed and welcome us at front, explained everything. It comes with a bedroom, private bathroom with beautiful roses ( I thought it's fake until the next day when I touched it! Coz it's too beautiful), toiletries and a exclusive sitting room! All the rooms are very clean and tidy, spotless, welcome and comfortable! Good location too, only a few mins to the beach and easy to catch a bus to city for 20mins. Plus amazing complimentary breakfast everyday! All of these made our stay a perfect one! She just started from Nov,2015, well done! The only thing I think she can make some progress is: the room pics on Airbnb don't do it justice, it's bigger and nicer than the pic actually : )
Lily
2015-12-02T00:00:00Z
Ich war 3 Tage bei Angela und Ihrer Familie zu Gast. Es war eine aussergewöhnlich schöner Aufenthalt. Die ganze Familie war sehr lieb und hilfsbereit. Obwohl es nicht Teil der Vereinbarung war, konnte ich mit der Familie zu Abend essen. Es war einfach genial. Sehr schönes Zimmer (Haus), mit eigenem neuen Badezimmer und ein kleines Wohnzimmer. Der Pool stand auch zur freien Verfügung. Exklusive Lage, 5min. zum Strand, 20min. nach Perth, ruhig, gute Nachbarschaft. Wäre gerne länger geblieben, man fühlt sich als Teil der Familie. Nochmals herzlichen Dank an Angela und Ihre Familie! Thank you so much and hope to see you again!
Claudio
2015-11-21T00:00:00Z
Thank you for your hospitality and the great stay at beautiful City Beach. We enjoyed much the easy going and relaxed atmosphere and walking distance to the lovely beaches. Warm regards, Julian and Melanie
Julian
2017-01-11T00:00:00Z
We can highly recommend Angela and Duncan's place for a stay for couples or solo travellers. We had a 'staycation' during the middle of summer (Jan 1-5 2017) and it was wonderfully convenient for our needs - great air conditioning in the bedroom, a pool for use, a lovely quiet neighbourhood including nearby parks and so close to the beach! There's also good wifi, travel guides, local eating recommendations and bus timetables. Angela kindly provided breakfast foods and coffee for our use. Both Angela & Duncan are very friendly and communicative. They also have an adorable dog who is nice to pat! Can't recommend highly enough and will definitely be looking to book again when we are next in Perth!
Aine
2017-01-05T00:00:00Z
Strongly recommended for anyone who wants a quiet location, simple comfort, friendly but non-intrusive hosts, and easy walking access to beautiful beaches.
Greg
2017-02-26T00:00:00Z
Tipo de habitación
Habitación privada
---
Tipo de propiedad
Casa
---
Capacidad
2
---
Dormitorios
City Beach, Australia Occidental, Australia
Tipo de habitación
Habitación privada
---
Tipo de propiedad
Casa
---
Capacidad
2
---
Dormitorios
Woodlands, Australia Occidental, Australia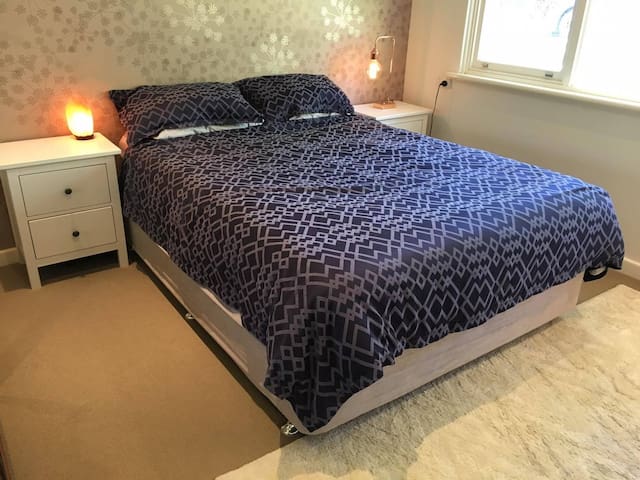 Sie suchen nach einem Einzel- oder Doppelzimmer, für eine oder eine Gruppe, in einem noblen sicher noblen Vorort mit allen Annehmlichkeiten, Sport, Unterhaltung, in der Nähe. Genießen Sie dieses gehobene Hause, wenn Ruhe und Entspannung Ihr Wunsch ist. Entspannen Sie im großen Pavillon mit Barbecue, Musikanlage genießen oder fernsehen. Natürlich haben Sie auch Fernseher im Zimmer und Wohnzimmer.
DOPPELZIMMER No.2 NÄHE SCARBOROUGH FLOREAT & CITY BEACH im modernen Haus Wembley Downs ein noblen Vorort. Ist es ein Motel! Nein! ......... Wir bieten mehr! Ist es ein B & B Nein! .......... Wir bieten mehr! Wir bieten eine komplette voll ausgestattete Küche mit Reiskocher, Slow Cooker, elektrische Pizza-Hersteller; Gas-Kochplatten; in voller Größe Ofen; Mikrowelle; Große Barbecue in großen möblierten Pavillon; 2 große Kühlschränke, Ihren eigenen Raum in Speisekammer und Veggie schärfere; Sie wollen nicht zu kochen ... Auswahl an hochwertigen Restaurants mitnehmen und 7 Tage Supermarkt in der Nähe. Magische Sonnenuntergänge Blick auf den Ozean! • Queen-Bett • LCD-TV, Schrank, Schreibtisch, Schlüssel verschlossenen Raum. Bettwäsche und Handtücher werden gestellt • Tee- und Kaffeekocher im Zimmer; • Separater Eingang • Separate moderne Küche / mit Geschirrspüler leben; • Großer LCD-TV im Wohnzimmer; • zwei Bäder, inklusive Waschmaschine, • Foxtel (Sat-TV) in Wohn; • Kostenloses WLAN; • DVD und DVD-Bibliothek zur Verfügung; •Wäscherei; • Außenraum für Nichtraucher • Riesige eingerichtete Gazebo für Geselligkeit und das Rauchen • große Kapuze Grill • Sonnenbad nehmen oder Kontakte knüpfen auf oben möblierte Terrasse; • Straße hintere Parkbucht ab; • Eine regelmäßige Reinigung in öffentlichen Bereichen zur Verfügung gestellt • wöchentlicher Wechsel der Bettwäsche zur Verfügung gestellt • Check-in 16.00 Uhr; Check-out Mittags Teilen Sie mit einem reifen und soziale Arbeits Mann, der hier seit Jahren und anderen lokalen und internationalen Gästen gelebt hat. Ich lebe getrennt nach oben, ich bin offen, aufgeschlossen Sharing meine Heimat seit 14 Jahren • Strände 5 Minuten mit dem Fahrzeug entfernt • 15 Minuten zum Stadt; 30 Minuten bis Flughafen; • Bus 84 Bushaltestelle 5 Minuten zu Fuß; • lokale 7 Tage Einkaufszentrum 3 Minuten entfernt; • Öffentliche Golfplatz, öffentliche Tennisplätze; • Bold Park Öffentliches Schwimmbad; • Innaloo 12 Theater-Komplex • Innaloo Einkaufszentrum (134 Geschäfte) in der Nähe. $ 80 pro Nacht, (min zwei Nächte) für Single oder Paar, $ 560 Wochen. Auch erhältlich ein weiteres Doppelzimmer Nein, 3 gleichen Preis und ein kleines Einzelzimmer mit Kingsize-Bett No.1 bei $ 65 pro Nacht plus eine größere König Einzelzimmer bei $ 70 pro Nacht Margaret (PHONE NUMBER HIDDEN) oder (EMAIL HIDDEN) Mehr Short Stay Eigenschaften (URL HIDDEN)
Sie kommen zu einem vornehmen Viertel mit den meisten Häusern bewertet die 1-6 Millionen Dollar Plus. Es ist sehr sicher und ruhig gelegen, zur Verfügung gestellt Fußwege zum Wandern, ob ein 25 Minuten zu Fuß zum Strand oder Spaziergang in diesem Bereich finden Sie die Aussicht von einigen prächtigen Häusern und exklusiven Schulen mit vielen Annehmlichkeiten genießen in unmittelbarer Nähe (lesen Liste in "den Raum ' Abschnitt). Sie können einen Grill mit anderen in der großen Pavillon, oder genießen Sie den kleineren Pavillon für intime Entspannen oder laden Sie Freunde zu Besuch zu knüpfen oder zu genießen.
Margaret is an ideal host - generous with her time, cheerful and very professional. The location was ideal for us, in delightful surroundings and her home provided us with everything thing we needed for our stay. Highly recommended.
Joy
2014-03-31T00:00:00Z
This was our first airbnb experience. Margaret made us feel at home in her house and gave us a map to show where the local shops were. We felt right at home and could go exploring Perth without any worries about our accommodation. It is a quiet location close to Scarborough beach and Innaloo shopping centre. With one other guest at the time, we all got on well and cooked our own meal one night. It was just like being at your friend's house.
Ian
2015-09-09T00:00:00Z
Margaret is a great host - very helpful and accommodating!
Martijn
2014-12-29T00:00:00Z
She superb, very friendly, cooperative, helpful etc. She treated us as like her own family, showing us almost everything in her house, share with us her hobby etc. Tried her very best to assist us whenever we ask for help. Gave us a very valuable advice to ensure our visit to Perth be very enjoyable, meaningful and get back home with good experience and memories. My family and I love to come back when we have an oppurtunity to do so
Mohd
2016-10-14T00:00:00Z
Margaret is the most helpful person ever!
Christoph
2017-02-12T00:00:00Z
Margaret was a brilliant hostess, easy-going, kind and friendly with fabulous home-made goodies to try and recipes to take home, great chats with lots of knowledge and information. My b/room was on street level overlooking rose garden and lovely view, superb mattress (room too small for me but lovely), spa bath too low for physically challenged guests like me, sadly, outdoor gazebos beautiful as was the enclosed outdoor verandah upstairs where I worked for 4 days. Wembley Downs a lovely suburb but very hilly, easy access to bus to beach and city and walk to local shops. I met some interesting people staying at Margaret's home. Downstairs bedrooms were too claustrophobic for my liking but great for the young ones and FIFO workers. Too many people coming and going for me personally and block next door being dug out for a new home. Wonderful set-up and great prices, be prepared to share bathroom, laundry and toilet with others.
Deb
2015-10-18T00:00:00Z
Margaret is such a lovely host - I had such an amazing time in Perth with such a great place to stay. The place was lovely, spacious and convenient to/from the international airport and Perth CBD. I would definitely return to Margaret's lovely home the next time I visit Perth!
Ahmad Sadruddin
2016-08-09T00:00:00Z
Margaret's place was so much more than I expected. It is very a very comfortable and beautifully decorated home, that I felt very welcomed in. Margaret went out of her way to help in any way she could, she even left some delicious olive bread with fresh herbs and other special foods in case I was hungry, then put out my washing that had finished in the machine! I thoroughly enjoyed her company when we crossed paths, I will return whenever I'm visiting Perth. I highly recommend this place, you will love it!
Naomi
2014-01-20T00:00:00Z
Tipo de habitación
Habitación privada
---
Tipo de propiedad
Casa
---
Capacidad
2
---
Dormitorios
Perth, Australia Occidental, Australia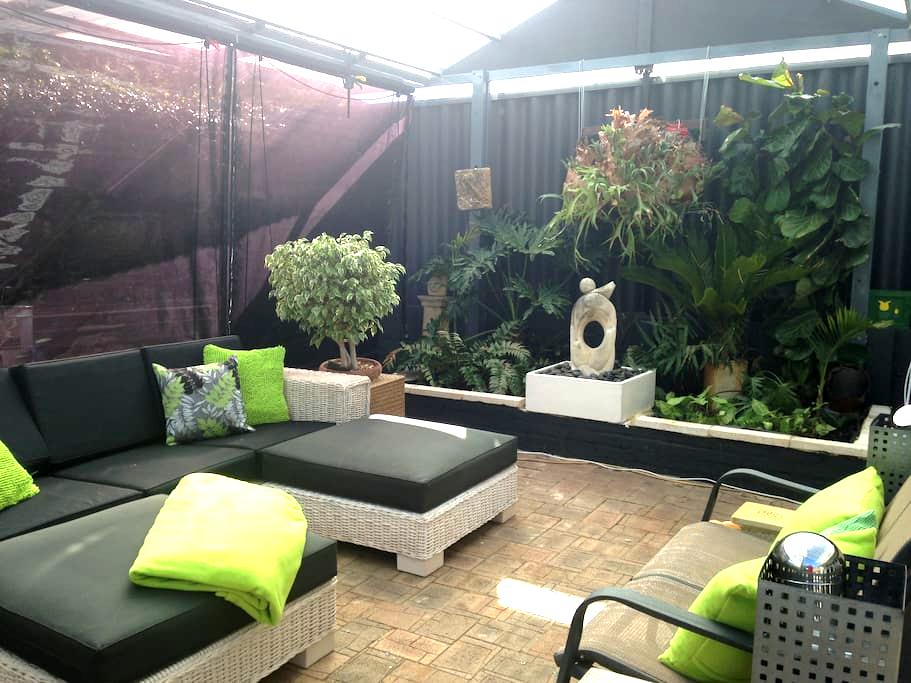 La comunidad local Scarborough es justamente una de Perth ubicaciones frente al mar de primer nivel, que aún conserva el ambiente relajado para los que WA es famosa. Tanto si desea alquilar una bicicleta para disfrutar de uno de los mejores paseos en bicicleta costera o aprender a practicar el kitesurf, servicios para alquilar el equipo necesario están todos disponibles generalmente a lo largo de la explanada. En invierno, usted será capaz de oír las olas en auge de mi puerta de atrás mientras Trigg playa de surf y de Kalis para un gran almuerzo de pescado / cena están a sólo 15 minutos en coche hasta la costa hacia Hillarys. Posteriormente relajarse en uno de los bares frente a la playa, donde melodías frescas atraen a los bañistas para aprender los últimos pasos de baile de bachata o Kizomba. A pocos minutos a pie de la casa son los muchos cafés y tiendas locales ganan una reputación bien merecida como la deliciosa pastelería francesa, (puede que tenga que hacer cola) el deli Brighton Rd Gourmet y Jeremy para carnes orgánicas.
Nice and quiet and peaceful. Easy walk to shops and beach.
Tess
2017-04-08T00:00:00Z
A lovely place , quiet and pleasant that makes you feel at home. Hilary is truly a beautiful soul that makes one feel comfortable. Been 15 years since my wife and I visited Perth. This place and Hilary has created a wonder memories for my family.
Zarkashi
2017-04-02T00:00:00Z
Tipo de habitación
Habitación privada
---
Tipo de propiedad
Casa
---
Capacidad
3
---
Dormitorios
Scarborough, Australia Occidental, Australia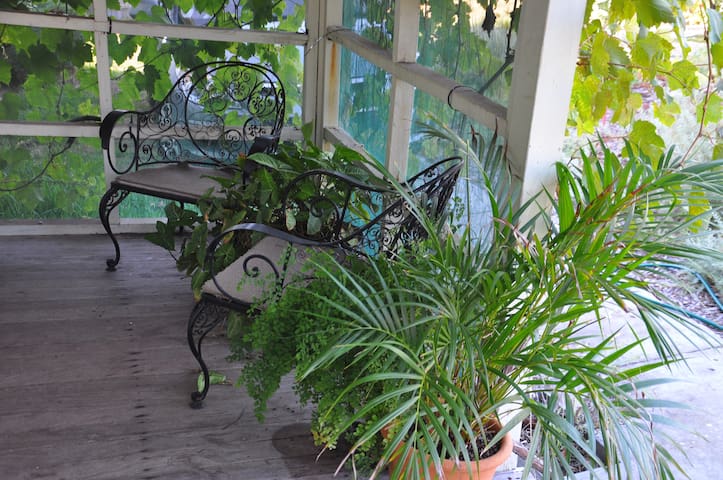 Comfortable house. Convenient location. Natalia was very responsible and attended our request and emails in a timely manner.
Juan
2016-07-17T00:00:00Z
Tipo de habitación
Casa/apto. entero
---
Tipo de propiedad
Casa
---
Capacidad
4
---
Dormitorios
Floreat, Australia Occidental, Australia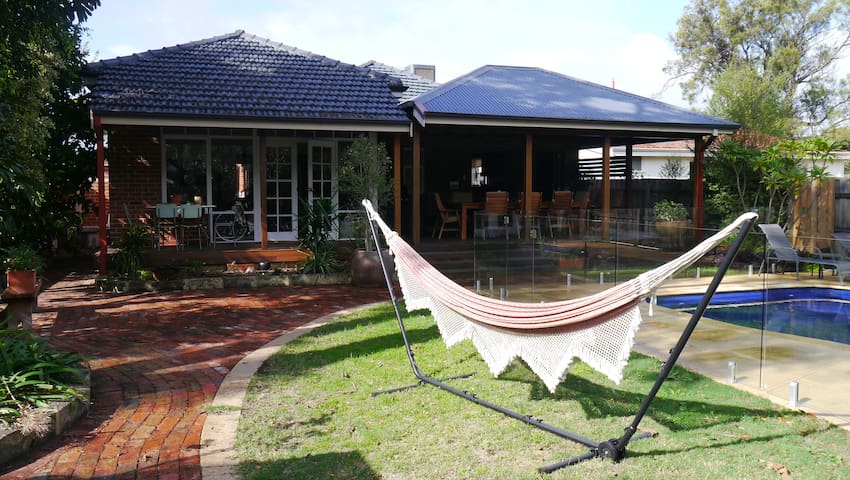 这种开放式的,现代的4间卧室的房子自带的栖息上层甲板上相邻坐着一个完美的娱乐区充满了10座台,俯瞰蜿蜒大方花园,非常适合儿童的大型游泳池。 楼下拥有另一个独立的空间为那些希望采取酒吧,台球桌和额外双人卧室的优势带浴室。步行10分钟步行到一个梦幻般的美食熟食店,披萨,法国咖啡馆,瓶店只有几步之遥的海滩。
我们独特的复古风格的房子是很家常的舒适。我们精心翻修它在过去的5年。
我们住在生活在珀斯一个美丽的绿叶郊区。设置在路旁和胶树和笑翠鸟包围。我们有我们的街道底部的公园(100米路程)。我们也有一个公园,直接导致这是我们的房子100米以西的海洋。海滩只有不到10分钟步行穿过公园。
An awesome place to stay. We used this house for an extended business stay but did have children there for some of it. The house is 70,s style on the outside and funky retro renovated on the inside. Pool was fantastic, mutiple living areas for a large family or group to have their own relaxtion space. Fantastic well equiped kitchen, lawn area with kids sports equipment, netflix, wifi, kids games area with toys it was endless! The place was flawless and Danielle was so helpful, accommodating and an absolute pleasure to deal with. Great quiet neighbourhood and scenic. Would highly recommend but scared it will become too popular and we wont be able to book again! Thanks Danielle and Dan, it was a brilliant stay!
Marnie
2017-01-30T00:00:00Z
We are a family with 4 kids and stayed 10 nights at the house over Xmas/New Year as a base for our time in Perth. The house was modern and practical for a family and has great features (pool, bbq, basketball hoop, well-kept lawn, outside dining, pool-table, wow!). The house was very clean and Danielle ensured that we had all the info that we needed about the place and surroundings. We had a rental car and made day trips to explore Perth and the region. Thank you for hosting us, we had an unforgettable time in Perth!
Rune
2017-01-03T00:00:00Z
Tipo de habitación
Casa/apto. entero
---
Tipo de propiedad
Casa
---
Capacidad
7
---
Dormitorios
Wembley Downs/City Beach, Australia Occidental, Australia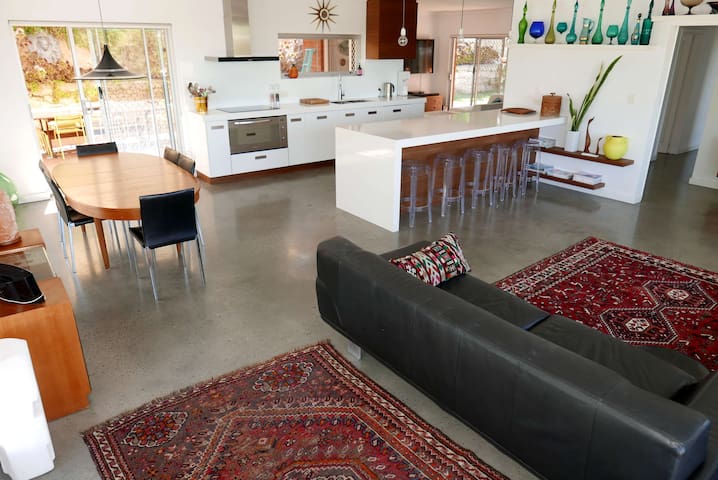 Gastgeber, Cheryl und Garry sind ein geselliger Ehepaar im Ruhestand, die ausgiebig gereist und lieben es, neue Bekannte. Das Hotel liegt in Wembley 6 km von Perth CBD und City Beach. Der Nähe von 3 großen Einkaufszentren, öffentliche Verkehrsmittel, Restaurants und Pubs. Wembley öffentlichen Golfplatz 3 km. Sowohl City Beach und Golfplatz am besten in Perth angesehen. Die Unterkunft beinhaltet - dble bedrm, eigene bathrm, sep. WC, persönliche Hof, Wäscherei, Tee- und Kaffeezubereitung und Frühstück (Ihrer Wahl)
Das Haus wurde architektonisch gestaltete B & B mit viel natürlichem Licht. Der Wohnbereich des Gast ist an der Vorderseite des Hauses, mit dem Wohnbereich der Gastgeber auf der Rückseite.
Unser Haus befindet sich ca. 6 km von der Innenstadt, mit einfachem Zugang zu den öffentlichen Verkehrsmitteln Unsere Nachbarschaft ist ein sehr ruhiger und freundlicher Ort und sicher vor Kriminalität. Nachbarn Welle von der anderen Straßen oder nicken einander, wie sie passieren, wenn ihre Spaziergänge. Unsere Straße ist eine ruhige Wohn ein, mit Gärten und Bäumen.
Warm friendly hosts, luxurious and private facilities, and very convenient, yet quiet location. I could not have asked for anything more. A wonderful bnb experience!
Allison
2017-02-24T00:00:00Z
A most excellent place to stay.
Allison
2017-04-09T00:00:00Z
Garry and Cheryl are a warm and friendly couple who went out of their way to make our stay special. The house is lovely, the facilities available to us, far better than we expected and Cheryl's attention to detail and anticipation of our needs, exceptional. Breakfast was a treat. We had a 60th birthday party in the area and were able to walk there and back, even though Garry and Cheryl offered to drive us. This was our first use of Airbnb and certainly won't be our last. Any further travel we do will have a lot to live up to.
(EMAIL HIDDEN)
2016-11-14T00:00:00Z
We have heard the expression "A home away from home" and l can now say that we have lived it for 5 days . 1. We immediately determined that their property was 12 houses from my family's home where they were unable to accommodate us. 2. Garry & Cheryl's hospitality skills were professional, warm and nothing was too much trouble. 3. The facilities modern, clean, fresh, and extremely pleasant. 4. Breakfasts were amazing and as ordered daily. 5. We would have no hesitation recommending this venue for a comfortable and pleasant stay.
Roslynn (Roz)
2016-12-11T00:00:00Z
Tipo de habitación
Habitación privada
---
Tipo de propiedad
Casa
---
Capacidad
2
---
Dormitorios
Wembley, Australia Occidental, Australia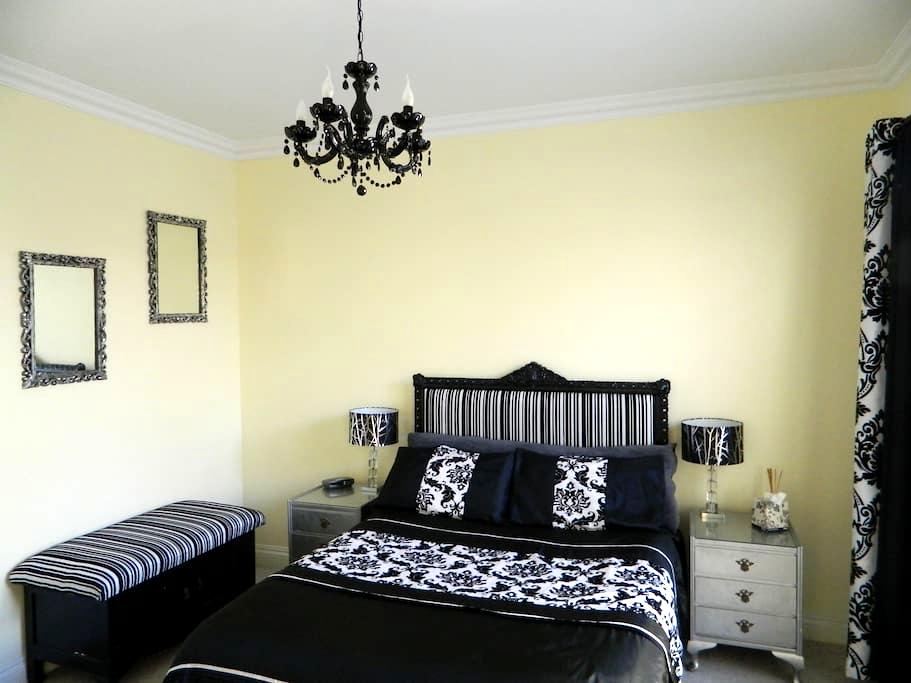 Tipo de habitación
Habitación privada
---
Tipo de propiedad
Casa
---
Capacidad
2
---
Dormitorios
Scarborough, Australia Occidental, Australia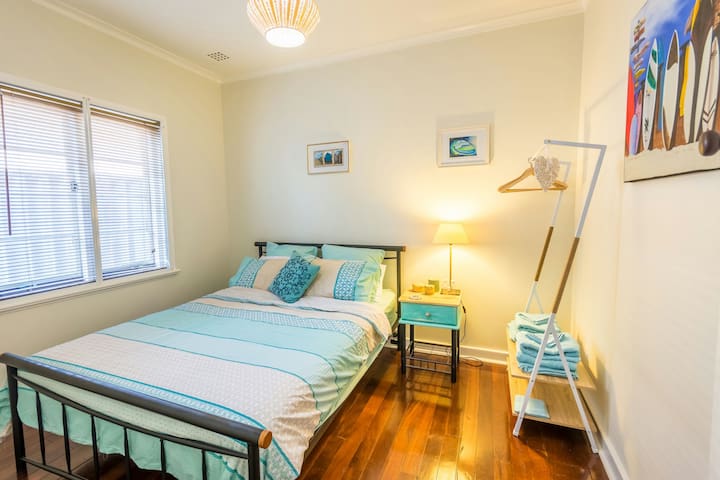 This brand new house is modern, fresh and stylish. Your large bedroom has a walk-in wardrobe and your own private toilet and shower. The house is walking distance to public transport, restaurants and dining, shopping centres and the beach, and just minutes away from the beautiful Jackadder Lake reserve. This place is perfect for couples, solo adventurers, and business travellers.
This beautiful two storey house was built in September. It's large and spacious with high ceilings and a great alfresco dining area. It is an ideal location for beach and city access.
Doubleview is gorgeous! Close to Jackadder park and Scarborough beach. There's restaurants and shopping close by and easy access to the city and northern beaches.
Claire adds an element of service which extends to make your stay enjoyable. She is flexible and allowed a rental from outside the normal hours (red-eye flight). The bedroom pillows and mattress are exactly what my back loves most- support and comfort. The room has demarked air conditioning system for further comfort to not affect the entire house. Hospitality was also amazing which made the stay even more home like... Gréât hosts.
Shawn
2017-02-06T00:00:00Z
Claire's place is more than the picture showed. The neighborhood is quiet and beautiful, the ensuite is private with a washroom, also very clean. We stayed two weeks and love this place as our home. Claire is nice and cool with everyone, also gives quite useful suggestions for local attractions. Besides, we can easily find everything we need in the house. It's a perfect place to stay for holidays!
鲍
2017-03-22T00:00:00Z
A lovely, new house in a central location, close to public transport and other amenities. Very welcoming hosts.
Katherine
2017-02-24T00:00:00Z
the bed was great in this new clean place private ensuite would definitely recommend this
Dianne
2017-02-14T00:00:00Z
Great place to stay, not far from the beach and very comfortable and clean and upscale.
Richard
2017-03-28T00:00:00Z
awesome house, close to the beach. recommended!
Piotr
2017-02-10T00:00:00Z
Claire and Ian made us very welcome in their lovely new home, not far from shops, public transport and the beach.The en-suite bedroom was spacious, bright and clean. Communication was excellent. We were made welcome to use their kitchen to cook our meals and use of the dining areas and lounge. We would reccommend a stay with Claire and Ian.
Jeremy
2017-03-06T00:00:00Z
Easy access to Scarborough Beach, great cafes and eating places, very handy to shopping centres and public transport
Jen
2016-12-08T00:00:00Z
Tipo de habitación
Habitación privada
---
Tipo de propiedad
Casa
---
Capacidad
2
---
Dormitorios
Doubleview, Australia Occidental, Australia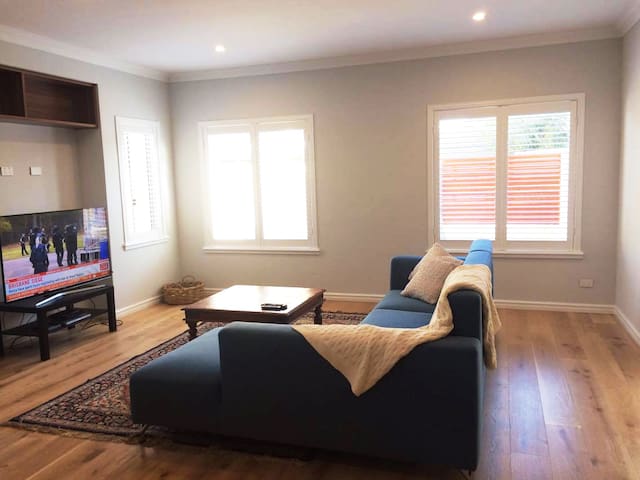 Modern beach house close to both beach and city. Large outdoor area with several seating areas. Perfect for families or two couples. Beautiful open space. Bright and spacious living.
Doubleview 300m to coffee shops 2.8km to beach (5 min drive) 12km to city (15 min drive)
Tipo de habitación
Casa/apto. entero
---
Tipo de propiedad
Casa
---
Capacidad
5
---
Dormitorios
Doubleview, Australia Occidental, Australia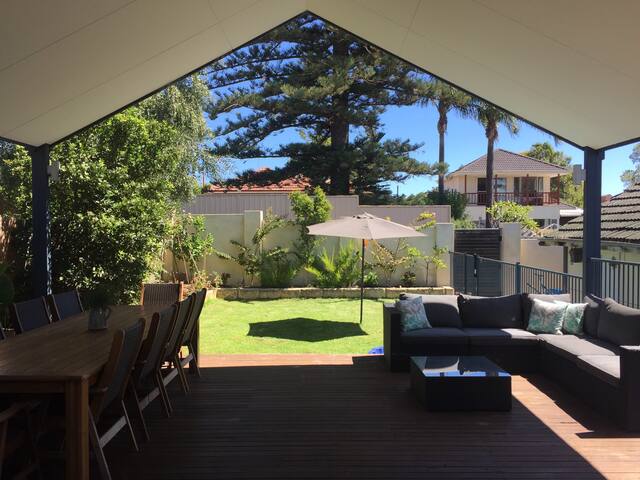 Tipo de habitación
Habitación privada
---
Tipo de propiedad
Casa
---
Capacidad
2
---
Dormitorios
Wembley, Australia Occidental, Australia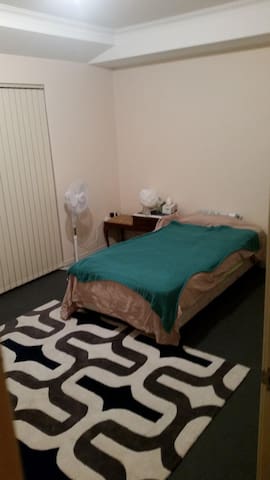 Unser Platz ist 10 Minuten Fahrt vom Strand und der Stadt, einen einfachen Zugang zu öffentlichen Verkehrsmitteln und nur einen kurzen Spaziergang mehrere Supermärkte, Bars und Restaurants, See Monger und Subiaco. Es ist ein großer Platz, hohe Decken und viel natürliches Licht! Sie wäre in der Lage, alle im Haus zu verwenden, außer für unsere privaten Schlafzimmer, Bad und Arbeitszimmer.
Louise's home is marvelous. Nice garden and good location as it is accessible either by Train or Bus.
Michael
2016-11-28T00:00:00Z
We had a great time in Perth. Thanks Louise and Kevin, your house is beautiful. We really enjoyed our stay.
Jenny
2016-12-07T00:00:00Z
It felt like staying with relatives, very relaxed, friendly hosts.
Claire
2016-12-10T00:00:00Z
Louise place is really wonderful, near town area and beach. we stay there comfortable, we choose there again for next traveling:)
Neil Wong
2017-03-20T00:00:00Z
Great location, loved the garden, plants and birds. :O)
Valerie
2017-03-01T00:00:00Z
Such a lovely person! We had a great time by Louise. The house was clean and cosy, and they have a beautifull Garden! The house has a great location, close to the train station, city and beach. Louise was a great host and she did all she can to make you feel comfortable. She did her best to give an answer to all of our questions. (and we had a lot, because we were just arrived in australia) she assisted us a lot! The best air B&B experience so far!!
Lieven
2016-11-16T00:00:00Z
The house's location is good. But quite messy. Facilities not that all in readiness. The most important is, DON'T stay it if you scare the sound of aeolian bells.
Lim
2017-03-15T00:00:00Z
The house is very comfortable and the room is neat. Location is easy to find .Though the owner is not at home but he left a lovely msg . And it is quite near the restaurants. We have a happy time staying here and definitely will chose this place again next time .
TAN
2017-01-25T00:00:00Z
Tipo de habitación
Habitación privada
---
Tipo de propiedad
Casa
---
Capacidad
2
---
Dormitorios
Wembley, Australia Occidental, Australia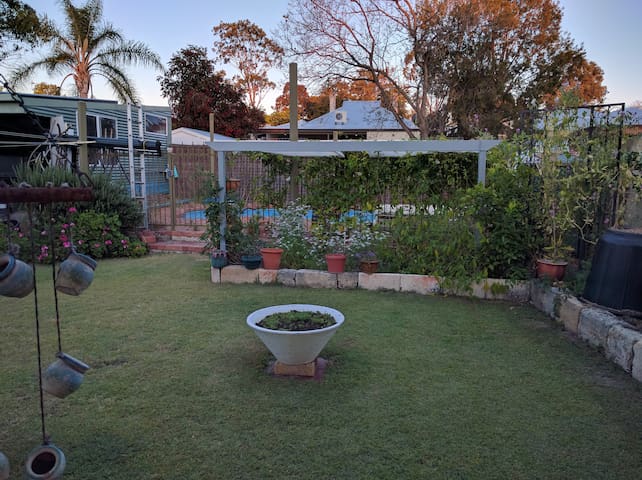 Das renovierte 3-Bett-1 Bad Haus auf einem 800sq Meter erhöhten Block sitzt und liegt in einer ruhigen Vorstadtstraße. Nur 1 km von WA besten Stränden oder den Golfplatz und 12 km von der Hauptstadt Perth. Eine große Köche Küche mit Blick auf den Garten, der eine beeindruckende 15m Sportbecken umfasst. Zwei Pool Häuser und ein Netzgasgrill liefert das Leben im Freien das ganze Jahr über. Wir freuen uns über ein Maximum von 6 Personen (max 4 Erwachsene) mit Singles, Paare, Gruppen und Familien mit Kindern im Alter von 6yrs und darüber.
Bitte lesen Sie die vollständige Liste Details vor Ihrer Buchung anfordern. Der Eintritt in das Haus führt zu einem Aufenthaltsraum (mit TV und Gas-Heizung), die in den Speisesaal umströmt, Büro und große Küche. Die Küche ist komplett mit allem ausgestattet, was man einfach und angenehm machen müssten, um das Kochen: Töpfe, Pfannen, Wok, Kochgeschirr, Backformen, Elektrogeräte, Geschirr, Besteck, Gläser, Kunststoffgeschirr (für Essen und Trinken am Pool). Riesige Gas-Backofen, Geschirrspüler, High-End-Edelstahl-Kühlschrank mit Wasserfilter / Eismaschine und Wand-TV. Helfen Sie sich selbst, was auch immer Zutaten sind in den Kühlschrank und Speisekammer zur Verfügung. Wäscherei mit Waschmaschine, Trockner, Bügelbrett / Bügeleisen, Reinigungsgeräte. 3 Schlafzimmer: Bett 1: Queen-Size-Bett, 2 Nachttische, 2 Lampen, Schreibtisch und Stuhl, großen Einbauschrank, Wand-TV, Reverse-Zyklus Klimaanlage, Schiebetür, die auf dem Achterdeck führt. Bed 2: Einzelbett, Nachttisch und Lampe, Schreibtisch und Stuhl, Reverse-Zyklus Klimaanlage und Einbauschrank. Bed 3: Queen-Size-Bett, 2 Nachttische, 2 Lampen, Schreibtisch und Stuhl, Reverse-Zyklus Klimaanlage und großen begehbaren Kleiderschrank. Ein Einzelbett Matratze ist in der Garderobe dieser Raum aufbewahrt, falls erforderlich. (Bitte geben Sie bei der Buchung) Ein großes, modernes Badezimmer verfügt über zwei Waschbecken, Doppel-Dusche und WC. Das Master-Schlafzimmer, Küche und Waschküche haben alle Türen, die mit einem Netz verbunden Gasgrill auf dem Achterdeck, Pool und Unterhaltungsbereich führen (Pool und die Anlage wird beibehalten, wie Sie während Ihres Aufenthaltes erforderlich) Wir liefern: Bettwäsche, Kissen, Kissenbezüge, doonas (Bettdecken), Badetücher, Badetücher, Badematten, Toilettenpapier, Taschentücher, Shampoo, Conditioner, Fön, Seife, Flüssigwaschmittel, Geschirrspülmittel-Tabletten, Spülmittel, Geschirrtücher. Waschmaschine und Trockner / Wäscheleine zur Verfügung steht, sollten Sie wählen, Leinen oder Ihre persönlichen Gegenstände bei einem längeren Aufenthalt zu waschen.
Floreat und City Beach sind die nächsten Strände bis zum Haus. Scarborough Beach ist der nächste Vorort im Norden mit Cafés, Bars, Pubs, Supermarkt, Souvenirläden und vieles mehr. Cottesloe und Fremantle nach Süden. Perth City in den Osten. Der öffentliche Wembley Golfplatz ist nur 1.8kms entfernt und in unmittelbarer Nähe befindet sich das Boulevarde Einkaufszentrum mit einem 24-Stunden-Supermarkt, Spirituosengeschäft, Restaurants, Apotheke, Friseur, Bäckerei, Fisch und Chips, eine Pizzeria und Kleidergeschäft nur 500mtrs vom Haus .
Sue was a wonderful host. She is always close to her phone and responded almost instantly to my queries as a first-time Airbnb user. All my concerns pre-trip were addressed and she took the trouble to welcome my family on arrival. The home is well-kept and clean. The kitchen is the most beautiful part and my family thoroughly enjoyed our morning breakfasts there. It is well stocked and you can definitely cook a complete meal in there. The location is great and she had detailed directions and recommendations to the shops and restaurants nearby. I highly recommend this ! Thank you Sue !
Victor
2016-06-22T00:00:00Z
Sue was an excellent host, very helpful and quick to respond to my questions. The house was amazing and in a lovely location. Would definitely recommend.
Jennifer
2016-05-24T00:00:00Z
Sue was waiting at the house when we arrived and welcomed me in. She showed me around and asked me to call if there as anything we needed. The house was great - exactly as advertised, in a good location for us, we'll equipped and clean. We had a great stay and just wished it had been warm enough to use the pool! Highly recommended- thanks Sue!!!
Murray
2016-07-18T00:00:00Z
Lovely modern house in quiet residential area with 5 minute walk to local shops & cafes. Bus stop at end of street to the city centre takes about 25 mins but much easier if have car to travel up & down coast & 40 minutes inland to wineries of Swan valley & chocolate factory! - lots of car hire companies (no bird's company good price). My family stayed for 3 weeks making good use of the modern well equipped spacious kitchen which made our trip stress free as my 11 yr old daughter has coeliac, many food allergies & diabetes. We cooked on the bbq & enjoyed swimming in the lovely warm pool which was clean & well maintained. We were able to have family around for dinner plenty of space. Lovely clean modern bathroom with double shower & soft towels. Clean & comfortable beds with Air con in all the bedrooms which we needed as hot spell of days of 37, shutters for windows helps keep temp down also. Laundry enabled us to wash as necessary for the length of our stay, great on returning home to UK with no washing to do! Sue was easy to contact & quick responding to any questions or concerns, new supplies of toilet rolls & dishwasher tablets were delivered to us promptly when requested. Excellent choice of accommodation for our family we would definately stay here again. Sad to leave.
judith
2016-12-11T00:00:00Z
Lovely house, welcoming and accomodating hosts. Highly recommended.
James
2016-05-17T00:00:00Z
The house was super lovely, clean and spacious. And that pool - 15 metres - and a perfect temperature, even when the weather isn't ideal! Great house for a lazy weekend away with friends (there was 5 of us). The house is a short walk or bike ride from the beach. Sue was a delight - showed me around and let me know where everything in the house was (and they have everything you need!). She also bought us a cheese platter, hot cross buns, and some easter eggs for our Sunday morning. Delightful! She left plenty of basics in the pantry, including a couple of bottles of wine :). A really nice retreat that feels way out of the city, but with the convenience of being close by everything you need. Would 100% recommend this place for a group of friends or a family getaway.
Toshi
2016-03-29T00:00:00Z
Freundlicher Empfang nachdem wir zuvor in der Nähe abgeholt wurden da wir keinen Stadtplan hatten. Angenehme Schlafzimmer, funktionelles Wohnzimmer aber meist ist man in der Küche oder am Pool. Wir haben uns sehr wohlgefühlt.
Stephan
2016-11-07T00:00:00Z
We had a wonderful stay at Sue's place. It's perfect for a holiday getaway. Good location (close to the beach!), clean and tidy with everything you need for a self catering holiday home. The kitchen is especially great with modern fittings and an open view of the pool: lovely for dinners with friends. Sue was always easy to get hold of and incredibly helpful. She also kindly put a list of places to go and things to do in a folder in the house, which was very useful. Would definitely recommend this air BnB listing to others looking to stay in Perth.
Kathryn
2016-09-07T00:00:00Z
Tipo de habitación
Casa/apto. entero
---
Tipo de propiedad
Casa
---
Capacidad
6
---
Dormitorios
City Beach, Australia Occidental, Australia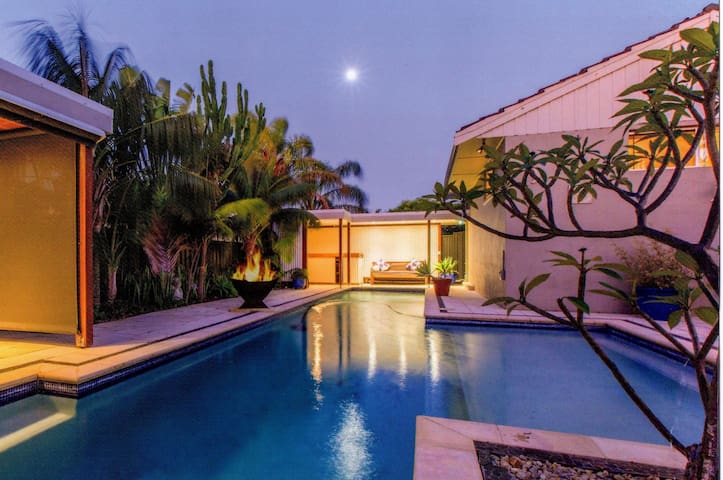 Hey everyone, If you are looking for an amazing place for yourself to stay at while visiting Perth I would highly recommend Shuling's apartment. The apartment is just a short ride into the city centre, but has a great line of shops opposite the house for all your basics. This made it so easy to cook a meal, buy some wine or get takeaway if needed. I highly recommend having a walk around the amazing lake across the road, it is brilliant. But Shuling just made the stay so much more comfortable, nothing was a hassle and the responses were so fast. I will defiantly stay there again if travelling to Perth again. Brilliant!
Brendon
2017-01-08T00:00:00Z
The accomodation was great. It was lovely and light with very good facilities. It is very central to city and the beach. Shuling was a very good host and easy to get in contact with. There are shops very close by to buy any food needed. We will be recommending her place to others.
Jolyn & Rob
2016-11-30T00:00:00Z
Bellissima esperienza, l'appartamento è proprio come appare nelle foto pubblicate sul profilo. Shuling e la sua famiglia sono stati sempre gentilissimi e di grande aiuto. L'appartamento ha anche un'area esterna da potere piacevolmente condividere con l'host,l'appartamento è a nostro avviso in una delle più belle zone della città ed a pochissimi passi si trova un fornito supermarket. Per chi ama il mare e la spiaggia la zona in cui si trova l'appartamento è a pochi minuti di macchina da una bellissima spiaggia. Quando torneremo a Perth usufruiremo ancora di questo alloggio. Grazie a tutta la famiglia!
Alan
2016-11-08T00:00:00Z
Shuling is a lovely host! She is so friendly and helpful. She met me there to give me the keys and made me feel at home straight away. The place was clean, quiet and cosy, which made for the perfect getaway. Located close to shops. Everything working and as it should be. Will definitely stay again :)
Sitt
2016-10-06T00:00:00Z
Cozy clean, great host. Would definitely stay there again
Linda
2016-11-23T00:00:00Z
Upon arrival we were greeted with a lovely warm welcome, my partner came home before me and they were happy to open the house up with the 2nd set of keys even thought it was very late. Lovely people, lovely house and lovely location.
Amanda
2016-10-30T00:00:00Z
I had a great Stay, the house was well equipped. Shuling is an awesome host
Dane
2017-01-04T00:00:00Z
Shuling's accomodation was exactly as advertised, very clean, comfortable and a brilliant location. We will definitely be staying there again. Thank you
Chris
2016-12-29T00:00:00Z
Tipo de habitación
Casa/apto. entero
---
Tipo de propiedad
Casa
---
Capacidad
4
---
Dormitorios
Floreat, Australia Occidental, Australia
1

–

18

de

Más de 300 alojamientos en alquiler
Introduce las fechas para ver el precio total. Ten en cuenta que se aplicarán tarifas adicionales y es posible que se añadan impuestos.