Introduce las fechas para ver el precio total. Ten en cuenta que se aplicarán tarifas adicionales y es posible que se añadan impuestos.
1 Alquiler de un Barco
· Cobourg
1 Alquiler de un Barco
· Cobourg
Our boat is in the Cobourg Harbour, just 20 minutes from Ste. Anne's Spa. Walk downtown to enjoy a night out at one of Cobourg 's restaurants or prepare your own meals on the boat. Add on a trip to Ste. Anne's to truly relax.
Roughing it in comfort, sleeping on a boat is unique and fun. Boat does not leave the dock. Cobourg beach, marina, Ste. Anne's boat and Ste. Anne's Spa. I'm 15 minutes away if you need assistance. I can sometimes take the boat out on Lake Ontario (weather permitting). I charge $100 an hour for this service, arranged in advance.
Cobourg has an historic and charming downtown with lots of little shops and restaurants. With one of the nicest beaches and waterfront in southeastern Ontario there are plenty of ways to relax. Couple this with a day at Ste. Anne's Spa for a short stay getaway to remember. Everything you are likely to need is within walking distance. If you want to combine your stay on the boat with a day spa at Ste. Anne's you must book that directly through the spa.
He gave us a full description of the area and wanted to know if we had made any dinner reservations?He had concerns about the weather and offered us to come to St.Annes to use the pool and or hot tub. Unfortunately this was not mentioned to me when I talked with someone at St.Annes and was looking to make an appointment for a spa service?!!!The neighbourhood (the marina) was beautiful and we felt very privileged to be a part of it!!! Thank you Jim!!!
Lisa
September 2016
If you are looking at this listing right now, just book it. It is an incredible experience. The boat is stunning. The hosts are charming. The marina and boat neighbours are so friendly. Of all my Airbnb experiences this has been my favourite of all! James was a fantastic host, making sure we were comfortable and had everything we need and then gave us great recommendations about what to see and do in town. Cobourg is lovely and one of the highlights of this listing is how close you are to everything. We walked everywhere. You will not be disappointed!
Nicole
September 2016
I had an amazing experience staying on this boat. Everything was as described, very comfortable, peaceful and strongly recommended for a getaway. James was a gracious host, made sure that he was available if we needed anything and stayed in contact via text throughout our stay. It was a nice compliment to our visit to the Ste. Annes Spa.
Nalinie Nelly
September 2016
This was a great experience, great location, and the host went above and beyond to make our two night stay as hassle free as possible. Sitting on top deck , having a drink, watching the sun go down was fabulous. I would definitely recommend it to anyone, who wants a special treat. Restaurants, shops, etc are all within walking distance. very quiet marina, with walking distance to a beautiful beach. I would definitely do it again thank you James Donna
Donna
July 2016
Quite the experience! James was a great host! Responded timely to booking questions and inquiries after being booked as well. He met us at the marina and gave us the tour of the boat and instructions. Boat was well equipped with kitchenette (c/w dishes, fridge, stove, BBQ, coffee pot, toaster etc.) 3 bedrooms and 2 bathrooms (c/w bedding and towels). The boat does not have a mirror and the showers are small. Therefore, we used the marina bathroom/shower access which was clean and accessible. The boat is close to the pier and beach which is a clean, well looked after area. In addition all within walking distance to restaurants and shops. Highly recommend the Buttermilk Cafe for breakfast. Great time was had by all!
Shelly
August 2016
We had a great time on the boat. James communicated very well from beginning to end. He met me on site and showed me how to operate the electricity, gas and heating/cooling system. James also texted later to ensure that we were settled. The boat was very comfortable and the little kitchen had all the basics. Cobourg is a great little town with a beautiful beach, harbour and restaurants within walking distance.
New
July 2016
James has been an amazing and incredibly welcoming hosts. I would highly recommend spending a few nights in James's boat!
Ferdinando
August 2016
Our stay on the St. Annes boat was a great first time experience. It was well maintained, clean, comfortable and had all the basic necessities. James was a wonderful host throughout our stay. He was very attentive and informative. James took the time to explain the features of the boat and ensured he was available to answer any questions and assist us when needed. He told us about the town of Cobourg, places to eat and things to do and see. We enjoyed the beautiful views of the marina and lake. It was also enjoyable talking to the neighbouring boaters who were all very kind.
Angela
July 2016
Tipo de habitación
Casa/apto. entero
---
Tipo de propiedad
Barco
---
Capacidad
5
---
Dormitorios
3
Cobourg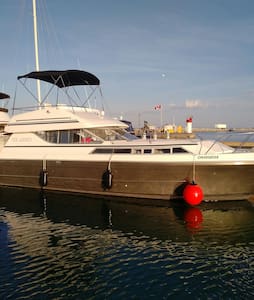 1

–

1

de

1 Alquiler de un Barco