Bavaria 30ft Sail Boat with 2 bedrooms , bathroom, docked in Pescara port.
Dormir en un barco Es una gran y divertida opción, diferente de todo lo convencional que se puede encontrar de alojamiento. Giampetro es un gran anfitrion y siempre está pendiente de sus huéspedes. El barco es muy cómodo limpio y tranquilo
JUAN PABLO
2016-09-04T00:00:00Z
Très bon accueil par notre hôte. Gampiettro est très serviable et accueillant,accueillant. Nous avons passé un agréable séjour.
amelie
2016-08-12T00:00:00Z
这是非常美妙的一次旅行体验,在海边城市佩斯卡拉的港湾里睡在小游艇上倾听小船轻拍着水面的声音,像摇篮曲一样将你带入梦乡,早上又伴随着海鸥觅食的叫声醒来,真的非常美妙,船上很舒适,很干净,而且港湾非常和谐安全,治安非常好,人们都很热情和善,停泊的水中全是大大小小的鱼儿,而且位置也很棒,步行至海滩不到10分钟的路程,过桥去市中心的海滩等地方也只要25分钟左右,这里我特别想说一下船主人,他非常的热情友善,提前两天联系我准确的到达时间,因为港湾距离火车站(我坐的flixbus,汽车站与火车站是在一起的)还是有一定的距离步行不方便,船主人在我到达的当天开车来车站接我,临走时也是提前确定好时间来港湾接我们去火车站,使得我们此次出行非常方便轻松。我们还见到了他家的小狗,7岁了,非常乖。他经常带着小狗驾船出海游玩,其实主要是这次有别的事情我们没能多玩两天,不然他说可以带我们出海兜风,真的是很遗憾没能体验一下,下次有机会来佩斯卡拉一定还来这里,体验一下出海欣赏佩斯卡拉的美景。
Nessario
2016-07-24T00:00:00Z
luogo perfetto per relax. Sicuramente torneremo da Gianpietro. Il signore non poteva essere più disponibile e gentile. PERFECT place To relax. with delightful bars and shops in The port. The ports bathroom and shower a Are clean And our stay was as good Assit could be. IN OUR TOP 3. grazie mille Gianpietro
Mair
2016-08-19T00:00:00Z
Giampietro is a wonderful host. He made sure everything was ok and he was quick with responses when communicating. The harbour is a little walk away from the city but you can hire bikes from a shop in the port (Go to Franco's in the port for breakfast). The flip side of this is that the boat is very private. The beach is literally 'round the corner from the boat. If you want something different to an apartment - you will get it here. Pescara is a lovely, relaxed (and cheap!) city. We will definitely return.
Kim
2015-07-13T00:00:00Z
Giampietro was a nice host. it was a very sepcial experience to sleep on Giampietros sail boat. Such a boat offers more space than you would expect. There was everything that you need. We could take a shower in the harbor just a few meters from the boat. Everything was very clean and tidy. In addition he picked up us from the previous apartment and took us to the airport. So I recommend Giampietro and his beautiful boat.
Chris
2015-10-21T00:00:00Z
Bellissima esperienza: suggestivo, comodo e piacevole. Consigliatissimo.
Francesco
2017-01-02T00:00:00Z
Giampetro a été un excellent hôte durant notre séjour. Comme nous sommes arrivés tard à l'aéroport, il nous a proposé de venir nous chercher en voiture et de nous installer. Son bateau est magnifique et parfait pour un séjour romantique en couple avec tout l'équipement nécessaire (possibilité de manger dehors, frigo, thé et café à disposition, corbeille de fruits ...). L'accès à la plage se fait en 15 minutes environ. Petit plus également, Giampetro parle français et anglais. Nous recommendons cet hôte sans hésiter !
Sandrine
2015-08-24T00:00:00Z
Tipo de habitación
Casa/apto. entero
---
Tipo de propiedad
Barco
---
Capacidad
4
---
Dormitorios
Pescara, Abruzzo, Italia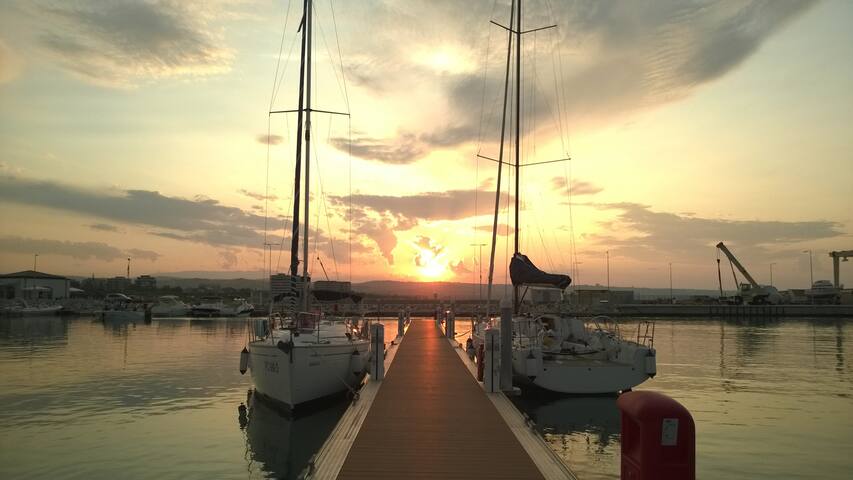 Sailing boat moored in the port channel Pescara. A double bed in the bow. Two single beds in the middle. WC, kitchen with two fires, sink, 120 liters of water. After agreement is possible to take trips on a sailing boat.
Wooden interior
The Porto Canale is in the city center, near the old town full of music venues and bars.
Tipo de habitación
Casa/apto. entero
---
Tipo de propiedad
Barco
---
Capacidad
4
---
Dormitorios
Pescara, Abruzzo, Italia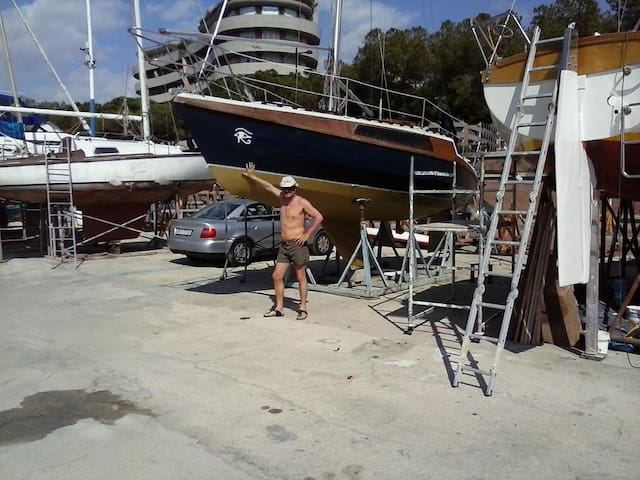 Durante l'estate il catamarano è disponibile per crociere verso le isole croate o per uscite giornaliere. During summer our catamaran is available for cruises to the most beautiful croatian islands or for daily cruising. Pernotta a bordo del nostro splendido catamarano Lagoon 450 dotato di 4 cabine matrimoniali indipendenti ognuna con riscaldamento e bagno con doccia e di una comoda e fine zona giorno. Si presta per una romantica e indimenticabile serata di coppia.
Potete comodamente passare una splendida serata a bordo del nostro catamarano Lagoon 450 ormeggiato presso il porto turistico "Marina di Pescara". Il Mauticat è un comodo e moderno catamarano dotato di 4 stupende cabine matrimoniali indipendenti - ognuna con bagno privato, doccia, riscaldamento e aria condizionata - e di una living room abitabile con cucina, impianto Bose e Tv lcd. Pernottare a bordo del Mauticat è il modo migliore per concedersi una sosta esclusiva, grazie a un ambiente studiato per chi vuole concedersi più di un semplice soggiorno, caratterizzato dal comfort e dalla privacy all'interno del porto turistico "Marina di Pescara", lontano dai rumori della città e da sguardi indiscreti.
Tutto perfetto! La barca è splendida e dotata di tutti gli optional, i proprietari hanno lasciato anche tutto l'occorrente x la colazione e il caffè con la macchina a cialde era ottimo! Esperienza fantastica e super consigliata. A presto ;)
Antonio A.
2015-10-18T00:00:00Z
Me and my girlfriend had a really lovely stay at Mautica's catamaran. The owners was really nice and helpful! If you are looking for the expariance to live in a sailboat or just need an appartment to stay at for some nights, then I would highly recommend them. Thanks for some lovely days in Pescara :)
Tom-Erik
2016-09-29T00:00:00Z
Tipo de habitación
Casa/apto. entero
---
Tipo de propiedad
Barco
---
Capacidad
8
---
Dormitorios
Pescara, Abruzzo, Italia
Durante l'estate la barca è disponibile per crociere verso le isole croate e le isole Tremiti, per uscite giornaliere lungo la costa dei Trabocchi. During summer our boat is available for cruises to the most beautiful croatian islands or for daily cruising along our Trabocchi Coast . We will bring you to Croatia or Tremiti Islands in a weekly based trip or a shorter way (3/4 days). La barca ha 4 cabine doppie può ospitare fino a 8/10 persone. The boat has 4 double cabins and can host up to 8 pp
Durante l'estate la barca è disponibile per crociere verso le isole croate e le isole Tremiti, per uscite giornaliere lungo la costa dei Trabocchi. During summer our boat is available for cruises to the most beautiful croatian islands or for daily cruising along our Trabocchi Coast . We will bring you to Croatia or Tremiti Islands in a weekly based trip or a shorter way (3/4 days). La barca ha 4 cabine doppie può ospitare fino a 8/10 persone. The boat has 4 double cabins and can host up to 8 pp
Tipo de habitación
Casa/apto. entero
---
Tipo de propiedad
Barco
---
Capacidad
8
---
Dormitorios
Pescara, Abruzzo, Italia