Double room overlooking the garden and bathroom sat.TV wireless air conditioning study/lounge and outdoor terrace with table and hammocks for sunbathing and andrelaxing The arrival and departure times are flexible. But the bedroom needs to be vacated by 11 am and the bedroom can be entered at 14 pm. This is in order to clean it for the next guest. BREAKFAST INCLUDED THE PRICE OF THE BOOKING WE HAVE FREE PARKING IN THE HOUSE
The bedroom is located on the first with a private bathroom, comfortable and very spacious bed. The bedroom accomodates one or two guests on a bed with measurements of 2,10x1,50. The room is very wide and has a garden view. For bookings of three guests a 1,90x90 additional single bed in the room is prepared. This bed is not available for bookings of one or two guests. In the room the guests have TV and satellite, Wifi, and air conditioning. Inside the bedroom one finds a bathroom, with wash basin, water closet, bidet, and shower tub. In this first plant(floor) the guests have a room study / lounge, and a terrace outdoors, with table, and hammocks to sunbathe and to relax. THE BREAKFAST THIS ONE INCLUDED IN THE PRICE OF THE RESERVATION(RESERVE) WE HAVE FREE PARKING IN OUR HOUSE.
The village is full of families and surrounded of country lanes, farming land and other settlements. It´s a quiet place to be and to relax. There is no risk to leave cars or motorbikes parked in the street.
¡Un 10! Muchas gracias!
Omar
2017-01-22T00:00:00Z
Nuestra estancia se alargó un par de días más y seguimos disfrutando de nuestra estancia en casa de Jaime y Gertru.
Ana Belén
2016-08-18T00:00:00Z
Excelente experiencia. Jaime y Gertru seran amigos nuestros para siempre a partir de nuestra estancia con ellos. Nos arroparon y cuidaron como si fuéramos de su propia familia. La casa es preciosa y muy tranquila. La habitación está impecable y el cuarto de baño impoluto. Las sábanas son 100% algodon y las toallas también y muy suaves. La cama comodisima. Cualquier cosa que necesitamos Jaime y Gertru se preocuparon de que lo tuviéramos. Viajamos con nuestro pequeño de 5 años y le cuidaron como si fuera su nieto incluso dándole dos regalitos. Gertru como cocinera es 5 estrellas, su cocina se merece estrellas Michelin. Nos prepararon el mejor menu por tan solo 9 euros. Todo producto natural y ecológico del huerto del cual se encarga Jaime. Cenamos con ellos y fue una velada llena de risas y volveremos a repetir seguro. El desayuno es una gozada! Mermeladas de Gertru caseras esquisitas! El precio no paga lo que recibimos.. Fue una pasada! Muchas gracias por ser como sois Siempre nos acordaremos de nuestra visita :)
aimee
2016-06-13T00:00:00Z
No puedo decir más que, he estado como en familia. Me han cuidado como a una más y atendido espectacularmente. Gracias Gertru porque estás en todos los detalles. Siempre respetuosa y a la vez disponible a hacerte sentir cómodo. Jaime igualmente una persona maravillosa. Hemos compartido conversaciones muy interesantes y me he sentido muy muy acogida. Gracias!!
Montse
2016-08-11T00:00:00Z
Hemos pasado el fin de semana con Jaime y Gertru, pues corríamos la media maratón de Santa Pola. Desde el primer momento nos hicieron sentir como en casa, e intregrarnos como parte de la familia. Gente formidable que tienen experiencias para contar y escribir libros. Muy buen alojamiento, trato super familiar y cocina exquisita (con ingrendientes naturales de su propia huerta y corral). Han cuidado de nosotros en todo momento. Por poco cambiamos de planes y dejamos de ir a correr la media :-) Accomodation fully recommended if you want to stay close to crowded areas, but at the same time at very tiny village where the only noise you could hear is cock's crow. Jaime and Geltru will make you feel like home and be considered part of their family. we will come back, that is for sure. RUNNING WEEKEND IN SANTA POLA, with the best people of the area.
Javier
2016-01-24T00:00:00Z
Estuvimos una noche en casa de Jaime y Gertru y nos fuimos encantados. La habitación es espaciosa y muy cómoda, con baño privado en la habitación también muy espacioso. La habitación da a una terraza de uso para los huéspedes muy muy agradable, con lo que hay mucha sensación de intimidad. Todo limpísimo y decoración acogedora obra de Gertru y Jaime. La casa es muy bonita, con un jardín estupendo y espacio para aparcar dentro de la propiedad. Pero lo mejor sin duda son Gertru y Jaime. Anfitriones amables, cordiales y muy atentos. Nos recibieron con un detalle de bienvenida y se mostraron disponibles en todo momento. Gertru nos agasajó con un desayuno fantástico con productos elaborados por ella misma. Alojamiento 100% recomendable. Cuando volvamos a la zona repetiremos sin duda. Gracias x hacer nuestra estancia en vuestra casa tan agradable!!
Esther
2016-07-25T00:00:00Z
Estuvimos 3 noches alojados en casa de Jaime y Gretru y fue una experiencia super agradable. Nos trataron como si fuesemos de la familia, con mucha atencion y cariño. Muy interesante para nosotros que nos gusta viajar en bici, el oir sobre las multiples aventuras que esta entrañable pareja ha vivido, a pie, en bici y en coche a lo largo y ancho de este mundo. Respecto a la habitacion decir que es estupenda, amplia, luminiosa y con una cama doble grande y muy comoda. El baño dentro de la habitacion es un gran ventaja. La terraza grande con vistas agradables es un pluss total. La casa esta a corta distancia de la playa y de Alicante ciudad y tambien muy cerca del aeropuerto lo cual es una ventaja. Todo muy bien y absolutament recomendable e, destacando por encima de todo el cariño, la cordialidad y buen hacer de Jaime y Gertru. Muchas gracias y un abrazo fuerte desde Noruega Jaime y Gertru! :-) Fernando y Anne Maria
Fernando
2016-01-02T00:00:00Z
Tipo de habitación
Habitación privada
---
Tipo de propiedad
Bed & Breakfast
---
Capacidad
2
---
Dormitorios
Els Bassars, Comunidad Valenciana, España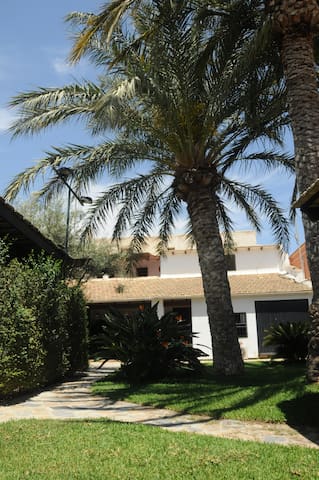 Casa Rustica is a beautiful unique rustic villa, situated just 3km from Alicante airport. Alicante City is just 10mins by car. Airport transfers available on request
The villa has a rustic design with all modern equipment in a quiet location but only 3km from Alicante airport. We offer three comfortable rooms for our guests master bedroom with ensuit bathroom, double bedroom and a twin room. The villa has a comfortable lounge, with a TV and dvd. For anyone who wants to keep fit a gym, and outside we have a beautiful pool with plenty of space to relax in the sun. If you arrive by car we have private secure parking. The costa blanca coast line has beautiful beaches , the nearest is Los Aranales just 3km away, with lots of bars and restaurants, the walk along the prominard is spectacular with natural dunes and conservation area.
The villa is just five mins drive from los Aranales beach
Our stay at Casa Rustica was just great. After a warm welcome Julie and Jose showed us around. The room (we've had the ensuite bathroom) was clean, big and comfortable just as the whole house and the outdoor area. Outside you can choose between the outdoor kitchen area, the pool area and the terrace and for bad weather there is a huge cellar with TV, billiard table and many card / board games. Breakfast was delicious with a fresh fruit plate, coffee, tea and everything you need. Jose and Julie always gave us recommendation for restaurants / places to see and were very pleasant hosts. The house is close to the beach and the beautiful cities Alicante and Elche. The airport is only 5 min away but still you do not hear any planes arriving or leaving. We can highly recommend Casa Rustica for both a short trip and longer vacation since there is a lot to see around and the house and pool are perfect for relaxing.
Simon
2016-08-18T00:00:00Z
We've arrived home after 3 days in the stunning Casa Rustica and we must say that it was by far the most beautiful home we have ever stayed in. Both Julie and Jose were great hosts and lovely, sociable people. Thank you so much for opening your home to us, we'll definitely be coming again soon and will recommend highly. Dan & Jade
Dan
2016-07-11T00:00:00Z
We had an excellent experience at Julie and Jose's place! We received a very warm welcome and great tips about the beautiful area. We could not fault our stay - The master bedroom was very comfortable, the swimming pool and poolside living area/kitchen area offered amazing facilities and a beautiful breakfast was served every morning. Highly recommend a stay at the luxurious Casa Rustica.
Clodagh
2016-08-07T00:00:00Z
Our stay at Casa Rustica could not have been better. Julie and Jose are wonderful, genuine people and the best hosts you could wish for. They have a beautiful home and they really went out of their way to make us feel comfortable and relaxed during our stay. The whole house is beautifully clean and equipped with everything you could possibly need. The breakfast was lovely and Jose's fruit platter can not be beaten. The area is peaceful and there are a lot of restaurants and bars just a short drive away. Thank you so much, Julie and Jose!
Katie
2016-08-12T00:00:00Z
Julie was very accommodating, going out of her way to ensure that I was comfortable and could continue on my journey the next day hassle free. Breakfast was beautifully presented, delicious and in a peaceful setting. I highly recommend staying at Casa Rustica
Emma
2016-06-28T00:00:00Z
The house is perfect, each corner has an amazing feeling and you can relax everywhere in the house.
Gabriel
2016-08-30T00:00:00Z
Bravo José and Julie! We had a wonderful few days chilling at Casa Rustica. You guys are the perfect hosts and we can't thank you enough. If there was an Airbnb award for host of the year, we'd nominate you! PS. We miss Bailey! She is a little bundle of sunshine and so much fun to play with.
Tim
2015-04-04T00:00:00Z
Absolutely superb venue; brilliant and genuine hosts. Julie and Jose responded to our late request and are wonderful hosts. This is a top notch place to stay with such hosts.
Mike
2016-09-04T00:00:00Z
Tipo de habitación
Habitación privada
---
Tipo de propiedad
Bed & Breakfast
---
Capacidad
2
---
Dormitorios
Alicante, España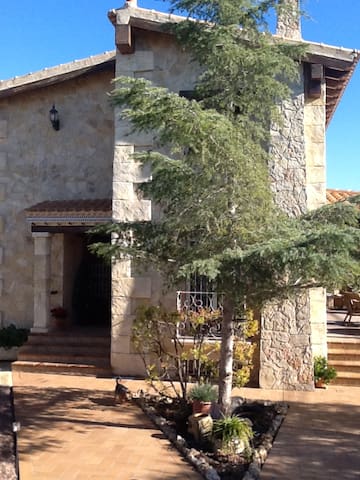 En la mismísima playa, disfruta del mar y sus palmeras con solo asomarte a la ventana. Desde tu habitación tardas cinco minutos para darte un baño en la magnifica playa. Total libertad. Con baño propio. Muy cerca del aeropuerto.
Playa, paseo marítimo, palmeras, tranquilidad
Muy tranquilo y mágico
Tipo de habitación
Habitación privada
---
Tipo de propiedad
Bed & Breakfast
---
Capacidad
1
---
Dormitorios
Alicante, Comunidad Valenciana, España
Casa Rustica is a Bed and Breakfast with the perfect location. We are just 3km from Alicante Airport, and only 5mins by car to the beaches of Los Aranales del Sol. Alicante City is just 10 mins by car where you can enjoy the Old Town and Tapas.
Casa Rustica is the perfect place where you relax and recharge, as we are only 3km from the airport. The beautiful sandy beach is just a five min drive, and Alicante City is just a short car ride. We have a private pool where you can relax, with a bbq area with a fridge for your use. We have gated secure parking.
We love the fact we are so close to the Airport, the City and the beach. Great Restaurants are just a short drive. The Costa Blanca has so much to offer. From Benidorm just 40mins away with Aqualandia Terra Mitica.
A truly incredible experience and a delightful place to stay for 8 nights. Julie and Jose are the perfect hosts who will go above and beyond to make you feel welcome. Would definitely recommend staying here if not for the fantastic accommodation then for the hospitality. Thank you so much!
Ben
2016-08-17T00:00:00Z
Julie and José are the best. Very, very helpfull in everything. Their house is realy fantastic. It is better than the pictures. We can not say one thing that is not good. Our stay was way to short, so we definatly come back. Why can't we give them ten stars?!?
Erik
2016-08-29T00:00:00Z
We loved staying with Julie and Jose. The house is beautiful with a great pool and bbq area that they made us feel totally welcome to enjoy. The beach is a quick drive away. Julie and Jose are super friendly hosts who helped us figure out how to make the most of our time in the area, and the breakfast fruit platter is amazing! We would definitely recommend this as a perfect place to relax and enjoy the area.
Mia
2016-09-06T00:00:00Z
Tipo de habitación
Habitación privada
---
Tipo de propiedad
Bed & Breakfast
---
Capacidad
2
---
Dormitorios
Alicante, Comunidad Valenciana, España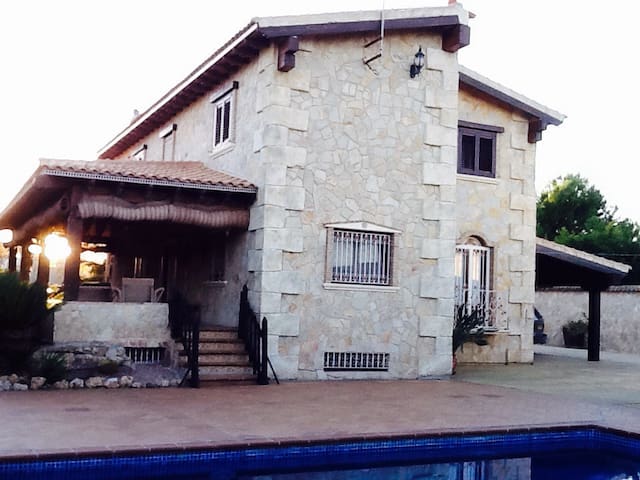 Acogedora habitación, totalmente independiente, en planta baja de chalet.Posee salón particular.Puede disfrutar de un ambiente agradable en total privacidad en jardín (URL HIDDEN) casa se encuentra a 5 minutos de las playas de Arenales y del Carabassi.
Chalet cerca del mar, lugar muy tranquilo, rodeado de parajes naturales ( dunas, lagunas, pinares). Ambiente confortable habitado por pareja de chicos y dos perros.
Barrio muy tranquilo rodeado de espacios naturales.
Tipo de habitación
Habitación privada
---
Tipo de propiedad
Bed & Breakfast
---
Capacidad
3
---
Dormitorios
Gran Alacant, Santa Pola, Comunidad Valenciana, España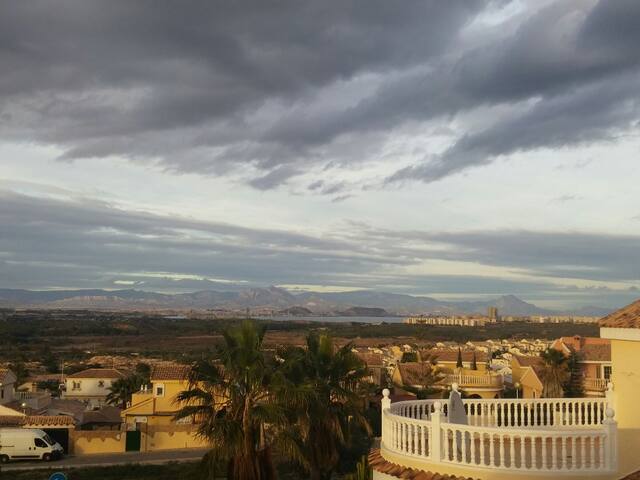 1

–

5

de

5 Bed & Breakfasts
Introduce las fechas para ver el precio total. Ten en cuenta que se aplicarán tarifas adicionales y es posible que se añadan impuestos.