One single room with private bathroom and wc, in a 1870 large renovated house with 1200 sqm garden . Quiet,clean ,wifi,parking . 15 min walk from train station and 5 min from Castle Park and shops . Access and use of the garden.
1870 large renovated house on enclosed garden(1200sqm).
Quiet area with houses and 5 min walking to downtown
Agnes was a wonderful and generous host. Her and her husband were very nice and easy to talk to. The house is big and is dated back into the 1800's but with a very well done remodeled - modern look. The room I stayed in (they have multiple) was perfect for what a single guest would need; comfy bed, view of the garden, desk, wifi and separate bathroom. Each morning Agnes prepared a breakfast with fresh bread, pastries and coffee. It's an easy 10min walk to downtown Font and 5 min drive to the magic forest. I visited Fontainebleau for the world class bouldering that the forest has to offer. I hope to stay here next time I travel through Fontainebleau.
Joshy
2016-05-05T00:00:00Z
Great stay, very nice house and friendly hosts
Baptiste
2016-09-15T00:00:00Z
une très jolie maison avec un jardin magnifique, des hôtes très accueillants et chaleureux, un vrai plaisir !
beatrice
2017-04-03T00:00:00Z
Sono stata accolta come in casa, aiutata in ogni cosa, tutto è stato estremamente piacevole. Persone stupende e disponibilissime. Disponibilità alla conversazione, nonostante il mio incerto inglese e soprattutto persone che si sono in ogni momento adoperate per facilitarmi il soggiorno. Grazie ad Agnes ed alla sua famiglia
Giulia
2016-09-02T00:00:00Z
Agnes made me feel very welcome from the moment I arrived. Her home is lovely, and her home made fig jam was unforgettable! Thank you for a great stay!
Graham
2016-11-19T00:00:00Z
I had a fantastic stay at the Roggeman´s home, they picked me up at the station (on very short notice) and made sure I was always confortable. They were also extremely helpful and gave me useful tips on how to get around Fontainebleau and what to visit. Their home is very pleasant and when it´s sunny the garden is just lovely :)
Fernando
2016-05-18T00:00:00Z
Tipo de habitación
Habitación privada
---
Tipo de propiedad
Villa
---
Capacidad
1
---
Dormitorios
Fontainebleau, Isla de Francia, Francia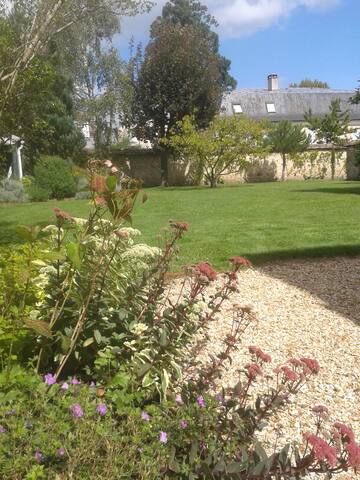 This beautiful 19th century house, located just 5 minutes away by foot from the famous and magical forest of Fontainebleau, will enchant you with its architect designed interior, its garden crawling with fruit trees and its quiet atmosphere.
The 19th century 180m² house on 3 levels, together with its 1 acre garden covered with fruit trees are waiting for you. On the first level, a fully equipped kitchen is available in the dining room where the chimney is. An indonesian door leads you to the living room where a Grand Piano awaits masters and beginners alike, aside the TV area with its comfy club armchairs. On the second level, the 'Orient Express' suite is composed of 3 bedrooms, with 2 twin beds and a four-poster bed. The bathroom is the jewel of the house. It was entirely build from the interior of a 1939 Paris-Istambul Orient-Express first class compartment, and is unique in the world. It is equipped with a spa shower for guests' convenience. The thirst level is the 'Paule Seailles' suite, as a tribute to the artist who built the house. It is composed of 2 bedrooms with 4 single beds, together with a bright bathroom under the attic equipped with a spa bathtub and all the necessary appliances (washing machine, dryer) The 1 hectare garden and its apple, pear and apricot trees awaits you for a snack. The little bamboo forest in the back of the garden is the best spot for a peaceful quiet nap in the shade.
The house is 5 minutes walking from the world famous Fontainebleau forest, where splendid walks, bouldering and horse riding activities are waiting for you. In the old village, museums and old artist houses are waiting to unravel their secrets, and the history of the famous painters who once lived there.
We loved staying here. The house was just big enough for 12 of us but still felt very cosy. The location is perfect if you are a climber or a hiker, as it is only a 20 minute walk to the forest. And being in the heart of the village of Barbizon is ideal too because you can easily go and get groceries and charcuterie etc without driving to a supermarche. Thibault's father Patric was our charming and interesting host - he told us about the history of the area and the history of the Gite, which is full of art and sculpture. He was on hand whenever we needed anything (and gave us homemade fig jam!). The garden is lovely and includes a badminton court - very useful distraction for when the rain stopped us from climbing. We can't wait to come back.
Laura
2016-10-30T00:00:00Z
Nous avons passé un très bon week-end entre amis. Une maison accueillante, avec une belle personnalité. Un voyage entre nature, train long courrier et antiquité du monde. C'est agréable de laisser les décors Ikea et de séjourner dans un vrai lieu de vie. Le propriétaire habite la maison mitoyenne, il est resté disponible pour nos quelques demandes durant notre court séjour et nous a fait visité la maison et son jardin : pelouse sous les grands arbres, petits potagers et mini Bambouseraie. La maison se situe à 5 minutes de la rue principale de Barbizon, au calme, bien équipée. Que demander de plus ...
luc
2015-07-06T00:00:00Z
Proche du village et DE LA forêt . Intérieur cosy et d'une grande beauté. Ideal POUR un séjour en famille OU entre amis.
CLAIRE Lyse
2017-01-29T00:00:00Z
Great place to stay. Amazing to walk to apremont and barbizon. Beautiful house and interior, and comes with a piano!
Galen
2017-04-10T00:00:00Z
I stayed here for 3 nights for a bouldering trip in the forest with a group of friends. We had a very nice welcome on the Friday night, even though we arrived quite late after Eurostar from London and then driving down from Paris. The place itself was great - good size, really cool decor, and a piano! Wifi was really helpful in checking and planning things, and the kitchen had everything we needed for cooking for a group of 7. Beds were a good size and comfortable. Barbizon itself is a very nice little village, with shops to cover all essentials (although be aware that places close quite early on a Sunday evening)
Paul
2015-10-13T00:00:00Z
Tipo de habitación
Casa/apto. entero
---
Tipo de propiedad
Villa
---
Capacidad
12
---
Dormitorios
Barbizon, Isla de Francia, Francia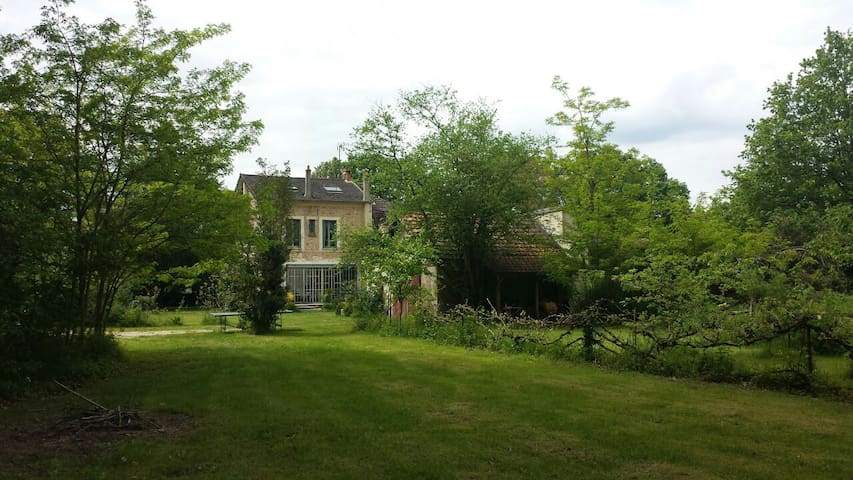 Cosy 18 m² room with private bathroom, cabinet and toilet, in a contemporary architect's house. A large bay-window opens onto a terrace which overlooks the garden (private entrance). Tea and coffee available in the room. Big bed (or two beds).
In the charming village of Samois sur Seine, you will find our cosy suite with either one large 200x180 bed, or two 90x200 beds. The cabinet allow you to store clothing, shoes and bags. The bathroom offers a large modern shower, a modern basin sink, a toilet, and storage space with towels. A nice garden and terrasse with table and chairs are available.
The house is located in the upper village, very close to the charming village centre, the shops and the Fontainebleau forest, castle and the famous Business School INSEAD. A 10-15 minute walk through the beautiful "rue du Bas Samois" (cobblestone street with old stone public laundry) will take you to the riverbank of the Seine, and the island of the "Berceau". A few nice restaurants are available in Samois sur Seine and many bars and restaurants in Fontainebleau as well. You will find an excellent "boulangerie" (bakery) in the willage centre. We will transmit a list of shops, restaurants and activities. A leisure park is located 5 minutes from the house (by car), offering a skate park, roller an bike paths, a lake, a play area for small children, riding, tennis, etc. A five-minute walk will take you to the local Samois poney-club. A brand new modern cinema is available in Fontainebleau, as well as a beautiful theatre and many cafés, bars. The castle and it's gardens are worth a visit.
Nous sommes restés une nuit dans la jolie chambre d'Isabelle et Kim. C'est très calme, dans un joli village. La chambre donne sur le jardin et bénéficie d'une entrée indépendante, ce qui est très pratique. Nous avons été très bien reçu par la maman d'Isabelle car nos hôtes n'étaient pas là le week-end où nous sommes venus.
Eve
2016-07-17T00:00:00Z
Chambre très agréable donnant sur jardin; calme, quartier tranquille et et près du centre Accueil très chaleureux et petit déjeuner partagé ensemble très convivial. Nous recommandons fortement!
Vincent
2016-06-13T00:00:00Z
Tipo de habitación
Habitación privada
---
Tipo de propiedad
Villa
---
Capacidad
2
---
Dormitorios
Samois-sur-Seine, Isla de Francia, Francia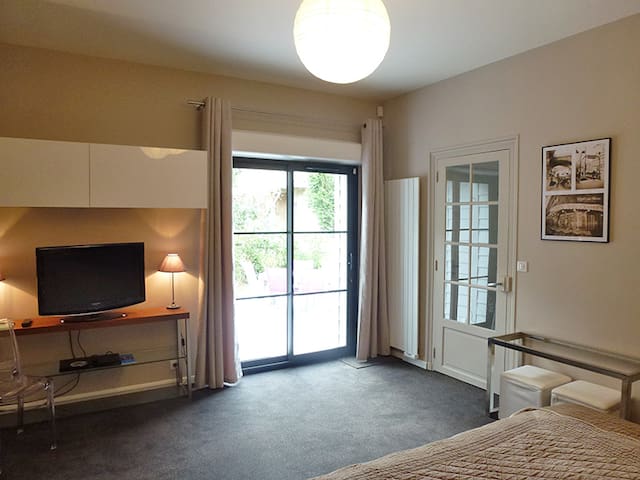 One double room with private bathroom and wc, in a 1870 large renovated house with 1200 sqm garden . Quiet,clean ,wifi,parking . 15 min walk from train station and 5 min from Castle Park and shops . Access and use of the garden.
1870 large renovated house on enclosed garden(1200sqm).
Quiet area with houses and 5 min walking to downtown
Alain et moi avons passé un excellent séjour chez Agnès début septembre et avons partagé de bons moments avec elle et son mari Christian. L'accueil a été très chaleureux et nous nous sentions chez nous. De plus, Agnès et Christian étaient toujours disponibles pour nous conduire à la gare et nous aider quand nous avion besoin de renseignements. Nous avons aussi profité de leur jardin qui est très agréable.Nous avons apprécié leur gentillesse et leur disponibilité. La description du logement est conforme à la réalité. La maison est située dans un endroit calme, à proximité du centre-ville : en 10 minutes à pied, nous pouvions nous rendre dans le centre très animé de Fontainebleau où se trouvent magasins et restaurants. Pour nous, la maison est idéalement située et elle a beaucoup de charme. Agnès et Christian ont su la rénover avec beaucoup de goût. Nous retournerions avec plaisir chez eux et recommandons cette adresse. Tout était parfait.
solange
2016-09-05T00:00:00Z
casa accogliente, comoda e pulita, in posizione centrale. Accoglienza perfetta e grande disponibilità da parte di Agnes
Giulia
2016-11-23T00:00:00Z
First time using AirBnB and it was a hit. Agnès was really welcoming, the room and bathroom were nice and our little ''area' was sectioned off, so we had complete privacy too. Walking into town was easy, parking on the street worked as well. I would definitely recommend Agnès as a host!
Yvonne
2016-05-28T00:00:00Z
Agnes has been a great host, flexible to my time schedule and very helpful with all my questions. The house and the room is good, location ideal in a quiet area close to city center. Very good experience, i do recommend !
Camille
2016-05-23T00:00:00Z
My husband Gerald, daughter Sophia (3yrs) and myself had an amazing experience at Agnes place. Agnes lives beautifully with a very large and lovely garden with playing toys for Sophia. Agnes beautiful house with the comfortable BnB rooms and large bathroom with bathtub is located within a short walking distance from the Fontainebleau parc and palace; the palace is impressive and the parc with its large hundreds of years old trees so relaxing. Best however are Agnes and Christian, both wonderful, friendly and very hospitable people. Agnes is a very loving, caring lady and Christian also a perfect host; we inmediately felt very welcome and at home. Great breakfast with the best croissants we ever had. It was an experience not to forget and that we can highly recommend!
Stephanie
2016-05-09T00:00:00Z
Agnes and Christian were great hosts. The two rooms are inside their house and were clean, tidy and nicely decorated. The bathroom was also spacious and very clean. We felt very welcome, and able to enjoy Fontainebleau from their property, which is a close driving distance from the town center. Agnes was excellent on the communication side too. We certainly recommend the place - thank you Agnes!
Myrto
2016-05-30T00:00:00Z
Agnes is extremely kind and friendly. She picked me up at the train station when I arrived and arranged the room for me. It's really lovely , quite and clean room, feel like home. I enjoyed a lot my stay in the house, and the garden is wonderful! If I come back to Fontainebleau I would definitely stay again at Agnes house.
Lea
2016-06-08T00:00:00Z
I stayed with Agnes for over three weeks while I did a short exchange at INSEAD in June. Having lived with families in France before during my undergrad, I thought staying with a family during my short grad school program would be nice. However, it was not an ideal place for that. The room is comfortable and has a large private bath. The room shares a wall with a bathroom used by another guest. You can hear everything in the neighboring bathroom, so if you're a light sleeper and don't wake up before the other guest, you may be disturbed. The room is also in a corner of the house, so the wifi signal is very weak. It is ok for an occasional web search but if you need to do more work or make phone calls over wifi, it can be slow and unpredictable. All of my wifi calls dropped. Agnes can be difficult and unwelcoming. Despite barely being around and going away on the weekends, Agnes made me feel very uncomfortable. As one example, I asked Christian, Agnes' husband, who was watching TV, if I could use the microwave to warm up some food. Agnes had said I could occasionally use the microwave but I wanted to be sure it would be ok since it was 10pm. He said to go ahead and warm up my food. A few minutes after, Agnes came to the kitchen and scolded me even after I told her I got his permission. Towards the end of my stay, I decided to ask to leave 4 days early given how unpleasant my stay was. Agnes and Christian refused to change my departure date. I stayed with my friend during my last days, and the couple became awkwardly nice. Though I don't expect breakfast to be included in an Airbnb, I would not rave about the breakfast here. I only got one of these amazing croissants that someone wrote in a review. The other days consisted of preserved white loaf bread toast with jam, microwave heated tea, and a glass of orange juice. For INSEAD students, the walk to campus is 25-30 minutes.
Isabel
2016-06-30T00:00:00Z
Tipo de habitación
Habitación privada
---
Tipo de propiedad
Villa
---
Capacidad
2
---
Dormitorios
Fontainebleau, Isla de Francia, Francia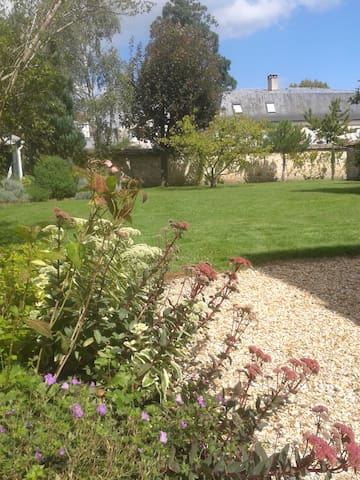 Mi casa está cerca de actividades adecuado para familias, restaurantes, bordes de cerco, bosque con actividades para niños y adultos, centro comercial. Disfrutar de mi casa para una mayor comodidad, las vistas, la ubicación, la arquitectura, la calma, la campaña, el Sena, habitación en una casa de jardín. Mi alojamiento es ideal para parejas, viajeros individuales y viajeros de negocios. Sólo tienes que traer sus maletas y su buen humor!
habitación privada con baño que se encuentra dentro de las paredes de una casa en la región de París (Essonnes 91) en los bordes del Sena. pueblo de campo pequeño de 500 habitantes, muy tranquilo y agradable.
Zona muy tranquila en la orilla del Sena, en una ciudad rural de 500 habitantes, con la sola presencia villa. Un verdadero prestigio agradable y se ofreció.
Tipo de habitación
Habitación privada
---
Tipo de propiedad
Villa
---
Capacidad
2
---
Dormitorios
Morsang-sur-Seine, Isla de Francia, Francia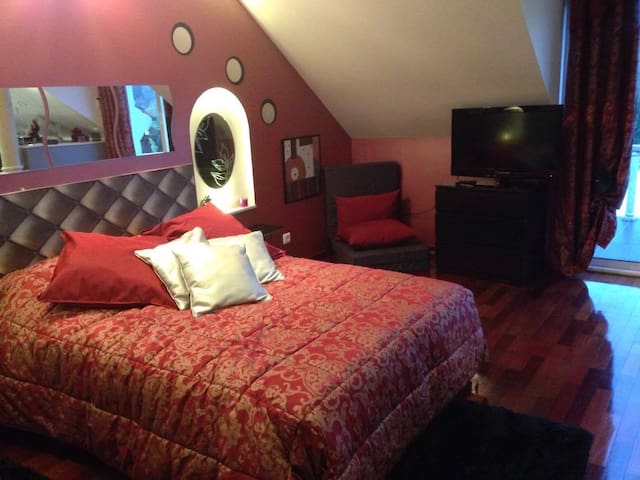 Tout proche de l'UCPA, magnifique maison Napoléonienne avec son parc.
Bois le roi est un village magnifique avec sa forêt et de belles promades à faire en bord de Seine.
Séjour au calme dans une très belle maison, bon point de départ pour rayonner dans la foret de fontainebleau!
Coralie
2016-09-11T00:00:00Z
Située en bord de Seine, la maison de Sandra est magnifique et offre de grands espaces. Nous avons discuté avec plaisir des joies d'une vie dans le calme et la nature. Un endroit très chaleureux
Julien
2016-08-29T00:00:00Z
Merci à Sandra pour son accueil . La chambre était grande et belle. Et merci surtout pour la flexibilité des horaires d'arrivée et de départ.
Marion
2016-04-11T00:00:00Z
Une maison de caractère dans un parc qui borde la scène. Notre chambre était située au dernier étage avec vue sur le parc. Nous étions les seuls résidants de l'étage ce qui nous a permis de bénéficier de la salle de bain et des WC de façon privative.
Jumping
2017-03-26T00:00:00Z
The host canceled this reservation 5 days before arrival. This is an automated posting.
Paul
2016-07-13T00:00:00Z
Bonne étape dans un très bel endroit! Hôte sympathique avec qui nous nous sommes découvert des points communs!!
Elise
2016-02-22T00:00:00Z
Sandra et sa fille étaient des hôtes adorables, elles nous ont immédiatement fait nous sentir chez nous. La maison est magnifique, et la chambre correspondait tout à fait à la description, joliment aménagée. Le grand parc donnant sur la Seine et très agréable.
Alexandra
2016-02-15T00:00:00Z
Très belle et grande maison, dans son parc et la Seine à proximité. Quel plaisir de se réveiller avec vue sur les grands arbres de la propriété, au calme. Sandra s'est montrée très arrangeante et accueillante, ce fut un plaisir. Je recommande sans hésiter!
Benoit
2016-10-30T00:00:00Z
Tipo de habitación
Habitación privada
---
Tipo de propiedad
Villa
---
Capacidad
6
---
Dormitorios
Bois-le-Roi, Isla de Francia, Francia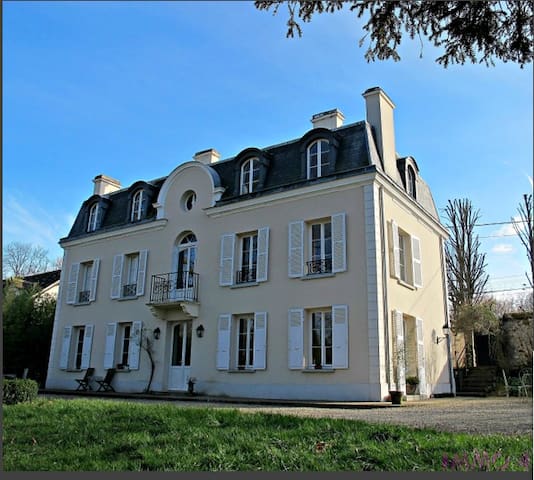 1

–

6

de

6 Alquileres de Villas
Introduce las fechas para ver el precio total. Ten en cuenta que se aplicarán tarifas adicionales y es posible que se añadan impuestos.